Easy Pepperoni Crescent Rolls make everyone happy! Flaky crescent roll dough is stuffed with gooey melted cheese and spicy pepperoni in this great recipe with only 4 ingredients.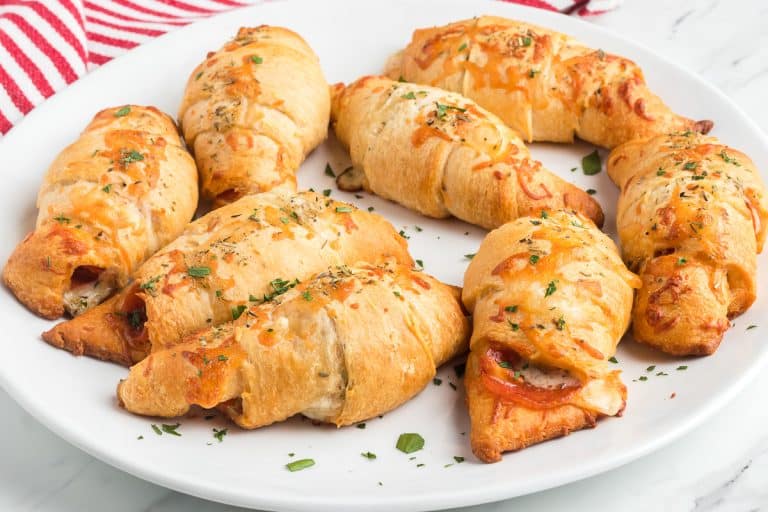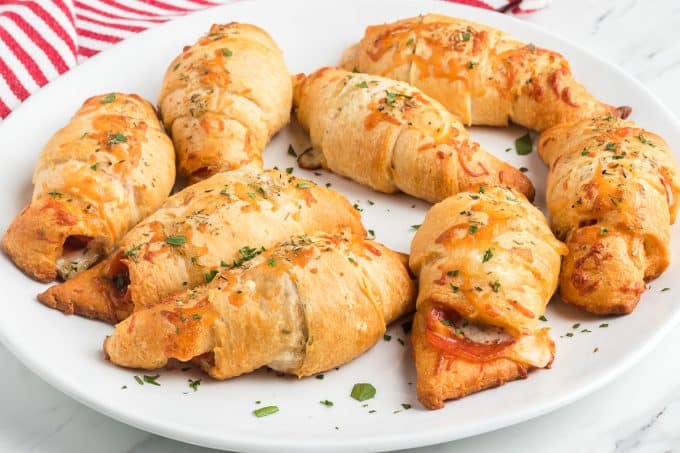 Short on time and want something easier than my Pepperoni Bread recipe? This perfect appetizer or meal is ready in just 25 minutes.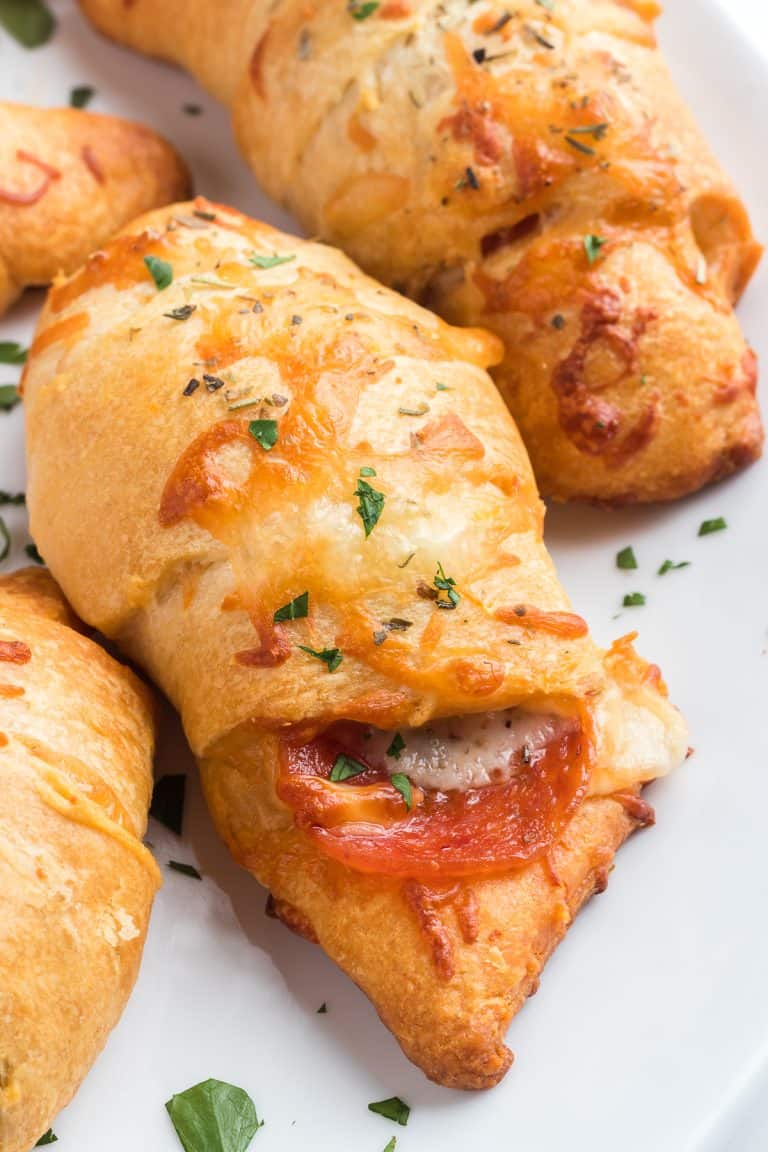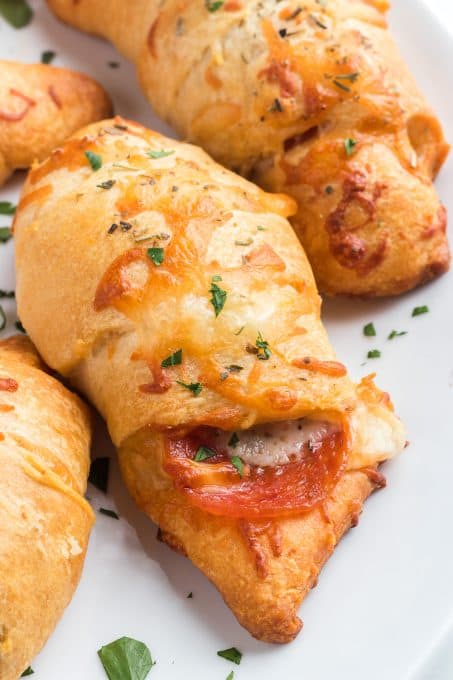 Do I even need to tell you why you're going to LOVE this easy recipe?
It's flaky crescent rolls filled with pepperoni and cheese, baked to flaky, golden brown perfection. No frills or gimmicks, just pure mouthwatering flavor.
Pepperoni Crescent Rolls are not only super easy to make, but they're also crowd pleasers. This simple recipe gets rave reviews from picky eaters, and adults can't resist them either. If you're hosting a party or just need a quick snack for the family, this recipe is a life saver!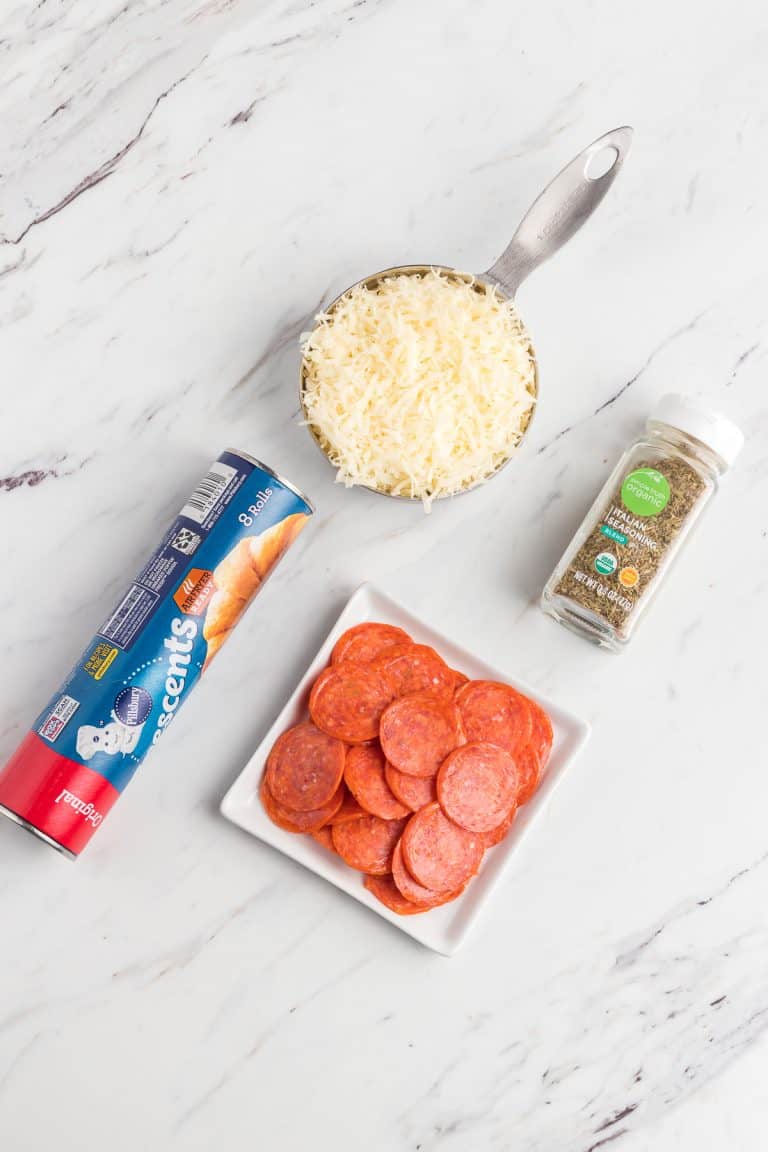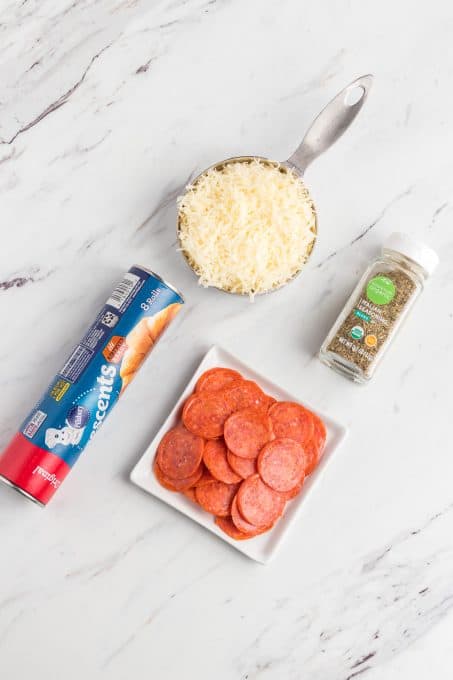 What do I need to make these Pizza Crescents?
You only need 4 ingredients to make this pepperoni appetizer.
Refrigerated crescent dough
Shredded mozzarella cheese
Pepperoni slices – can also use turkey pepperoni
Italian seasoning
I use the smaller sized pepperoni to ensure they fit into the crescent rolls. If you have the time, it's worth shredding the mozzarella yourself. Freshly shredded cheese melts faster and smoother than the store bought packages.
That said, most of the time I just use the pre-shredded mozzarella for convenience. Do whichever makes you happy knowing that you can't really go wrong with this recipe!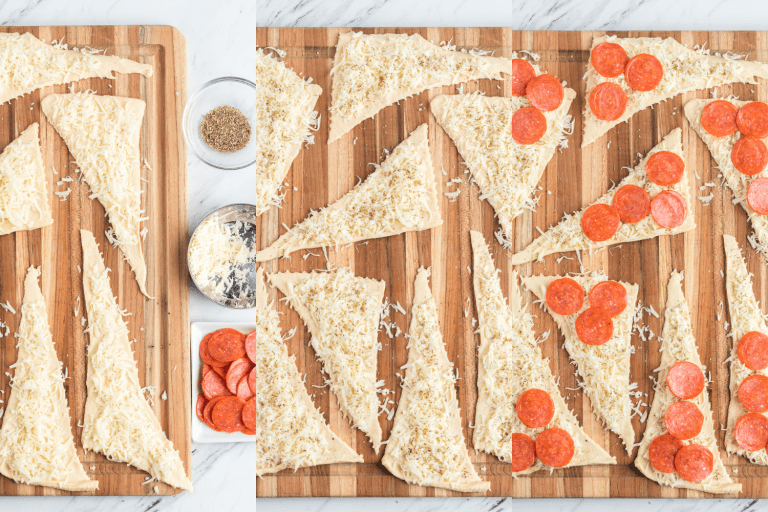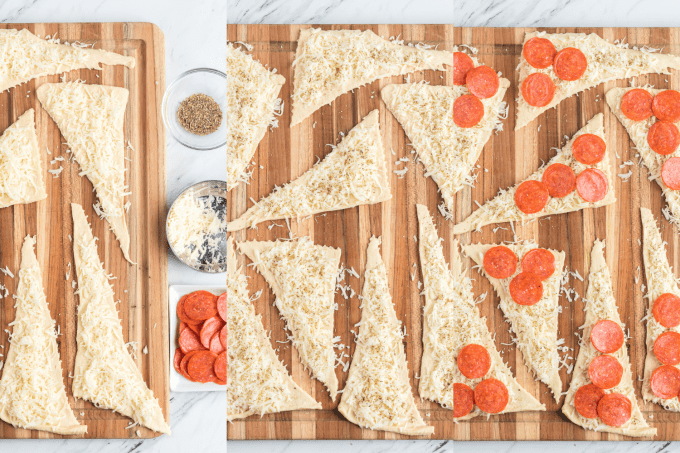 How to Make Pepperoni Rolls
Preheat your oven to 375 degrees F and prepare a baking sheet by lining it with parchment paper.
Take the crescent roll canister out of the fridge and carefully unwrap it. Then, put the dough onto a large cutting board or clean work surface, and gently separate the triangles.
Sprinkle the shredded mozzarella cheese over each triangle of dough. Add a pinch of the Italian seasoning on top of the cheese, and place 3-4 slices of pepperoni on each one.
Now, roll up the triangles starting from the wide end. Place each crescent roll onto the prepared cookie sheet. Sprinkle each with a little more mozzarella cheese and some more Italian seasoning.
Bake for 12-15 minutes, or until they turn golden. Let the baked rolls cool for a few minutes and enjoy warm.
For an even more delicious snack, serve these crescents with warmed marinara or your favorite pizza sauce for dipping. You won't be able to eat just one of these pepperoni pizza rolls with gooey mozzarella cheese!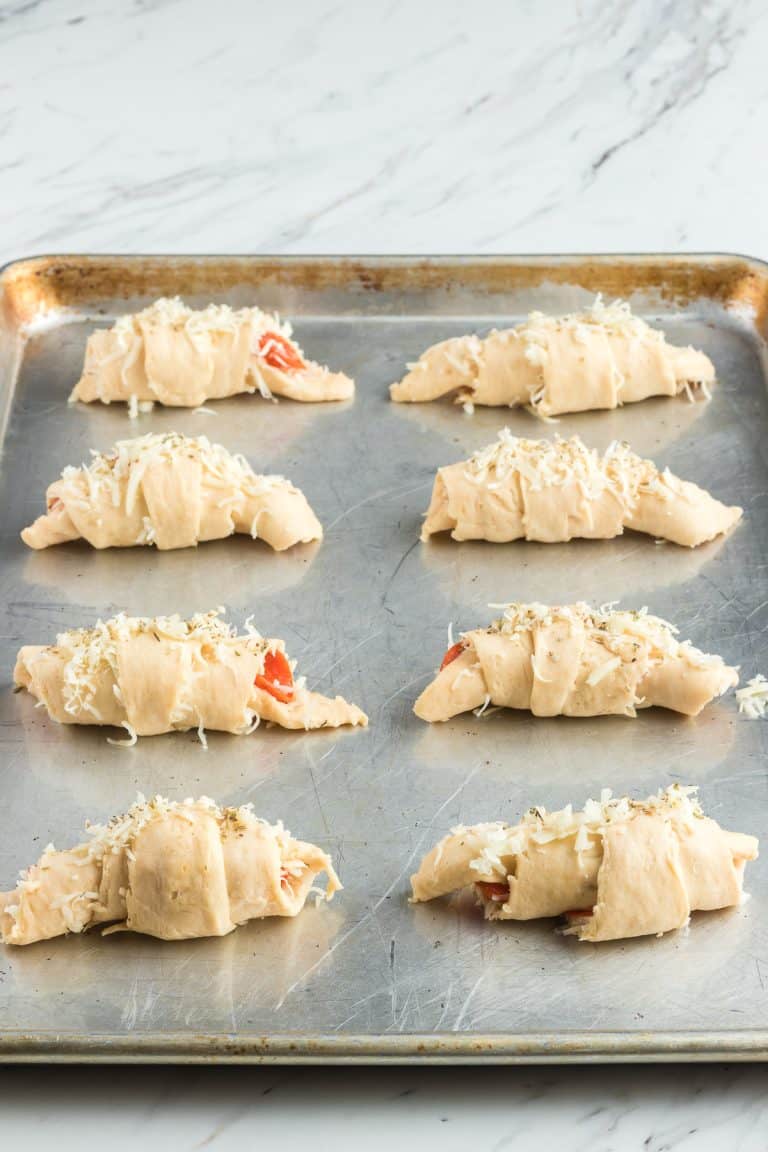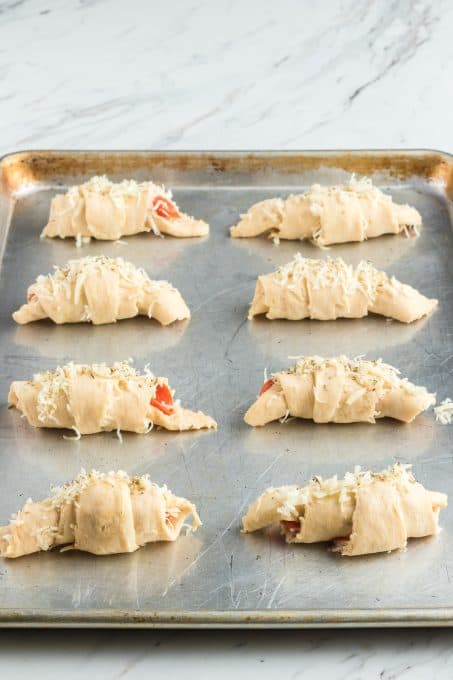 Variations for Crescent Pepperoni Roll-Ups
In my house, pepperoni and mozzarella are always a winning combo. This recipe is also super versatile if you're in the mood for something a little different. Here are just a few ideas to get your creative crescent roll appetizer juices flowing!
Use shredded cheddar cheese, Monterey or provolone cheese instead of the mozzarella. 
Swap out the pepperoni for cold cuts like ham, turkey or another sliced deli meat.
Add other favorite pizza toppings. Sliced olives, mushrooms and peppers taste great here!
Brush some melted butter on top, sprinkle with some Parmesan cheese and garlic powder.
Try the pepperoni crescent rolls with other dipping sauces like warm cheese dip or pesto.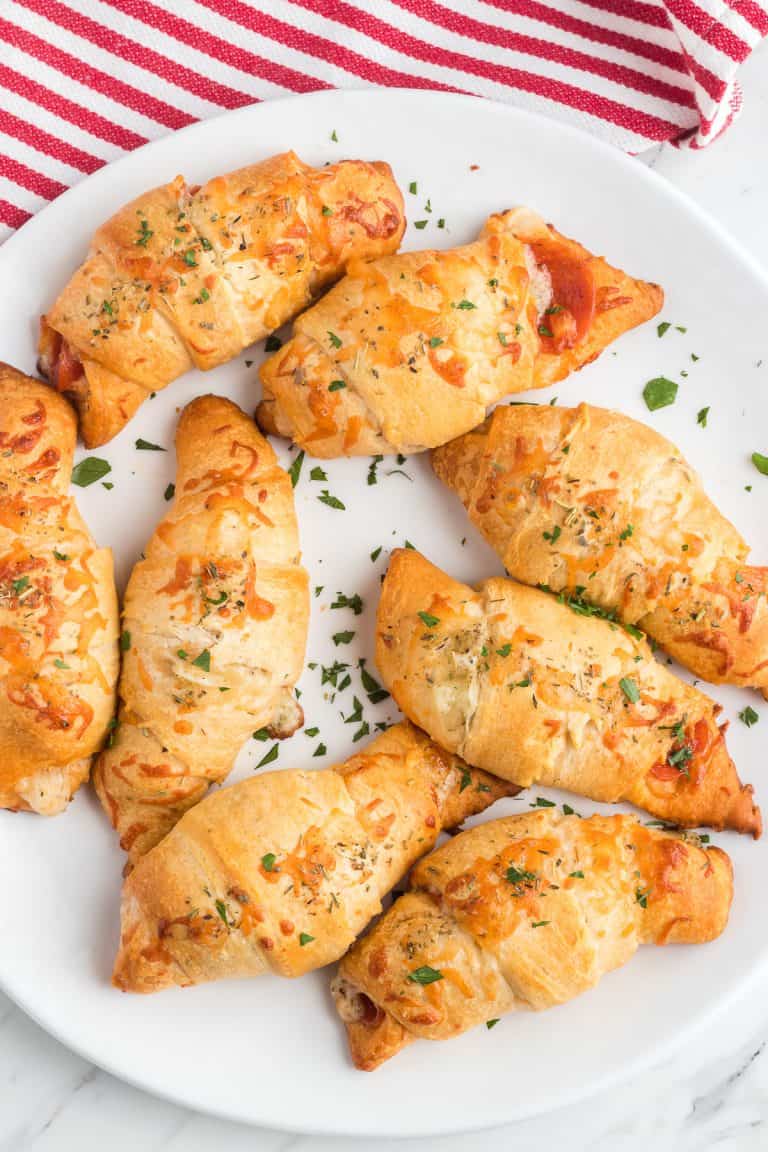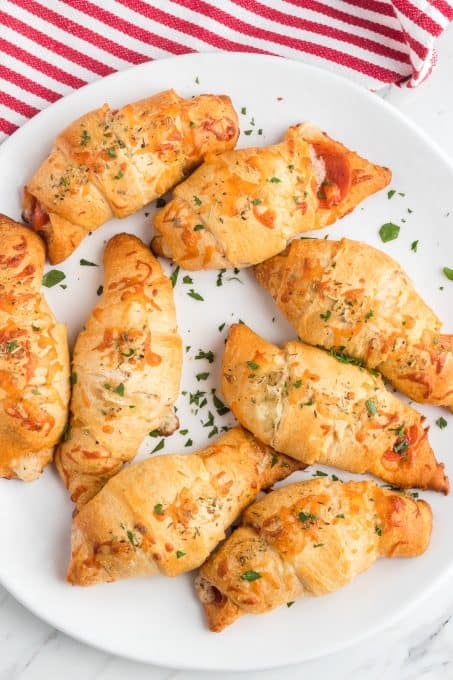 Favorite Recipes for Easy Party Snacks
Just about everyone loves pizza, which is one reason these rolls are such a hit. If you're as obsessed with pizza as my family, my Easy Pepperoni Pizza Dip Recipe should be one of your go-to appetizers! It's great for feeding a crowd and takes just a few minutes to prep.
My Double Pepperoni Bread Twist is another finger food guaranteed to get rave reviews at your next party. Need something a little fancier? This Easy Tomato Bruschetta showcases fresh Italian flavors at their best. It looks elegant and impressive but takes virtually no effort to assemble.
Kids will gobble up every last bite of these Tater Tot Nachos. That is, if the adults will share! If you love the queso sauce in that recipe, you'll love this Beer Cheese Dip served with homemade pretzel bites, too.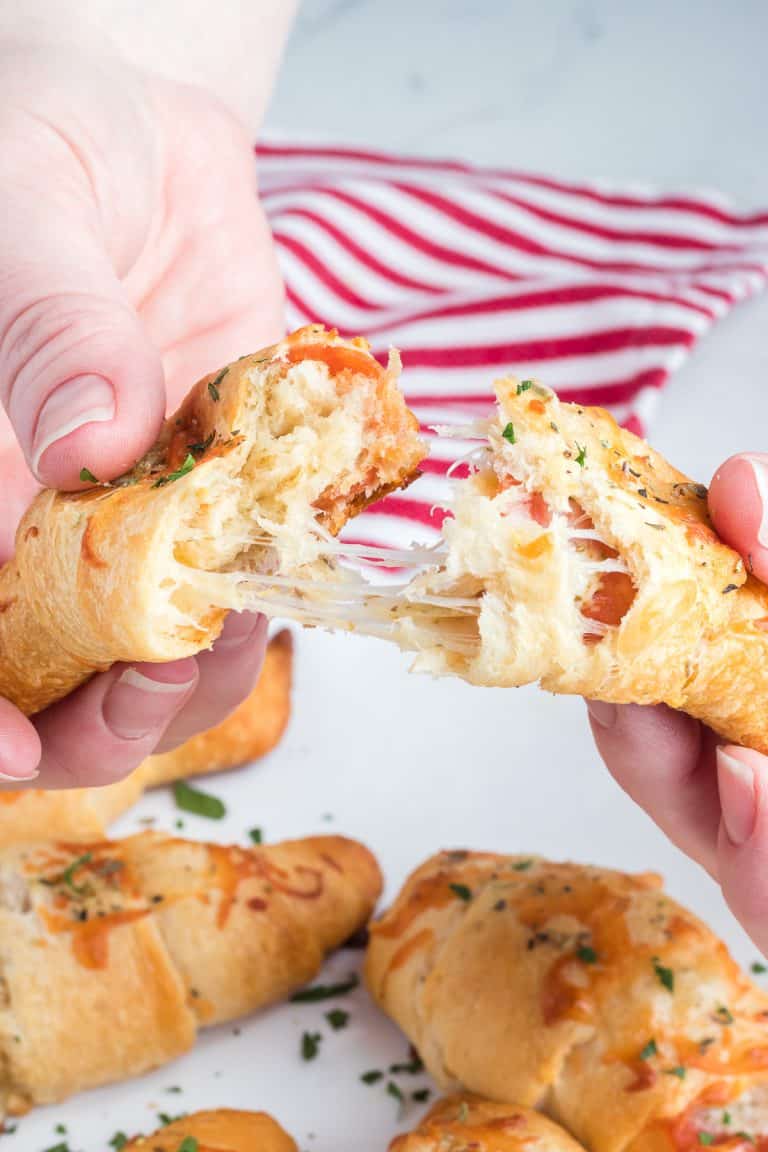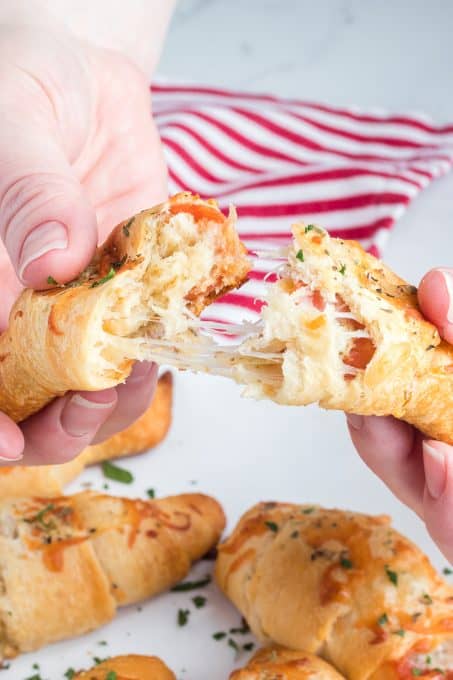 Recipes with Crescent Rolls
There are nearly endless ways to bake and cook with refrigerated crescent rolls!
I used them to make a Barbecue Chicken Salad Crescent Ring as a budget-friendly alternative to traditional chicken sandwiches. That recipe is now one of my favorites when I need to feed a lot of people without breaking the bank. Crescent rolls are also delicious stuffed with ground beef and Mexican spices to make Taco Pockets.
Need a fun dessert idea with crescent rolls? Fluffernutter Nutella Crescents are filled with peanut butter and marshmallow fluff, just like the classic Fluffernutter Sandwich.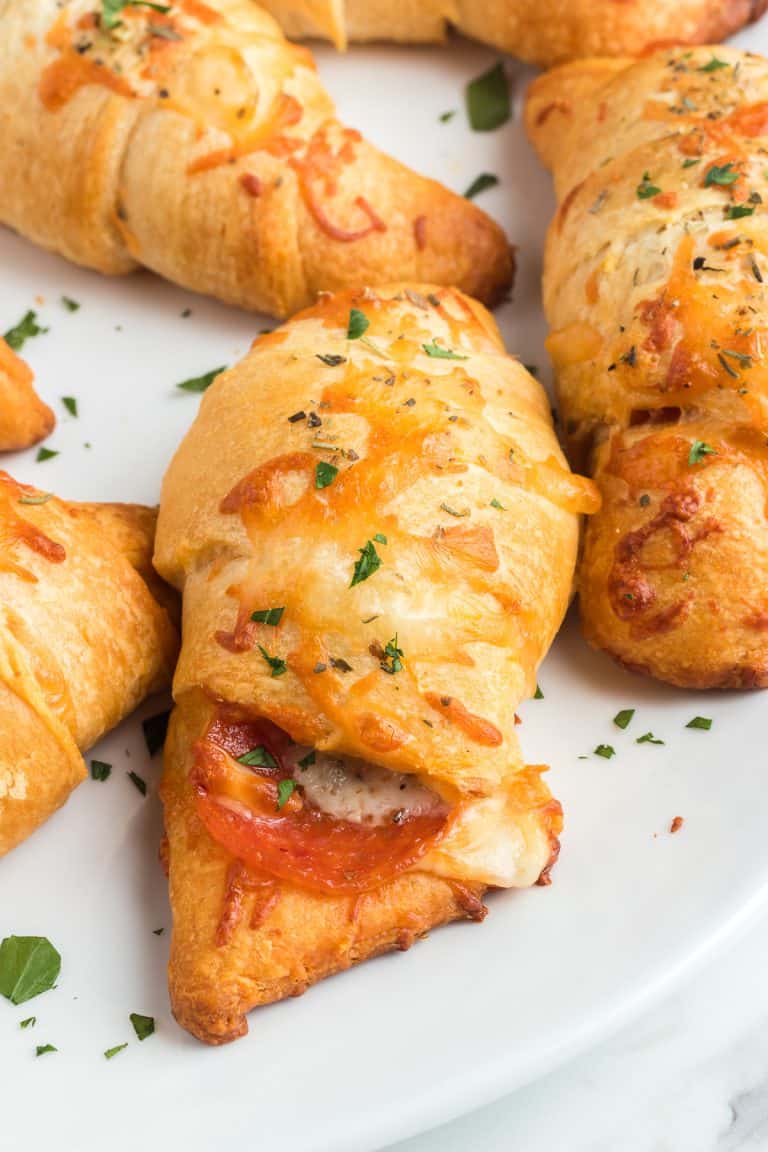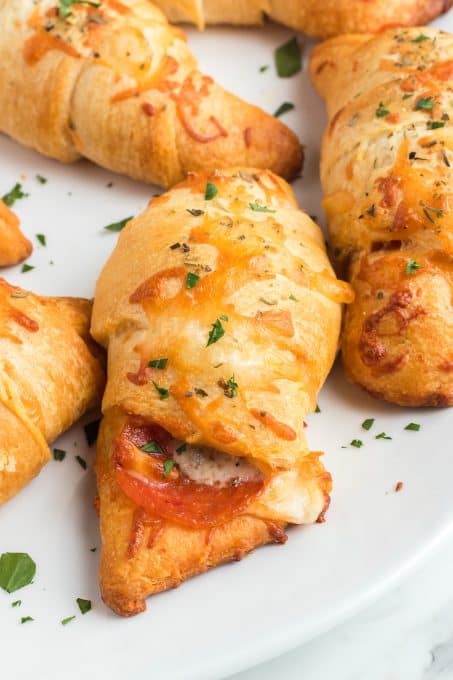 ~ FOLLOW ME ~
Keep an eye out for more of my easy recipes each week!
Crack open a can of Pillsbury dough and bake a batch of these flavorful, cheesy pepperoni pizza crescent rolls for your next party! They're an easy meal for a busy weeknight when paired with a pasta salad, a great idea for a school snack, movie nights or an easy lunch.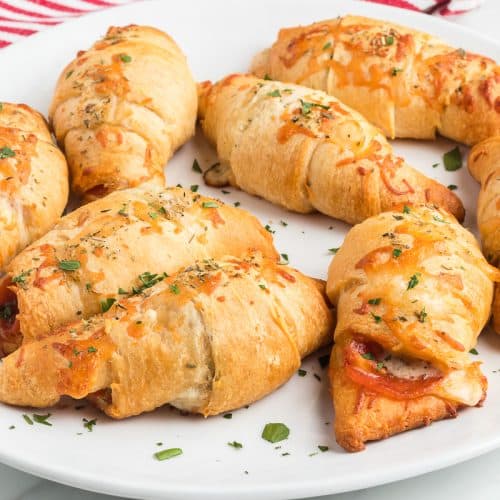 Easy Pepperoni Crescent Rolls make everyone happy! Flaky crescent roll dough is stuffed with gooey melted cheese and spicy pepperoni in this great recipe with only 4 ingredients. 
Ingredients
8 ounces crescent rolls 8 count refrigerated package
1 ½ cups shredded mozzarella cheese divided
32 small pepperoni slices
1 ½ teaspoons Italian seasoning divided
Instructions
Preheat oven to 375°F. Prepare a baking sheet by lining it with a sheet of parchment.

Unwrap the crescent roll canister and gently remove the dough. Roll out of the dough onto a large cutting board or clean work surface, and gently separate the triangles.

Divide 1 cup of mozzarella cheese between the 8 pieces of dough. Evenly sprinkle 1 teaspoon of the Italian seasoning over the mozzarella cheese.

Place 3-4 pieces of pepperoni on each crescent.

Roll each triangle, starting at the widest end place onto the prepared baking sheet.

Bake for 12-15 minutes or until golden. Serve with warmed pizza sauce or marinara for dipping, if desired.
Nutrition
Serving: 1serving | Calories: 204kcal | Carbohydrates: 12g | Protein: 7g | Fat: 15g | Saturated Fat: 7g | Polyunsaturated Fat: 3g | Monounsaturated Fat: 4g | Trans Fat: 0.1g | Cholesterol: 24mg | Sodium: 481mg | Potassium: 43mg | Fiber: 0.2g | Sugar: 3g | Vitamin A: 148IU | Vitamin C: 0.01mg | Calcium: 114mg | Iron: 1mg
Did you make this recipe?
Share it with me on Instagram and make sure to follow me on Pinterest for more recipes.
Reader Interactions