Make Homemade Banana Pudding from scratch with this easy recipe! Served with Nilla wafers, fresh bananas and whipped cream, this pudding is sweet Southern comfort at its best.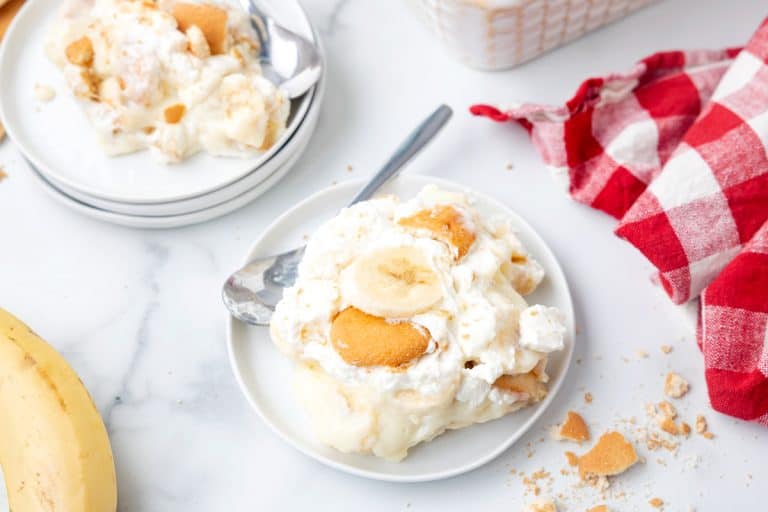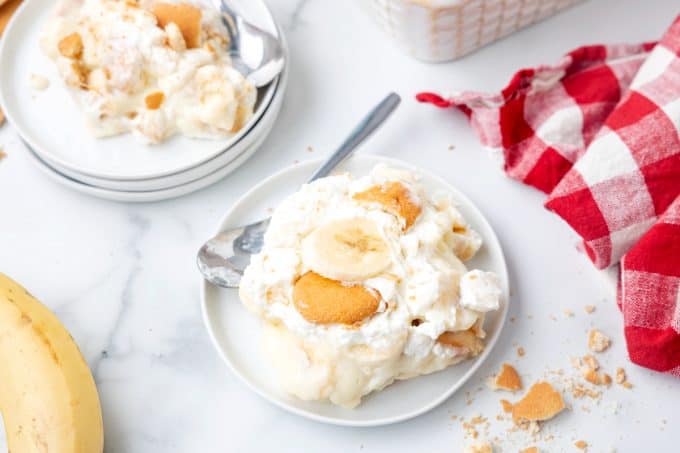 Looking for more easy desserts for kids? Try this delicious Fluffernutter Dip and my S'Mores Rice Krispie Treats too!
Like a lot of folks, I grew up eating pudding made from a mix. Let me tell you: this old-fashioned banana pudding recipe is so much better. This creamy dessert is a big hit at church potluck, family reunions and any occasion, really.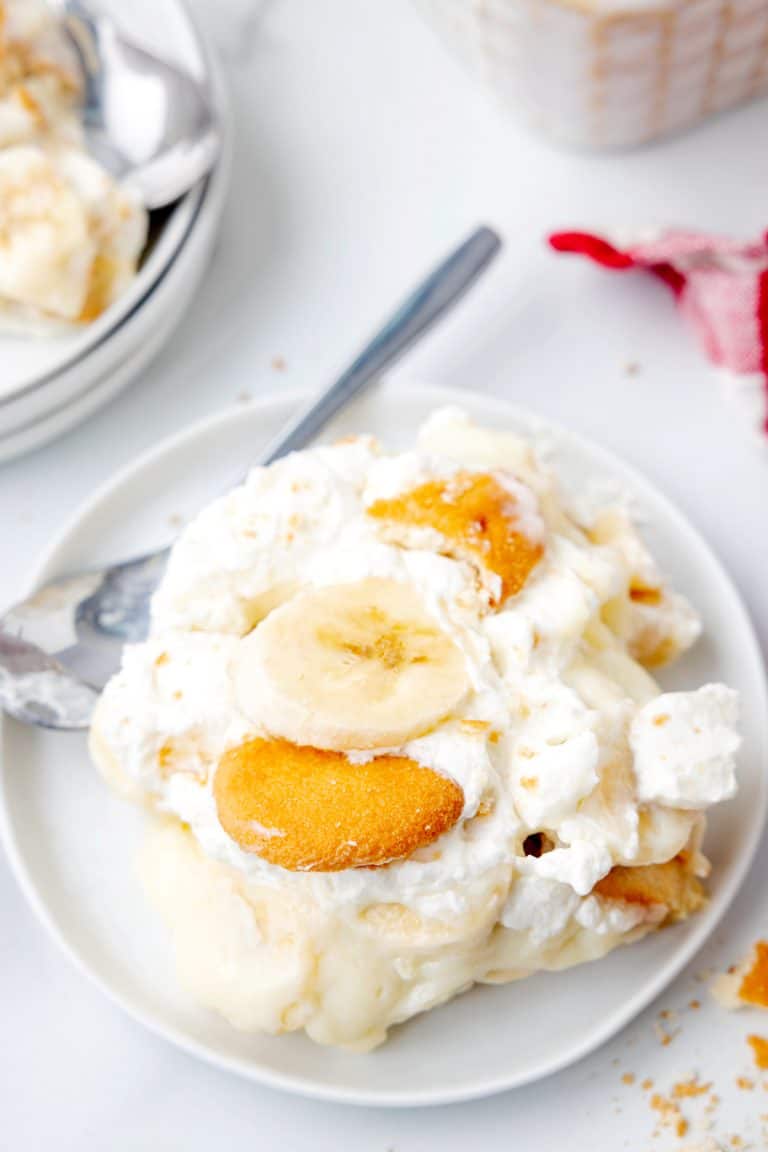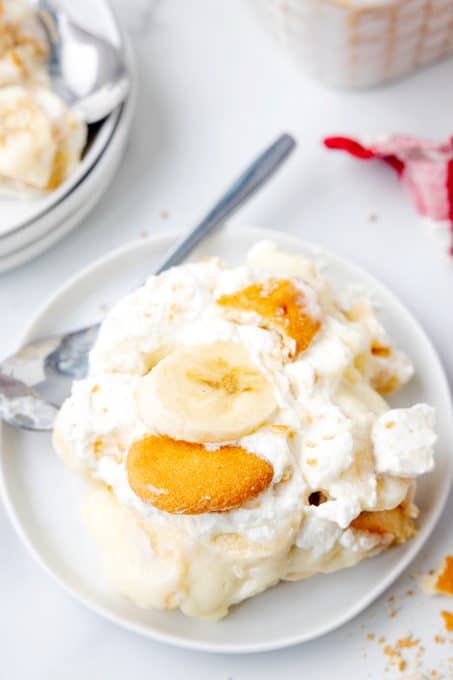 When I think of easy Banana desserts, Banana Pudding jumps right to my mind. It's one of those classic dishes that's not associated with any particular holiday or occasion. Every day is a good day for banana pudding!
Here are a few reasons why THIS particular banana pudding recipe is my favorite:
Creamy custard base. A combo of eggs, starch and sugar makes the pudding thick and so rich!
No artificial flavors. The banana flavor comes from FRESH bananas sliced and layered into the pudding.
Quick and easy recipe. It takes hardly any more effort than cook and serve mixes.
Full of Nilla wafers. Banana pudding and vanilla wafers were made for each other.
Topped with fresh whipped cream! Is there anything better?
Looking for more easy pudding recipes without a mix? I have a Chocolate Pudding recipe you're going to enjoy, too!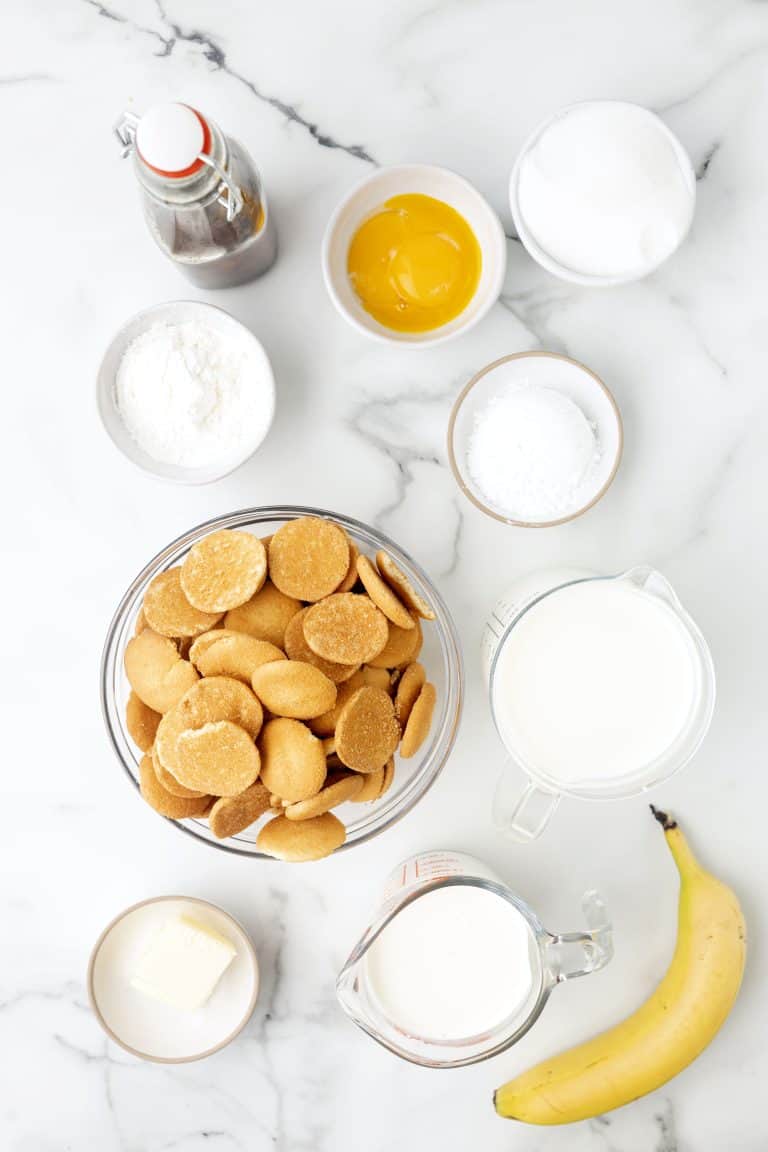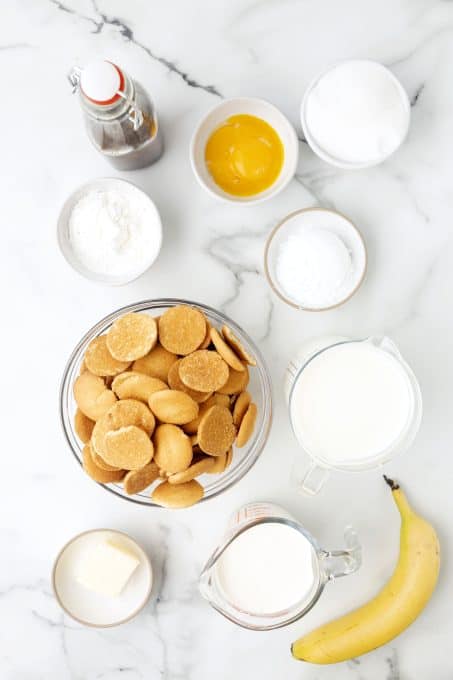 What simple ingredients do I need for this easy banana pudding recipe?
Let's start by gathering our ingredients for the Banana Pudding.
Sugar
Cornstarch
Egg yolks – Save the egg whites to use for making meringue cookies!
Whole milk
Unsalted butter
Vanilla extract
Ripe Bananas, peeled and sliced
Vanilla wafer cookies – you can also substitute Pepperidge Farm Chessmen Cookies if you'd prefer.
For the fresh whipped cream topping, you will also need:
Heavy cream
Powdered sugar
Vanilla extract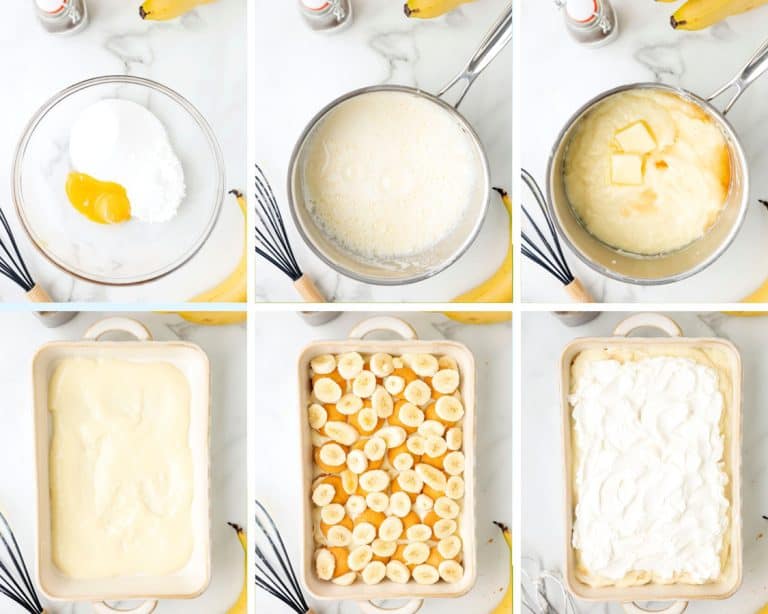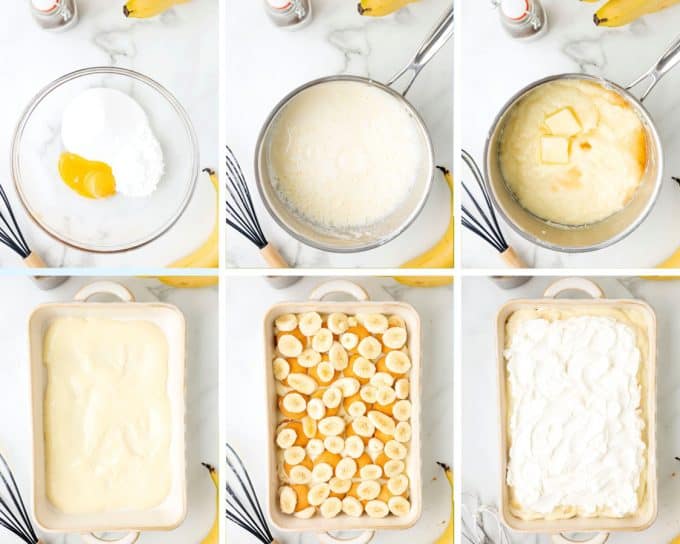 How to Make the Best Banana Pudding Recipe
This is the best way to make this homemade pudding.
Make the custard: In a medium bowl, whisk egg yolks, sugar and cornstarch with one cup of milk.
Assemble the pudding: Slowly add a portion of the boiling milk to the custard mixture, whisking to combine before slowly adding the rest of it. Cook this pudding mixture on the stove until it's thick enough to coat your spoon. On most stoves this only takes a minute or two. Now remove the pudding from heat and stir in butter and some of the vanilla. Let cool.
Layer with Nilla wafers: Spread a layer of pudding along the bottom of a casserole dish. Put a layer of vanilla wafers and a layer of banana slices on top of the pudding. Repeat these layers until you've added all the pudding, wafers and bananas.
Top with whipped cream: Beat together the whipped cream ingredients until stiff peaks are formed. Spread over the banana pudding. Sprinkle a few crushed Nilla wafer cookies on top for the finishing touch on this old-fashioned dessert and some more sliced bananas, if desired.
Serve the banana pudding right away or keep it chilled until dessert time. Covered in the fridge, this pudding keeps well for up to 4 days, making it a great make-ahead dessert option!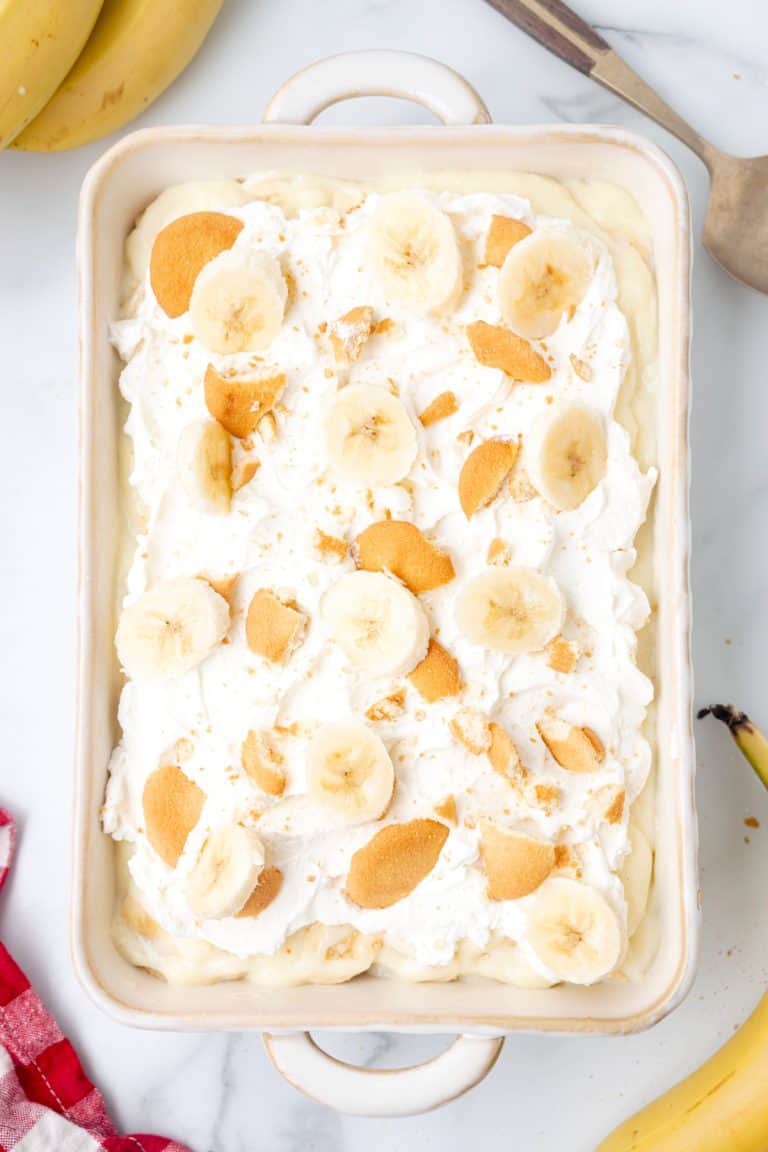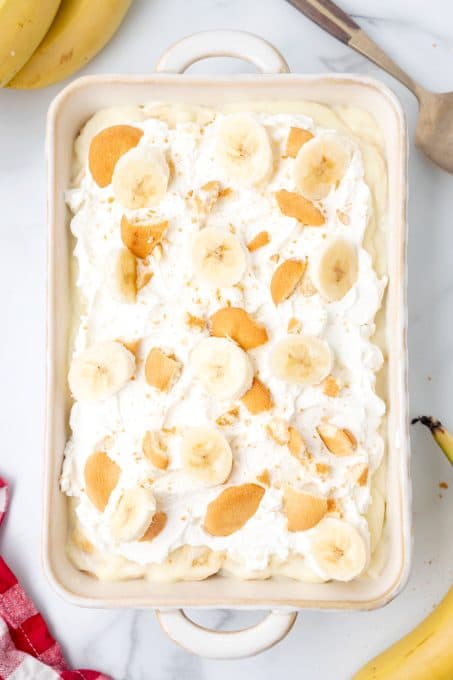 More Serving Ideas
I assembled the banana pudding in a casserole dish, but that's not the only way to enjoy creamy banana nilla wafer pudding. Check out these other easy serving options:
Trifle Bowl – A clear glass bowl makes this pudding look picture perfect. Create as many layers of pudding, wafers and bananas as you need to fill the bowl.
Parfait glasses – This is a great option for individual servings.
Square baking dish – like an 8 x 8 inch brownie pan.
Or just layer it into any bowls you have on hand!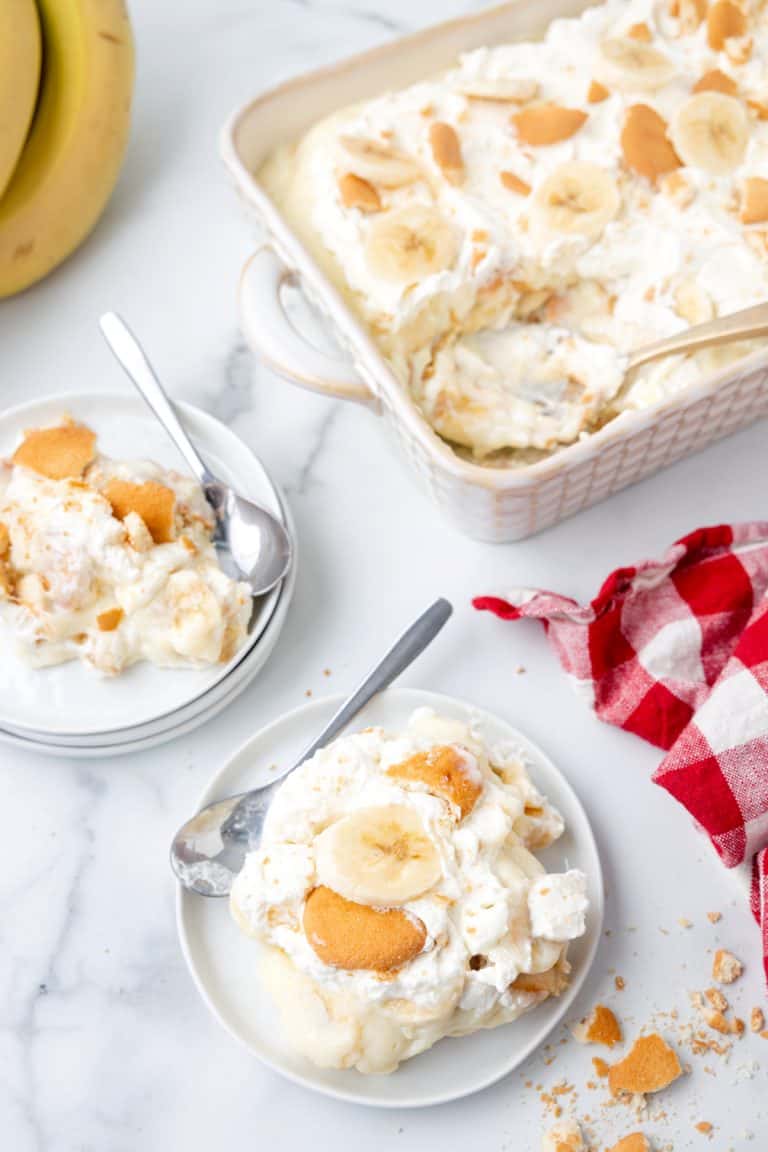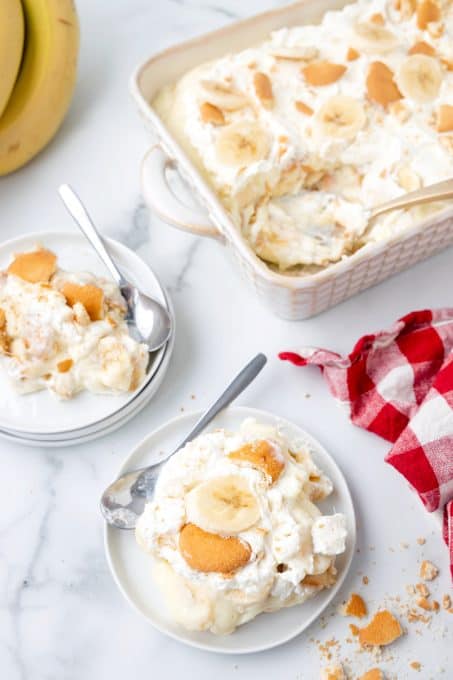 Tips & Tricks for Best Banana Pudding
Smoothest pudding: Make sure to SLOWLY whisk the hot milk into the cornstarch and egg mixture and stir it constantly to prevent lumps from developing. Adding the butter after heating also helps emulsify the other ingredients for a smooth consistency.
Best flavor: Use a good quality vanilla extract and bananas that are ripe, but not brown.
Vanilla pudding option: Not into bananas? Make this recipe as directed and omit the banana slices for a delicious, old-fashioned vanilla pudding recipe.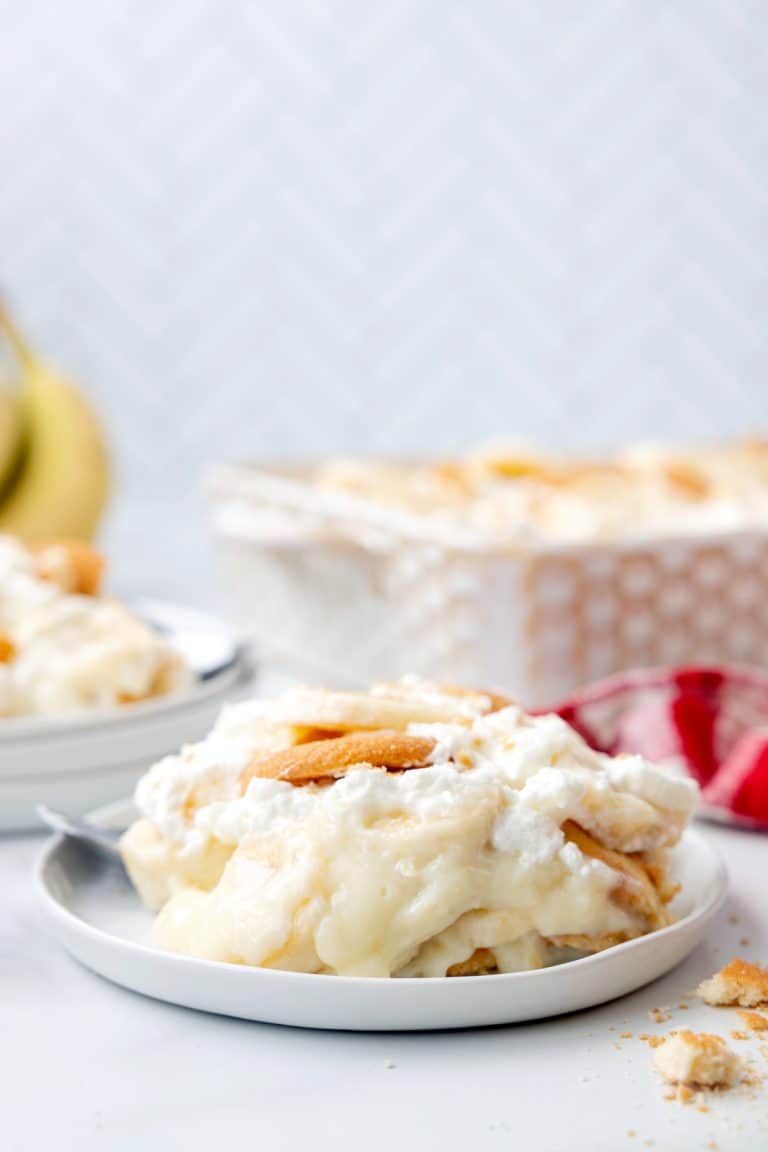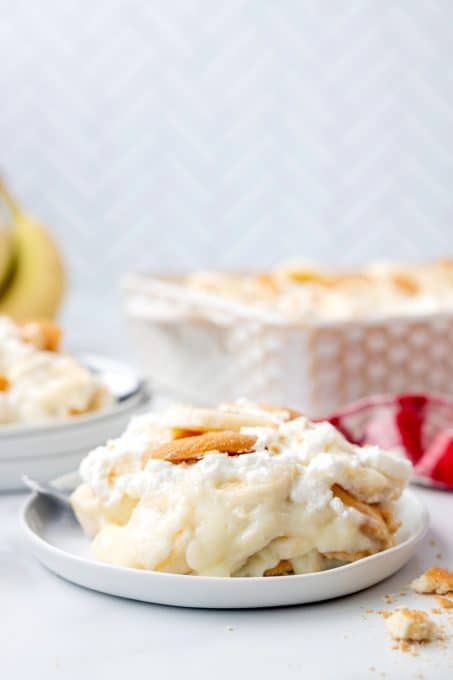 No Bake Dessert Recipes
This creamy homemade Banana Pudding recipe is made from scratch, no boxed mixes in sight. You can save your instant pudding mix to make some of my other favorite desserts, like these Banana Pudding Dream Bars and this Pineapple Rum Cake!
Chocolate lovers will swoon for these Black Forest Dream Bars made with chocolate pudding mix. Add these Oreo Pudding Dream Bars to your list, too.
Beyond the world of pudding, I have plenty of other no bake dessert recipe ideas for you. No Bake Nutella Snickers Pie might not be quite "made from scratch" like today's pudding recipe, but it's undeniably delicious, with a handful of easy to find ingredients. Try my No-Bake Blueberry Pie and this No-Bake Peanut Butter Pie too!
Top them all with a little bit of Cool Whip or my recipe for Stabilized Whipped Cream.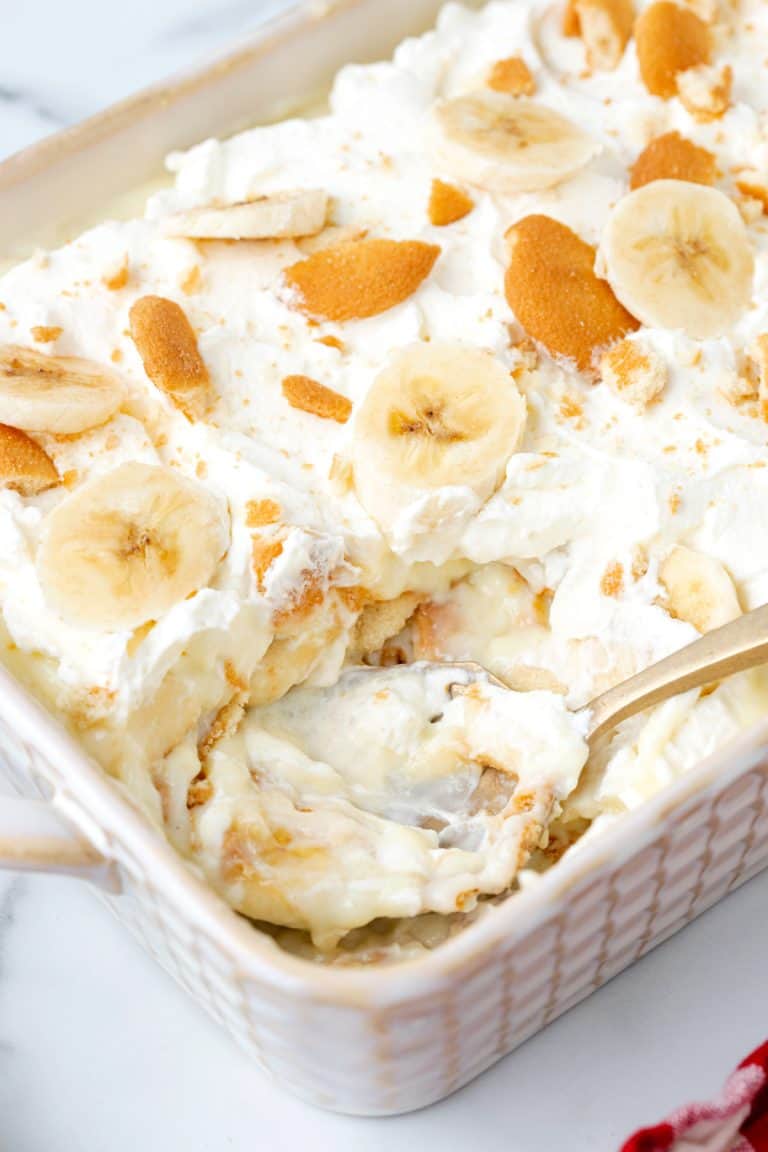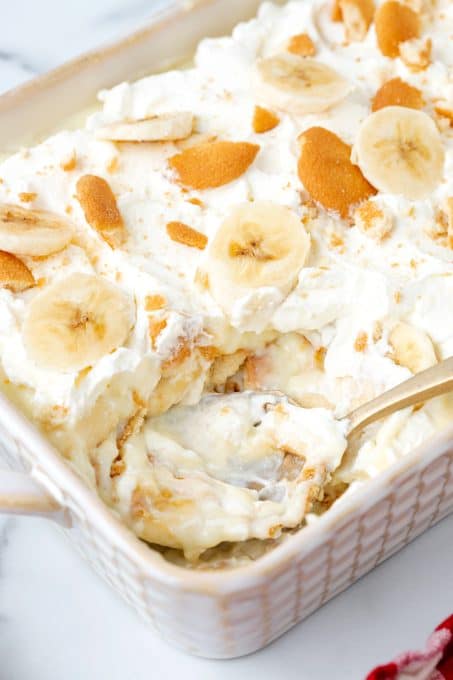 Easy Banana Recipes
Bananas are inexpensive, readily available and full of natural sweetness. That makes them a perfect addition to all kinds of desserts, baked goods and so much more.
In fact, Banana Bread was the very first recipe I posted on the 365 Days of Baking Blog, well over a decade ago now. It remains a lifelong favorite, along with variations like Double Chocolate Banana Bread and Blueberry Banana Bread.
If you have a few bananas leftover after making your banana pudding, try these other easy recipes my family and I love.
But first: make pudding.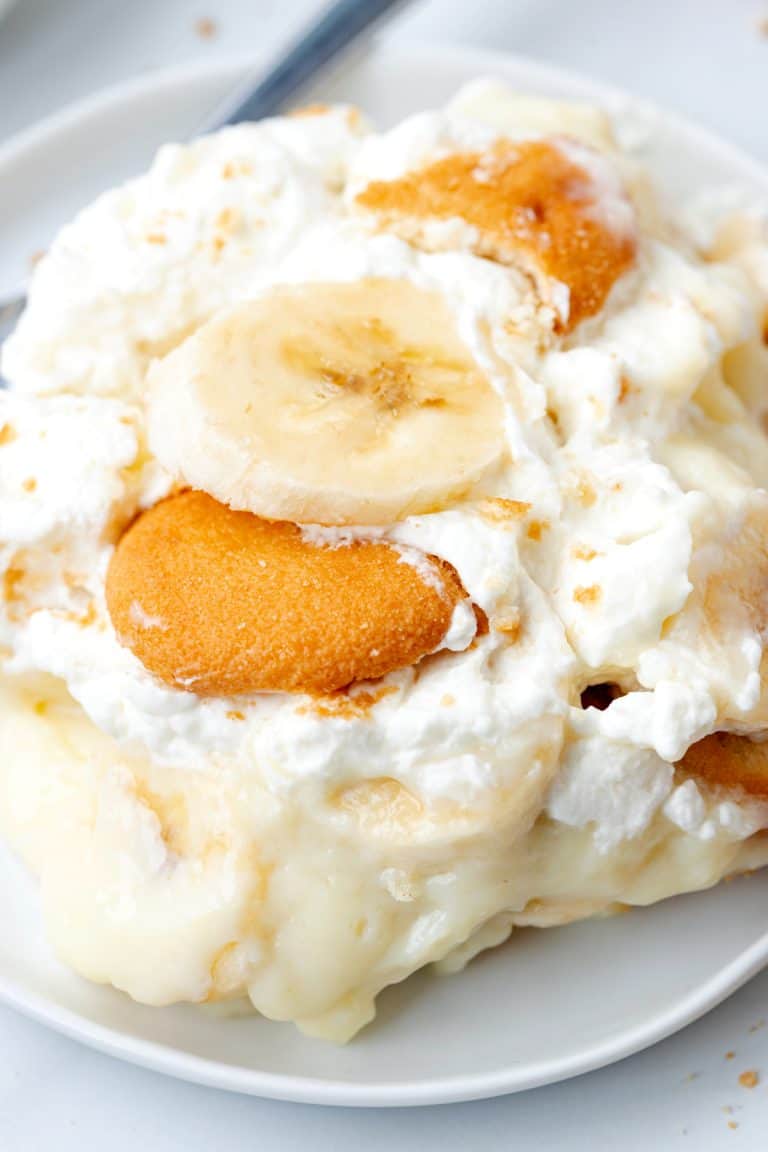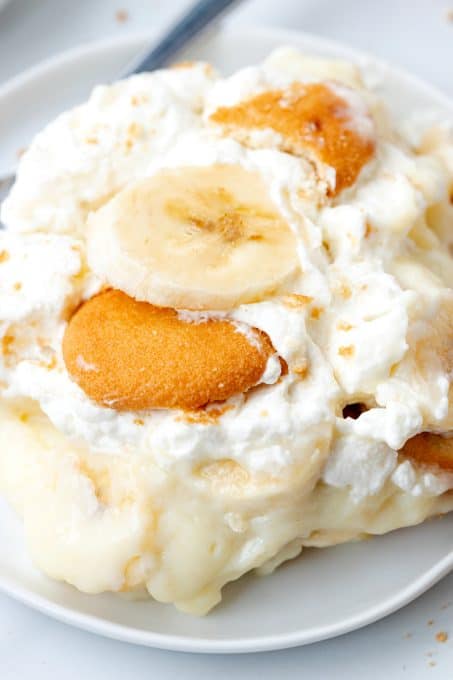 ~ FOLLOW ME ~
Keep an eye out for more of my easy recipes each week!
Once you try this banana pudding recipe, I think you'll agree — this classic dessert really is the best!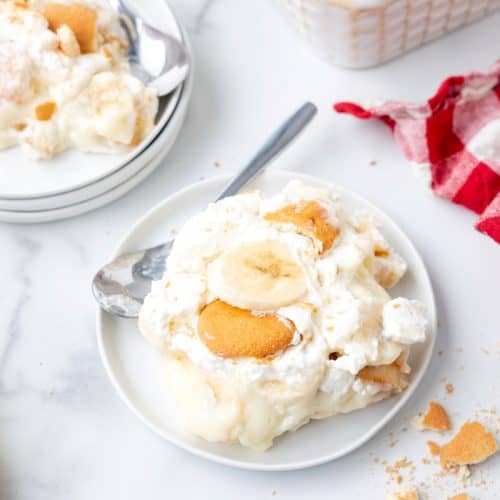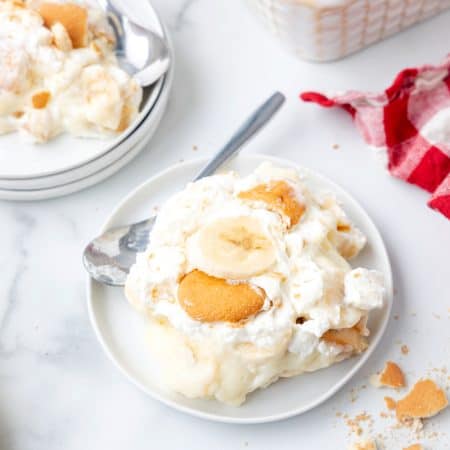 Make Homemade Banana Pudding from scratch with this easy recipe! Served with Nilla wafers, fresh bananas and whipped cream, this pudding is sweet Southern comfort at its best.
Ingredients
½ cup granulated sugar
¼ cup cornstarch
2 large egg yolks
3 cups whole milk divided
2 tablespoons unsalted butter
1 tablespoon pure vanilla extract divided
5 medium bananas peeled and sliced
40-50 vanilla wafer cookies
1 ½ cups heavy cream
⅓ cup powdered sugar
Instructions
In a large mixing bowl, whisk together the sugar, cornstarch, and egg yolks until well combined. Whisk in 1 cup of the milk to the sugar mixture.

Place 2 cups of milk into a medium saucepan and bring it up to a boil.

Slowly whisk the hot milk into the sugar mixture. Transfer the mixture back into the pot and cook over medium heat until it thickens enough to coat the back of a spoon, stirring the whole time. Remove the pot from the stove, stir in the butter, and half the vanilla. Allow the pudding to cool.

Spread 1/3 of the pudding into the bottom of a 1 ½ quart casserole pan or an 8×8 pan. Add a layer of vanilla wafers and a layer of sliced bananas. Repeat this another time, ending with an extra layer of pudding.

In a medium mixing bowl, beat the heavy cream, powdered sugar, and the remaining vanilla until you have medium peaks.

Spread the whipped cream over the top of the pudding and sprinkle the top with some crushed wafers and banana slices.
Nutrition
Serving: 1serving | Calories: 716kcal | Carbohydrates: 88g | Protein: 9g | Fat: 38g | Saturated Fat: 21g | Polyunsaturated Fat: 4g | Monounsaturated Fat: 9g | Trans Fat: 0.3g | Cholesterol: 154mg | Sodium: 228mg | Potassium: 636mg | Fiber: 3g | Sugar: 56g | Vitamin A: 1334IU | Vitamin C: 9mg | Calcium: 203mg | Iron: 1mg
Did you make this recipe?
Share it with me on Instagram and make sure to follow me on Pinterest for more recipes.
Reader Interactions