No-Bake Blueberry Pie – that delicious blueberry pie you love to eat and the best part, you don't have to bake it!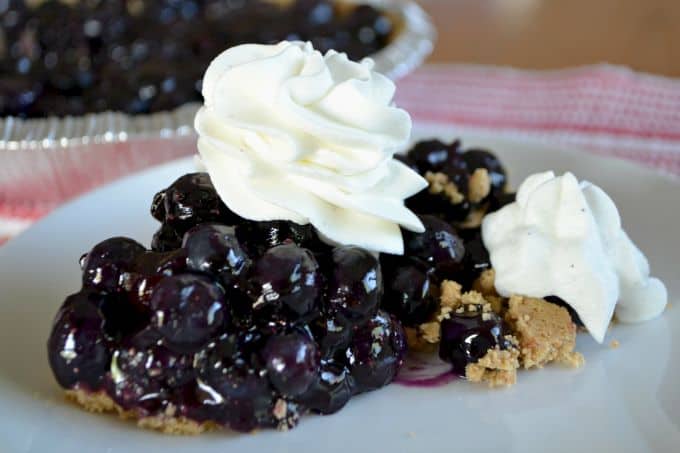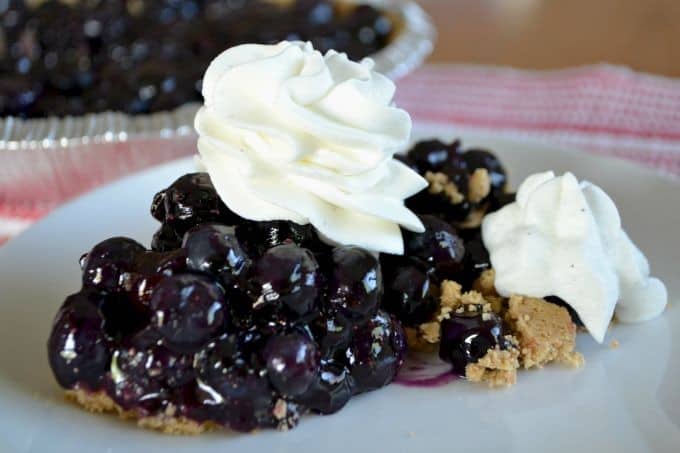 Blueberry pie is one of my favorite desserts.
*For those of you coming to us from the No Bake Blueberry Pie LIVE Facebook video where I shared how much I LOVE my OXO Powdered Sugar Dusting Wand, here's the affiliate link to it on Amazon.
Also, here is the link to the awesome GIR spatula I was telling you about.
I love it warm with a scoop of vanilla ice cream melting over the top of it. Can't you just picture it sitting in front of you?
I can.
SAVE THIS NO-BAKE BLUEBERRY PIE TO YOUR FAVORITE PINTEREST BOARD!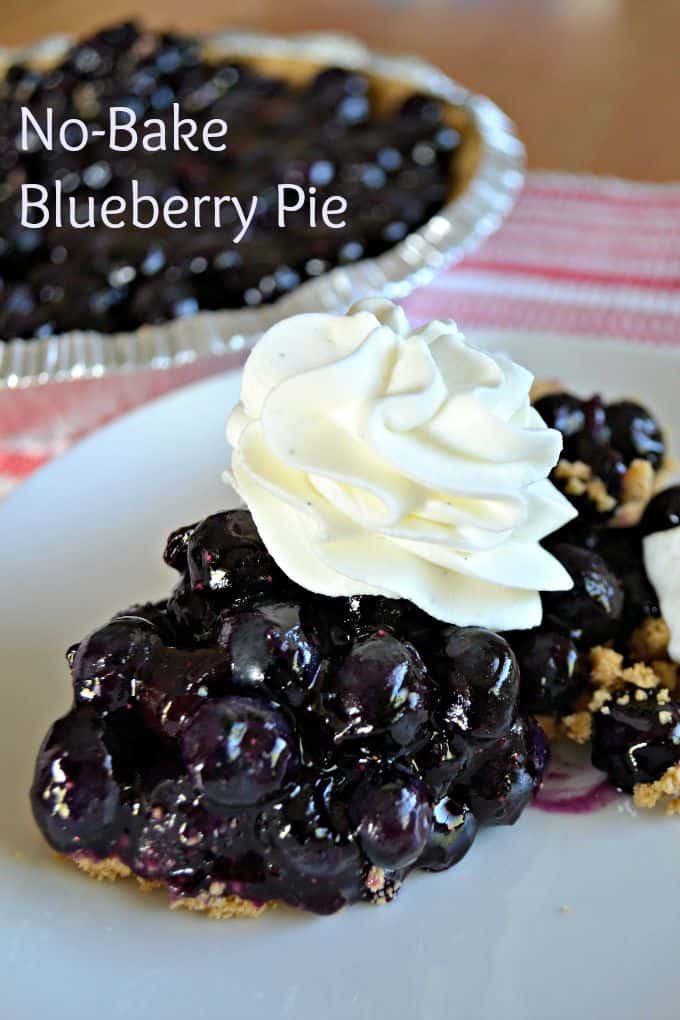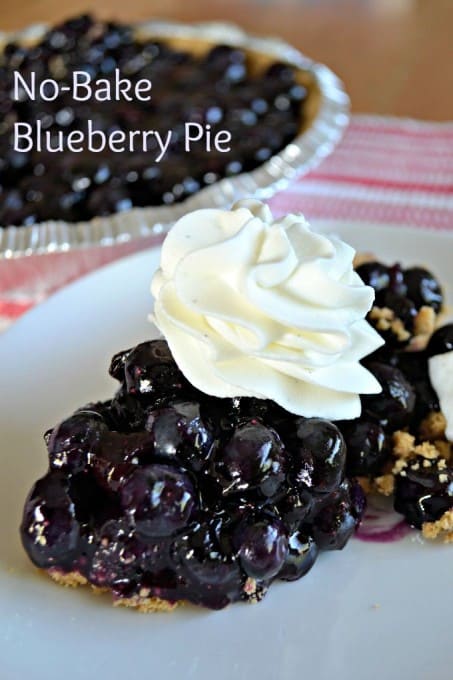 When we were living in New Hampshire, we lived about 10 minutes away from Mr. 365's aunt and uncle. We enjoyed taking the kids over to watch football, baseball or just hang out. The dogs loved to visit them, too.
His aunt and I would often talk about cooking, baking, and the blog. She's been kind enough to share some of the recipes she's found over the years, this being one of them.
I figured since it was a copy and looked like a printed recipe that it hadn't been handed down through the family. Also, in my 30+ years of knowing the Mr., I hadn't heard anyone refer to an "Aunt Molly". Come to find out, when I did a Google search, Aunt Molly's Unbaked Blueberry Pie was originally found in the Providence Journal a few years back.
When Mr.'s aunt handed it to me, I was intrigued – a blueberry pie that you didn't have to put into the oven? No way! I just had to try it.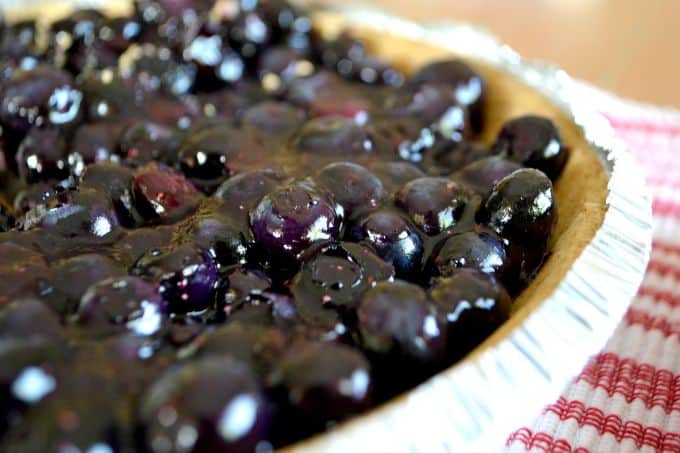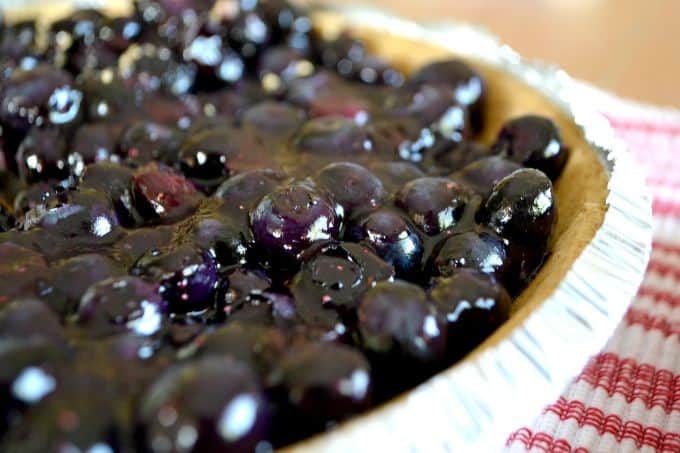 Here's a LIVE Facebook video where I made this No Bake Blueberry Pie for my viewers. It was a lot of fun, so tune in every Monday and Friday when I'll be doing more live recipes!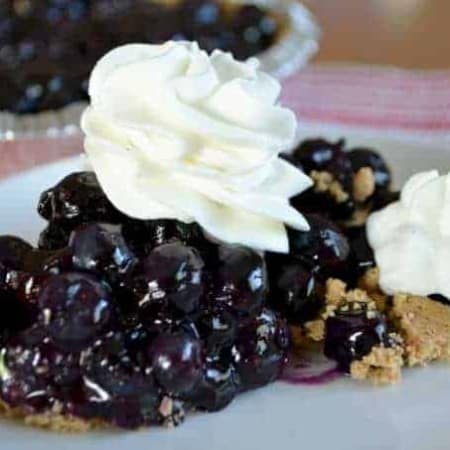 Ingredients
4

cups

fresh blueberries

divided

¼

cup

water

2

tablespoons

all purpose flour

½

cup

sugar

⅛

teaspoon

kosher salt

9-

inch

graham cracker pie crust

Vanilla Bean Whipped Cream for serving
Instructions
Place 1 cup of the blueberries into a medium saucepan.

In a small bowl, whisk the water and flour together and add to the saucepan.

Mix in the sugar and the salt.

Begin cooking on high until bubbles begin to appear and then reduce heat to medium, stirring often until berries darken and mixture thickens.

Remove from heat and allow to sit for a few minutes.

Using a rubber spatula, gently fold the rest of the blueberries into the saucepan. Mix until well combined.

Allow to sit for a few minutes before pouring into the pie crust.

Spread evenly and let the pie set before cutting.

The recipe says, "It may take several hours for it to reach room temperature or even overnight."

Place into the refrigerator after cutting.

If making your own pie crust, bake for 10-15 minutes and cool completely before filling.
Notes
The recipe says that it may not be set until the next morning, but when I made it, it was ready from start to finish in about 45 minutes. It could be more or less depending on the temperature of your home. Enjoy!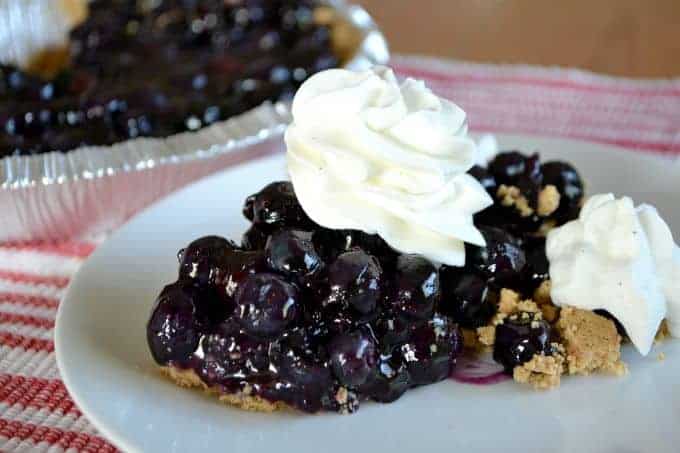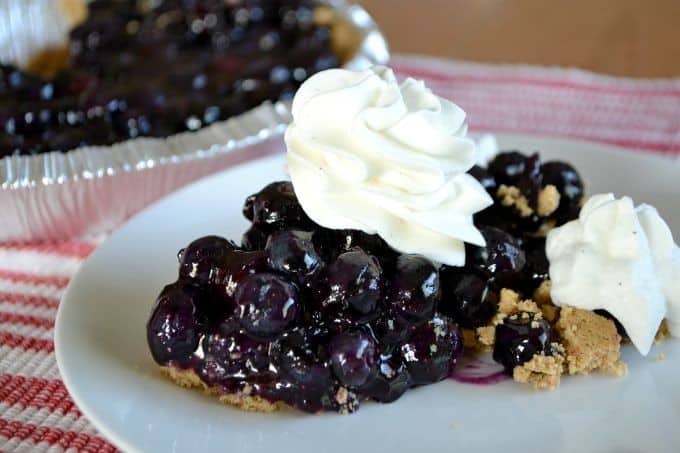 I rate everything I make on a scale of 1 -4 and this No-Bake Blueberry Pie (Aunt Molly's Unbaked Blueberry Pie) earned 3 rolling pins.
I loved how it was so stinkin' simple to make. What I didn't like was the crust. I'm really not nuts about pre-made graham cracker crusts, but I wanted to show you how this could truly be a no-bake pie.
Next time, I'll make it with my own pie crust.
I think you'll enjoy it. It's super easy, tastes good and is a great dessert to make when you don't want to turn on the oven.
If you like this, you'll LOVE…