Jack Daniel's Pork Tenderloin is an easy pork recipe flavored with whiskey, brown sugar, soy sauce, Dijon mustard and garlic. Marinated for hours then roasted to juicy perfection, this whiskey-infused pork turns dinner into a feast and is perfect for any occasion, especially a busy weeknight!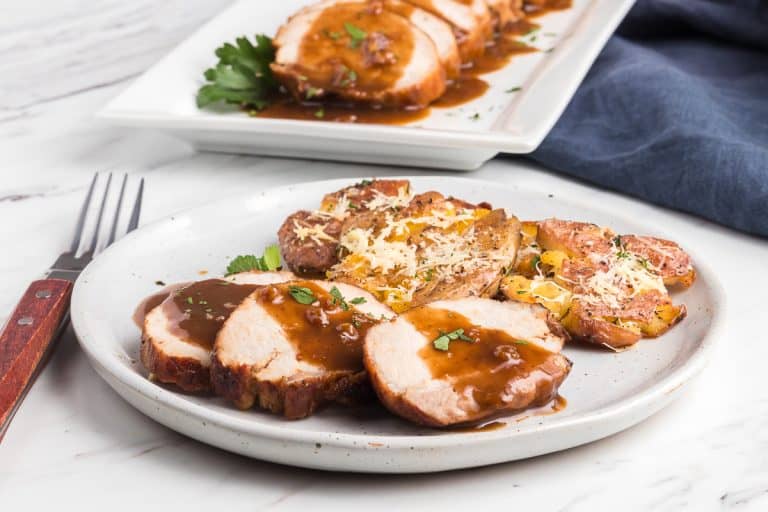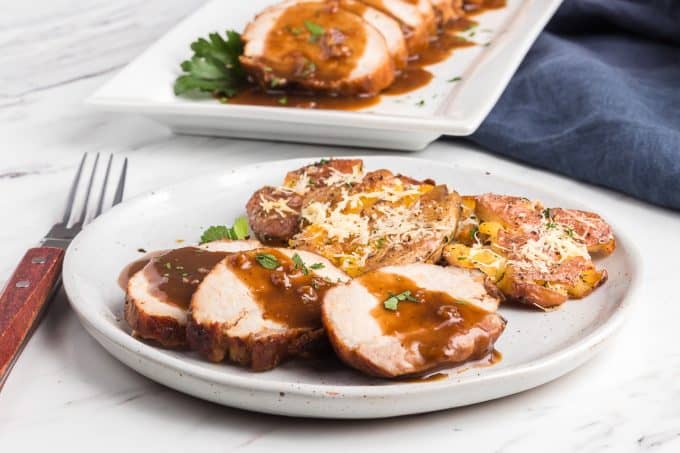 Allow me to introduce you to my current favorite pork recipe. It's right up there with Coca-Cola Shredded Pork Bites and Orange Pork Roast!
I'm not a whiskey drinker. But ever since I tried pork with a Jack Daniel's sauce, I've started buying the stuff regularly.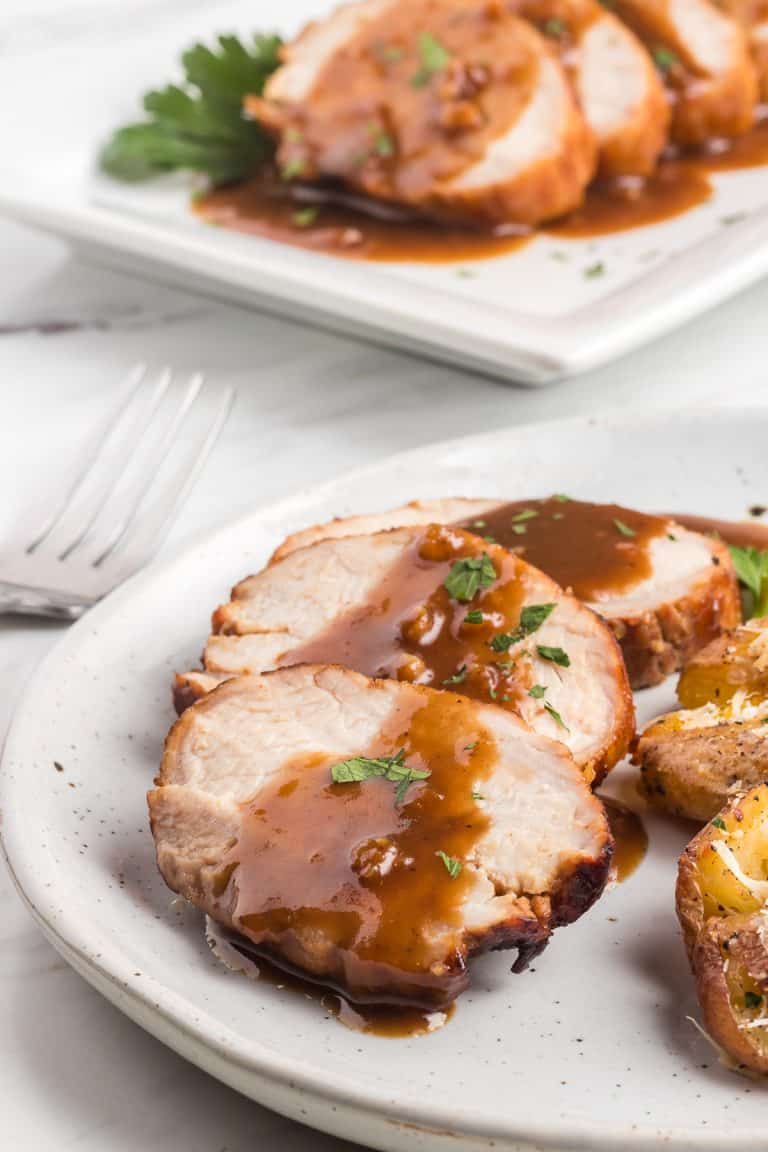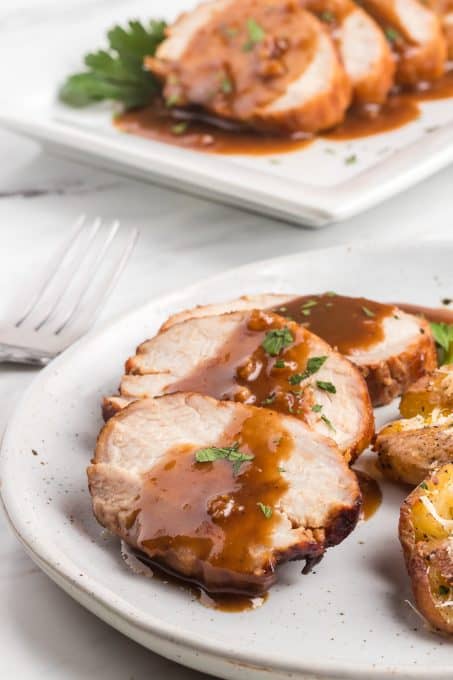 Whiskey is an ideal cooking alcohol, especially where pork is concerned! The bold, smoky flavor is tempered with a creamy finish and notes of molasses.
Think of Jack Daniel's as the ultimate flavor enhancer; it brings out the best of all the other ingredients in this marinade from the garlic to the brown sugar. The bitterness of the alcohol cooks out as the pork roasts leaving behind meat that's fork-tender, incredibly juicy and full of flavor.
I originally found this whiskey marinade at the The Use It Up Kitchen while trying to decide what to do with a bottle of Jack Daniel's I had leftover from another recipe. Mel calls it "the best pork tenderloin marinade ever" and I have to agree!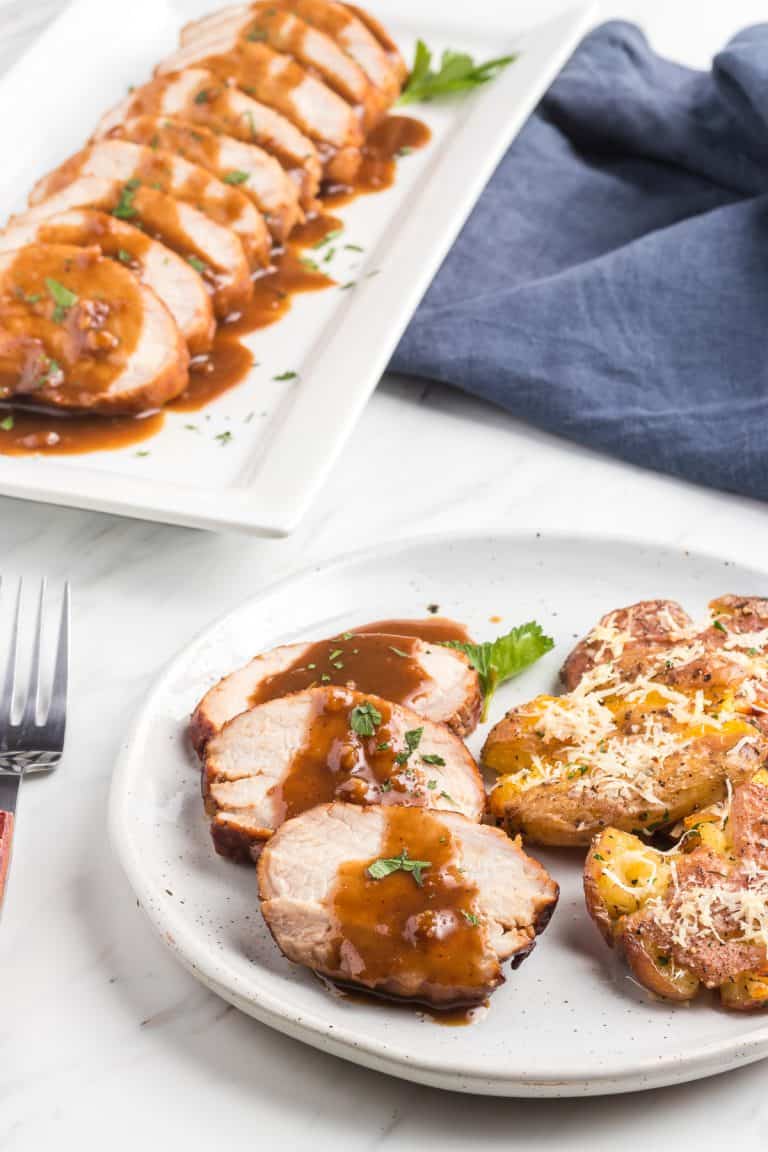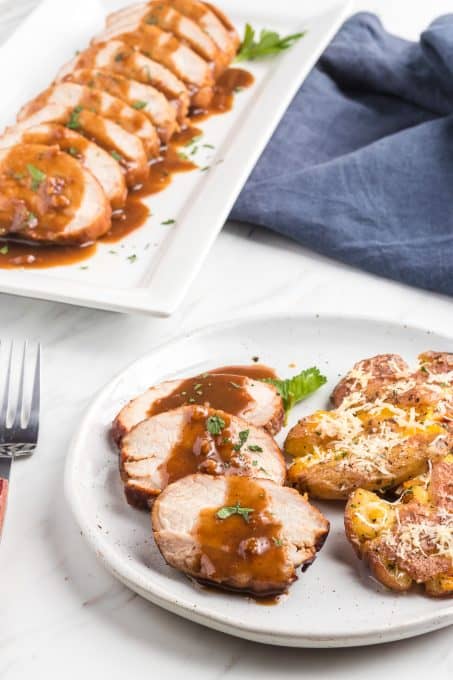 Why You'll Love This Pork Tenderloin Recipe
Marinated for 8 – 10 hours for best moisture and flavor.
Prep the pork in the morning and it's ready to roast by dinner time.
The pork has the perfect balance of garlicky, sweet, savory and spicy flavor!
Easy enough for a weeknight, impressive enough to serve dinner guests.
Delicious with all kinds of side dishes!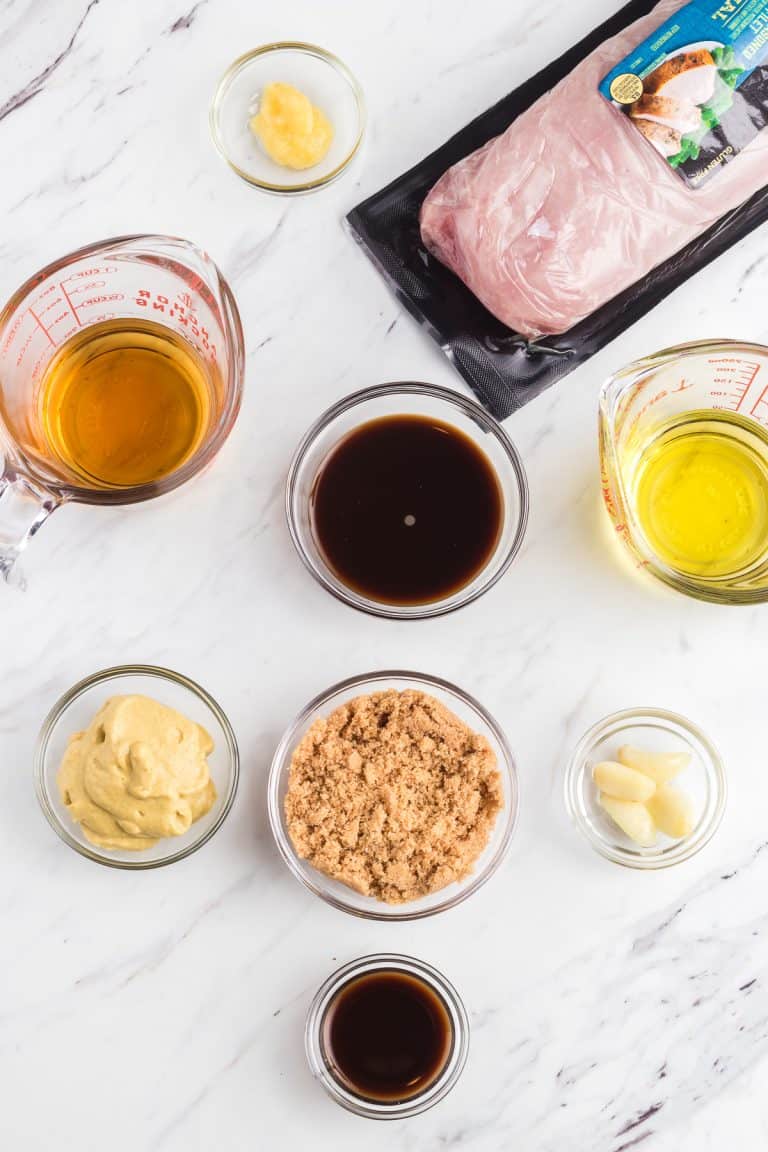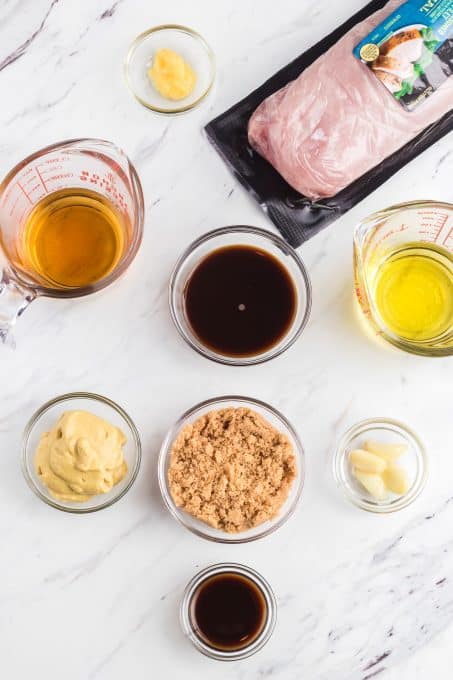 What ingredients do I need?
You probably have everything you need for the marinade already in your pantry! I love that the ingredients for this pork tenderloin recipe are easy to find at any neighborhood supermarket.
Pork tenderloin – A long, thin and tender cut of meat that cooks quickly.
Jack Daniel's Tennessee Whiskey – Or substitute any other inexpensive whiskey you have on hand.
Olive oil
Brown sugar – I used light. Dark brown sugar will work well too!
Garlic – Because garlic is a MUST in any marinade.
Ginger – for a perfect spicy zing!
Soy sauce- for salty, savory flavor.
Dijon mustard – Gives an earth acidity to the sauce.
Worcestershire sauce – the vinegary, fermented condiment adds a deeper, smoky taste to the pork.
Are pork tenderloin and pork loin the same thing?
Before we get to instructions for making pork with Jack Daniel's, let's get one thing straight: pork tenderloin and pork loin are not the same!
I've gotten lots of questions about different cuts of pork from readers about this over the years. And I understand why. It's easy to grab the wrong cut of meat when you're making a Spicy Pork Tenderloin or a plate of Parmesan Pork Chops . But there are big differences between pork tenderloin and pork loin. Choosing the wrong one can lead to a wasted marinade and an emergency pizza order!
The tenderloin used in today's recipe is long, skinny and boneless. Pork loin, on the other hand is wide, flat and tougher, requiring a longer cooking time. I love tenderloin for quick and easy dinners because it gets tender and juicy in a fraction of the time.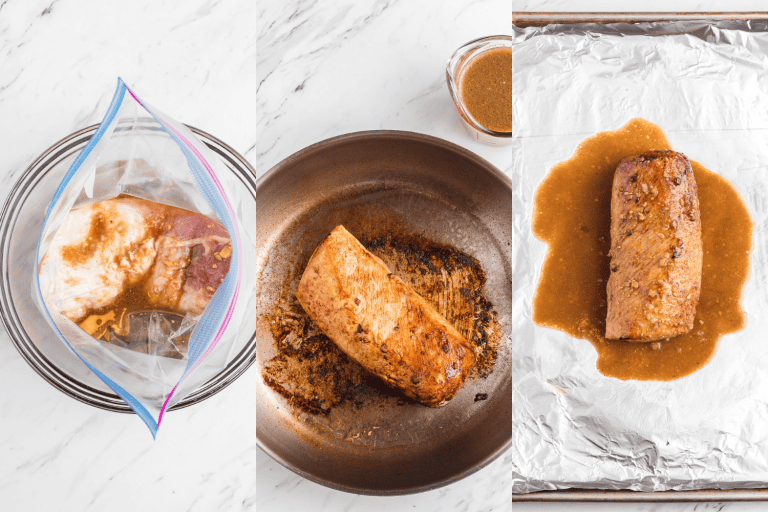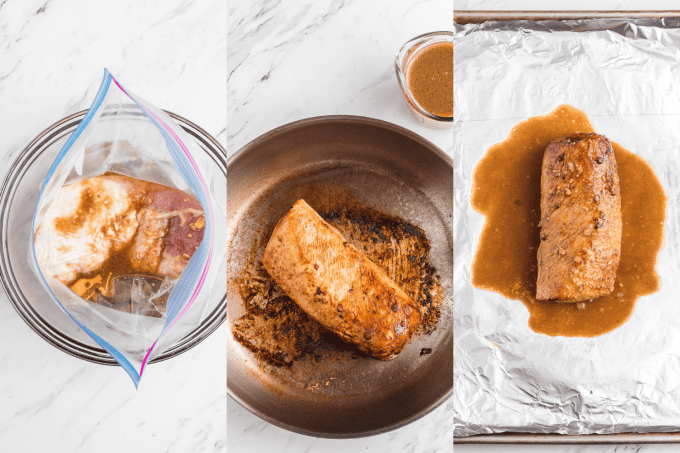 How to Cook Jack Daniel's Pork
The instructions for Jack Daniel's pork tenderloin are simple.
STEP 1. Marinate the pork.
Mix together the marinade ingredients in a zip top plastic bag. Poke holes all over your pork tenderloin and place it in the bag with the marinade for at least 8 hours!
If possible, try to rotate the tenderloin every couple of hours. This helps the marinade seep into every inch of that tasty meat!
STEP 2. Pan sear.
Remove the pork from the marinade. Place it in a hot skillet and let it brown on all sides. This should only take a couple of minutes on each side and helps lock in the flavor and moisture from the marinade.
STEP 3. Roast.
Cook that baby in the oven for 40 minutes or until a meat thermometer reaches 148 degrees F. Then, while that bakes, boil the reserved marinade to a boil in a small saucepan over medium-high heat for 5 minutes to kill any bacteria. Turn that heat to low and keep the sauce warm.
When you remove the meat, you're going to cover it with tin foil and let it rest. It's TOUGH work sitting and baking in the oven! This guy needs a break! This will also bring the internal temperature up to its doneness point of 170 degrees, and let the juices "settle" so every bite of the pork is tender and juicy.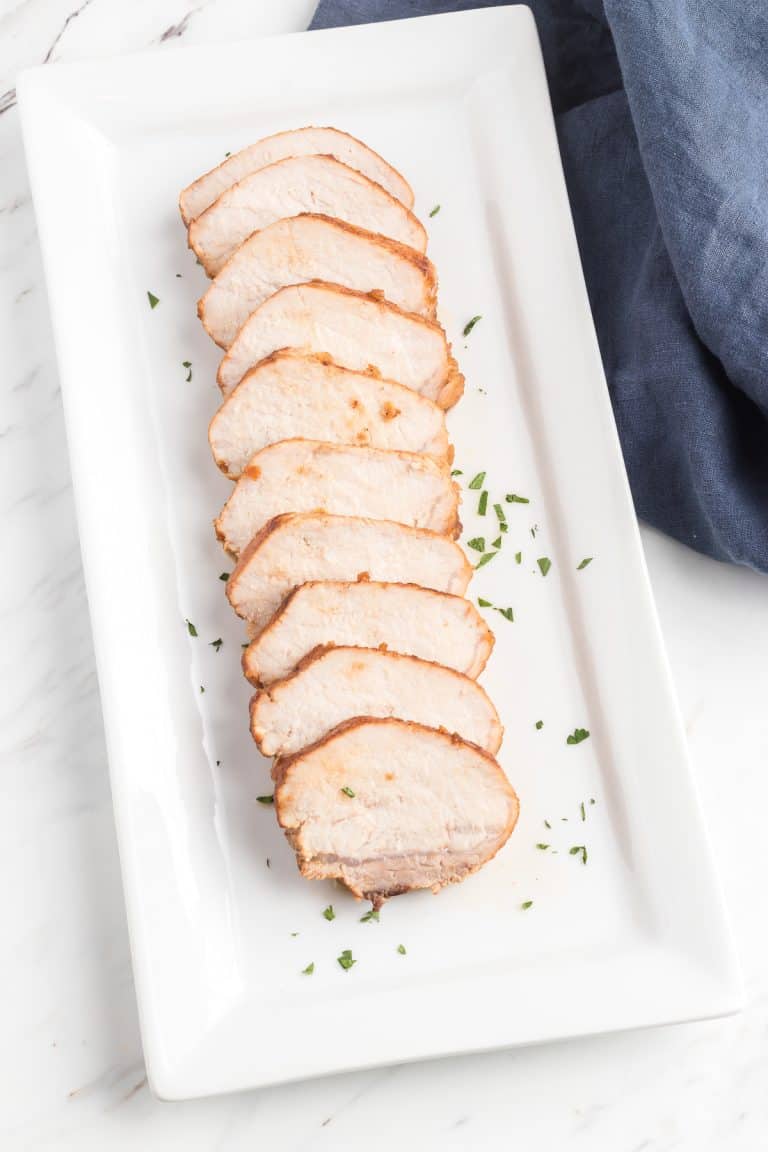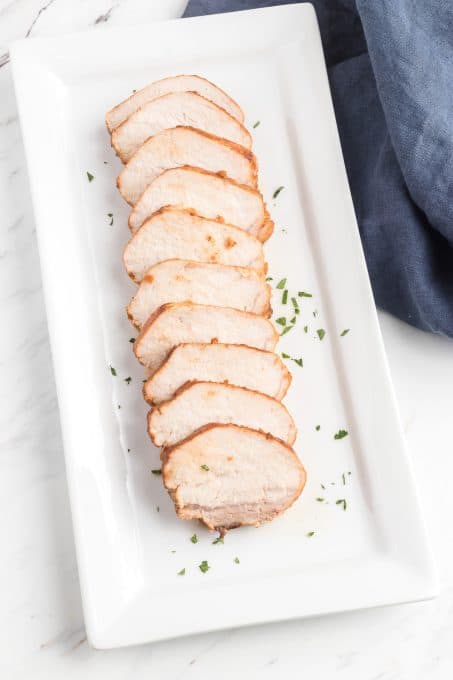 Serving Suggestions
Slice the oven roasted pork and serve with the warm sauce. You can drizzle the sauce right over the pork, like I did, or serve it on the side for dipping.
Jack Daniel's Pork Tenderloin tastes delicious with sides like Ranch Mashed Potatoes and Twice Baked Potatoes. If you serve it this way, make sure you try topping your spuds with a little of the leftover sauce, too. It tastes AMAZING on potatoes!
Add a fresh component to your dinner plate with a helping Strawberry Spinach Salad or a handful of mixed greens with Homemade Italian Dressing. And no feast is complete without a basket full of freshly baked Dinner Rolls.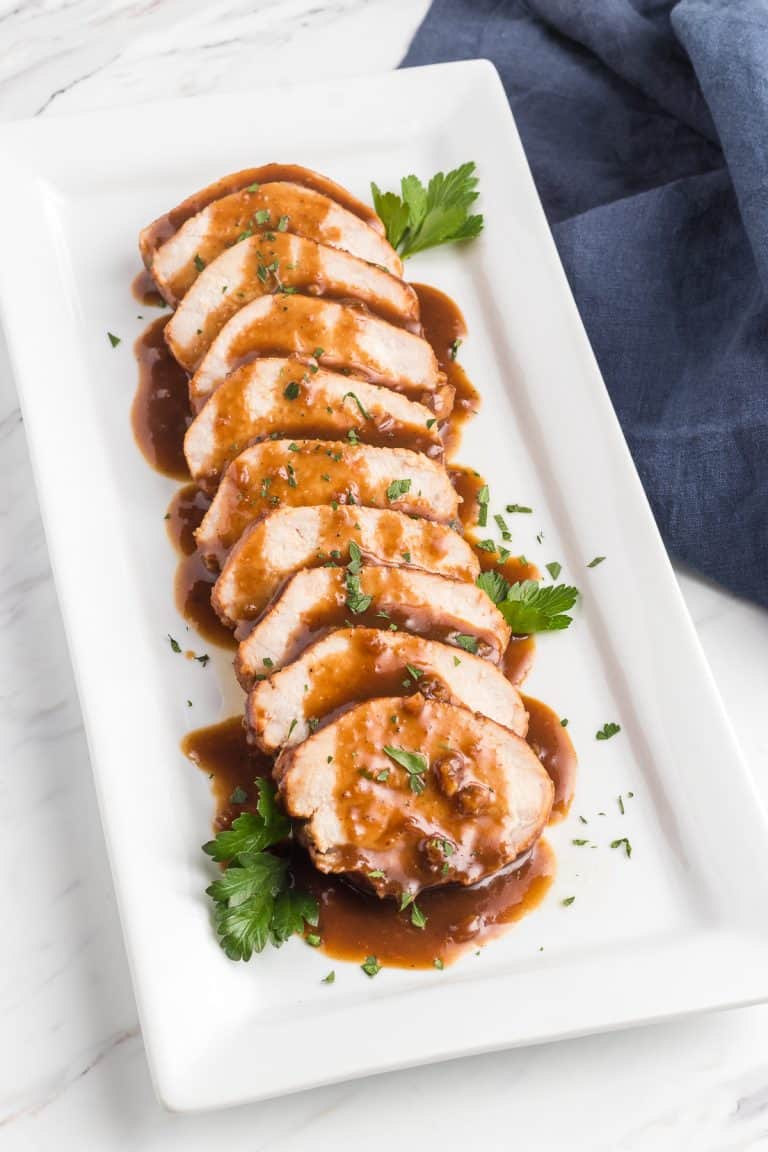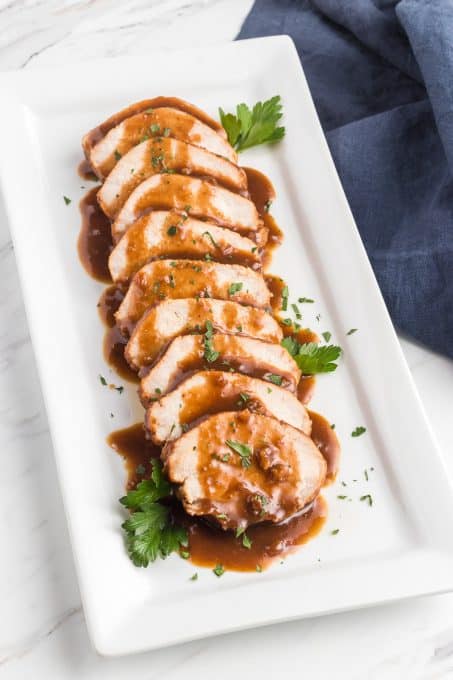 Recipe FAQs
Will I be able to taste the whiskey in this recipe?
The whiskey doesn't taste like the the stuff you'd pour into a bourbon glass at the bar. The alcohol cooks out leaving behind only the best tasting parts! Any remaining whiskey taste is beautifully balanced by the other marinade ingredients. I'm not a fan of the taste of whiskey and I LOVE this pork marinade!
Can I make it without the whiskey?
You can if you really want to, but it won't be as good. I promise it's worth picking up a bottle of Jack Daniel's for this marinade. You won't be sorry.
How do I reheat leftovers?
Leftovers can be reheated in the oven or microwave for a few minutes until warmed through. Slices of this pork are also tasty enjoyed on a sandwich the next day.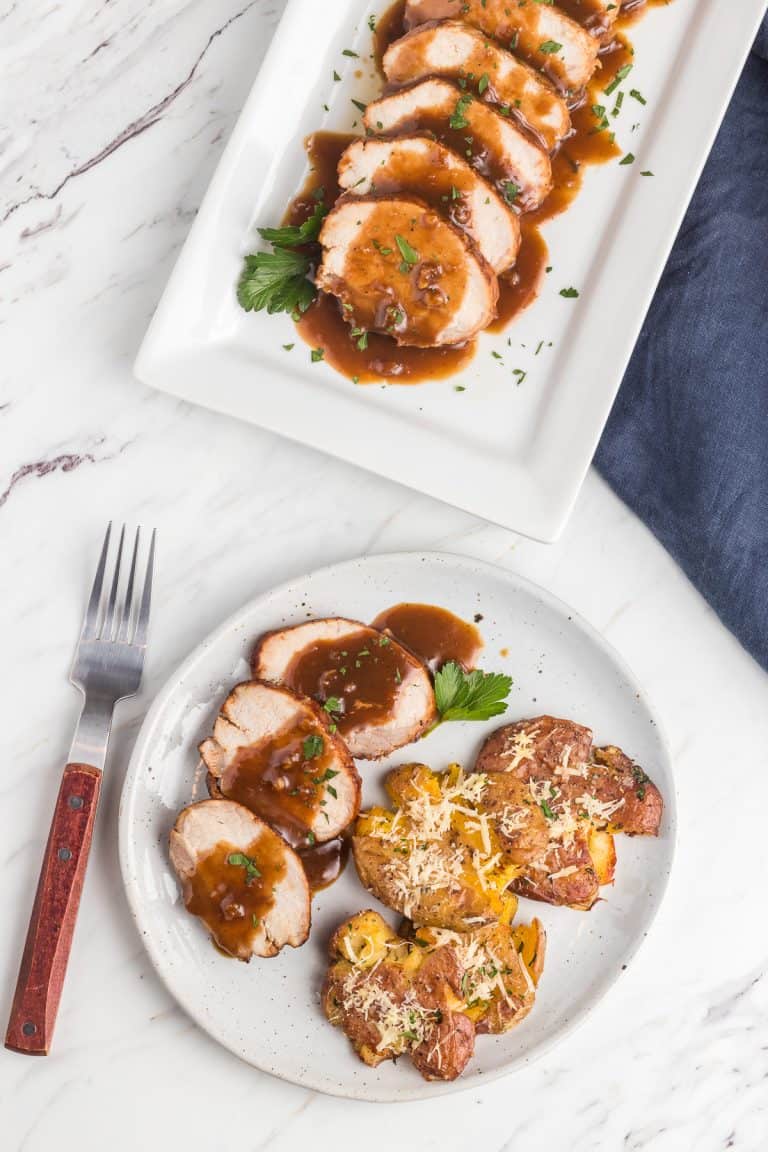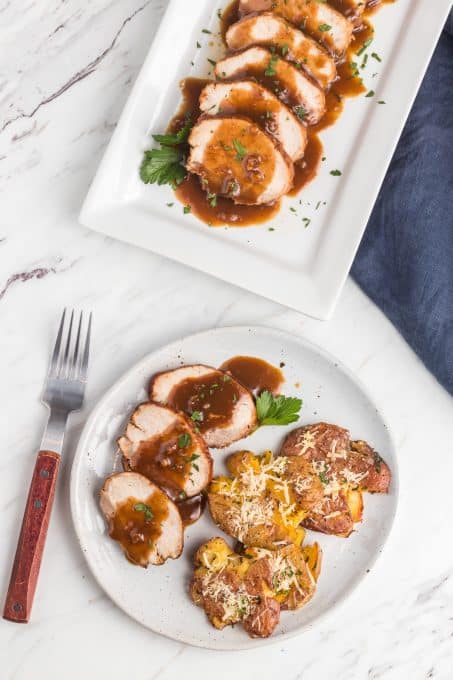 More Pork Recipes
We eat quite a bit of pork around here. It's an inexpensive protein that's super versatile for busy families.
These Rosemary Pork Medallions with Mushroom Wine Sauce have a fancy restaurant quality, but are easy enough for even beginner cooks to make. Dijon Herb Roasted Pork with Cranberry Pear Chutney is another great option for holidays and special occasions.
When it comes to kid friendly pork recipes, I can't think of anything better than BBQ Pork Mac & Cheese. If your kids can handle a bit of spice, try these Cheesy Spiced Pork Burgers too.
Crockpot Pork Ragu is a slow cooker recipe that requires almost no hands-on prep time. Make sure to try my grandma's favorite Crockpot Spareribs for another budget friendly dinner idea.
Now that I've given you a little inspiration for your meal planning, go ahead and start with this juicy, flavorful Jack Daniel's Pork Tenderloin. I think you'll agree — it really is the best!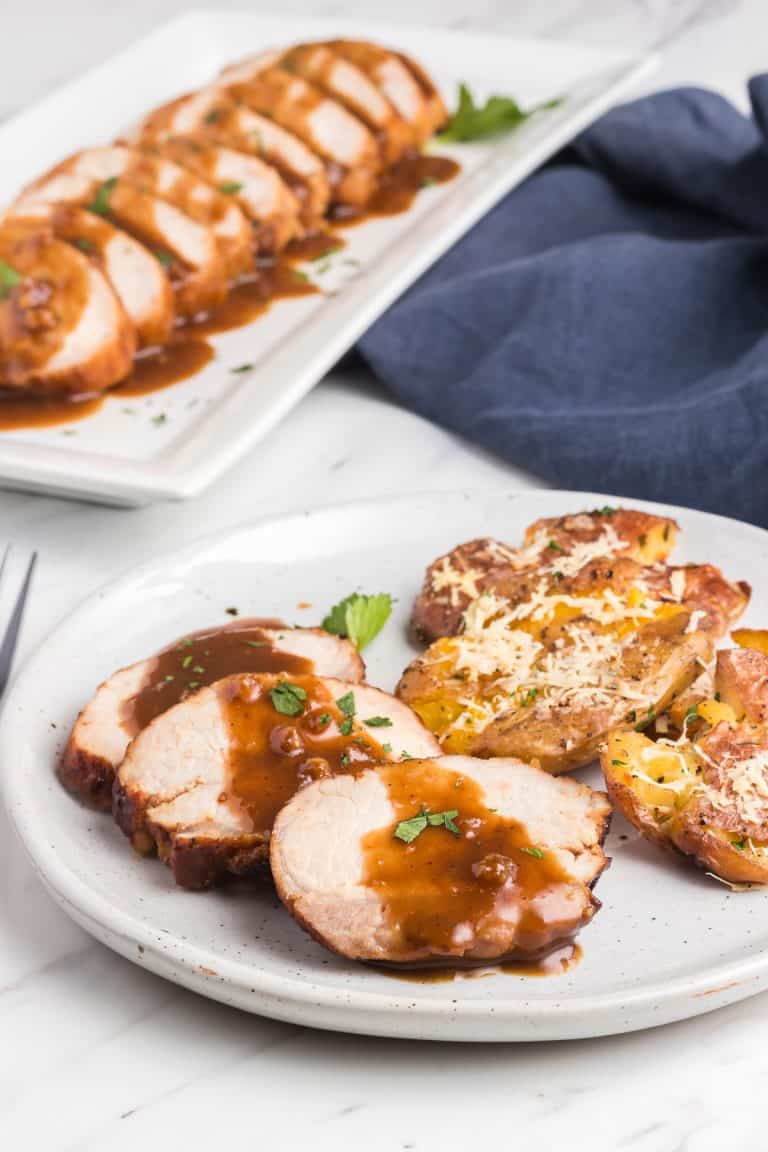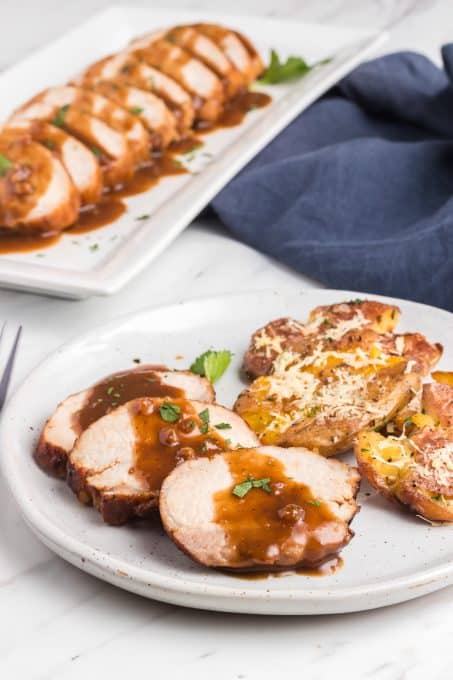 ~ FOLLOW ME ~
Keep an eye out for more of my easy recipes each week!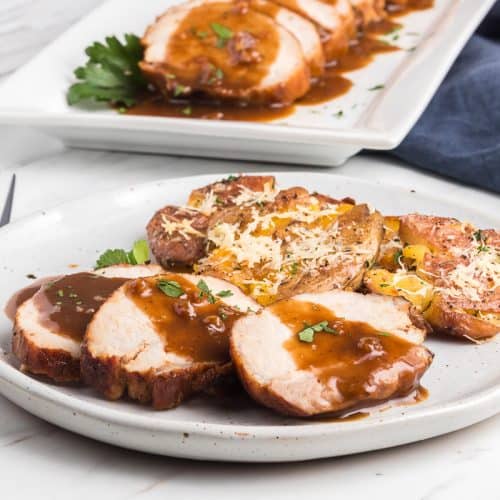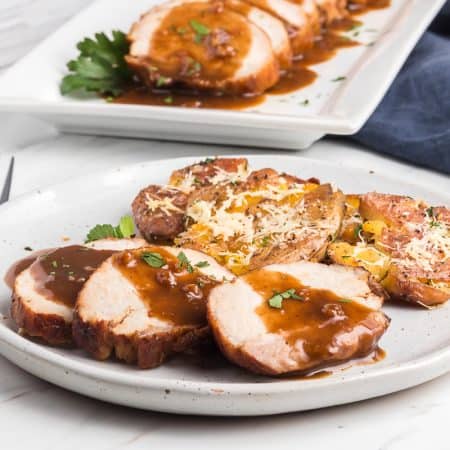 Jack Daniel's Pork Tenderloin
Jack Daniel's Pork Tenderloin is an easy pork recipe flavored with whiskey, brown sugar, soy sauce, Dijon mustard and garlic. Marinated for hours then roasted to juicy perfection, this whiskey-infused pork turns dinner into a feast!
Ingredients
Marinade
¼ cup Jack Daniel's Whiskey
¼ cup olive oil
¼ cup packed brown sugar
4 cloves garlic minced
3 tablespoons soy sauce
3 tablespoons Dijon mustard
1 tablespoon Worcestershire sauce
1 teaspoon fresh ginger
Instructions
Place a large Ziploc bag into a large bowl and add to it the whiskey, olive oil, brown sugar, minced garlic,soy sauce, Dijon mustard Worcestershire sauce and ginger. Putting the bag into a bowl allows for the ease of adding the ingredients without the fear of it spilling over.

Seal the bag and mix well.

Place the pork loin onto a cutting board and prick all over with a fork.

Put the meat into the bag. Seal and refrigerate for 8-10 hours, turning over occasionally.

When ready to cook, preheat the oven to 350°F.

Prepare a rimmed baking sheet by lining it with tin foil and spray it with cooking spray.

In a large skillet over high heat, sear the loin so that it is browned on all sides, reserving the marinade.

Place meat on prepared baking sheet and pour 1/3 of the marinade over it.

Cook for 40 minutes or until a meat thermometer reaches 148° F.

In the meantime, heat reserved marinade to a boil in a small saucepan over medium-high heat.

Boil for 5 minutes, bringing the temperature to 165° F. to ensure all of the food borne bacteria is killed off. Turn heat down to low, keeping sauce warm.

Remove tenderloin from oven and transfer to a cutting board.

Cover with tin foil and allow to rest for 8-10 minutes before cutting to serve.
Nutrition
Serving: 1serving | Calories: 504kcal | Carbohydrates: 17g | Protein: 49g | Fat: 22g | Saturated Fat: 5g | Polyunsaturated Fat: 3g | Monounsaturated Fat: 13g | Trans Fat: 0.1g | Cholesterol: 147mg | Sodium: 1056mg | Potassium: 1003mg | Fiber: 1g | Sugar: 14g | Vitamin A: 16IU | Vitamin C: 2mg | Calcium: 45mg | Iron: 3mg
Did you make this recipe?
Share it with me on Instagram and make sure to follow me on Pinterest for more recipes.
This post was originally published July 25, 2012. It has been updated in format and with pictures on August 23. 2023.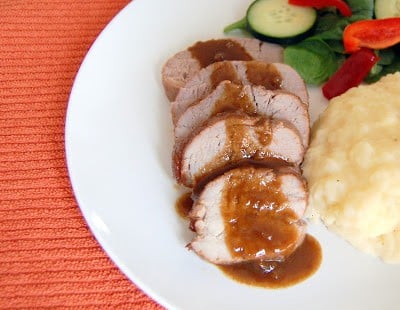 Reader Interactions