There are many different pork cuts and ways to prepare them. Don't be overwhelmed. Here, I'll give you a few of the most popular and recipe ideas for them, too!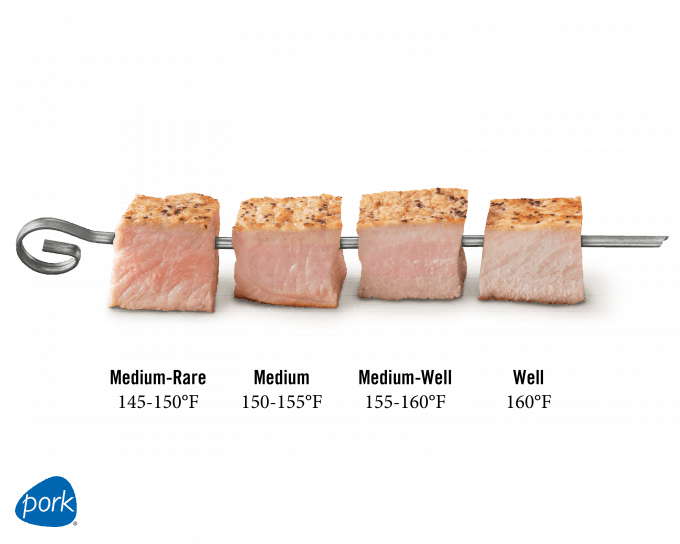 Did you know that pictured above are THE recommended cooking temperatures for fresh-cut muscled pork meats like chops, roasts, loin, and tenderloin?
I am proud to partner with the National Pork Board to bring you this sponsored post. As always, all opinions are 100% my own.
There are SO many different cuts of pork and different recipes with them that it might make a person's head spin.
I didn't realize there was such a variety until I went on my first pig farm tour in 2015. There, and on the two pork tours I've been on since I, along with the other bloggers attended a pork fabrication.
What's a pork fabrication?
Well, I'm glad you asked!
It is where someone, most often a butcher or chef, breaks down the body of an animal into the cuts to be purchased by a consumer, as well as the boned cuts.
It's pretty freakin' cool, too!
SAVE THIS GUIDE TO PORK CUTS TO YOUR FAVORITE PINTEREST BOARD!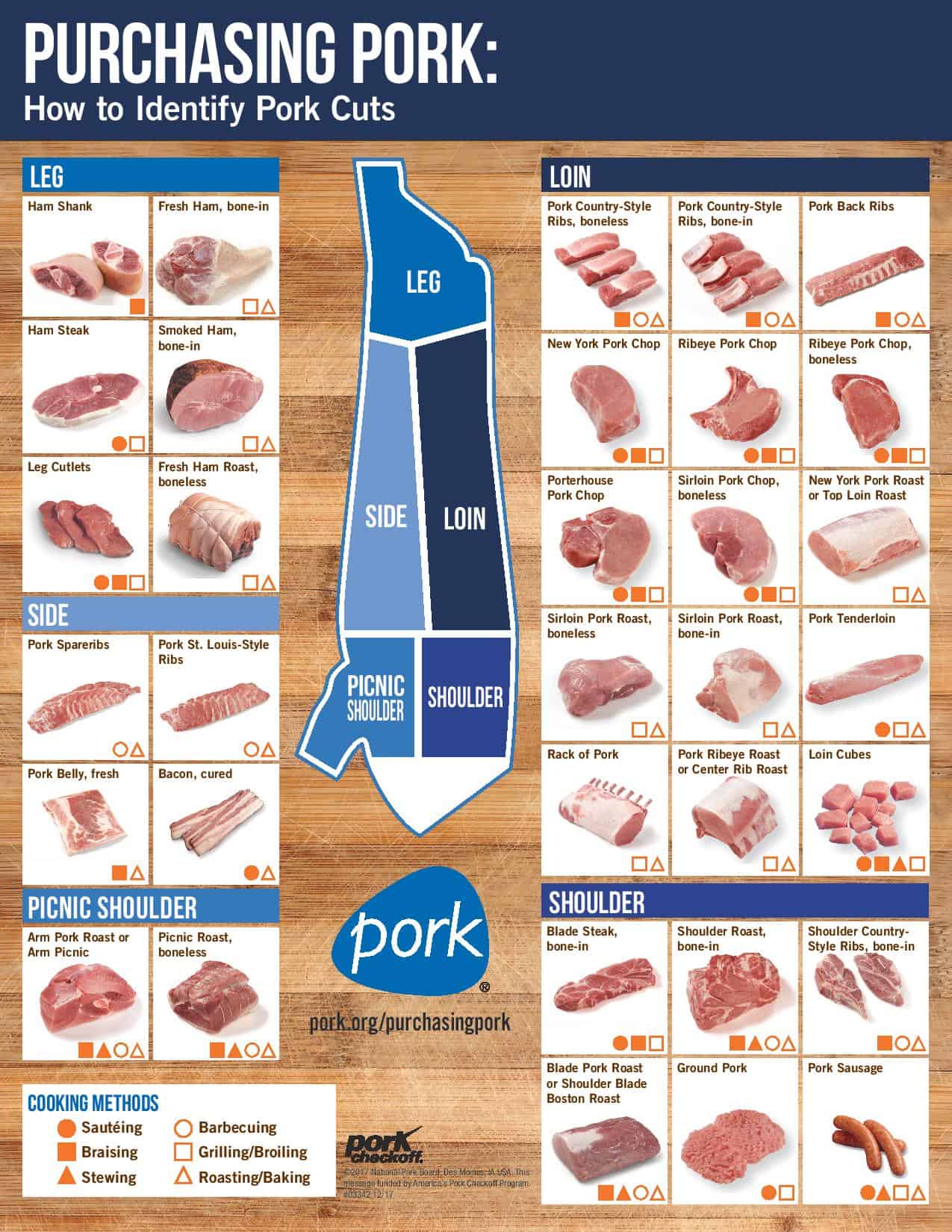 Isn't that graphic above amazing?
I had no idea that all those different cuts came from those specific places on the pig, especially the bacon!
So it was cool to see the chefs take the pig apart and show us specifically the consumer cuts and where on the pig the pork cuts are located.
Each time I've loved it and I know it's something I could watch over and over.
I think it's kind of like a puzzle – although doing it in reverse or deconstructing it so to speak.
TALKING CUTS OF PORK IN EAST LANSING, MICHIGAN
So, a little bit about my most recent pork trip to Michigan to visit some pig farms before I talk more about the cuts of pork.
At the end of September, I had the opportunity to fly to East Lansing, MI to visit a couple of pig farms to see first-hand what they do and how they do it.
You might think that "you've seen one pig farm, you've seen them all" type thing, right? Wrong!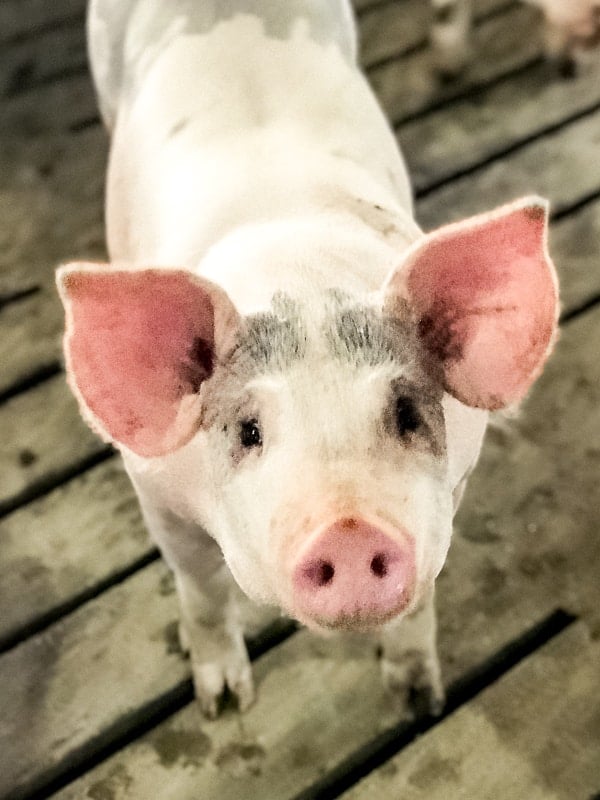 I've been to Iowa twice, S. Dakota last year and now Michigan this past September to tour different farms. And while there are quite a few similarities between safe health practices, and raising the pigs, etc., there are definitive differences. The main one being that the majority of pig farms are family owned and run. Each family pours their heart and soul into their farm.
It is their livelihood; something that may have been started generations before, is a way of life for them now, with hopes and plans in place that it will continue to thrive for generations to come.
Every pork tour I've been on I've learned something new, and I come home with something that leaves a lasting impression. My recent trip to Michigan was no different.
That's me on the right patiently waiting to pet a piglet.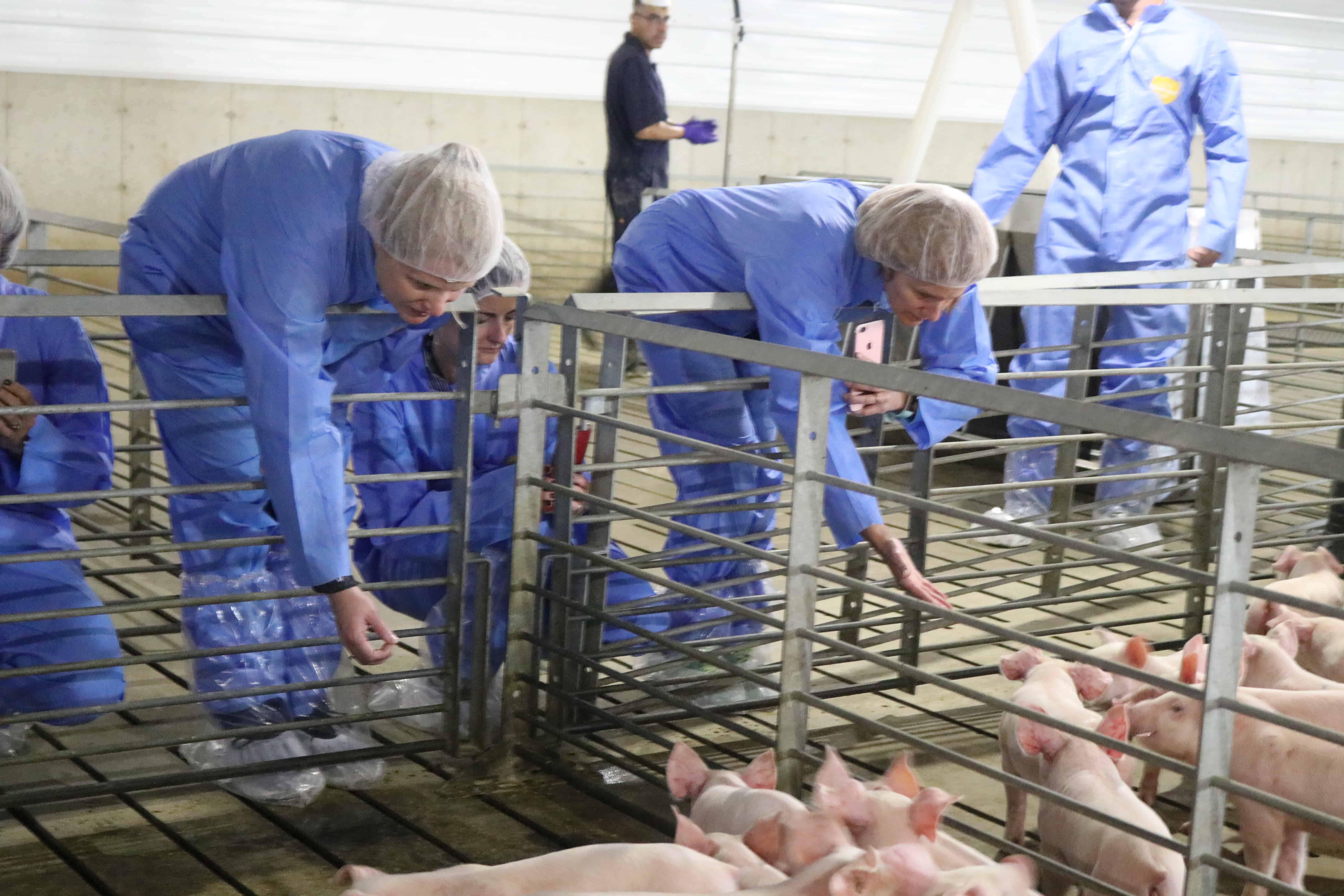 This time I was most impressed with air filtration.
I know on all the farms we've been to that it's been discussed, but for some reason, this time it stuck with me.
Funny how that happens, hunh?
Not only is air filtration a crucial part of pig farming for the health of the pigs, but it's important for the neighbors of a pig farm as well.
High-end filters are put up both inside and outside of the barns, like the one pictured below. Trees are strategically planted to help dissipate the air as well.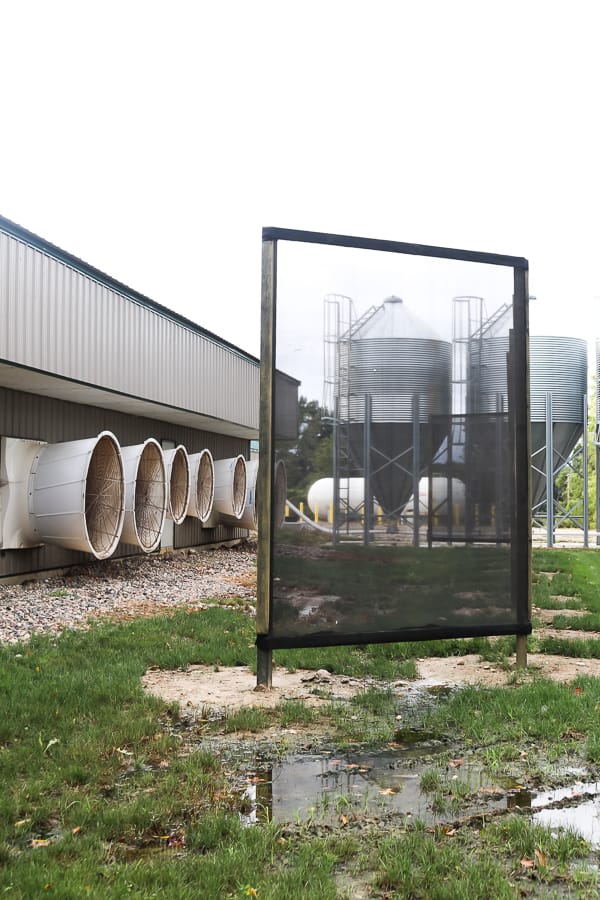 Temperatures of the pig barns are regulated because no matter what state your farm is in the weather will change! The animals need to be kept at a temperature where they're comfortable and not stressed.
As with humans, if they're uncomfortable in a climate then they might expend needless energy trying to stay warm or not want to eat because it's just too darn hot.
Makes sense, right?
There's so much science put into pig farming that it's left me speechless each time.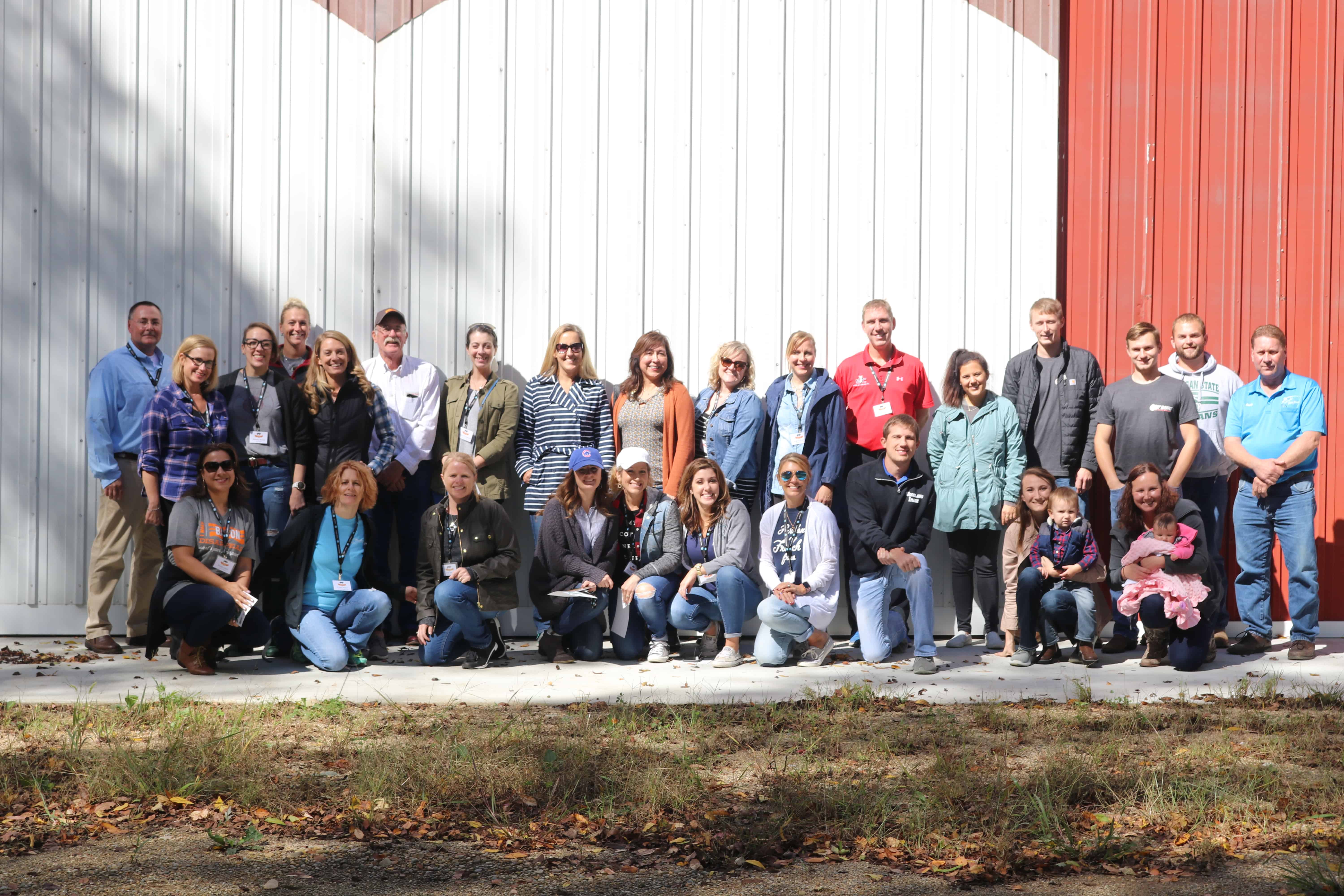 As I said before, each time I've been on a pig tour, one of the things I've most enjoyed is pig fabrication.
I've always loved anatomy and how the body works, so it is just so fascinating to watch and learn where each cut of meat comes from.
Off the top of my head, I wouldn't be able to tell you their locations but give me a few more times and I might!
Here Chef Neel Sahni of the National Pork Board performs the fabrication while Chef Kurt Kwiatkowski, Michigan State's corporate chef of culinary services tells us about the many different pork recipes they have on their menus.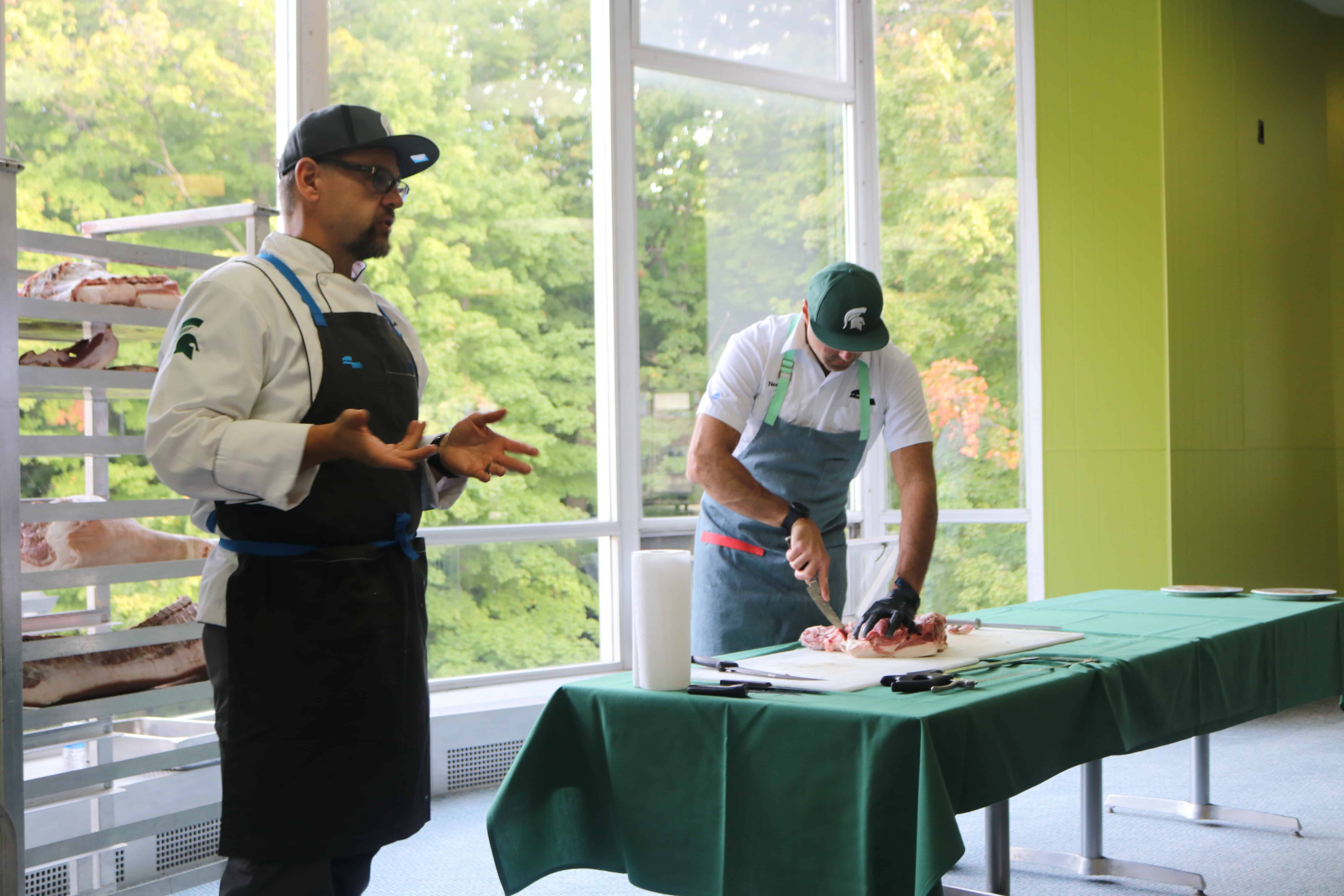 What is the best temperature to cook pork?
Well, that depends on the cut.
BUT first and foremost, you need to know that,
"The National Pork Board now recommends cooking fresh cut muscle meats like pork chops, pork roasts, pork loin, and tenderloin to an internal temperature of 145° F, followed by a three-minute rest."
National Pork Board
Pretty cool, hunh?
Now you don't have to have those dry-as-a-bone, too-tough-to-chew pork chops that your mom or grandmother used to make. They're a thing of the past!
Today, it's ok to have a pink middle! By doing so you'll also have a juicy and tender piece of meat.
Isn't it better to enjoy a dish like that instead?
You can go here to see the recommended cooking temperatures for some different cuts of pork.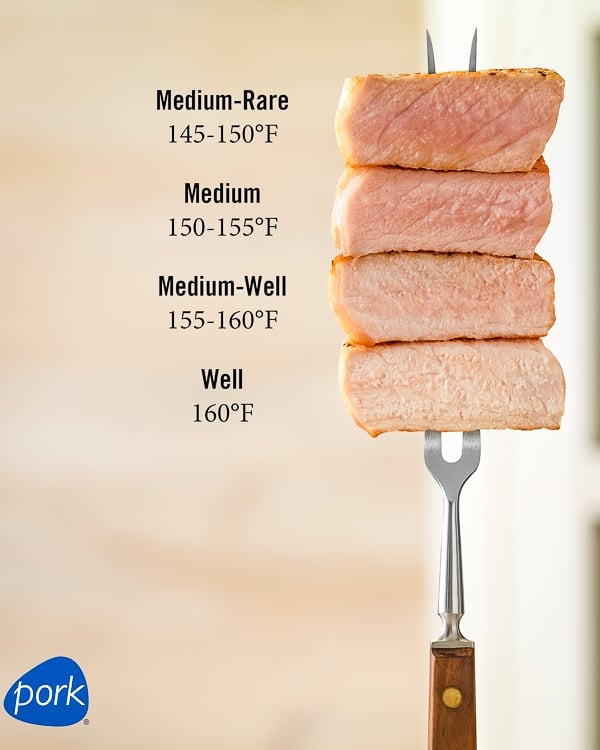 Let's talk pork cuts!
There are so many pork cuts that I can't possibly go over all of them here, but I highly suggest you PIN this graphic so that you can refer to it in the future.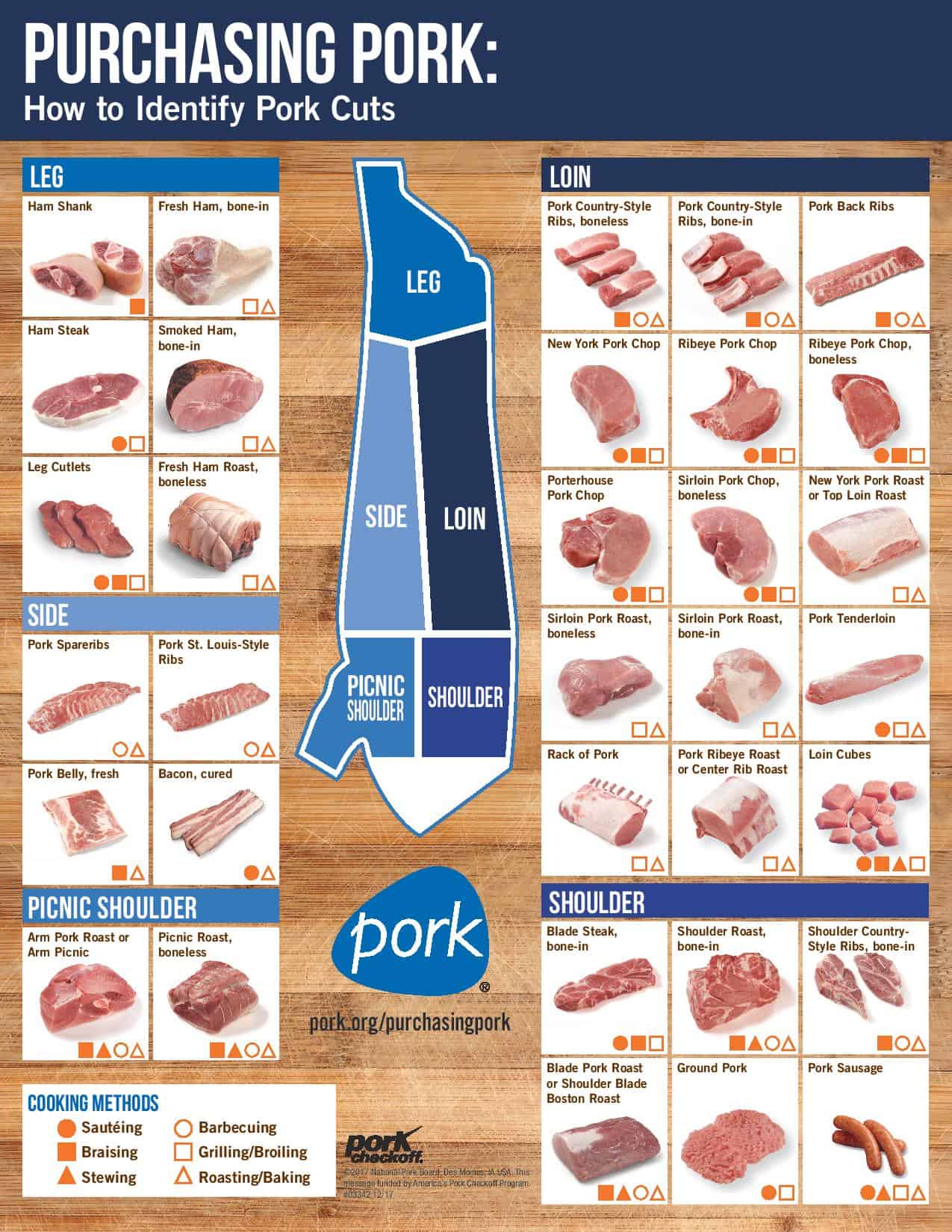 Leg of the Pig –
From the leg comes the ham. We often enjoy it for dinner on holidays, but of course, it makes a great lunch, too!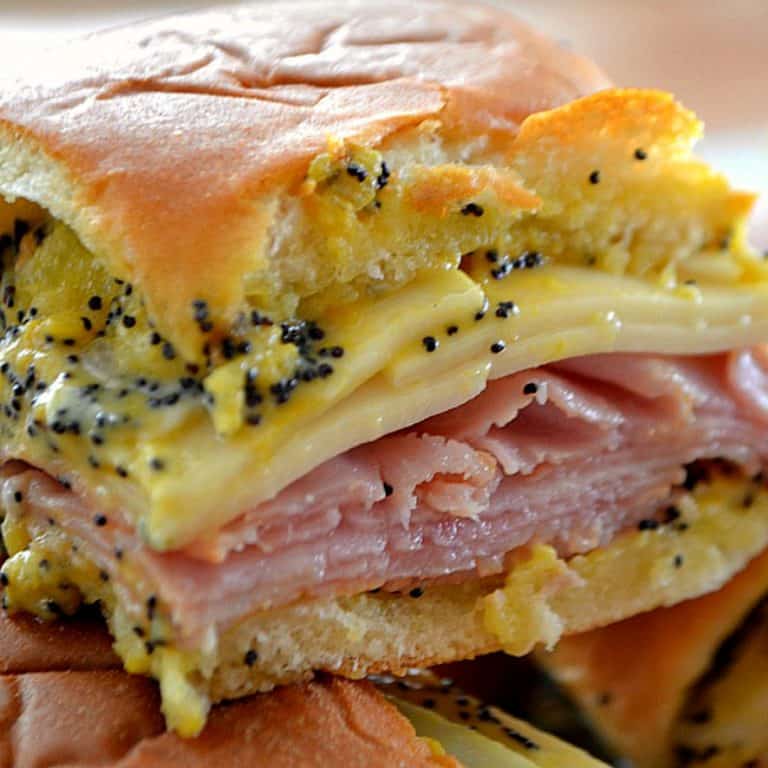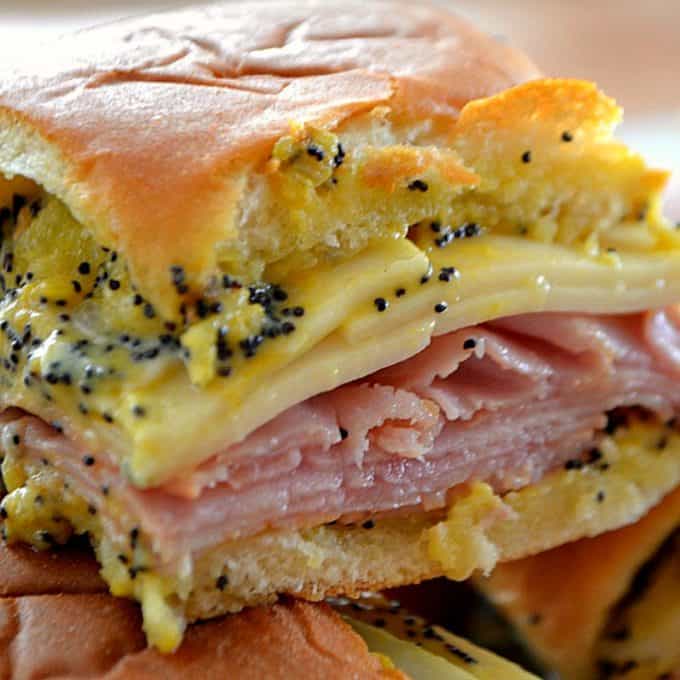 Ham steaks are also an easy and delicious weeknight meal. They're already cooked, so just heat up the grill. Mix a little bit of honey with some BBQ sauce, slather it on the ham and grill both sides for about 3 minutes.
Could dinner be any easier?
Side of the Pig –
Of course, one of THE most popular cuts of pork is Bacon. Am I right? Just about everyone loves the stuff and the majority of us love it crispy. This pork cut comes from the side.
I have a way to cook bacon so that it comes out perfectly Every. Single. Time.
No joke.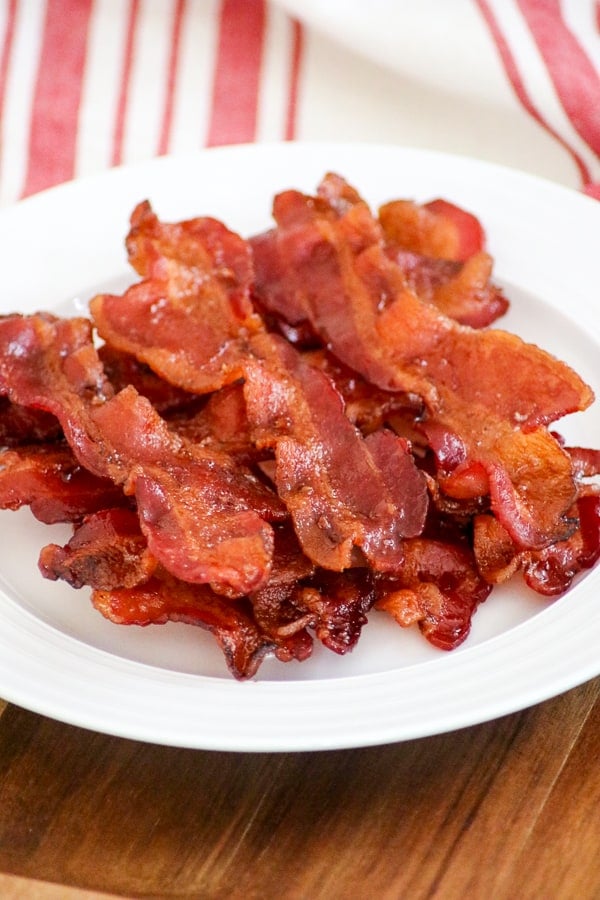 Spareribs are a stick-to-your-fingers good meal and they come from the side as well.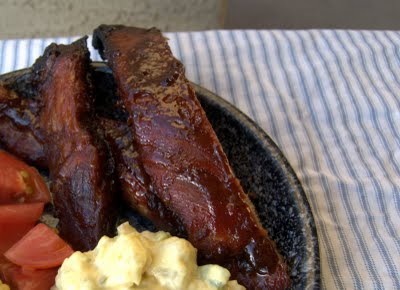 Picnic Shoulder of the Pig –
The pork shoulder comes from where else, the pork shoulder! One of the most popular ways to prepare the shoulder is Pulled Pork.
This Dr. Pepper Crock Pot Pulled Pork Recipe from Holly at Spend with Pennies has so much flavor that you're sure to be going back for seconds! Holly also tells you to take a look at the labels on the pork because it may be labeled as something other than pork shoulder, but it will be the cut you're looking for.
Pig Loin –
One of the most popular pork cuts of the loin is the pork tenderloin. There are SO many different ways you can prepare this baby!
Slice it up and make these…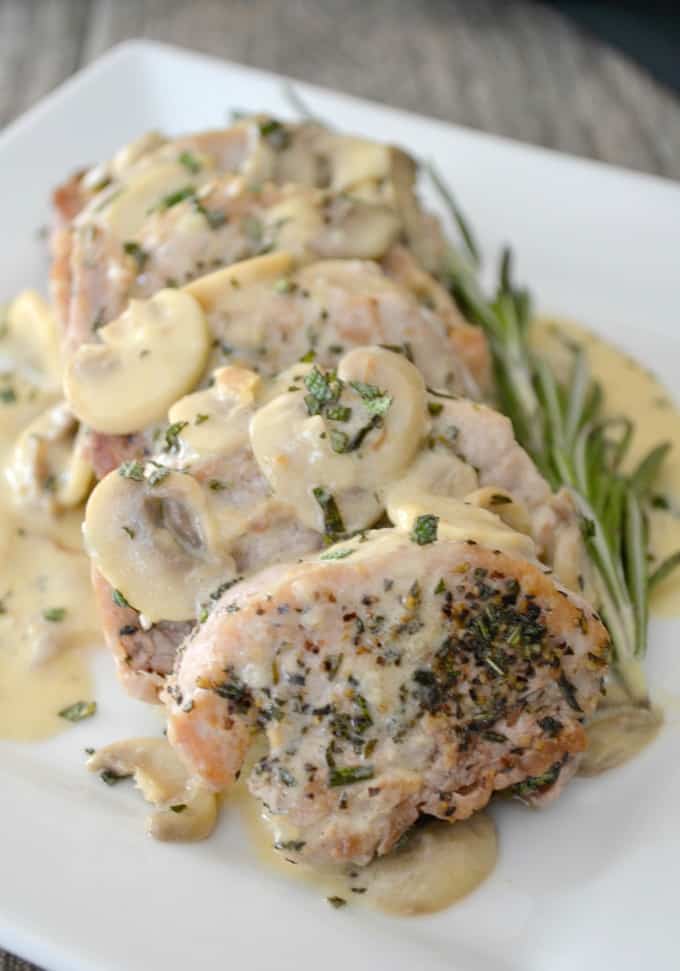 Or with the holidays coming up, one of our favorite meals is this…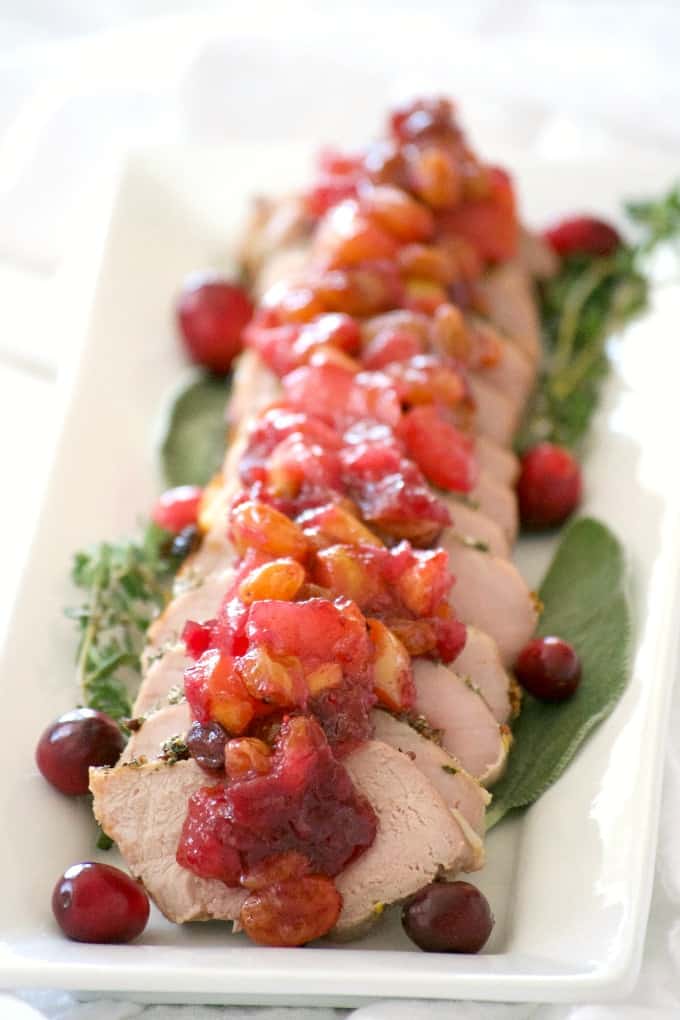 And of course, from the loin comes the good ol' pork chop.
These Apple Butter Skillet Pork Chops from Becky at the Cookie Rookie sound incredible. Pork chops with apples is just a great flavor combination.
I made these Parmesan Pork Chops with Pesto, Kurt said they were one of my top 10 dinner recipe creations to date. They were SOOOO juicy and delicious. Absolutely NOTHING like the ones my mother used to make in the '70's!
Don't they make you want to lick your screen??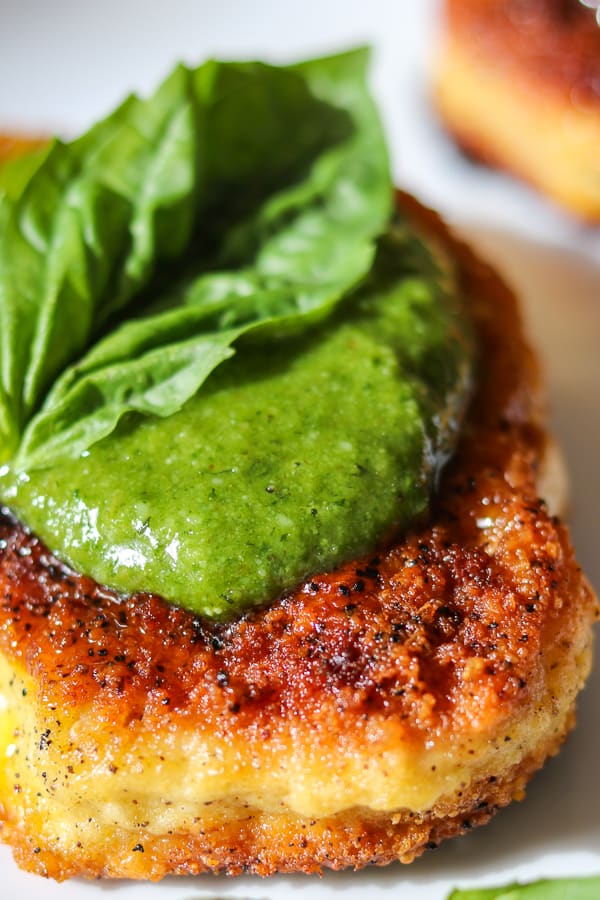 The rack of pork is also another pork cut derived from this area of the pig.
I've never cooked a rack of pork. April from Mama Loves Food has made this Fig Glazed Rack of Pork. This will be the highlight of your holiday table when you present it!
Pig Shoulder –
Pork is the most widely consumed meat in the world. In many places such as Puerto Rico, "Pork is king" says Meseidy of The Noshery. Since Meseidy originally hails from Puerto Rico, she's eaten a good amount of pork in her life and creates phenomenal recipes with it.
Her Slow Cooked Puerto Rican Pork Pernil is a traditional native dish which uses the pork shoulder. It sounds phenomenal and any recipe made in the slow cooker is a wonderful thing!
You'll also find other pork cuts out of the shoulder, but two of the most popular are pork sausage and ground pork.
There are many ways to enjoy pork sausage. You can grill it or slice it up and use it in a slew of different recipes, and you can also crumble it. It makes for a great pizza topping!
Sausage Gravy is a popular breakfast dish in the south. Jessica at Real Housemoms tells you step-by-step how to make a mouthwatering Sausage Gravy that would be delicious any morning over some homemade buttermilk biscuits!
I use quite a bit of ground pork here at home. One of my MOST FAVORITE recipes with it is these…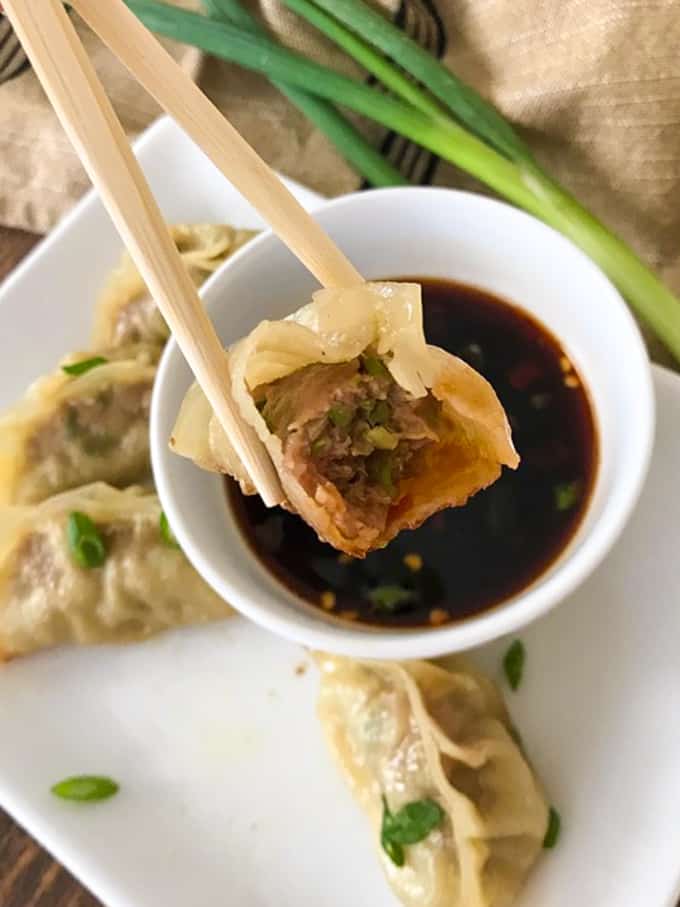 They are OMG delicious and the sauce with them is the bomb. I could seriously eat the whole batch by myself! They're pretty easy to make, too. It just takes a little work wrapping them, but once you get the hang of it, you're golden! Besides, they don't have to look perfect they're going to be going in your tummy anyway.
Another popular ground pork recipe here at home are these…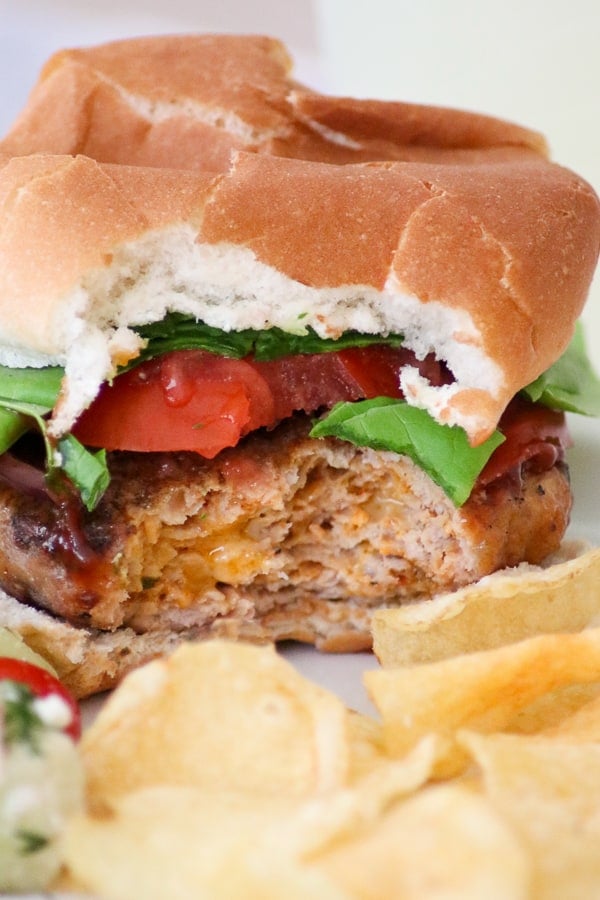 YOWZA!!!
These burgers rival any steakhouse burger for sure. Kurt absolutely LOVES them and it's now our preferred way to make burgers. Pork burgers are where it's at, baby!!
Above we've gone over the recommended cooking temperatures for all muscle meats. Please make note:
Cooking temperature for ground pork is 160° F, not the 145°.
So use those meat thermometers!
Thanks so much for reading. I hope reviewing the variety of pork cuts has helped you. I know seeing the fabrication certainly taught me more about this protein as does studying the above graphic!
Pork is a wonderful, healthy and delicious meat and can be used in so many different recipes for every meal of the day –  breakfast, lunch, dinner and even dessert (think anything with BACON!! haha).
So, LET'S EAT MORE PORK!
You can read about the different cuts of pork, pig farming, cooking temperatures, recipes and much more here at the Pork Checkoff website.