It's Furry Friend Friday! Each Friday I share pictures and updates on Logan, our Golden Retriever puppy. If you love Golden Retrievers, puppies or dogs in general then you're going to enjoy following his antics each week.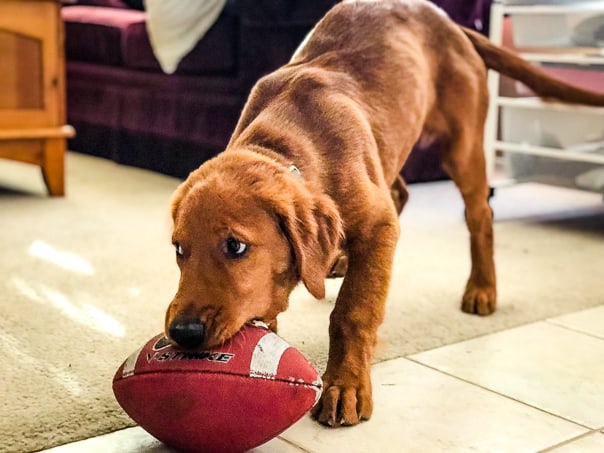 We had a great week this past week!
First and foremost, as you probably well know if you're a baseball fan, our Red Sox won the World Series.
WOO HOO!!
In my first post about Logan, I told you how we picked out his name. I originally wanted to name him Benni after the Red Sox outfielder, Andrew Benintendi, and because we wanted a New England sports reference, but Kurt gave it a big fat no.
"He hasn't won a championship yet, so we're not naming him that or for any other player on the team."
Oh, BOO!!!!!
Despite the fact that he wasn't named after a Red Sox player he still enjoyed watching Game 4 of the World Series with us. He only got a little (okay, maybe a lot) freaked out when I was screaming at various times during each of the games.
haha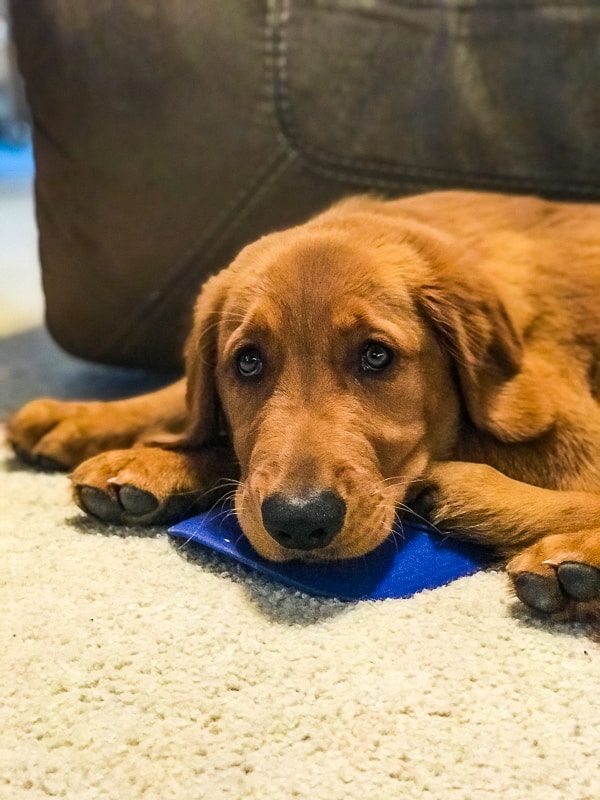 Soooo, now that they've WON…We can rename him!!!
Kidding. He's definitely a Logan and that he'll stay. I think we'll just make his middle name Eovaldi as our daughter, Emma suggested. LOL
You can follow Logan the Golden Dog account on Instagram where you'll see almost daily pictures and adventures of our furry friend!
We've been continuing our walks both morning and at night. He really enjoys tearing around the sand volleyball court at the park and there's a video up on my Instastories of him doing it.
It's the last thing we do on the walk before heading to the car and I swear he looks forward to it because he knows when we're getting closer.
We've got a great routine down with him now and it's helped Kurt and me as well. It's funny because we're definitely going to bed earlier and rising earlier in the morning because of this guy.
And I have to say that it's a good thing.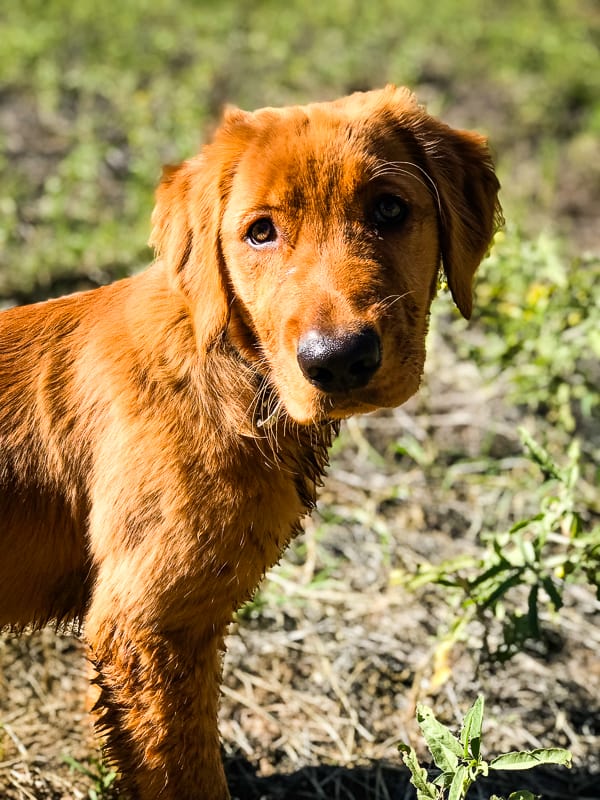 It forces us to get more sleep and gets me out in the morning to go to the gym – no excuses! And while I'm at the gym Kurt takes the big guy for his morning trail walk.
Thanks, Logan!
On Saturday, we went up north for our weekly Saturday hike to Clear Creek, and he had another fun time. Got to frolic in the water and was able to chase some bugs.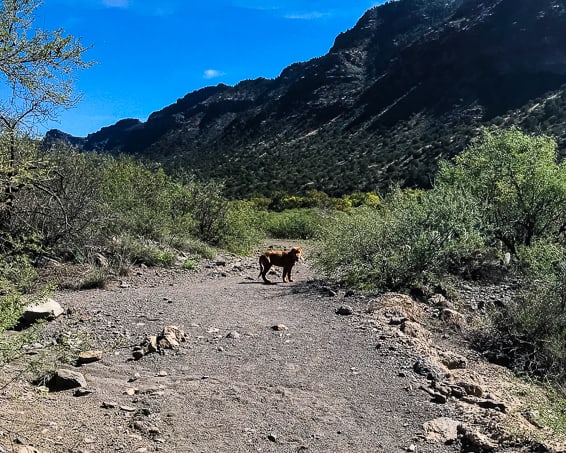 He was a bit nervous again about the water because it was moving quite a bit and there wasn't really a spot where he could just wade all that well.
So, Kurt walked in, coaxed him (which took a while) and then held onto him, so he wouldn't drift away.
Not sure if he can swim yet or not and we didn't want to find out the hard way!

Our dog Keiser couldn't swim right away, and it took some learning once we moved to New Hampshire. He eventually got the hang of it though. But boy was he sinking there for a while!
And here I thought all dogs could just naturally swim.
SAVE THIS FURRY FRIEND FRIDAY TO YOUR FAVORITE PINTEREST BOARD!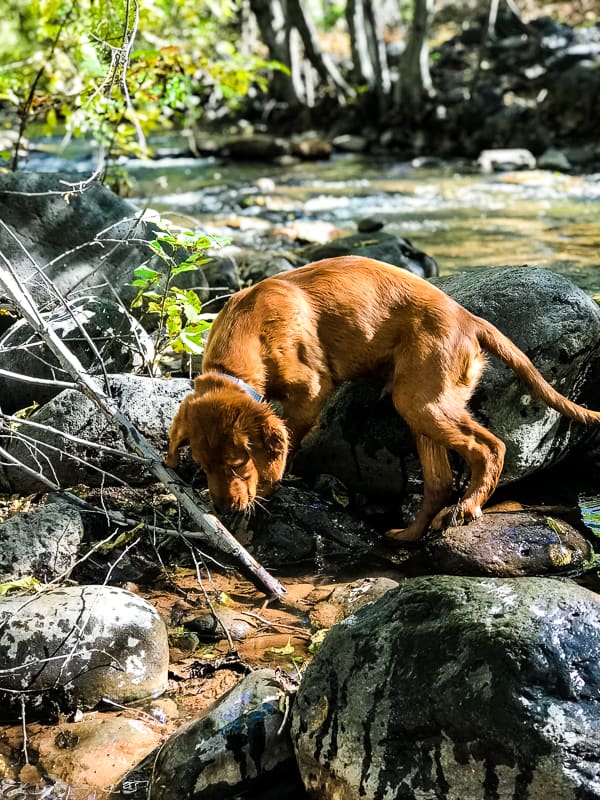 Here he is in full Retriever mode. He heard something on the other side of the creek that put him on high alert!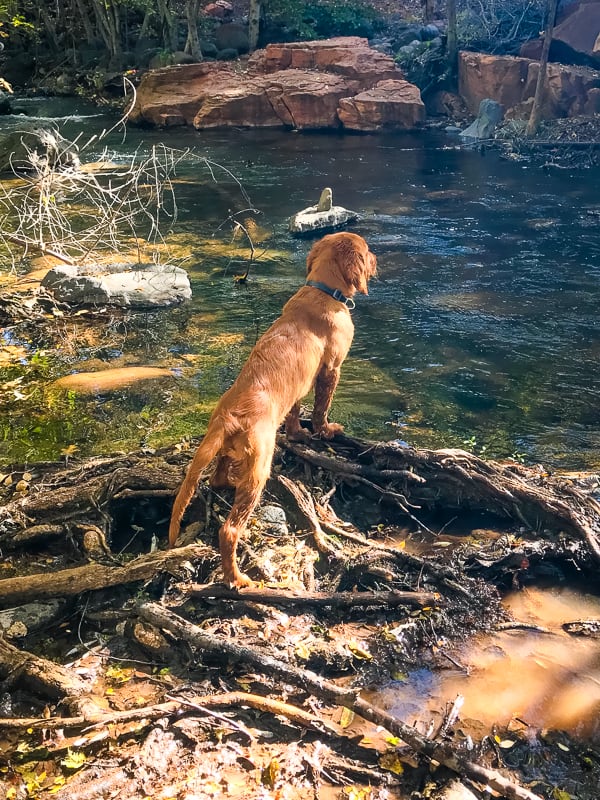 He discovered an inchworm and watched it intently for a few minutes. I'm surprised he didn't try to eat it.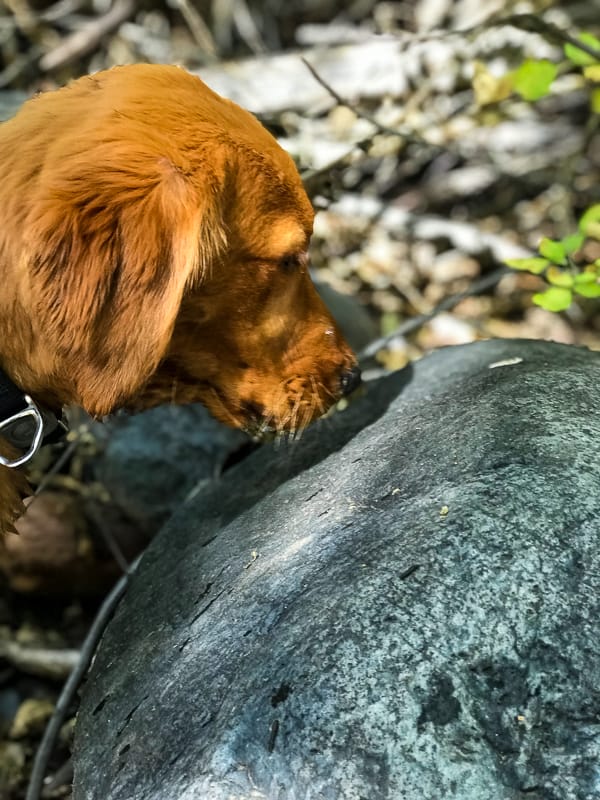 You can follow all of Logan's antics here on my Instagram, too! You'll see what our Furry Friend Friday pup is up to each day.
Yesterday after our walk in the park, Logan fell asleep in the car.
I can't even believe that position would be comfortable for him. haha
Our walk wasn't even that long and I didn't run him because I was in flip-flops, so this really surprised me.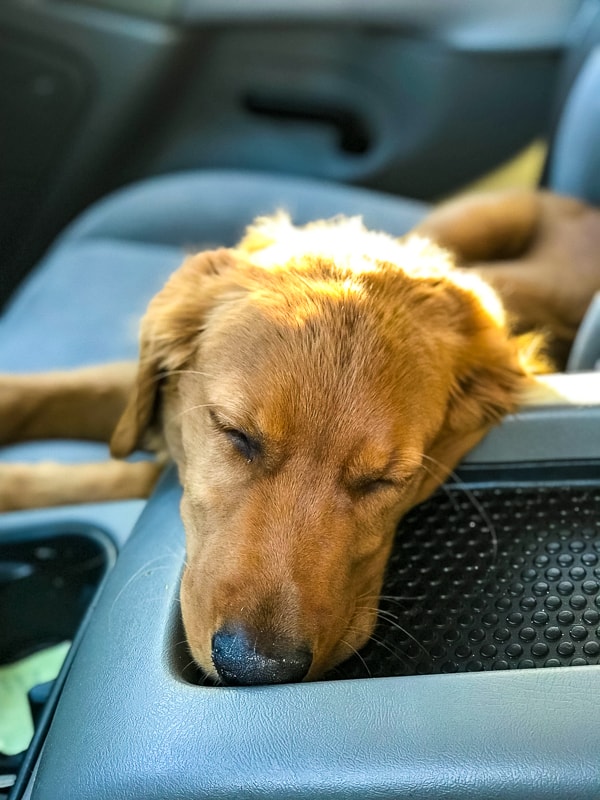 Last night he had his first taste of a carrot. He wasn't sure what to do with it but walked away proudly when I gave it to him.
After that, he played with it in his mouth, rolled it around on the floor, took little bites, but never finished the whole thing. He definitely wasn't excited about them as our old dog, Brady was that's for sure!
He even growled and barked at it a couple of times.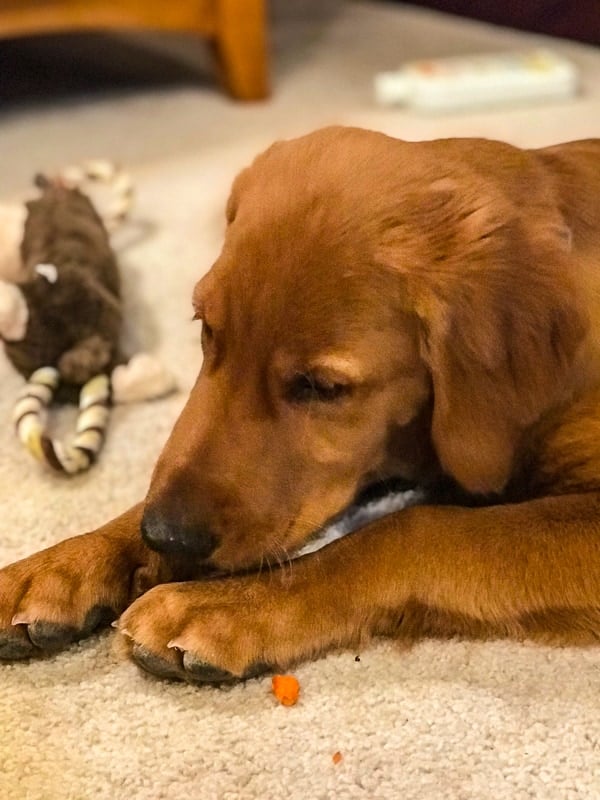 This afternoon I brought him to the vet for some more vaccines, and at 16 weeks he's 34 lbs.
No wonder I'm having trouble picking him up! I know one day I won't be able to, but I sure do hope he continues to climb onto my lap every morning.
I love that and it's one of the best times of my day!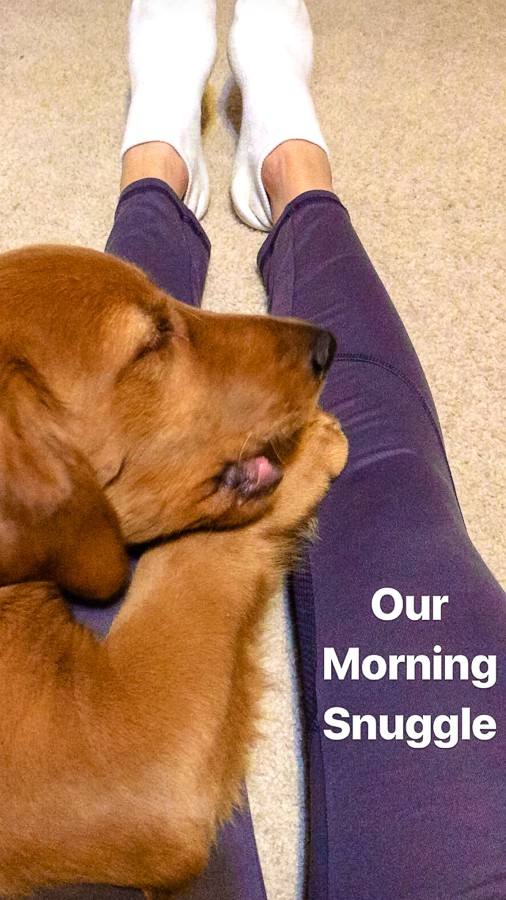 Thanks so much for reading!
Tune in next week for another episode of Furry Friend Friday!