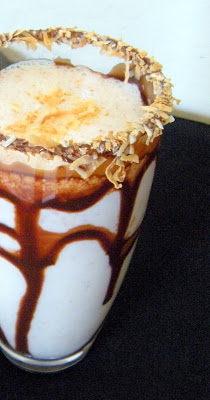 I was really stumped as to what to name this drink.
It's not a smoothie because I used some frozen yogurt in it, but it was still pretty healthy.
I guess, anyway.
At least, I'm saying it was healthy.
It sure tasted darn good anyway and looked very appetizing.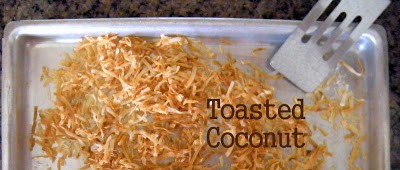 Toasted Coconut Almond Shake – serves 1
8 scoops fat free vanilla frozen yogurt – I'm thinking it came out to be about 2-2 1/2 cups
1 cup almond milk
3 tablespoons unsweetened shredded coconut, toasted and pulsed a few times in the food processor, plus additional for garnishing the rim of the glass
1 1/2 teaspoons flaxseed meal
chocolate syrup for the rim of the glass and drizzling on the inside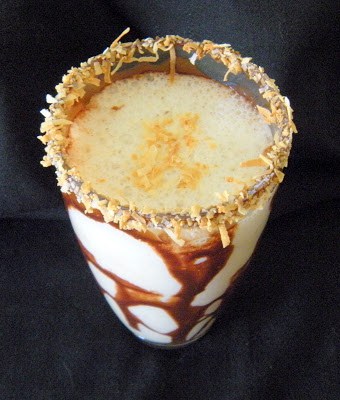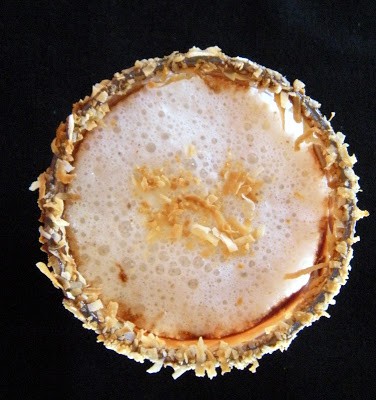 Put a small amount of chocolate sauce in a circle the size of the rim of the glass on a plate.
Place some of the toasted coconut onto a plate.
Drizzle some chocolate sauce on the inside of the glass and then dip the rim into the chocolate sauce on the plate.
Dip the chocolate-rimmed glass into the coconut so that it is covered. Set aside.
In a blender combine frozen yogurt, almond milk, 3 tablespoons toasted coconut and flaxseed meal.
Blend until smooth.
Carefully pour into prepared glass and serve, garnishing with some additional toasted coconut on the top.
I rate everything I make on a scale of 1-4 with 4 being the best and this Toasted Coconut Almond Shake earned 3 1/2 rolling pins.
I really liked this one.
The combination of the frozen yogurt, coconut and chocolate really tasted good, and there was a slight hint of almond.
I will definitely be making this one again!
The rest of the family enjoyed it as well, except for my son who was disgusted with the coconut.
"Mom, I don't like coconut!", he yells after he takes a sip.
Uh, didn't you just ask me what was all over the rim of the glass and then take a sip ANYWAY??!!
What the heck?? And now it's MY fault for you choosing to drink it.
GOOD GRIEF, kid!
You're almost 15 years old, you aren't 2!!
Welcome to my life. 🙂