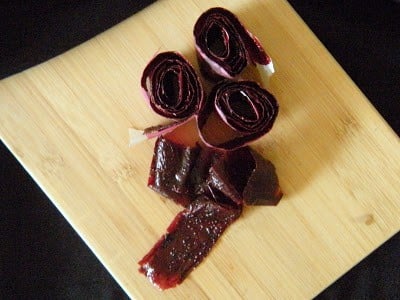 I have this thing for food that is chewy.
Bit-O-Honey, Milk Duds, caramels, and especially, salt water taffy. Yes, I suppose I'll have to make that stuff one day. I remember when I was little, mom and I made some mint taffy. It was so yummy and so much fun to make!
I loved pulling the stuff! Ever since those chewy fruit snacks were born, I have been a HUGE fan of those as well!
Yes, I know they're more sugar and fructose corn syrup than fruit, but I still really like them a lot.
I think it's the kid in me.
We have a food dehydrator sitting in our bedroom closet that Mr. 365 bought probably over a year ago. I took it out of the box one day. Looked at it and even took the manual out to read. It's still sitting on my nightstand. The dehydrator is back in the box.
I was extremely excited when we first purchased it because I was quite motivated to make homemade fruit leather.
Then I started my baking extravaganza and there the dehydrator sits. In a box, covered by clothes I've taken off hangers that I'll never wear again, and by toiletries that I've purchased and can't fit under our bathroom sink.
Yes, that investment has become yet another casualty of neglect in the 365 home, buried, yet hoping to be given life sometime soon.
I could have used it for these fruit roll-ups, but knowing that not everyone has a food dehydrator sitting in their closet, I wanted to use the oven.
I found this on Kym's blog, Free Spirit Eater.
I made a couple adjustments with the amounts of fruit because I had less blueberries than I did the strawberries.
Strawberry, Blueberry and Pomegranate Fruit Roll-Ups – serves 8


2 1/2 cups strawberries, chopped
1 1/2 cups blueberries
1 cup water
1 cup natural pomegranate juice
1/2 lemon squeezed
Prepare a rimmed baking sheet by lining it with saran wrap or parchment (I used parchment).
Preheat oven to 170 degrees F.
Combine strawberries, blueberries, and pomegranate juice and water in a medium saucepan over high heat.
Cook for 10-15 minutes, mashing the fruit as it cooks.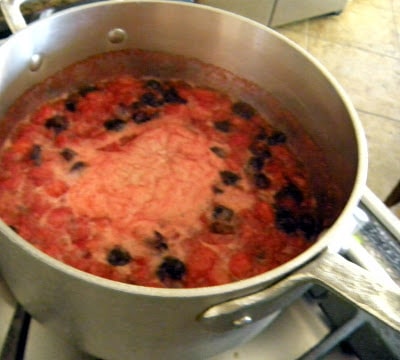 Reduce heat to medium low and continue to cook for another 10-15 minutes, until it becomes a thick syrup, but be careful not to overcook it as it may burn.
Remove from heat and add lemon juice.
Using a hand blender, puree until mixture is smooth.
*A standing blender can also be used, but be extremely careful when blending hot contents as you can blow the lid off if precautions aren't taken. And that would make for one messy kitchen. Have fun cleaning that baby up!*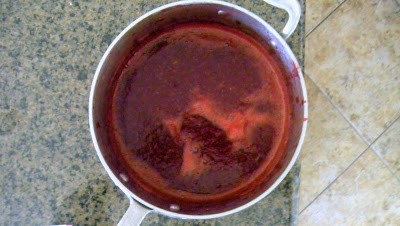 Pour the mixture onto the prepared baking sheet, smoothing it out evenly with a rubber spatula until it is 1/8-inch thick . If it is any thicker, it will take longer to dry. Make sure no parchment or saran wrap covers the mixture as that will prevent it from drying also.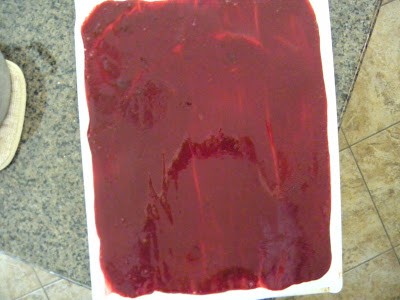 Bake for 5-6 hours. Fruit will be ready when it is dry and you can't put your fingers through the middle of it as I did to test its' doneness (? Yeah, I'm going with it).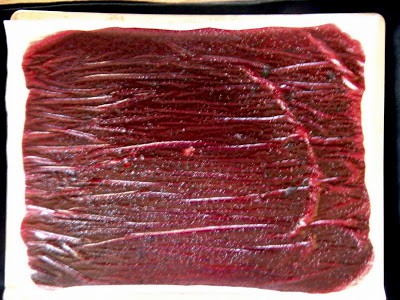 Cut into strups1 1/2-2-inches thick.
Roll and store in a tightly covered container in a cool place.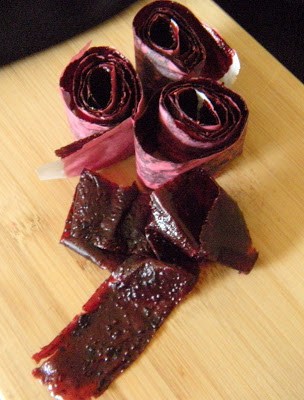 I rate everything I bake on a scale of 1-4 with 4 being the best and these Strawberry, Blueberry, and Pomegranate Fruit Roll-Ups earned 2 1/2 rolling pins.
I liked it okay. It wasn't the best stuff I've ever eaten, but it was much, much healthier because it didn't have all of those artificial colors, flavors, preservatives, chemicals that I can't pronounce or high fructose syrup.
Yeah, I like that I KNOW what's going into this stuff.
I will make it again, but next time, I'm substituting apple juice for the pomegranate. The pomegranate made it WWAAAYYYYYY too tart for my liking.
I'm thinking some organic apple juice might do the trick.
Yeah, I'm salivating just thinking about the pomegranate, kind of like when you think about those Sour Patch Kids?
Yeah, no bueno.
Pomegranates are healthy, high antioxidants, and I love them, bu not in my fruit leather.
If you make it, let me know what you think!