Easy Puff Pastry Cinnamon Swirls are flaky pastries filled with cinnamon sugar! Learn how to make perfect cinnamon swirls rolls with this easy three ingredient simple recipe.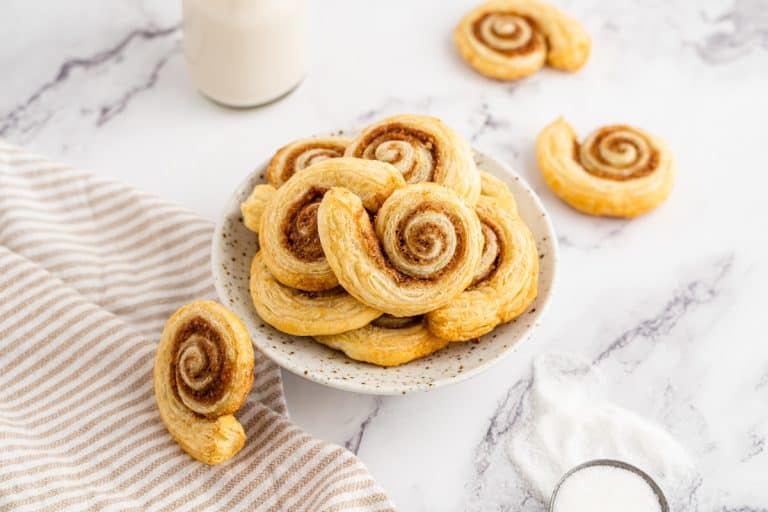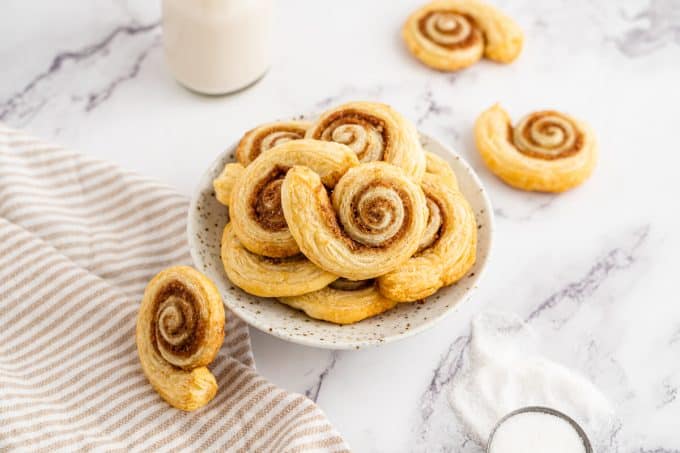 If you have a Cinnamon Roll craving, these easy cinnamon swirls are about to make all your dreams come true.
Making sweet rolls from scratch, usually requires lots of mixing, kneading, proofing and waiting. Not this cinnamon breakfast pastry!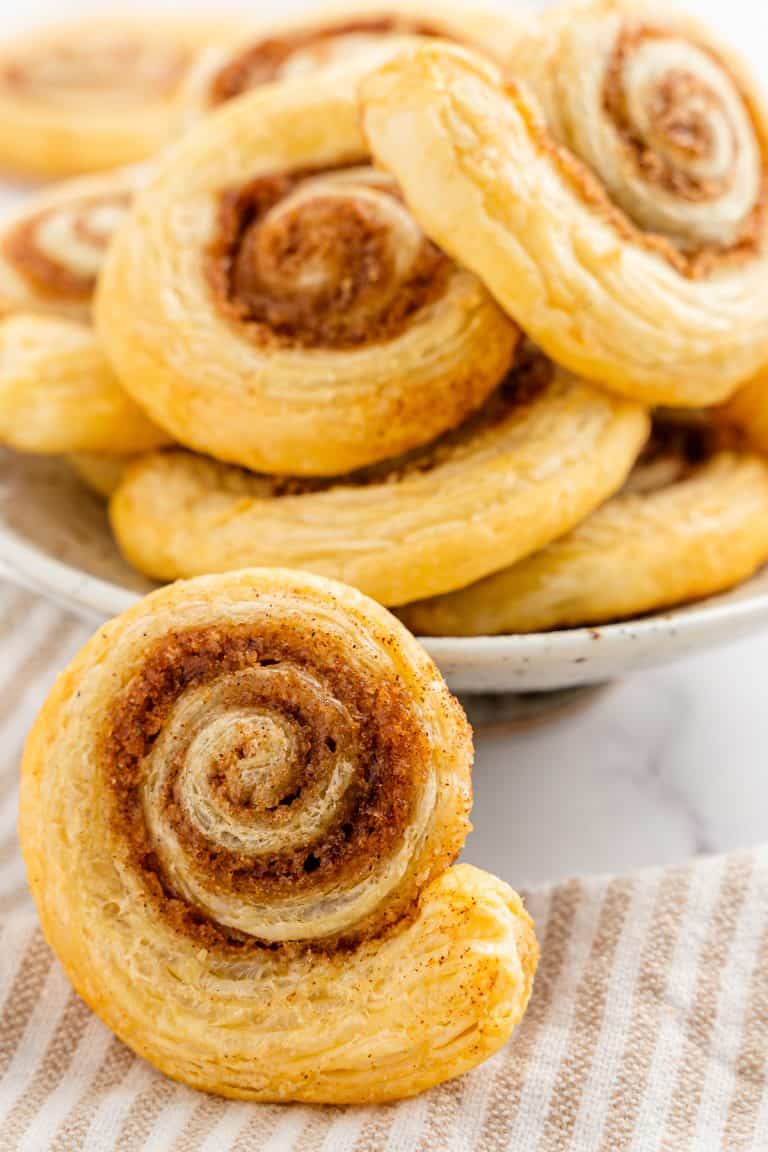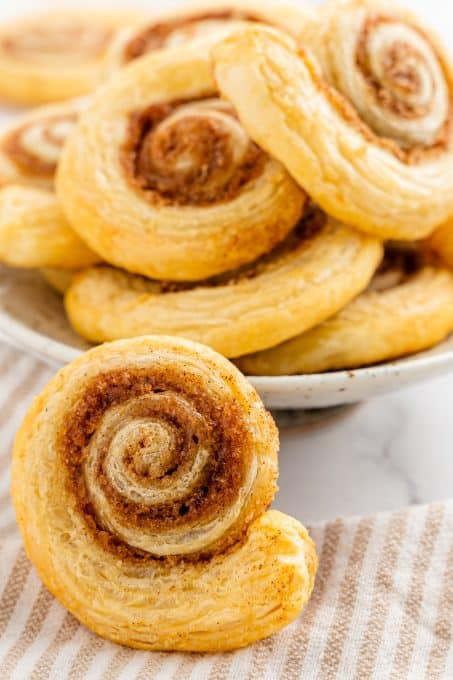 For these Cinnamon Swirls we are going to use pre-made puff pastry. The store bought sheets of dough eliminate the fuss of making pastry dough from scratch. You just roll it out, spread the cinnamon sugar filling over it, slice and bake. That means you can make them any morning without having to wake up hours early or remembering to prep the night before.
If you're looking for an alternative to cinnamon rolls that check all the same flavor boxes, this easy cinnamon twirls recipe is pure perfection.
And the best part: puff pastry cinnamon swirls taste incredible. Buttery, flaky and perfectly sweet with the irresistible cinnamon aroma. You'll love nibbling on one of these sweet, flaky Cinnamon Danish swirls while you enjoy your first cup of coffee in the morning.
Served for breakfast, brunch, coffee breaks or as a midnight snack, these easy cinnamon sugar pastries will disappear as quickly as they hit the table!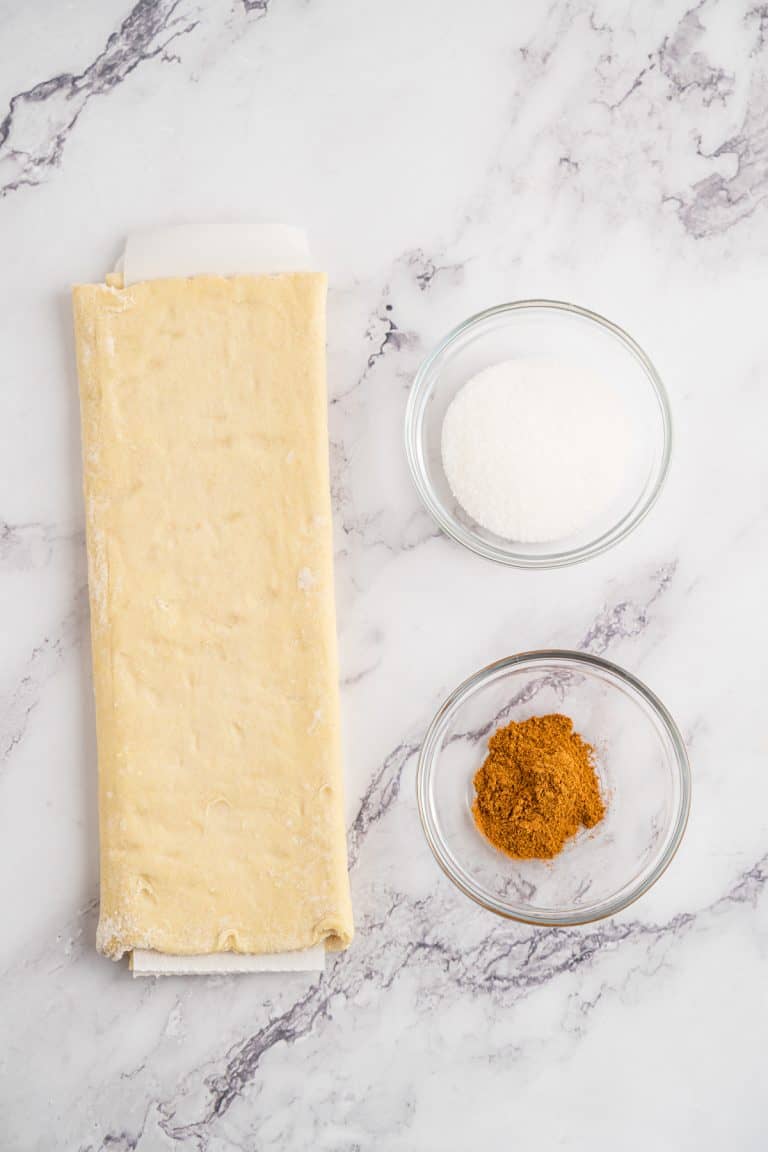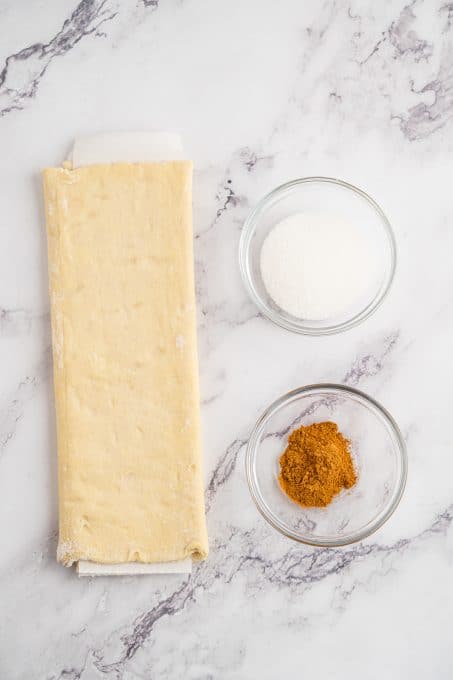 Cinnamon Puff Pastry Swirls Ingredients
My second favorite thing about this recipe (after the delicious taste) is that you can make it with three basic kitchen staples:
Box of puff pastry sheets
Sugar
Cinnamon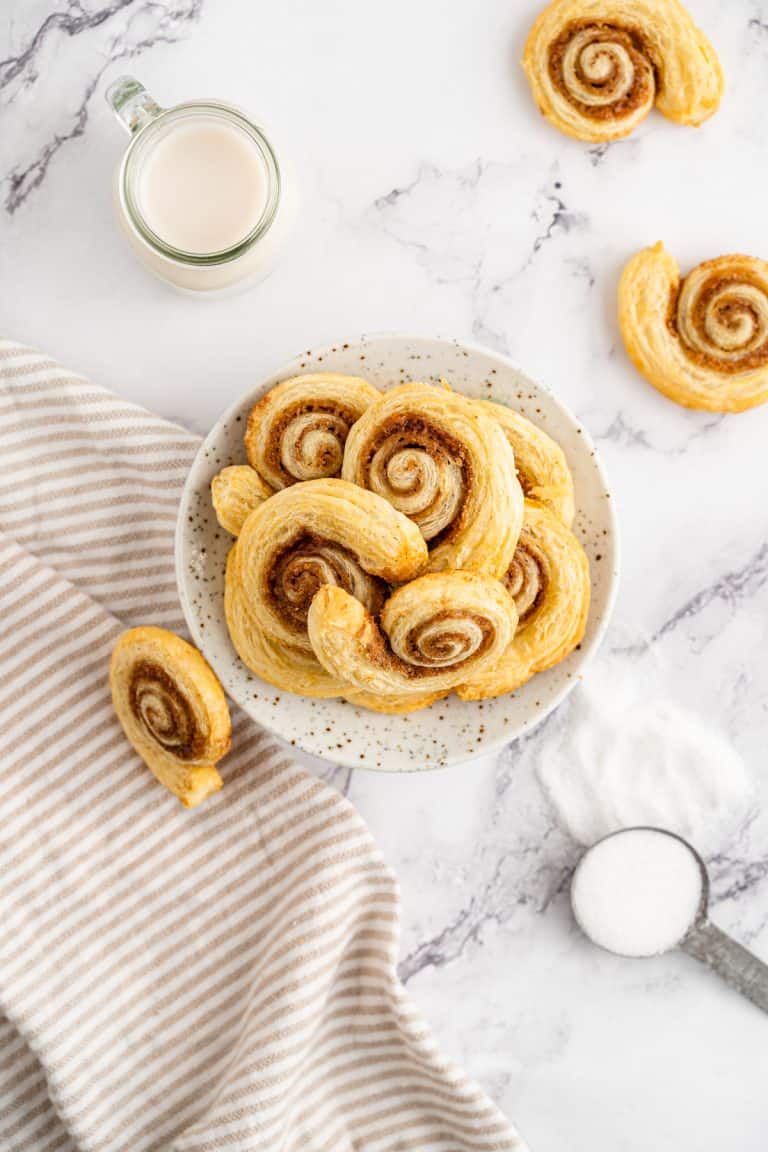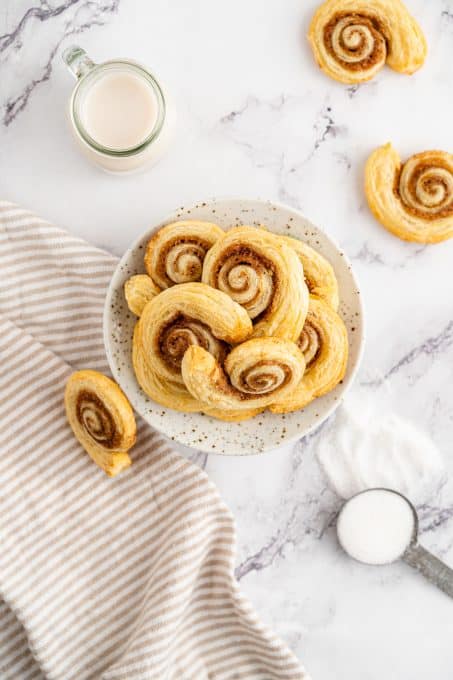 What is puff pastry dough?
Puff pastry dough is a ready made store bought dough sold in sheets. Each sheet is made from several super thin layers of dough layered with butter. Thanks to all those layers of butter, the pastry bakes up puffy, golden brown and beautifully flaky with lightly crisped edges.
It's one of my favorite "hacks" for making impressive pastries, appetizers and more. I use it for sweet treats like these Boston Cream Puff Cakes and savory recipes like this Cheesy Sausage Roll recipe. Just be careful not to confuse puff pastry dough with refrigerated pie crusts or phyllo dough — they're usually shelved near each other and it's easy to accidentally grab the wrong one.
If you want to make this recipe completely from scratch, you can make your own puff pastry using this recipe.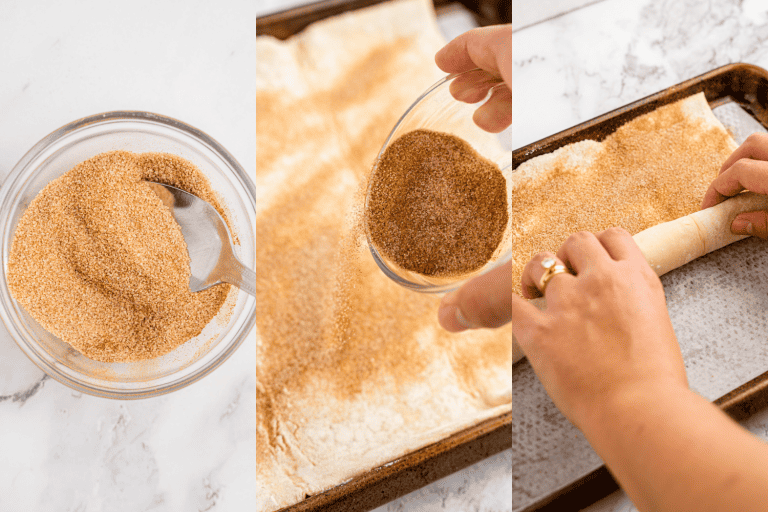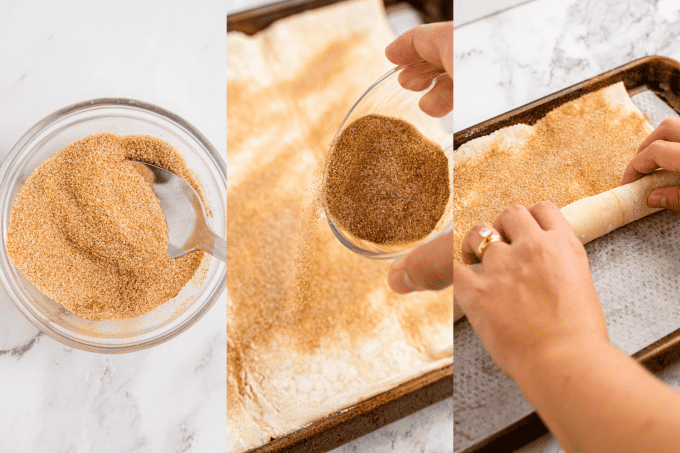 How to make cinnamon swirls with pastry dough
The method for making these swirls is simple. Follow the steps below to have fresh baked puff pastry cinnamon rolls on the table in less than an hour. Get ready for your kitchen to smell AMAZING while these goodies bake.
Before you start, line a baking sheet with parchment paper and preheat oven to 390 degrees F.
STEP 1: Combine the cinnamon and sugar in a small bowl.
STEP 2: Gently unfold the thawed puff pastry sheet on the baking sheet. Sprinkle the cinnamon sugar mixture on top. 
STEP 3: Roll up the sheet of dough from one short end to the other to form a tight log, then wrap with plastic wrap. Place it in the fridge for 30 minutes. In the meantime, preheat your oven.
STEP 4: With a serrated knife, cut the log of cinnamon roll dough into 14 equal pieces. Place rolls onto the parchment-lined baking sheet. Bake for about 10 minutes or until golden brown.
After baking, let the swirls cool for 5 minutes on a wire rack, and sprinkle with some powdered sugar, if desired.
Enjoy your puff pastry swirls warm.
See complete ingredients and detailed instructions in the recipe card below.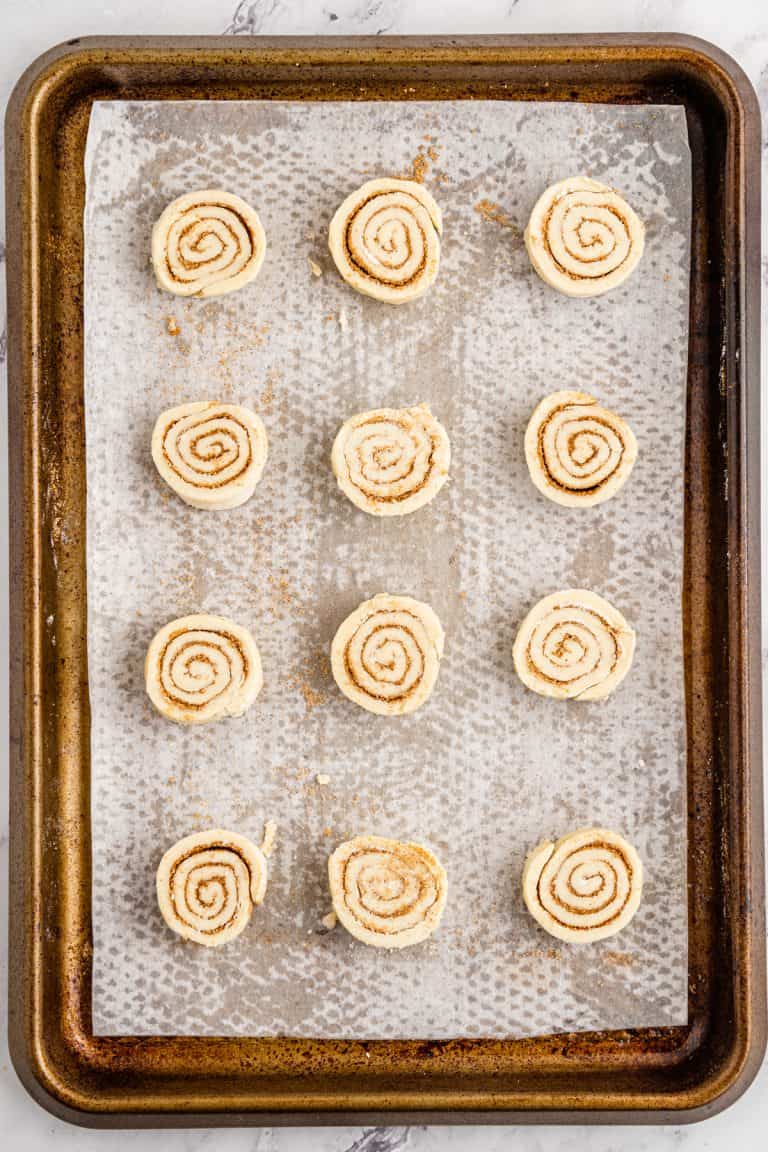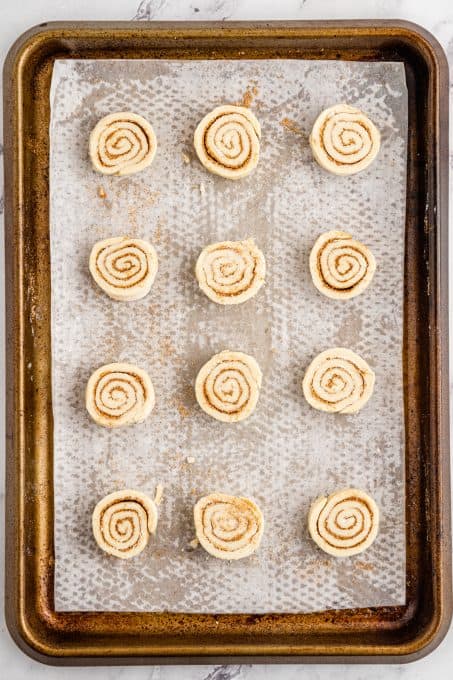 Recipe Tips & Tricks for Easy Puff Pastry Cinnamon Rolls
Use the sharpest knife possible to cut the pastry dough log. You want to cut straight up and down, never at an angle, to ensure to pastry rises and puffs as it bakes. OR you can use my trick to making easy cuts without flattening the dough by using a strand of plain dental floss.
Keep the puff pastry COLD until it goes in the oven. I suggest slicing the dough on a countertop that's as far from the heat of your oven as possible for this reason.
On that note: don't skip the chilling time! It's essential for getting that flaky, airy consistency in the dough and ensuring that our cinnamon swirls hold their shape in the oven.
These easy puff pastry swirls are best enjoyed the same day they are baked. That's not usually a problem, because my family can never stop eating them once we start. They'll be gone before you know it.
Need to feed a crowd? Use an additional sheet of puff pastry dough and double the recipe!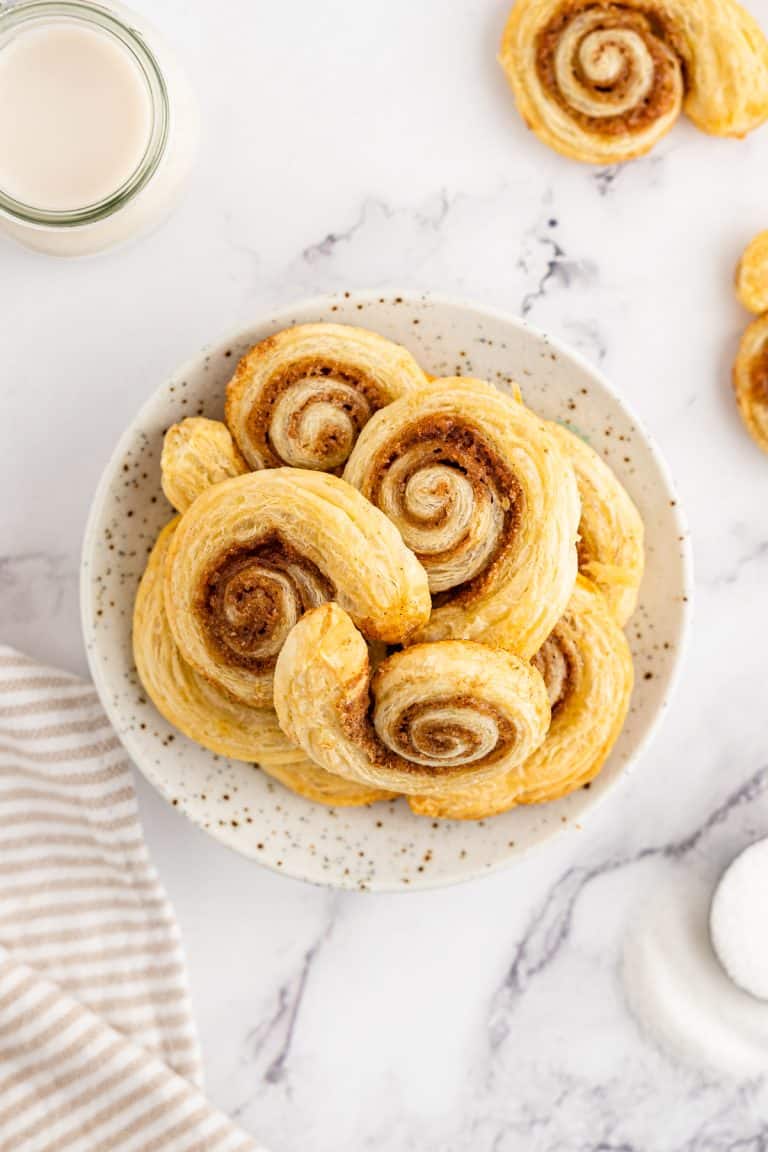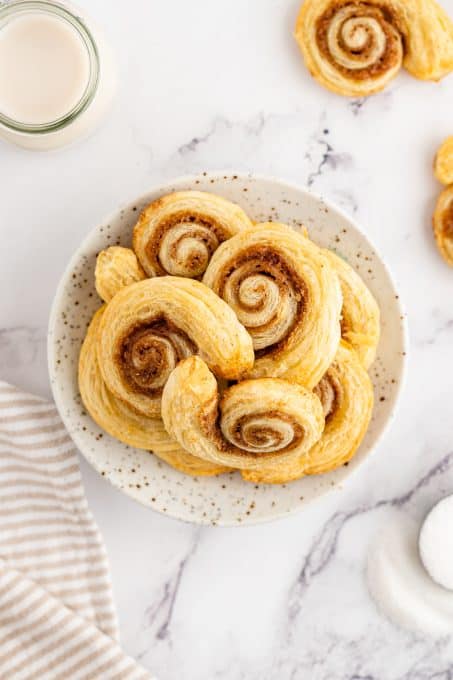 Cinnamon Pastry Recipes
Put down the can of refrigerated cinnamon rolls. I have all kinds of easy breakfast and dessert recipes with that taste so much better than anything store bought.
If you like today's cinnamon swirls, check out this Cinnamon Sugar Palmiers variation — made in the shape of jumbo elephant ears! Both versions look gorgeous; I love them both ways.
This Baked Apple Cinnamon Pancake combines cinnamon and apple for another family favorite breakfast. My Mom's Monkey Bread and my Baked Cinnamon French Toast are two more baked breakfast recipes to add to your list!
Take these Easy Cinnamon Streusel Muffins or these Apple Cinnamon Scones with Maple Glaze to enjoy anywhere. We love them with coffee, tea or all on their own.
And if you're in the mood for traditional cinnamon rolls, try these.
You could even make this Cinnamon Roll Cake!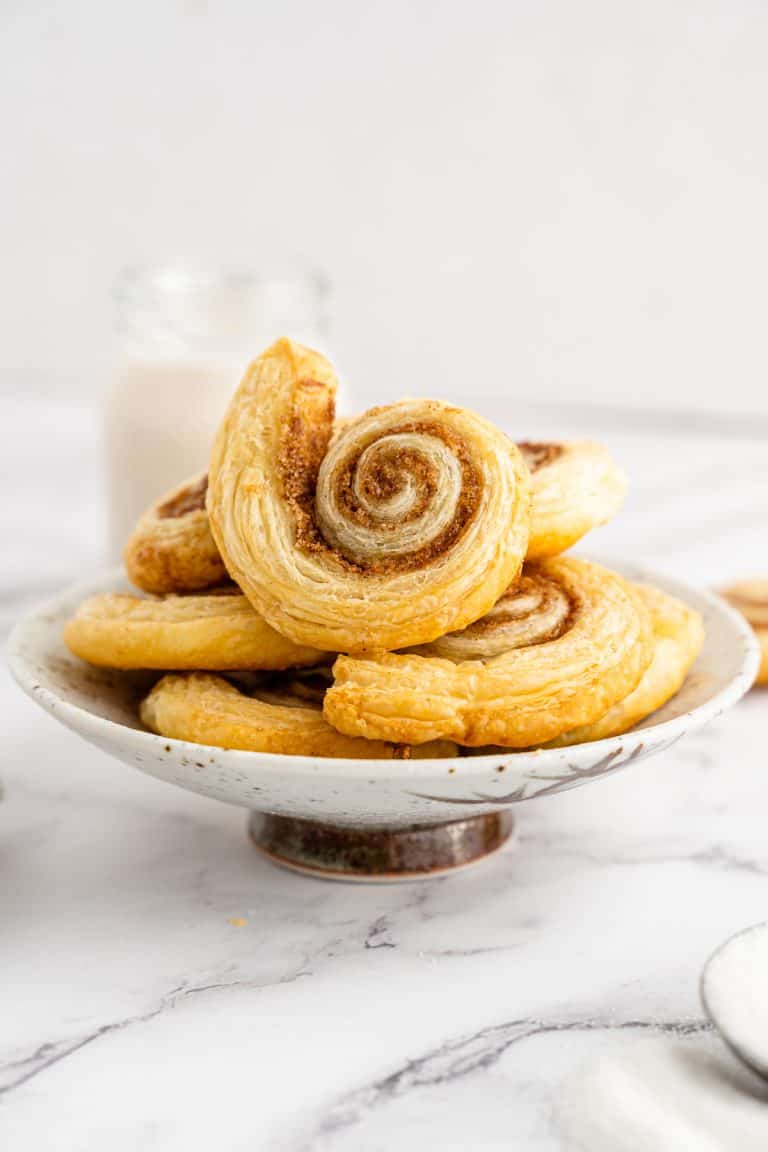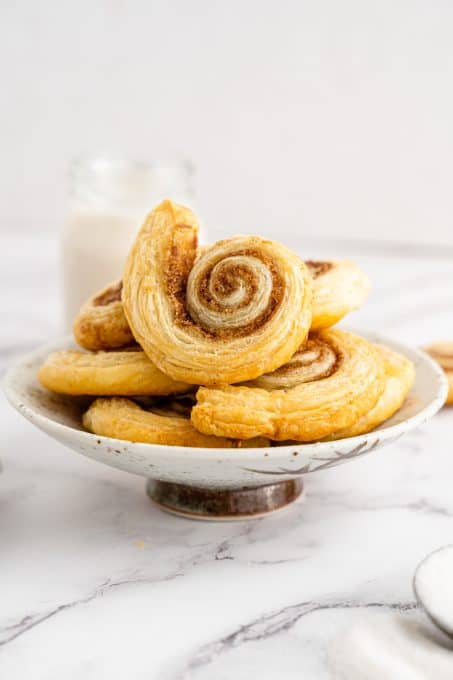 More Store-Bought Puff Pastry Recipes
Who knew you could do so much with a simple sheet of dough? Try all of my puff pastry recipes and let me know which one is your favorite!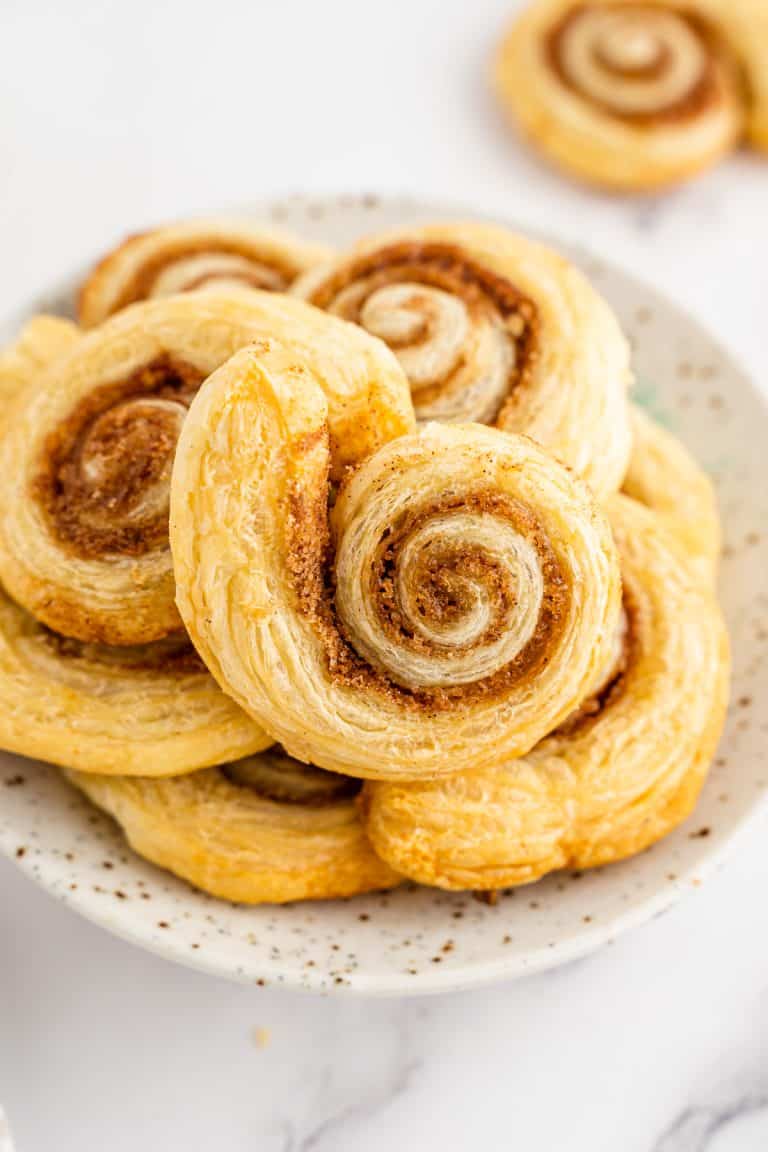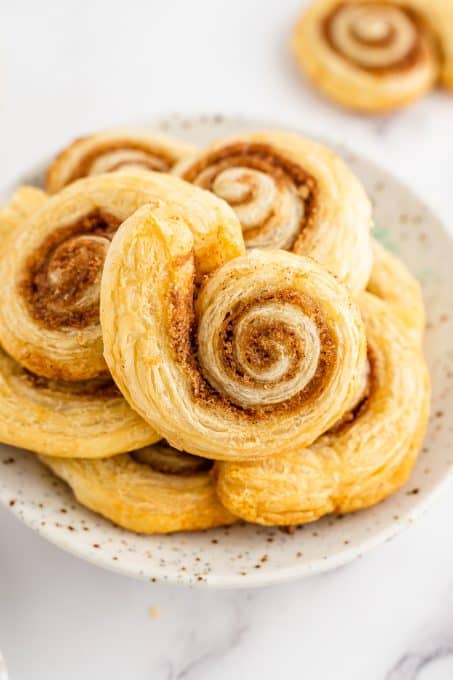 ~ FOLLOW ME ~
Keep an eye out for more of my easy recipes each week!
Can't decide? Start with this easy recipe and bake up a batch of these sweet, flaky Puff Pastry Cinnamon Swirls! They're a quick recipe for a breakfast and perfect for any special occasion.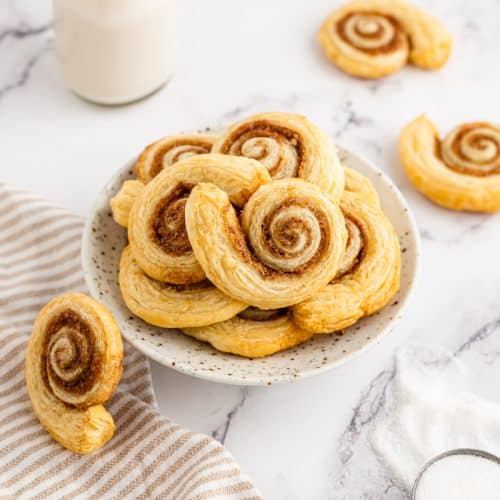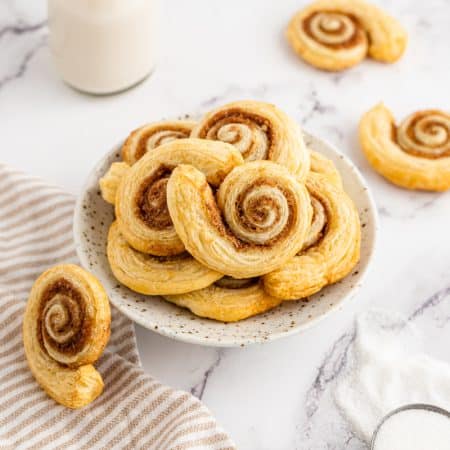 Puff Pastry Cinnamon Swirls
Puff pastry is filled with cinnamon sugar and baked to flaky, golden brown perfection in this easy recipe!
Ingredients
1 sheet puff pastry thawed in the refrigerator
1 tsp ground cinnamon
2 tbsps granulated sugar
Instructions
Line a baking sheet with parchment paper, or lightly grease with baking spray.

In a small bowl, combine sugar and cinnamon.

Unfold the thawed puff pastry dough. Place on the baking sheet. Sprinkle with cinnamon sugar.

Tightly roll up the pastry sheet. Wrap with cling wrap. Place the roll in the freezer to chill for 30 minutes.

Preheat the oven to 390 degrees Fahrenheit. Use a sharp knife to slice the roll into 14 swirls about ½ inch thick. Place swirls on the baking sheet. Bake for 10 – 12 minutes.

Let cinnamon swirls cool on the baking sheet for 5 minutes, before serving.
Nutrition
Serving: 1serving | Calories: 103kcal | Carbohydrates: 10g | Protein: 1g | Fat: 7g | Saturated Fat: 2g | Polyunsaturated Fat: 1g | Monounsaturated Fat: 4g | Sodium: 44mg | Potassium: 11mg | Fiber: 0.3g | Sugar: 2g | Vitamin A: 1IU | Vitamin C: 0.01mg | Calcium: 3mg | Iron: 0.5mg
Did you make this recipe?
Share it with me on Instagram and make sure to follow me on Pinterest for more recipes.
Reader Interactions