This Lemon Poppy Seed Dutch Baby, also known as a German pancake, is a light and fluffy pancake with a light lemon flavor and poppy seed accent that is baked in the oven. It's the perfect breakfast treat for the weekend.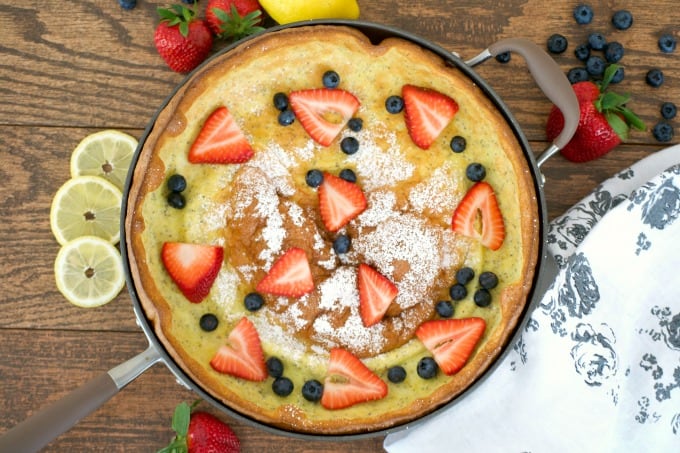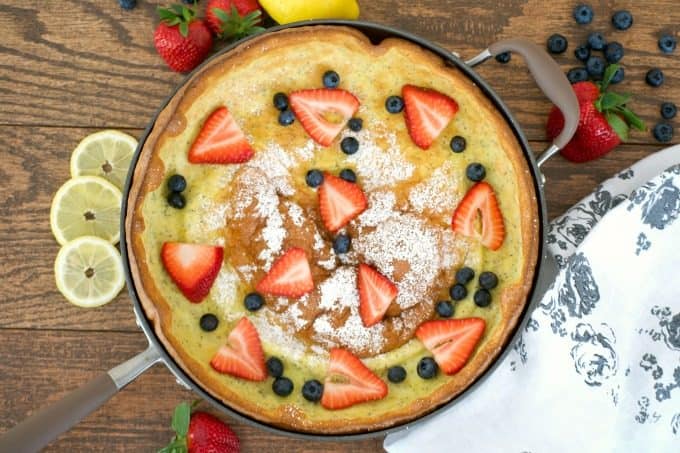 My daughter and I are in the process of returning back to civilization.
Cue the tears.
Going on a 10-day cruise to 5 different countries is tough work, let me tell you! What's even more difficult is the re-entry process! We arrived home at 3:15 pm yesterday, stopped somewhere to pick up food and I was in bed by 5:30 to take a nap.
Guess I needed more than just a couple hours because when Kurt attempted to sweetly wake me by rubbing my head, I barely moved so there he left me. Fully clothed and with my contacts still in, I woke up around 7 am this morning.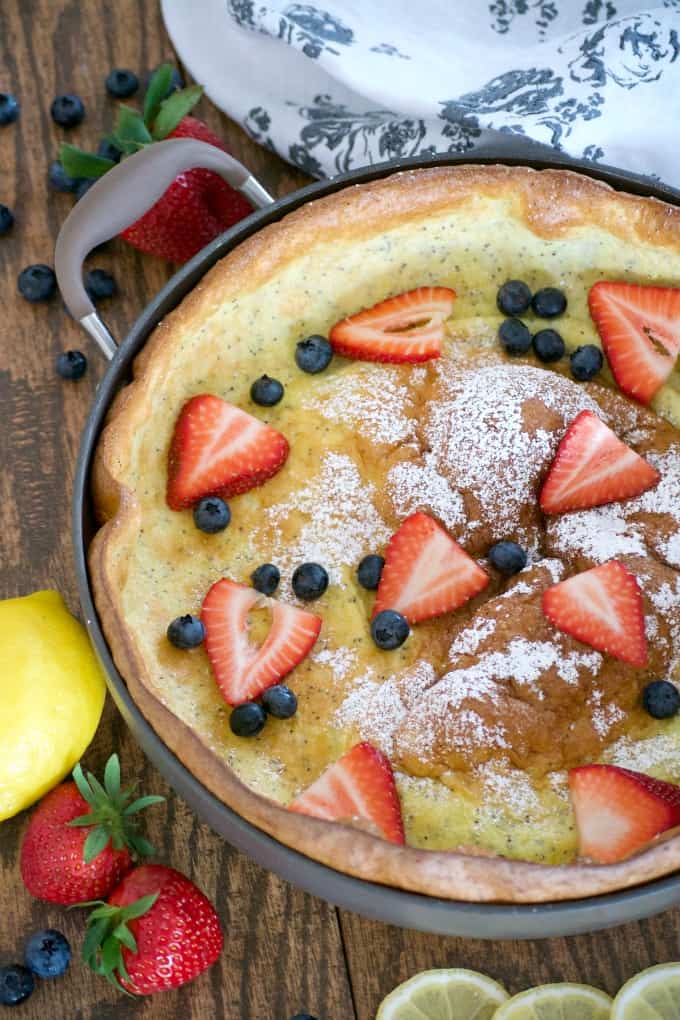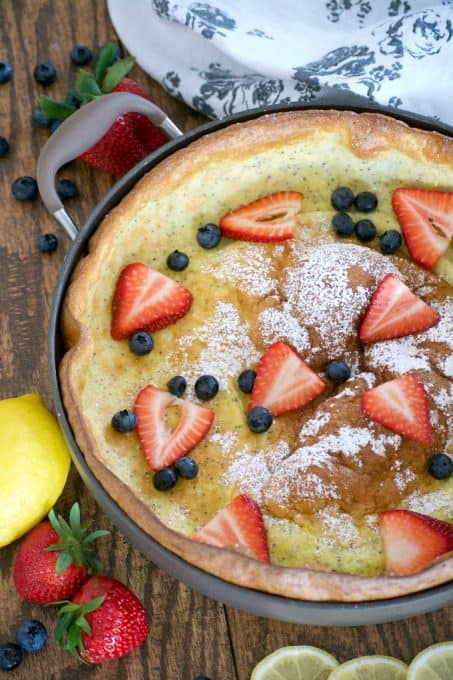 I was exhausted because of our fun late nights and early mornings, but also because on Tuesday, I came down with a cold. I've been feeling pretty yucky the past few days, but after last night's great sleep, I finally feel like I'm kicking it.
HOORAY!!!
No more time to be sick. I've got taxes to finish, posts to do, recipes to make, and LIVE videos to do with you all! Ain't no more downtime allowed! My first post about cruising will be going up this week, so be on the lookout for it. You definitely want to consider taking a cruise if you haven't already been. They are pretty stinking incredible.
A huge thank you if you joined me for any of the live videos while we were exploring the Caribbean Sea and various ports. I know the reception was not too reliable at times, but it was a lot of fun sharing all of them with you, especially Wilma dancing up a storm. She was wonderful!
If you missed them, you can still check them out on my Facebook page in the video section.
In the meantime, enjoy this delicious Lemon Poppy Seed Dutch Baby. It's so light and fluffy. It will be perfect for Mother's Day and you just might to make two in case she's really hungry. 😉
Dutch Baby Pancake
This recipe is a variation on the German Pancake (aka Dutch Baby) I made in the early days of this blog. I love German Pancakes because it's so easy to just toss the pancake batter in the oven and go about your life while it bakes. Sometimes you just don't want to stand over a stove flipping each pancake one by one.
German Pancake also has a puff factor that can't be overstated. The eggy batter bakes up so light and puffy that taking a bite feels like biting into a delicious sweet lemony cloud.
SIGN UP FOR THE WEEKLY
365 DAYS OF BAKING & MORE
NEWSLETTER BELOW!

German Pancake Recipe
You can call this a "Dutch Baby" (isn't that adorable) if you like or just stick with "German Pancake" if the idea of serving something called a "baby" weird you out. Whatever you call it it will be delicious.
This version is dotted with poppy seeds and full of bright and tangy lemon flavor. Served on its own or topped with fresh fruit, it's impossible not to LOVE this baked German Pancake!
How to Make Dutch Baby Pancake
This recipe starts with an eggy batter flavored by lemon zest and poppy seeds. Powdered sugar and lemon juice sprinkled on top complete this delicious breakfast.
Beat 3 eggs in a bowl, then mix in milk and vanilla extract.
Sift flour, sugar and salt together over a square of wax paper. Make a well in the center and add the lemon zest and poppy seeds.
Pick up the sides of the paper with both hands and slowly transfer the flour mixture into the egg mixture. Whisk as you go to incorporate the flour well.
Pour the pancake batter into a buttered oven safe skillet and bake at 425 F for 15 minutes.
Remove the pan from the oven, sprinkle with sifted confectioner's sugar and fresh lemon juice.
Serve while hot and puffy! When I make this, I love to top it with fresh sliced strawberries and blueberries. It would also be delicious with your favorite jam or a dollop of Vanilla Bean Whipped Cream.
More Pancake Recipes . . .
Can't get enough pancakes? Me either! Give these other delicious recipes a try next time you have breakfast guests.
Lemon Poppy Seed Dutch Baby
A fluffy and puffy baked pancake full of lemon flavor and delicious poppy seeds, Dutch Baby is a welcome side on any breakfast or brunch table.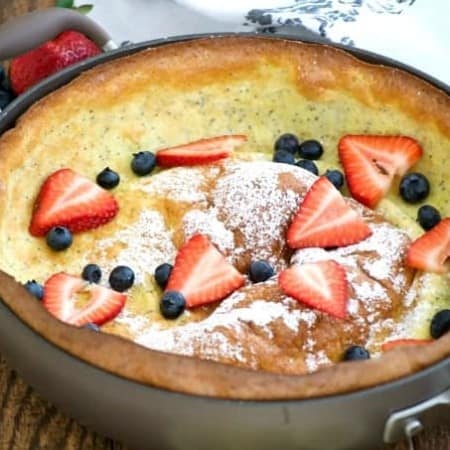 Lemon Poppy Seed Dutch Baby
This Lemon Poppy Seed Dutch Baby, otherwise known as a German pancake, is a light and fluffy pancake baked in the oven. With a light lemon flavor, it's a perfect breakfast treat for the weekend.
Ingredients
3 eggs room temperature
½ cup milk
½ teaspoon pure vanilla extract
½ cup flour
1 teaspoon sugar
½ teaspoon salt
2 tablespoons unsalted butter melted
1 ½ teaspoons poppy seeds
1 teaspoon fresh lemon zest
2 tablespoons fresh lemon juice
confectioners' sugar
fresh fruit if desired
Instructions
Preheat oven to 425 degrees F.

Prepare a 10-inch oven proof skillet by greasing it with butter.

In a medium bowl, beat the eggs. Add the milk and vanilla extract and mix well.

Onto a square of wax paper, sift the flour, sugar and salt.

Make a small well in the center of the flour and add the poppy seeds and lemon zest.

While whisking, slowly pour the flour into the bowl, by folding the edges of the wax paper together. Mix until fully incorporated.

Pour batter into prepared skillet and bake for 15 minutes.

Reduce oven temperature to 350 degrees and bake for an additional 10 minutes when puffed, golden and set in the middle.

Remove from oven sprinkle the top with lemon juice and confectioners' sugar.

Serve with fresh fruit, if desired.
Nutrition
Serving: 1g | Calories: 186kcal | Carbohydrates: 16g | Protein: 7g | Fat: 10g | Saturated Fat: 5g | Cholesterol: 141mg | Sodium: 352mg | Potassium: 103mg | Fiber: 1g | Sugar: 3g | Vitamin A: 403IU | Vitamin C: 4mg | Calcium: 69mg | Iron: 1mg
Did you make this recipe?
Share it with me on Instagram and make sure to follow me on Pinterest for more recipes.
Not in the mood for pancakes today? Check out these other great weekend breakfast recipes!
Even more delicious sweet breakfasts. . .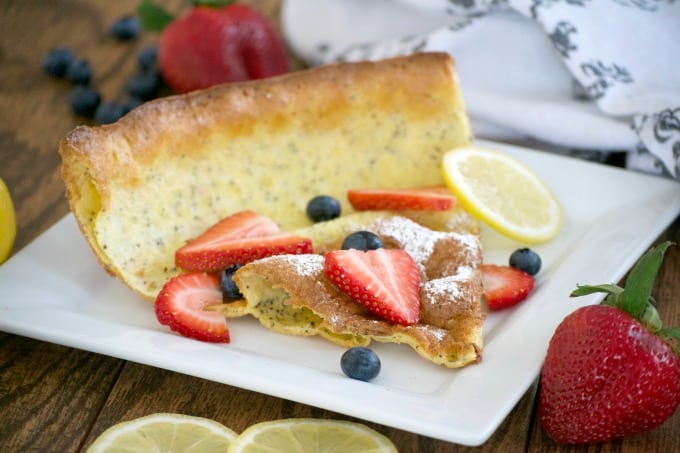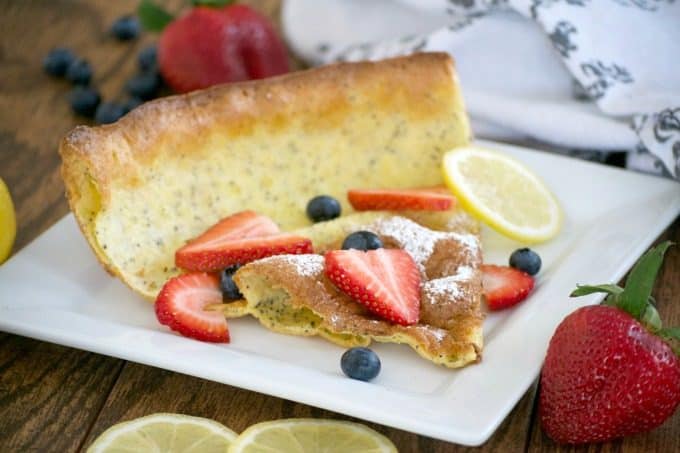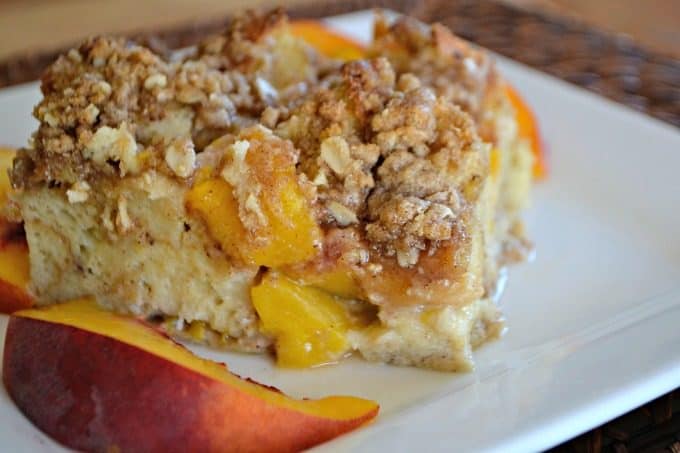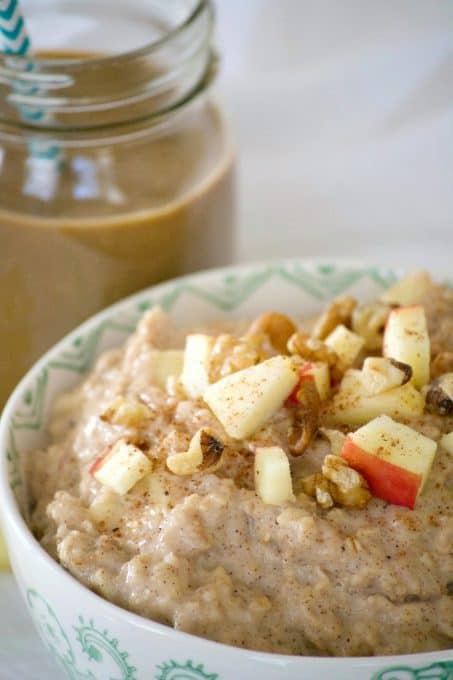 Reader Interactions