Bread has this attraction that I've always been in love with. And with this homemade, no-knead bread that just magnifies it!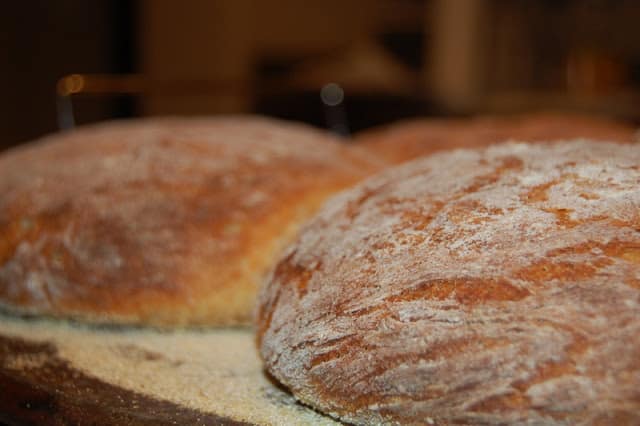 Bread just has that special quality nothing else has when it comes to food.
I think of the smell and it gets me every time. When the bread is baking in the oven, I can't seem to stay away from the kitchen. But don't forget that crunch when you're cutting it with a bread knife, or that first bite of the crust. Heaven to your ears, taste buds, and nose! I imagine the whole house has this smell, especially when you walk in the house. I can't bring myself to leave.
All I want now is to go for a picnic, and have my breadbasket handy and enjoy a warm, buttered up piece of bread. Sorry, can't you tell that I'm drooling all over myself? Just tell me when to stop and I'll act like a reasonable human being.
One of the fabulous things about bread, in general, is that you have so many things to put it with. A normal sandwich, aside from that you can dip in your soup, or just plain old toasting it and eating it with jam or butter. Nothing hits the spot more than that for me!
SAVE THIS HOW TO MAKE HOMEMADE BREAD TO YOUR FAVORITE PINTEREST BOARD!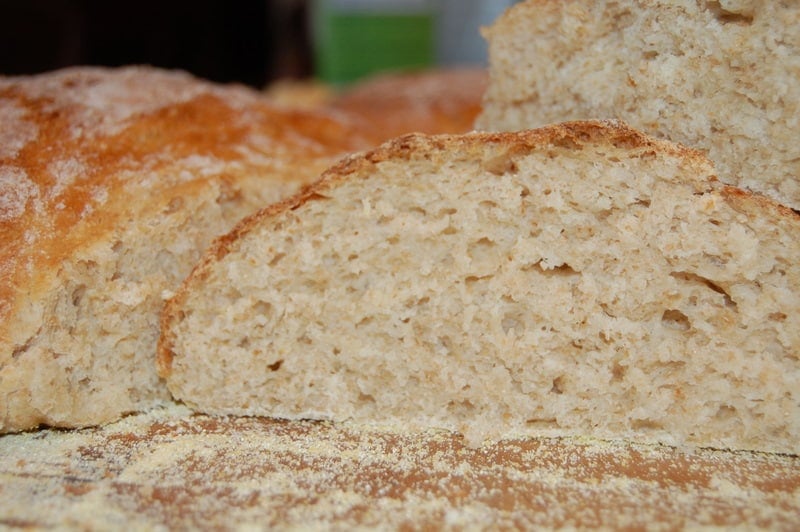 I guess for the past 24 days I've had a HUGE brain fart. I neglected to use spell check with each of my posts and there were a few mistakes that I'm sure you all picked up on. I'm not a horrible speller, but one of my high school English teachers, Mrs. Fleming, would have killed me! I can see her red pen marks all over my paper and hear her berating me with her English accent.
Ooh, a chill just went UP my spine.
Now, words are fixed and you can bet that from here on in that spell check button will be the last thing I hit before I post.
It's a very rainy day here in the desert. Those days are few and far between and it rained yesterday, too. So, for all you people in New England, I hear that unfortunately, it's headed your way. Just what you need – more snow. I looked at the webcams of the Rhode Island roads this morning and can actually see a lot of grass.
Crazyforcrust has a great bbq chicken soup I'm sure you will love with this bread.
Layne from spaceshipsandlaserbeams is a lifesaver when it comes to recipe ideas. Her 19 recipes for your instant pot is perfect for busy days.
Make sure your bread is exactly how you like it by following these tips!
Be aware that the bread will double, even triple in size. So act accordingly.
This batch will make at least 3 medium loaves or even more round boules. Shape loaves using plenty of flour to prevent sticking. You do not need to knead, just shape loaves.
Tamme said she uses a pizza stone in the oven to bake them, but a large sheet lined with parchment paper will also work. She also sprinkles cornmeal to prevent sticking and puts a broiler pan in the oven filled with water to give the bread a crispy exterior.
So, since it is a bit chilly, some nice hot soup and freshly baked bread would warm us up for dinner – potato soup and no-knead bread. The bread recipe comes from a high school friend, Tamme Mellenthin. I'm looking forward to this because my last go-round with the whole wheat oatmeal bread wasn't so hot. Thank you, Tamme for sharing!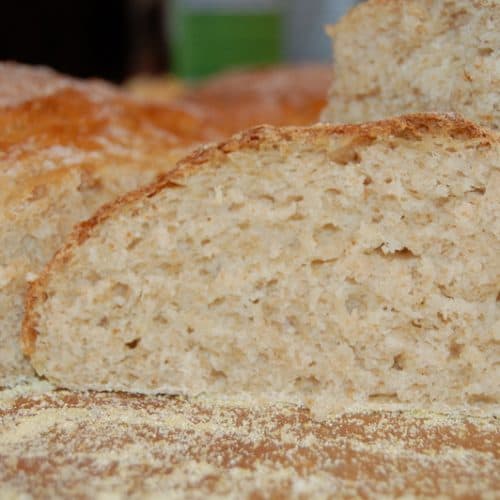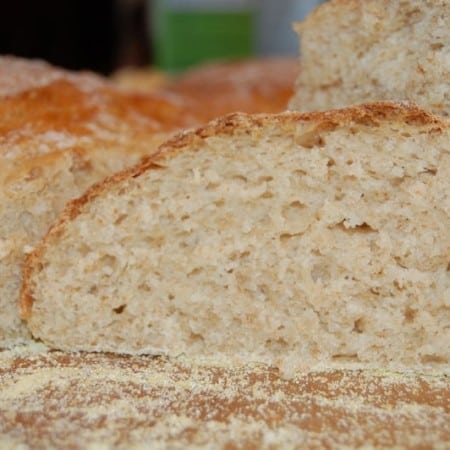 In search of a go-to homemade bread? You'll find this no-knead bread an easy substitution that tastes and smells excellent!
Ingredients
5 cups white flour
2 cups wheat flour
2 tablespoons buttermilk powder
2 tablespoons yeast
¼ cup vegetable oil
¼ cup honey
3 cups warm water
Instructions
Mix all ingredients in a large bowl.

Cover with a towel.

Let rise for at least 2 hours.

Preheat oven to 450 degrees.

Bake for 30 minutes.
Nutrition
Calories: 3984kcal | Carbohydrates: 746g | Protein: 98g | Fat: 64g | Saturated Fat: 46g | Cholesterol: 8mg | Sodium: 87mg | Potassium: 1247mg | Fiber: 25g | Sugar: 77g | Calcium: 273mg | Iron: 41mg
Did you make this recipe?
Share it with me on Instagram and make sure to follow me on Pinterest for more recipes.
The bread was so easy to make and was really yummy! I had thought about adding herbs to it, but I'm really glad I didn't because we really enjoyed the taste as it was. Next time I'll add the herbs. It was delicious! I sliced it soon after it came out of the oven and the butter melted into it so wonderfully. Tamme, I am so glad you sent this to me, thank you!
The rating: 4 rolling pins!
Just a moment tonight that I couldn't resist sharing…We were watching the Saturday Night Live Specials tonight and there was a scene with two people on a see-saw.
Remember those? I don't even know if they're around anymore. When I saw it I remembered being up at the top of the thing and the person at the bottom would get off as fast as they could. Yes, you know what happened next. Good ol' gravity. Wow, I hadn't thought about that in years – it makes me shudder, and my butt hurts.
For some great uses for this homemade bread, I put together a few recipes that will do the trick.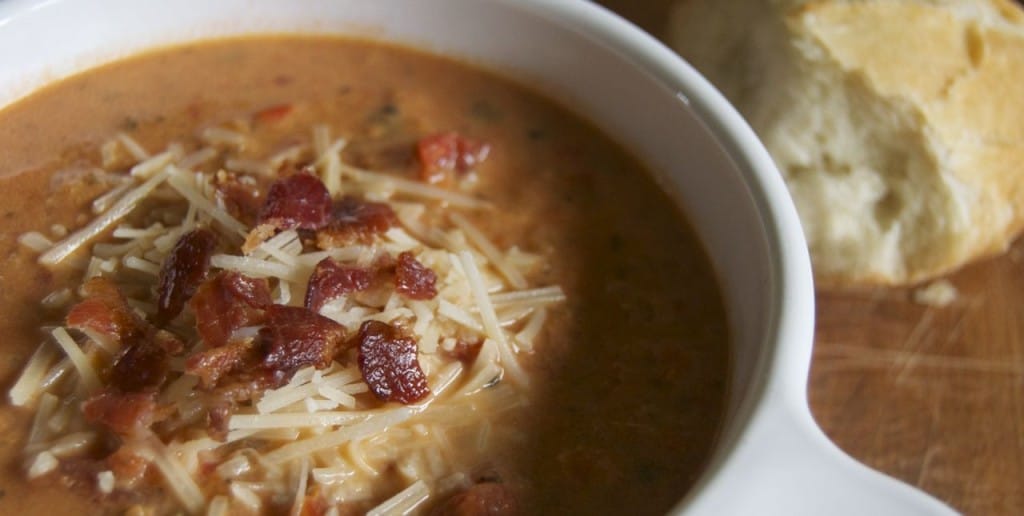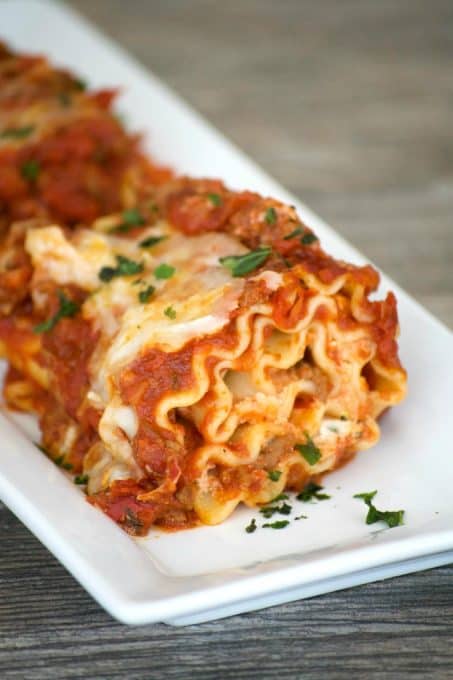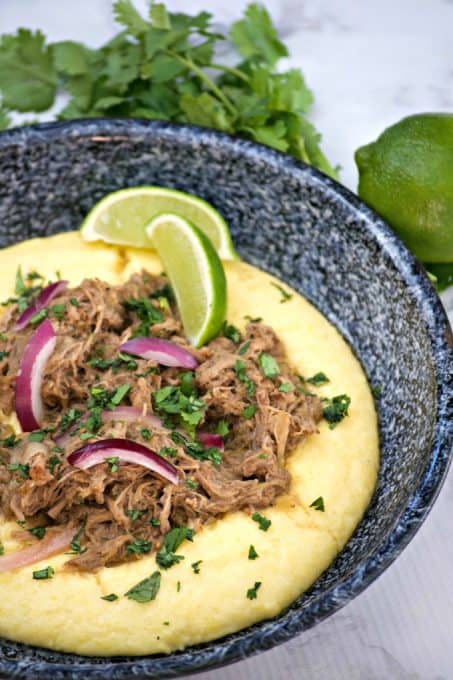 I can't say enough about this bread. Not only does it match a lot of things that I make on this blog, but it also works as-is and I can't think of a better way to use it. Making homemade bread can be time-consuming and trying, especially if you don't get it right the first time.
But, it is WELL worth it when it works that one time, and the times after that. Just remember the great, heaven-like smell and I'm sure you'll be able to deal with the little bit of patience that you need for this recipe.
Reader Interactions