I've been on various food blogs and came across one recipe this morning that I just had to make: Southwestern Spiced Sweet Potato Fries with Chili-Cilantro Sour Cream. It is from the TasteFood blog: http://tastefoodblog.com/2009/11/19/sweet-potato-fries/
and it was chosen as the winner in a Sweet Potato Recipe competition hosted by Food52. Our family devours the fried sweet potato chips that I make, so I knew that these would be very well received. The dipping sauce sounded as if it would be a great compliment, too. Also, for our entrée, I planned on making a chicken dish, Pollo Relleno from Better Homes and Gardens.com: http://www.bhg.com/recipe/chicken/pollo-relleno/.
The recipes were as follows:
Southwestern Spiced Sweet Potato Fries with Chili-Cilantro Sour Cream
Lynda says she likes to leave the skins on to add texture and extra nutrients. (I did as well.)
Serves 4-6 as a side dish or snack.
2 large sweet potatoes, skins on, cut in large matchsticks/batons approximately 1/4 by 2 inch
2 tablespoons olive oil
2 teaspoons salt
1 teaspoon ground cumin
1 teaspoon chile powder
1 teaspoon paprika
1 teaspoon freshly ground black pepper
1/2 teaspoon cayenne, or to taste
(I added about 118 teaspoon)HAHA YIKES!! No, 1/8 of a teaspoon)

Preheat oven to 425ºF. (220ºC)
Toss sweet potatoes and olive oil in a large bowl. Combine salt, cumin, chile powder, paprika, pepper, and cayenne in a small bowl. Add spices to potatoes and toss to coat. Arrange potatoes in one layer on baking sheet. Bake in oven on lowest rack for 10 minutes. Turn potatoes with a spatula and bake 10 more minutes. Remove from oven and serve with Chili-Cilantro Sour Cream.
Chili-Cilantro Sour Cream
1 cup sour cream (I substituted 1 cup Greek yogurt)
1 tablespoon freshly squeezed lime juice
2 teaspoons sweet chili sauce
1 small garlic clove, minced
½ teaspoon salt
½ teaspoon freshly ground black pepper
1 heaping tablespoon chopped cilantro
Combine all ingredients except the cilantro in a medium bowl and whisk together. Stir in cilantro.

These fries are definitely going to be a staple in our home! They were absolutely delicious with all the different flavors jumping around in my mouth. They were so good plain that I was having a hard time putting them down. THEN, I dipped one in the sauce!!!! It was wicked (as we say in New England, right, Lynda), but better than that…the sauce on the potato, was killah!!!!! The cream of the sour cream/yogurt and all of its' flavors balanced out the spices in the potatoes so wonderfully. I would expect to taste something like this in a restaurant. It is definitely award-winning. Congratulations, Lynda, you nailed it, and thank you so much for sharing it with us!
The rating for Southwestern Spiced Sweet Potato Fries with Chili-Cilantro Sour Cream: 4 rolling pins!
Pollo Relleno Makes: 6 servings
6 skinless, boneless chicken breast halves (about 1-1½ lbs. total)
1/3 cup cornmeal
½ of a 1¼ ounce package (2 tablespoons) taco seasoning mix
1 egg
1 4oz. can whole green chile peppers, rinsed, seeded, and cut in half lengthwise (6 pieces total)
2 ounces Monterey Jack cheese, cut into 2 x ½-inch sticks
2 tablespoons fresh cilantro or parsley
¼ teaspoon black pepper
¼ teaspoon crushed red pepper
1 8oz. jar taco sauce or salsa.
½ cup shredded Monterey Jack or cheddar cheese (optional)
Fresh cilantro sprigs (optional)
Directions
1. Place each chicken breast half in between 2 pieces of plastic wrap. Pound lightly into a rectangle about 1/8-inch thick. Remove plastic wrap.

2. In a bowl, combine cornmeal and taco seasoning mix. Place egg in another bowl; beat lightly.
3. For each roll, place a chili pepper half on chicken piece. Place a cheese stick atop chili pepper near an edge. Sprinkle with some of the cilantro or parsley, black pepper, and red pepper. Fold in sides; roll up jelly-roll style, starting from edge with cheese.
4. Dip rolls into egg and coat with cornmeal mixture. Place rolls, seam sides down, in a shallow baking pan. Bake, uncovered, in a 375ºF oven for 25-30 minutes. Heat taco sauce, if desired, sprinkle chicken with shredded cheese. Serve taco sauce or salsa. If desired, garnish with cilantro sprigs.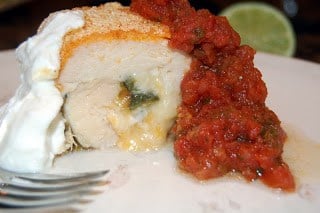 This I made a few adaptations to. I omitted the crushed red pepper because it already had the taco seasoning, I was using jalapeno peppers, and we were eating the spicy fries. I wanted to make sure the kids wouldn't opt for cereal because dinner had too many spices. I made the recipe for four instead of six, and we still had a whole chicken breast left over. We aren't very big eaters here. Instead of using the canned chili peppers, I roasted two Jalapeno peppers; removed the skin, and seeds, cut them into fourths and put two slices on each breast. I used four slices of Pepper Jack cheese instead of the cheese sticks and used one slice on each in addition to also using ½ cup shredded Mexican cheese. I sprinkled this evenly on all four pieces. I also used toothpicks to secure the rolls. It was served with the salsa and some Greek yogurt. I also didn't sprinkle the cheese on top or garnish with the cilantro.
The rating: 3 rolling pins.
Happy baking!