I didn't see that woman's car today at school during drop-off, but you can be sure that I was looking! I had to do a lot of talking to myself this morning while I was working my way through the parking lot, so I wouldn't become frazzled. It worked. I came out unscathed.
The 21st recipe is Chile Cheese Casserole from the Food Network website. No recipe, but here is the link: http://www.foodnetwork.com/recipes/food-network-kitchens/chile-cheese-casserole-recipe/index.html
I was needing to bake something today that would use up the egg whites I had leftover from making the Créme Brulée yesterday. I love the Food Network site because in their search field you can type in any ingredient and recipes will come up containing it. So, I typed in "6 egg whites" and voila: Chile Cheese Casserole. It was either that or omelets and those wouldn't work 'cause they aren't baked. My initial thought was that this dish would be too eggy for a dinner and would be best suited for breakfast; maybe I should add some cooked chicken to it. But we had chicken last night for dinner and I try not to repeat things two nights in a row. As it was baking, my daughter said that it smelled really good, so I was excited to try it, as was she. Here are the pictures of the process:
Chile Cheese Casserole
The ingredients.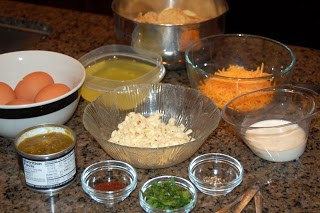 The diced green chiles and cilantro added to the mixture of eggs, egg whites, chili powder, and pepper.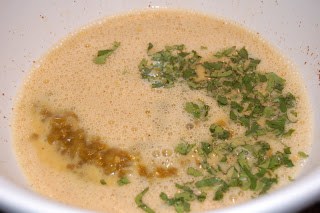 The crushed tortilla chips in the bottom of the baking dish and the final mixture with the cheeses added to it.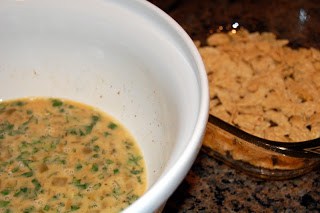 After being poured into the pan.
In the dish with the additional layer of tortilla chips.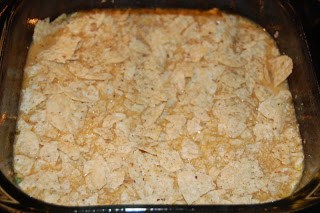 End of initial baking time before the additional cheese was added.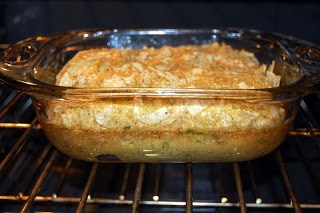 Out of the oven.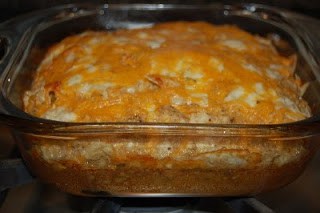 Ready for dinner.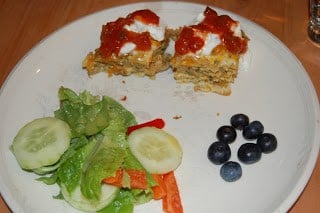 The recipe suggested serving it with sour cream and green salsa verde. I did neither and served it with Greek yogurt and regular jarred salsa. Nobody even knew the difference. The same daughter who told me it smelled good while it was baking took two bites and didn't eat the rest. My husband and son said it was ok, finished it or nearly finished, but never went back for seconds which is a nightly occurrence around here. I really didn't like it. Yes, it was extremely eggy, but it did call for 6 egg whites and an additional 4 eggs. It wasn't as spicy as I expected though and I have to say that the yogurt and salsa on top made it better. My recommendation if you're looking for a way to use up those egg whites from the créme brulée you made the day before, make omelets for breakfast or some meringue cookies. Oh yeah, I almost forgot the best part. Right after dinner my husband took me to a movie. Upon walking into the house, I was overcome by the smell of dirty diapers. It was horrible! Yes, it was the remaining smell from dinner. I need to burn a candle. Just something to think about if you're looking to try this one. Or, you could make it on a night when you're having company you're not particularly thrilled to see.
My rating for the Chile Cheese Casserole: 1 rolling pin.
Happy baking!