Mmmm…cinnamon rolls. This recipe I found in the Fannie Farmer Cookbook Thirteenth Edition, p. 530; author, Marion Cunningham; publisher, Alfred A. Knopf, Inc., a division of Random House; ISBN 0-394-56788-9.
Cinnamon Rolls
1 package dry yeast
¼ cup warm water
4½ cups white flour (approximately)
1 cup lukewarm milk
3/4 cup granulated sugar
1 teaspoon salt
1 tablespoon cinnamon
2 eggs
2 tablespoons butter
½ cup raisins (I omitted these)
Milk
3/4 cup confectioners' sugar
1 teaspoon vanilla
4 teaspoons warm water
Stir the yeast into ¼ cup warm water and let it stand for 5 minutes to dissolve. Add the dissolved yeast and 3 cups of the flour to the milk and blend well. Cover and let rise in a warm place until double in bulk. Add the granulated sugar, salt, cinnamon, eggs, butter, and 3/4 cup of the flour and blend.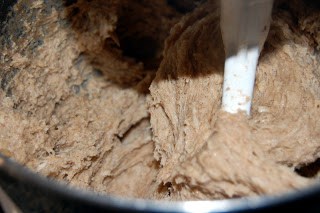 Turn out onto a lightly floured board and knead gently, slowly adding the remaining 3/4 cup of flour until the dough can be easily handled. Knead in the raisins. Pull off pieces of dough the size of medium lemons, roll each about 8 inches long, and wind it into a coil.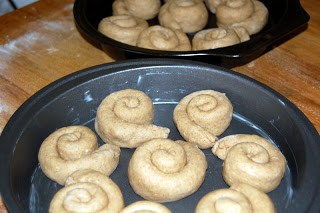 Arrange on two buttered 9-inch cake pans, cover and let rise until double in bulk, then brush tops with milk.
They certainly did rise!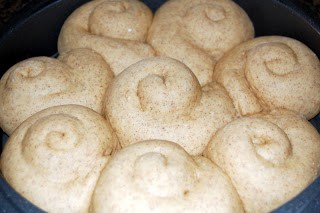 Preheat oven to 375ºF. Bake rolls for 25 minutes. Mix the confectioners' sugar and vanilla with 4 teaspoons warm water to make a glaze, and spread a thin layer on rolls immediately after removing from the oven.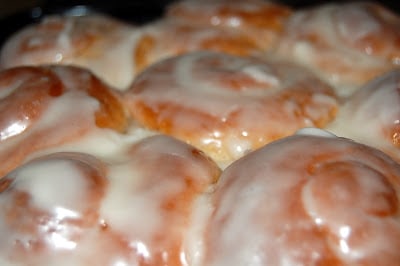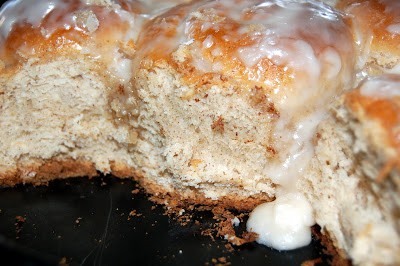 The house is filled with the smell of cinnamon. How is it that because we live at a slightly higher elevation and I need to leave things in to bake longer than the recipes call for that these cinnamon rolls were left in for exactly 24:35 (when I removed them because it smelled as if I should (you know what I mean)) and the tops and bottoms were darker than they should've been? What the heck? There's something wrong with that picture. I walked into the kitchen at the 24:30 mark and was very happy that I did.
Despite the browned outer layers, the inside was very soft and delicious. The creamy icing was really good, too. I doubled the icing because we like them ooey-gooey-sticky-all-over-your-fingers-good. My grandmother used to make her own cinnamon rolls when I was a kid, but I don't have that recipe. There are quite a few recipes I am going to need to retrieve from my aunt (oh my gosh! I just pronounced it 'ant' in my head! I've never said it that way aloud or otherwise. I'm from back east, we say 'ahnt' – guess I've been away too long). Grandma's, if I remember correctly, had a sugar and cinnamon mixture rolled up in the middle. The ones I made had the cinnamon mixed directly into the dough and it was quite good that way, too.
The rating: 3 rolling pins.
Happy baking!