Chicken Cacciatore – an easy skillet chicken dish with tomatoes, green peppers, and onions. It was a favorite of my mine growing up and I like it best on noodles, but it can be served with any pasta or even rice. This Chicken Cacciatore and Stone Reset by Gemvara can create lasting memories for you and your family.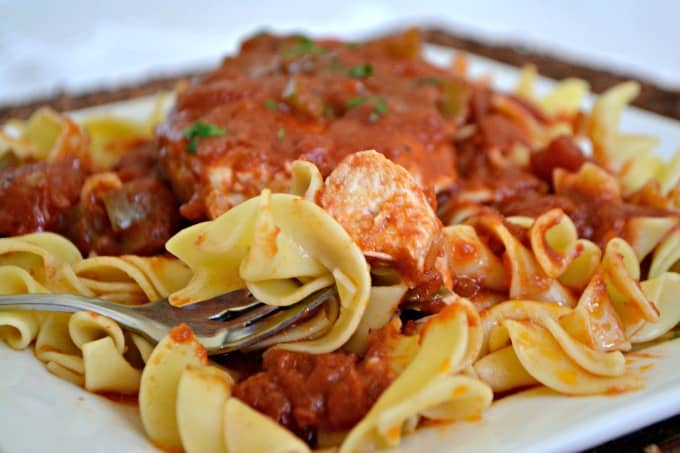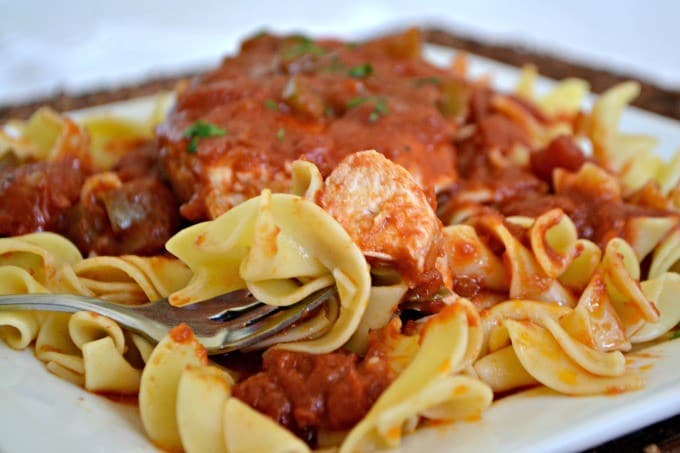 Today's post is pretty special.
It's one that sorta really pulls at my heart strings.
See, today isn't only about this wonderful recipe, but also because it's about two incredibly special women in my life. I've been blessed with some fabulous family members, all of whom have had a part in making me who I am today, two of them being my mother and my grandmother, her mother.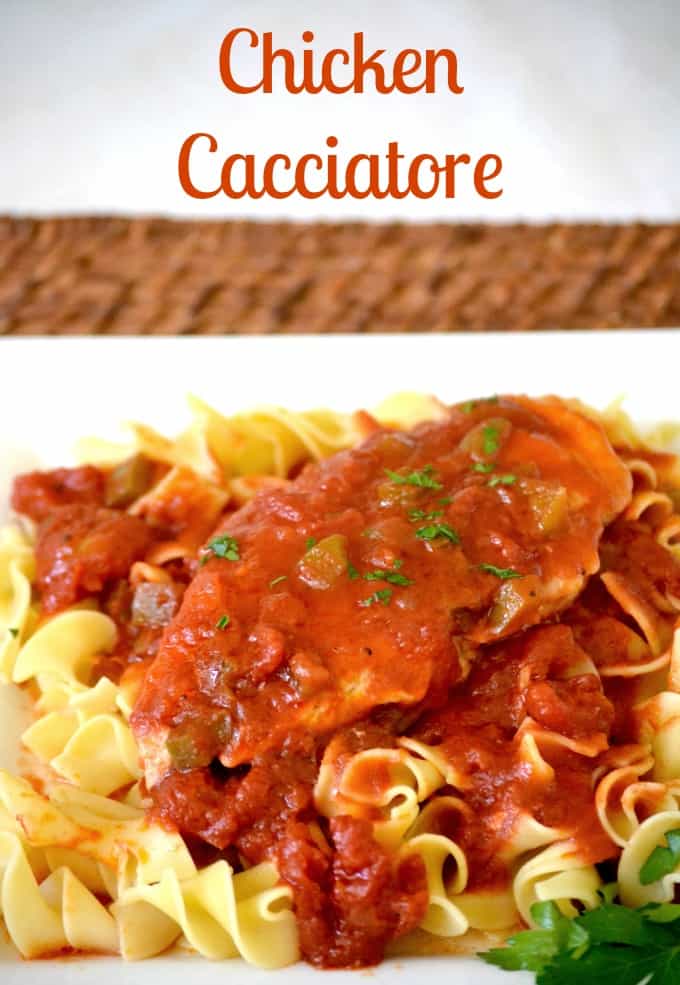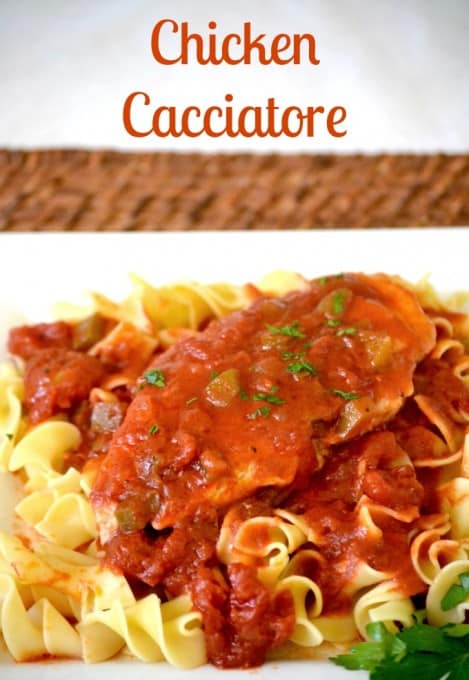 See, this is my grandmother's Chicken Cacciatore recipe, or as I used to refer to it, "Kitchen Chackatore". I don't know, but ironically we can say that's where this whole food blogging thing had its' start, in my grandmother's kitchen.
This meal was my absolute favorite growing up and it tasted that much better when she had made a fresh loaf of Italian Bread to accompany it. Oh, man, I can smell it all now…
SAVE THIS CHICKEN CACCIATORE RECIPE TO YOUR FAVORITE PINTEREST BOARD!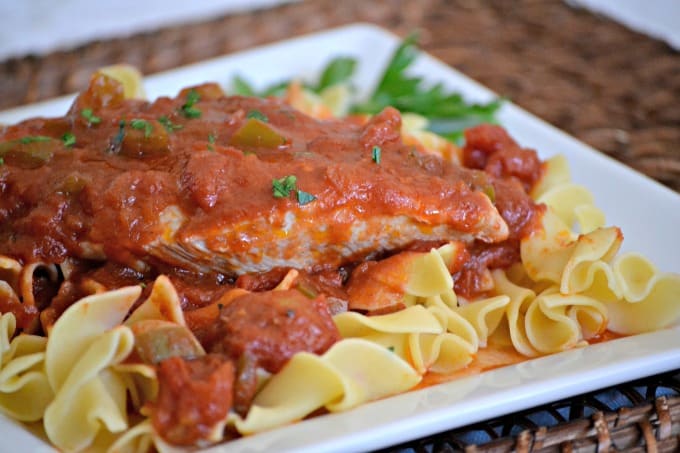 Since my mother passed away 23 years ago this month, I've had hers and my grandmother's wedding rings sitting in my jewelry box. There they've sat and sat and sat.
I always knew that I wanted to do something with them, and debated between putting them into one ring for me or something for our daughters.
I finally decided that they weren't doing any good if they just sat in my jewelry box and collected dust, so I researched online stone resetting and contacted the folks at Gemvara to see what they could do.
If you haven't heard of them, Gemvara is the revolutionary leader of fine jewelry shopping online. Jewelry lovers and gift givers now have access to 29 different gemstones, 9 precious metals, and hundreds of styles to create a one-of-a-kind piece that captures their personal story or unique inspiration.
Every piece of heirloom-quality jewelry is skillfully handcrafted to order in New York. With 24/7 customer care, a 101-day return policy, free shipping, free engraving, and free ring sizing, shopping and creating is simple and fun. Gemvara combines the values of traditional jewelry creation with modern technology to truly provide shoppers with fine jewelry exactly the way they want it, always. Gemvara is headquartered at in Boston, MA and has offices in New York City.
Below you can see what the rings looked like before I sent them in. I have to say that jewelry is not as cooperative as food to photograph, so, unfortunately, the before and after pictures do not do them justice, but you can at least get a pretty good idea of how everything looks.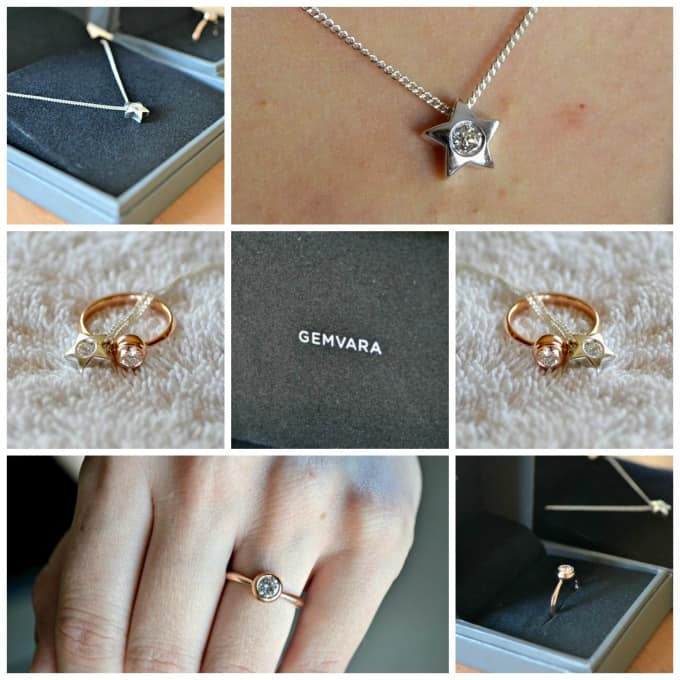 The white gold ring was my mother's from about 1967, and my grandmothers is the yellow gold ring from around 1940. Both were in pretty good condition, but I decided that I wanted each of my daughters to have something they would wear and treasure.
I could not be happier with the end result! Just look at how beautiful these items turned out! I gave our oldest daughter my mother's stone and she chose the Bezel ring in rose gold.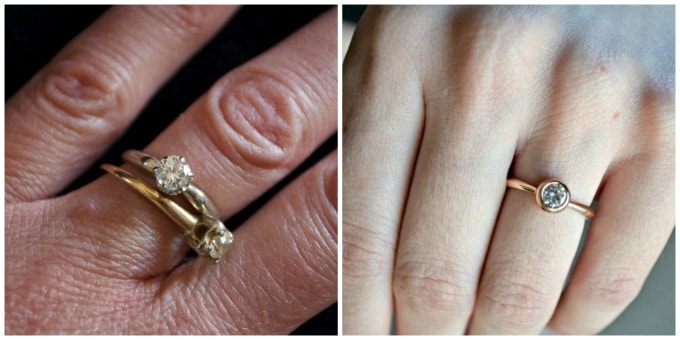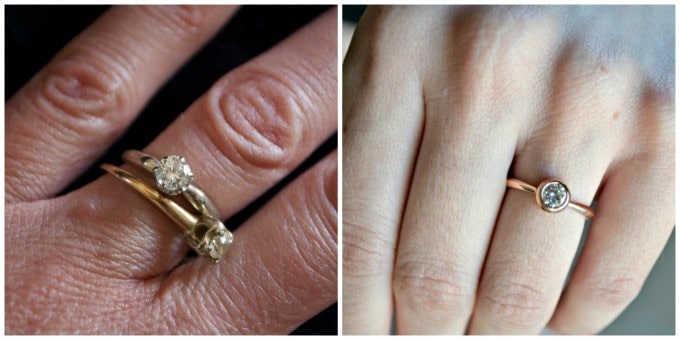 Our youngest daughter wanted her great-grandmother's stone made into a sterling silver necklace.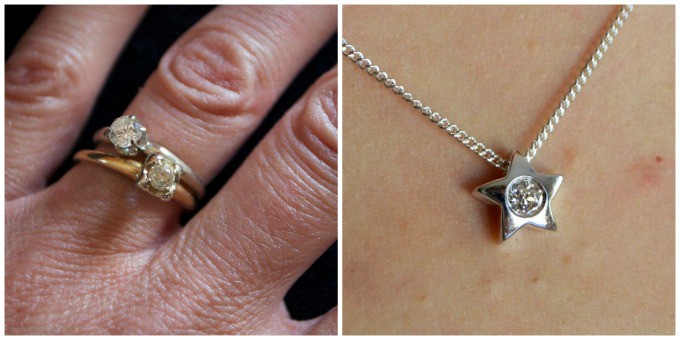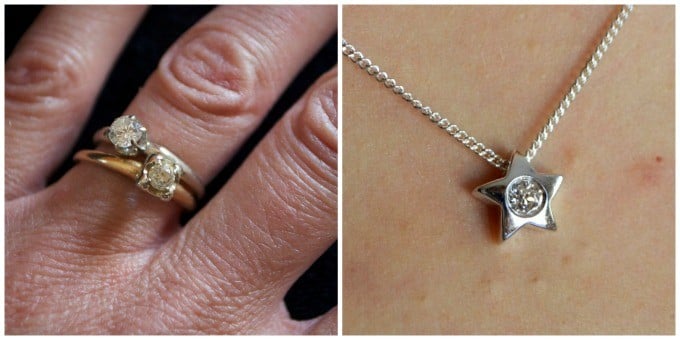 Stone Reset by Gemvara is completed through three simple steps:
Send Stone: Gemvara sends a free, prepaid insured mailer for customers to send in their stone.
Stone Assessment: Gemvara inspects the stone, confirms the measurements and secures it.
Handcraft: Customers select the perfect design and a Gemvara jeweler handcrafts the new setting from scratch and sets the stone. The handcrafted, restyled piece is delivered to your home after Gemvara receives the stone.
I am SO very glad I finally decided to do this! For one, these rings are no longer collecting dust. The talented people at Gemvara transformed them into beautiful pieces my daughters will proudly wear and I'm so happy that they'll always have something of their grandmother's with them.
It was such an easy process – from receiving the prepaid mailer to send the originals in, to decide in the comfort of my own home and online what settings my daughters wanted, and to the excellent customer service, I received along the way.
If you would like to restyle old jewelry or are holding on to any heirloom jewelry, don't allow them to hibernate in your jewelry box. Dust those babies off and contact Gemvara. I couldn't be more pleased with how ours turned out and I know my daughters will enjoy them for many years to come.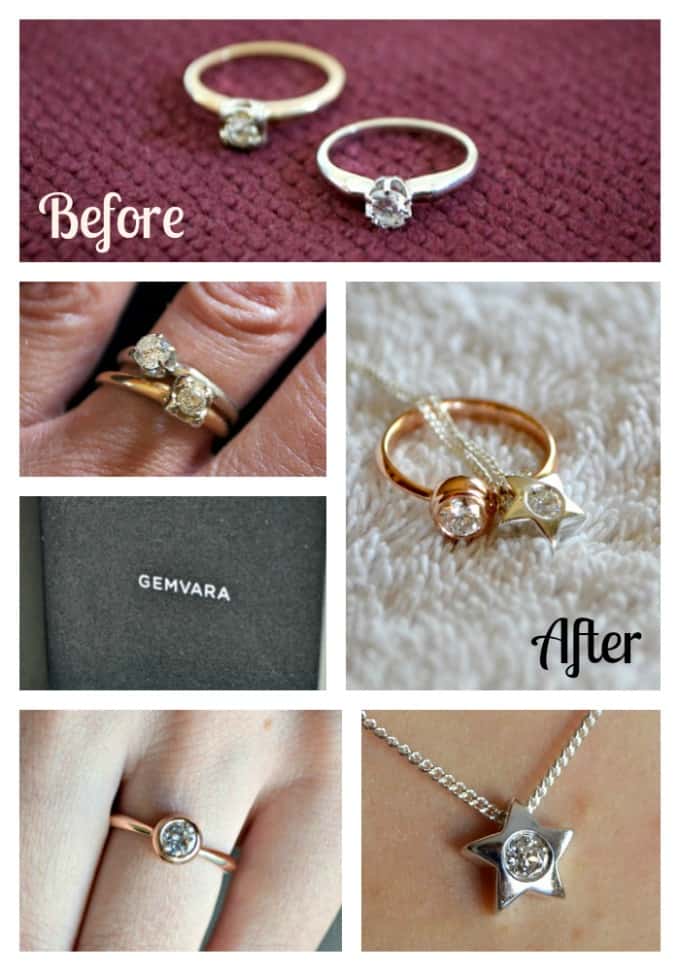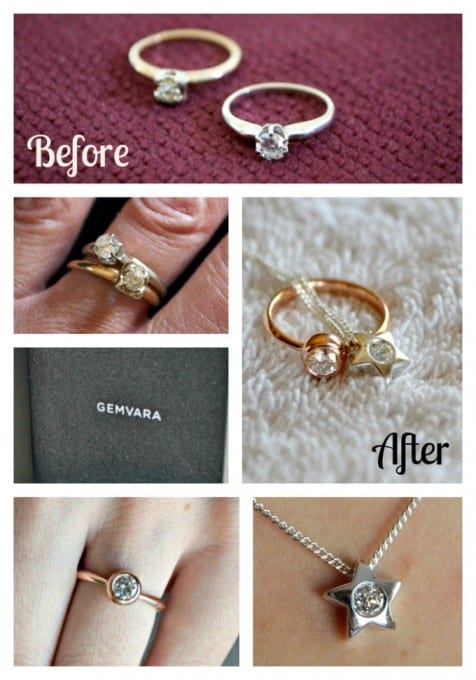 Gemvara, the leading provider of customizable fine jewelry, has unveiled Stone Reset by Gemvara. The first to offer diamond & gemstone resetting online, Stone Reset by Gemvara meets demand for trusted and accessible gemstone restyling.
Be sure to check them out and stay up to date with them on Twitter, Facebook, Pinterest, and Instagram and let them know how you found them!
As a special for my followers, Gemvara would like to offer you 10% off your Reset!! Pretty, cool, hunh? When you place your order, all you need to do is mention that you found them through 365 Days of Baking and More to get your discount! And I'd love to see YOUR before and after pictures, too!
SIGN UP FOR THE WEEKLY 365 DAYS OF BAKING & MORE
NEWSLETTER BELOW!
And now onto Grandma's recipe…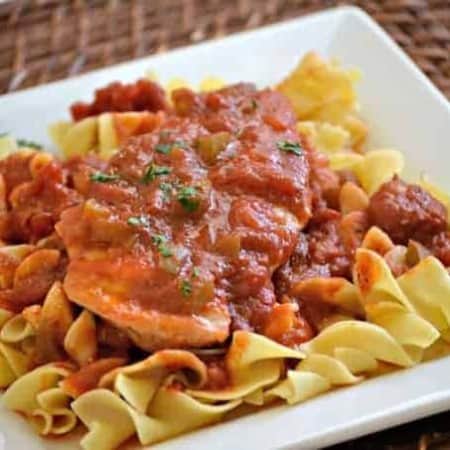 Ingredients
3 tablespoons canola oil
4 boneless skinless chicken breasts
1 green bell pepper chopped (about 1 cup)
1 medium onion chopped (about 1 cup)
3 cloves garlic minced
1 8- ounce can tomato sauce
1 20- ounce can diced tomatoes undrained
½ cup Chianti wine
½ teaspoon thyme
⅛ teaspoon cayenne pepper
⅛ teaspoon freshly ground black pepper
1 12- ounce package noodles
Instructions
In a large skillet over medium heat, pour olive oil.

Place chicken breasts into pan and brown on both sides, about 3 minutes each.

Transfer chicken to plate, cover and refrigerate.

Saute pepper and onion in pan until soft, about 5 minutes.

Add garlic, tomato sauce, diced tomatoes, wine, thyme, cayenne pepper and black pepper.

Cover and simmer for one hour over low heat, stirring occasionally.

Add the chicken and cook for approximately 20 minutes or until cooked through.

Prepare noodles according to manufacturer's directions and serve.

Leftovers can be frozen, but freeze sauce separately.
Did you make this recipe?
Share it with me on Instagram and make sure to follow me on Pinterest for more recipes.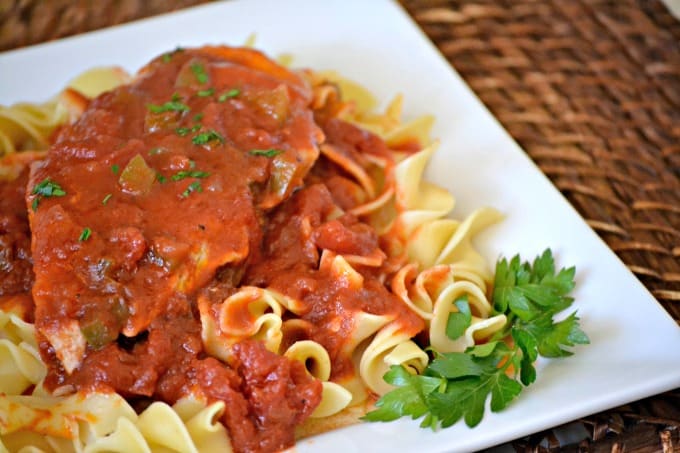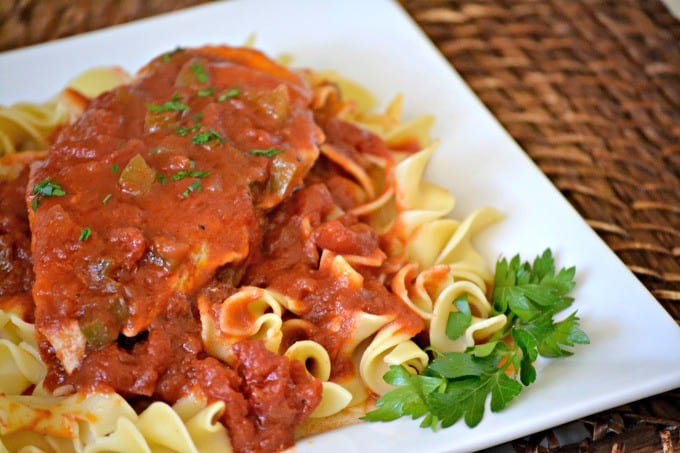 I rate everything I make on a scale of 1 -4 with 4 being the best and this Chicken Cacciatore earned 3 1/2 rolling pins.
It was delicious, but unfortunately, it didn't taste just like Grandma's. I think it was missing that little bit of extra love she always said she included.
Here are some other great recipes to help with your busy week!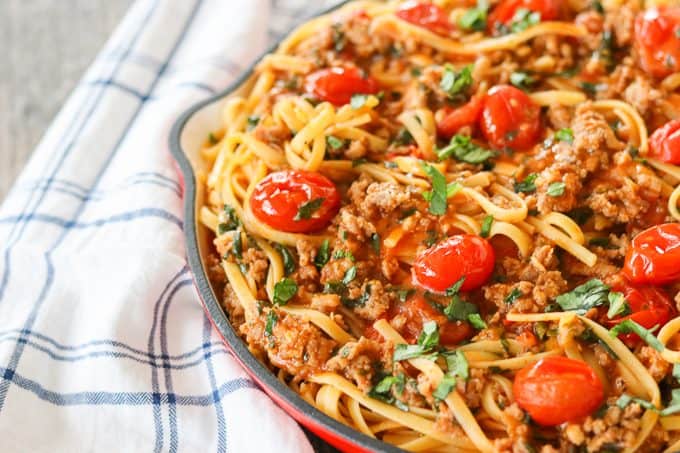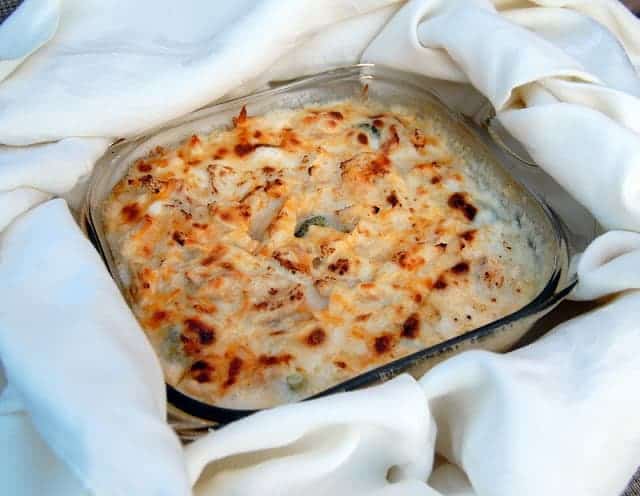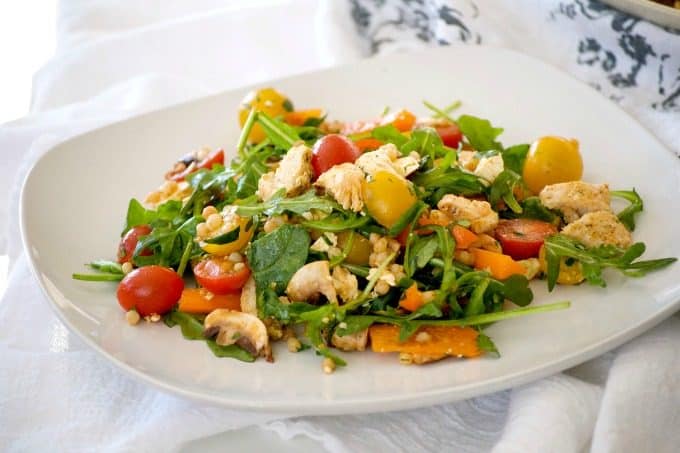 Thank you, Gemvara for sponsoring this conversation. I have been compensated for this post and as always my opinions are my own. I appreciate the support my followers give to the brands I endorse.
#stonereset #spon
Reader Interactions