Jambalaya – a dish native to Louisiana, it is a hearty meal of rice, chicken, Andouille sausage with some Cajun spice. This recipe makes a large portion so we're able to enjoy it again the next day for lunch.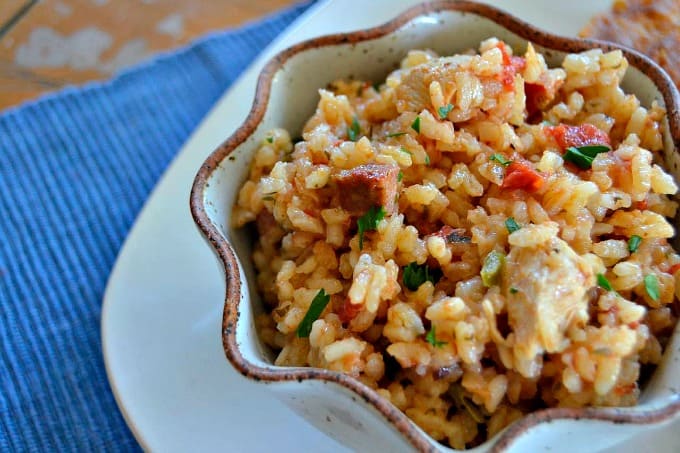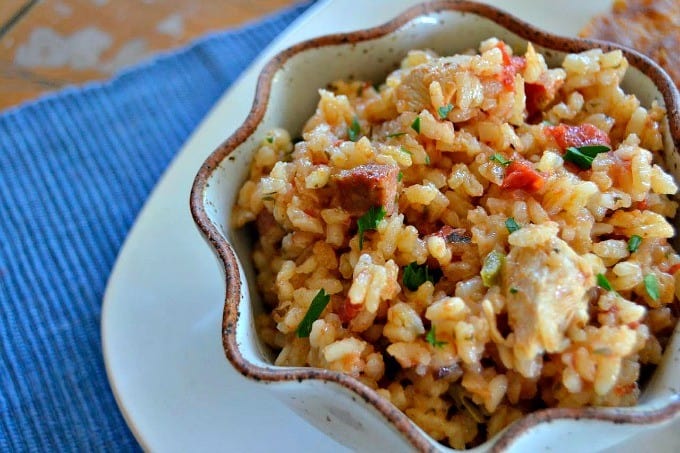 I know Fat Tuesday was nearly two weeks ago and Jambalaya is usually a dish served on that date, but I didn't even know what it was earlier that day, UNTIL…

Our wonderful friend and neighbor, Tracy, brought some over.
OMG!!!!!
I can't say enough good things about this jambalaya. They're some recipes that are way ahead of others, and this happens to be one of them. Just even saying jambalaya is fun.
And, it's another crockpot recipe so I'm jumping for joy. Who can say no to a slow cooker jambalaya? Boy, just talking about it makes me want to get right back in the kitchen and get the recipe going again.
Yes, I am giving away the rating before I even give you the recipe once again, but seriously, folks, ADD this to your rotation of recipes! My WHOLE family LOVED it, especially our starving college sophomore.
SAVE THIS JAMBALAYA TO YOUR FAVORITE PINTEREST BOARD!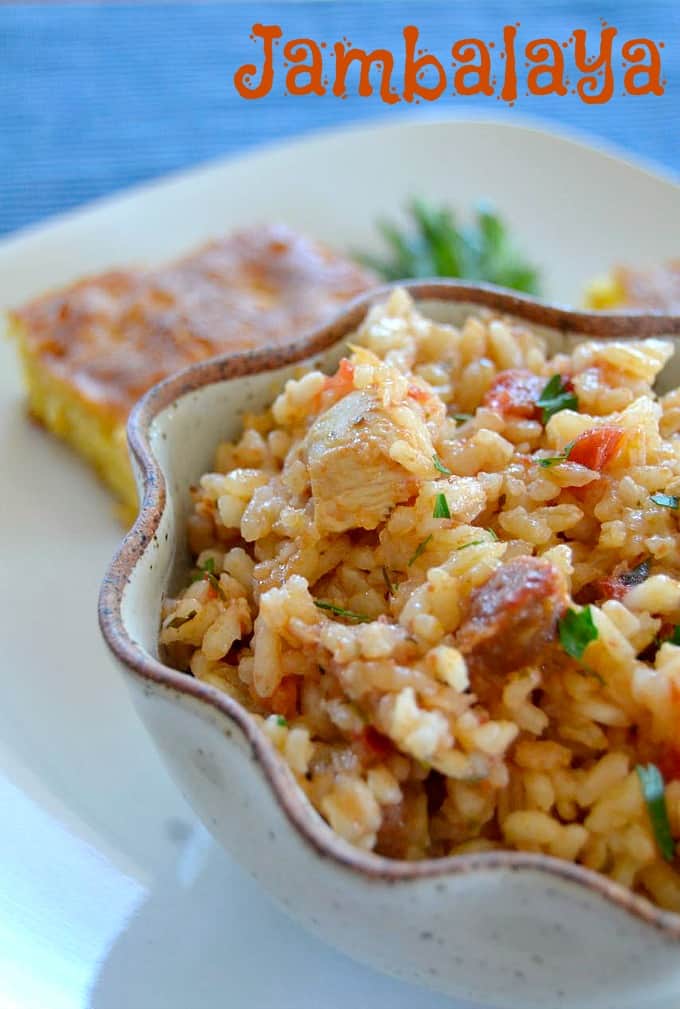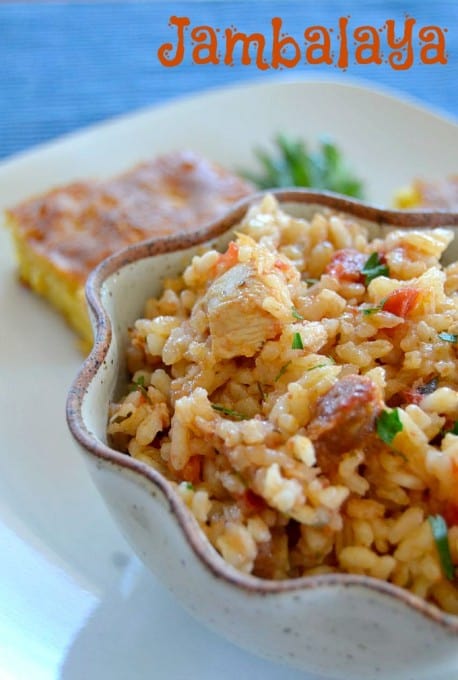 Ok, she's not really starving, but she has come to find, shall we say, a new love for her mother's cooking since she's been away. 😉 If you are a young mother or one who hasn't had any children yet or even if you have some teenagers, you'll find that in the long run, they DO come to appreciate you.
They may not physically show it with affection, or even verbalize it, but they do and you'll finally have validation that all of your literal blood, sweat, and tears over these youngins' wasn't for naught.
It makes it ALL worthwhile.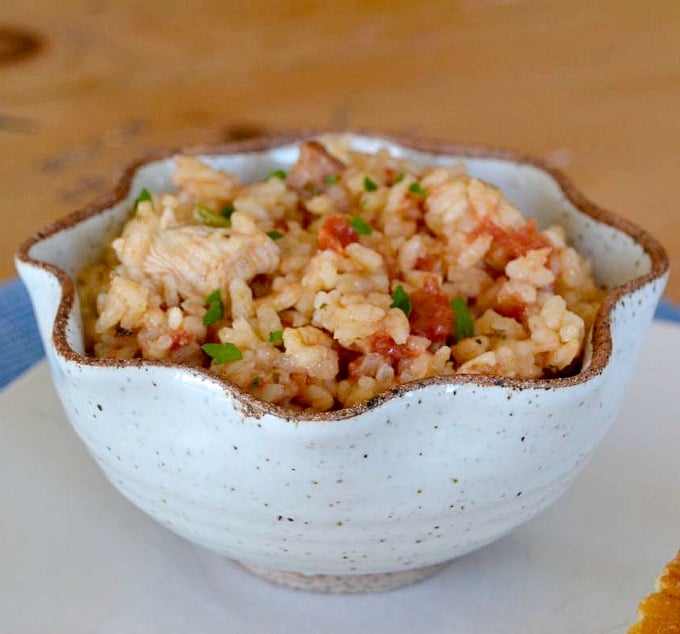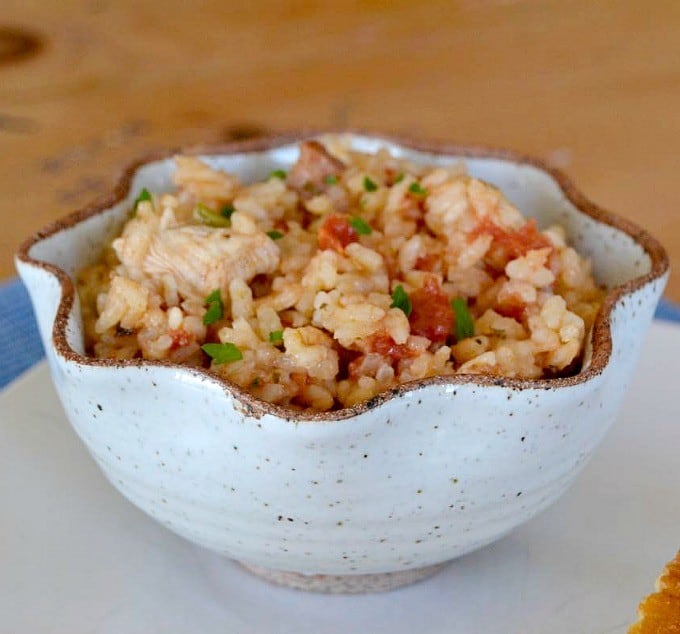 As I was saying…
Two weeks ago when Tracy walked over with a good sized portion of this dish that she had made for dinner, I had heard of it but wasn't sure what the ingredients were, and was thinking it was some kind of seafood dish.
Um, thanks, Tracy, but the rest of the family can try it. I'm not a seafood fan (even though I have a few of those recipes here on 365. I would much rather have chocolate for dinner).
SIGN UP FOR THE WEEKLY 365 DAYS OF BAKING & MORE
NEWSLETTER BELOW!
"What, no seafood? Really?" "It can have seafood, like shrimp" she said, "but I didn't put any in."
"Woo hoo! Tracy, I LOVE you!"
So for those of you who like the shrimp added to their Jambalaya, go for it. If you're like me, you'll love it without.
The best of both worlds in one main dish!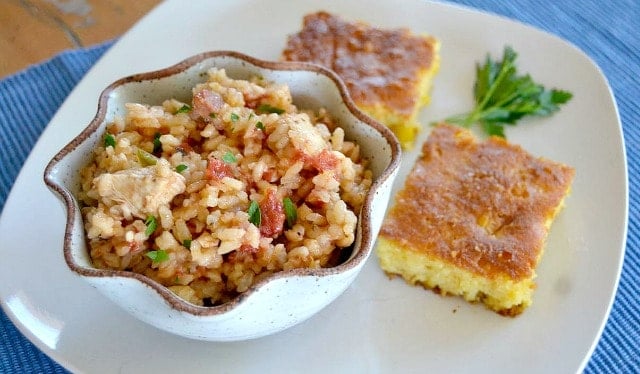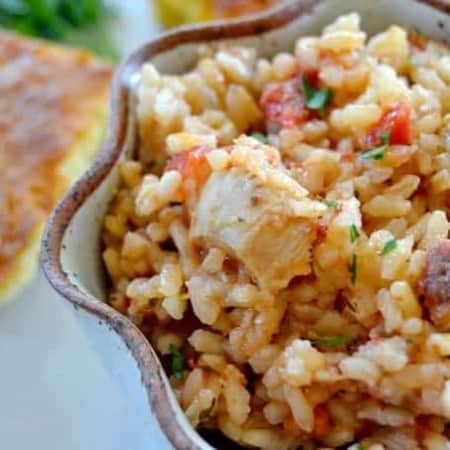 Ingredients
2 tablespoons canola oil
1 pound boneless skinless chicken breasts
1 teaspoon kosher salt
½ teaspoon freshly ground pepper
1 pound Andouille sausage chopped
1 tablespoon flour
1 medium onion diced
1 green pepper diced
3 cloves garlic minced
28 ounces stewed whole tomatoes
14.5 ounces diced tomatoes
4 cups chicken broth
1 teaspoon dried thyme
1 teaspoon dried basil
2 tablespoons fresh flat leaf parsley chopped
¾ teaspoon Cajun spice Use more or less as preferred
4 cups medium grain white rice uncooked
3 tablespoons butter cut into small pieces
1 pound raw shrimp peeled and deveined (OPTIONAL)
1 teaspoon Old Bay seasoning
Instructions
Preheat oven to 350 degrees F. Cover the bottom of a large Dutch Oven with canola oil.

Season chicken on both sides with some of the salt and pepper and then on medium-high heat, brown chicken on both sides in the Dutch Oven.

Remove the chicken and set aside so that it is cool enough to handle and chop into bite-sized pieces.

Place chopped sausage into the pot and brown. Remove and set aside with the chicken.

Place flour in the bottom of the pot, stirring constantly until browned. Add onion and pepper and sauté until soft. Add garlic and tomatoes and cook at least 5 minutes.

Add broth, thyme, basil, parsley, Cajun spice, and remaining salt and pepper, and bring to a boil.

Add rice, chicken, and sausage and return to a boil.

Dot the top with butter, cover the pot and place in oven. Bake for 30 minutes or until most of the liquid is absorbed.

Remove from oven, stir, add shrimp now (if desired) and sprinkle with Old Bay seasoning.

Return pot to oven for approximately 5 minutes until shrimp are cooked through.
Notes
This will feed 6-8 people. Nutritional information has been calculated for 6 people with shrimp even though I did not use include it.
Nutrition
Serving: 1serving | Calories: 1119kcal | Carbohydrates: 143g | Protein: 54g | Fat: 35g | Saturated Fat: 11g | Polyunsaturated Fat: 6g | Monounsaturated Fat: 14g | Trans Fat: 0.4g | Cholesterol: 227mg | Sodium: 2448mg | Potassium: 1268mg | Fiber: 7g | Sugar: 9g | Vitamin A: 1002IU | Vitamin C: 37mg | Calcium: 153mg | Iron: 11mg
Did you make this recipe?
Share it with me on Instagram and make sure to follow me on Pinterest for more recipes.
I rate everything on a scale of 1-4 and this Jambalaya earned 4 rolling pins!! You need to make it, is all I can say.
It's absolutely delicious and it feeds an army, or at least a small one! I shared tonight's dinner with Ava's family because I knew there would be plenty.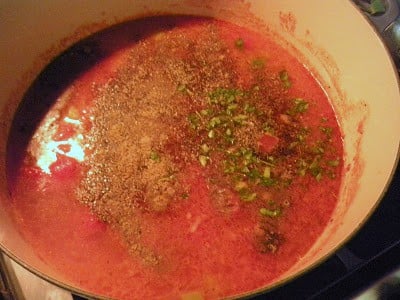 Busy weeks call for more planning when it comes to dinner ideas. Let these slow cooker recipes help when you're in a bind!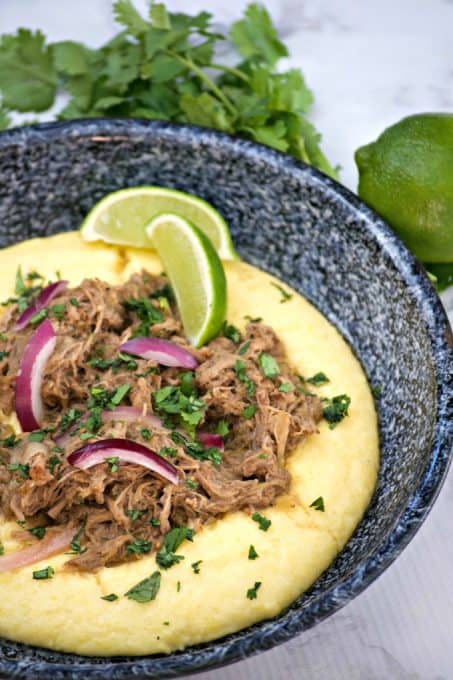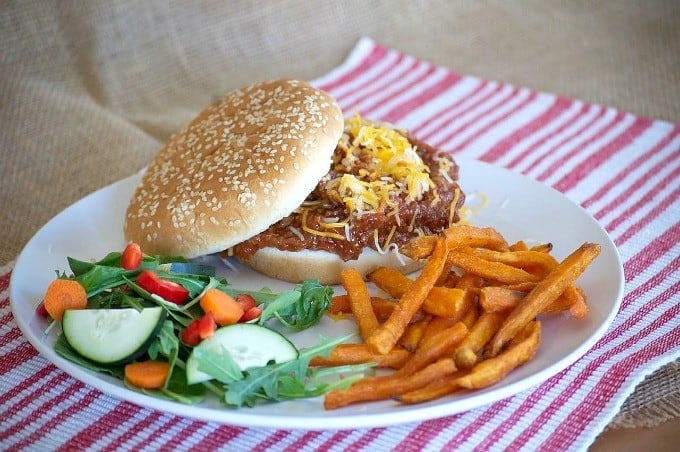 For those of you who have been following Ava's story, there is still no knowledge of her whereabouts with her biological father and his girlfriend/wife. She has been officially missing since 9 am Wednesday 2/22 after she was not at the visitation drop-off point.
Her mother and step-father are doing as well as can be expected. It was really great to see them again tonight to give them some hugs, encouraging words, and some home-cooked food to make sure they are eating through all of this. Please send out positive thoughts and prayers that Ava is safe and she'll be able so to sleep in her own bed soon.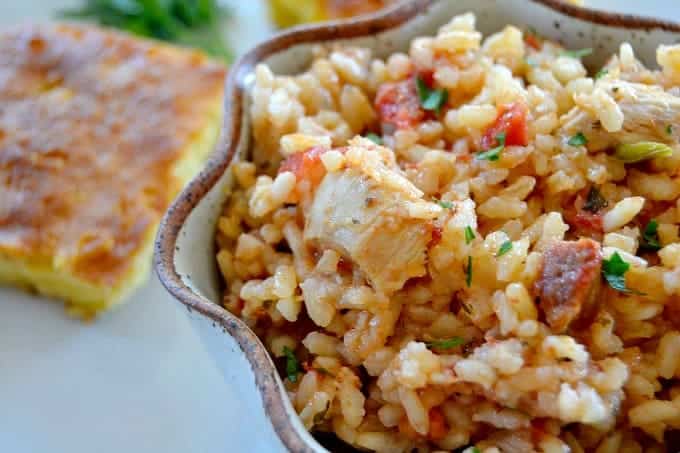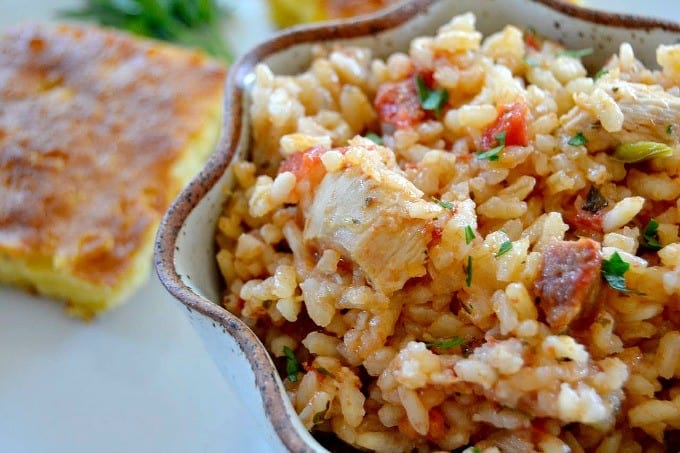 The 365 Facebook page is at 679!! Will we make it to 700 by next Thursday??!! If you haven't already "Like"d us, please do so and make sure you tell your friends. This will be relevant for our giveaway on the 365th day because "Like'ing us will give you an extra entry! So, do it now!
Yippee!!
Reader Interactions