Moist, fluffy and bursting with fresh, juicy berries, Blueberry Sour Cream Coffee Cake is an impressive treat for anytime of day. The swirl of cinnamon sugar and tangy-sweet lemon glaze elevate this easy-to-make Bundt recipe to extraordinary heights of flavor!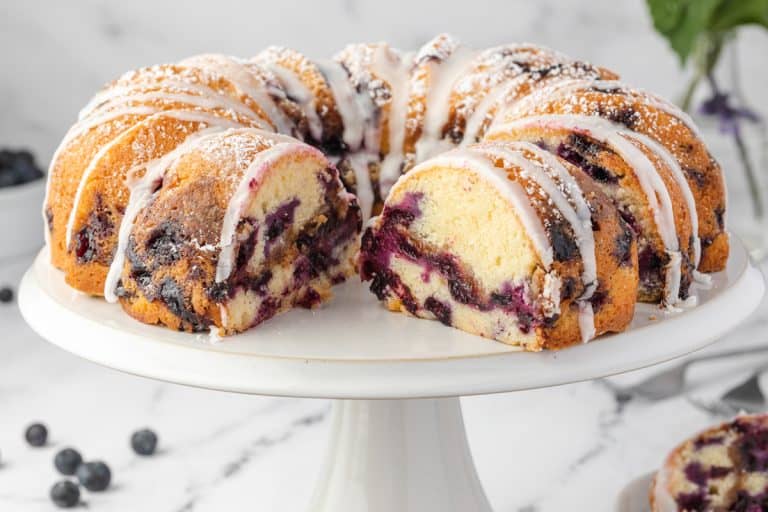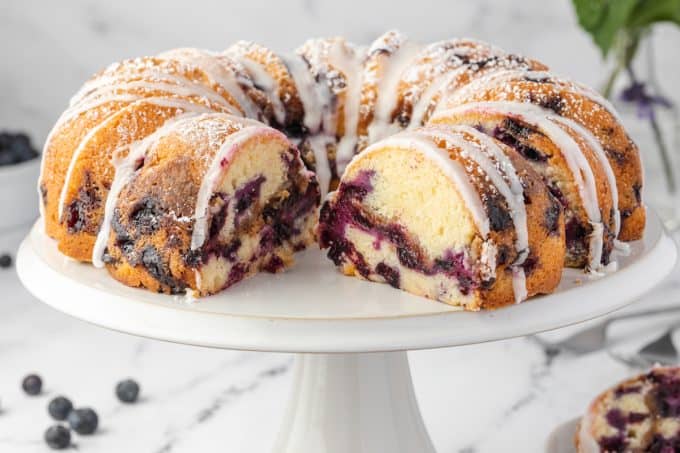 If you like my Cinnamon Sour Cream Coffee Cake, you're going to love it even more with the addition of fresh blueberries.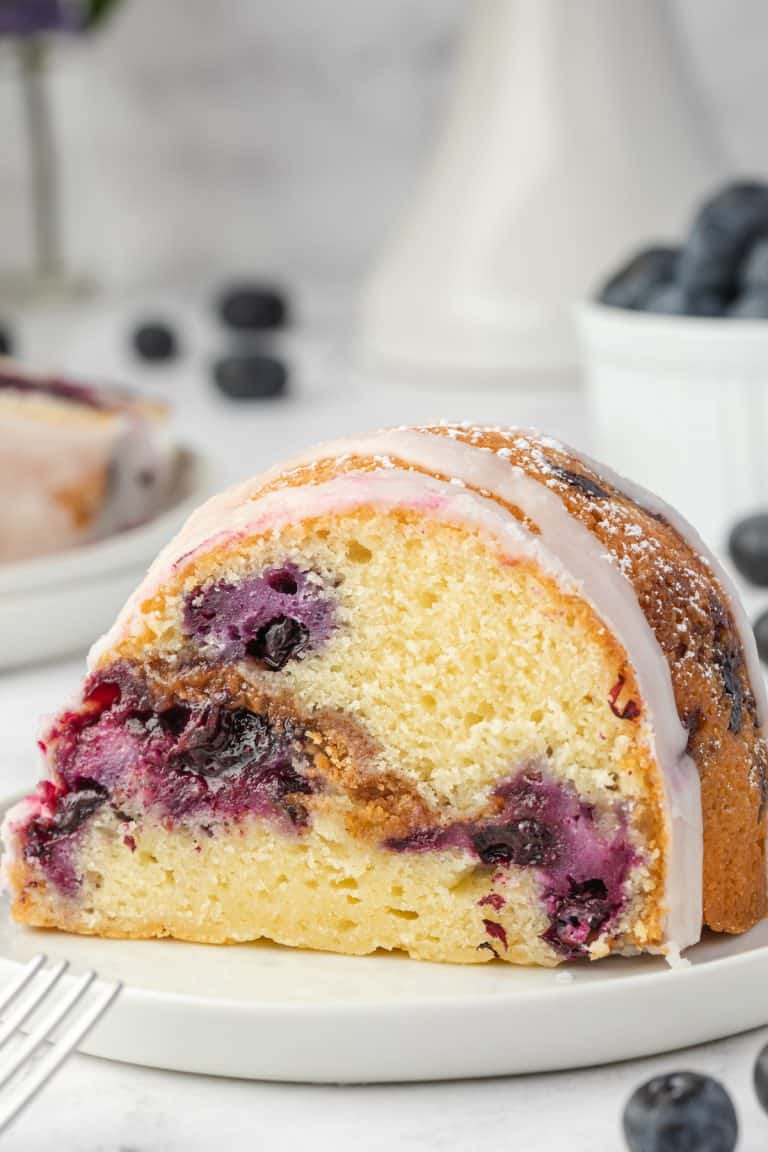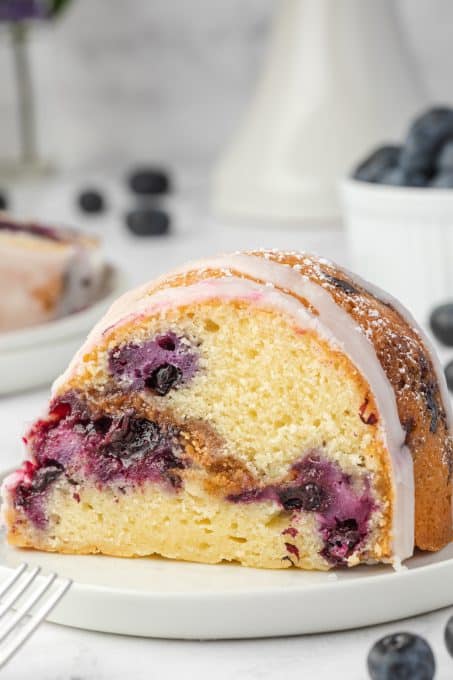 This moist coffee cake is elegantly sweet with a tender crumb thanks to sour cream and plenty of butter. The pop of sweet and tart blueberries and a hint of cinnamon pair perfectly together. I topped mine with a generous drizzle of lemon icing because every morning is better when icing is involved!
I love making bundt cakes because they always look impressive, even when they take very little effort to make. This sour cream blueberry cake is no exception. It takes about 15 minutes to prep the batter and the rest of the time is hands off while the cake bakes. When it's done, just pour on the glaze, slice and serve.
Freshly baked blueberry coffee cake is begging to be enjoyed with a hot cup of coffee or tea on a leisurely weekend morning. Or bring it into the office sometime and get ready to be everyone's new best friend!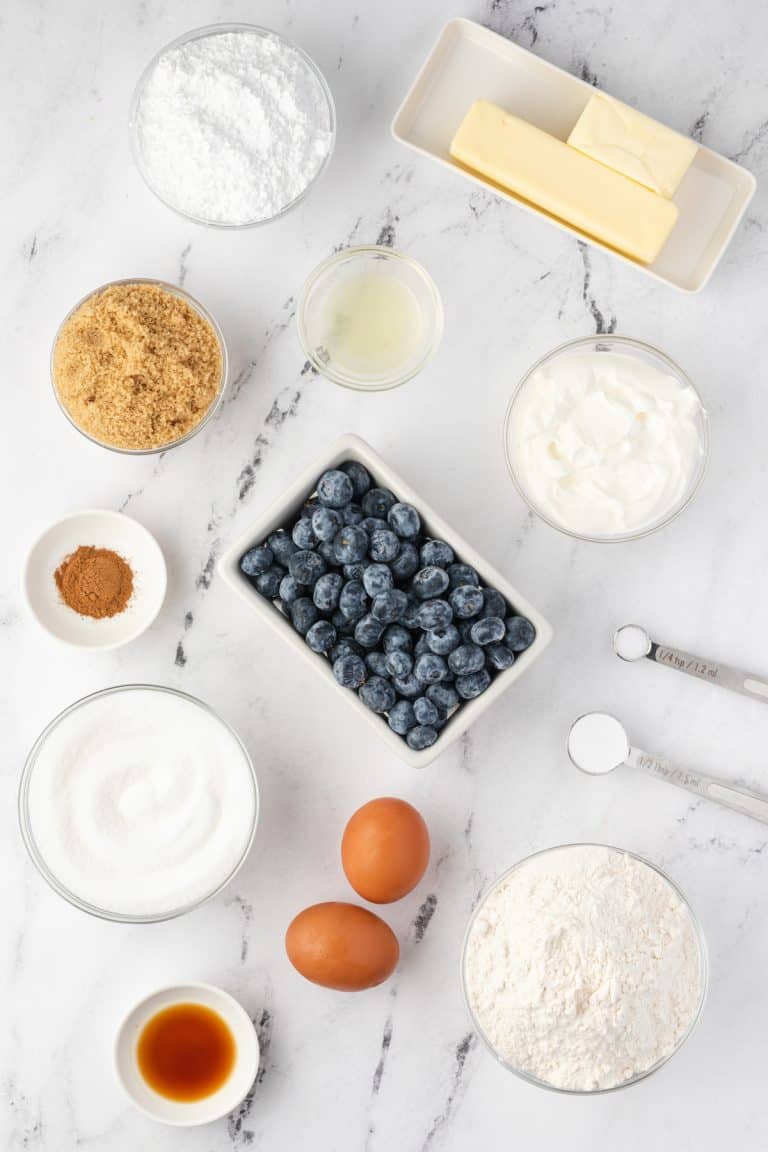 You'll need the following ingredients for this blueberry coffee cake Bundt?
For the cake batter, you will need:
Sugar
Butter
Eggs
All-purpose flour
Sour Cream
Vanilla extract
Fresh or frozen blueberries
Lemon Zest – if you'd like for a hint of lemon inside the cake, too!
To make the cinnamon filling at the center of the cake, gather these ingredients, too:
Ground cinnamon
Brown sugar
Flour
And, finally, for the icing:
Powdered sugar
Lemon juice – OR use milk instead if you're not a fan of lemon. Then top with some additional fresh lemon zest.
Pro tip: Make sure your ingredients are room temperature before you mix the batter. They incorporate more easily and smoothly when they're not ice cold!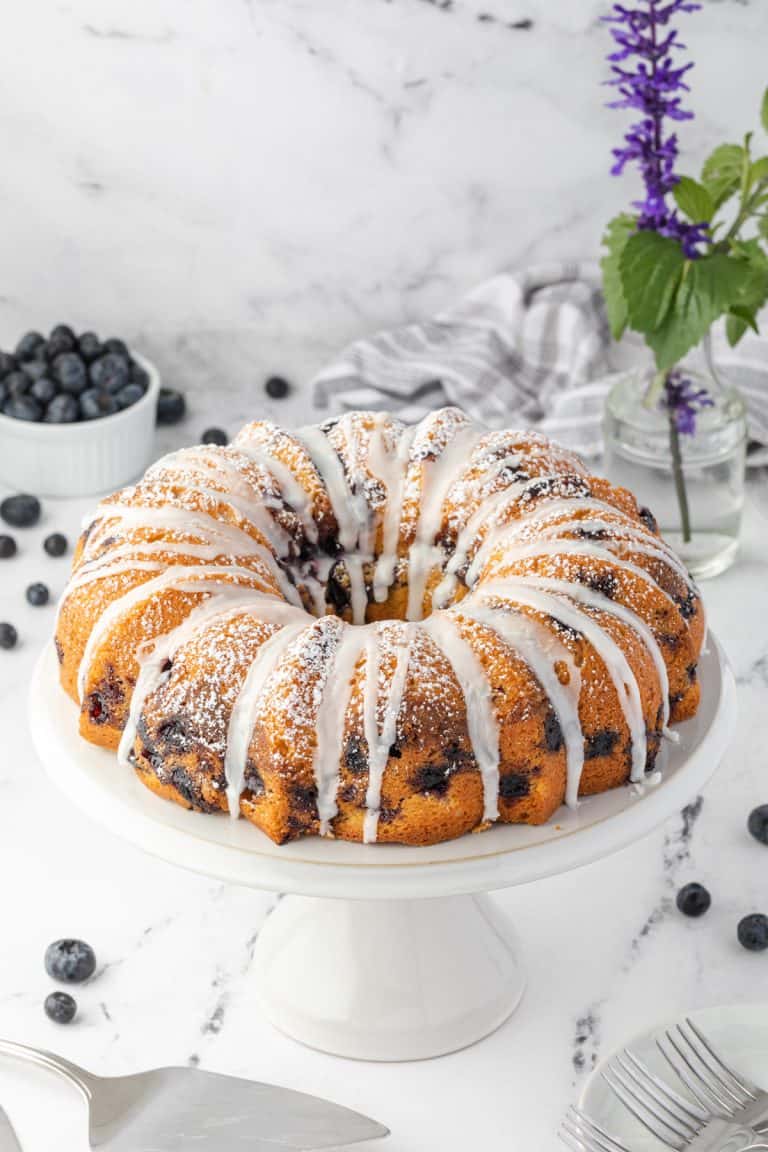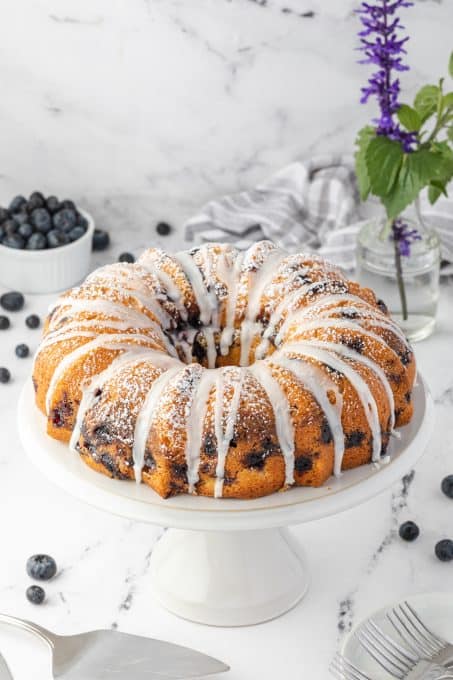 Why use sour cream in a coffee cake? 
Sour cream is a common ingredient in baking for a couple of reasons. The primary reason we use sour cream in this recipe and recipes like Strawberry Cream Muffins is for moisture. Sour cream is thick with a high ratio of fats to liquids. It adds moisture to the cake without thinning the batter the way a liquid would.
The acidity in sour cream also adds a hint of tanginess to the sweet, vanilla cake batter that deepens the flavor and makes every bite more satisfying!
Don't have any sour cream? Greek yogurt can be a fantastic one to one substitute. Just make sure to use the plain, unsweetened variety.
How to Make Blueberry Sour Cream Coffee Cake
To start, preheat your oven to 350°F and grease and flour your Bundt pan. I used this 12 cup Bundt pan for my blueberry coffee cake. 
Cream sugar and butter with an electric mixer until smooth and fluffy. Then, beat in the eggs one at a time.
Turn your mixer to low speed and add the sour cream and vanilla. In a separate bowl, gently toss the sweet blueberries with a rubber spatula in about a tablespoon of flour. Coating the blueberries helps them stay suspended in the cake batter instead of sinking to the bottom.
Add the remaining flour to the batter along with the salt and baking powder.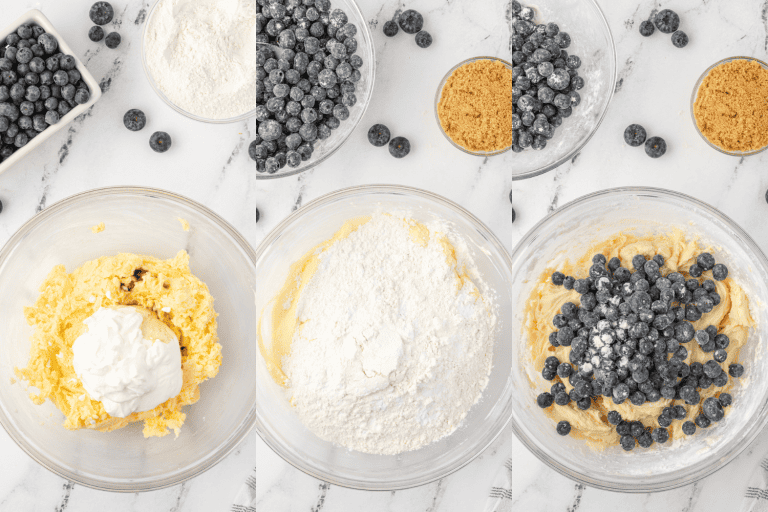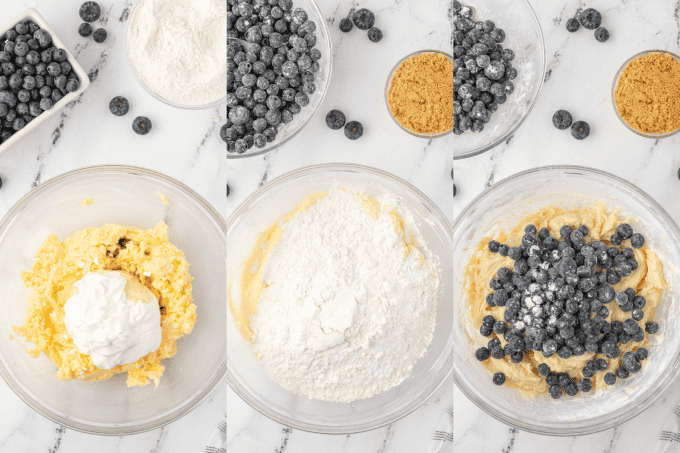 Mix everything together until just combined to create a very thick batter. Be sure to scrape the sides of the bowl!
Now stir in half of the blueberries and spoon half of the batter into the prepared pan. Use a spoon or spatula to spread the batter as smoothly and evenly as possible.
Toss together the brown sugar, cinnamon and a little more flour. Sprinkle this mixture over the top of the batter in the pan, then top with the remaining blueberries and batter. Bake the sour cream coffee cake until a toothpick or cake tester inserted comes out clean. Bake time takes about an hour depending on your oven.
Make sure to let the cake rest for 10 minutes in the pan. Then flip it onto a wire rack to finish cooling completely.
Now it's time to make the icing: Whisk together the powdered sugar and lemon juice (or milk), then drizzle it over the completely cooled cake.
You can find the complete list of ingredients, full instructions, and nutritional information in the recipe card below!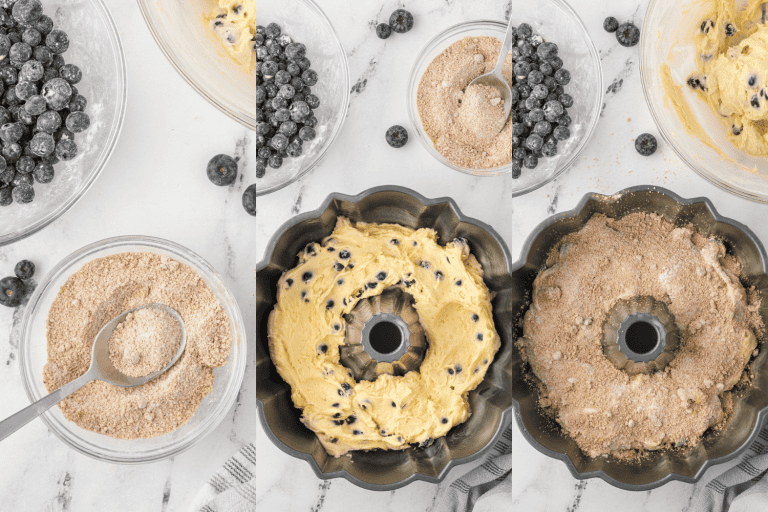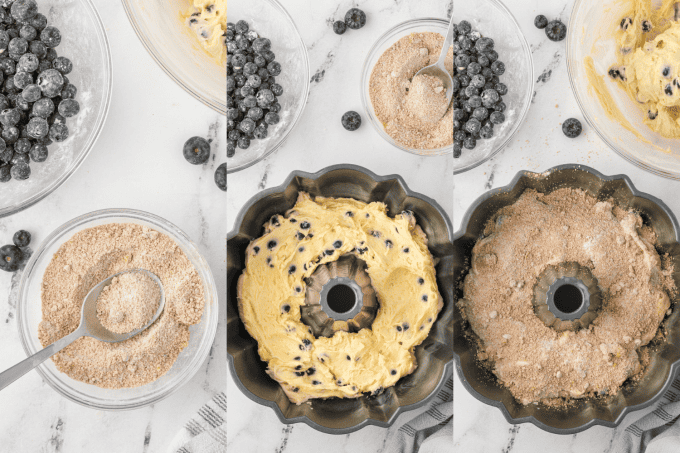 Can I make this in a different type of cake pan?
Yes, you can use a different type of pan. A a 9×13-inch baking dish or a round springform pan would both work well for this recipe. Just keep in mind that the baking time may need to be adjusted and may be longer depending on the size and depth of the pan. 
Also, if you are making this in something other than Bundt pan then I recommend using the filling as a topping!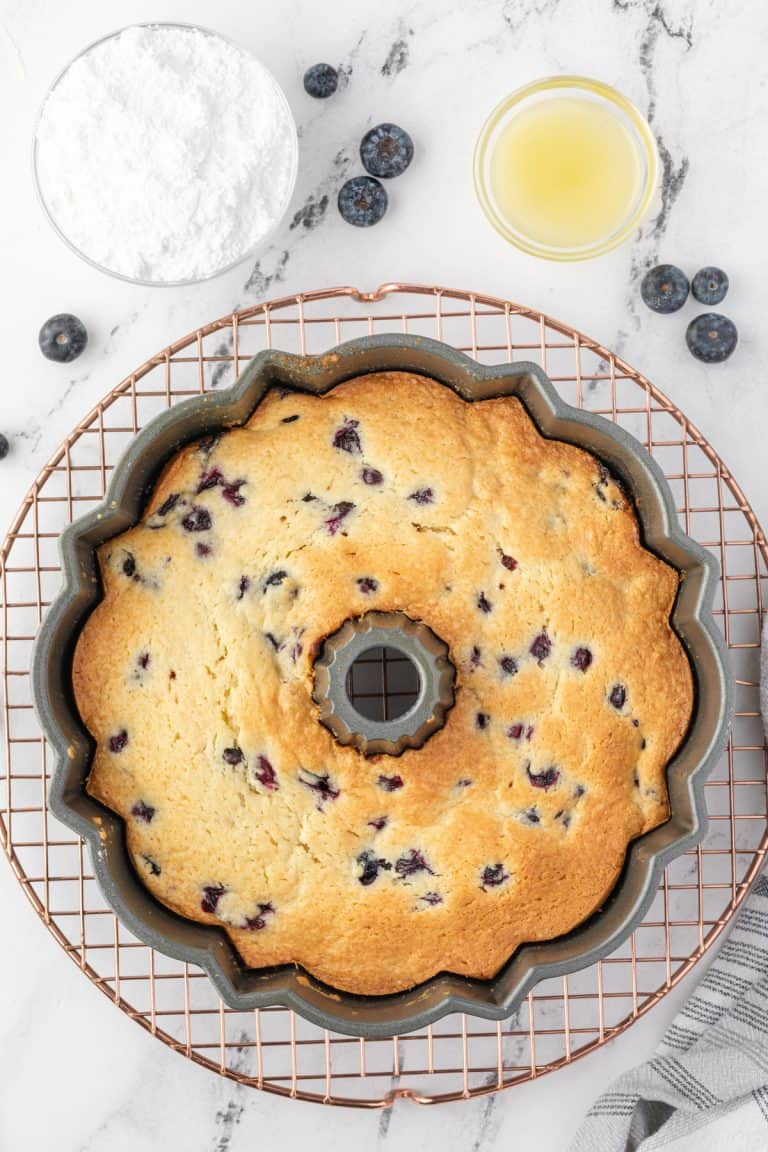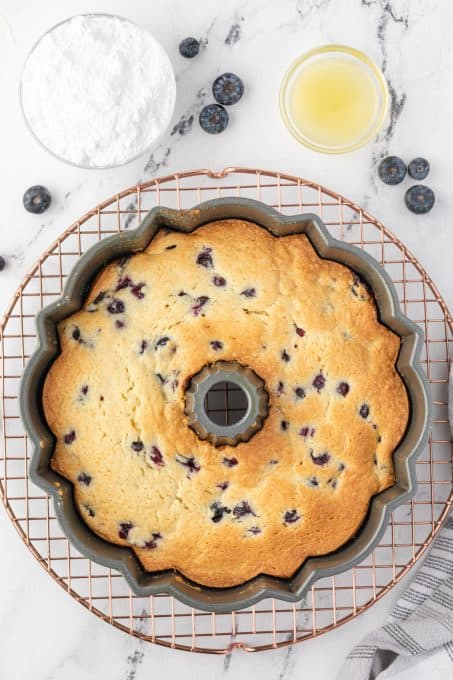 What variations can I make?
Swap out the berries! Use this coffee cake recipe with strawberries, raspberries or even chopped apples instead of blueberries. Different kinds of fruit have different moisture levels so make sure the fruit is firm and won't release too much liquid into the cake.
Add nuts. Put some crunch in the coffee cake by stirring a half cup of chopped pecans, walnuts or almonds into the batter. Nuts would make a fun, crispy topping for the cake, too.
Powdered sugar: Dust the baked, cooled coffee cake with powdered sugar instead of the glaze for a sweet, beautiful finishing touch. I love using my OXO Dusting Wand to dust ALL the things with powdered sugar!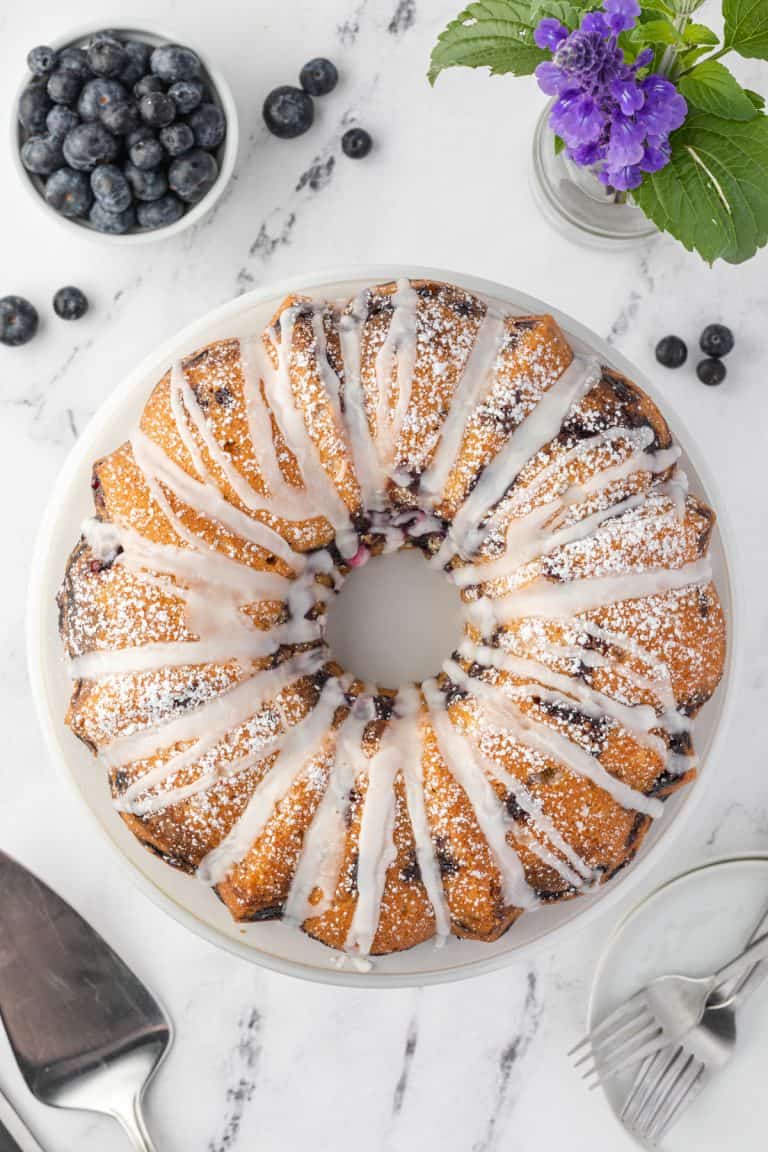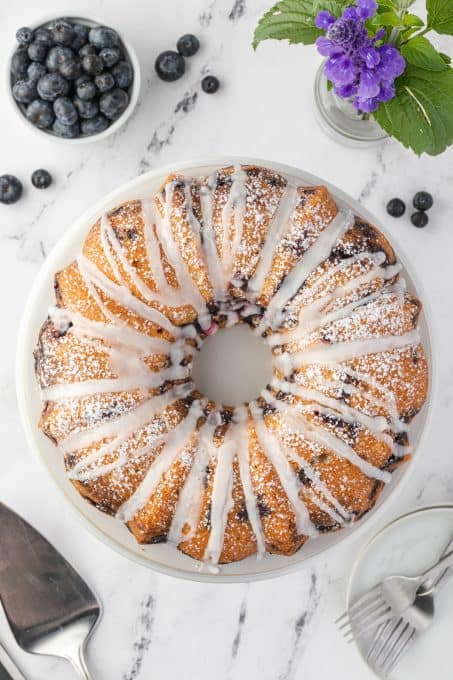 Storing Leftover Blueberry Coffee Cake with Sour Cream
Another reason you'll love this cake: it stays moist and tender for days after baking.
Store any leftover cake in an airtight container at room temperature for up to 2 days. In the refrigerator it keeps well for up to 4 days.
Can you freeze coffee cake? YES! This sour cream coffee cake with blueberries stays good in the freezer for up to 2 months. To thaw, let it sit at room temperature for a few hours or in the refrigerator overnight.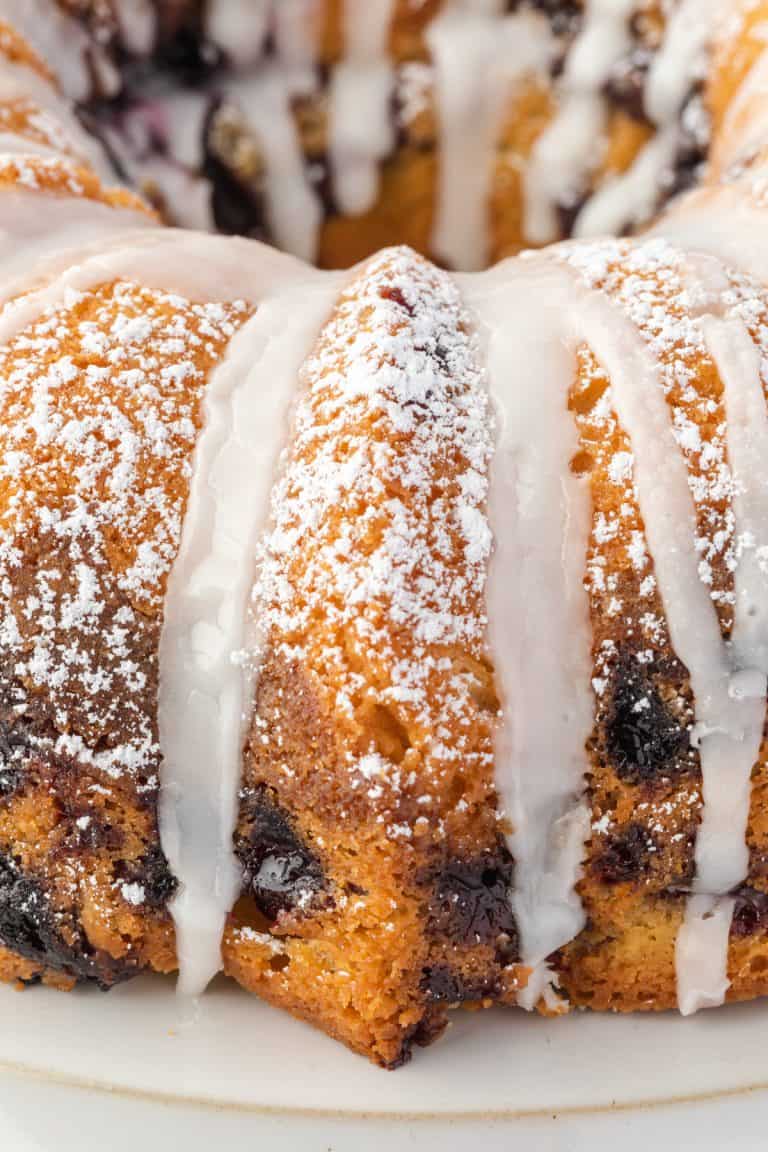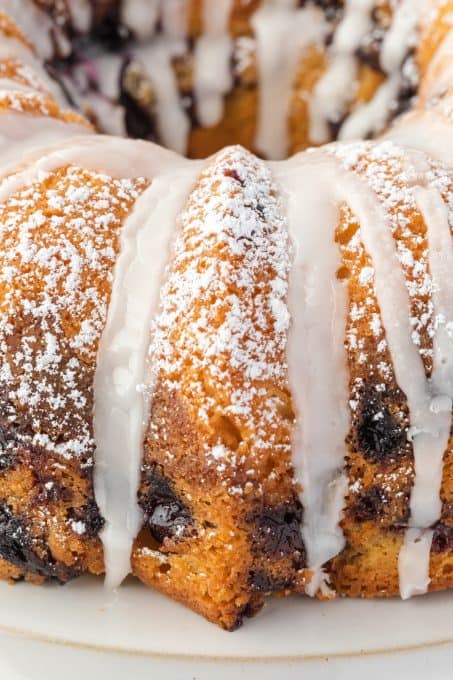 Coffee Cake Recipes
Whoever came up with the whole idea of coffee cake has my eternal gratitude. It's a whole category of cake that you're allowed to eat for breakfast! More than allowed to — you're expected to.
Orange Cranberry Coffee Cake and Cranberry Coffee Cake are two staples of my holiday breakfast menus. Cinnamon Roll Cake combines two cozy breakfast goodies into one sliceable delight. 
Looking for a coffee cake with a crumb topping? This Apple Crumb Cake has a streusel topping that's been described as "to die for"! This Easy Blueberry Crumb Cake Recipe is another take on blueberry coffee cake you'll enjoy.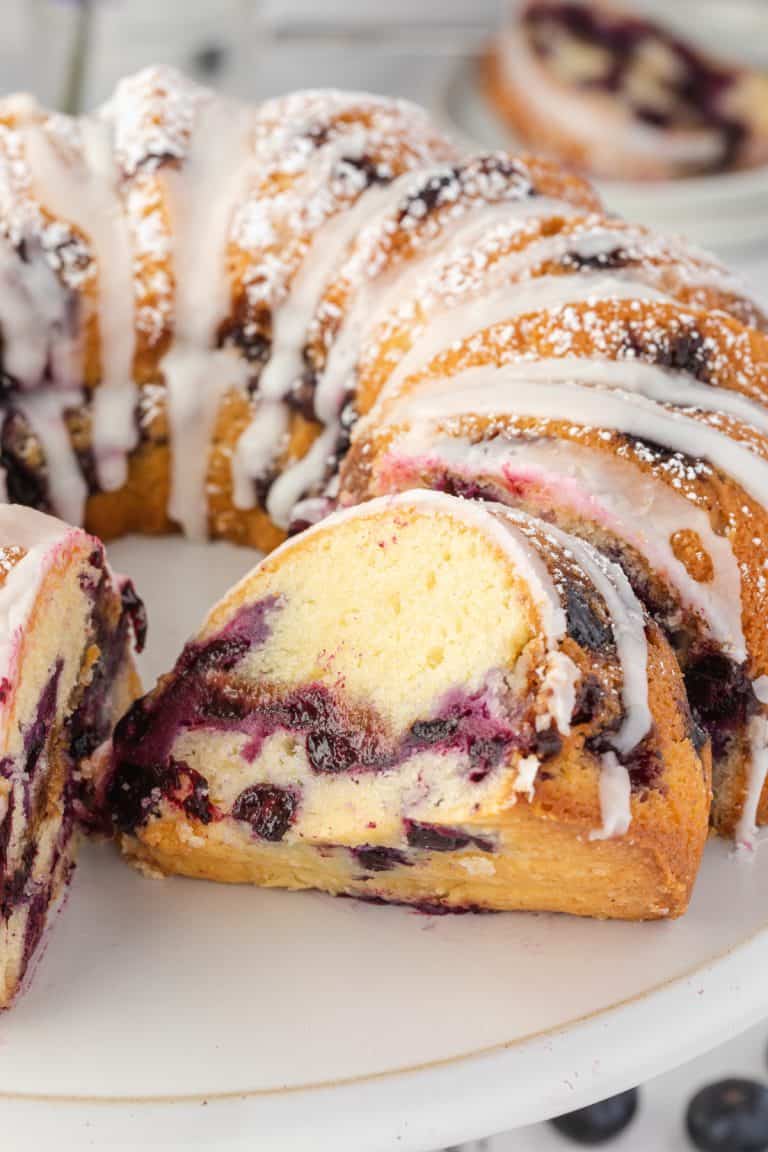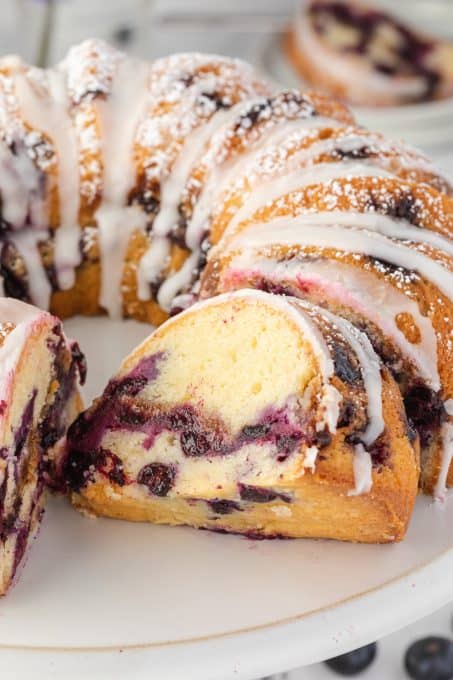 Best Recipes with Blueberries
I couldn't possibly choose one single favorite blueberry based recipe. Stock up on blueberries while they're in season so you can try all of them!
Blueberry Cream Cheese Scones will have you ready for afternoon tea on the terrace (or just in your kitchen!) this summer. Blueberry Ginger Cheese Danish is another pastry I love pairing with tea and coffee.
While I love eating cake for breakfast, I recognize that it's not the most health conscious option for every day of the week! This Blueberry Banana Smoothie Bowl on the other hand is light, nourishing and full of natural sweetness from the fresh fruit. Baked Blueberry Oatmeal is a warm breakfast that's good for body and soul.

Love muffins? These Cornmeal Blueberry Muffins can be made for breakfast or as a dinner side with some chili.
At dessert time, showcase the decadent side of blueberries with a pan of Blueberry Almond Dream Bars or a No-Bake Blueberry Pie. These Blueberry Lemon Cheesecake Bars are rich, creamy and topped with a zesty streusel.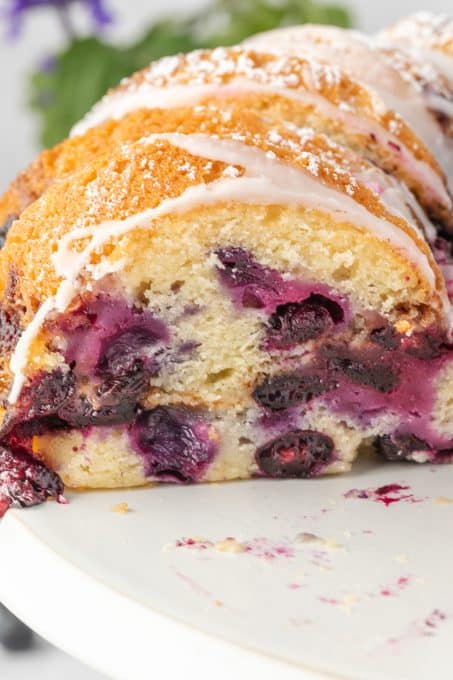 ~ FOLLOW ME ~
Keep an eye out for more of my easy recipes each week!
Whether you serve it for breakfast, dessert or a midnight snack, this Sour Cream Blueberry Coffee Cake is a must-try recipe for summer and beyond!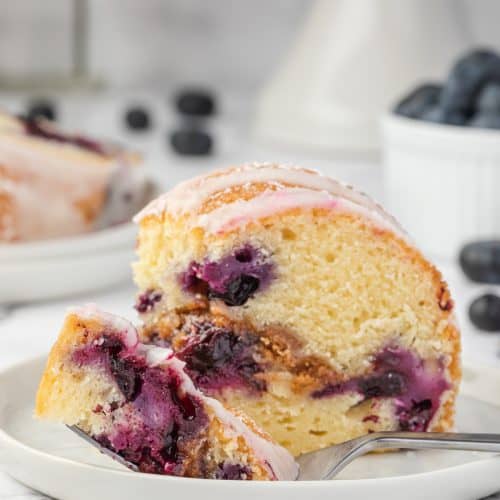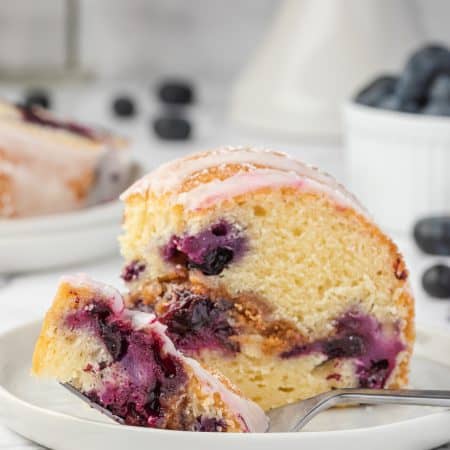 Blueberry Sour Cream Coffee Cake
This blueberry coffee cake is moist, fluffy and bursting with fresh juicy flavor! Filled with cinnamon sugar and topped with a sweet glaze, you'll love it for breakfast, dessert or any time of day.
Ingredients
Cake:
1 ½ cups granulated sugar
¾ cup butter softened to room temperature
2 eggs room temperature
1 cup sour cream room temperature
1 teaspoon vanilla extract
1 ½ cups fresh or frozen blueberries
2 cups all-purpose flour spooned and leveled
1 ½ teaspoons baking powder
¼ teaspoon salt
Filling:
½ cup dark or light brown sugar
⅓ cup all-purpose flour
1 teaspoon ground cinnamon
Icing:
1 cup powdered sugar
2-3 tablespoons lemon juice or milk
Instructions
Preheat oven to 350°F. Grease and flour a 12-cup Bundt pan.

In a large mixing bowl, cream the granulated sugar and butter for 2-3 minutes, until smooth and fluffy.

Add the eggs, one at a time, beating well after each addition.

Scrape the bowl, then mix the sour cream and vanilla extract in on low speed.

Place the blueberries in a bowl and toss them with about 1 tablespoon of flour.

Pour the remaining flour on top of the batter. Then sprinkle the flour with baking powder and salt. Stir into the batter until it is just mixed in. The batter will be thick.

Stir half of the blueberries (1 ½ cups) into the batter.

Spoon half of the batter into the prepared Bundt pan and spread it smooth.

Mix the brown sugar, 1/3 cup of flour, and the cinnamon in a small mixing bowl.

Sprinkle the filling mixture over the batter in the pan. Then add the remaining blueberries over the filling.

Spoon the rest of the batter over the blueberries and smooth with a spatula.

Bake for 55-70 minutes, or until a toothpick inserted comes out clean.

Let rest for 10 minutes in the pan, then invert onto a cooling rack and cool completely.

Whisk the powdered sugar and lemon juice or milk in a bowl until smooth. Drizzle over the completely cooled cake before serving.
Nutrition
Serving: 1serving | Calories: 422kcal | Carbohydrates: 67g | Protein: 4g | Fat: 16g | Saturated Fat: 10g | Polyunsaturated Fat: 1g | Monounsaturated Fat: 4g | Trans Fat: 0.5g | Cholesterol: 69mg | Sodium: 160mg | Potassium: 145mg | Fiber: 1g | Sugar: 46g | Vitamin A: 524IU | Vitamin C: 3mg | Calcium: 63mg | Iron: 1mg
Did you make this recipe?
Share it with me on Instagram and make sure to follow me on Pinterest for more recipes.
Reader Interactions