Peanut Butter and Jelly Thumbprints – a simple peanut butter cookie indented in the middle and filled with strawberry preserves. It's peanut butter and jelly sandwich in cookie form and perfect for a snack, lunchbox or cookie tray.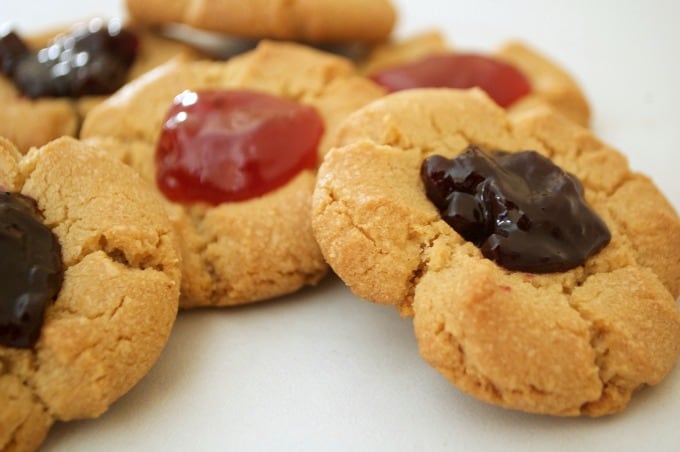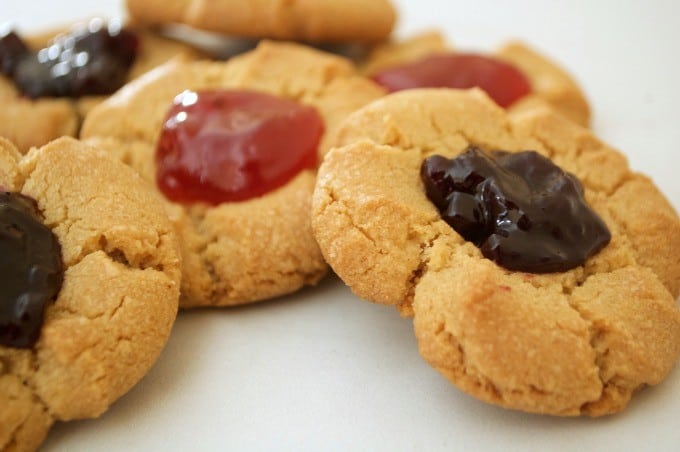 It's our first cookie for the 12 Days of Cookies!
Cookies, cookies, cookies!!
It's only December 1st, but are you overwhelmed at the sight of cookies for Christmas and holiday cookie exchanges?
Let's hope not because today's the day I decided to bring the Twelve Days of Cookies back.
I did it a few years ago and we had a lot of fun with it. I also had a party each day on my Facebook page where other bloggers would post cookies they had made and I'd share them. It was a lot of fun and everyone enjoyed it, but it just got to be so big, I couldn't keep up.
SAVE THIS THUMBPRINT COOKIE RECIPE TO YOUR FAVORITE PINTEREST BOARD!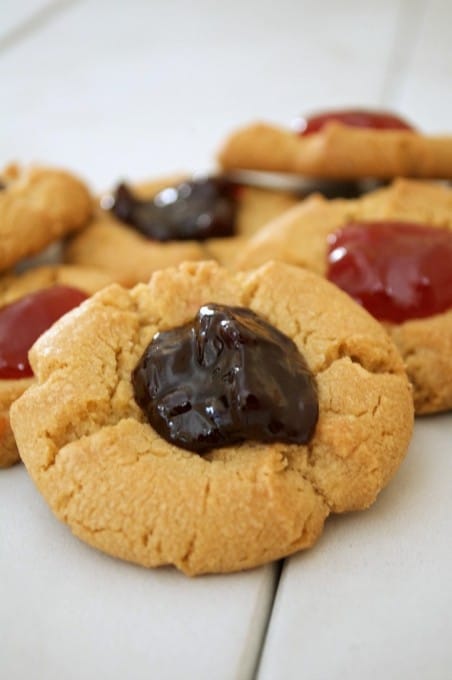 So, I decided that since today is December 1st, we should give it a go again here on the blog. Be sure to check back every day until we've finished our 12 days. Each day will be a different cookie you can add to your cookie tray, set out on your holiday dessert table OR to give as gifts!
Take a look at Dorie Greenspan's Tucker Cookies.
I adapted this cookie from this recipe in my Fannie Farmer Cookbook Thirteenth Edition, p. 617; author, Marion Cunningham; publisher, Alfred A. Knopf, division of Random House; ISBN 0-394-56788-9.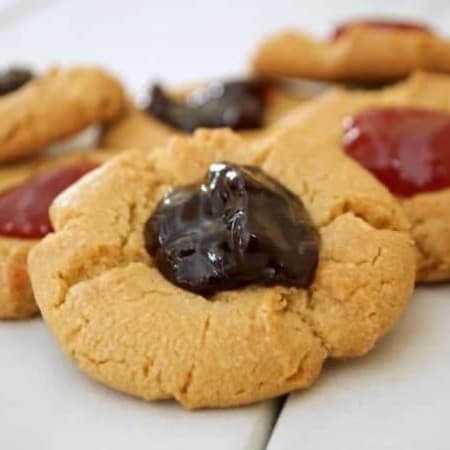 Peanut Butter and Jelly Thumbprints
These peanut butter and jelly thumbprints are a simple peanut butter cookie indented in the middle and filled with preserves.
Ingredients
1 cup shortening
1 teaspoon pure vanilla extract
1 cup granulated sugar
1 cup packed brown sugar
2 eggs
1 cup creamy peanut butter
3 cups all-purpose flour
2 teaspoons baking soda
¼ teaspoon salt
¾ cup berry preserves I used half strawberry jam and half boysenberry
Instructions
Preheat oven to 350 degrees F.

In a mixing bowl, cream the shortening, vanilla and both sugars until light and fluffy, about 3 minutes.

Add the eggs and mix thoroughly.

Mix in the peanut butter, scraping the sides of the bowl after mixing.

In a medium bowl, whisk together the flour, baking soda and salt and gradually add to the wet ingredients.

Using tablespoonfuls of dough or a medium cookie scoop, form into a ball and place onto a cookie sheet.

Using the back of a teaspoon, create an indentation in the center of each ball, simultaneously pressing lightly to flatten.

Bake for 12 - 14 minutes until lightly golden and firm.

Use the back of the teaspoon to recreate the "thumbprint" and then transfer the cookies to a cooling rack.

Using a 1/2 teaspoon, fill each cookie with the preserves. I like just a little jelly with my cookie. If you feel that 1/2 teaspoon is not enough, increase it to 3/4 teaspoon for each.
Notes
I divided the dough in half and only filled half the cookies with preserves as Mr. 365 likes his plain. The amount of preserves called for in the recipe reflects filling the total number of cookies made.
Did you make this recipe?
Share it with me on Instagram and make sure to follow me on Pinterest for more recipes.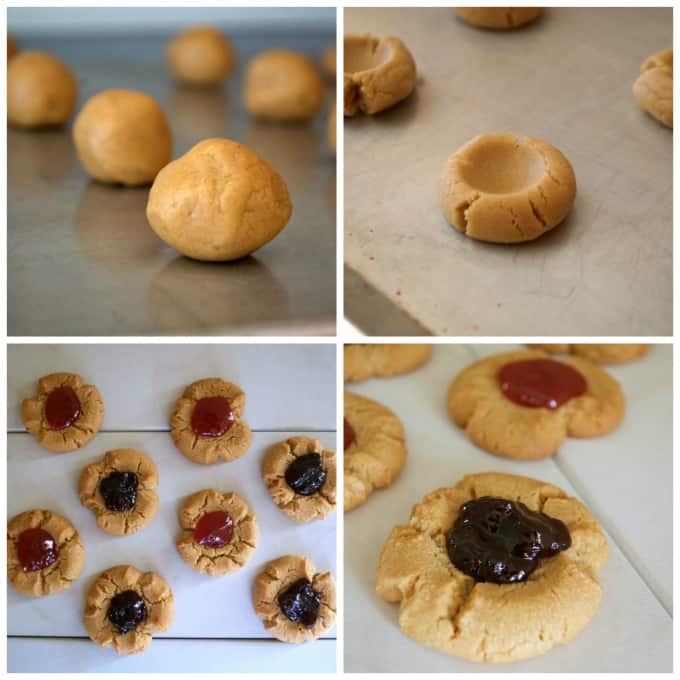 Keep an eye on the Facebook page as I'll be sharing lots of cookies as well as holiday desserts throughout the month!
Need more cookie ideas? Have these be your go-to for the family craving a tasty treat…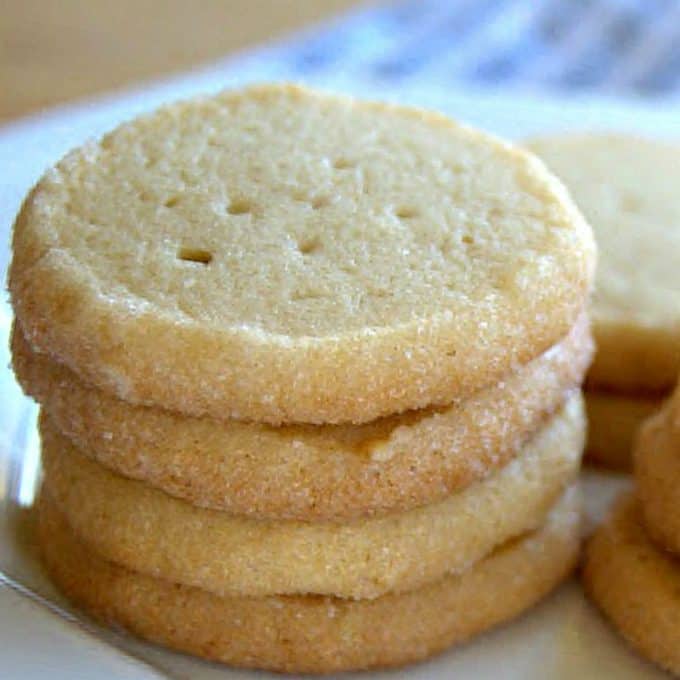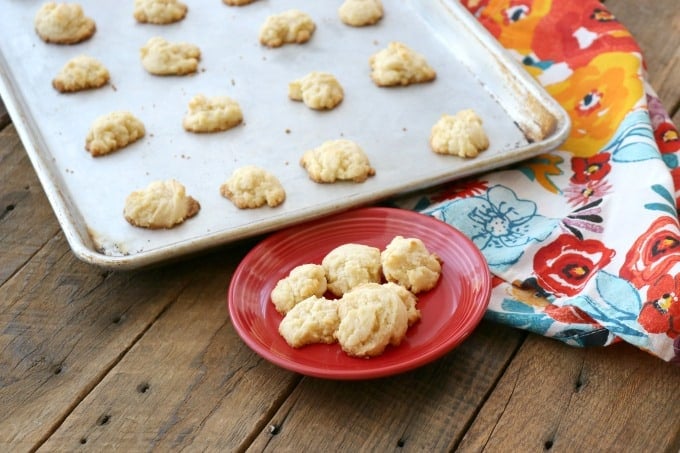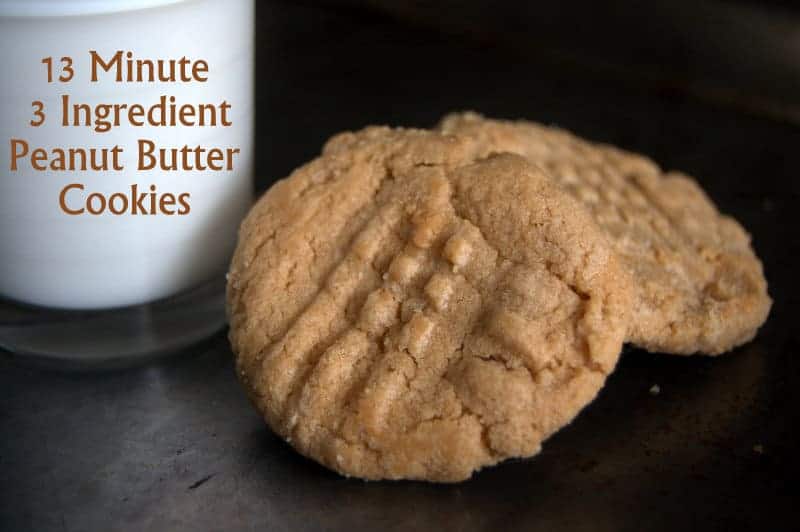 Reader Interactions