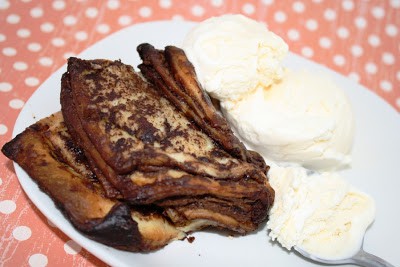 This post is actually late. Lynne had asked me to fill in for her a few weeks ago, when she was travelling to Rhode Island for vacation. She is so dedicated to her 365 days of posts (unlike me, who posts willy nilly whenever I feel like it), that she asked if I would mind contributing a guest post in her absence.
Of course I didn't mind! But, due to some technical difficulties, the post never went up as planned.
But now, here I am, ready for duty! I'm so excited!
Lynne was so kind to give me free reign on whatever I wanted to post, but I decided to stick with her baking theme. After all, I didn't want to come in here and just start changing the rules on her.
I wanted to make sure I shared something great with all of you so that Lynne wouldn't regret asking me. But, to be honest, I haven't made anything too exciting lately. (For those of you that don't know me yet, I am newly engaged, and have been so totally obsessed focused on wedding related stuff that I haven't cooked anything "blog-worthy" recently.)
Luckily, at my
Brinner Party
a few weeks ago, I had taken pictures of the delicious Nutella Pull Apart Bread I served for dessert. I had promised to post the pictures along with the recipe, but never actually got around to it. (I told you I was wedding obsessed… what
else
could make me forget about creamy, chocolaty, delicious nutella stuffed into freshly baked bread?? Nothing, that's what.)
Anyway, this treat definitely falls under the category of A-MAZING, and I'm sure it will make Lynne proud!
So a big THANK YOU to Lynne for asking me to post, and for unknowingly giving me the nudge I needed to finally share this delicious Nutella Pull Apart Bread with all of you!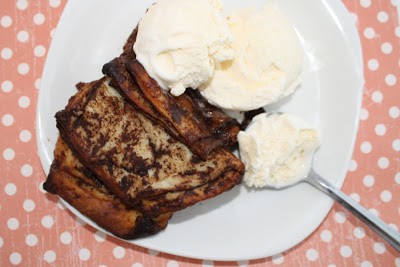 2 3/4 cups plus 2 tablespoons all-purpose flour
1/4 cup granulated sugar
2 1/4 teaspoons (1 envelope) active dry yeast
1/2 teaspoon salt
2 ounces unsalted butter
1/3 cup whole milk
1/4 cup water
2 large eggs, at room temperature
1 teaspoon pure vanilla extract
Filling:
1 jar nutella
2 ounces unsalted butter, melted until browned
I originally found this recipe on
Love with Food
, but I have seen different versions of pull apart bread popping up all over the place. In fact, Lynne even made her own mouthwatering looking
Cheesy Garlic Pull Apart Bread
a few months ago!
1. Prepare Dough: In a small saucepan, melt butter together with milk. Remove from heat and add vanilla extract and water. Set aside. Let mixture cool till about 115 – 125 F.
2. In a large mixing bowl, add 2 cups flour, sugar, yeast and salt. Mix well.
3. In a small bowl, whisk eggs.
4. Using an electric or hand mixer, add milk mixture to the dry ingredients (from step 2). Mix well. Then add eggs. Keep mixing till the batter is well incorporated. Then add the remaining 3/4 cups of flour. Mix till you see a dough form. It will be sticky.
5. Grease a large bowl with butter. Place dough in it. Cover and place in a warm place to allow it to rest until the dough doubled in size (about 1 hour).
6. While the dough is resting, melt 2 oz of butter till browned. Set aside. Grease and flour a 9x5x3 inch loaf pan. Set aside.
7. Deflate risen dough and knead about 2 tablespoons of flour into the dough. Cover with a clean kitchen towel and let it rest for 5 more minutes.
8. On a lightly floured work surface, roll out dough with a rolling pin. Roll out dough as thin as possible and to a size of about 12 inches tall and 21 inches long.
9. Using a pastry brush, spread melted butter across all of the dough.
10. Then spread as much nutella as you can on top of the dough. The more the merrier!
11. Slice the dough vertically, into 7 equal strips, about 3 inches wide per strip.
12. Stack the strips on top of each other.
13. Then slice the stacks into 6 equal slices. You will have 6 stacks of 7 squares.
14. Place each stack in the loaf pan. Place a kitchen towel over the loaf pan and allow it to rest in a warm place for 30-45 minutes. The dough will expand during this time.
15. Place a rake in the center of the oven. Preheat to 350 F. Place loaf pan in oven and bake for 30-35 minutes until the top is golden brown. (It should be golden brown at the top to ensure the center is cooked and not soggy.)
16. Remove from oven. Let rest for about 20 minutes. Run a butter knife around the edges of the pan to loosen the bread and invert into a clean plate. Serve warm (especially good with ice cream!).
Using Lynne's rating scale, which ranges from one to four rolling pins, four being the best, I give this delicious gooey Nutella Bread 3 1/2 rolling pins!