Friday, August 17th, 1990.
The day Mr. 365 and I were married twenty one years ago.
It seems like yesterday, and at the same time feels like it's been longer.
I love him more than the day I married him and wouldn't change a thing.
Yes, we've had our struggles as in every marriage, but we've always come out on the other side a little wiser and a little stronger.
And having a sense of humor throughout our marriage has helped each of us.
He's my best friend, and it's as though we've always been a part of each other. I wouldn't have it any other way.
Even when he does pretend he's a water fountain at the dinner table.
He's a keeper.
To celebrate, we went to dinner last night at T. Cook's at the Royal Palms Hotel in Phoenix.
It's a beautiful place located in a gorgeous resort and is said to be one of the best places to go for a romantic date.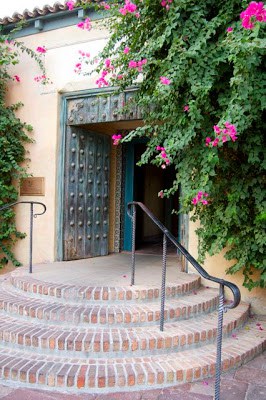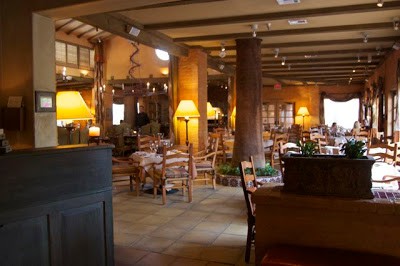 When we arrived, our hostess asked if we had dined there before and if we were celebrating a special occasion. I told her it was our anniversary and she told us to wait a few moments as our table was prepared.
How pretty it was! Fresh rose petals covered the center of our table with two small candles. The menus even had August 16, 2011, Happy Anniversary written on them.
(We went to dinner last night even though our Anniversary is today because Mr. works late on Wednesdays.)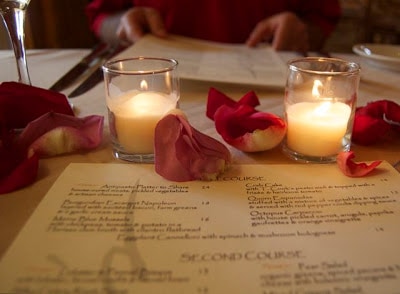 For an appetizer, Mr. 365 had the Maine Blue Mussels and I had the Pear Salad.
His entree was the House-Made Pasta with a tomato-eggplant ragout and fresh mozzarella.
He enjoyed it, especially with the pasta being so fresh.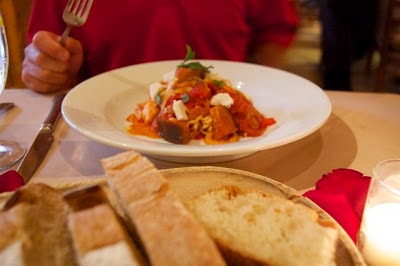 I chose Chef Lee's Carbonara with prosciutto and pancetta. Our waiter, Rory, said it was a dish Chef Lee had prepared when he was competing on Iron Chef America against Cat Cora.
I thought it was tasty and really liked the sauce. The egg yolk really kind of freaked me out because I can't stand runny yolks, so I'll always eat my eggs scrambled.
The prosciutto and pancetta added nice flavor and had a strong salty flavor against the garlic cream sauce.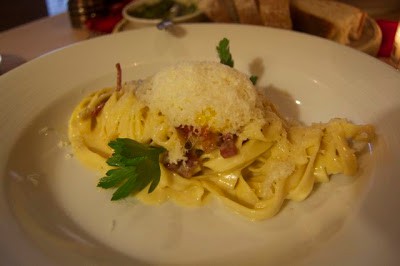 For dessert we ordered the Creme Brulee Cheesecake and the Bananas Foster Tower. They were yummy, but Mr. 365 said that mine tasted better. (I had to agree even though I had Brulee without the cheesecake.)
The Bananas Foster Tower was adequate. It was cold and the outside was dusted with some dark chocolate powder.
We both thought it was wonderful that the plates were garnished with a candle and "Happy Anniversary" was written in chocolate across the bottom of the plates.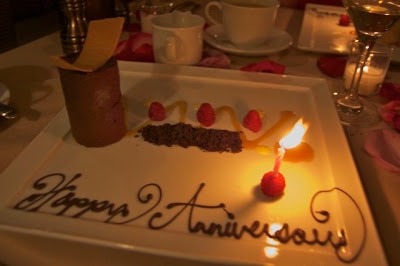 The romantic touches made the dinner very special however we both thought the dinner was adequate. We've had better tasting meals for the same price.
It was a beautiful restaurant with exemplary service, but we agreed that we don't feel the need to return.
I was figuring out flavors to put in a cookie yesterday and wondered how lemon and basil would be together. I did some searches on the web and adapted this one from Sugar Pies. Thanks, Buck, for sharing it with us!


Lemon Basil Cookies – makes about 75 cookies
1/2 cup fresh basil leaves
1 cup plus 6 tablespoons granulated sugar
1/2 pound (2 sticks) unsalted butter
zest of 1 small lemon
juice of 1 small lemon
1 egg
3 cups flour
Preheat oven to 350°.
In a food processor, combine basil and 1/4 cup sugar.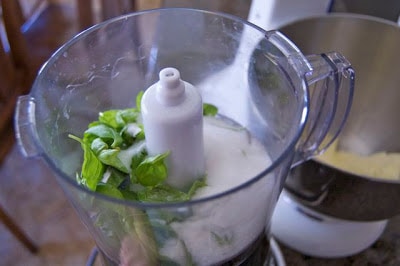 Pulse until well blended.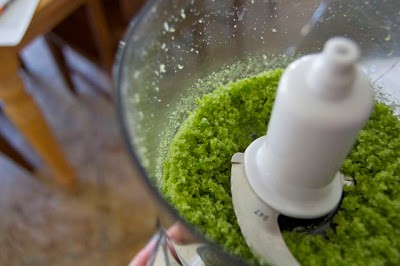 In a mixer fitted with a paddle attachment, beat butter until creamy.
Slowly add remaining sugar, and beat well.
Add lemon zest, juice and egg, beating until blended.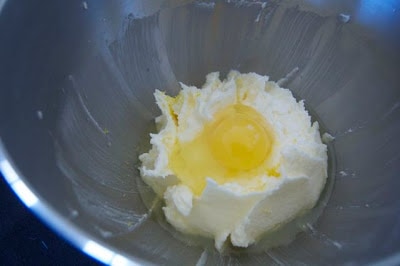 With mixer on low speed, gradually add flour.
Add basil/sugar mixture and continue to beat until combined.
Using a rounded teaspoon, shape dough into 1-inch balls and place 2 inches apart on prepared baking sheet.
Flatten balls slightly with bottom of a glass dipped in sugar.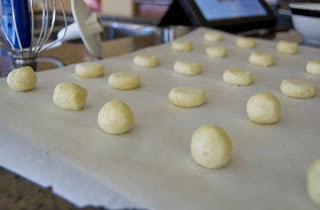 Bake at 350° for 8 to 10 minutes or until lightly browned. Remove to wire racks to cool completely.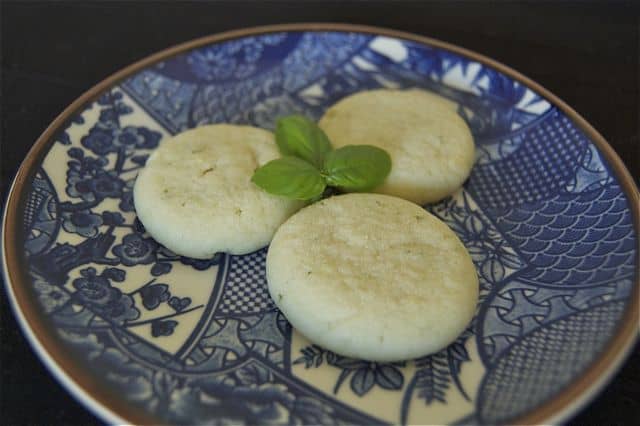 These were delicious. The basil flavor was mild enough and was complimented nicely by the lemon.
The cookies are small and just sweet enough, too.
As Buck suggested, they would go nicely with a cup of tea.
I rate everything I bake on a scale of 1-4 with 4 being the best and these Lemon Basil Cookies earned 3 1/2 rolling pins. I thought they should actually be given 3 1/4 stars, but I only rate in 1/2's and Mr. 365 thought they should earn 3 1/2, so I'll go with his suggestion.
Happy baking!