I want to give a HUGE shout out and THANK YOU to both Donna of The Slow Roasted Italian and Dana from Dana's Food For Thought for doing those wonderful guest posts: Donna with her gorgeous chocolate sformato and Dana with that delicious Nutella Pull-Apart Bread. I have to say that I'm jealous I didn't make them because I am dying to have a taste (ok, more than a taste)! Those two ladies sure do know how to cook and I sure am glad I've met them (even if it is virtually) through this wonderful food blogging world of ours! I hope to meet them in person one day!!
I wanted to make dinner with ingredients I had on hand so I wouldn't have to run to the store.
There's lots and lots of chicken in the fridge, but we've had that a lot these past few weeks and I'm planning on making chicken parmigiana tomorrow night, but without it being gluten free.
I certainly don't want the family to revolt because I'm overloading them on poultry.
Potato Beef Casserole – serves 4
1 tablespoon olive oil
1 lb. ground beef
1 medium onion, chopped
1/2 teaspoon salt
1/4 freshly ground pepper
2 teaspoon beef bouillon dissolved in 2 cups boiling water
3/4 cup barbecue sauce
3 potatoes, sliced thin
4 ounces pepperoni, chopped
1 cup shredded mild cheddar jack cheese
Preheat oven to 350ºF.
In a large skillet, sautee onion in olive oil over medium heat for two minutes.
Add ground beef and cook til browned.
Add barbecue sauce, beef bouillon dissolved in water, salt, pepper, and pepperoni.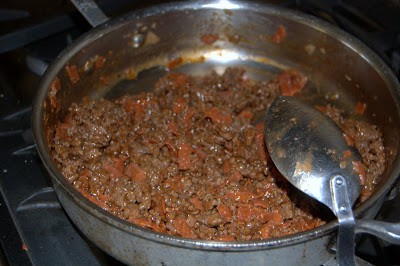 Pour skillet contents into large bowl and add potatoes, stirring to combine.
Add cheese and mix.
Place contents of bowl into an 8 X 8-inch baking dish.
Bake for 1 hour.
Ok, from the looks of this can you guess why I titled my post "Cereal for Dinner"?
Yeah.
Um…
DON'T MAKE THIS!!!!!!!
Unless you make some major changes to it.
The barbecue sauce was a bad idea – we didn't like the flavor.
Oh heck, we just didn't like the whole thing.
The potatoes were undercooked. It probably should have been left in the oven for 1 1/2 hours to ensure the potatoes would be edible. Actually, maybe I just removed it too early before the food fairy could have worked her magic.
This was just…gross.
Three of us sat down to dinner and tasted it before our son came to the table. We tasted it, and decided to not say anything so we could see what his reaction would be.
We're so mean.
He took one bite of the potato and immediately spit it back onto his plate.
Then he took the smallest bite of the meat "concoction" that he could, stood up and took his plate to the sink.
Well, at least he took his "no, thank you" bite.
I had a bowl of Kix for dinner.
I rate everything that I bake on a scale of 1-4 with 4 being the best.
I asked my daughter and husband what they thought the rating should be, "Two, One?".
Mr. 365 clearly said and I quote (because he wanted to make sure that I did), "there is no rating!"
It was…THAT bad.


So, search through the 3 1/2 and 4 rolling pin rated recipes to find a recipe that will really make you happy.
I don't even want to put any labels on this one.
Thanks for reading, even the bad posts – I love you!
Happy baking!