We're bringing our oldest back up to college tomorrow and ALL summer she's been begging me to make these, so I thought it would be a good thing for her to have a touch of home while she adjusts her first week.
And I know, I know, practically every food blogger has made these cookies.
But we had to at least try them.
And I had to find out for myself if the were the absolute best chocolate chip cookies as I'd heard they were.
In my book, nothing beats a good ol' Toll House chocolate chip cookie.
Those are my favorite!
So, here goes.
Oh, and I added something extra to take away the guilt of just eating a 20-inch cookie.
Ok, they weren't that big, but they were much larger than any cookie I've ever had!
The "Healthier" Chocolate Chip Cookie – adapted from Jacques Torres by way of the NY Times
1 1/2 cups minus 2 tablespoons cake flour
1 2/3 cups bread flour
1/2 cup flax seed meal (*my secret healthy ingredient* – if you want to omit this, then add another 1/2 cup of cake flour to bring the total to 2 cups minus 2 tablespoons)
1 1/4 teaspoons baking soda
1 1/2 teaspoons baking powder
1 1/2 teaspoons coarse salt
2 1/2 sticks (1 1/4 cups) unsalted butter
1 1/4 cups light brown sugar
1 cup plus 2 tablespoons granulated sugar
2 large eggs
2 teaspoons pure vanilla extract
1 1/4 pounds or 5 bars of Ghirardelli bittersweet chocolate with 60 percent cacao content
Sea salt.
Sift flours, flax meal, baking soda, baking powder and salt into a bowl; set aside.
(Note: There was some flax meal left in the sifter, but most of it went through. The remainder that didn't, I just dumped into the bowl.)
Cut chocolate bars into 1/4-inch pieces. Place into a small bowl and set aside.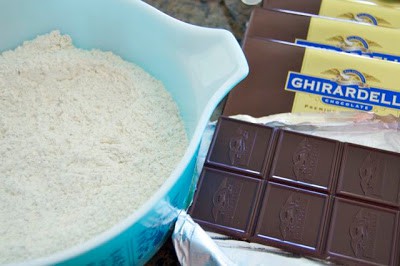 In a mixer fitted with paddle attachment, cream butter on medium speed until light and fluffy.
Add sugars and continue beating until very light, about 5 minutes.
Add eggs, one at a time, mixing well after each addition.
Add the vanilla.
Reducing mixer speed to low, add dry ingredients and mix until just combined.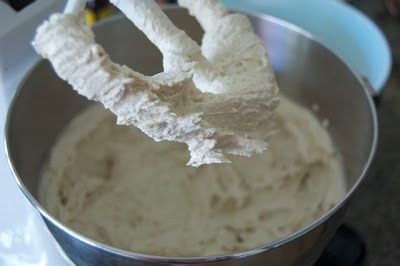 Fold chocolate pieces in, making sure to bring dough up from the bottom of the bowl to incorporate.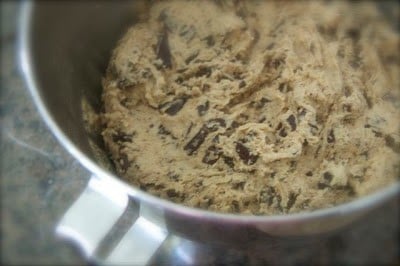 Press plastic wrap against dough and refrigerate for 24 hours or more. It can be used in batches, and can be refrigerated for up to 72 hours.
When ready to bake, line a cookie sheet with parchment paper.
Preheat oven to 350 degrees.
Using an ice cream scooper, mold the dough into the size of generous golf balls and place them onto baking sheet.
Note: These will spread so do not place them close together!
Sprinkle lightly with sea salt.
Bake until golden brown but still soft, 18 to 20 minutes.
Place cookie sheet on a wire rack for 10 minutes and then transfer cookies to another rack to cool some more.
Repeat with remaining dough, or refrigerate to bake the remaining dough the next day.
Rumor has it that the cookies taste better the longer the dough is refrigerated.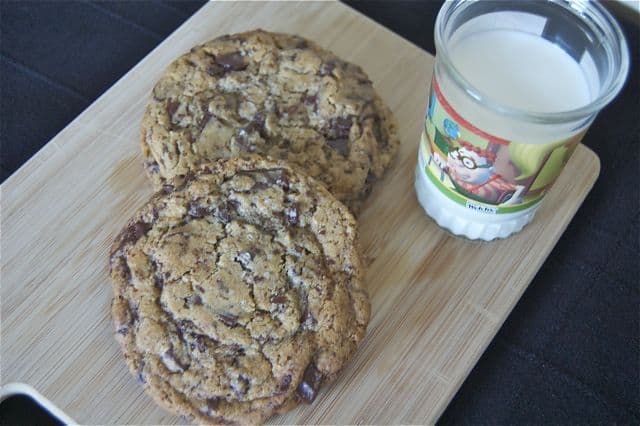 These were absolutely… SCRUMPTIOUS!!!!!!!!!
OH. MY. GOODNESS!!!
I rate everything I bake on a scale of 1-4 with 4 being the best and these were, I'm actually going to say it, the best chocolate chip cookie I have ever had!!!!
I can't believe it, but they were.
Everyone needs to make these at least ONCE in their lives!!
I'd added the flaxseed meal without my kids knowing and they had absolutely no idea that I'd put it in.
I told them after they'd tasted it and they were quite surprised and even went back for more, much more!
The cookie was very chocolatey!
I'm glad I used the bars as opposed to the disks that the NY Times had suggested because there were bits of chocolate throughout the cookie.
And it made for messy chocolate hands!
But isn't a chocolate chip cookie better when it's all over your hands anyway?
And DON"T forget to add that coarse sea salt before you put them into the oven! It really makes the cookie!
The recipe said it would make 1 1/2 dozen 5-inch cookies. Mine were about 4 inches and I made 7 of them in the first batch and I still have a lot of dough for more cookies tomorrow. I'm thinking there is definitely going to be more than 18 cookies. I'll be back with the final verdict.
All the pleasure of a delicious chocolate chip cookie without too much of the guilt!
Put these cookies on your bucket list people!!
Make them and share them with the people you love!!
You'll make lots of friends if you bring them into work!!
Ok, maybe you don't want to make friends at work.
At least give them to your boss to soften him up!
These will make you a very happy baker!
Happy baking!