A healthy granola recipe does the trick every time. Find out how to make these granola cups for your breakfast or daytime snack.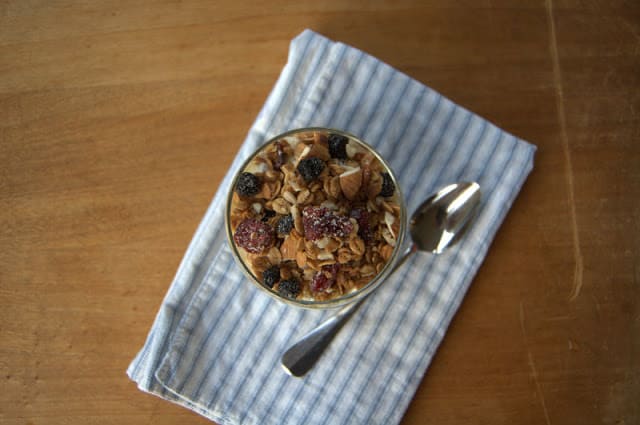 We all have those urges of hunger we want to tame. A full granola recipe like this one has that, and a whole lot of flavor.
Today's post is Berry Nut Granola. I've been eating granola combined with a little bit of honey and Greek yogurt every morning for the past week and a half or so. And I'm loving it. However, the really good stuff can get to be expensive if you're continuously buying it. So I scoured the food blog world for a good granola recipe, and found one at Pamela Salzman Kitchen Matters and really liked the tips she shared about making it, too. I thought the dried fruit should be added before it goes into the oven, but she said to add it after otherwise it will harden and could ruin your teeth. And you don't want those dry fruits the reason you go to the dentist. So you've been warned. 😉
Pamela added dry unsweetened coconut flakes, pumpkin seeds, and sesame seeds to hers, but I chose to omit them. That's the great part about granola, you can add whatever you like to suit your taste. (I feel like I've said that before.)
SAVE THIS GRANOLA RECIPE TO YOUR FAVORITE PINTEREST BOARD!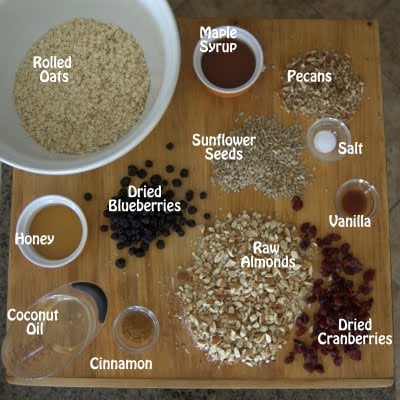 And, have I really lost it that much that I can't remember or figure out how to leave my own comment for my readers on my own blog??!! I used to be able to do it, now all of a sudden I'm not clicking what I need to click or have the right window open. Dear, dear readers, you have been leaving WONDERFUL comments and I am so very grateful and extremely touched!! And I want to respond, but please know until I figure this out, I am unable, but will do so as soon as I can. It's frustrating, believe me. Please, please, please do not let my human error deter you from leaving comments!! I LOVE to hear from my readers, so please keep posting them. Maybe it's the computer. It's GOT to be the computer!
Barefeetinthekitchen and her SIGNATURE gorp recipe is out of this world good. If you don't know what "gorp" means, I was in the same boat. Sometimes we need to indulge after a busy or stressful week, and these copycat girl scout tagalong cookies by the wonderful dashofsanity is perfect for that.
I submitted my best recipe for the month of June to Your Best Recipe: YBR. There's also that button up above my post that you can click on, too. You HAVE to check out all of the wonderful recipes!!!! They've had the most participants yet for June's roundup and the dishes look and sound phenomenal. I'm sure there will be a few things that you'd like to try – I know I have my eye on quite a few of them. The pictures are really outstanding, too. It's so exciting!!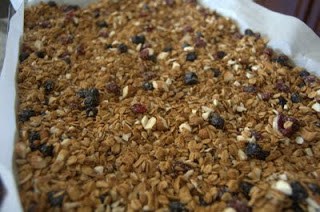 Thank you, Pamela, for sharing it with us!! I am in love with it and will be making it quite often, especially because it is less inexpensive and very simple. I bought the ingredients in bulk which saved money instead of buying the pre-packaged stuff. The thing that's great about granola is that you can add whatever you want, different kinds of nuts or dried fruits (preferably unsulphured (do not contain the preservative sulfur), but mine wasn't), coconut flakes, and seeds (no, not birdseed, silly – seeds like pumpkin, sunflower, or sesame).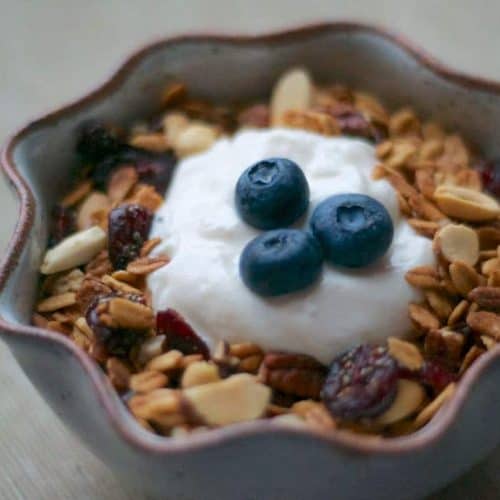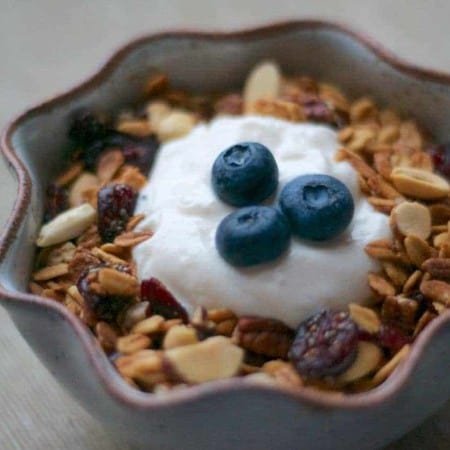 Ingredients
3 cups oats
⅓ cup pecans
⅓ cup sunflower seeds
1 teaspoon cinnamon
¼ teaspoon sea salt
⅓ cup 100% pure maple syrup
¼ cup honey
1 teaspoon pure vanilla extract
1 cup raw almonds or other nut
½ cup dried blueberries
½ cup dried cranberries
¼ cup melted coconut oil
Instructions
Preheat oven to 350 degrees. Line a rimmed baking sheet with a piece of parchment paper.

In a large bowl, stir together oats, sunflower seeds, cinnamon, and salt.

In a small bowl, whisk together, melted coconut oil, maple syrup, honey, and vanilla extract until combined.

Add the two mixtures and blend thoroughly.

Transfer oat mixture to the prepared baking dish.

Bake for 30 minutes and stir occasionally till golden brown.

Let cool and add the chopped nuts and fruit to the granola.
Nutrition
Calories: 2150kcal | Carbohydrates: 361g | Protein: 46g | Fat: 65g | Saturated Fat: 6g | Sodium: 625mg | Potassium: 1947mg | Fiber: 46g | Sugar: 156g | Calcium: 244mg | Iron: 15.6mg
Did you make this recipe?
Share it with me on Instagram and make sure to follow me on Pinterest for more recipes.
Here are some tips and tricks to get that granola perfect!
Store granola in an airtight container for up to two weeks at room temperature or can be frozen. *Because oven temperatures vary so much, the baking time of 30 minutes does not need to be strictly adhered to. Make sure that you are watching the oats carefully for browning. I only baked mine for 25 minutes. Around that time it started to smell as if they were going to start burning, so I didn't chance it and removed them.
When you remove the oats from the oven, they will NOT be crunchy. Do not fret, they will be crunchy after they are cooled.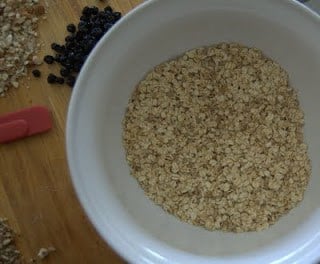 Those breakfast recipes are something else, and my breakfast parfait bar recipe is another great one who wants something different.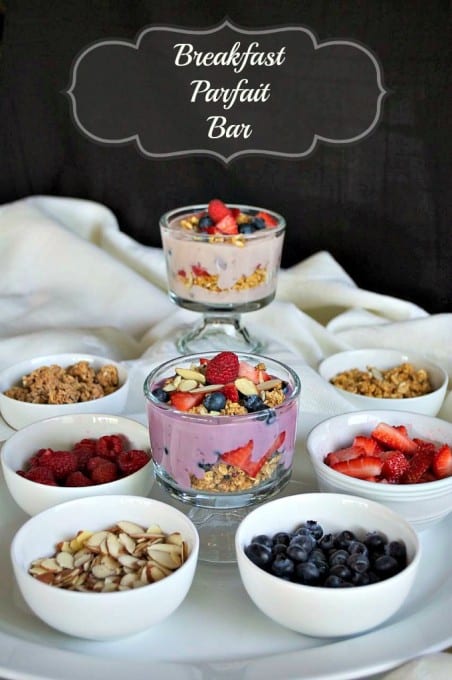 You can't think of breakfast without my how to bake bacon recipe. A trick EVERYONE will be glad to have.
This granola was truly delicious! As you can see from the picture, I added the Greek yogurt, and some honey to it. This stuff is NOT going to last me for two weeks. I am definitely going to have to make another batch very soon.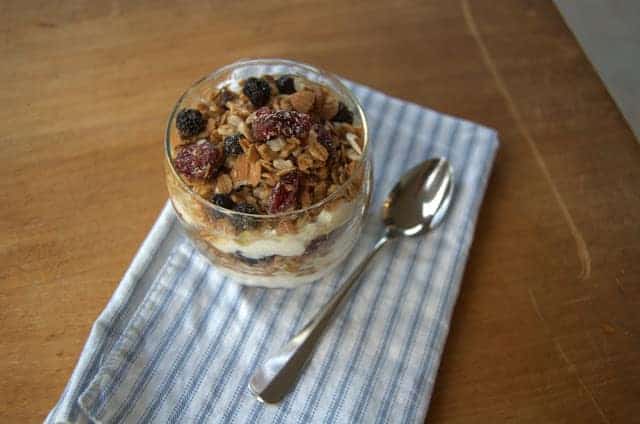 I rate everything that I bake on a scale of 1-4 with 4 being the best. This Berry Nut Granola earned 4 rolling pins. I highly recommend it!
Reader Interactions