Again, the second night in a row with nothing to say.
Wow.
This is unusual for me.
I got nothing for you.
Well, I'm not going to try to make stuff up just to fill up space. If you want something to read, you could peruse some other posts.
Actually, maybe I should do that, too. I haven't reread my posts at all, so it might be a good thing that I do that to prevent you from hearing me talk about things twice.
That is unless, it's something real important, like…sex, drugs and rock and roll.
Kidding.
Ok, now I've got something to say. I just previewed my post and they changed the background on me. What the heck?
Blogger's been a little crazy lately. I apologize for any problems you all may have viewing anything or leaving any comments. I don't know what's up.
Just remember,
I love you.
And that's all that matters.
Onto the muffins…
Adapted from the Better Homes and Gardens Cookbook
Salted Nutella Banana Muffins – makes 12 muffins
1¾ cups all-purpose flour
½ cup sugar
2 teaspoons baking powder
¼ teaspoon salt
1 egg, beaten
½ cup milk
¼ cup canola oil
¾ cup mashed banana = approx. 2 medium bananas
12 teaspoons Nutella
coarse sea salt for sprinkling
Preheat oven to 400ºF.
Butter a 12 cup muffin tin – do not use paper cups.
In a medium bowl, combine flour, sugar, baking powder and salt.
In another medium bowl, combine egg, milk. oil, and mashed banana.
Add egg mixture all at once to flour mixture and stir until just moistened (batter will be slightly lumpy).
Scoop one tablespoon of batter into each muffin cup.
Place one teaspoon of Nutella into the center of the batter in each cup.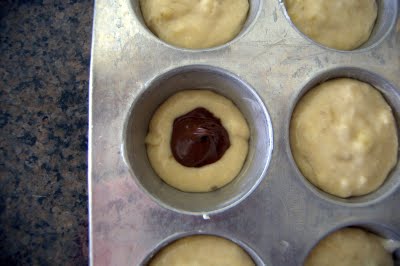 Cover the Nutella with another rounded tablespoon of batter. Each muffin cup should be about 2/3 full.
Sprinkle each muffin top with a small amount of sea salt.
Bake for about 20 minutes, until the tops are golden brown and a cake stick or toothpick inserted into the center comes out clean.
Upon removal from oven, with off-set spatula, scrape along sides of cups to dislodge muffins.

Remove them from the cups and allow them to continue cooling on their sides, or you can always serve them warm.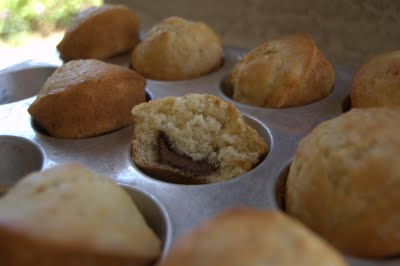 OH BABY!
What's better than bananas, chocolate and salt! These really hit the spot, especially for a woman who's PMS-ing.
I am.
I'm not gonna lie or try to hide it.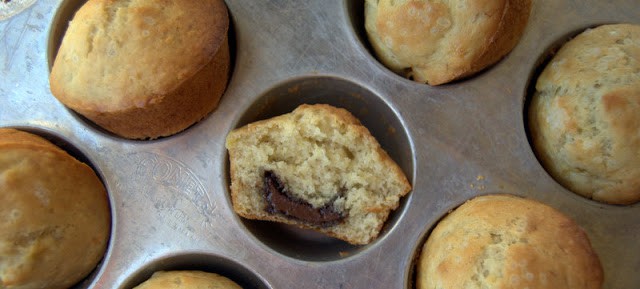 I didn't use up all of the batter – only had a small amount left. I've filled the cups with all of the batter in the past and they ended up morphing into each other.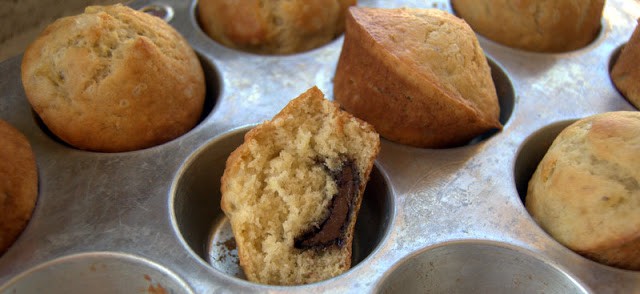 I didn't want morphed muffins this time.
I rate everything I bake on a scale of 1-4 with 4 being the "bee's knees".
Do bees even have knees?
These muffins earned 3½ rolling pins. They had a wonderful banana taste and the Nutella…mmmmmmm, the Nutella, and the salt…
I have to say that I'll be making these again. They've been added to the list.
I think you may like them, too.
Even is you're not PMS-ing.
Happy baking!