No words of wisdom tonight.
We've been busy with school ending yesterday and various graduation/promotion celebrations.
Oh, and tonight, we HAD to watch the Boston Bruins hockey team play the Tampa Bay Lightning in game 7 of the Eastern Conference Finals. Very exciting game and very tense if you were a fan for each team.
Fortunately, for all Bruins Fans, they won. Woo Hoo!
We (my husband and I) used to be avid Bruins fans and would watch more of those games than we would the Red Sox. Then we had a son.
Baseball became slightly way more important.
So, of course, if the Bruins are in the playoffs, you can bet we'll be watching them.
I'm think I'm going to have to plan my baking around the Stanley Cup Playoffs next week.
Adapted from The New Doubleday Cookbook.
Stuffed Chicken Breasts
2 large boneless, skinless chicken breasts, halved and pounded flat
salt and freshly ground pepper to taste
1/2 cup chopped, fresh mushrooms
1/2 cup chopped broccoli
1/2 cup onion, minced
3/4 cup shredded cheddar/ Monterey Jack cheese
4 tablespoons butter
1/4 cup sifted flour
Preheat oven to 350ºF.
In a medium skillet, melt 2 tablespoons butter. Add mushrooms, broccoli and onion.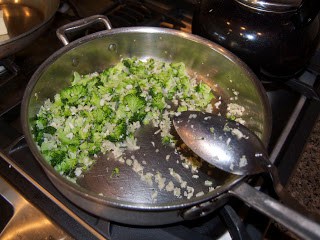 Saute over medium-high heat until softened, about 5-7 minutes.
Remove from heat and allow time to cool.
Sprinkle each chicken breast with salt and pepper.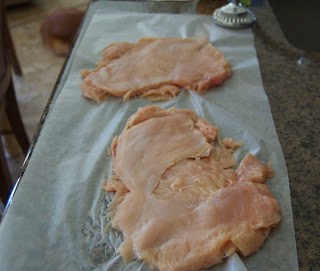 In a mixing bowl, pour contents of skillet and mix with cheese; place approximately 2 tablespoons on each chicken breast.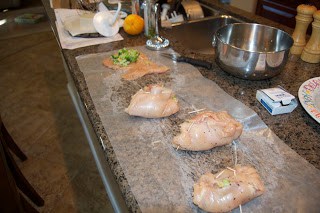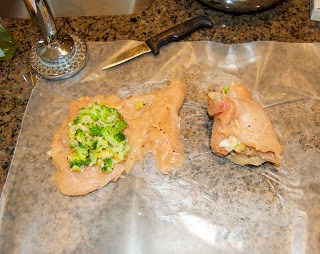 Roll up each chicken breast and secure with toothpicks.
Dredge the four chicken rolls in flour and melt remaining butter in a large skillet; brown on all sides over medium-high heat for approximately 5-8 minutes.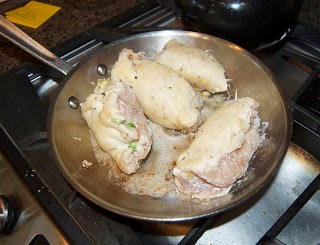 Place the rolls in a greased 9 X 13 baking dish.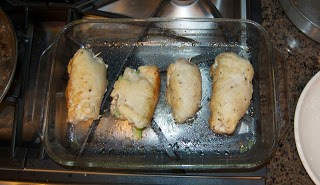 Bake for 20 minutes.
Remove toothpicks and serve.

It looks good, but I don't know if you'll want to duplicate this recipe as is.
I was in a hurry tonight preparing this and missed a step in the written recipe. I saw as I was typing this in tonight that after placing the rolls in the baking dish I was supposed to add 1/2 cup chicken broth, cover, and bake.
Hmmm…that didn't happen.
Funny, because I saw the 1/2 cup of chicken broth in the list of ingredients, but could not for the life of me find it in the directions. I was in such a hurry to get to a graduation party with my daughter and put this into the oven for my husband, and other two children that I just didn't see it.
I tasted it when I returned home and wasn't nuts about it. The broccoli overpowered the mushrooms and onion, and there really wasn't evidence of much cheese. I really sealed the rolls pretty well to ensure that the stuffing wouldn't escape during baking, so that wasn't the problem.
I really think it might have been because I skipped the "broth and cover step".
My husband said the chicken was too thick, although I tried to pound it thin enough without having it fall apart.
My son said it was too dry and needed some sauce. I agree. I think that would have been a nice addition.
We collectively decided that that these stuffed chicken breasts earned 2 rolling pins. I rate everything I bake on a scale of 1-4 with 4 being the best. These definitely could have been better.