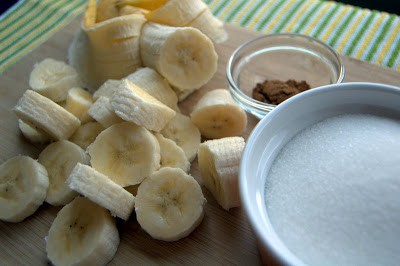 Bananas and monkeys go together.
Bananas and muffins go together.
Monkeys and muffins, not so much.
But when it's Monkey Bread in a muffin they DO!!
You know, the bread where you throw biscuit dough into some butter then coat it in cinnamon and sugar and toss it into a bundt pan to come out in one big loaf?
And I know you're wanting some right now!
I made your mouth water, didn't I?
I've got a solution!
Banana Monkey Muffins – makes 12 muffins
2 3/4 cups all-purpose flour
2 teaspoons baking powder
1 teaspoon salt
1/2 teaspoon baking soda
1/3 cup chilled shortening
1/2 cup buttermilk ( I used 1/2 cup milk mixed with 1 1/2 teaspoons white vinegar and allowed it to sit at room temperature for 10 minutes)
2 bananas, mashed
1/4 cup butter, melted
3/4 cup granulated sugar
3/4 teaspoon cinnamon
Frosting
3/4 cup confectioners' sugar
1/4 cup (2 oz.) cream cheese, softened to room temperature
5 teaspoons warm water
1 teaspoon vanilla extract
Preheat oven to 400F.
Prepare a 12-cup muffin tin by greasing it with butter.
In a large bowl, combine flour, baking powder, salt and baking powder.
Cut in shortening with a pastry cutter or two forks until mixture resembles coarse meal.
Add banana and pour in milk.
Mix together with a fork just until dough holds together.
Place dough on a lightly floured surface and knead gently about 8 times, adding a minimal amount of flour if dough is still sticky.
Take dough by rounded teaspoonfuls and roll into balls.
Combine cinnamon and sugar in a small bowl.
Begin assembly of muffins by taking dough balls one at a time, dipping them in the melted butter and rolling them in the cinnamon sugar.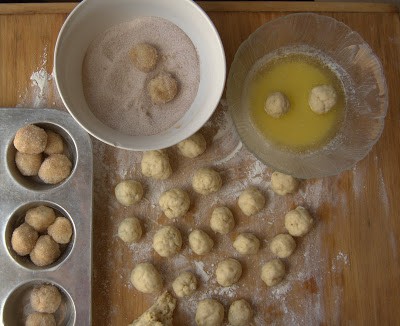 Place in muffin cups.

Repeat with remaining dough.
I'd made about 74 balls total, so there were 6 balls per cup with two cups only containing 5, and I'd put the larger balls in those.
Bake for 20 – 25 minutes or until a toothpick inserted into the center comes out clean.
While muffins are in the oven, prepare the frosting.
In a mixing bowl, combine cream cheese, confectioners' sugar, vanilla, and water.
Mix at medium speed until smooth.
Transfer muffin tin to wire rack, setting aside to cool for 5 minutes.
Remove muffins from pan with a knife or small metal spatula and place on another wire rack.
Drizzle frosting over muffins while still warm, using the tines of a fork.
Serve warm.
*Actually, they are best served warm and can be reheated in the microwave for 10-15 seconds.
Store in an airtight container in the refrigerator.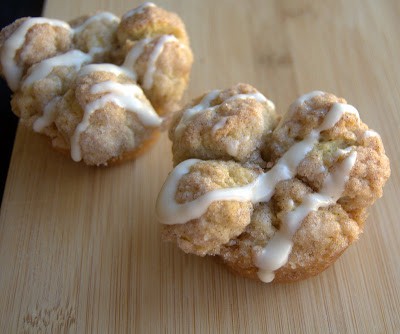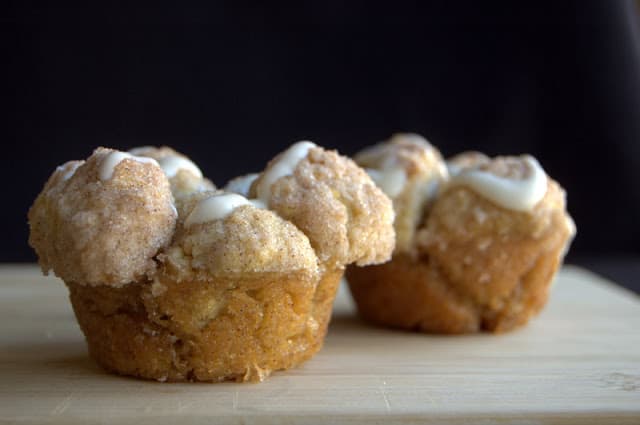 When cutting the banana up to mash it, make sure some falls onto the floor so your dog has a tasty treat, too.
Also, when you're mixing the cinnamon and sugar in that small bowl, stir it so fast that it flies out of the bowl, all over the counter and onto the floor. The dog may not lick that up, but you'll have a review lesson of some choice vocabulary words, and feel like you're at the beach with gritty sand under your feet.
All joking aside, these were fun to make AND fun to eat!
I thought they might fall apart when I removed them from the pan, but they held together surprisingly well.
The dough was quite tasty despite that it didn't have sugar inside, but it was rolled in that buttery cinnamon goodness,so that sweetened it right up.
And they were so much fun to eat because we could either eat them whole or pull them apart like Monkey Bread.
I pulled them apart of course.
The one I ate was begging me to pull it apart and eat it piece by piece.
So I did.
And it's neighbor, .
I rate everything I bake on a scale of 1-4 with 4 being the best. These Banana Monkey Muffins earned 3 1/2 rolling pins.
They were delicious and you need to try them!
I have a new sign-off line.
I don't know if it's too corny, but I think it's time to retire the "Happy Baking".
So, here it is, "BIG baking hugs and muffins!".
I'd love to hear what you think!
I thought it would be fitting seeing as how I welcome new "Like"ers to the 365 FB page with a BIG baking hug, and this would tie the two together.
Let me know, I want you to be honest and I won't take offense.
I'm a big girl. I can handle it.
If you feel I should keep "Happy Baking" then we'll stick with it and there's that saying, "If it ain't broke, don't fix it."
Majority rules, so let me hear from you!