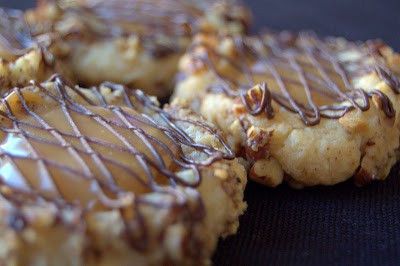 Oh man.
I think you should try these.
Like NOW.
The cookie. The toasted pecans. The caramel. The coarse sea salt.
And the chocolate drizzle.
YUM!
I would LOVE you if you gave these to me over the holidays!!
Just sayin'.
And no, please don't bake them and give them to me.
Give them to others. Lots of others!! They will LOVE you, too!
I have some.
Or…at least I had some.
I cannot tell you how happy I am that I found these on Naomi's blog, Bakers Royale!
Thank you so much, Naomi, for this wonderful recipe!

Salted Caramel Thumbprints – makes 24 cookies
Ingredients
1 cup plus 2 tablespoons flour
1/8 teaspoon salt
1/2 cup butter, room temperature
1/4 cup granulated sugar
1/4 cup packed light brown sugar
1 egg separated
1 teaspoon vanilla
3/4 cup pecans
20 Kraft caramels
3 tablespoons heavy whipping cream
coarse sea salt
1/4 cup semi-sweet morsels
Directions
Preheat oven to 350 degrees F.
Prepare two cookie sheets by lining them with parchment. ( I didn't do this, but I highly suggest it because my cookies stuck to the sheet just a little.
In a small bowl, whisk together flour and salt; set aside.
In a mixing bowl fitted with the paddle attachment, cream butter and granulated sugar until light and fluffy.
Add brown sugar, egg yolk, and vanilla.
Beat until just combined.
Gradually add flour and mix until just combined. If it is over mixed, the dough will become sticky.
Roll the dough into 1-inch balls and place on a plate to refrigerate for 30 minutes.
While dough is refrigerating, beat egg white until it is white and frothy.
Toast nuts.
Remove dough from refrigerator.
Roll one ball in egg white and then in nuts.
Place on prepared baking sheet. Repeat with remaining dough.
Using the back of a teaspoon, place an indentation into each ball.
Bake for 13-15 minutes.
While cookies are still on cookie sheet, indent again with back of teaspoon .
Transfer to wire baking sheet and allow to cool.
In a small saucepan over low heat, combine caramels and whipping cream.
Melt caramels until sauce is smooth. This may take about 10 minutes.
In a small bowl, melt chocolate morsels in the microwave for 15 seconds. Remove to stir and microwave for another 10 seconds. Repeat stirring and melting for 10 seconds until morsels are completely smooth. Be careful that you do not overnukeify (?) (I know it's not a word, but I like it – overnukeify – haha)
Fill each cookie indentation with caramel.
Sprinkle with sea salt.
Drizzle with melted chocolate.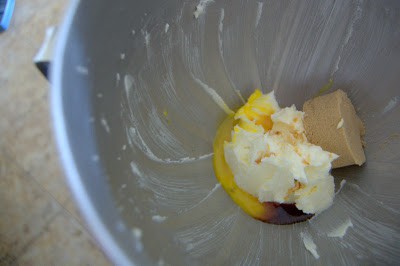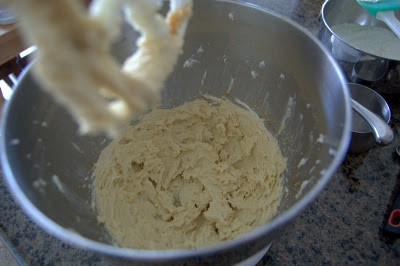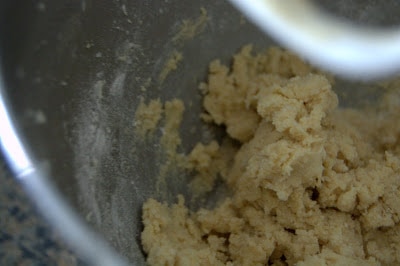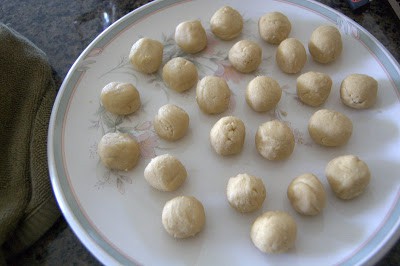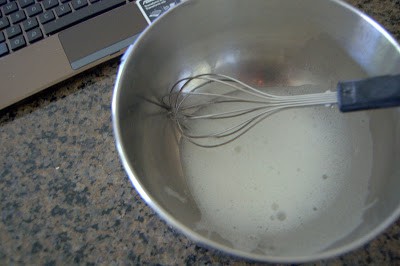 Toast the pecans by placing them on a baking sheet and putting them into the oven for about 5-7 minutes. Watch them very carefully because they can go from nicely toasted to burnt VERY quickly.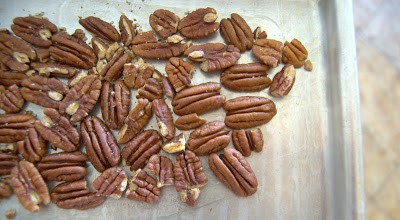 After nuts have been cooled, chop them and place in a shallow dish.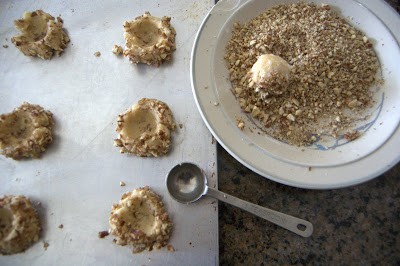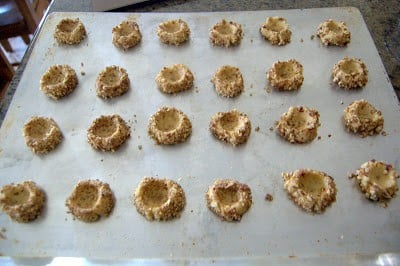 Indent cookies again with back of teaspoon because they will have puffed up while in the oven.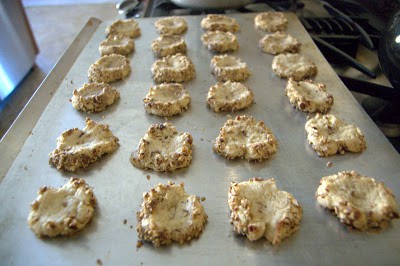 Fill each cookie indentation with caramel.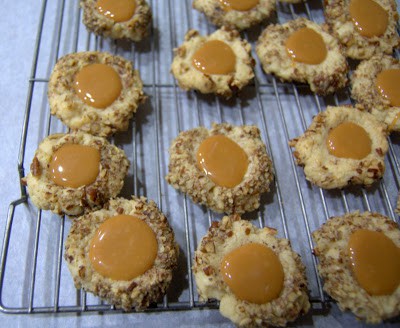 Sprinkle with sea salt.
Drizzle with melted chocolate. (For this I used a pastry bag with a Wilton tip #1 attached.)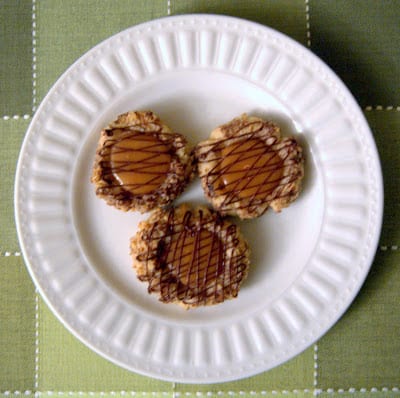 I rate everything I bake on a scale of 1-4 with 4 being the best and these Salted Caramel Thumbprints earned 3 1/2 rolling pins. They are pretty darn close to a 4 though.
These were just the BOMB!
Does anyone even say that anymore or am I dating myself?Two more days of cookies, then we're off to I don't know what.
I haven't figured that out yet.
Probably a dinner. Or maybe a side dish that you could take with you to a party if you have to bring something.
Probably no more cookies though until the end of the year.
Oh no! Wait!
There will be another cookie recipe.
Our eldest daughter comes home from college for break next week and she wanted us to bake some cookies that I wasn't able to do while she was home for Thanksgiving.
I think you'll like these though and will grant me a pardon, or at least a "Get out of jail FREE" card or how 'bout a "Get out of the kitchen FREE".
Remember, make these cookies!!! But, make sure you SHARE them!!!
I love you all. Thank you for reading!! You warm my heart!
I give you BIG baking hugs and muffins!!