I created a masterpiece this morning. Well, at least to my son that is; his almost daily Fluffernutter sandwich. I had spread peanut butter on one slice and finished spreading the marshmallow fluff on the other when I went to put the two together. I don't know how it happened. It was in slow motion; when you know something is going to happen and you know what the outcome is going to be, but there is absolutely nothing you can do to stop it. Like sitting on the opposite side of the room watching your toddler walk over to a table with no paper on it carrying a crayon in their hand. I had the piece of bread with the fluff in my hands and started to lay it on top when, I have no idea what happened at this point, the slice bumped the other one funny and did a complete 180, face DOWN onto the counter. I knew this wasn't going to be pretty and at 6:15 in the morning while making lunches, I had no desire to deal with it. So, I stood and stared at the bread for about 20 seconds attempting to both wake up and muster the courage to clean the mess. It was stuck to the counter like glue, and there was some good fluff sitting there on the counter that I wasn't about to salvage. I slathered another piece of bread and completed the cleanup.
After delivering children, lunches and all to separate schools and purchasing a LARGE coffee, I decided to make Cream Cheese Cookies. This recipe I'm blogging was on a recipe card of my mother's, handed down from my grandmother. She always used to make these when I was little. She was a phenomenal cook and baker. I think that is where my love for food and cooking was born, right in Grandma's kitchen.
Cream Cheese Cookies – courtesy of Blanche Preston
3 oz. Cream Cheese 1/2 cup shortening or butter
1/2 cup sugar 1 egg yolk
1 cup sifted flour 1/4 tsp. salt
1/2 tsp.vanilla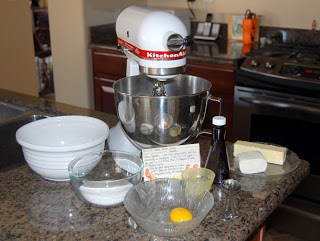 Cream together cream cheese and shortening or butter.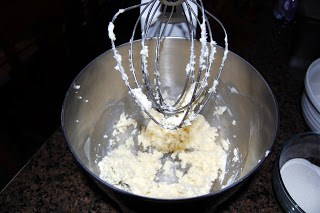 Add sugar, egg yolk, flour, salt, and vanilla.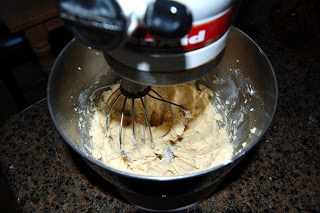 Drop by small teaspoons on cookie sheet.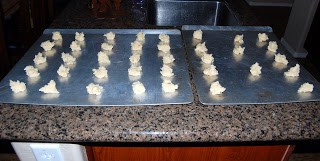 Bake at 350 for 15 minutes.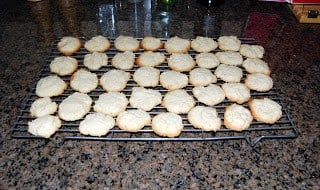 They freeze nicely for Christmas and can be decorated with red and/or green sugar. (haha nothing like having you think about Christmas when it's still some 330 days away (I looked it up)).
As you can see, this recipe made about 38 cookies, so you will need to double or even triple the recipe for more. The smaller cookie sheet was in for exactly 15 minutes and the larger sheet needed an extra 5 minutes. We are at a 2000 ft. elevation here and I find I usually have to leave items in the oven a few minutes longer than called for.
The verdict: just as good as Grandma used to make.
Happy baking!