See this picture?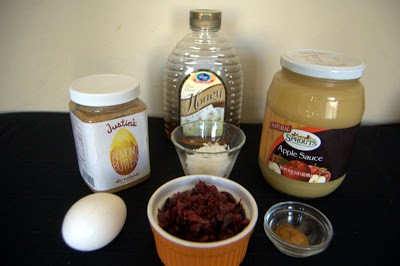 It wasn't easy to take.
Ok, it's easy to stand in front of the ingredients and just snap a picture, but the lighting has to be perfect, of course.
The light coming in from the window was a little bright and I was concerned about overexposure (wooo, aren't you impressed, I kind of sound like a big deal photographer!). I don't have anything large enough that can stand on it's own and filter the light. I needed to become …creative.
This called for my largest cookie sheet and a folding chair.
I put my right leg on top of it and positioned the cookie sheet between my knee and the back of the chair. I couldn't get the thing to sit just right. The things we bloggers will do to make that perfect picture!
Meanwhile, this…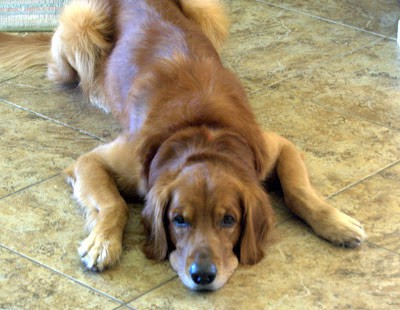 was staring at me.
"You know, Brady, it'd be much easier if you could come over here and help me with this."
"Please."
As I still struggle to keep the cookie sheet from toppling while snapping a picture.
"Brady…"
Looking through the camera lens and balancing ever so carefully, but obviously not carefully enough,
the cookie sheet falls onto the chair, crashes to the floor and sends the dog bolting from the room.
"You know," I yelled, "it would've been much easier and all this could have been avoided if you had just helped me in the first place!"
I just thought this one particular ingredient deserved a picture all of its' own. AND it's on a pedestal!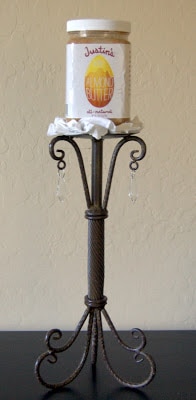 LOVE this stuff!!
Especially, the Maple Almond Butter!
My daughter has decided that eating healthier by not ingesting anything processed, cutting out sugar and dairy may help with her acne. We've been down this road before, hence some of the gluten-free recipes here on 365.
It's been a week and so far, no real change. We'll go for a month and see what happens.
She's been wanting cookies, so I figured we'd give this recipe a try. She's not gonna be happy when she comes home from school and finds that I darn near cleaned that Justin's jar out.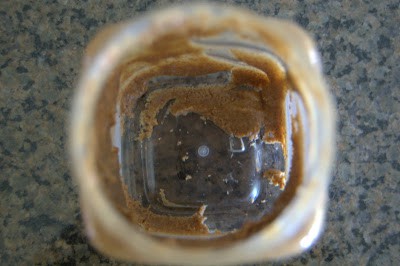 Oh well, I made her cookies.
Almond Butter Cranberry Cookies – adapted from Paleo Baked Good Recipes
Makes about 30 cookies
1 cup almond butter
1/2 cup dried cranberries, chopped
2 tablespoons unsweetened coconut
2 tablespoons unsweetened applesauce
1 egg white
1/2 teaspoon honey
1/2 teaspoon cinnamon
pinch of salt
Preheat oven to 350ºF.
In a mixing bowl, combine all ingredients.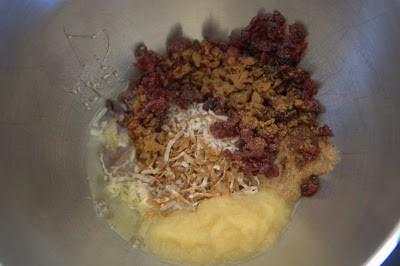 Mix until thoroughly combined. I used a mixer, but this could easily be done by hand.
Also, it will look more like batter than dough.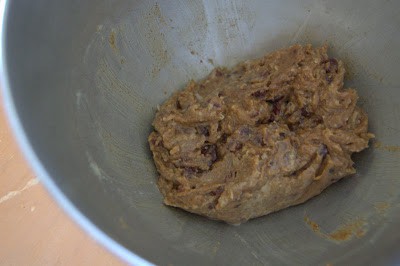 Drop by rounded teaspoonfuls onto cookie sheets about an inch apart. They will not spread.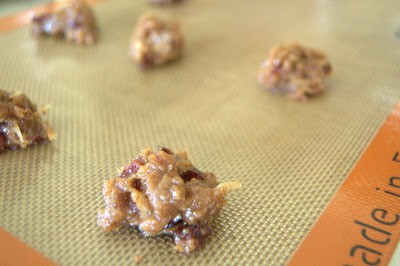 Bake for 10 minutes. Cookie bottoms will be slightly browned and they will be sizzling. (I've never heard a cookie sizzle, but they did!)
Transfer to wire rack to cool.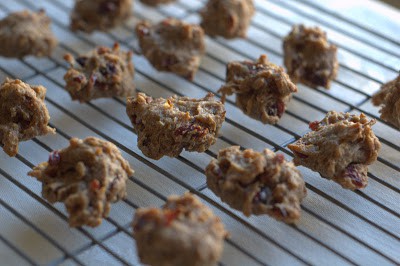 I rate everything I bake on a scale of 1-4 with 4 being the best and these Almond Butter Cranberry Cookies earned 3 rolling pins.
They weren't the best "healthy", dairy-free, gluten-free cookies I've ever had, but they were adequate. I didn't taste as much of the almond butter as I thought I would even though it was the main ingredient.
The cinnamon, coconut and cranberries mixed together well to give the cookies some nice flavor, and they weren't sweet.
The almond butter I used had honey in it, so I only added 1/2 teaspoon fearing they might be too sweet, so I would recommend adding more, especially if you like a sweeter cookie and if the almond butter is unsweetened.
I will make these again.
They're a good treat for those with certain food allergies or watching their sugar intake.
Tomorrow, we'll have an unhealthy dessert.
Ok, it won't be that bad. It's Mr. 365's birthday, so I'm going to make him one of his favorite things. We'll see if he likes my version or rather a borrowed version.
BIG baking hugs and muffins!!