Here I sit, typing my post, enjoying my Mike's Classic Margarita. It is Cinco De Mayo after all even though I didn't bake anything Mexican. Just pretend the Chicken Enchiladas were baked today and today's applesauce cookies were done the other day. And I'll have another Margarita!
I adapted this recipe from The Fannie Farmer Cookbook Thirteenth Edition, p.616; author, Marion Cunningham; publisher, Alfred A. Knopf, Inc., a division of Random House, Inc.; ISBN 0-394-56788-9.
Cinnamon Applesauce Cookies
¼ pound butter
½ cup brown sugar
½ cup granulated sugar
1 egg
1 cup cinnamon applesauce
2 cups flour
1 teaspoon baking soda
½ teaspoon salt
½ teaspoon cinnamon
1 teaspoon freshly grated nutmeg
½ teaspoon cloves
1 cup raisins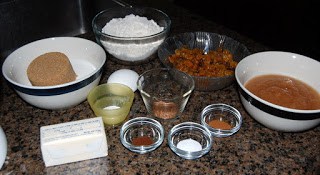 Preheat the oven to 375ºF.
Grease the cookie sheets or cover with parchment paper.
Cream the butter and add the two sugars, beating until light.
Stir in the egg and the applesauce.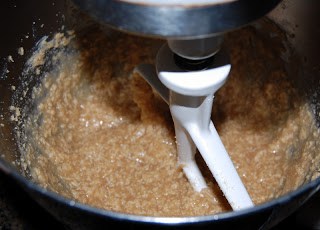 Mix together the flour, baking soda, salt, cinnamon, nutmeg, and cloves and add to the first mixture, beating until smooth.
Add the raisins.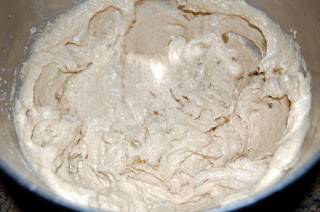 Arrange by spoonfuls on the cookie sheets.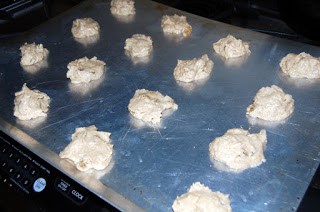 Bake for 5-7 minutes or until lightly browned.
Ok, don't do what I did and not grease or put parchment on the cookie sheets or the cookies will stick. Trust me.
These cookies were good! On a scale of 1-4 with 4 being the best, these applesauce cookies earn 3 rolling pins. They were nicely spiced and soft and chewy. I like chewy.
I used a large soup spoon to put them onto the cookie sheets – my recommendation would be to use a tablespoon as they will spread, but big cookies are good, too. Just make sure you leave enough space in between them.
The 100th post is just a few days away!! This is very exciting. There will be a giveaway on that day, so read, read, READ!!
Happy baking!