Two family recipes today. The manicotti comes from my mom and the salad is from my sister-in-law, Karin.
Mom made these manicottis a lot. I remember whenever she'd make the crepes for them she would always save me some and I'd eat them with maple syrup.
Oh, they were so yummy!
I miss mom's cooking.
Ok, I didn't meant that – need to clarify.
She was an ok cook. What I miss is her taking extra special care of me and her just cooking for me.
And Mother's Day is Sunday…
Ok, we're good.
Manicotti
French Pancakes aka Crepes – makes 12, can be frozen
(I actually ended up making 14, but I ate 2)
2 eggs, lightly beaten
1 cup milk
½ teaspoon salt
1 cup all-purpose flour
Put ingredients into a bowl or blender. Stir until smooth. Cover and let stand at least ½ hour.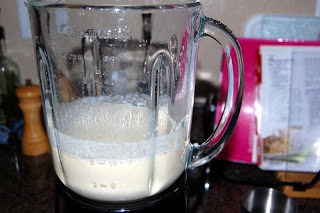 Batter should be thin.
Here's a video on how to make a crepe! I wanted to take pictures of the process, but it's REALLY not easy, taking the pictures, pouring the batter and swirling it around in the pan.
I needed two extra hands. They explain it well, anyway, and the pan action starts at about 1:10.
Heat a crepe pan or 5-6″ skillet/frying pan and grease lightly with salad oil.
Pour in just enough battter to cober the pan with a very thin layer – just under ¼ cup.
Tilt pan so that the batter spreads evenly.
Cook, flip over, and brown other side.
Lay flat on waxed paper to cool. When cooled, lift crepes from paper because they will stick.
Preheat oven to 350ºF.
Cheese Filling
1 lightly beaten egg
15 oz. Ricotta cheese
1 cup shredded Mozzarella cheese
1 teaspoon parsley
3 tablespoons grated Parmesan cheese
1½ teaspoons granulated sugar
salt and pepper to taste
1 1lb. 10oz. jar spaghetti sauce
Combine egg, ricotta, ½ cup Mozzarella, parsley, Parmesan cheese, sugar and salt and pepper in a large bowl. Mix well.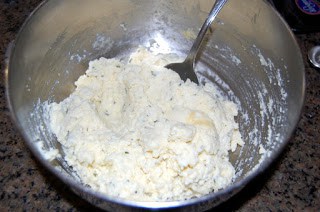 Place about 2 tablespoons of filling in each crepe and roll from one side to the other.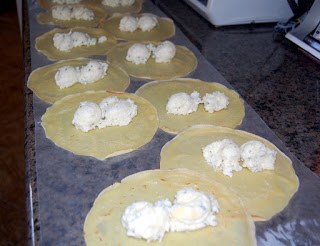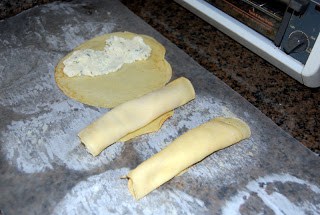 Pour 1/3 cup of spaghetti sauce in pan to cover the bottom the completely.
Place rolled manicottis in pan.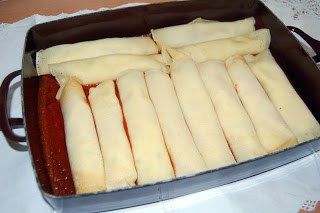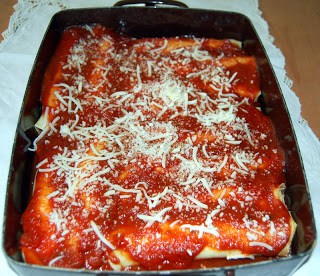 Cover with remaining spaghetti sauce and remaining ½ cup mozzarella cheese.
Bake for 30 minutes.
Strawberry Spinach Salad
1 9oz. bag baby spinach – washed and dried
1 quart strawberries, sliced
Dressing
½ cup granulated sugar
2 tablespoons poppy seeds
¼ teaspoon Worcestershire sauce
1½ teaspoons onion, minced
¼ teaspoon paprika
¼ cup cider vinegar
½ cup canola oil
Layer spinach and strawberries in a large bowl; set aside.
Combine dressing ingredients in a blender or processor except for oil.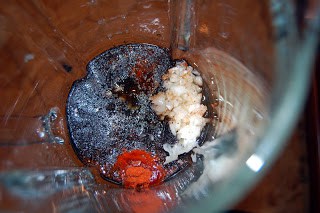 At the end, drizzle oil into blender through top opening while it is still running.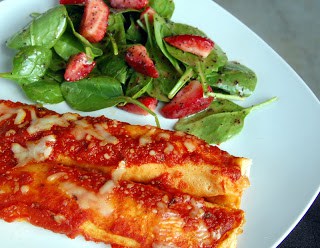 I love this dinner. The manicottis are really yummy, soft and cheesy, and the salad is absolutely delicious.
I rate all of my dishes on a scale of 1-4 with 4 being the best and the manicottis earn 3½ rolling pins. The strawberry spinach salad earns 4 rolling pins!
Happy baking!