I went to a somewhat local baking supply shop today and fell in love –
with EVERYTHING in the store.
I was very fortunate that I only walked out of there with two items – an apple corer to take the center out of the cupcakes and these cute little measuring spoons. I just couldn't pass them up.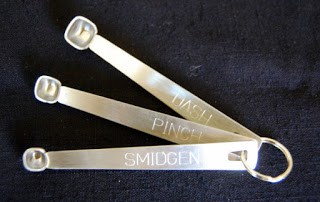 My expectations and my pursuit of perfectionism got the best of me again.
It started this morning.
No, yesterday, as I decided what I would bake today.
A white cupcake with a mango filling topped with a vanilla buttercream frosting flavored with rosewater. Sounds delicious and the picture was absolutely beautiful in my head.
The only problem is, what I see in my head and what I create are two different things.
Today for the white cupcakes, I used Martha Stewart's Baking Handbook, p. 169 ; author, Martha Stewart; publisher, Clarkson Potter/Publishers, a division of Random House, Inc.; ISBN0-307-23672-2.
I made the mango filling based on the lemon meringue pie filling I used on day 79. I thought it would work, but it didn't, really. It was ok, but not what I was hoping for.
And the buttercream frosting was from Wilton's, to which I added 3/4 teaspoon rosewater.
I'll give you the recipe for the cupcakes because they were truly delicious even if the rest of it wasn't. This is a great white cupcake recipe!
White Cupcakes – makes 24
3 cups cake flour (not self-rising)
2 teaspoons baking powder
1 teaspoon salt
3 sticks (1½ cups) unsalted butter, room temperature
2¼ cups sugar
½ teaspoon pure vanilla extract
1 cup milk
8 large egg whites
Preheat the oven to 350ºF.
Line two standard 12-cup muffin tins with paper liners.
Into a medium bowl, sift together the flour, baking powder, and salt; set aside.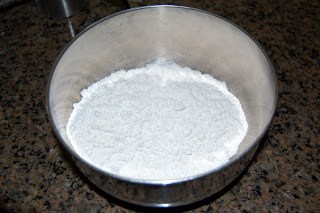 In the bowl of an electric mixer fitted with the paddle attachment, beat the butter and two cups sugar until light and fluffy, 3 to 4 minutes, scraping down the sides of the bowl as needed. Beat in the vanilla.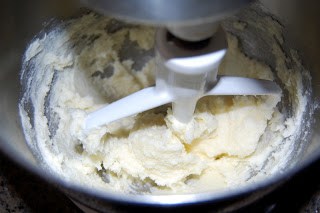 With mixer on low speed, add flour mixture in three parts, alternating with the milk and beginning and ending with the flour; beat until just combined. Transfer mixture to a large bowl; set aside.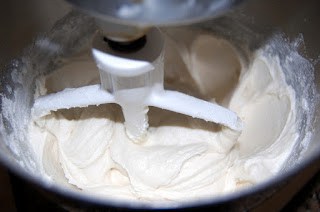 In the clean bowl of an electric mixer fitted with the wire whisk attachment, beat egg whites on low speed until foamy. With mixer running, gradually add remaining ¼ cup of the sugar; beat on high speed until stiff, glossy peaks form, about 4 minutes. Do not overbeat.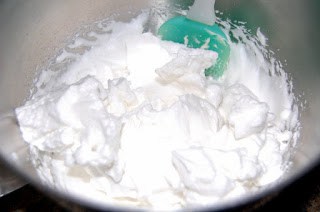 Gently fold a third of the egg-white mixture into the butter-flour mixture until combined. Gently fold in the remaining whites.
Divide batter evenly among the muffin cups, filling each with a heaping ¼ cup batter.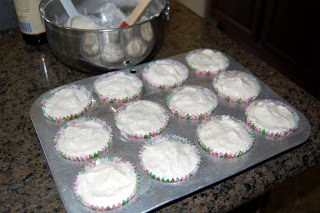 Bake, rotating pans halfway through, until the cupcakes are golden brown and a cake tester inserted in the middle of a cupcake comes out clean, 20-25 minutes. Transfer pans to a wire rack. Invert cupcakes onto the rack; then reinvert and let them cool completely, top sides up.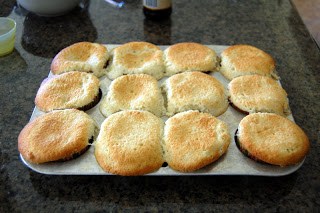 OVERFILLED!
Frost cupcakes with buttercream frosting. They can be stored in an airtight container in the refrigerator for up to 3 days.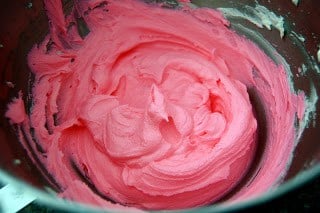 A little too much pink added, I wanted a soft rose color. Better to add with a toothpick as the directions suggest instead of dumping in a couple of globs. Yeah, no.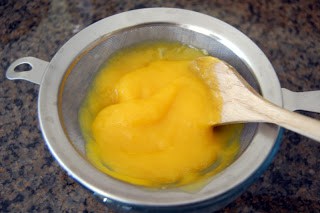 The mango pureed.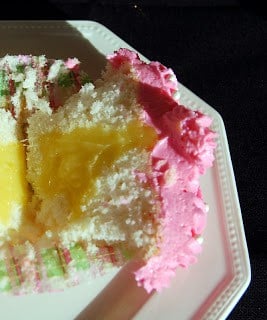 The filling in the cupcake.
My vision did not turn into reality.
First, I waaaayyyyyy overfilled the muffin cups, and I even had leftover batter. Why it never occurred to me to only put in ¼ cup of batter as suggested and then make more, I will never know. The thought never even crossed my mind.
Weird.
Also, the flavor of the mango filling was…eh. Nothing too spectacular. It wasn't really a curd, and there was A LOT of it for just 12 cupcakes. I didn't use it all either. I didn't like the taste of it.
I really liked the frosting with the rosewater. The family, on the other hand, didn't like it at all, and my son thought it tasted like dish soap.
Dish soap?
How 'bout a sachet?
14 year old boys don't know what sachets are or potpourri for that matter.
I thought it was a really neat experience tasting roses, something I'd never done before.
It definitely made me feel like this could be used as a frosting for a Mother's Day cake or cupcake which was what I was going for. My recommendation would be to add ¼ teaspoon of rosewater, taste and then add accordingly. It can become too strong very quickly and can ruin your palate.
I use a rating system based on a scale of 1-4 with 4 being the best and we decided that as a whole, these cupcakes earned 2 rolling pins. Martha's white cupcakes without any mango filling in them and without rosewater buttercream frosting on top earned 4 rolling pins. They were DELICIOUS by themselves!
Happy baking!