I was in bed last night attempting to fall asleep when my mind started racing with so many thoughts!
All I could think about was Mother's Day, my mom, my kids and then,…
the next few posts on the blog.
I thought, "Whoa! Saturday is the 100th day!"
What will I do??!!
Maybe I'll celebrate by taking the day off. That would be cool.
But, "nope, not gonna do it, wouldn't be prudent."
MORE importantly WHAT will I bake??!!
Yeah, even that still hasn't been decided yet.
I'll get there.
Come back tomorrow – there will be a giveaway!!!!
After thinking about all that, I thought, "and tomorrow, is 99!!"
And so it happened…
You don't need to listen to the whole thing, you'll get the idea.

Then I couldn't get the darn song out of my head.
Now it'll be in yours. I like to share!
Today, the magical cookbook is The Martha Stewart Living Cookbook The New Classics, p.428-429; author, Martha Stewart; publisher, Clarkson Potter/Publishers, a division of Random Houses, Inc.; ISBN978-0-307-39383-8.
Malted Brownies – makes about 2 dozen
1 cup (2 sticks) unsalted butter, cut into small pieces, plus more for the pan
1 cup all-purpose flour, plus more for the pan
10 oz. semisweet chocolate, coarsely chopped
1 cup (about 4½ ounces) malted milk powder
1 cup (about 4 ounces malt balls, coarsely crushed
1½ cups packed light-brown sugar
3 large eggs
1 tablespoon pure vanilla extract
Preheat the oven to 350ºF.
Butter and lightly flour a 9 X 13″ baking pan; set aside.
Combine the chocolate and butter in a heatproof bowl set over simmering water; stir until melted and smooth. Set aside to cool slightly, about 5 minutes.
In a medium bowl, whisk together the flour, malted milk powder, and malt balls; set aside.
In the bowl of an electric mixer fitted with the wire whisk attachment, beat the sugar and eggs until thickened and fluffy, about 3 minutes.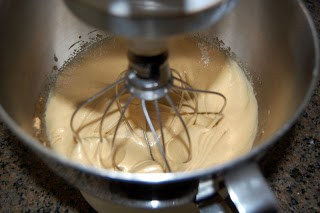 Add the melted chocolate mixture and the vanilla; mix to combine, about 30 seconds more.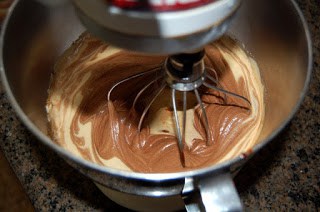 Using a spatula, fold in the flour mixture until just combined.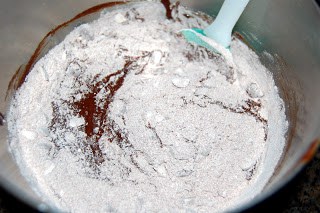 Pour the batter into the prepared pan, spreading it evenly with a rubber spatula.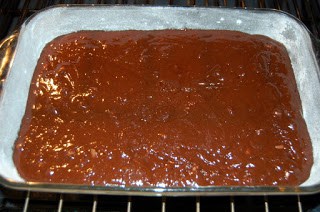 Bake until a cake tester inserted into the center comes out with just a few crumbs on it, 30-35 minutes.
Transfer the brownies to a wire rack to cool.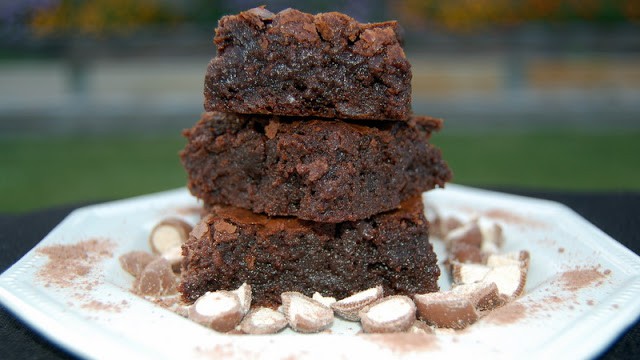 These puppies were really good! I rate everything that I bake on a scale of 1-4 (I sound like a broken record saying this every day – I said that when my 19 year old daughter was maybe 8 and she asks, "What's a record?"! Boy, did I feel old!). 4 is the absolute best. The family agreed that these malted brownies should be given 3½ rolling pins. They were moist and chewy, and the malted milk balls (or eggs, rather because I bought them a few days after Easter because I knew I'd be using them in the baking at some point) melted into them. Yummy!
Until tomorrow….Make sure ya'all come back now, ya here?!!!
Happy baking!!