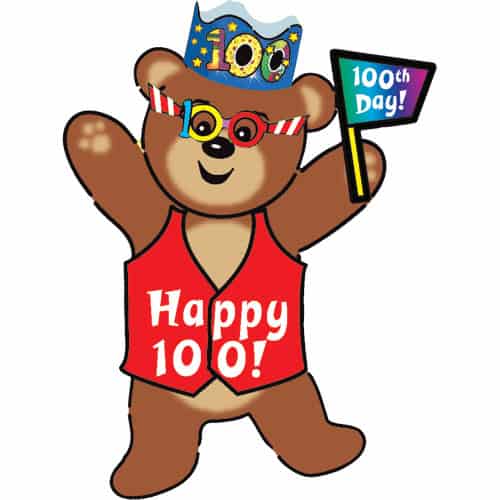 HAPPY 100TH DAY EVERYONE!!!
And can I tell you that I've posted this early by accident?!
See, I wanted to be prepared since we are celebrating Mother's Day on Saturday instead of Sunday (so we can "beat the crowds"). I pre-typed everything or mostly everything I wanted to write and instead of hitting save, I hit PUBLISH. Whoops! Maybe it was an "unintentional accident".
It's late (or early morning), and I'm tired.
I don't know how to "unpost it", so I'll just leave it up and finish it after I have baked today's recipe.
So, you get to check out TWO posts!
Well, the 100th day should be memorable, don't you think, and I've begun by making it so!
ANYWAY…
How exciting!!
I feel like we should be having a virtual party.
So let's do that! Everyone grab a drink and make yourselves comfortable.
Help yourself to the baked goodies over on the table.
Sit, relax and get to know your neighbors!
Alright, I know it's not a real party, but I can dream I have you all sitting here in my small little computer room, can't I?
First of all, (clinking on a glass to get everyone's attention amid the wonderful chatter) before I get started, I would like to thank each and everyone of you for reading. I have really enjoyed doing this.
I love to bake and I love to write.
AND, I love to eat what I bake.
But what I love more, is you. Yes, you. And I am talking directly to YOU.
Thank you for being here and taking the time today or the other day, or every day to make the effort to click onto my blog.
It means so very much.
I also love the comments I've been receiving. It really warms my heart when you all take the time to leave me a message. It lets me know that you are really out there.
Have I told you that I love you?
I do.
SO, in celebration of YOU, I am doing a giveaway!!
Because it is a baking blog, it has to do with baking, of course!
The Rules
If you would like to enter, leave a comment on this post telling me what your all-time favorite cookie is and why by Wednesday 5/11 at 12 a.m. PST to be entered into a drawing to win.
One person will be chosen randomly using Random.org.
I will contact the winner to obtain your shipping address and please know that it will be used for that purpose ONLY. Also, I will only be shipping the book to addresses in the United States and Canada.
You can obtain up to 2 additional entries by:
1) sharing this with your friends and likings us on
Facebook
,
2) if you have a blog, blog about the link to my 100th day celebration.
I'm not a Twitterer, so unfortunately that won't do. Sorry.
Then come back here and leave a comment(s) telling me what you did!
Oh yeah…the prize!
The reason I asked you for your favorite cookie IS… I am giving away Martha Stewart's Cookies Book!!!
I fell in LOVE with this book when I saw it in the store and had you in mind when I read through it, too!!! 352 pages of yummy goodness all from Martha herself. In the beginning there are WONDERFUL pictures of EVERY cookie in the book according to it's group: soft & chewy, crisp and crunchy, etc. She talks about the tools every cookie maker should have, and also about packaging and decorating.
I ALMOST kept this gem for myself.
But I don't need two 🙂
Also, I am going to send along a set of those wonderful measuring spoons that I picked up at
ABC Cake Decorating Supply
. They are so CUTE and no baker's kitchen would be complete without them!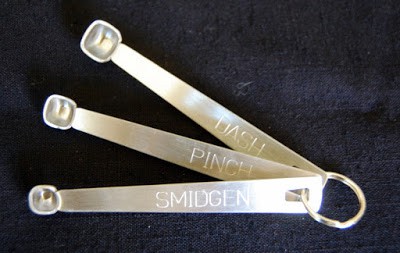 NOW, onto the recipe! Yes, it will be from Martha Stewart's Cookies, p. 195 ;author, the editors of Martha Stewart Living; publisher, Clarkson Potter/Publisher, a division of Random House, Inc.; ISBN 978-0-30739434-5.
I asked my daughter to pick which recipe would be appropriate for today and I think she nailed it. I'm sure you'll agree.
Surprise Cookies – makes 2½ dozen
1 3/4 cups all-purpose flour
3/4 cup unsweetened cocoa powder (not Dutch-process)
½ teaspoon baking soda
½ teaspoon coarse salt
½ cup (1 stick) unsalted butter, room temperature
1 cup granulated sugar
1 large egg
½ cup whole milk
1 teaspoon pure vanilla extract
About 15 large marshmallows, halved crosswise
Frosting
3 cups confectioners' sugar
6 tablespoons unsalted butter, room temperature
¼ cup plus 1½ teaspoons unsweetened cocoa powder (not Dutch-process)
¼ cup plus 2 tablespoons whole milk
3/4 teaspoon pure vanilla extract
Preheat the oven to 375ºF.
Sift together flour, cocoa powder, baking soda, and salt into a large bowl.
Put the butter and sugar into the bowl of an electric mixer fitted with the paddle attachment. Mix on medium-high speed until pale and fluffy, about 2 minutes.
Reduce speed to medium-low; mix in egg, milk, and vanilla.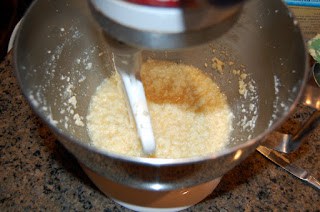 Mix in flour mixture, ½ cup at a time, until combined.
Using a 1 3/4-inch ice cream scoop or a tablespoon, drop dough onto baking sheets lined with parchment paper, spacing 2 inches apart.
Bake cookies, rotating sheets halfway through, until firm, 8 to 10 minutes.
Immediately press a marshmallow half on top of each cookie.
Bake until marshmallow begins to melt, 2 minutes more.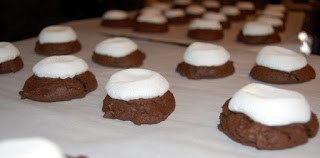 Let cool completely on sheets on wire racks.
Frosting:
Put confectioners' sugar in a medium bowl.
Melt butter with cocoa powder in a saucepan over medium-low heat, stirring occasionally.
Add butter mixture to the confectioners' sugar.
Whisk in the milk and the vanilla.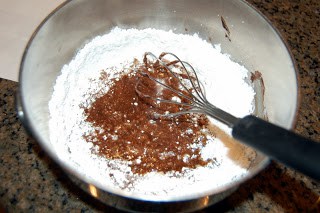 Spread about 1 tablespoon of frosting on top of each cookie to cover marshmallow.
Let stand until set, about 10 minutes.
Cookies can be stored in single layers in airtight containers at room temperature for up to 2 days.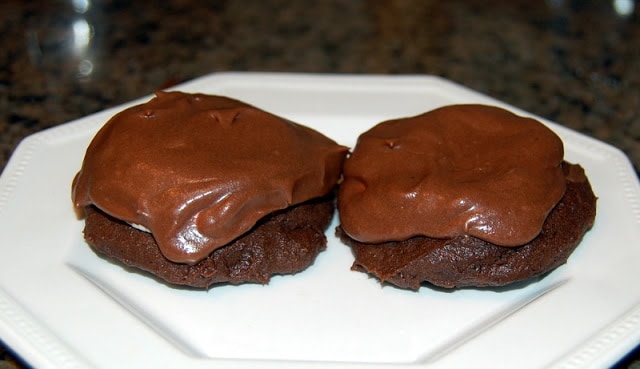 I was going to bake 100 cookies, but after reading the recipe, that's just not going to happen, especially since they need to cool on the sheets. THAT would take forever!!
Well, the cookies have been baked and frosted. I must say that they were very delicious and very rich! After the cookies came out of the oven with the marshmallows on top, I took my hand torch and toasted the tops. Now, this is not something you want to be doing of you are going to be serving these cookies to guests.
I found that I was holding the torch too close to the marshmallow at times and ignited a few of them.
Hence, to extinguish the small flame, I blew onto the cookie.
I'm not a germaphobe, and these cookies are only going to be served to the immediate family, but you may want to take precautionary measures if you go for the toasting.
I REALLY just wanted the flavor of the toasted marshmallow on those cookies. And it was yummy!
I rate my baked goods on a scale of 1-4 with 4 being the best and these cookies earned 3½ rolling pins.
I really LOVE this Martha Stewart Cookies book and I think the WINNER of the giveaway will, too!
Thank you, thank you for being a part of today's celebration! I couldn't have done it without you!
By the way, have I told you that I love you?
Happy baking!