*Note: I had a brain fart and completely forgot to tell you what to do with the marinade after you remove the meat. That's all fixed now, but if there are any questions, please don't hesitate to ask!*


We're having some issues here at the 365 household – computer acting funny, central air conditioner not working, and once again, I've got some blurry pictures!
BLURRY PICTURES??!!
Yes, it's happened again, so this weekend I plan on really reading that camera manual that my daughter happened to find before she left for college and make my pictures BETTER!
Mr. 365 and I go out to an 8:10 movie and come back to the central a/c not working.
NOT GOOD when it's 10:56 at night and it's still 103ºF outside!!!
Mr. 365 is working on it as we speak. Don't ask, I don't know what he's doing to "fix it" and it's probably best that I don't. There are just some things a girl doesn't need to know.
I'd like to give a BIG baking hug to all my new readers and followers both here and on the 365 Facebook page. If you haven't started following or "Like"d us yet, I encourage you to do so! This way you'll be able to receive updates as I post and you won't miss a recipe or my good humored writing (haha).
Again, thank you for reading. Your support means so much to me and I'm thrilled that you all are trying the recipes and that they are working for you!
WHO KNEW this would work??!!
I'm kidding. I can cook, I'm just very flattered and humbled that y'all are wanting to recreate the things that I bake.
And I LOVE hearing your comments, so please keep them coming!! (I can take constructive criticism, too, you know.)
I love you all!
DINNER!!
On tonight's menu, we are serving a pork tenderloin seared with a delicate blend of orange juice and brown sugar married with an aromatic bouquet of garlic, ginger, cloves, and coriander.
We hope you enjoy it.
Orange Spiced Pork – serves 4 people who do not have large appetites
(you might want to increase the size of the tenderloin if you have a ravenous crowd and you can double the recipe)
1 lb. pork tenderloin
1 cup brown sugar
juice of 1 orange (about 1/2 cup)
2 cloves garlic, minced
2 teaspoons ginger
1/2 teaspoon cloves
1 teaspoon coriander
1 tablespoon dried parsley
1 teaspoon salt
1/4 teaspoon freshly ground pepper
In a Ziploc bag, add brown sugar, orange juice, garlic, ginger, cloves, coriander, parsley, salt and pepper.
Mix well.
Prick the tenderloin on all sides with a fork and place into the bag filled with the marinade.
Seal the bag, making sure to extract any air.
Marinade for 4 hours in the refrigerator, turning the bag over once halfway through.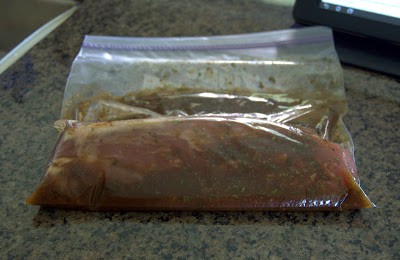 Prepare a baking sheet by lining it with foil and place a baking rack on it to hold the tenderloin.
Preheat the oven to 350ºF.
In a large skillet over high heat, sear the tenderloin so that it browns on all sides reserving marinade.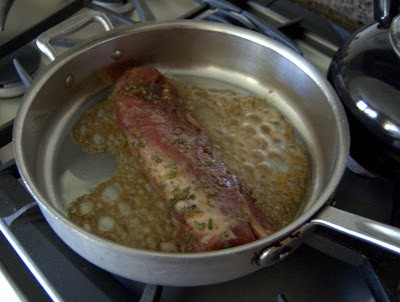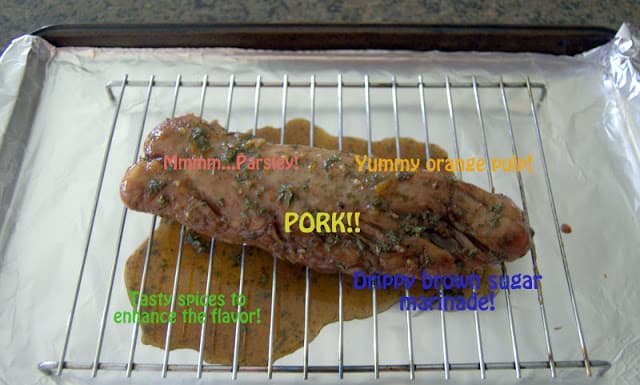 Transfer to rack on baking sheet and pour 1/3 of the marinade over the meat.
Cook (or rather BAKE – after all, this is a baking blog!) for 40 minutes, or until a meat thermometer reaches 148ºF.
15 minutes into "baking time", pour another 1/3 of the marinade over the tenderloin. Discard the rest.
Remove from oven and transfer meat to a cutting board. Cover with foil and allow to rest for 10 minutes before cutting to serve.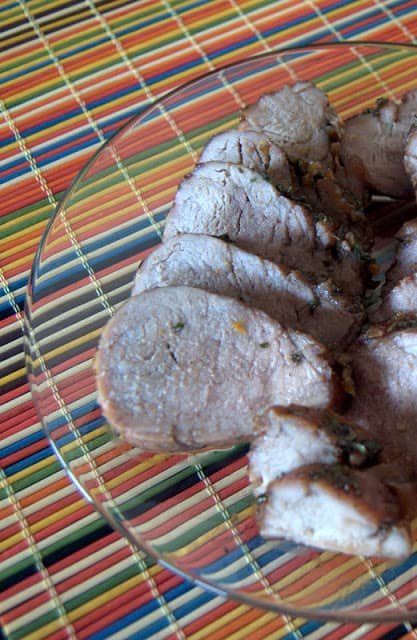 Well folks, the food critics here dining at the 365 household gave this Orange Spiced Pork Tenderloin rave reviews and voted unanimously to give it 3 1/2 rolling pins.
It was deliciously flavorful (can I even say that?) and had just the right amount of kick to it.
There was a nice hint of orange flavoring with the fresh juice that was added, but I'm sure refrigerated O.J. would work just as well.
This is a dinner I will definitely make again.
Oh, and the GREAT thing about this dish (besides that it was delicious) is that it was SSSSOOOOO easy!!!!
Happy baking, everyone!!
Thank you so much for reading!!