Well, school has definitely started.
I know this because I had two, yes, two children come home this afternoon not feeling 100%. I promptly gave them some Airborne (I LOVE that stuff) and they both quickly retreated into their bedrooms to take naps.
Reminds me of when they used to take naps when they were little.
I loved that quiet time in the afternoon. It was a great chance to pick up the toys and books strewn all over the house just in time for them to do it again once they woke up.
Our house was always in a complete state of disarray.
It's funny to look at pictures of the kids when they were young because more often than not, their were things scattered across the floor.
I'm surprised Mr. 365 and I didn't break our necks.
The kids have a half day tomorrow, and then the weekend is upon us, so it will give them a much needed chance to get some rest.
Not even two weeks into the school year and they're already feeling run down. I hope this isn't a sign of how the year is going to go.
It could be a long one.
Baked Spaghetti Pie – serves 5
1 tablespoon olive oil
1 lb. ground beef
4 pork sausage links (4 oz.) with casings removed
1 medium onion, chopped
2 cloves garlic, minced
1 teaspoon basil
1 teaspoon oregano
1 teaspoon salt
1/4 teaspoon freshly ground pepper
1/2 lb. spaghetti – cooked 2 minutes less than directed (will continue cooking in oven)
1 24 oz. jar spaghetti sauce
3/4 cup shredded mozzarella cheese
Prepare a 9-inch spring form pan by greasing it with cooking spray.
Preheat oven to 350ºF.
In a large skillet over medium-high heat, sautée onion and garlic in olive oil until soft, about 5 minutes.
Add ground beef and pork links, breaking them up. Cook until browned.
Add basil, oregano, salt, pepper and spaghetti sauce.
Mix well.
In a large bowl, beat egg.
Add cooked spaghetti and toss till completely covered.
Add meat sauce.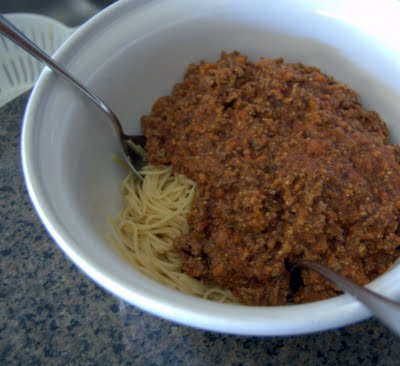 Mix well.
Pour into prepared spring form pan.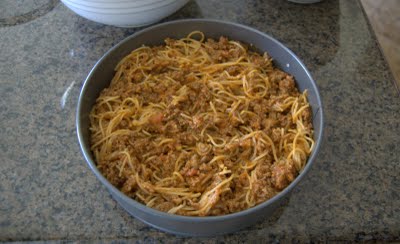 Sprinkle with mozzarella cheese.
Bake for 30 minutes.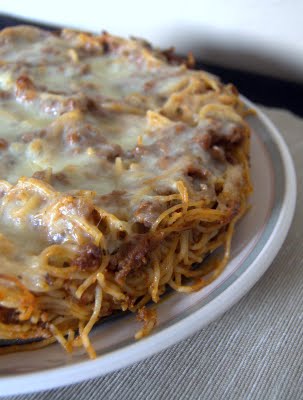 So, our daughter didn't want to eat this because she's removed dairy from her diet to see how that will affect her acne over the next few weeks, our son was still napping, Mr. 365 had eaten a Philly Chicken sandwich or whatever the heck it was when he was at the mall shopping for shoes and I had to go to "Meet the Teacher" night at the high school. I barely managed to snap a few pictures before I rushed out the door.
I came home and it hadn't been touched.
Our daughter had pasta and sauce without any cheese, Mr. 365 had some also thinking that was dinner, and when I walked in the door, my son was cooking himself pasta on the stove.
WTH??
I make dinner and nobody eats it?
Hello?
I'm not doing this for my health here.
Ok, I may be doing it for a blog, but come on! It's dinner!
I ate it.
No, not all of it because there was a lot of it, but you can bet Mr. 365 will be eating this puppy for lunch tomorrow, Saturday, and maybe even Sunday.
He likes leftovers. Which is a good thing.
I liked it. I liked the way the sauce had soaked into the spaghetti and that the spaghetti was crunchy in some spots. It was flavorful and had the right amount of cheese.
I rate everything I bake on a scale of 1-4 with 4 being the best and this Baked Spaghetti Pie earned 3 rolling pins. I have noone else's input, so that's what I'm going with.
I enjoyed it. It wasn't the best meal I had ever had, but it was adequate and I would make it again.
And next time I make it…they're going to EAT it! 😉
You know what, don't use a spring form pan. Use a large skillet that is oven proof or maybe even a 9-inch cake pan would work. My only concern about the cake pan is that it wouldn't be large enough.
I say this because I just cleaned the spring form pan and there are little bits of spaghetti and meat that are refusing to come out of those crevices. I'm saving you some trouble here.
Happy Baking!