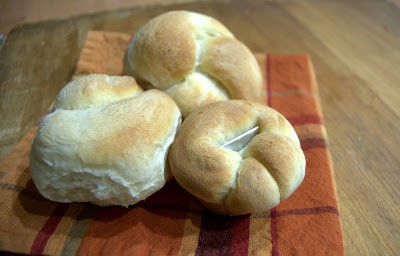 I cannot eat Thanksgiving dinner without having a roll. Or more than one for that matter.
There's just something about the butter melting into it and then wiping it in the gravy…
Oh man.
You had me at the Mayflower.
I saw a post on a food blog the other day for rolls similar to these, but for the life of me, I couldn't find it today and had forgotten to bookmark it.
I searched for an hour to no avail.
So if by chance, that blogger happens to be reading, I apologize for not giving you credit because I thought your idea was awesome.
The idea is similar, but of course, the recipe is different.
The theme of Thanksgiving is to reflect on the very things that we are all grateful for.
These rolls will help you to do just that!
Inside of each roll is a piece of paper wrapped in tin foil.
On that paper is the beginning of a sentence, such as, "I am grateful for my mother…".
The person eating the roll will then finish the sentence by telling the others around the table why they are grateful for mom and what she has done for them.
It's a great conversation starter and will give us all a chance to verbally express our appreciation for each other which we may not do every day.
I'm looking forward to doing this with the kids because they don't tell their siblings how important they are and what they really admire or like about each other.
I'm interested in hearing what they have to say.
We'll see how it goes.
Recipe adapted from The Fannie Farmer Cookbook, pp. 524-526; author, Marion Cunningham; publisher, Alfred A. Knopf, Inc., a division of Random House, Inc.; ISBN 0-394-56788-9.
Thanksgiving Rolls – makes about 24
4 tablespoons butter
2 tablespoons sugar
2 teaspoons salt
2 cups milk
1 package dry yeast
1/4 cup warm water
6 cups all-purpose flour, approximately
2 tablespoons melted butter
24 pieces of paper cut in rectangles 1 X 4-inches
24 pieces of tin foil cut in rectangles 2 X 4 1/2-inches
1 sharpie marker
In a small saucepan over low heat, combine butter, sugar, salt, and milk.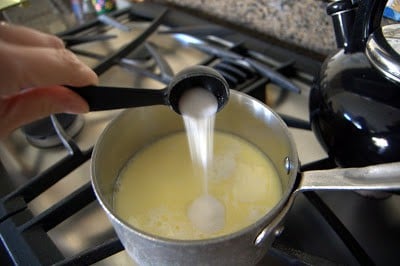 Heat until warm and butter is melted, but do NOT boil.
Remove from heat and cool to a lukewarm temperature.
In a measuring cup, stir the yeast into the warm water and let it sit to dissolve for 5 minutes.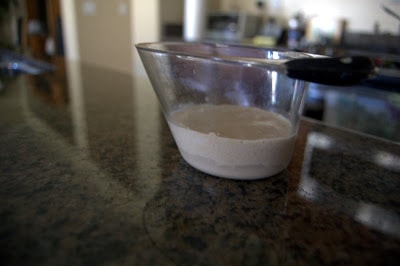 Transfer the butter/milk mixture to a mixing bowl fitted with a paddle attachment. Add 3 cups of the flour and the dissolved yeast.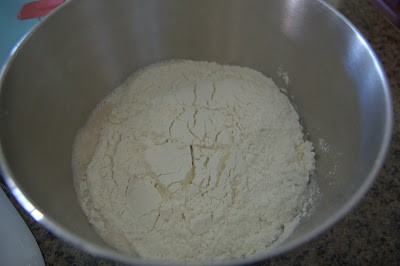 Beat on low gradually increasing speed up to medium-high and beat for 2 minutes.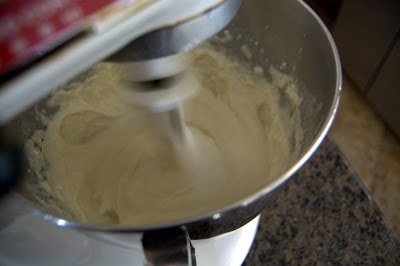 Transfer mixture to a large bowl and cover with a towel.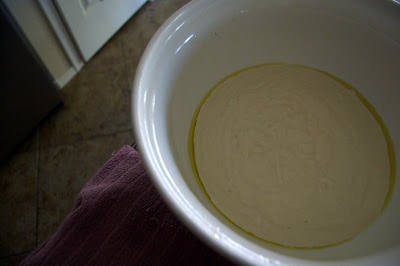 Place in a warm place and let rise until it has doubled in size about 1-1 1/2 hours.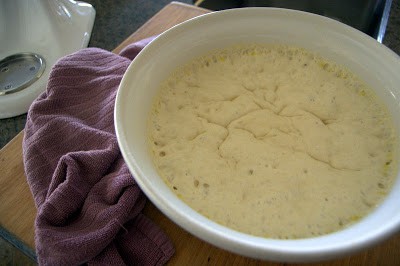 Now would be a good time to clean that mixing bowl because you're going to need it soon.
Also, now is when you can cut the paper and tin foil strips.
I had a booklet of scrapbooking paper that I used so that they would be colorful. I also cut them out with the kids' craft scissors with the funny edges.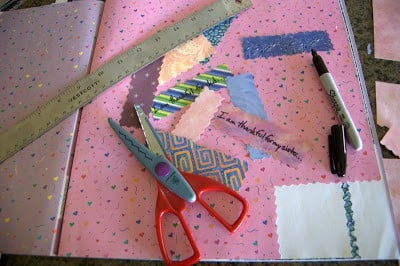 On each of the pieces of paper I wrote the beginning of a sentence, such as, "I am thankful for dad…" or I am thankful for (person's name) because…" or "I am grateful for the time I…".
I then wrapped each paper in a piece of tin foil and sealed it as much as possible, folding it to the size of 1/2-inch.
I then set them aside as I finished the rolls.
Prepare two 12-cup muffin tins by greasing them with butter.
Place dough in the cleaned mixing bowl, this time fitted with the dough hook.
Stirring on low and increasing to medium-high speed, gradually add as much of the remaining flour necessary so that it can be kneaded by hand.
(I was left with about 1/4 cup of flour remaining.)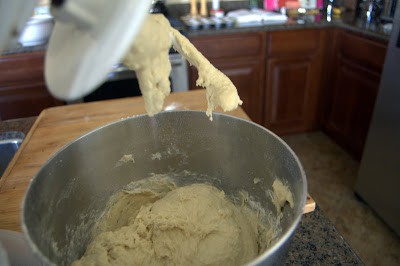 Put the dough onto a lightly floured board, kneading for about 2 minutes.
Allow dough to rest for 10 minutes.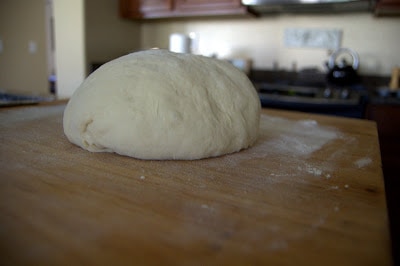 Resume kneading until smooth.
Using about a golfball size of dough, roll into thin strips about 8-10 inches long.
Tie them loosely into knots, pinching the ends together.
Turn over so that seam is on the bottom and place a piece of tin foil into the center of each knot.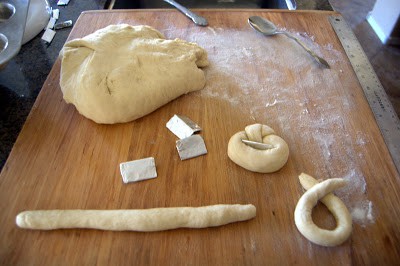 Place each knot into a greased muffin cup.
Brush the top of each knot with melted butter.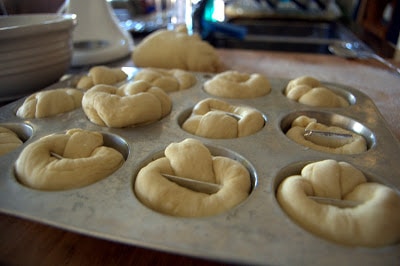 Cover with towel and let rise in a warm place again until double in size, about 1 hour.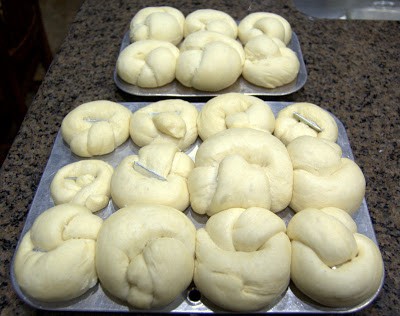 Preheat oven to 425 degreesF.
Bake rolls for 12-15 minutes.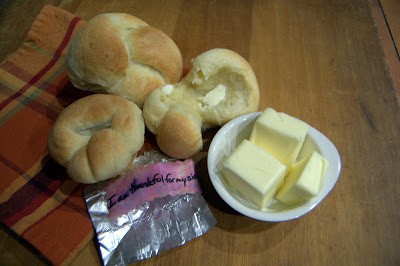 Can I tell you how wonderful these things made the house smell?
Oh. My. Goodness.
I couldn't WAIT to try one of these babies!
The four of us each had one with dinner. I had only placed the papers into 12 of the rolls.
And those I put into bags which went into the freezer to save for Turkey Day.
So, tonight they were just "rolls" and not Thanksgiving rolls.
Get it?
I actually made only18 of these instead of the 24.
The recipe in the book says it will make 2 1/2 to 3 dozen.
I think it will make 24 good size rolls because as you can tell from some of my pictures, a few of my muffins were a wee bit on the ginormous size.
I rate everything I bake on a scale of 1-4 with 4 being the best and these Thanksgiving Rolls earned 3 1/2 rolling pins.
They were so incredibly delicious, and soft, but not flaky.
It was great to open them up because on the outside they were warm, but then when we broke into them, the steam sent a heavenly smell into the air.
Then the butter just melted into them.
Oh, man.
I'm going to be serving these with the Cinnamon Honey Butter I made for those Pumpkin Biscuits a few weeks ago.
They will make your belly happy, cause you to reflect, and warm your heart with the appreciation you have for family, friends, and life.
I give you all BIG baking hugs and muffins!!