Baked apple slices are a great, homemade snack. With the added cinnamon, the kids…and you will enjoy it that much more.

For those of you who like apples, these baked apple slices show you can do more than you thought.
Finally, a different idea on how to use apples after all that apple picking. I'm getting myself carried away now when I go to the grocery store. I do wish we have those picking farms near us in Arizona, but alas, they don't call it the desert for nothing. Or, I haven't looked or researched hard enough to find them. I'd even go by myself that's how much fun they are. We did that as a family in New Hampshire. They weren't apples but blueberries, and boy did we have a years worth of blueberries when we were done. With this adapted baked apple slices recipe from Vittles and bits, I can make a yummy snack that isn't much of a hassle. This and trail mix are the go-to snack in my book.
There are so many types of apples to choose from too. I guess that's a good thing since we can choose our favorites, or go out of the box and try others. Either way, you get the same refreshing taste of a delicious fruit. I think I'll have an apple right now. Yup! Doing a happy dance in my seat right now. I think the kids will do one too when they see these for an after-school snack. It'll definitely help in their hunger before dinner and them pigging out on junk that they sneak behind my back. Yeah, it happens to me too! I know, I did it too when I was younger. It's funny how those things come back and you see the other side of it. Oh, what it was like to be a kid again.
Have I told you how much I love my crockpot? No? Well, I do. And this is one of the many reasons. This crockpot applesauce by the awesome skinnytaste shows you can do ANYTHING with a crockpot.
I've seen it and heard it, especially from my son. The protein bars are getting smaller and more expensive. Don't fear. Here's a chocolate sea salt protein bars recipe from loveandoliveoil that changes how you shop at the grocery store now.
SAVE THIS BAKED CINNAMON APPLE SLICES RECIPE TO YOUR FAVORITE PINTEREST BOARD!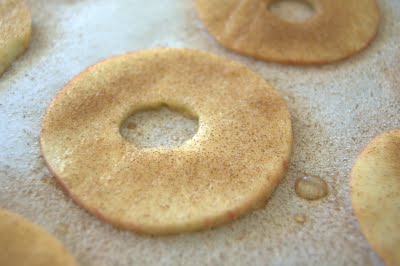 Like usual, the pictures don't do it justice. I think I need to figure out that part of the blog. If it's not visually appealing then who would have any interest in eating it. Duh! I know apples tend to be a little fragile, especially when you cut them into thin slices like this baked apple slices recipe says to. Patience and calm hands are key in this to get that circle in the center. It's the healthy donut! I just came up with that and am pretty proud of myself for it, but you can laugh at me if you want. I would too if I were you.
I probably should have left them in the oven so that they could become a little crisper, but I was impatient, and we were going out. They were a little chewy and had somewhat of a crunch to them. I think I may make some more tomorrow as the ones I made today are completely gone.
Thank you, Maggie, for the recipe!! These are always a big hit with me because when I overdo it with the sweets or juice, it's nice to come back to a snack I know will break me out of my bad habit.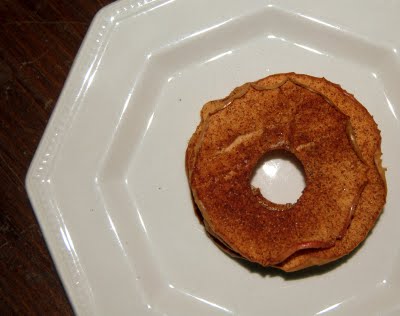 Baked Cinnamon Apple Slices
Ingredients
2 large apples, cored
1 medium lemon, cut in half
2 tablespoons sugar(optional)
1 teaspoon cinnamon
Instructions
Preheat oven to 200 degrees and arrange baking racks in the top and bottom thirds of the oven.

Prepare two rimmed baking sheets with parchment paper. With a mandoline or sharp knife, simply slice apples crosswise about 1/8 of an inch.

Place apple slices in a single layer on prepared sheets, and sprinkle lemon juice from each lemon half on every slice.

Mix sugar and cinnamon in a bowl. Put contents in a sieve and sprinkle evenly over apple slices.

Bake for 2 hours or until apple slices are dry and crisp.
Nutrition
Calories: 4kcal | Carbohydrates: 1g | Fiber: 1g | Calcium: 20mg
Did you make this recipe?
Share it with me on Instagram and make sure to follow me on Pinterest for more recipes.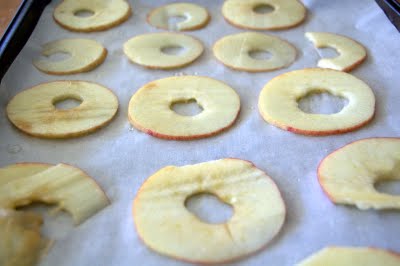 I am forever updating my snack list! They are so many of them I can't stick to a select few. However, one that I never leave out is my cookie butter snack mix. Most of the time I'm not even paying attention and I've eaten the whole bowl I made for myself.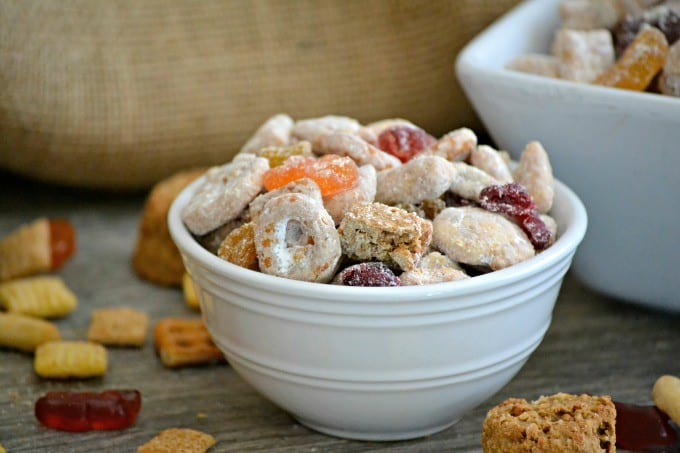 Maybe for a special treat, you'll make my cream cheese stuffed mushrooms for your loved ones. I know whenever I do, the pan is empty when dinner is ready.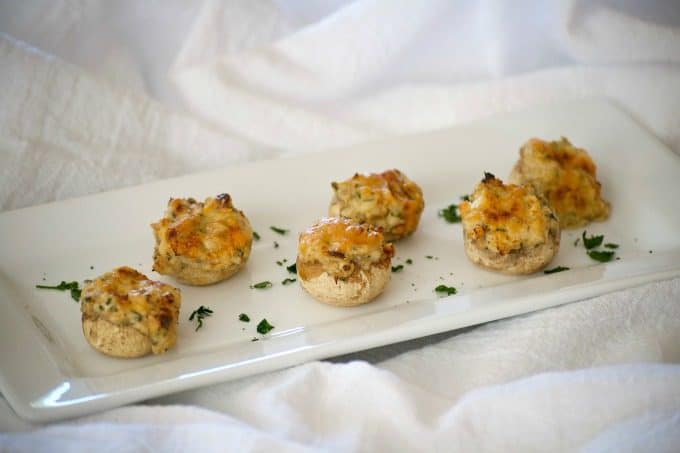 Hummus with anything should be against the law. It's so darn good I can't stop eating it myself. Thanks to this dill pickle hummus, I still have that problem. I don't think it'll go away anytime soon.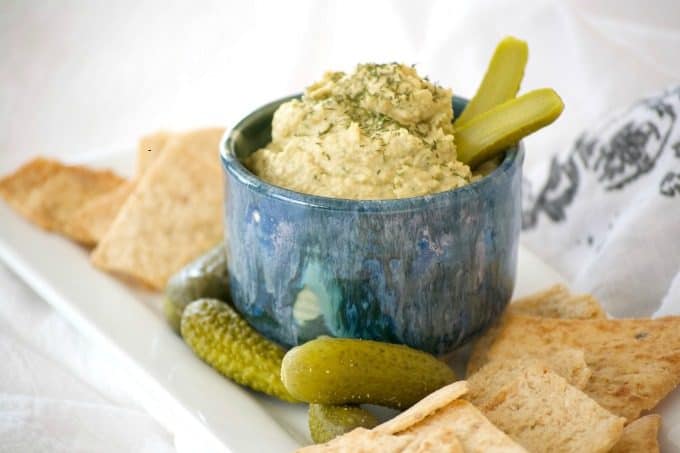 Make sure when you remove the apple slices from the oven, that you let them cool completely before transferring them to a sealed container. I know you don't want all that hard work and expectations of saving them going down the drain in a flash. I know from experience! Maggie's recipe at Vittles and Bits Adapted Slightly from Ontario Apple Growers, via Snack Girl
I used Braeburn apples, and I think it would be fun to try this with different ones, experiencing the different flavors. Maggie suggested using canola oil spray, but I neglected to do that using the lemon juice instead.
I really liked these. They make a great snack and I think little kids would like them. My older kids did.
I rate everything I bake on a scale of 1-4 with 4 being the best and these Baked Cinnamon Apple Slices earned 3 rolling pins.
Reader Interactions