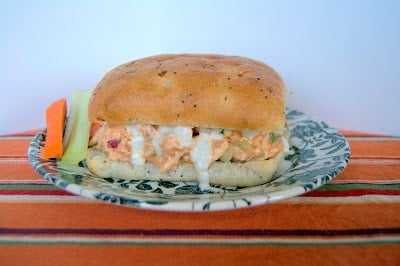 So, now do you know why I made last night's Homemade Gorgonzola (Blue Cheese) Dressing?
Of course you need it to go on top of buffalo chicken!
This recipe was adapted from this Chicken Salad recipe.
Buffalo Chicken Salad – serves 4-6
3/4 cup Greek yogurt
1/2 cup buttermilk
3/4 cup Frank's Red Hot Wings Sweet Heat BBQ Sauce
1 tablespoon fresh lemon juice
1/2 teaspoon salt
1/2 teaspoon freshly ground black pepper
4 cups shredded poached chicken breast (see below)
3 large celery stalks, finely chopped
1/3 cup red onion, minced
2 tablespoons packed fresh flat-leaf parsley leaves, coarsely chopped
Chicken
3 boneless, skinless chicken breasts – directions below (mine were on the larger side, probably equaling 1 1/4-1 1/2 pounds)
3 cups water plus more if needed to completely cover the breasts while cooking
3 teaspoons chicken bouillon granules
1 teaspoon poultry seasoning
1/2 teaspoon salt
1/2 teaspoon freshly ground pepper
Place chicken breasts in a large saucepan in a single layer.
Cover chicken broth.
Add poultry seasoning, bay leaf, salt and pepper.
Bring to boil and lower heat to simmer.
Cook chicken breast for 5 minutes.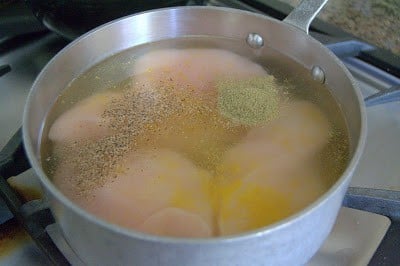 Remove from heat, turn chicken breasts over, partially cover saucepan and allow to sit for 15 minutes.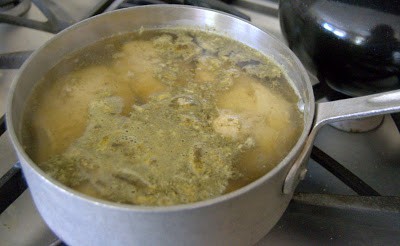 Using tongs, drain chicken and transfer to a cutting board to shred using two forks.
In a large bowl, combine Greek Yogurt, Buttermilk, BBQ Sauce, lemon juice, salt and pepper. Mix well.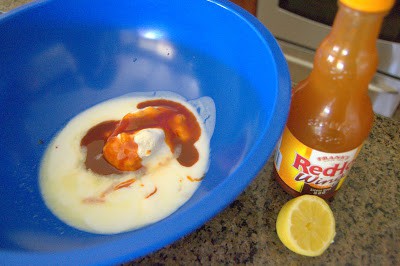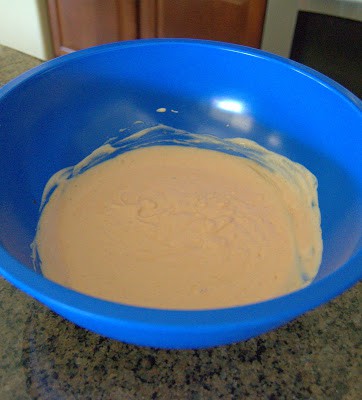 Add chicken, celery and red onion to sauce and mix until thoroughly combined.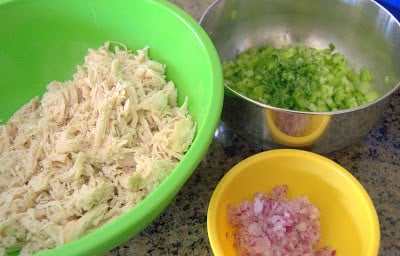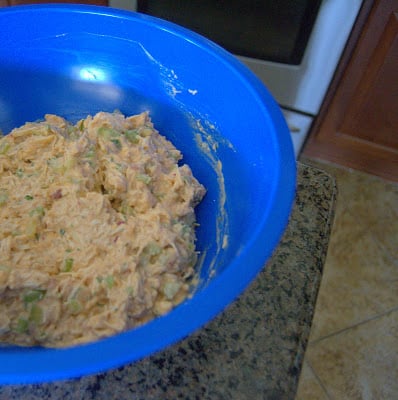 Place some chicken salad on the bottom of a sandwich roll and drizzle with the Homemade Blue Cheese Dressing. Cover with top and serve with celery and carrot sticks.
Relax eat and watch a baseball game, Nascar, a tennis match, the Tour de France, or the Superbowl.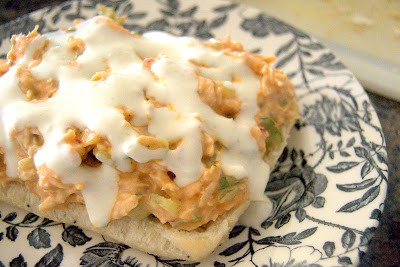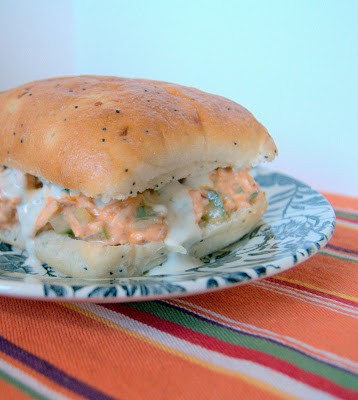 I rate everything I make on a scale of 1-4 with 4 being the best and this Buffalo Chicken Salad earned 2 1/2 rolling pins. I don't know, I'm teetering between 2 1/2 and 3 and would more than likely settle on a 2 3/4, but it's not in my rating scale.
There was something missing in this and I think it was too creamy, and not enough saucy. I wanted to to be finger lickin' type thick. Kind of like the
Crockpot BBQ Root Beer Shredded Chicken
type thick.
Um, you know what I mean?
I also served it right after I made it, so maybe if it had set in the fridge for a couple of hours before we ate it, that might have made a difference.
It was definitely spicy enough, I think I just needed to pull back on the butttermilk and Greek Yogurt and maybe added more of the BBQ sauce.
It was good and definitely edible and the family really liked it.
I also didn't like the rolls I served it on, so that may have accounted for a lower rating as well. There was too much bread. Those rolls were thicker than I thought they were going to be.
If you try it and decide to make some changes to it, fill me in and let me know how it goes!
I give you BIG baking hugs and muffins!!