Learn how to make the best Blueberry Waffles with this easy recipe! These waffles are thick, fluffy and bursting with fresh blueberry flavor. Enjoy them for a Sunday brunch or any day of the week!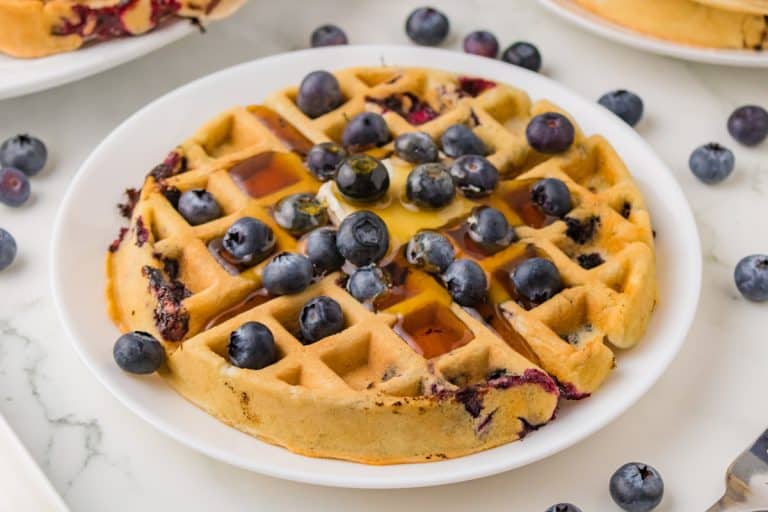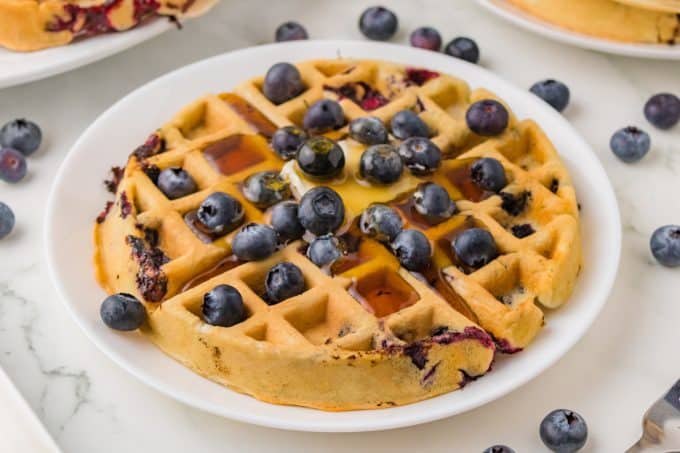 Need a delicious breakfast that's easy to prepare and guaranteed to impress? Fresh blueberry waffles are the answer.
Bursting with the addition of juicy blueberries, these fluffy waffles are the perfect way to start a lazy weekend. Roll out of bed, put on a pot of coffee and get cooking to have a stack of thick homemade waffles on the table in just 25 minutes.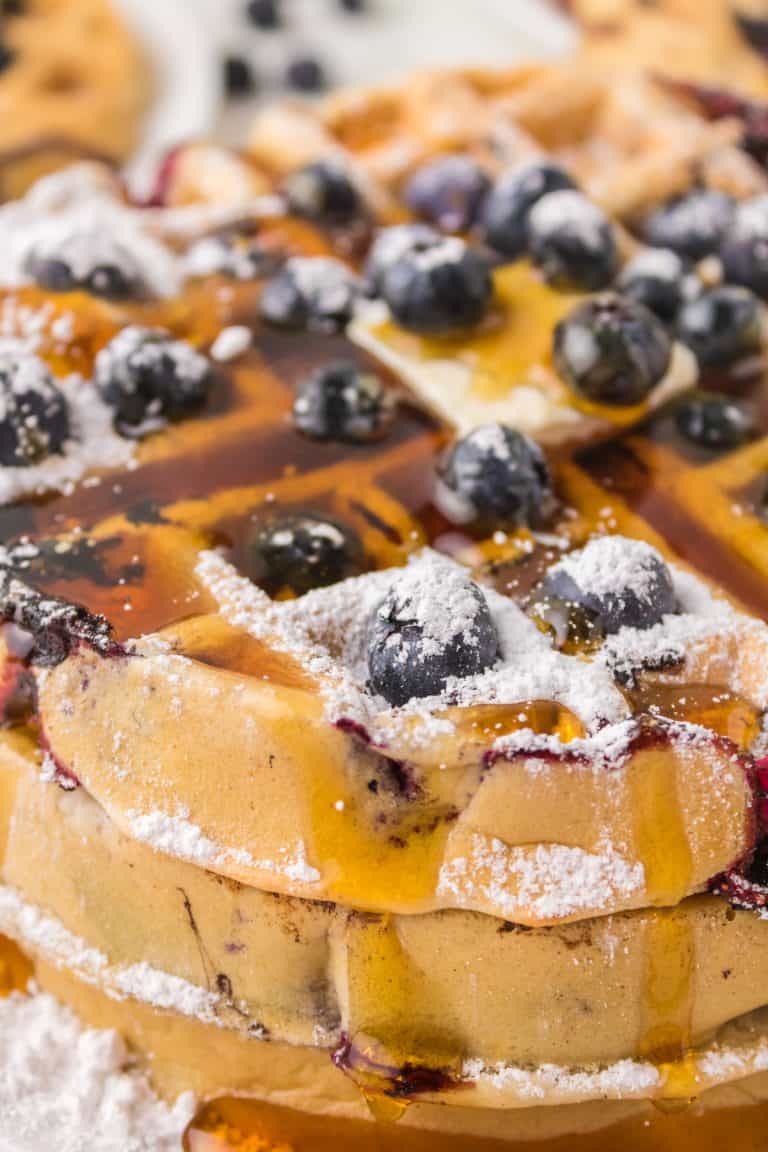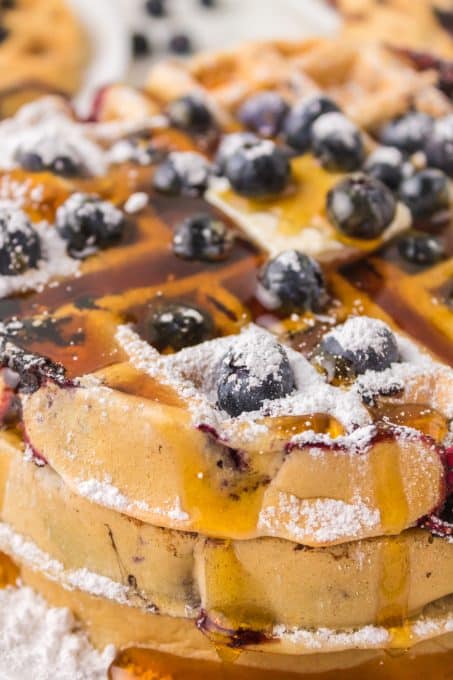 Breakfast waffles aren't difficult to make. But not all recipes are created equal! With the wrong proportions of just simple ingredients, you can end up with waffles that stick to the iron, cook unevenly or fall apart.
That's not going to happen today. This classic waffle recipe was expertly crafted to ensure waffle success every time. The waffles are crisp and golden brown on the outside with soft, fluffy insides filled with sweet blueberries.
In today's post, I'll take you step-by-step through my method for making blueberry waffles from scratch so you can whip up a batch of your own, especially if it's your first time making them. Whether you're a seasoned home cook or a beginner in the kitchen, these waffles are sure to become a family favorite.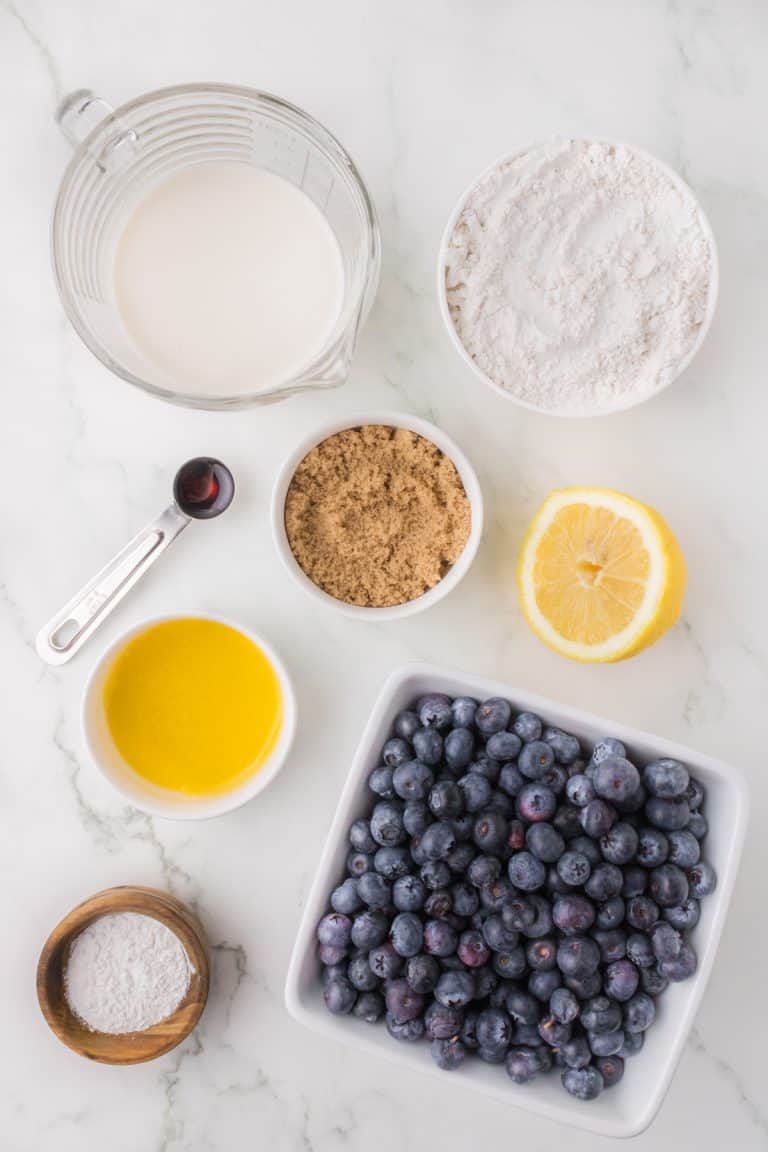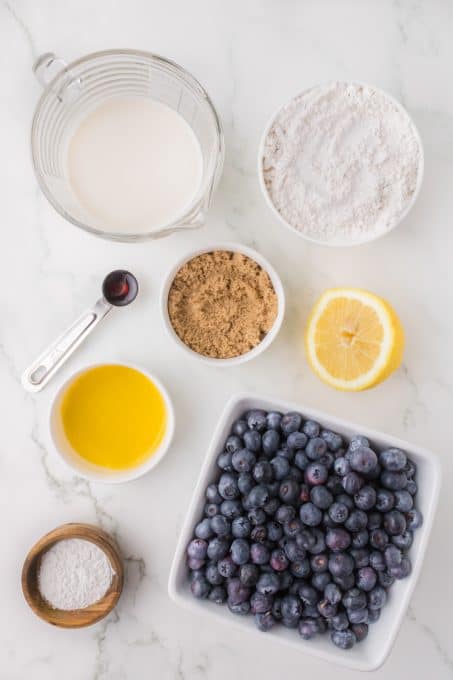 Ingredient List for This Blueberry Waffles Recipe
To make blueberry waffles from scratch, you will need:
All-Purpose Flour
Brown Sugar
Milk
Butter
Lemon Juice
Vanilla Extract
Blueberries
Unlike some waffles I've tasted, these are buttermilk blueberry waffles are moist and sweet enough to enjoy just as they are. But why not take them over the top and pile on some amazing toppings?
Here are the toppings I used:
Maple syrup or even some blueberry syrup would be delicious!
Powdered Sugar
Pat of Butter
Extra Blueberries! You can never have too many blueberries on your waffles, as far as I'm concerned.
Additional Fresh Fruit
You're welcome to add any toppings you like to your blueberry waffles. Fresh Vanilla Bean Whipped Cream would taste heavenly here, as would my homemade Cool Whip [aka stabilized whipped cream], and some fresh lemon zest
If you want to serve these for dessert, you could even scoop some vanilla ice cream on top! Drizzle on some of this  Strawberry Sauce and you've got the ultimate waffle dessert for berry lovers. 
But first, let's make some waffles!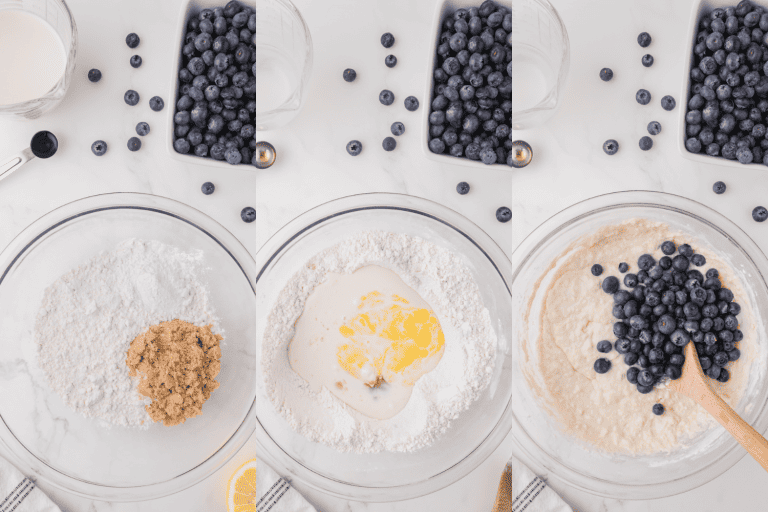 How to Make the Best Blueberry Waffles
Start by preheating your waffle iron. It needs to be nice and hot by the time you add the batter.
While it's heating up, mix together your batter. Combine the dry ingredients (sans blueberries) in a large bowl. Make a well in the center of the dry ingredients, then pour in the wet ingredients. Stir the mixture together until well combined, then gently fold in the blueberries.
Spray your waffle maker with cooking spray , then grab about ⅔ cup of your thick waffle batter and add it to your preheated waffle maker to cook. Once done (usually 4-5 minutes), take out your waffle using silicone tongs if necessary. Repeat these two steps until all batter is gone. Allow your waffles to cool slightly, then add toppings and dig in!
Complete list of ingredients and detailed instructions are in the recipe card below.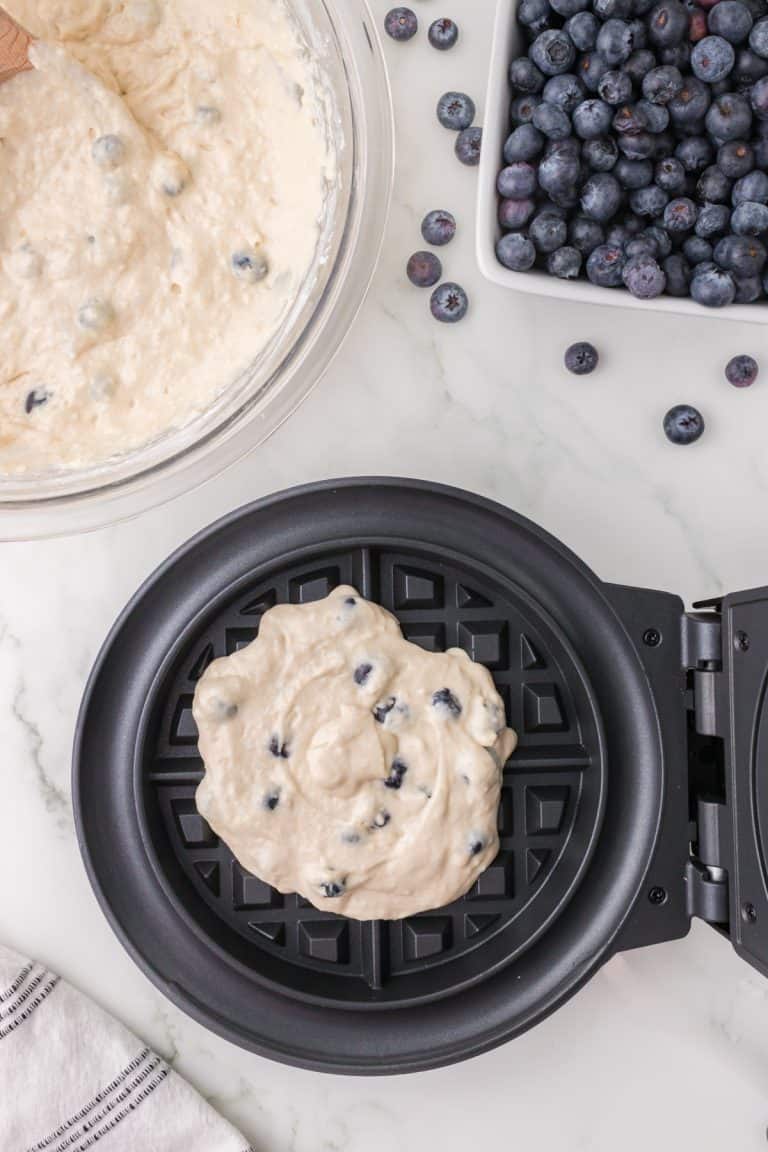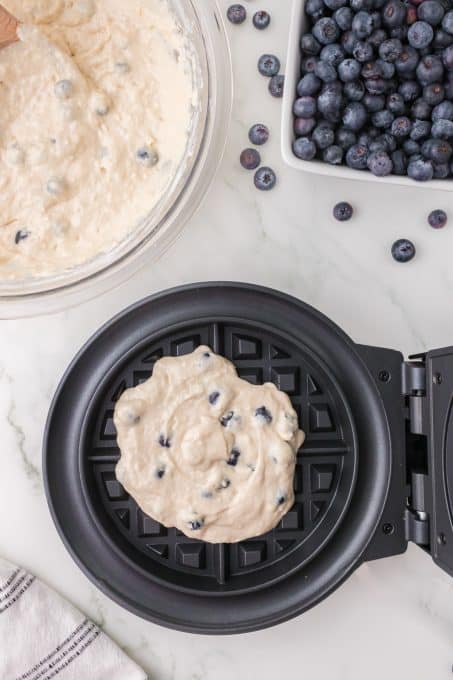 What's the best waffle iron?
These days you can find waffle irons in just about every size and shape imaginable. I kept it simple and used a classic 6-inch round waffle maker for these blueberry waffles.
The recipe will also work in a square waffle iron or a Belgian waffle iron. The larger the iron, the more batter you will need and the longer the waffles will take to cook.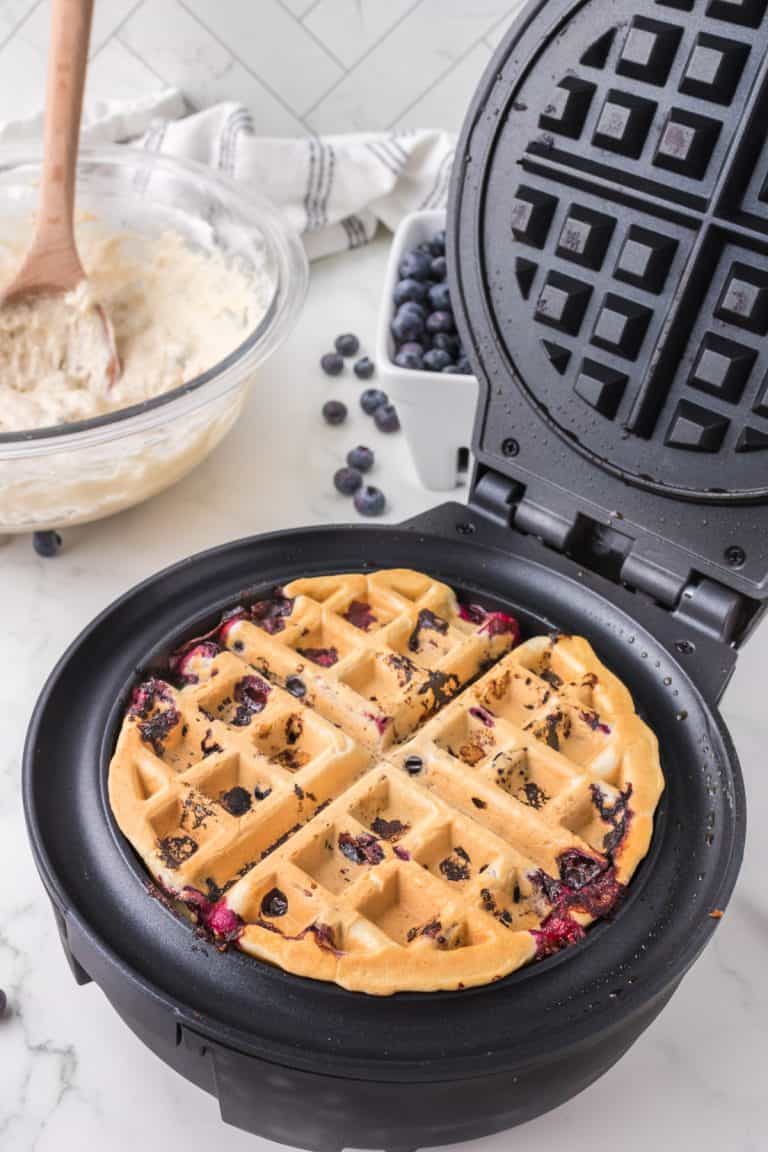 Fresh vs. frozen blueberries in waffles
Both frozen and fresh blueberries have been tested with this recipe and there is no difference in taste. Go ahead and use whatever you have on hand! In the summer time when ripe plump blueberries are in abundance, I love adding them to my homemade waffles. When the fresh version is pricey or hard to come by off season, I use a pack of frozen berries instead. Both ways are delicious. Just one more reason this recipe is amazing!
How to tell when waffles are done?
Your waffles are done when they fluff up and slide easily out of the waffle iron. I like my blueberry waffles lightly golden on the outsides and fluffy on the insides. Each 6 inch round waffle takes about 4 minutes to cook to fluffy, golden brown perfection. If you like your waffles a little browner and crispier, leave them in for closer to 5 minutes.
The exact cooking time will vary depending on your waffle maker size and temperature.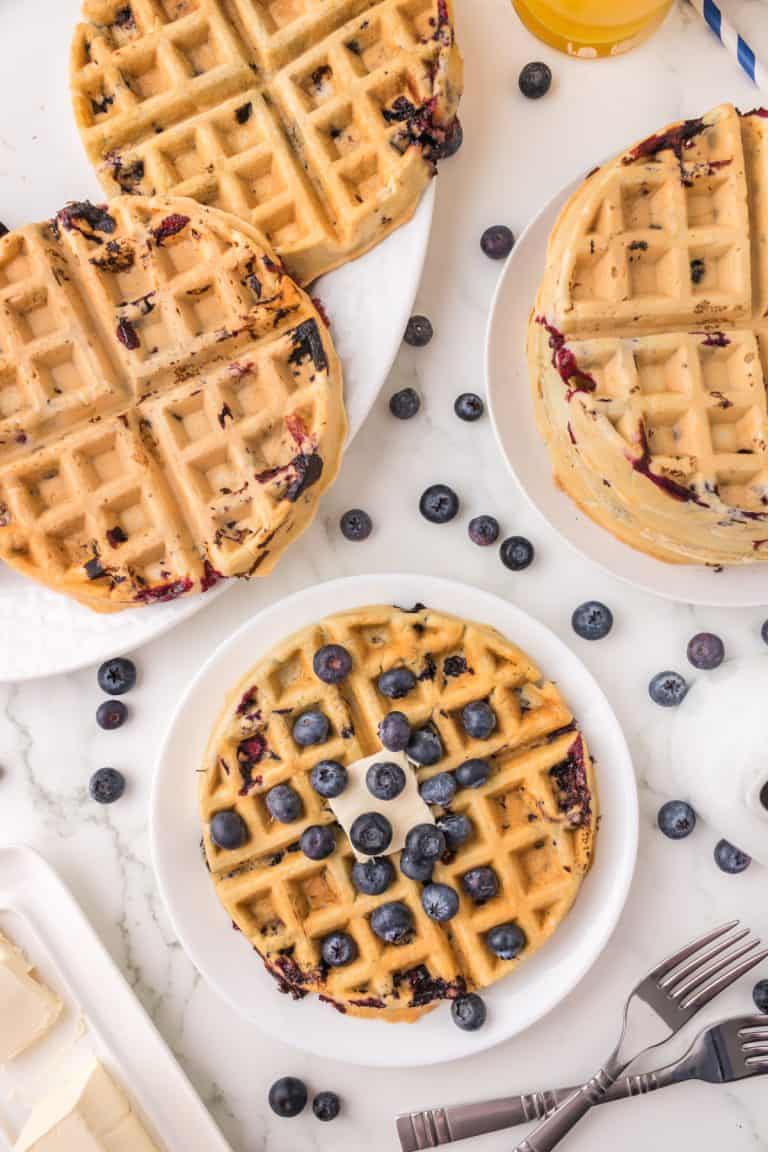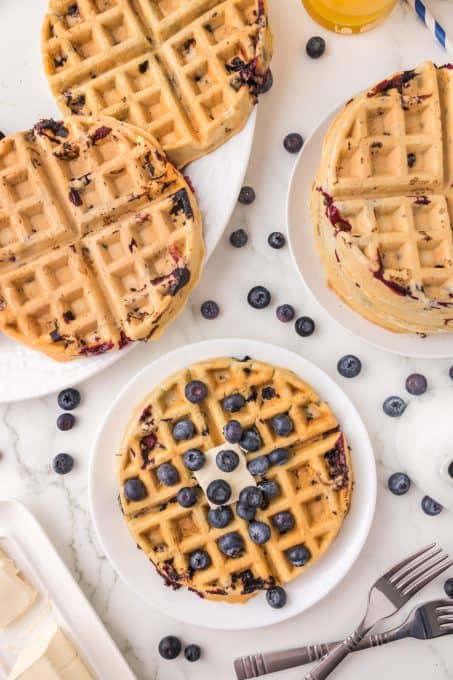 How to Keep Waffles from Sticking
We've all experienced the disappointment of waffles that stick to the grid of the iron, resulting in a goopy mess. While even the most seasoned waffle-makers make mistakes from time to time, here are some tried and true tips for waffle success:
Use non-stick spray — and plenty of it! Spray your iron well right before adding the batter. You can also use cooking oil or melted butter, but that sometimes ends up making the waffles greasy on the outside. With cooking spray, it's easier to create a thin layer that evenly covers the whole iron grid.
Measure ingredients accurately. You need the right ratio of liquids to solids to fats, just like in baking. If you're sloppy with your measurements, your ratios could be off and the batter may be more likely to stick. You don't need to break out the kitchen scale (unless you want to!) but do use measuring cups and spoons instead of trying to "eye ball" it here.
Full incorporate the blueberries into the batter. When the blueberries are resting on top of the batter, they're more likely to release their sticky juices into the iron. That's why I fully fold my berries into the batter instead of just dropping them on top.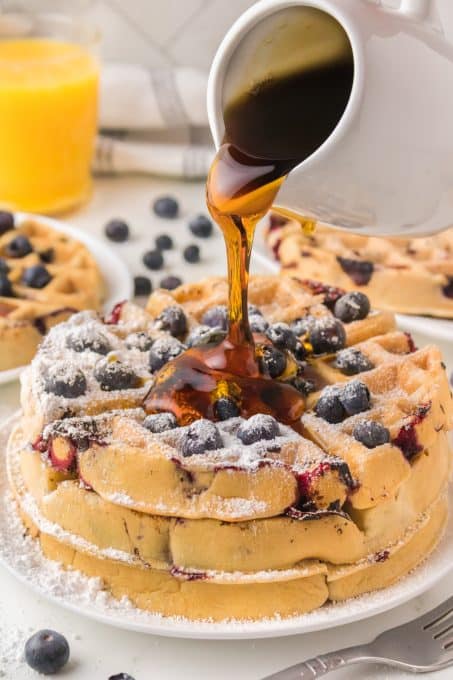 Best Homemade Waffle Recipes
If you like waffles with fruity flavors, you'll love my Dairy-Free Lemon Poppy Seed Waffles just as much. They're made with no butter but just as fluffy, moist and flavorful as a good waffle should be!
If you have a little extra time, try using today's waffles as they base for these Baked Blueberry Waffles! It's a breakfast casserole made with layers of homemade buttermilk waffles, blueberries and a rich maple-brown sugar sauce. My family loves this Baked Strawberry Waffles version too.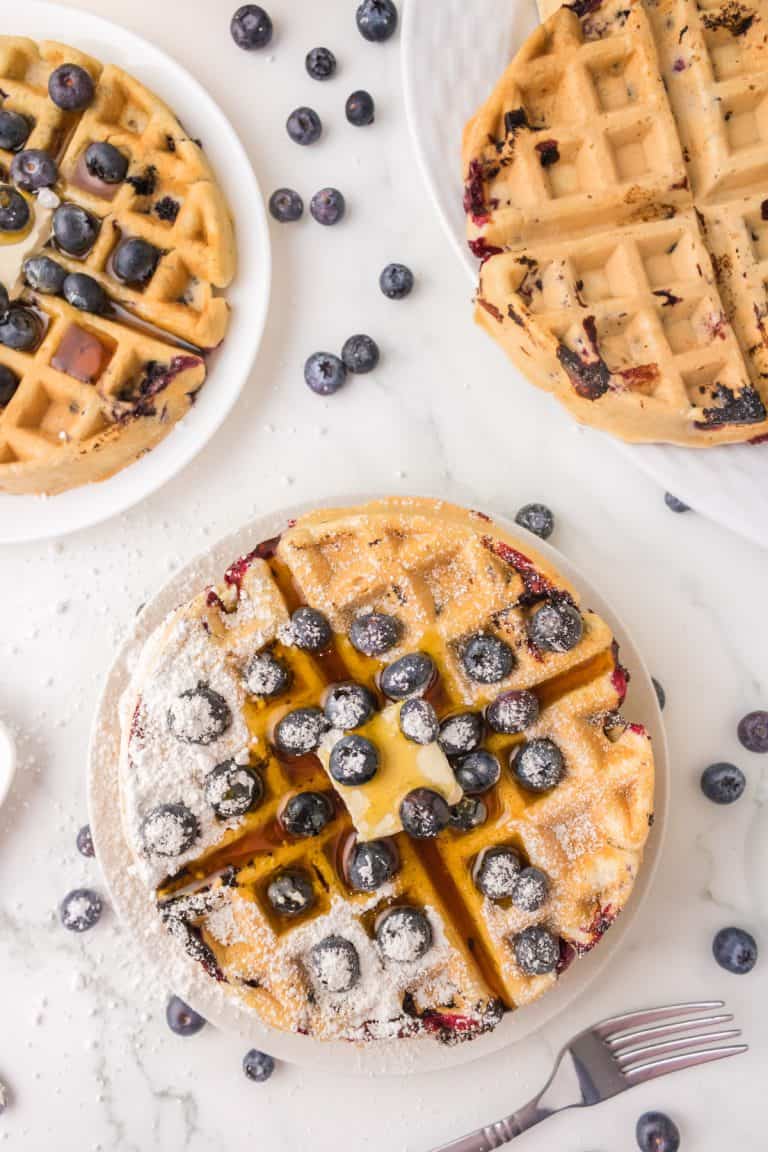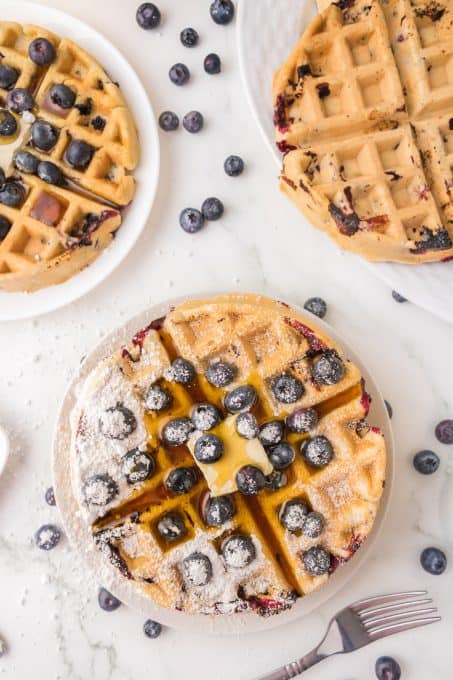 Ways to Use Blueberries
Got an abundance of blueberries to use up? That's MY kind of problem! I tend to buy an almost unreasonable amount of fresh blueberries when they're on sale. Then I freeze them for all my cooking and baking throughout the year.
This No-Bake Blueberry Pie makes a great dessert for summer because you don't need to turn on the oven! My Blueberry Almond Dream Bars are another no bake dessert option full of refreshing berry sweetness.
If you love sweet and tangy baked goods, my Blueberry Lemon Bread Recipe is for you. Bright, zesty lemon offers an ideal complement to the juicy blueberries in every bite. Need something a bit more decadent? Try my Blueberry Lemon Cheesecake Bars!
When in doubt, you can always make a stack of Buttermilk Pancakes and top them with as many fresh blueberries as you can fit on your plate! These Lemon Blueberry Cottage Cheese Pancakes are another great and easy breakfast idea with fresh blueberries.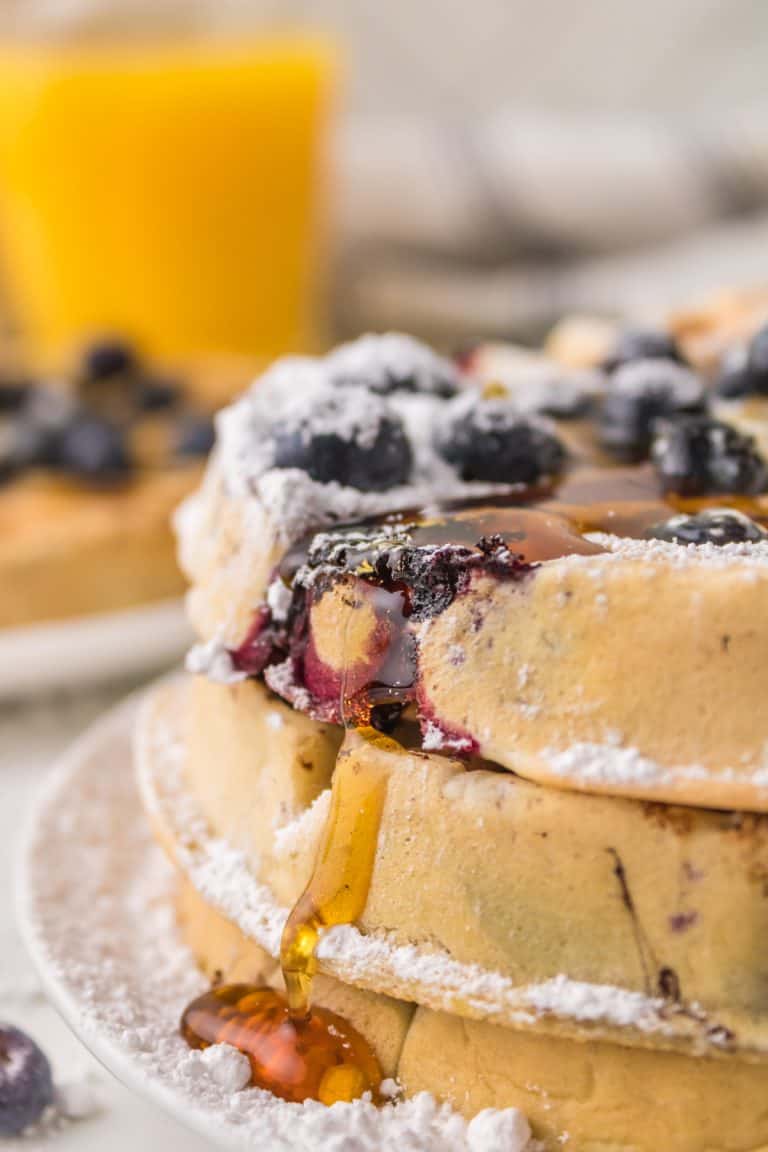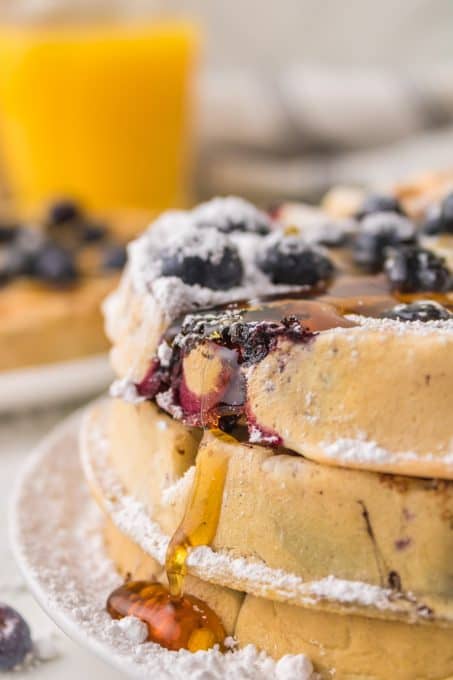 With all of these easy, crowd pleasing blueberry recipes on the site, you'll never run out of ideas!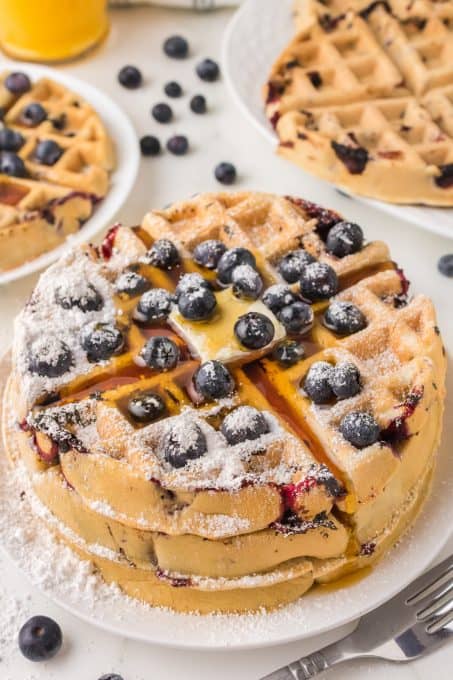 ~ FOLLOW ME ~
Keep an eye out for more of my easy recipes each week!
Blueberry Waffles bring together two of my favorite categories of food: breakfast and blueberries. Fluffy, moist and easy to make, this is a breakfast that the whole family will get out of bed for!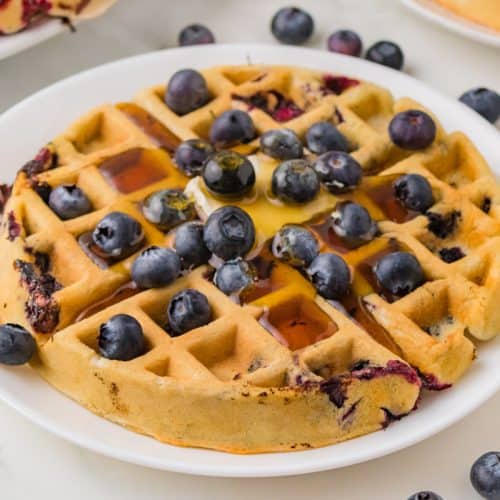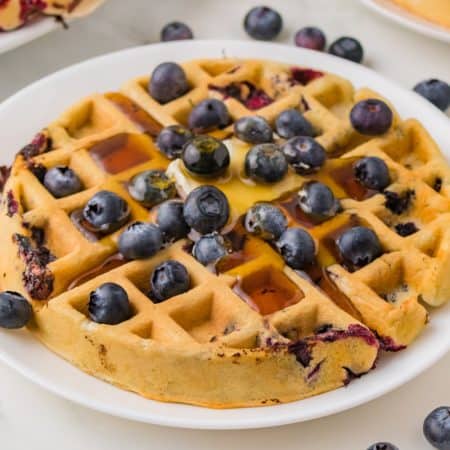 These blueberry waffles are bursting with fresh fruity flavors! They're easy to make, fluffy, and thick; perfect for brunch or any day of the week!
Equipment
Waffle Iron

Bowl & Spoon

Cooking Spray (optional, but helps prevent sticking)
Ingredients
1 ¾ cups Flour
¼ cup Brown Sugar
1 ½ tablespoons Baking Powder
1 cup Milk
2 tablespoons Butter melted
1 tablespoon Lemon Juice
1 teaspoon Vanilla Extract
1 cup Blueberries
Optional Toppings:
Butter
Blueberries
Powdered Sugar
Maple Syrup
Instructions
Preheat your waffle maker.

Mix together all dry ingredients, except for blueberries.

Make a well in the middle of the dry ingredients and add all of the wet ingredients, then stir well.

Spray waffles maker with cooking spray, if using. Measure about ⅔ cup of the thick waffle batter (if using a waffle iron that makes 6 inch round waffles), and add to your preheated waffle maker to cook.

Once the waffle is fully cooked, about 4-5 minutes, carefully remove your waffle from the waffle iron, using silicone tongs if needed.

Repeat steps 4 and 5 until all the batter has been used. Allow to cool slightly and serve with desired toppings.
Nutrition
Serving: 1serving | Calories: 367kcal | Carbohydrates: 66g | Protein: 8g | Fat: 8g | Saturated Fat: 5g | Polyunsaturated Fat: 1g | Monounsaturated Fat: 2g | Trans Fat: 0.2g | Cholesterol: 22mg | Sodium: 78mg | Potassium: 658mg | Fiber: 2g | Sugar: 20g | Vitamin A: 294IU | Vitamin C: 5mg | Calcium: 294mg | Iron: 3mg
Did you make this recipe?
Share it with me on Instagram and make sure to follow me on Pinterest for more recipes.
Reader Interactions