These Blueberry Hand Pies have a flaky pie crust, sweet juicy filling and delicious berry flavor. Made in the air fryer, these blueberry hand pies are the perfect dessert because they're ready in under 15 minutes from start to finish!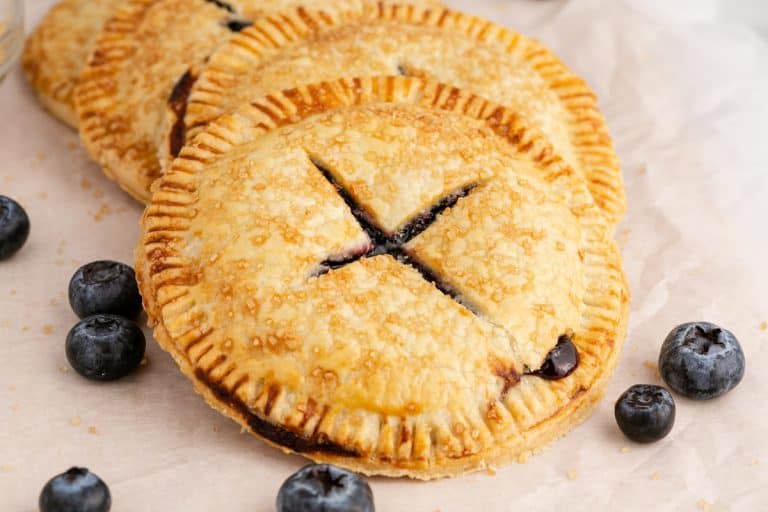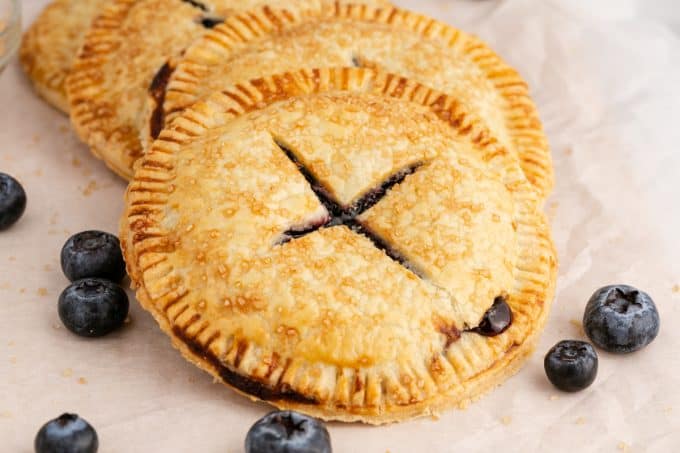 I might be in love with my air fryer.
It's the ultimate hack for quick and easy snacks like Cornmeal Breaded Zucchini Chips. But did you know it's amazing for baked goods too? Today's easy handheld treat blends the nostalgic comfort of old-fashioned blueberry pie with the convenience of air frying.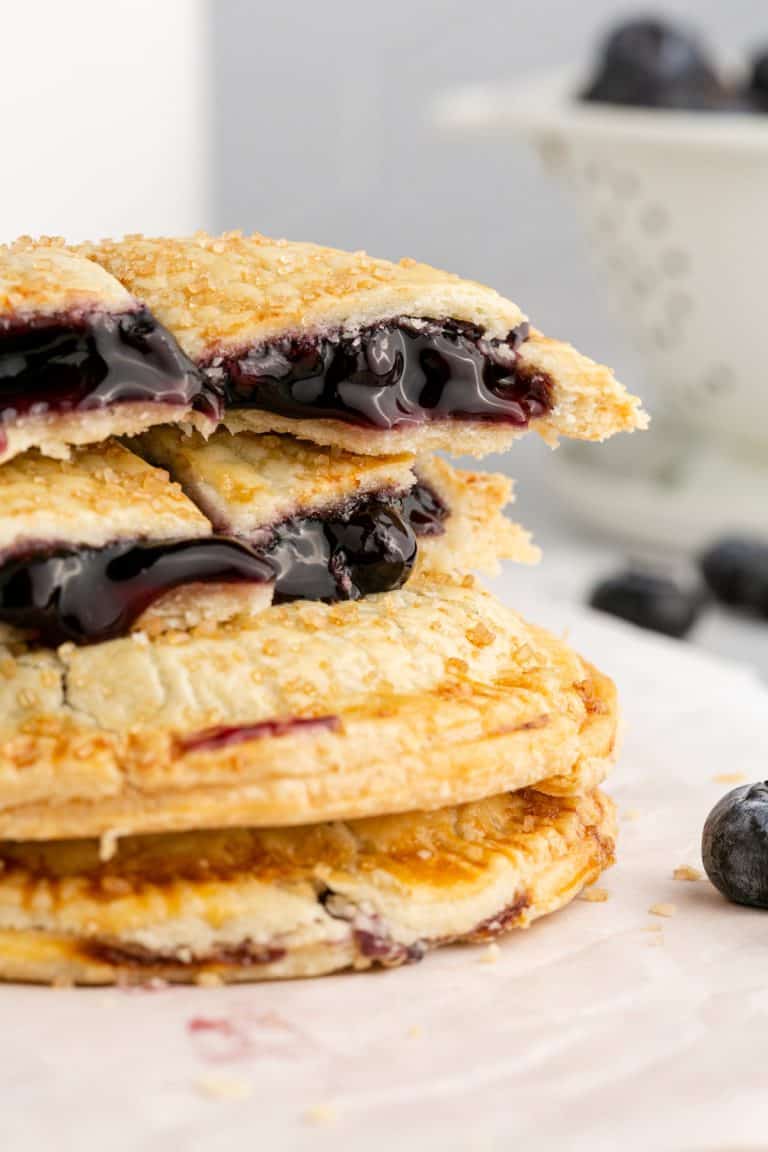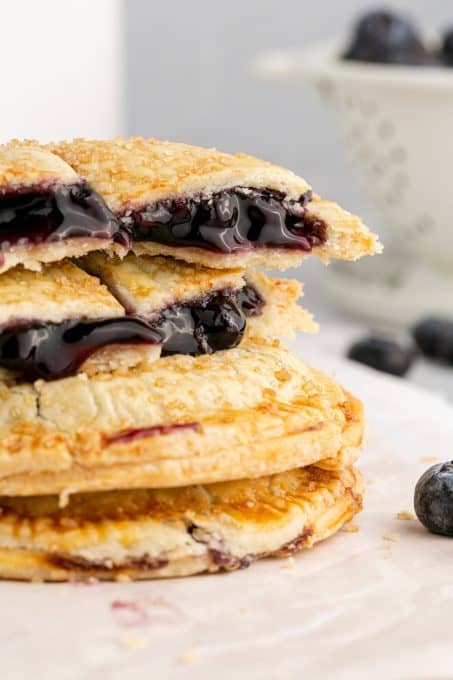 This is the quickest and easiest method I've tried for making perfect little pies. Here's why it works:
3 simple ingredients – or 4 if you want to be fancy!
The air fryer works FAST – The whole process takes less than 20 minutes, including prep time. You can't beat that! 
Hand held portable dessert – No utensils necessary.
Wondering how they taste? Let's just say that you may want to invite a friend or two over when you're making air fryer blueberry hand pies pies. Otherwise, you'll find yourself eating the whole batch in one sitting!
The combo of buttery pie crust and blueberries is simply to die for. The air fryer beautifully mimics the buttery, flaky, crispy crust you get when you deep fry hand pies. Only without the oil, splatter and mess! A win-win.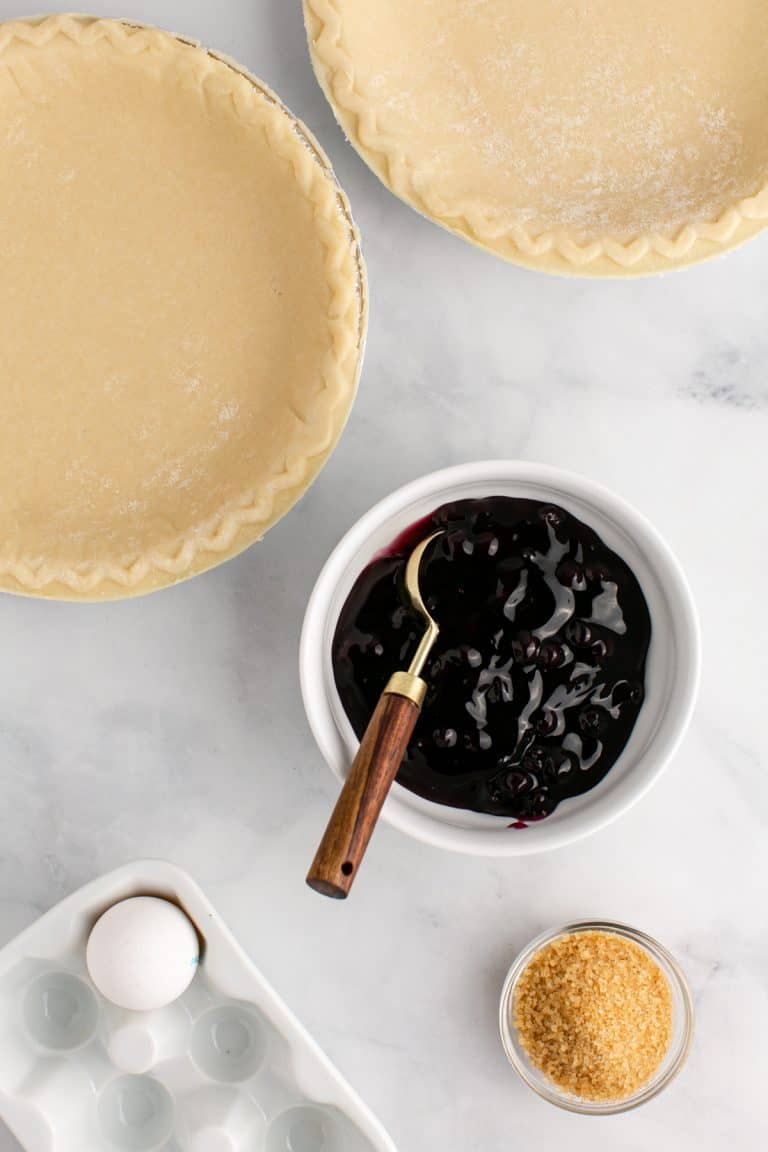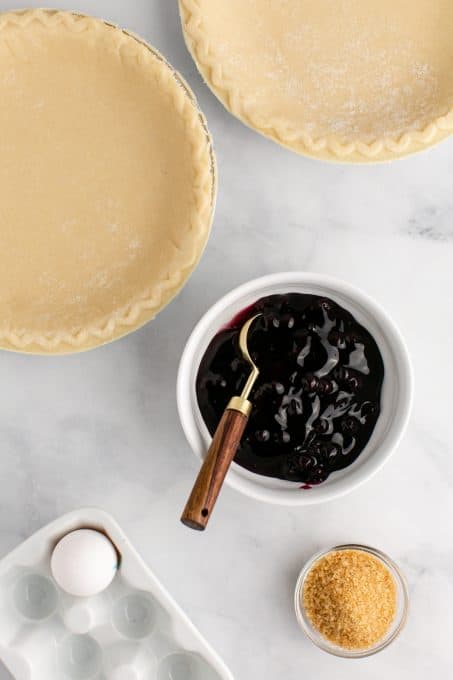 Just a handful of ingredients are needed to make this easy blueberry hand pie recipe!
I use these ingredients to make my blueberry hand pies.
Frozen pie dough – I like to use the Pillsbury pie crust. Make sure to thaw them on the counter or in the refrigerator first.
You can also make your own homemade pie crust if you'd like.
Blueberry pie filling – Keep it easy and use your favorite canned version. Or make the homemade blueberry filling from my Blueberry Pie recipe.
Egg Wash- It's brushed over the pies before baking to help the crusts brown.
Coarse sugar – This adds a sweet edge to the crust and a crispier texture. The pies taste great without the sugar coating too so don't worry if you don't have any on hand.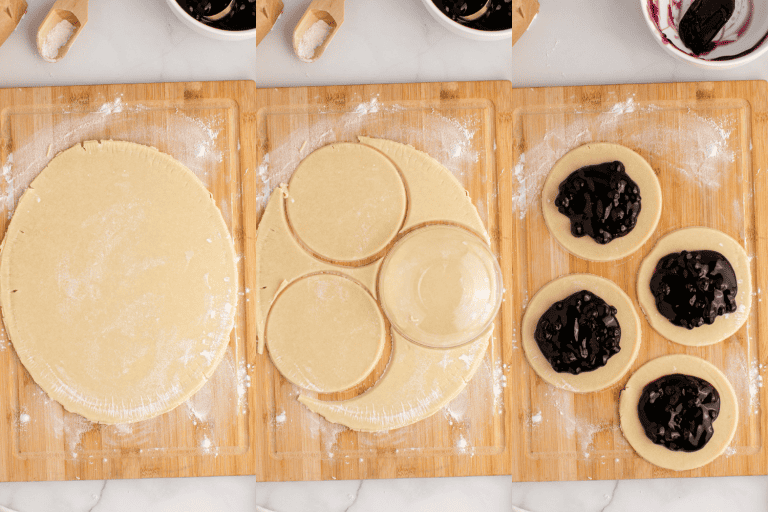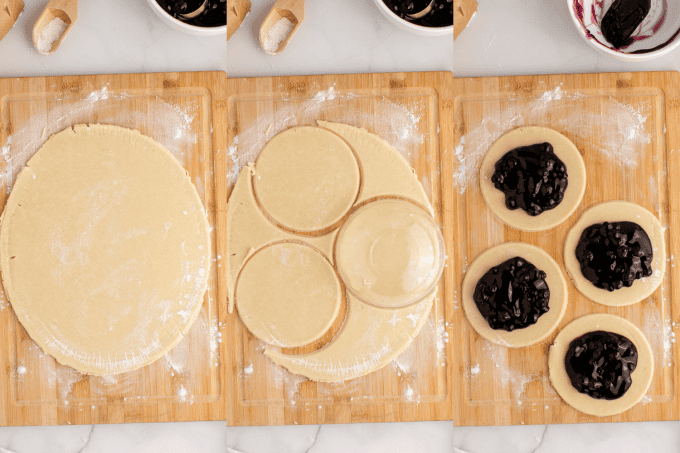 Easy steps to make blueberry hand pies in the air fryer?
On a lightly floured surface, start by cutting each of your store-bought pie crust into equal circles. I used a 5 inch round biscuit or cookie cutter to get get 8 circles total. You can also use a bowl about the same size.
Meanwhile, preheat your air fryer. 
While the air fryer is heating up, spoon a little bit of blueberry pie filling into half of the crust circles. Top with a second crust and seal the edges with a fork. Make sure to cut a few small slits in the top of each hand pie, too.
Finally, brush each hand pie with beaten egg and sprinkle with coarse sugar. Once your hand pies are assembled, place them in a single layer the air fryer basket. Cook time will be 8 – 9 minutes or until the hand pies turn golden brown.
They're delicious by served by themselves, with a dusting of powdered sugar or with some ice cream.
Complete list of ingredients and full instructions are in the recipe card below.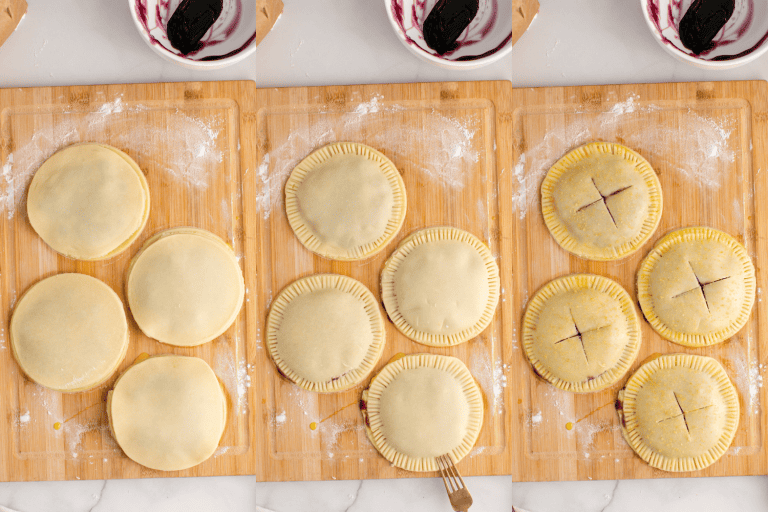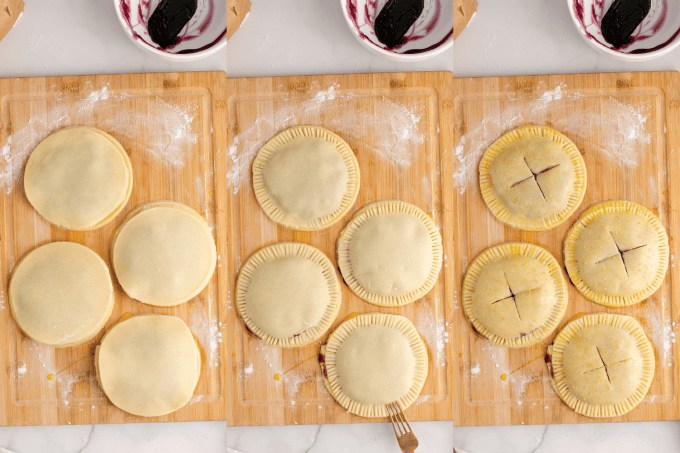 Can I make these in the oven instead?
Yes, you can use the oven instead of the air fryer for this blueberry hand pies recipe. I suggest preheating the oven to 400 degrees F instead of the 350 F used in this air fryer recipe. Place the hand pies on a baking sheet lined with foil or parchment paper. Bake for 12 – 18 minutes or until the crusts are golden brown. Place them on a cooling rack for a few minutes before serving.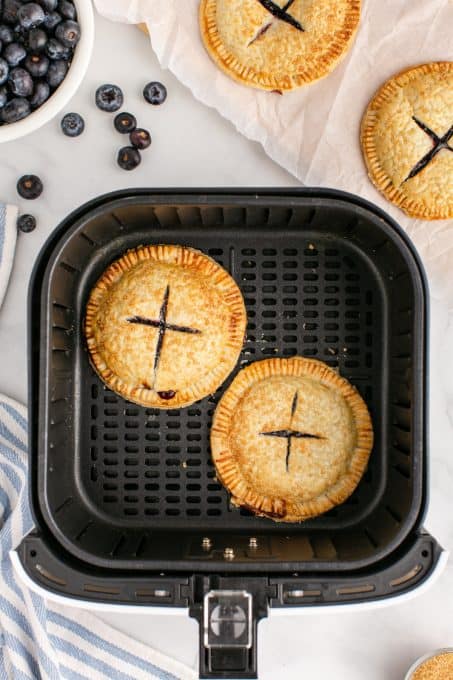 Can I make easy blueberry hand pies ahead of time?
Air fried hand pies taste best enjoyed warm or room temperature the same day.
If you need to make them ahead of time, I would assemble the hand pies up to 24 hours ahead of time and store them uncooked into the refrigerator until ready to air fry or bake.
Leftover blueberry hand pies can be stored chilled in the refrigerator. The crusts will get soft but you'll still get to enjoy that sweet blueberry pie flavor!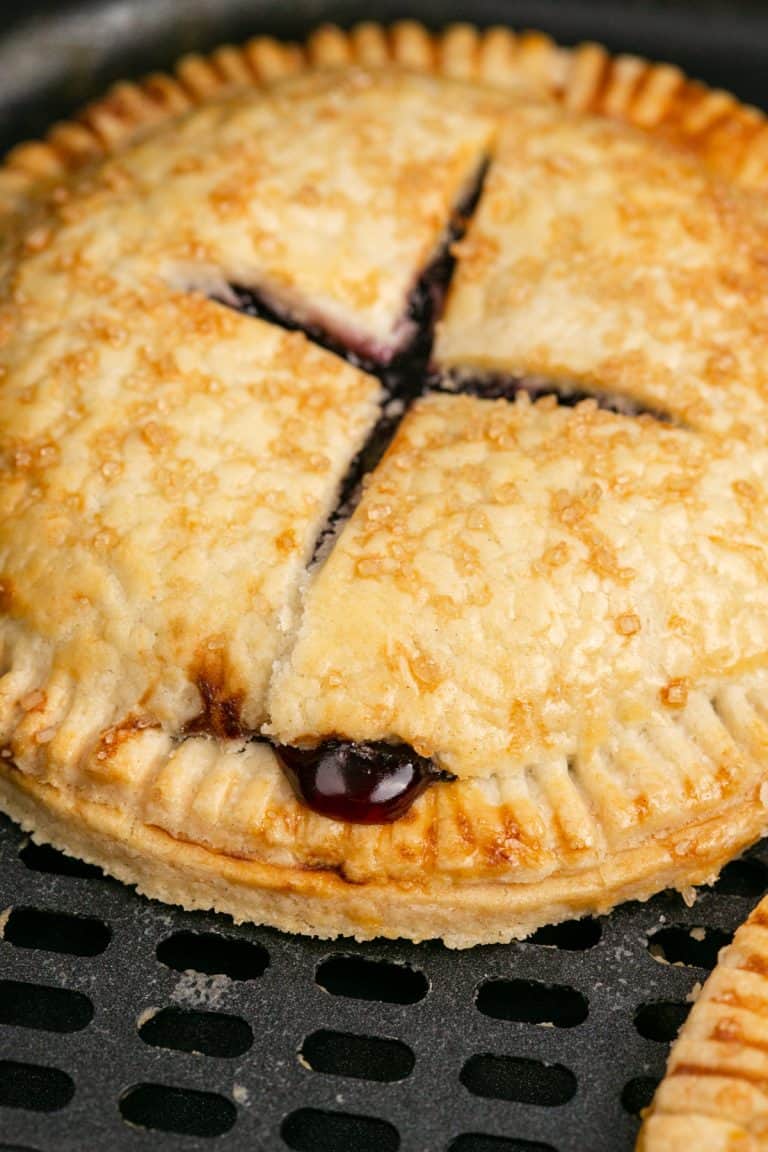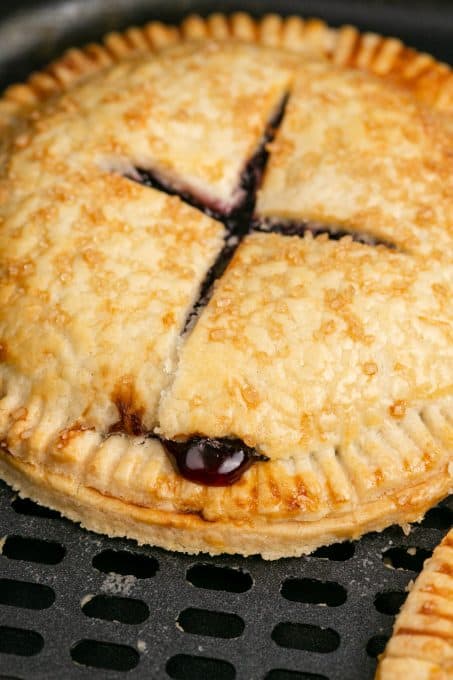 Can I freeze them?
Yes! Blueberry Hand Pies keep well in the freezer for several months. Thaw in the refrigerator and enjoy at room temperature.
Recipe Tips and Tricks
Substitute the blueberry filling for your favorite fillings like apple, peach, cherry or any other fruit.
Be careful not to overfill the hand pies. Otherwise the seams have trouble staying together and the pies can become soupy.
Remember to vent the pies! Making slits in the top allows evaporating liquid to escape. If you forget this key step, your crust will turn soggy and your pies could even burst as they air fry.
Having trouble getting leftover crust to re-roll? Add a splash of milk to the dough to help it hold together.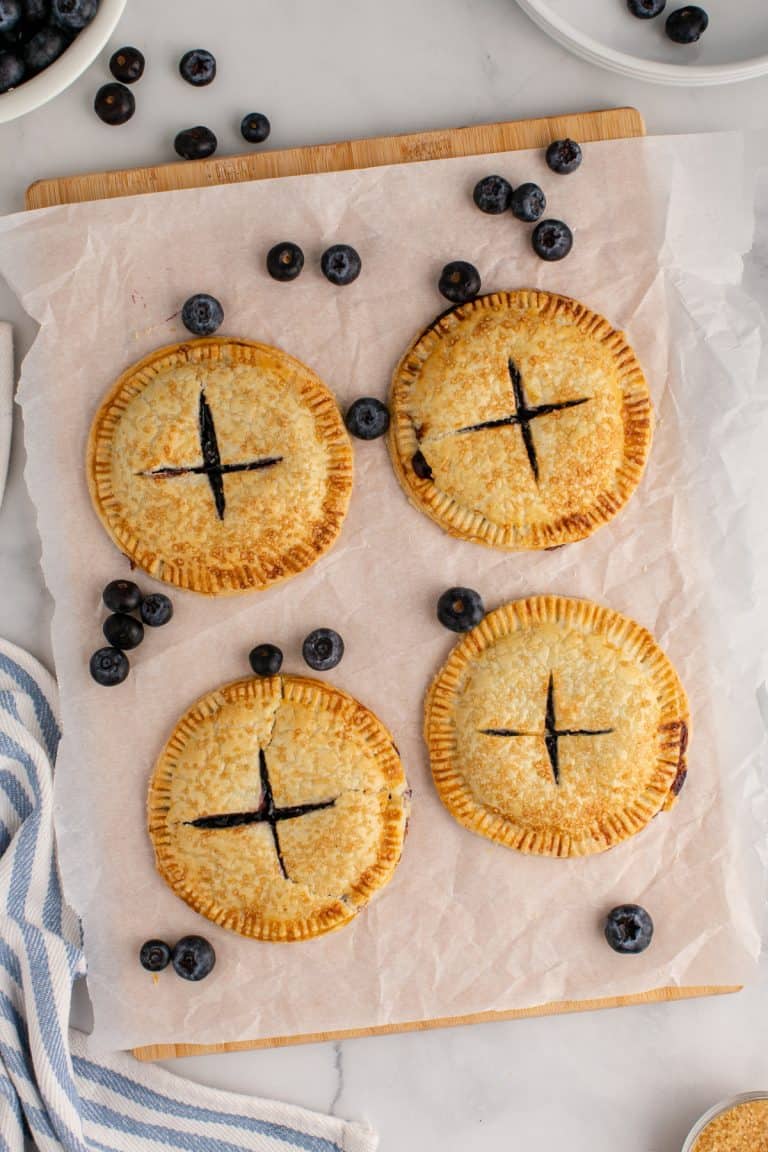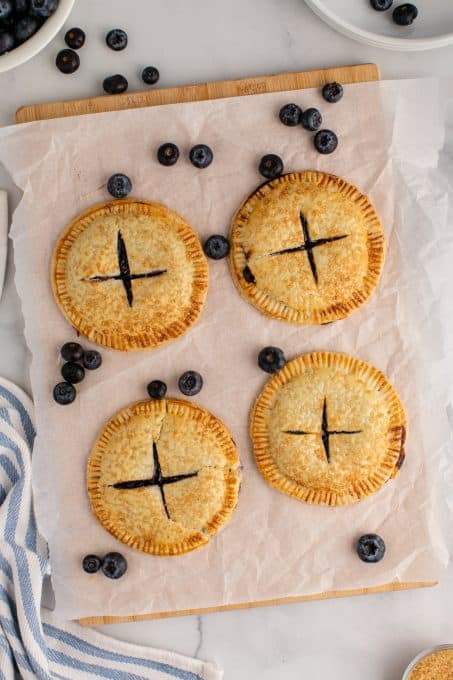 More Mini Pie Recipes
Once you know how easy it is to make hand pies, you'll want to try all these scrumptious variations!
These Strawberry Cream Cheese Hand Pies bring together sweet strawberries and tangy cream cheese for a delicious pie filling. I love the classic flavor and flaky crust of these Apple Hand Pies and Cherry Hand Pies, too. Make them for the holidays or anytime "just because"!
My Blueberry Cherry Mini Crumb Pies bring together two favorite pie flavors in one easy, impressive recipe.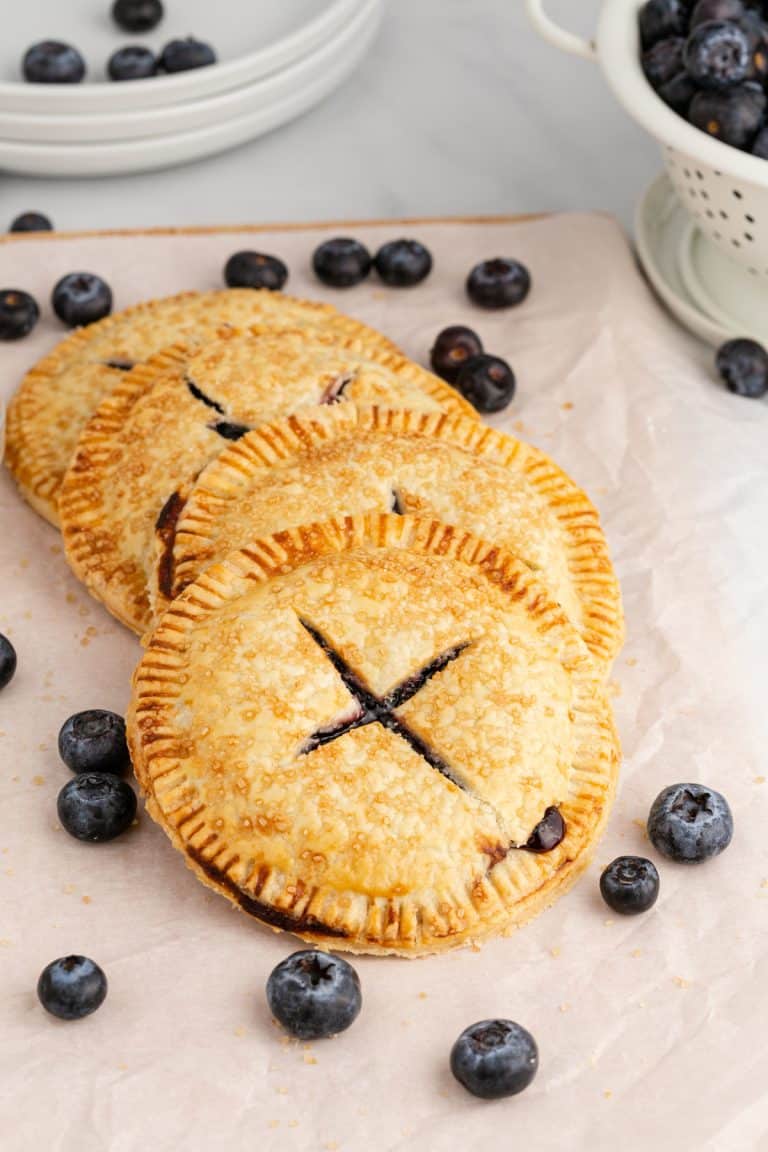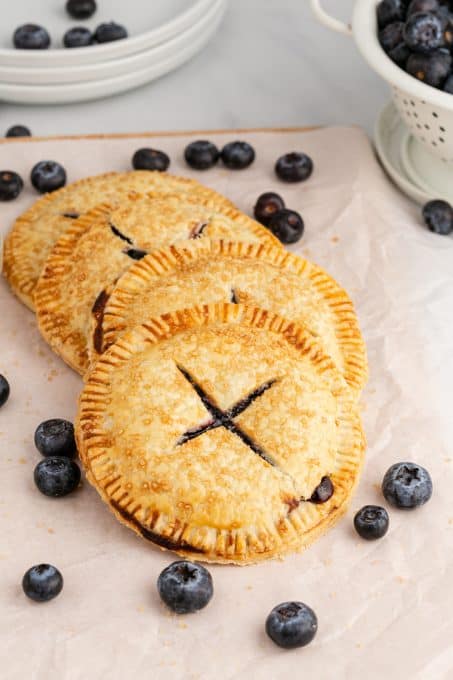 Blueberry Recipes
If you're looking for an easy blueberry pie you can dig into with a fork, check out my No-Bake Blueberry Pie. Perfect for summer when you're craving blueberry desserts but don't want to turn on the oven — just like my Blueberry Almond Dream Bars!
Wondering what to do with leftover blueberries? Put them to good use and make Baked Blueberry Cream Cheese French Toast for breakfast this weekend! Blueberry Cornmeal Muffins and Lemon Blueberry Cottage Cheese Pancakes are two more delightful blueberry breakfasts we love.
For even more blueberry baking inspiration, browse through a few of the other recipes my readers love.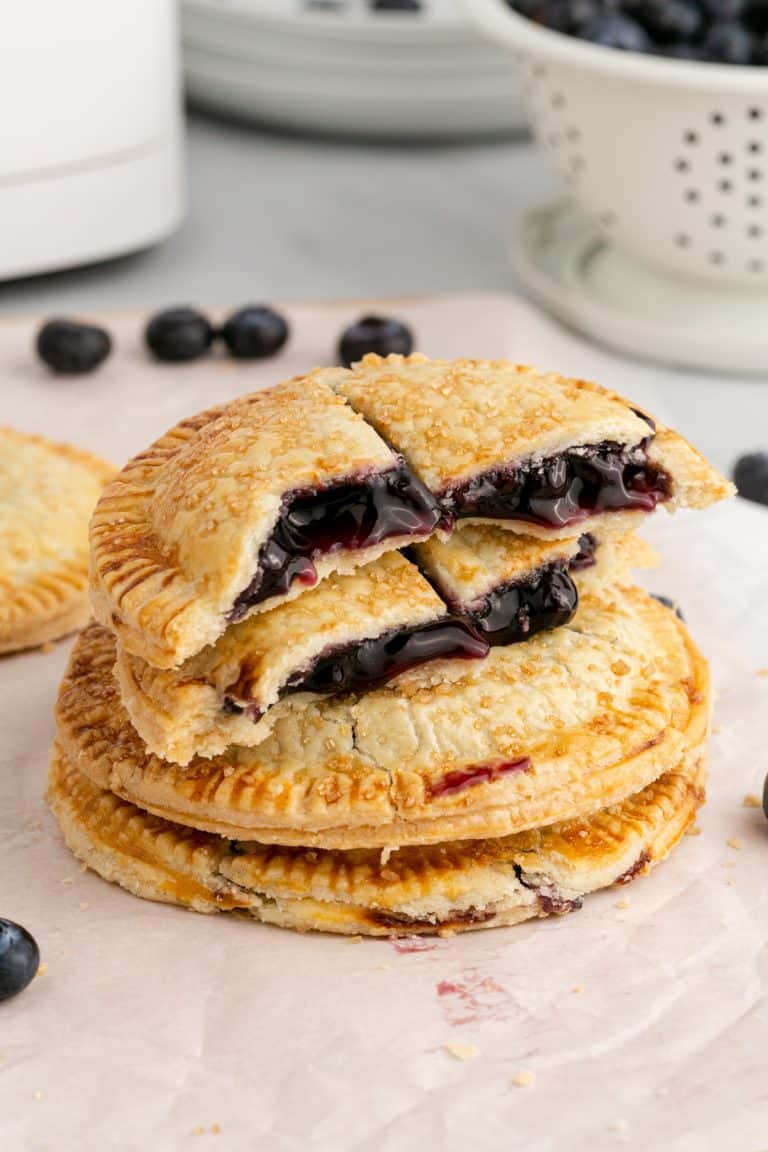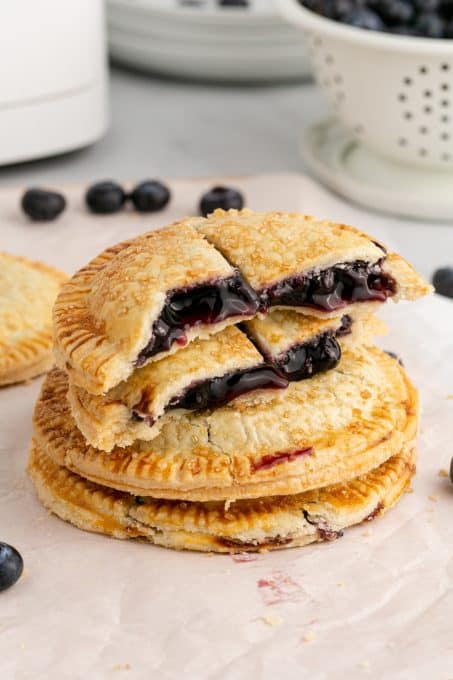 Can you tell I REALLY love blueberries? Maybe even more than I love my air fryer. It's no wonder that these Air Fryer Blueberry Hand Pies with their buttery crust and gooey sweet filling were such a hit in my kitchen!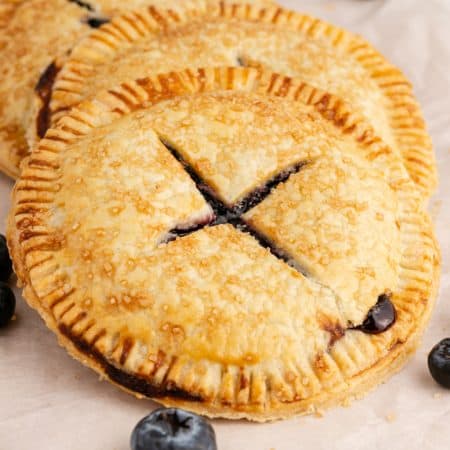 Air Fryer Blueberry Hand Pies
A classic blueberry pie made in a fraction of the time in the air fryer! These single serving hand pies are so quick and easy, you'll find yourself making them over and over.
Ingredients
2 9-inch frozen pie crusts thawed
1 cup blueberry pie filling canned or homemade
1 large egg beaten
1 tbsp raw sugar or Turbinado sugar optional for sprinkling
Instructions
Preheat air fryer to 350 F.

Roll out one pie crust on a lightly floured surface. Cut 3 circles 4 ¾" wide from the pie crust. Repeat with the second crust. Gather the remaining dough from both crusts and reroll. Cut out an additional 2 circles to get 8 total circles of pie crust.

Place ¼ cup of blueberry pie filling in the center of 4 of the circles. Leave about 1/2" of the edges clear. Brush the edges with the beaten egg. Top each pie with the remaining circles of crust.

Use a fork to gently crimp the edges of the pie crusts to seal them together. Cut a few slits in the top of each pie to vent. Brush the tops of the pies with the remaining egg wash. Lightly sprinkle with coarse sugar, if using.

Place in preheated air fryer making sure the pies do not touch. Cook for 8-9 minutes until the tops are golden brown. Note: Depending on the size of your air fryer basket, you may need to work in batches so the edges of the hand pies don't overlap. Remove hand pies from the air fryer and let cool slightly before eating. Blueberry hand pies are best enjoyed warm!
Nutrition
Serving: 1serving | Calories: 537kcal | Carbohydrates: 73g | Protein: 7g | Fat: 23g | Saturated Fat: 7g | Polyunsaturated Fat: 3g | Monounsaturated Fat: 11g | Trans Fat: 0.01g | Cholesterol: 47mg | Sodium: 373mg | Potassium: 176mg | Fiber: 4g | Sugar: 28g | Vitamin A: 83IU | Vitamin C: 0.5mg | Calcium: 41mg | Iron: 3mg
Did you make this recipe?
Share it with me on Instagram and make sure to follow me on Pinterest for more recipes.
Reader Interactions