Peppermint Mocha Hot Chocolate Bombs are the perfect DIY holiday gift with simple ingredients. Follow this easy tutorial to make delicious, festive hot chocolate bombs with a caffeinated twist!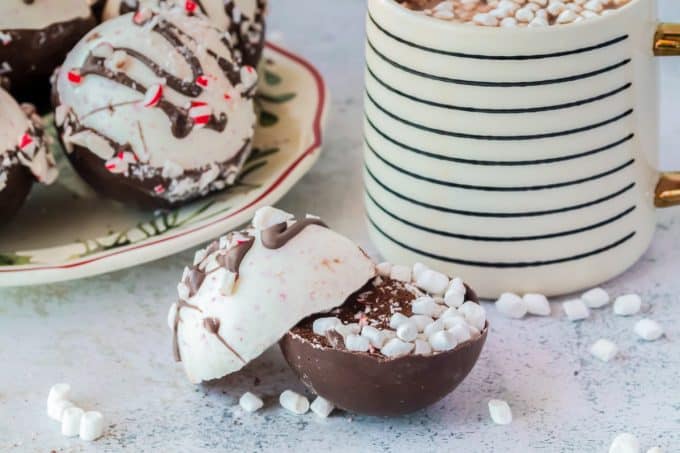 This 3-Ingredient Peppermint Bark Recipe is another delicious and EASY candy idea. Everyone loves finding homemade gifts in their stocking!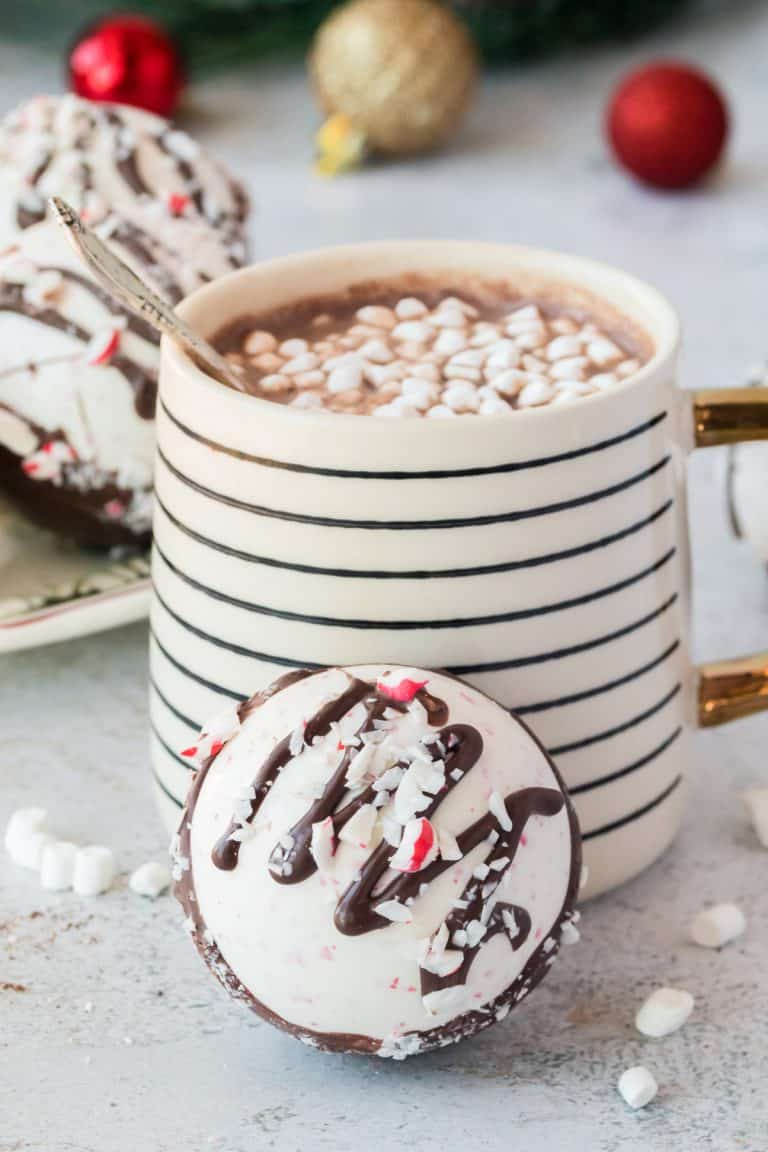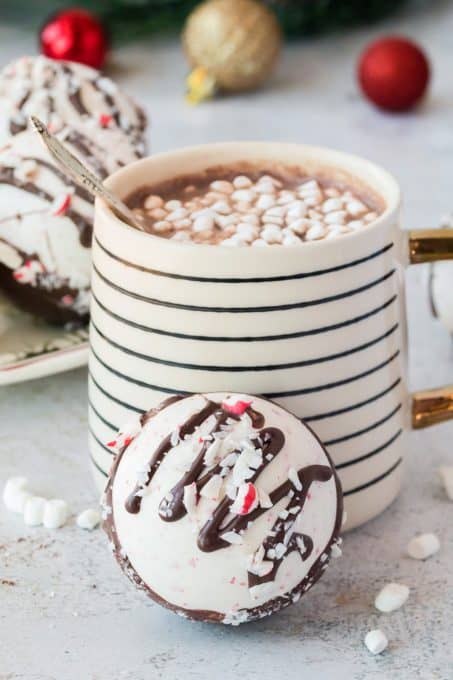 Most of the year, my hot beverage of choice is— you guessed it—coffee, and during the winter months, a Peppermint White Chocolate Mocha to be exact!
If you've been following me for a while you must know that I've never really loved a cup of hot cocoa.
BUT, I am a HUGE fan of peppermint. So, today I bring to you a fun twist on those standard hot chocolate bomb recipes.
Instant cocoa mix is fine, but homemade is just so much better! Have you tried this Cherry Hot Chocolate recipe yet? It tastes like chocolate covered cherries! I love using instant cocoa mix and cherries to make this No Bake Cherry Hot Chocolate Cheesecake too.
If you haven't made your own Hot Chocolate Bombs yet, you're in for a treat. Once you learn how to make them, you'll want to try ALL the flavor variations out there from classic milk chocolate to today's peppermint version.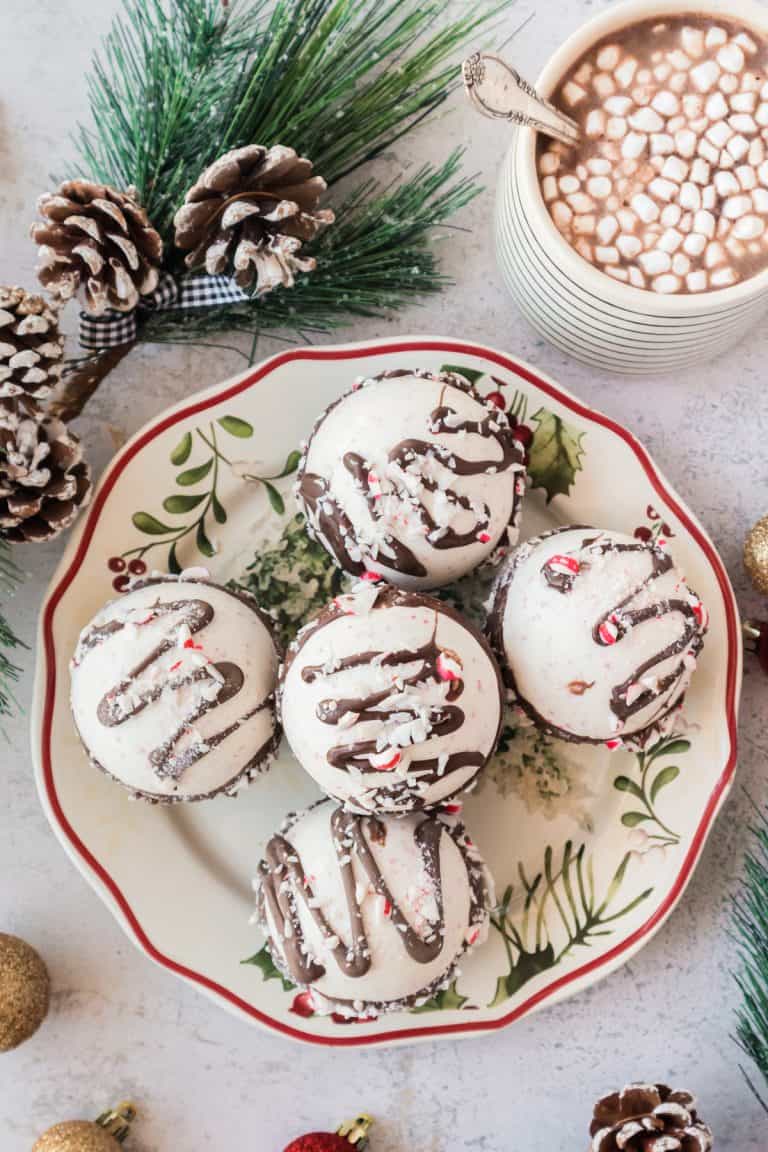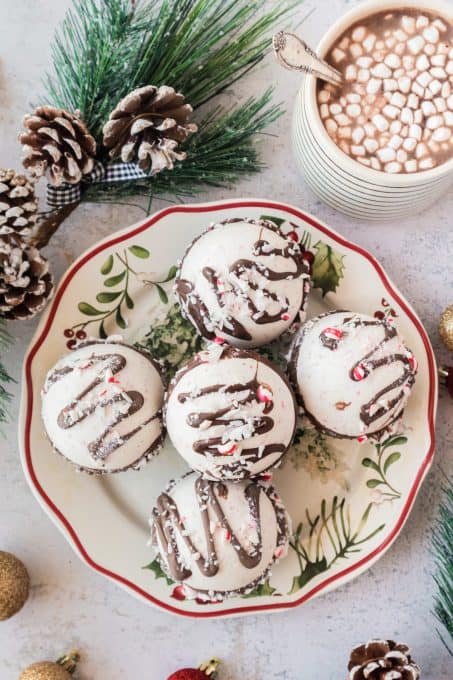 What are Hot Chocolate Bombs?
Hot Chocolate Bombs are hollow balls of chocolate with hot cocoa mix inside. You add one to your mug, pour hot milk on top, and stir. The chocolate shell and mix dissolve like magic to create a luscious, creamy cup of cocoa.
This DIY hot chocolate bombs recipe is designed with coffee lovers in mind! Like the Starbucks Peppermint Mocha, it blends rich chocolate with refreshing peppermint and just the right amount of coffee. It's exactly the drink I want to enjoy when I'm wrapping presents or relaxing with a favorite Christmas movie.
I love to wrap them up and place them in pretty coffee mugs to give away as gifts. You can make a big batch of cocoa bombs in about 30 minutes and have a fun, personalized present for everyone on your list!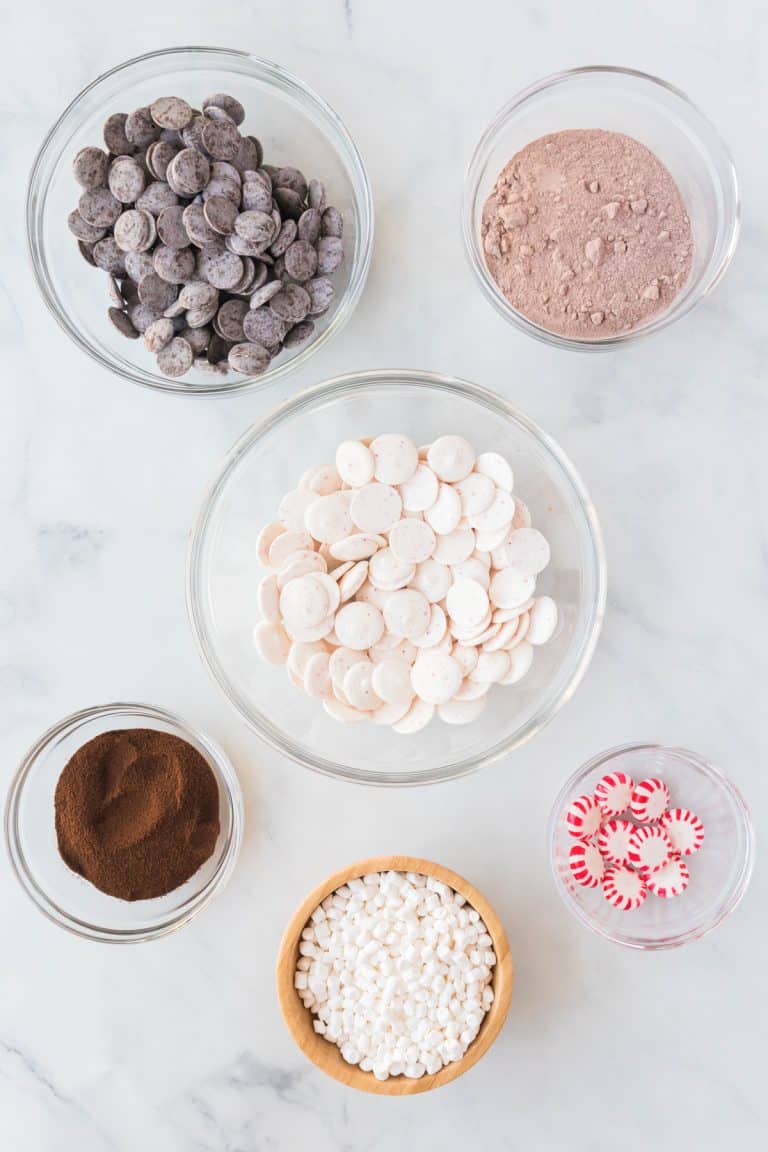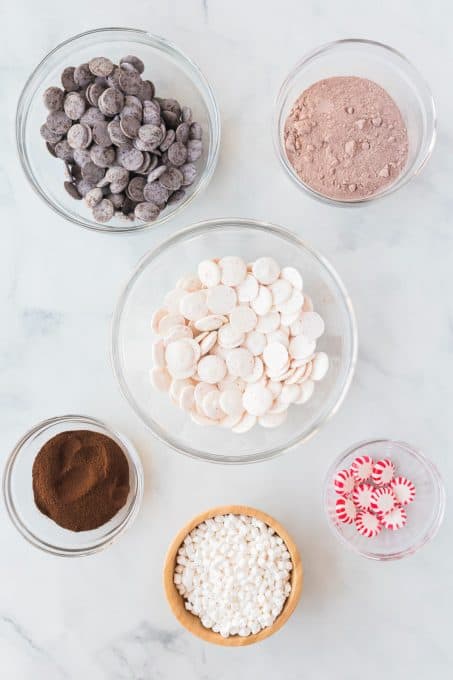 What do I need?
To make peppermint hot chocolate bombs, you'll need these ingredients:
Chocolate melts – Or chocolate almond bark.
Hot chocolate mix – Make sure to use the instant mix here, not cocoa powder.
You can even add a homemade hot chocolate mix if you'd like.
Instant coffee – For a stronger coffee flavor, use instant espresso instead.
Miniature marshmallows
Crushed peppermint candy – Crushed candy canes are perfect here!
And of course, some hot chocolate bomb molds!
The marshmallows are an essential part of the hot cocoa experience, don't you think? If you like marshmallows in your mug too, you'll love this Hot Chocolate Brownies recipe!
You'll also need molds for forming the cocoa bombs. I used two of these silicone molds to create 6 cocoa bombs.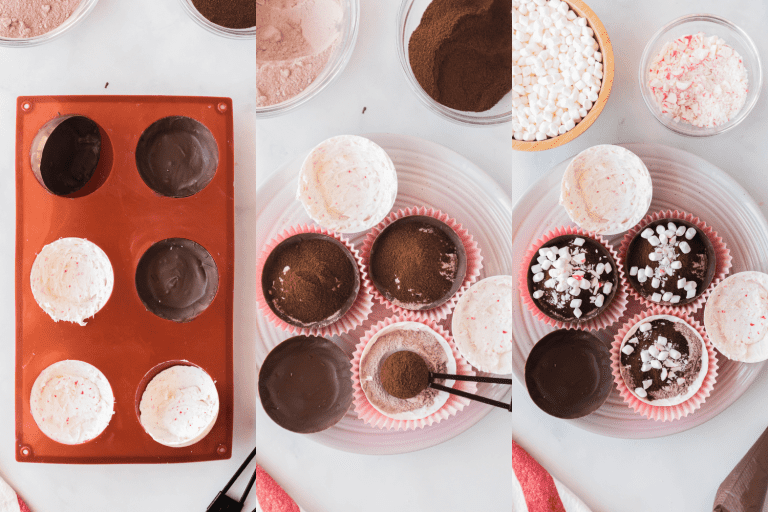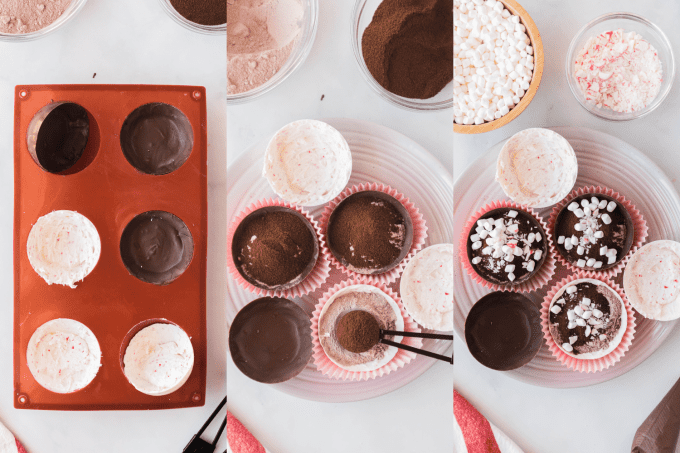 How do I make hot cocoa bombs recipe?
First, melt the peppermint candy melts. Spoon one tablespoon of the melted candy into the bottom of each of the 6 molds.
Use the back of a spoon to smooth the candy all the way up the sides of the silicone mold. Refrigerate for 5 minutes, then check to see if the peppermint layer is firm.
If it looks thin and translucent, add another layer of melted peppermint then refrigerate for another 5 minutes.
Now melt the chocolate and spoon it into the remaining 6 sides of the mold, just like you did with the peppermint.
Once the chocolate halves have hardened, it's time to put everything together!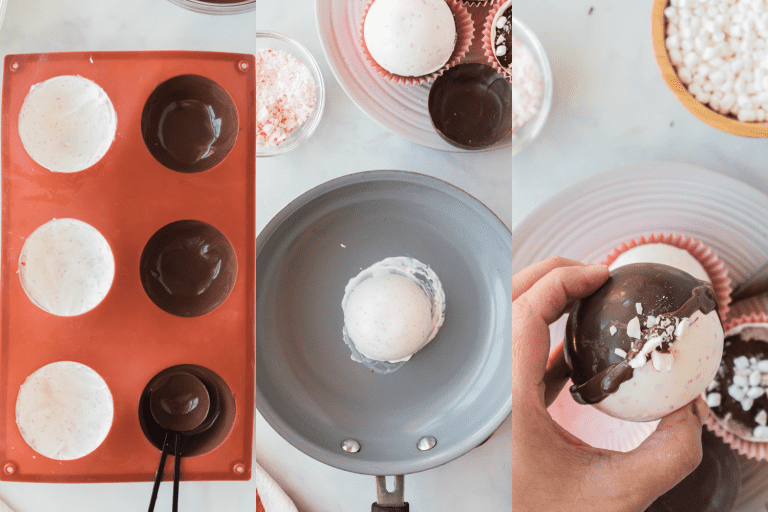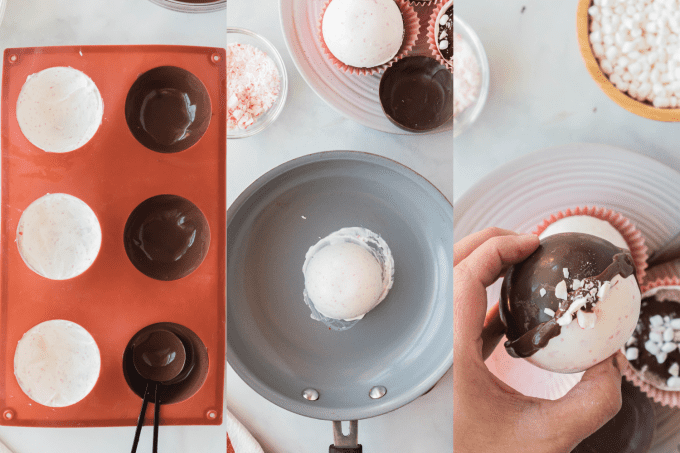 How to assemble hot chocolate bombs
Spoon hot cocoa mix, instant coffee and mini marshmallows into 6 of the chocolate spheres. You can toss in a few crushed peppermint pieces if you feel like it, too!
Heat a small frying pan on the stove over medium heat for about 2 minutes. Remove it from heat. Remove the hardened peppermint halves from their molds.
Place each peppermint half on the skillet for a few seconds. Just long enough to soften the edges.
Immediately place it over one of the chocolate halves. Pipe a line of the melted chocolate over the seam to seal. Repeat with the remaining peppermint halves.
You'll get 6 perfect Christmas Hot Chocolate Bombs!
I like to drizzle chocolate on top of the assembled cocoa bombs, too. Then press a few crushed candy peppermint candies over each one for a festive look.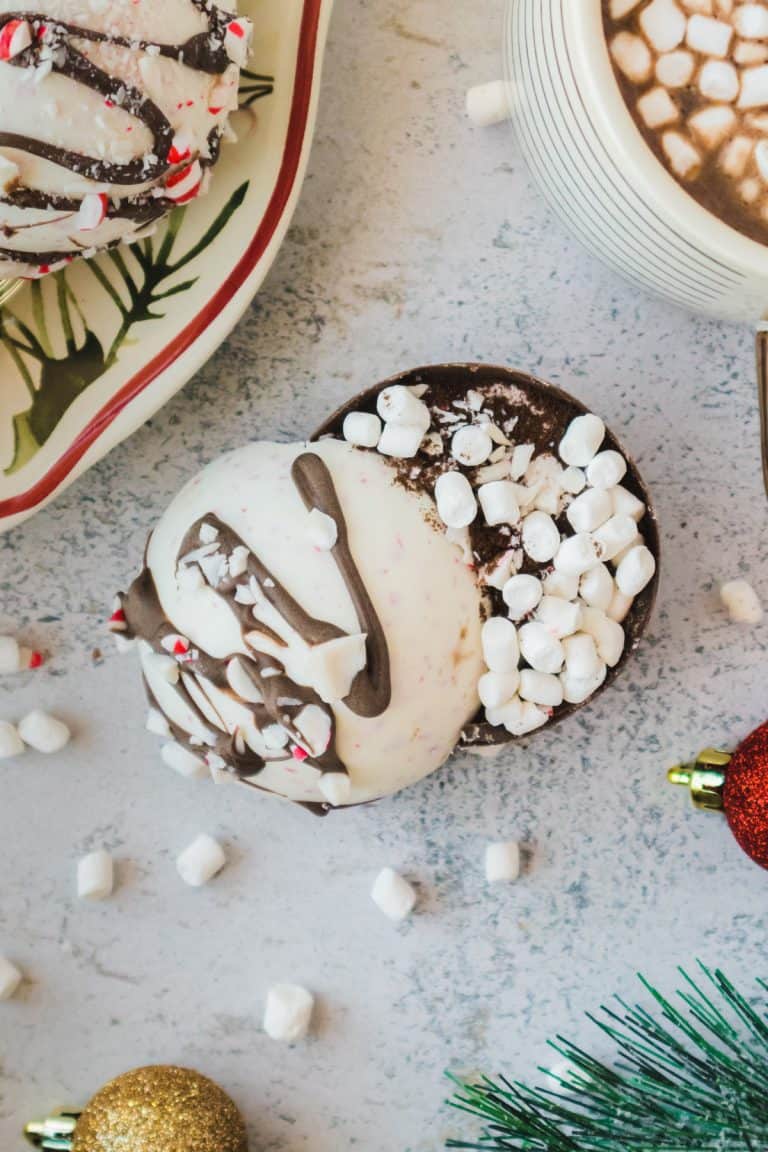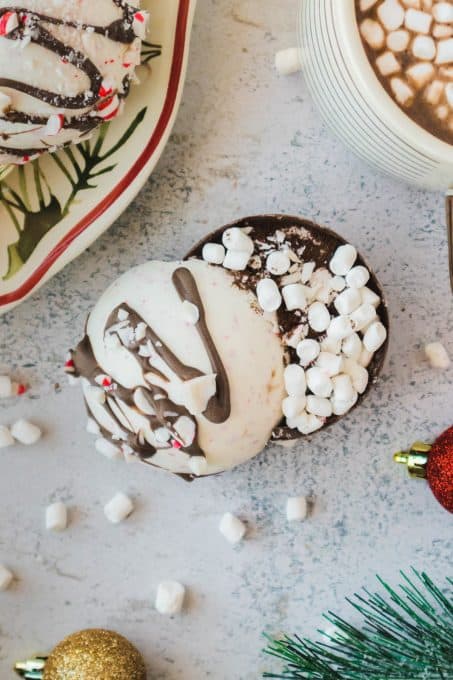 How to serve hot chocolate bombs in a mug of hot milk
Making hot chocolate from hot cocoa bombs is pretty straightforward:
Put hot chocolate bomb at the bottom of a mug.
Pour 6 oz of hot water or milk on top.
Stir until chocolate is dissolved.
I like to write up the instructions on a little Christmas card and include it with the gift, too. It's a fun way to gift recipients with the extra personalized and thoughtful touch.
Peppermint Recipes
The holiday season is prime time for peppermint!
I made this Peppermint Brownie Pie recently and it was an instant hit. It tastes a lot like these Easy Peppermint Brownie Bites, another chocolate-peppermint treat my family loves.
If you need an easy way to dress-up chocolate cupcakes for the holidays, try this Peppermint Buttercream Frosting. You can spread it on cookies or cake, too! That homemade frosting is also incredible on these Peppermint Sugar Cookie Cups and Peppermint Frosted Sugar Cookies.
Try all of our popular peppermint recipes this December . . . .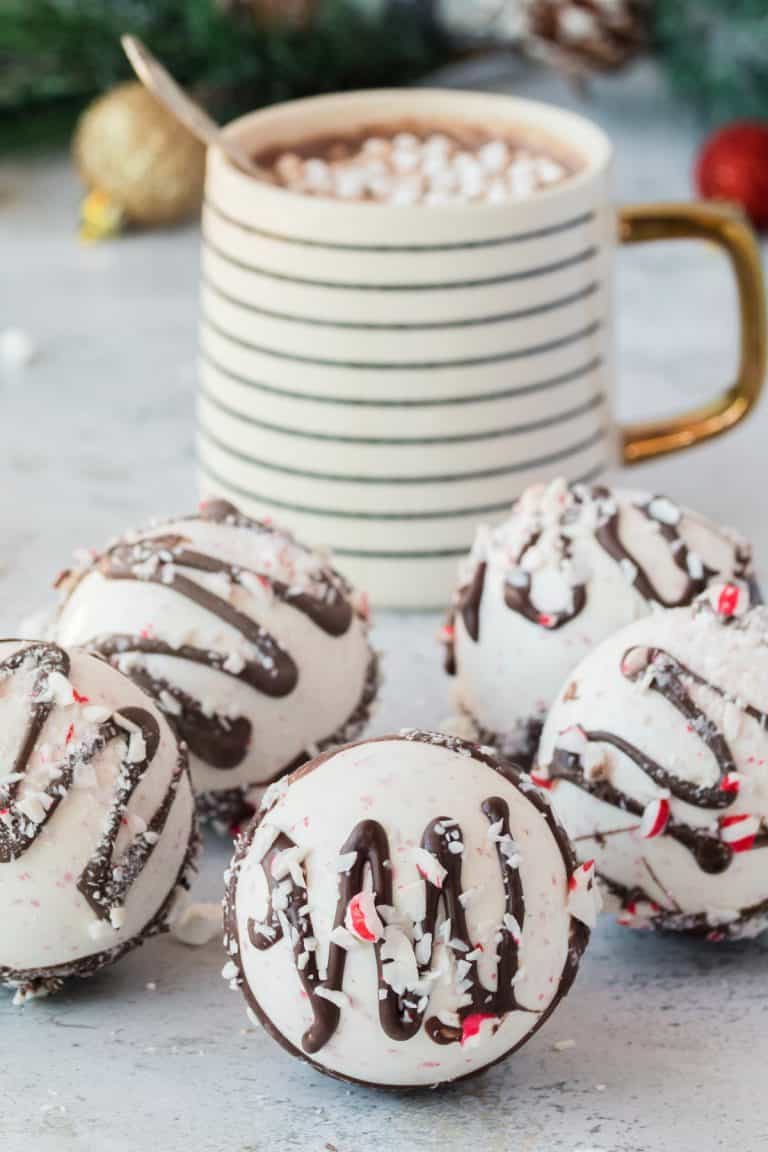 Chocolate Desserts
Peppermint Hot Chocolate Bombs are a drink and a dessert all in one. Since you can never have too many chocolate dessert recipes, here are just a few of the zillions (well, it seems like zillions!) of chocolatey recipes I've created and shared over the years.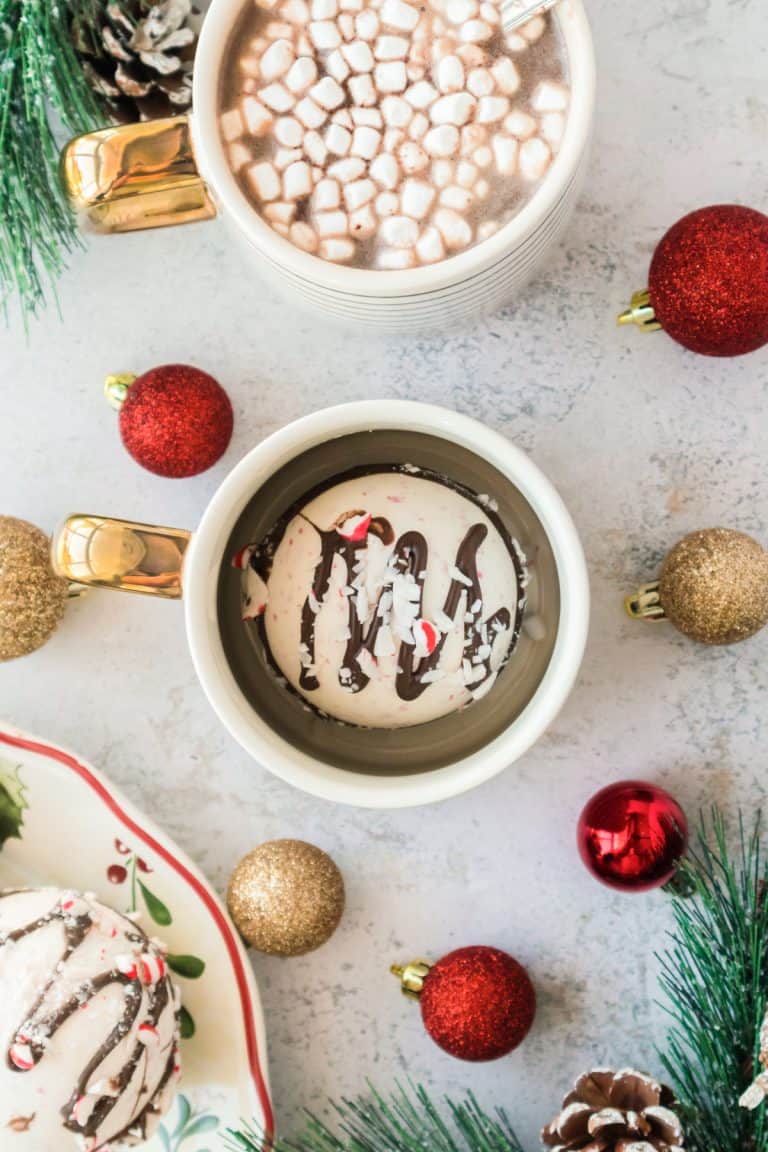 Impress your family and friends with these fun and festive DIY Peppermint Mocha Hot Chocolate Bombs! These filled chocolate bombs make great gifts, and they're a fun treat to enjoy after a day of playing in the snow!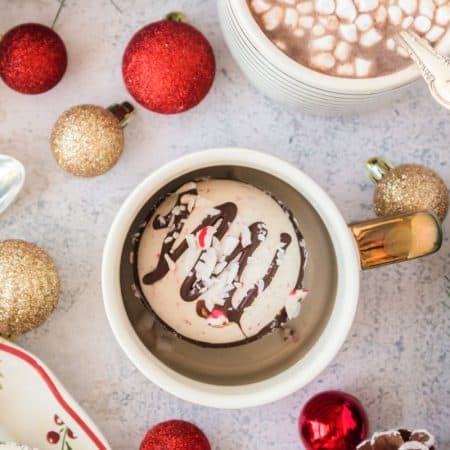 Peppermint Mocha Hot Chocolate Bombs
 Peppermint Mocha Hot Chocolate Bombs are the perfect DIY holiday gift with simple ingredients. Follow this easy tutorial to make delicious, festive hot chocolate bombs with a caffeinated twist!
Ingredients
6 ounces peppermint candy melts
6 ounces chocolate candy melts chocolate almond bark can also be used
6 tablespoons hot chocolate mix
6 teaspoons instant coffee
1 ½ cups miniature marshmallows use about 8-10 marshmallows per hot chocolate bomb
crushed peppermint candies optional for decoration and/or additional flavor
Instructions
In a medium bowl, melt peppermint candy melts for 30 seconds. Stir and reheat again for 10 second intervals until completely melted.

Place 1 tablespoon of the into each of the six half bomb molds. With the back of the tablespoon, smooth the melted peppermint up the sides until the half sphere cavity is completely coated.

Refrigerate for 5 minutes or until peppermint hardens. If necessary, add a second tablespoon of melted peppermint and smooth until completely coated again. Refrigerate for an additional 5 minutes.

Gently remove the hardened peppermint out of the molds and set aside.

Repeat steps 1-4 using the chocolate. Melt in the microwave, smooth into mold, and refrigerate, adding a second coating if desired.

After the 6 peppermint and 6 chocolate molds have hardened, put one tablespoon of hot chocolate mix in each of the chocolate molds, followed by a teaspoon of the instant coffee, and 8-10 mini marshmallows. You may also add a small amount of crushed peppermint candies if desired.

To seal the hot chocolate bombs. heat a medium-size skillet on medium heat for 2 minutes and remove from heat. Place each peppermint half one at a time onto the skillet with the edges against the pan for just a few seconds, allowing the chocolate to slightly melt.

Place the peppermint half of the bomb onto a chocolate side. Put the remaining melted chocolate into a piping bag or Ziploc bag and pipe a thin line around the middle to cover the seam.

Pipe additional chocolate over the top and decorate with crushed peppermint candies, if desired.

To serve, place into mugs and cover with hot milk or hot water to enjoy after stirring.
Nutrition
Serving: 1serving | Calories: 228kcal | Carbohydrates: 37g | Protein: 1g | Fat: 9g | Saturated Fat: 8g | Polyunsaturated Fat: 0.01g | Monounsaturated Fat: 0.01g | Trans Fat: 0.04g | Sodium: 163mg | Potassium: 36mg | Fiber: 1g | Sugar: 32g | Vitamin A: 2IU | Calcium: 17mg | Iron: 0.3mg
Did you make this recipe?
Share it with me on Instagram and make sure to follow me on Pinterest for more recipes.
Reader Interactions