These Chocolate Chip Pancakes are fluffy, chocolatey and easy to make. This step-by-step guide will help you make the best pancakes with chocolate chips every single time!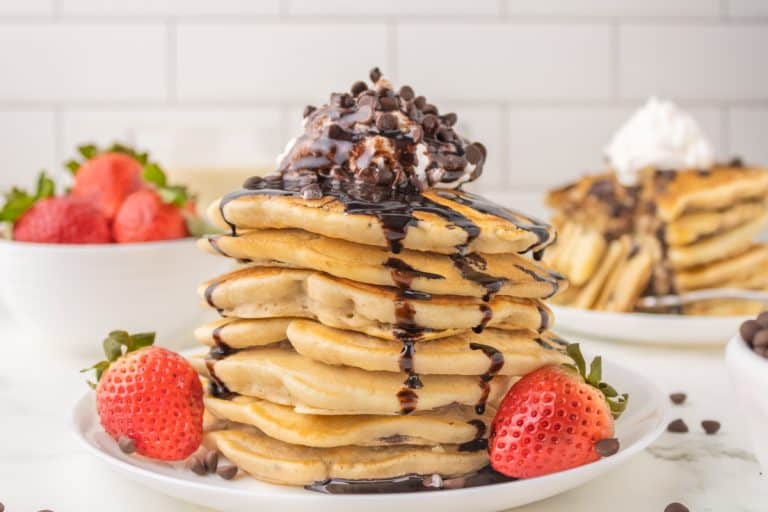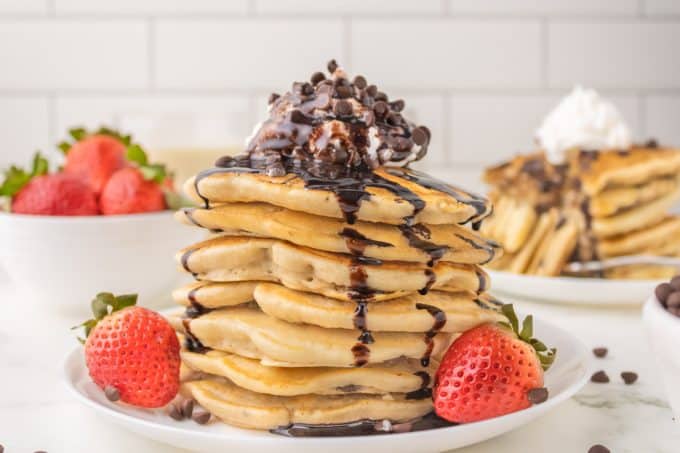 Breakfast is my favorite meal of the day, hands down and pancakes are among my most favorite things. Especially when there's chocolate involved.
If you like chocolate for breakfast, make sure to try this Chocolate Croissant Baked French Toast too. Today's chocolate chip pancakes aren't quite so sweet, which is just the way I like them.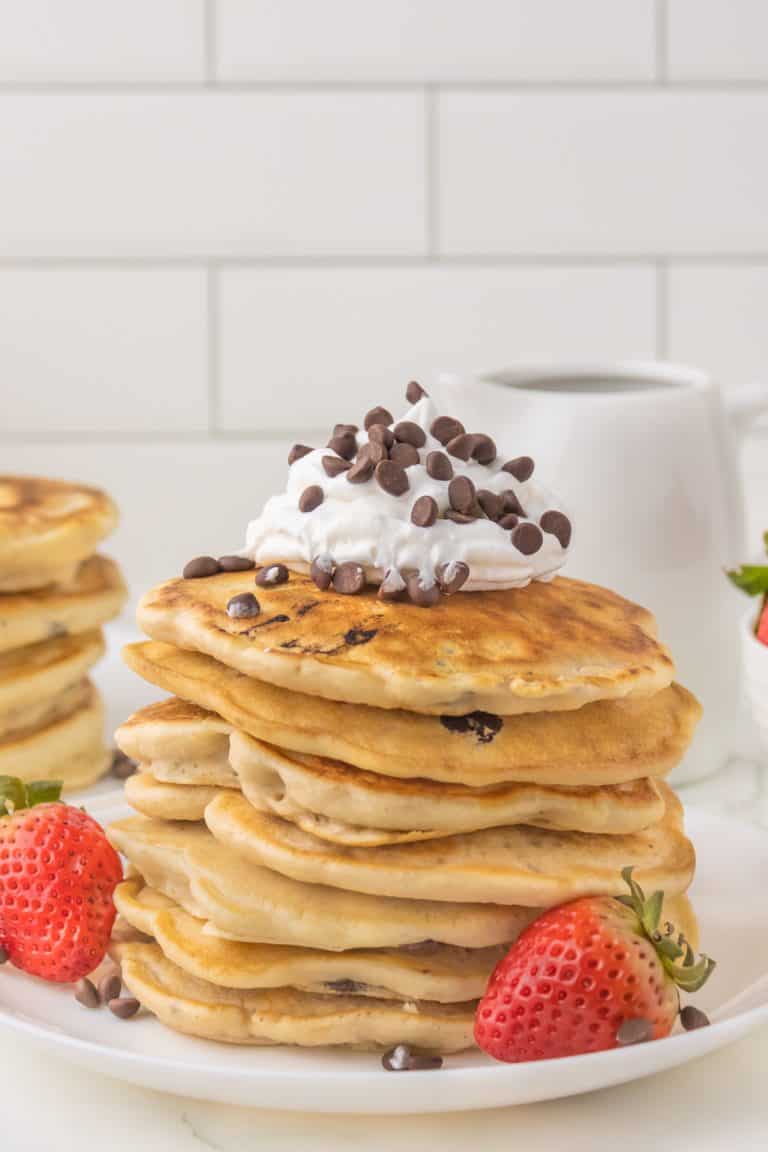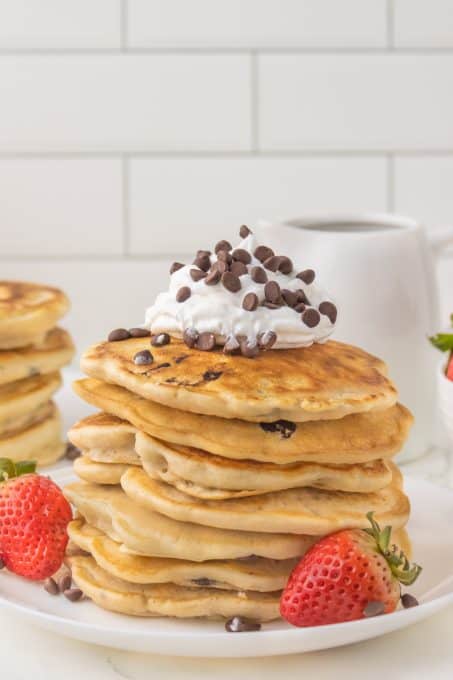 It's a truth universally acknowledged that no kid can resist a stack of fluffy chocolate chip pancakes. But even without kids in the house, I make chocolate chip pancakes all the time. Adults deserve delicious chocolatey pancakes, too!
The concept of chocolate chip pancakes is nothing new. Take a simple pancake batter, mix in some chocolate morsels and go! Here are a few reasons this particular pancake recipe is my favorite.
These pancakes come out super soft and FLUFFY!
Rich, chocolatey flavor.
Perfect chocolate to pancake ratio.
Delicious on their own or with all kinds of toppings!
Freezer friendly recipe.
You can cook a large batch these pancakes over the weekend and stash them in the freezer to enjoy on those busy mornings. This is a great hack for saving leftover extra pancakes, too. I hate wasting food, so learning how to freeze pancakes was a game changer.
Who's ready to dig into a big plate of the fluffiest ever chocolate chip pancakes?!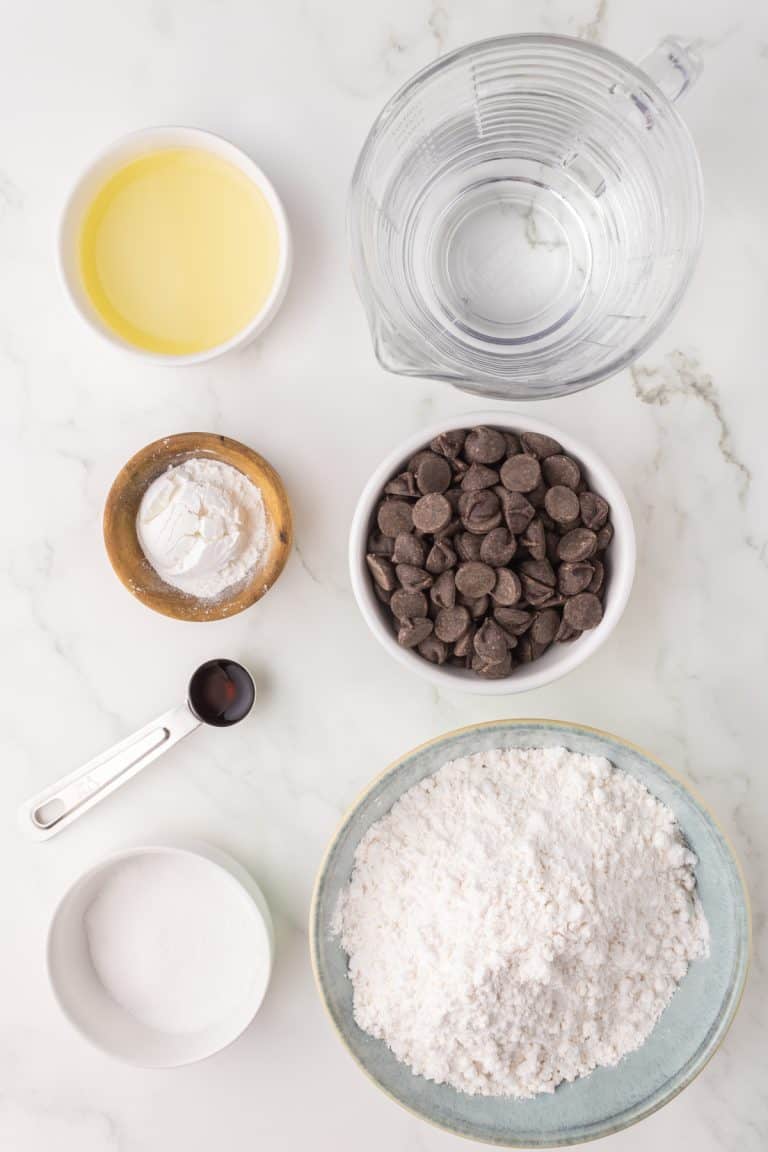 What simple ingredients do I need?
For the pancakes themselves, you will need these pantry staples:
Flour – I use all purpose flour for these pancakes.
Granulated sugar – for the perfect touch of sweetness.
Baking powder – helps the pancakes puff up as they cook
Vegetable Oil – or substitute melted butter.
Water – to thin the batter.
Vanilla extract – use a good quality pure vanilla for best flavor.
Chocolate chips – I like semi-sweet, but milk chocolate tastes great too!
Butter or additional oil – for coating the cooking pan.
Don't forget about your pancake toppings! You can serve these pancakes topped with a dollop of butter and your favorite toppings. Here are a few suggestions to get you started:
Syrup: maple, strawberry or chocolate sauce
Sliced fresh fruit: bananas, strawberries or cherries
Powdered sugar
Whipped cream: homemade vanilla whipped cream or chocolate whipped cream!
Additional chocolate chips
Melted Nutella or peanut butter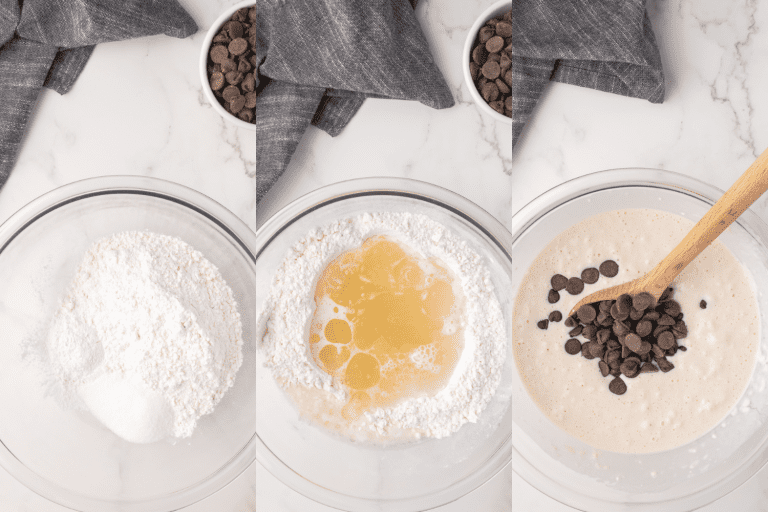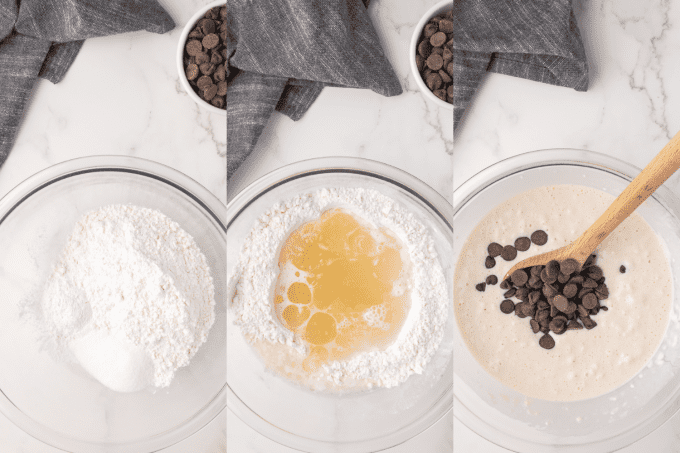 How to Make Chocolate Chip Pancakes
STEP 1: Combine your flour and dry ingredients in a large bowl. Stir in the wet ingredients, just until no visible lumps of flour remain. Then fold in the chocolate chips.
STEP 2: Heat a pan or griddle over medium-low heat. Add about a tablespoon of butter or oil — just enough to lightly coat the bottom of the pan.
STEP 3: Now ladle ⅓ of a cup batter to the hot pan. Cook pancakes until the tops begin to bubble. Use a thin, flexible spatula to flip the pancake. Cook on the second side until the bottom is golden brown, then remove the cooked pancake. Repeat this step until all the pancake batter has been cooked.
STEP 4: Serve pancakes warm with the toppings of your choice!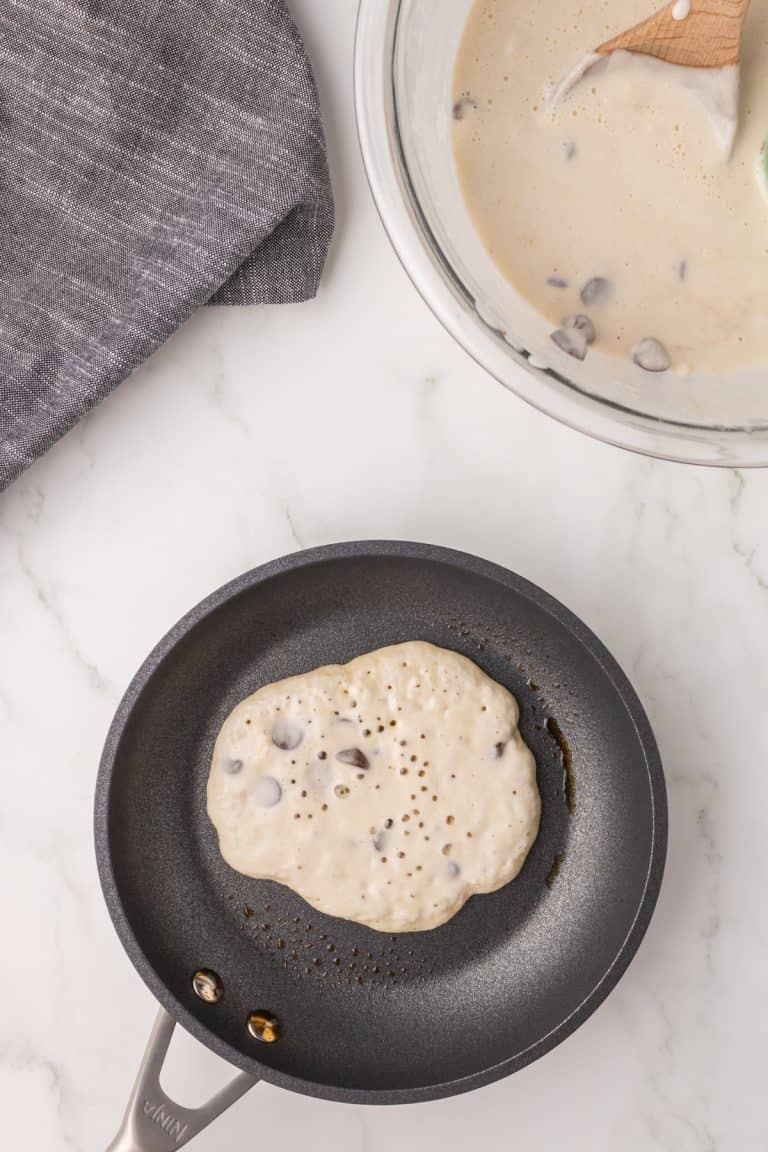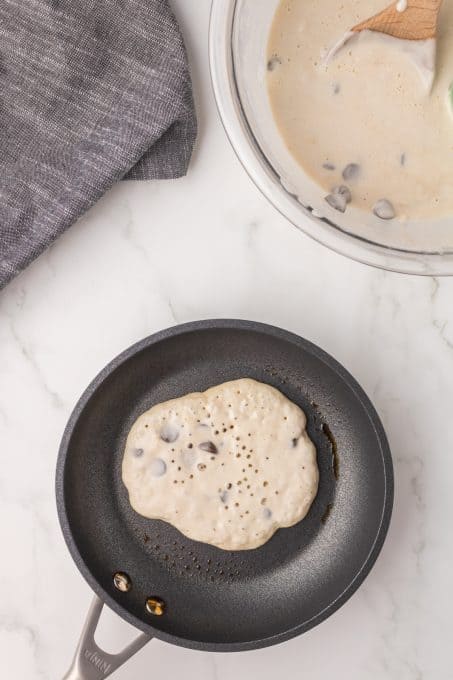 Tips & Tricks for Fluffy Homemade Pancakes
Do not over stir the batter! Too much stirring activates the proteins in the flour, resulting in denser pancakes.
Check if your pan is hot enough by adding a drop of batter to the pan. If it sizzles right away, then pan is ready!
The chocolate chips will melt a bit onto the pan as the pancakes cook. Wipe the pan with a paper towel after cooking each pancake to keep your pancakes looking perfect, and prevent burning.
You may need to add a bit more oil to the pan in between batches. If you notice the pancakes sticking, add more oil to the pan a teaspoon at a time.
You can use a non stick skillet, griddle or electric griddle to make this recipe. Just be careful not to overcrowd your pan. If using a skillet, I suggest cooking only one pancake at a time.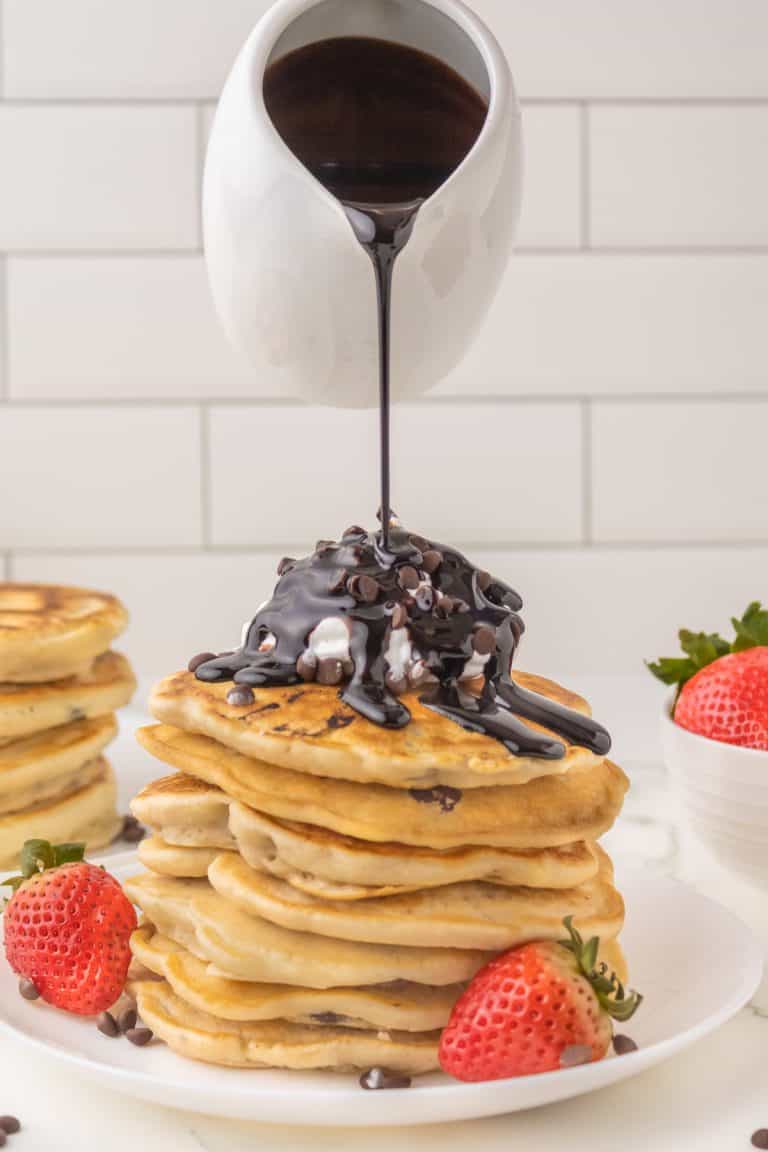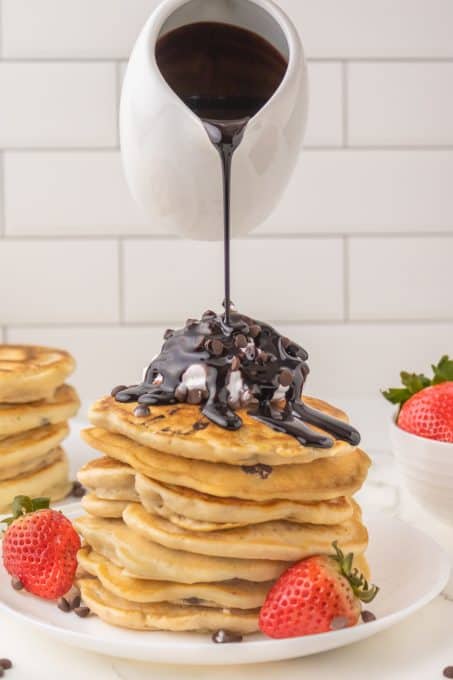 Why do my chocolate chips burn in pancakes?
The reason chocolate chips in pancakes would potentially burn is if they come in direct contact with the pan – this could happen if the batter is too thin and the chocolate chips fall to the bottom of the batter. This recipe creates a THICK batter that keeps the chocolate mostly tucked inside, meaning the chocolate doesn't burn.
Can I add something else to this recipe, other than chocolate chips?
Of course! Just make sure to keep any added mix-ins to 1 cup total. White chocolate morsels, dried cranberries, nuts or butterscotch chips are a few additions that would be delicious in these fluffy pancakes.
Can I freeze leftover chocolate chip pancakes?
YES, these soft pancakes freeze beautifully. The best way to freeze leftover pancakes is by placing the cooked pancakes in a single layer onto a baking sheet lined with a sheet of parchment paper. Place into the freezer until frozen solid. Once the pancakes are frozen, transfer them to freezer bags to preserve freshness.
Reheat frozen pancakes in the microwave for 30 seconds, or until they reach your preferred temperature. Do NOT reheat these homemade frozen pancakes in the toaster oven or you're likely to burn the chocolate.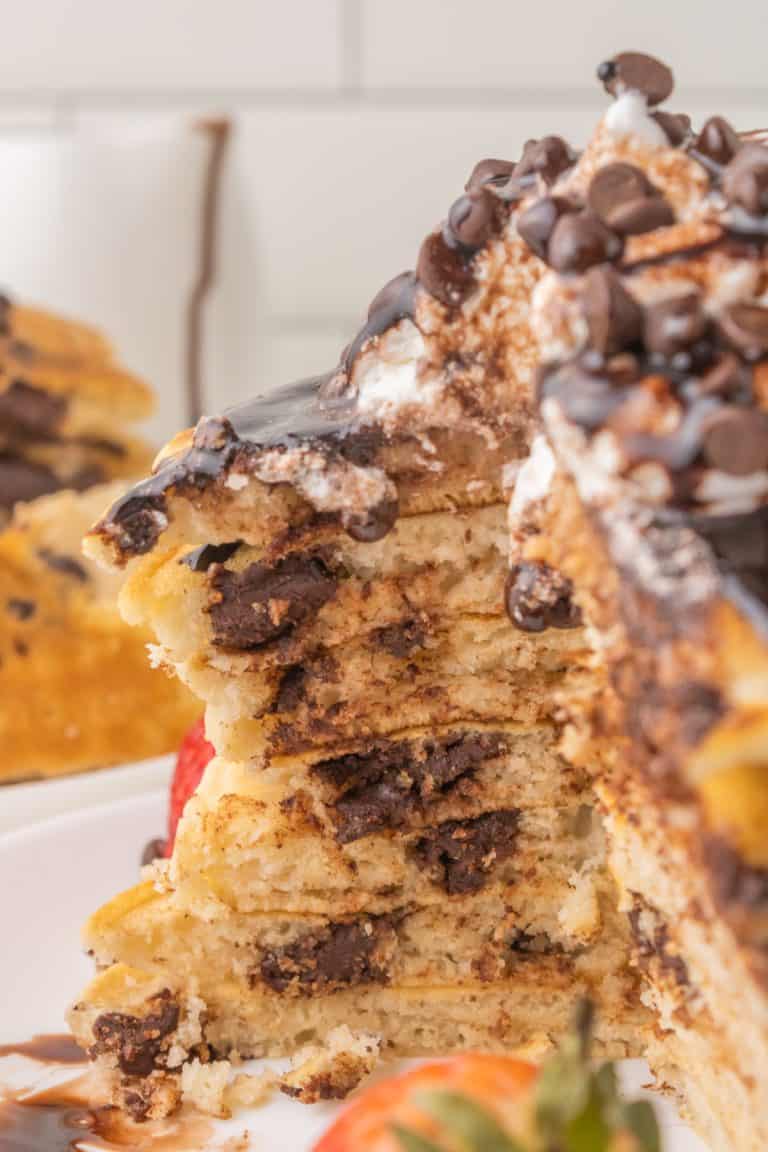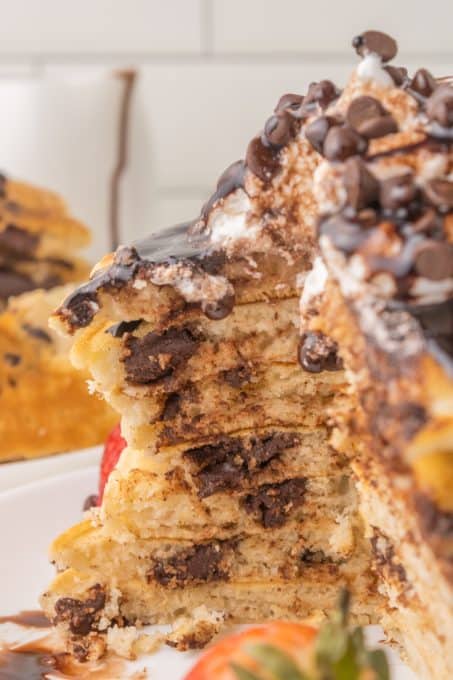 Easy Pancake Recipes
I could eat chocolate chip pancakes every weekend, but it's nice to have variety in the mix!
Love the chocolate in today's homemade pancake recipe? Try my Chocolate Cherry Pancakes made with maraschinos and chocolate morsels next.
These Whole Wheat Pumpkin Pancakes are hearty and satisfying, ideal for crisp fall mornings. You'll love these Banana Peanut Butter Chip Pancakes too!
The biggest downside to making pancakes is the time it takes to cook them all individually. German Pancake (aka Dutch Baby) solves that problem — you make one giant pancake in the oven, then slice it up to serve. I make a few different variations depending on my mood, including this Lemon Poppy Seed Dutch Baby.
With all this talk about sweet pancakes, I almost forgot about one of my latest obsessions: BACON Pancakes! Absolutely incredible with a drizzle of maple syrup for a salty, savory and sweet breakfast (or breakfast for dinner).
Each bite of these Banana Pancakes will tickle your taste buds. You could even add some rich chocolate chips to these as well.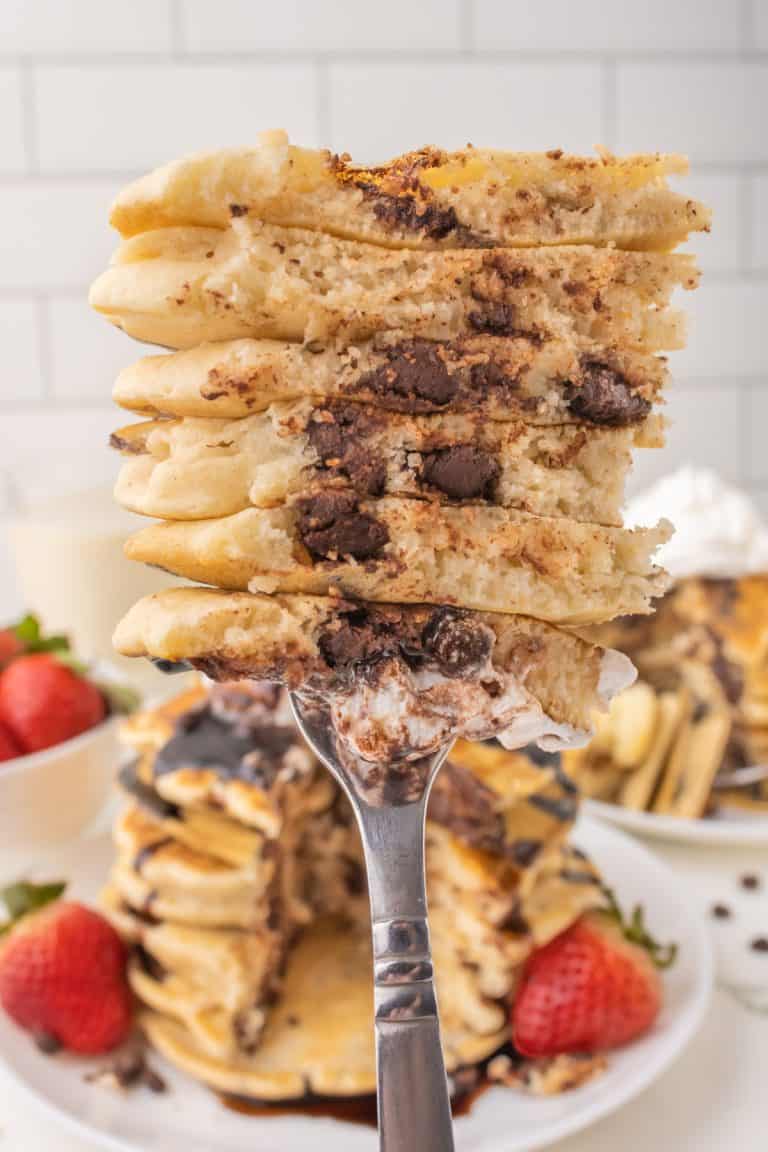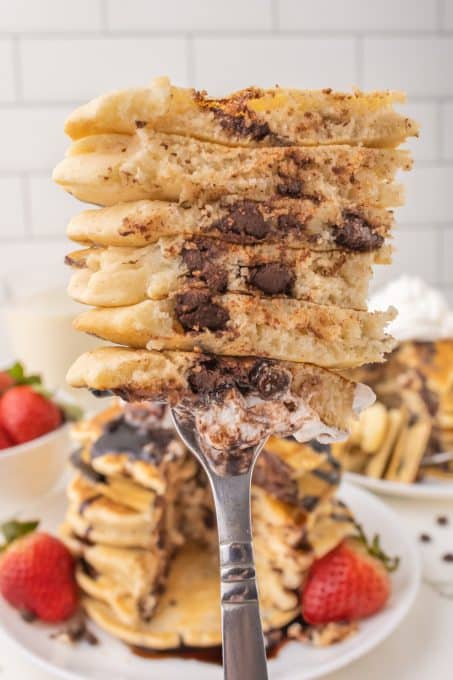 Kid Approved Breakfast Ideas
Getting kids to eat breakfast without complaint is easy with these other fun, delicious and easy to make breakfast recipes!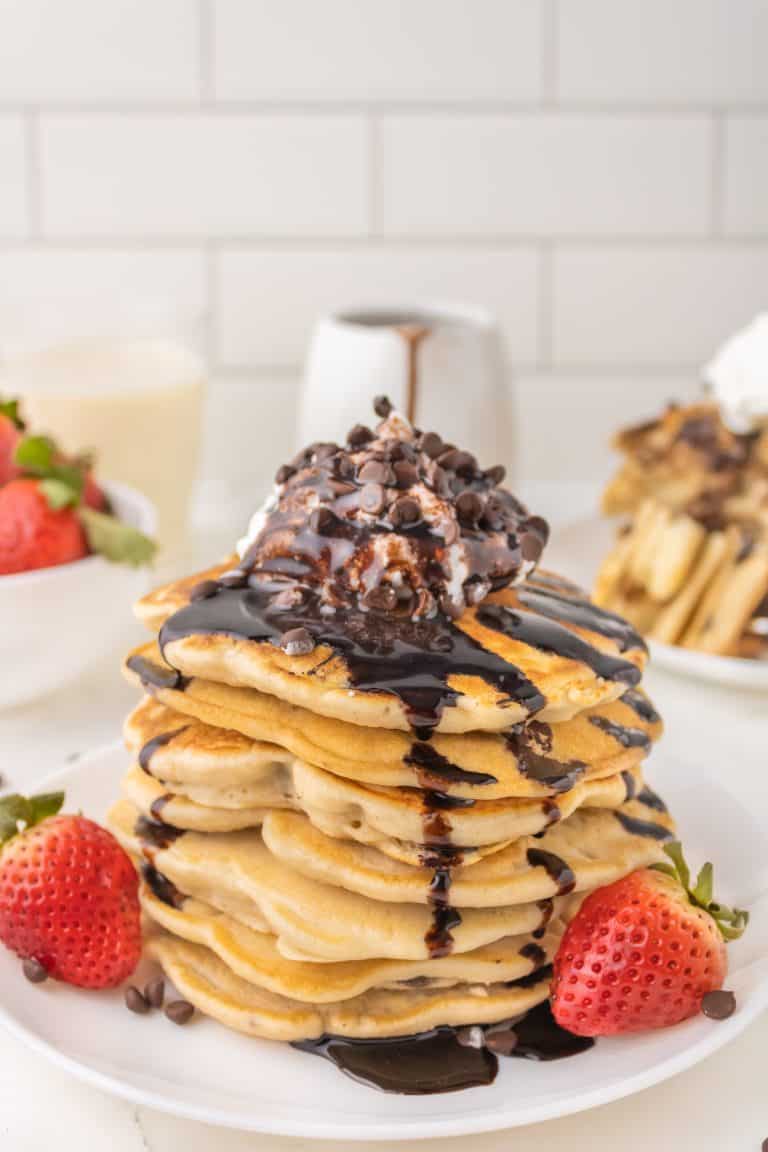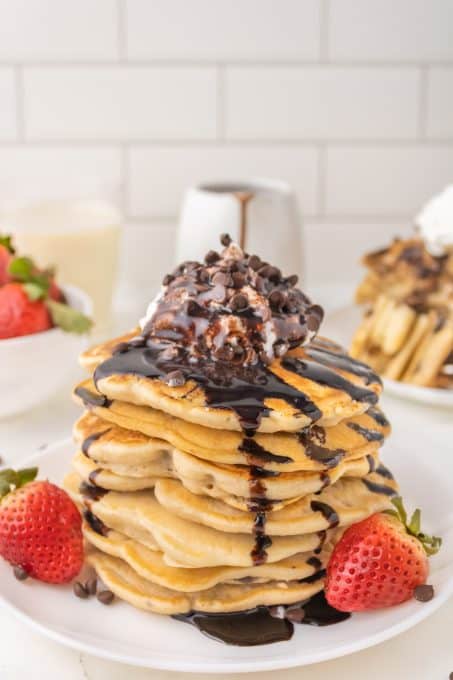 I know what's on the menu for us this weekend: soft, fluffy, rich, homemade chocolate chip pancakes. Come Saturday morning, the whole family will love this simple recipe.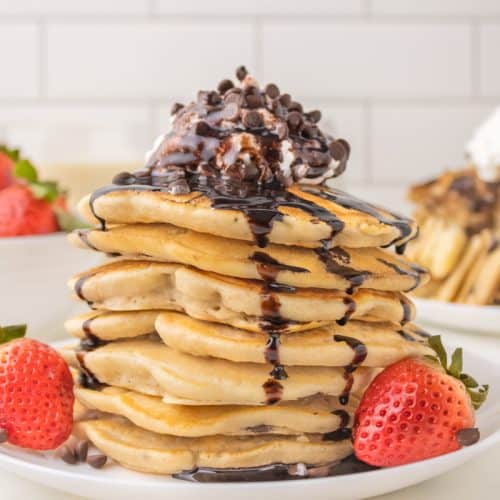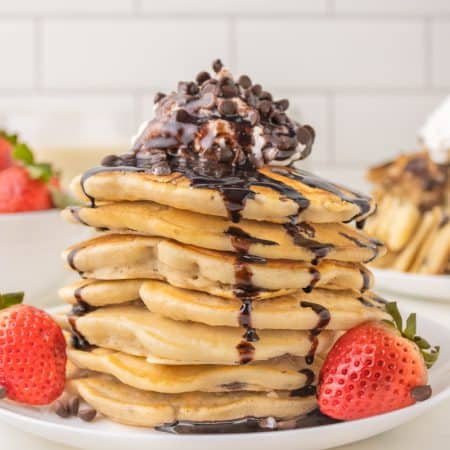 These pancakes are soft, fluffy, flavorful and bursting with chocolate chips! Make a batch today and freeze the leftovers for busy weekday mornings!
Ingredients
2 ¼ cups all purpose flour
2 tbsps granulated sugar
2 tbsps baking powder
¼ cup vegetable oil
1½ cups water
1 tsp vanilla extract
1 cup chocolate chips semi-sweet or milk chocolate
butter or vegetable oil for cooking the pancakes
Optional toppings
chocolate syrup or another favorite syrup
sliced fruit
whipped cream
additional chocolate chips
Instructions
In a large mixing bowl, combine the flour, baking powder and sugar. Stir in vegetable oil, vanilla and water. Fold in chocolate chips.

Place a flat bottomed pan or skillet on the stove on medium-low heat. Add 1 tablespoon of oil to coat the bottom of the pan.

When the pan is hot, add ⅓ cup of the batter. Cook until the top of the pancake bubbles. Flip and cook on the second side until the bottom is golden brown. Remove cooked pancake and set aside. Repeat until all the pancake batter has been used.

Serve warm with desired toppings!
Notes
Freezing: Place leftover cooked pancakes on a baking sheet in the freezer for about 1 hour, or until solid. Transfer frozen pancakes to freezer safe bags or containers. Keep frozen until ready to eat. 
Reheating: Reheat frozen pancakes in the microwave for 30 seconds. 
Variations: Swap the chocolate chips for other additions like butterscotch chips, dried cranberries or nuts. 
See blog post for more recipe tips. 
This recipe will yield 10 pancakes.
Nutrition
Serving: 1serving | Calories: 514kcal | Carbohydrates: 93g | Protein: 9g | Fat: 11g | Saturated Fat: 7g | Polyunsaturated Fat: 0.3g | Monounsaturated Fat: 0.1g | Trans Fat: 0.1g | Cholesterol: 7mg | Sodium: 42mg | Potassium: 683mg | Fiber: 3g | Sugar: 34g | Vitamin A: 101IU | Vitamin C: 0.3mg | Calcium: 326mg | Iron: 4mg
Did you make this recipe?
Share it with me on Instagram and make sure to follow me on Pinterest for more recipes.
Reader Interactions