Brownie Mix Cookies are perfectly chewy and fudgy with crackly tops—just like the best brownies! Make delicious cookies from brownie mix and satisfy those chocolate cravings with this easy recipe.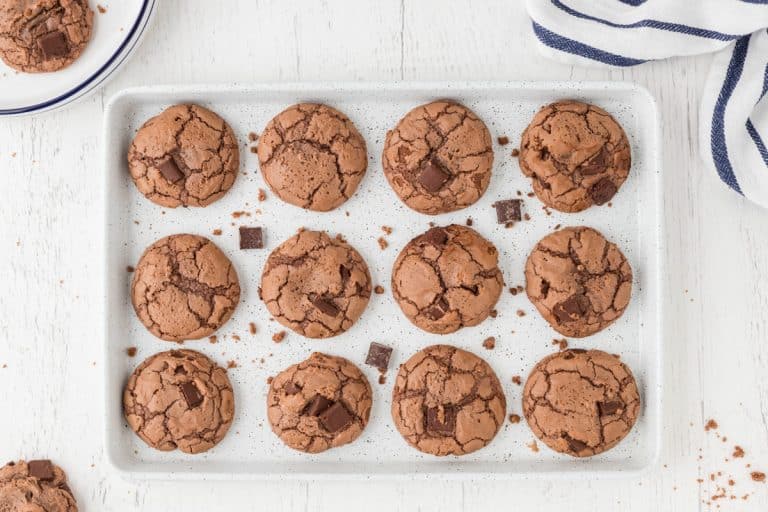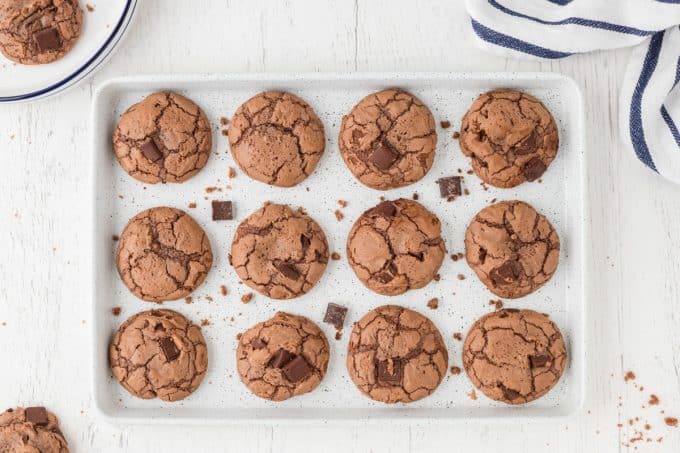 Want to feel a little rebellious? Use that box of brownie mix to make COOKIES instead.
We created this easy cookie recipe with the chocolate lovers in mind!
Welcome to Day 6 of our 12 Days of Cookies!
This amazing recipe is an easy and delicious one for the holidays, but it will also be perfect for birthday parties and other events, too.
Day 1 – Copycat Crumbl Reese's Peanut Butter Cookies
Day 2 – Linzer Cookies
Day 3 – Chocolate Dipped Orange Cookies
Day 4 – Turtle Tassies
Day 5 – Fruity Pebbles Cookies
Day 6 – You're on it!
Day 7 – Cornflake Wreaths
Day 8 – Double Chocolate Peppermint Cookies
Day 9 – Pizzelles
Day 10 – Bourbon Toffee Cookies
Day 11 – Peppermint Gooey Bars
Day 12 – Chocolate Cherry Thumbprints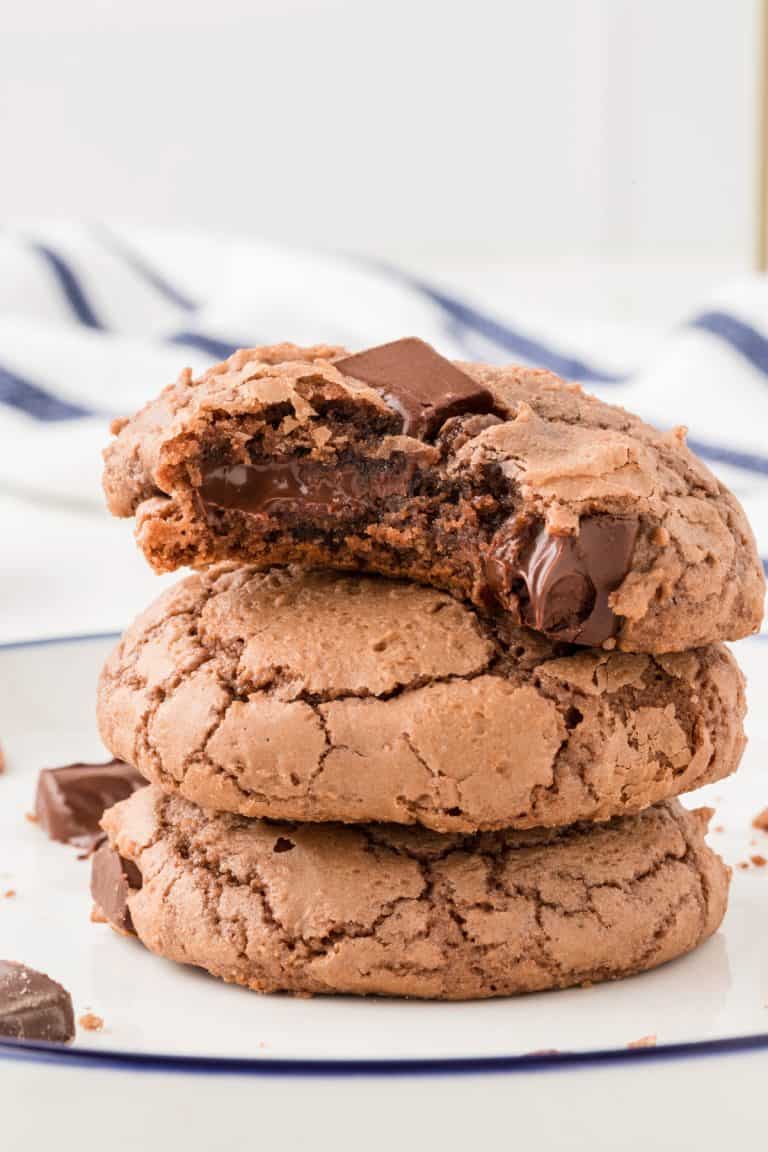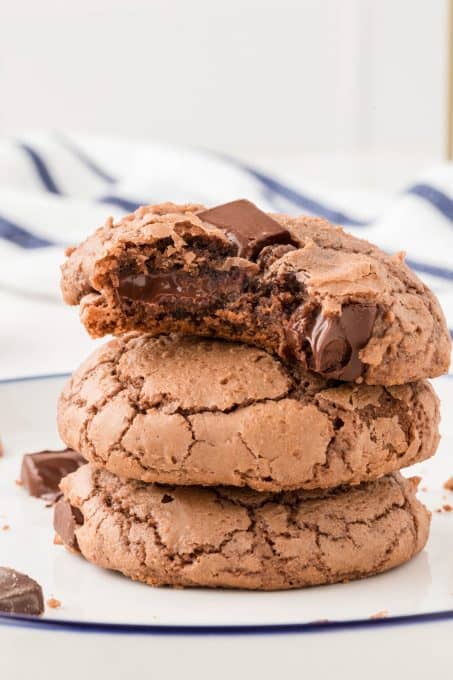 That's right. I'm asking you to ignore the directions on the back of the box. We're breaking rules today, friends. When it comes to desserts, a little rule-breaking can get you delicious results!
These Brownie Mix Cookies combine the best qualities of cookies and brownies in one easy dessert. Chewy, moist and loaded with chocolatey goodness, these rich cookies are begging to be enjoyed with a tall glass of milk.
Best of all, this brownie cookie recipe is quick, easy and foolproof. Start with a box of Duncan Hines Brownie Mix and make delicious chocolatey cookies in less than 30 minutes!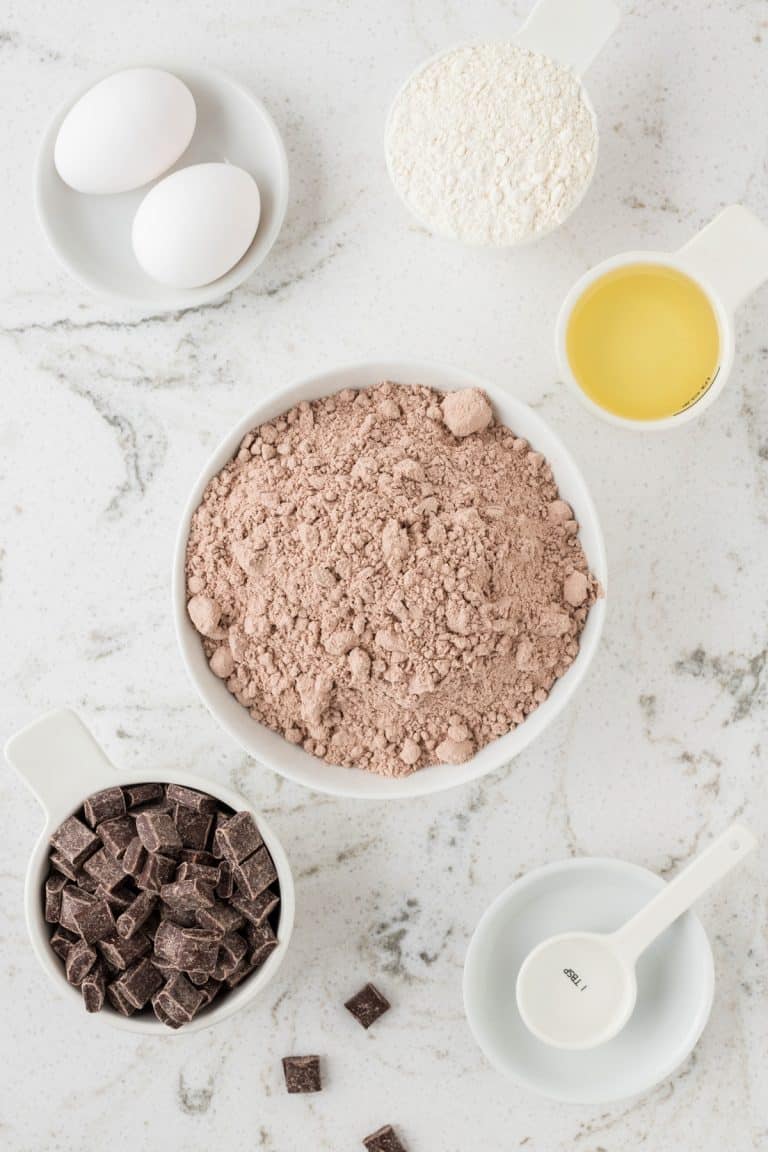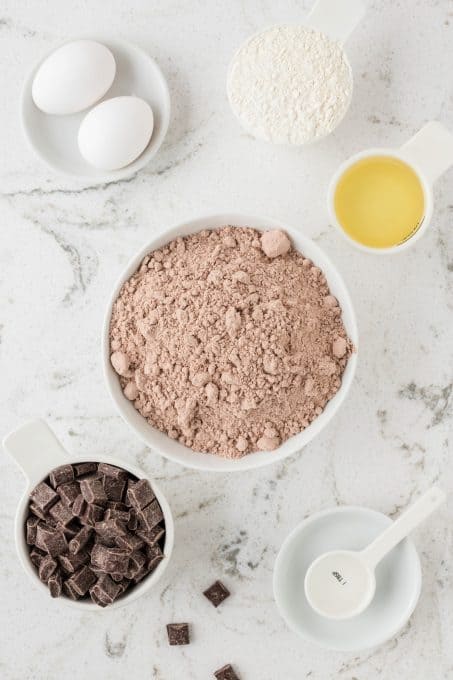 What is the ingredient list for these fudgy brownie cookies?
Unlike other iterations of this recipe online, these are brownie mix cookies with a small amount of flour added to the dough. The flour thickens the batter so you can scoop it on to the baking sheet! It makes all the difference between thin flat cookies and thick, chewy ones.
Here's everything you need:
Brownie Mix – I used Duncan Hines for these brownie cookies, but feel free to use your own favorite brand.
All purpose flour
Large eggs
Vegetable oil
Water
Chocolate chunks – Chocolate chips would work and even white chocolate chips would be great!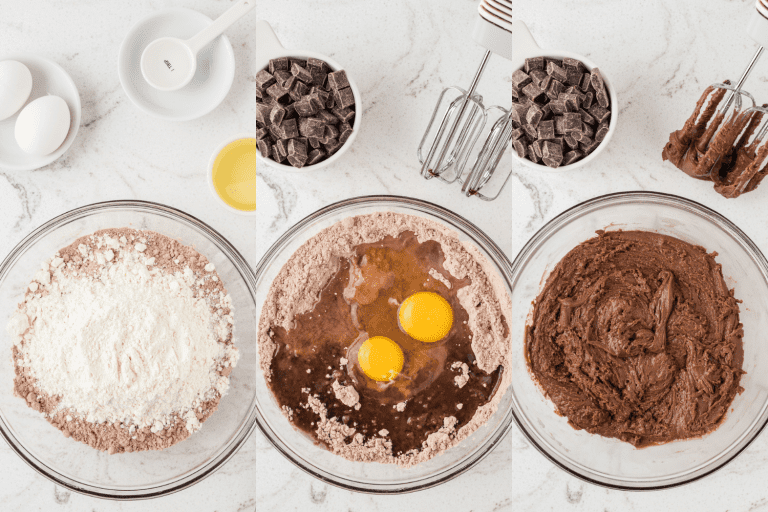 How do I make this brownie cookies recipe from a mix?
First, line a cookie sheet with parchment paper. To make the cookie batter, combine the brownie mix with the flour. You can whisk the dry ingredients together right in your mixing bowl.
Add the wet ingredients ingredients to the large bowl. Use an electric mixer to blend everything together into a smooth dough. You may need to scrape down the sides of the bowl with a rubber spatula a couple of times as you go. Finally, fold in the chocolate chunks.
Scoop the brownie batter by the spoonful onto the prepared baking sheet. I use a 2 tablespoon or medium cookie scoop to make sure the cookies are relatively even in size and shape.
Bake the brownie cookies in your preheated oven until they have a crackly top. Baking time can be anywhere from 12 to 15 minutes, depending on your oven.
The center of the cookies will still look soft and a little doughy when they're done baking. As the cookies cool on a wire rack, the center will firm up to the perfect thick, chewy and fudgy center. Meanwhile you get the crackly, crispy edges and that amazing shiny top!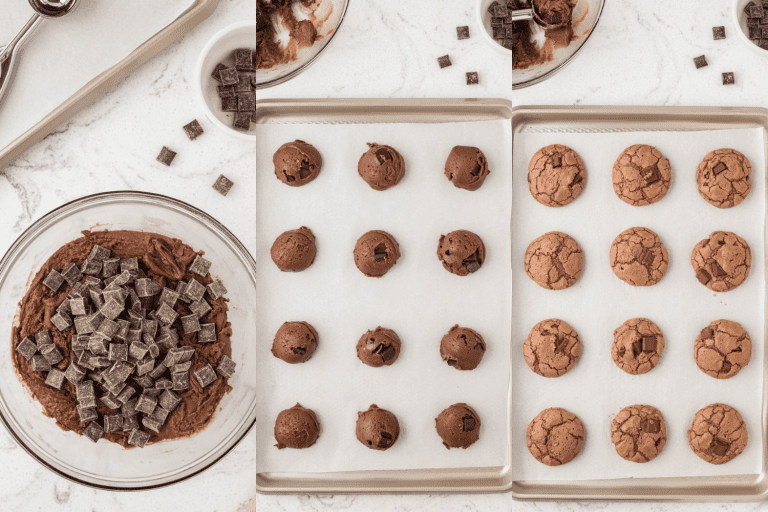 Brownie Mix Cookie Recipe Tips
Keep a close eye on the brownie mix cookies as they bake! These are cookies that can go from perfect to burnt in an instant.
Leave about 2 inches of space between cookies on the baking sheet. They spread as they bake!
Store leftover cookies in an airtight container. They taste best enjoyed within 2 to 3 days of baking.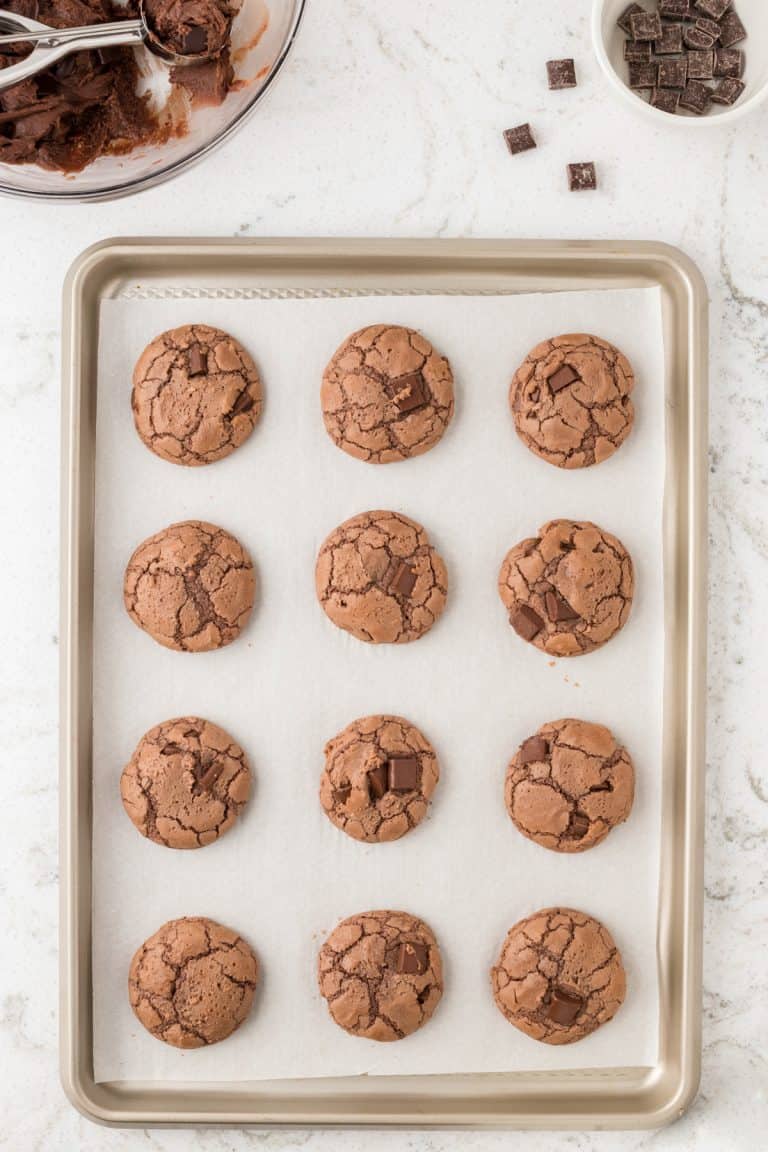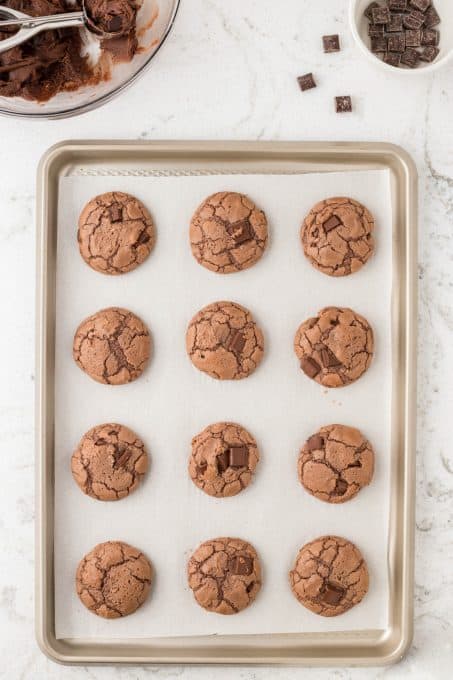 Homemade Cookie Recipe
For me, these brownie cookies were love at first bite. The chocolate taste reminds me a lot of my Chocolate Cherry Cookies. Now I'm wondering if we need to make a cherry version of this brownie mix cookie recipe next!
You can never have too many cookie recipes up your sleeve, right? I have almost a hundred cookie recipes on the blog so far, from classics like Peanut Butter Cookies to fun creations like these Wasabi Chocolate Crinkle Cookies. I doubt I'll ever stop collecting and sharing tasty cookie ideas!
As much as I'd love for you to try each and every one of my cookie recipes, I'm guessing you might have other things to do than spend your days baking cookies! If you only have time to make ONE other cookie recipe this week, I have a few recommendations.
These Lemon Cake Mix Cookies are another dessert made from a mix. They have a bright, zesty flavor that's a nice contrast to the rich chocolate in today's recipe. You'll love these Lemon Coconut Sugar Cookies too!
I know some of you can't get ENOUGH chocolate in your desserts. My Double Chocolate Frosted Almond Cookies are for you! These Chocolate M&M Christmas Cookies and these Dark Chocolate Cherry Oatmeal Cookies are two more recipes chocolate addicts rave about every time I make them.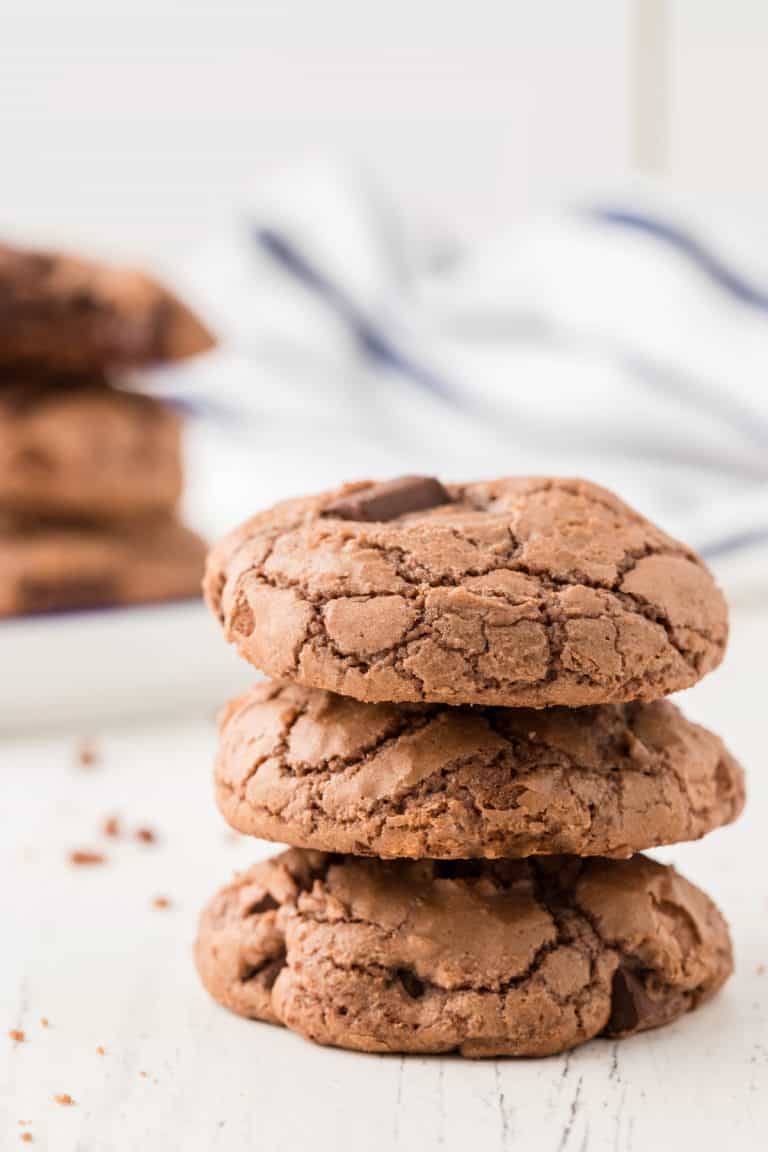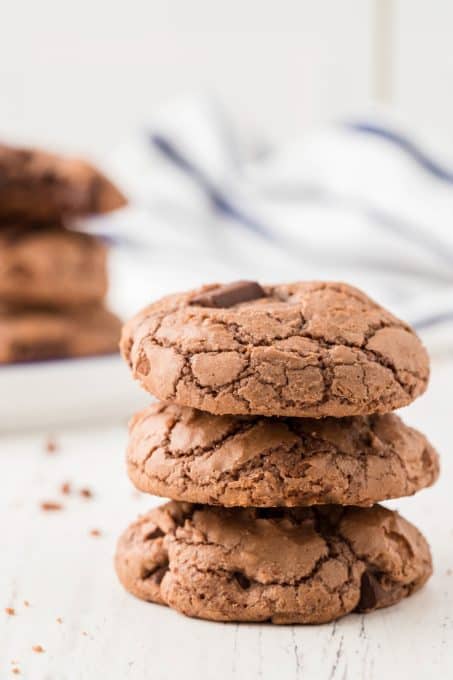 Brownie Recipes
One big benefit of making cookies from brownie mix instead of brownies: you don't have to slice them!
If you love brownies but hate having to cut them, brownie bites are the solution. I have a few delicious variations on the site, including these Easy Peppermint Brownie Bites and these Salted Caramel Cashew Brownie Bites. A caramel buttercream gives these TWIX® Bites Brownies a delectable, decadent finishing touch.
Chocolate Overload Loaded Brownies are guaranteed to satisfy even the most extreme sweet tooth. Made with chocolate candy, chocolate sauce and a cocoa infused frosting, they're a chocolate lover's paradise! My family loved the marshmallows in these Hot Chocolate Brownies and the addition of butterscotch in these Butterscotch Chocolate Chip Brownies.
With so many homemade brownies in my toolbox, you'll see why I don't need to use a mix to make brownies. Now you can put your brownie mix to better use with this deliciously easy cookie recipe!
Chocolate Recipes
Take a look at these delicious chocolate recipes here on 365, too!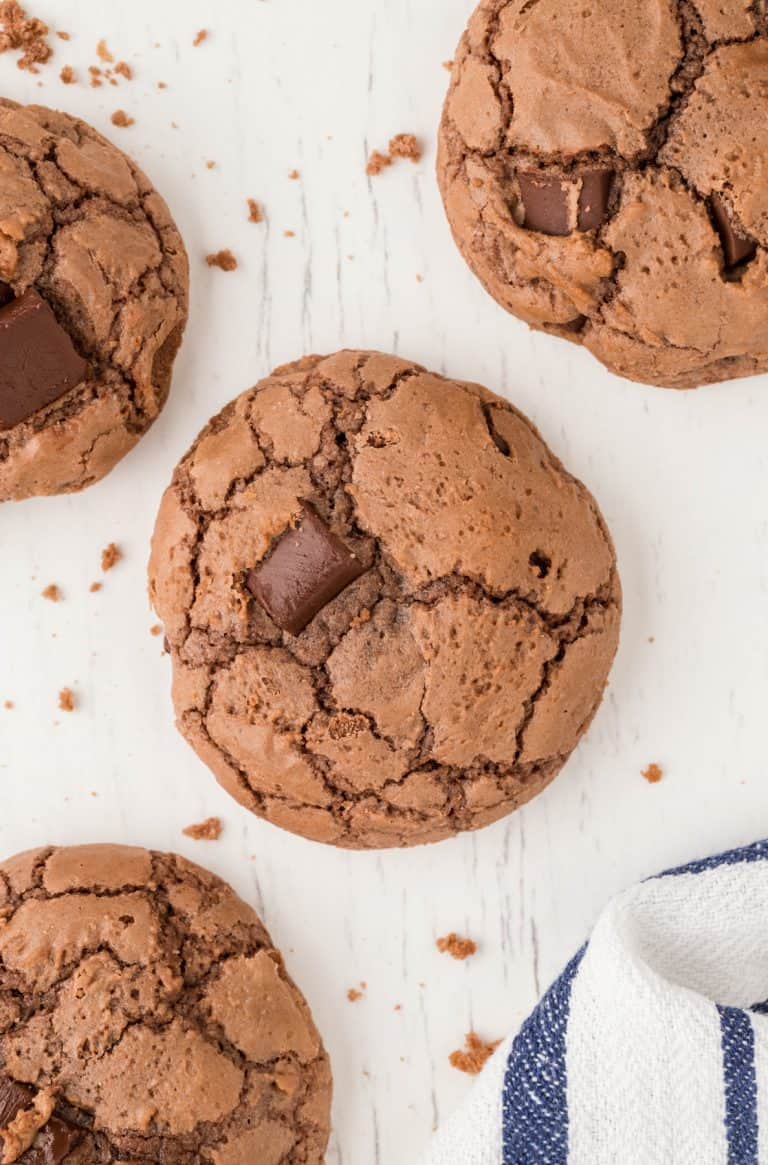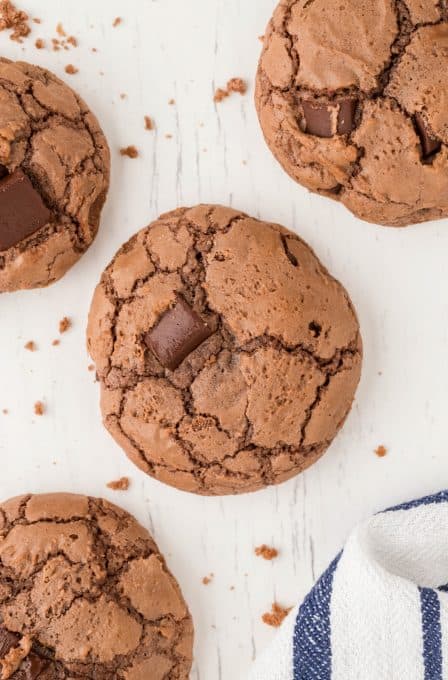 Get your chocolate fix with these easy chocolate brownie cookies! It's the easiest way to make a delicious recipe without all the work!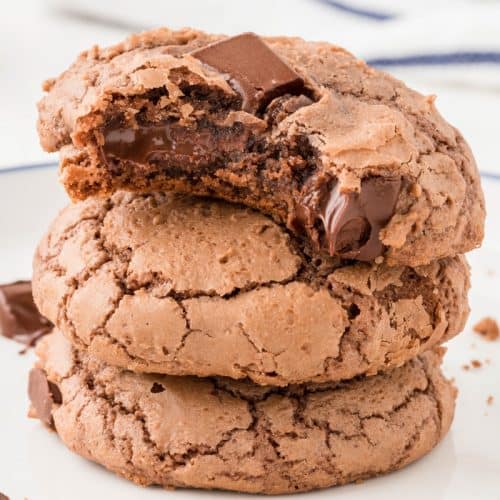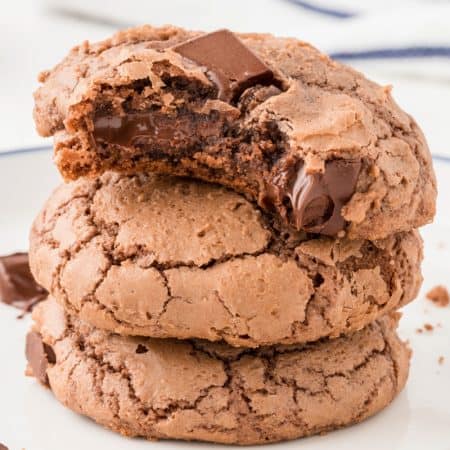 Brownie Mix Cookies are perfectly chewy and fudgy with crackly tops—just like the best brownies! Make delicious cookies from brownie mix and satisfy those chocolate cravings with this easy recipe.
Ingredients
18 ounces brownie mix
½ cup all-purpose flour
2 large eggs
⅓ cup vegetable oil
1 tablespoon water
1 cup semi-sweet chocolate chunks
Instructions
Preheat oven to 350°F. Prepare a large baking sheet with parchment paper.

In a large mixing bowl, add the 18 ounces of boxed brownie mix and ½ cup all-purpose flour and whisk until mixed. Add the eggs, vegetable oil, and water. Mix with a hand mixer. Scrape down the sides of the bowl with a rubber spatula. Fold in the chocolate chunks and mix so that the chunks are well combined.

Using a 2-tablespoon cookie scoop, place the dough onto the prepared baking sheet about 2-inches apart. Bake for 12-15 minutes or until the tops have a thin film and some small cracks. Be sure not to overbake!

Transfer cookies from the cookie sheet to a wire cooling rack to cool for about 10 minutes.
Nutrition
Serving: 1cookie | Calories: 180kcal | Carbohydrates: 27g | Protein: 3g | Fat: 7g | Saturated Fat: 3g | Polyunsaturated Fat: 0.4g | Monounsaturated Fat: 3g | Trans Fat: 0.01g | Cholesterol: 19mg | Sodium: 83mg | Potassium: 58mg | Fiber: 1g | Sugar: 16g | Vitamin A: 31IU | Calcium: 9mg | Iron: 1mg
Did you make this recipe?
Share it with me on Instagram and make sure to follow me on Pinterest for more recipes.
Reader Interactions