Peppermint Gooey Bars are sweet, soft-baked dessert bars with the refreshing flavor of peppermint! You'll love this easy Christmas dessert recipe, and it will be your new favorite this holiday season. They'll pair perfectly with a cup of hot chocolate.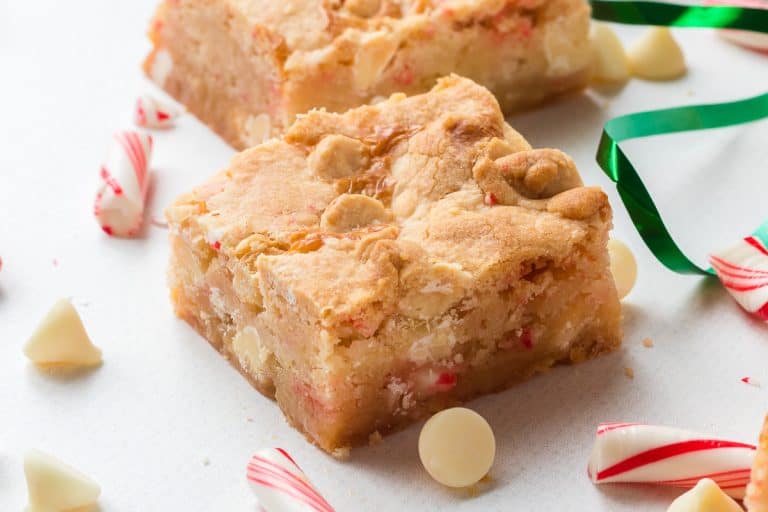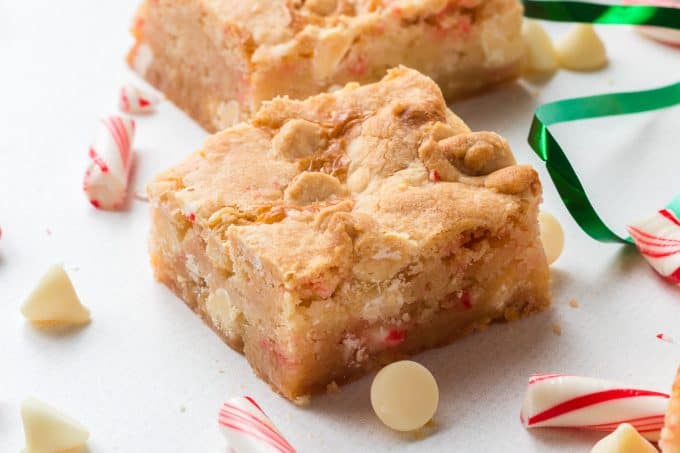 Have you ever tried Funfetti Ooey Gooey Bars? I used the same concept to make today's delicious peppermint dessert. This bake treat is what good stuff is made of, a gooey treat.
Welcome to Day 10 of our 12 Days of Cookies!
Take a look at the holiday cookies we've been sharing!
Day 1 – Copycat Crumbl Reese's Peanut Butter Cookies
Day 2 – Linzer Cookies
Day 3 – Chocolate Dipped Orange Cookies
Day 4 – Turtle Tassies
Day 5 – Fruity Pebbles Cookies
Day 6 – Brownie Mix Cookies
Day 7 – Cornflake Wreaths
Day 8 – Double Chocolate Peppermint Cookies
Day 9 – Pizzelles
Day 10 – Bourbon Toffee Cookies
Day 11 – You're on it!
Day 12 – 12/6/22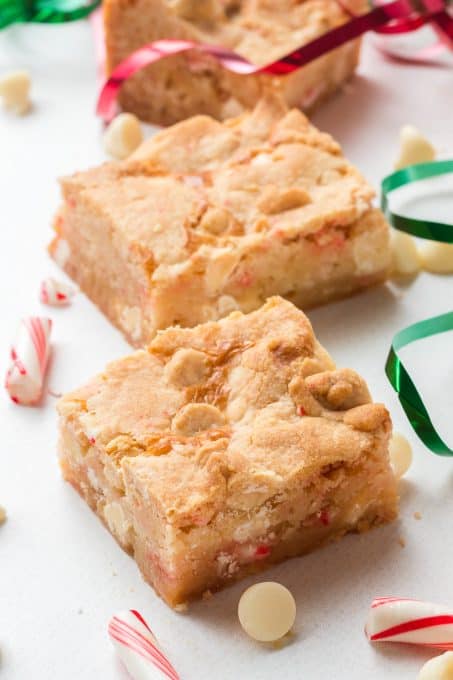 I love when cookie bars and brownies come out the teeniest bit underbaked. These Peppermint Gooey Bars are perfection. Soft, ooey-gooey, peppermint perfection!
It's such an easy bar recipe, too. You start with a box of cake mix and a handful of other ingredients, and within 45 minutes you have a freshly baked homemade holiday dessert ready to serve! No special equipment or pro baking skills required. Their gooey texture will surely bring holiday cheer and be a potential winner for any holiday party.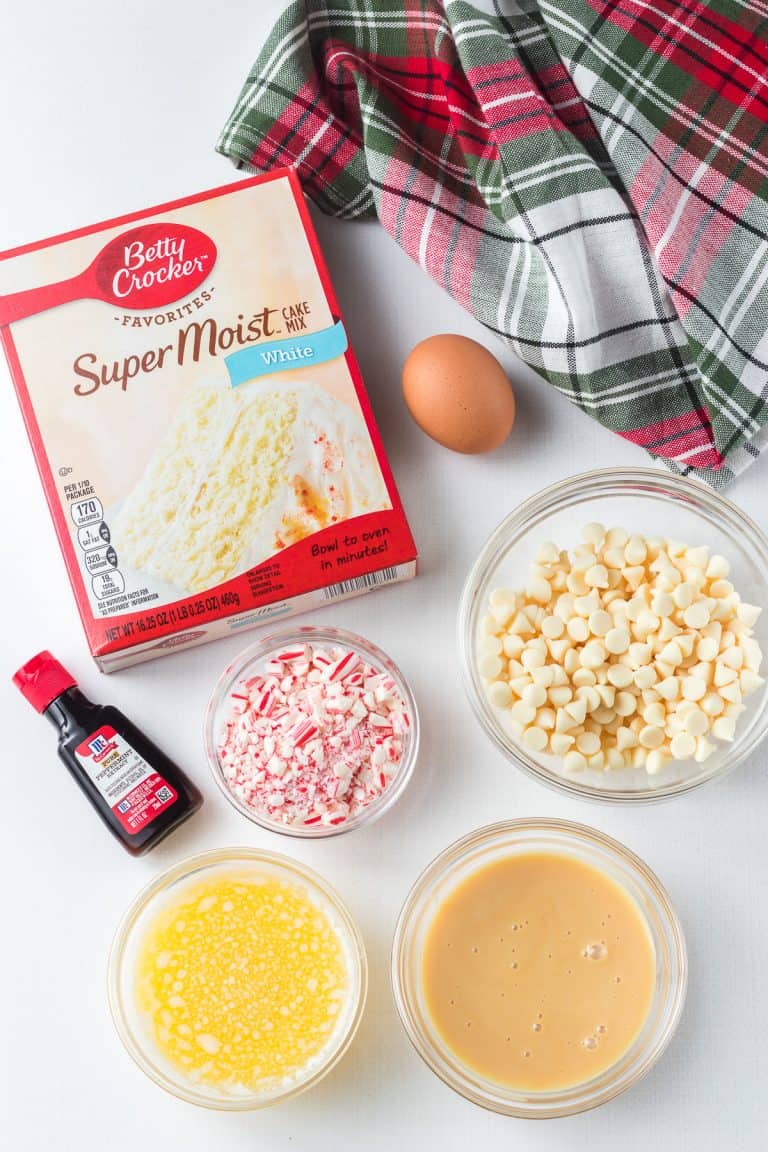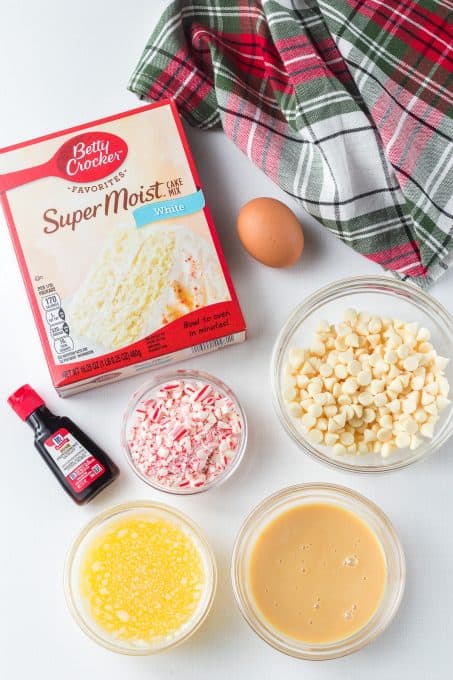 What do I need?
To make Peppermint Gooey Bars, you will need these ingredients:
White cake mix
Melted butter
Egg
Peppermint extract
White chocolate chips
Crushed candy canes or peppermint candies
Sweetened condensed milk
Every box of candy canes I buy seems to have at least a couple of broken ones inside by the time I get it home. Instead of throwing them away, I save them for recipes that call for chopped or crushed peppermints. Like Peppermint Bark and today's peppermint bar recipe. This is a perfect way to reuse those crushed candy canes to make this yummy bake treat.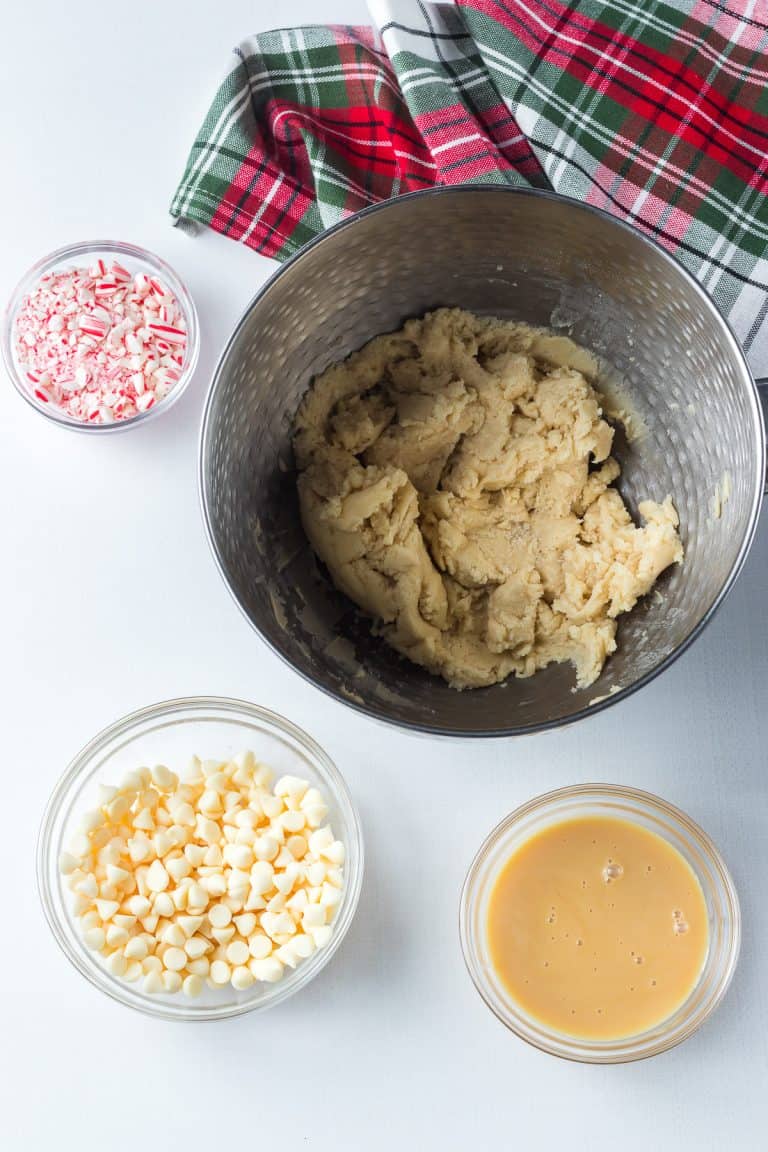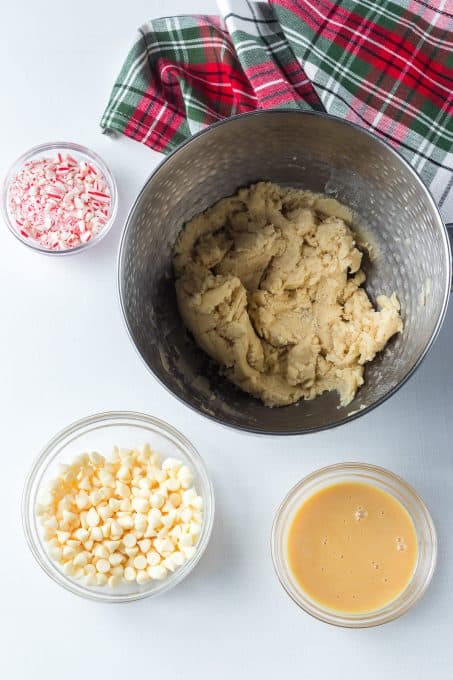 How do I make them?
Once you have your ingredients ready to go, it's time to get mixing!
Beat together on high speed the cake mix with butter, egg, and peppermint extract until just combined in a large bowl. Be careful not to overmix.
Now, stir in the dry ingredients like candy cane pieces and white chocolate chips in the large bowl using a wooden spoon. The dough will be very thick.
Spread two-thirds of the dough onto the bottom of a square baking pan lined with parchment paper. I found using a lightly greased spatula worked best to spread the dough evenly across the pan.
Pour your sweetened condensed milk over the layer of dough. Press the remaining dough on top. Try to cover as much of the milk as you can!
Bake for about 30 minutes until the middle looks set, and the edges are golden brown. Do NOT overbake! It's okay if the center is a bit soft with a gooey texture. These are meant to be GOOEY peppermint bars, after all!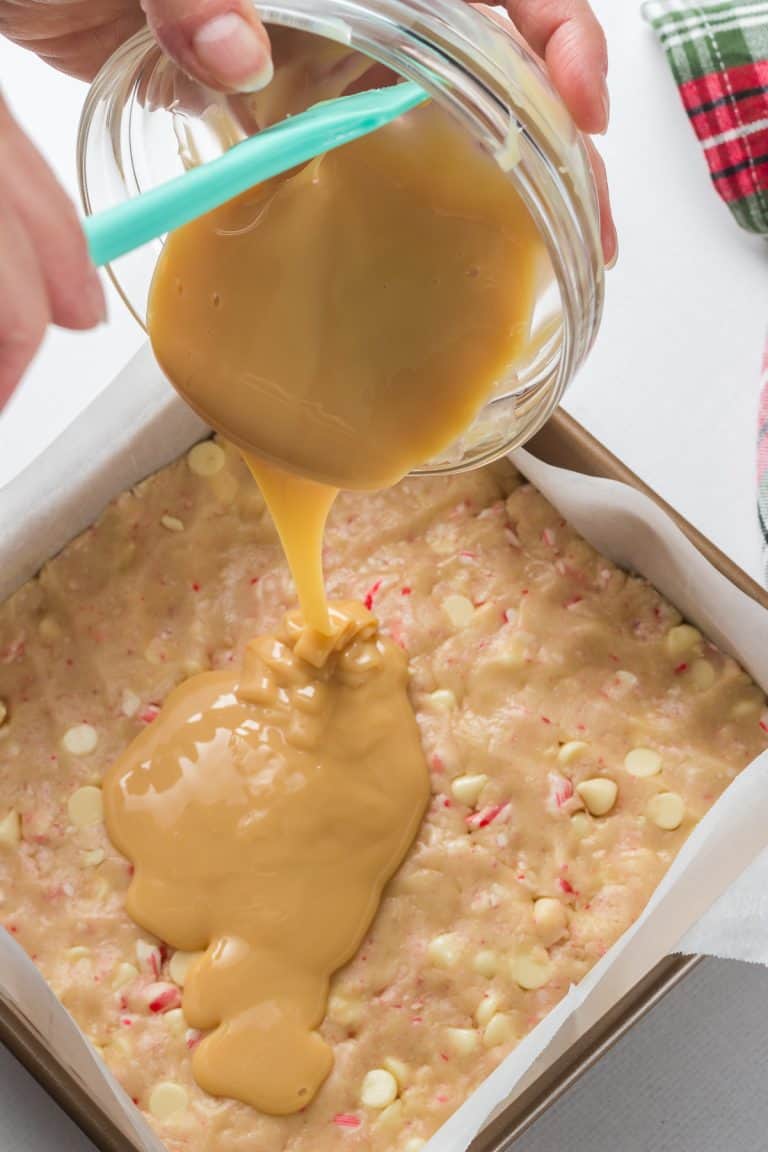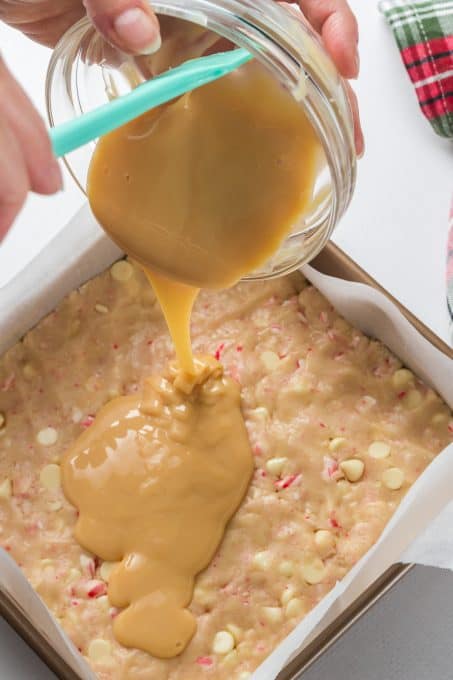 How to cut a peppermint gooey bar?
Before you grab your knife and slice away, make sure the bars have had a full hour to cool in the pan. Once cooled, slide the whole dessert out of the pan un-cut. Then use a clean, sharp knife to slice into 16 bars.
For clean edges, wipe off the knife between slices.
You can store these peppermint bars in an airtight container at room temperature or in the fridge. Keeping them chilled extends their shelf life, but bars this delicious tend to get eaten long before I have to worry about their freshness! The whole family will love this bake treat with their gooey texture. Perfect for your sweet tooth.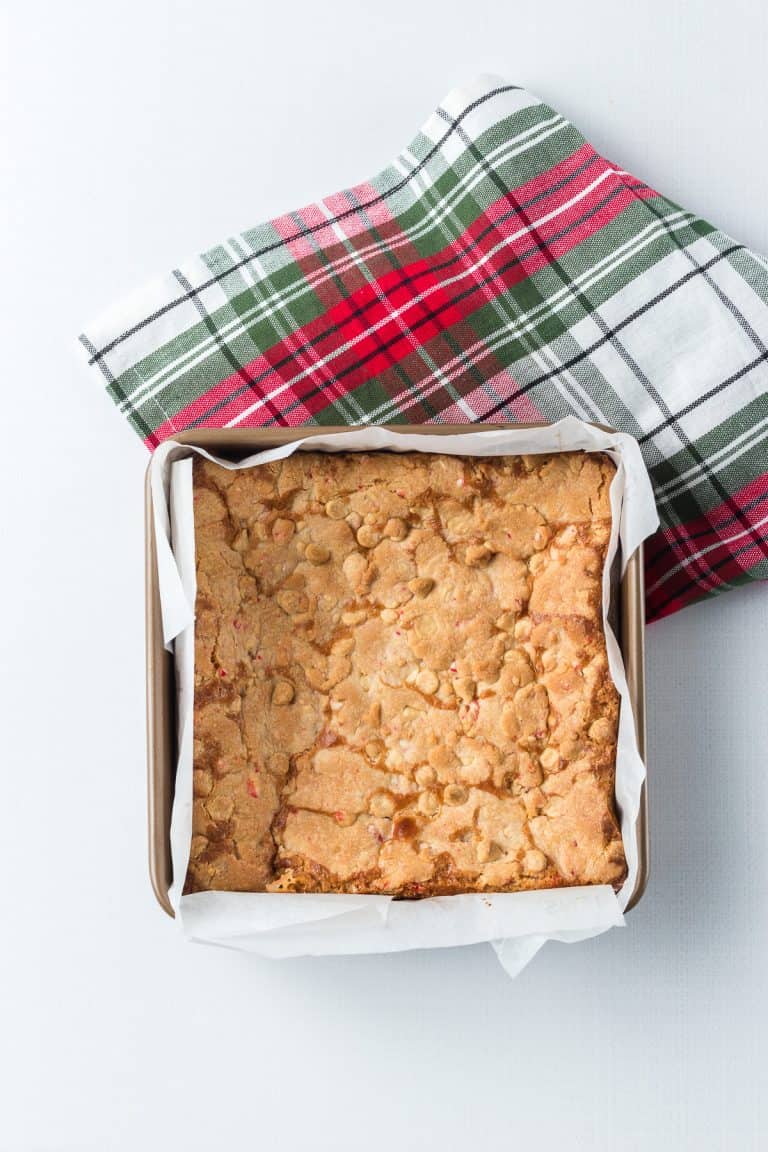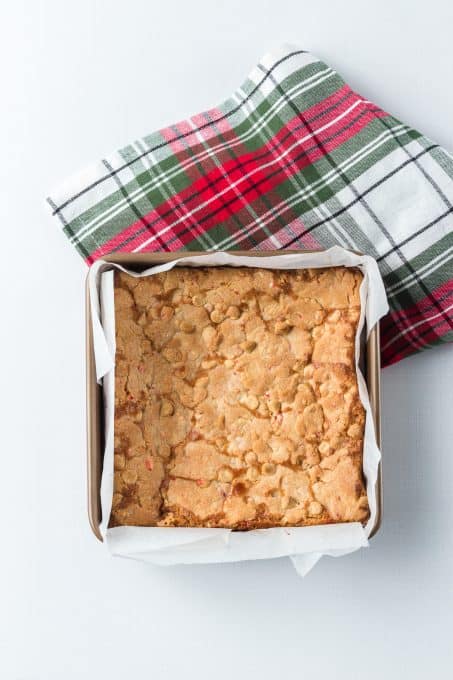 Peppermint Recipes
If you love these peppermint gooey bars, I have plenty more peppermint dessert ideas you're going to want to try with peppermint candies.
My readers are loving this Peppermint Brownie Pie. It's rich and fudgy with peppermint patty candies hidden inside, along with cocoa powder and chocolate chips! These are a delicious treat this holiday season using some of my favorite ingredients!
Bake a batch of these Peppermint Chocolate Biscotti when you're hosting overnight guests for the holidays. Your guests will be overjoyed to wake up to a freshly baked biscotti with a hot cup of coffee for dunking! Go extra festive by adding a splash or two of Peppermint White Chocolate Coffee Creamer to their mugs, too. Or whip together some coffee house style Peppermint White Chocolate Mochas instead using cocoa powder and crushed candy canes, which is a perfect flavor combination for a punch of flavor.
My Christmas cookie trays are never complete without a few Peppermint Sugar Cookie Cups or Peppermint Blossom Cookies. I can't pick a favorite between them, so I always end up making both!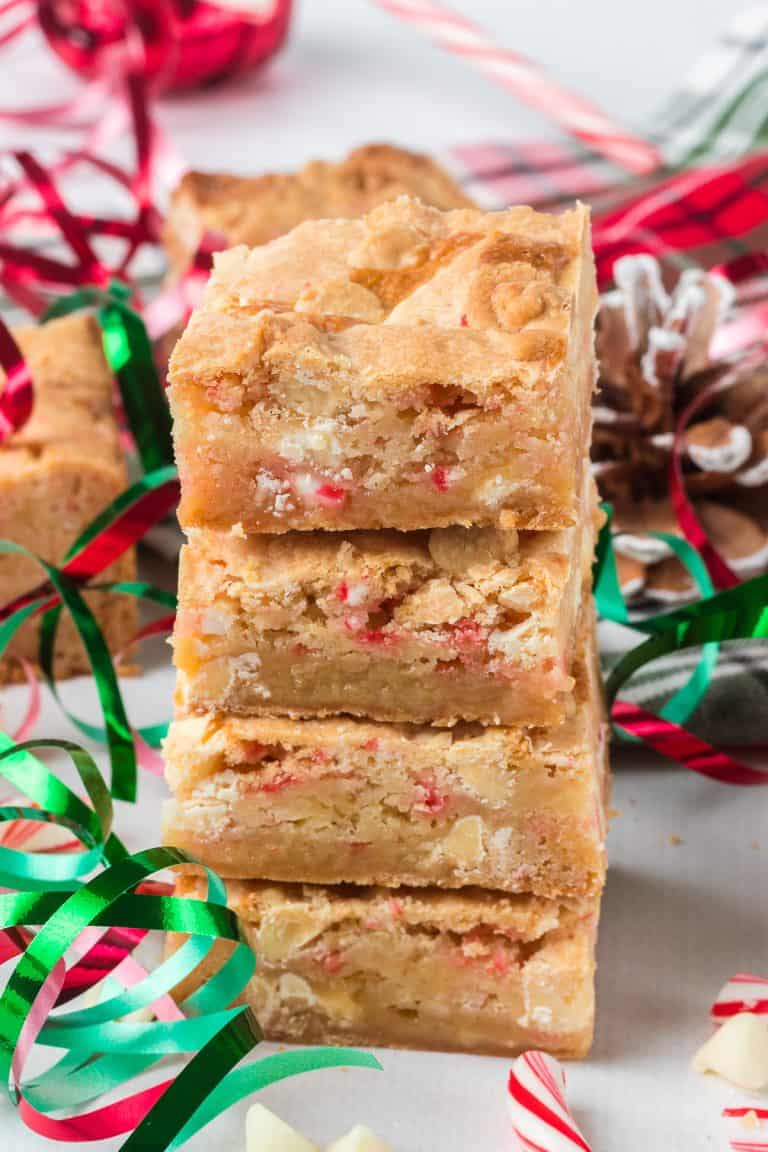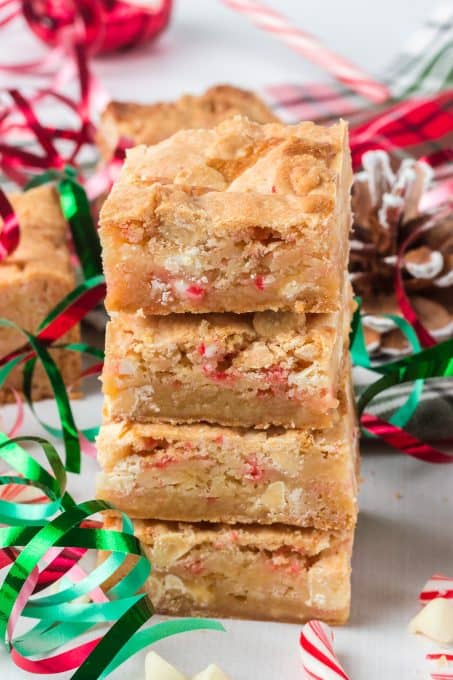 Bar Recipes
I never get tired of making dessert bars. Good thing my family never gets tired of eating them, and you never get tired of reading about them! From tried-and-true classics like Lemon Bars to new favorites like these Toffee Coconut Oatmeal Bars, I have dozens and dozens more delicious, easy, crowd-pleasing bar recipes your family will love.
Have you tried them all?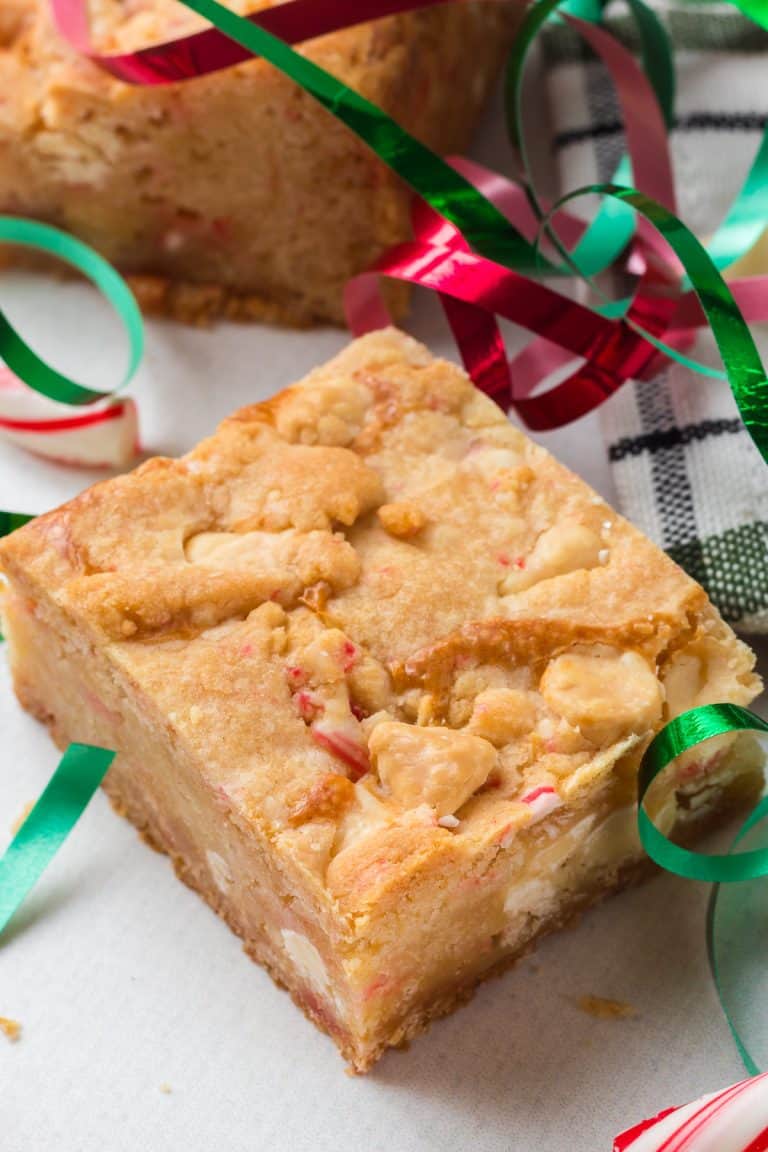 Grab a box of cake mix and a few candy canes! It's time to make the best-ever Peppermint Gooey Bars for the holiday season with this easy dessert bar recipe. They are the perfect recipe using crushed candy canes, peppermint extract, and white chocolate chips, which have the best flavor combinations. These bars are sure to bring on the holiday cheer this holiday season.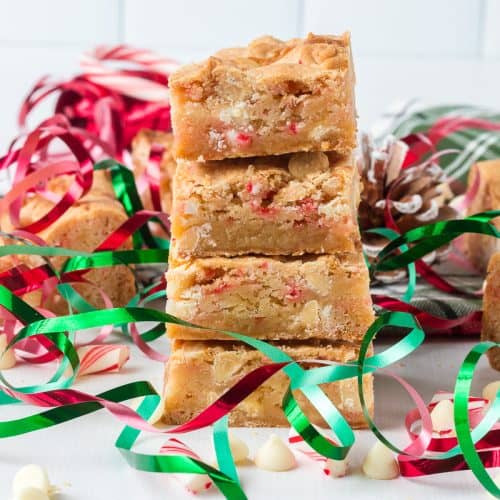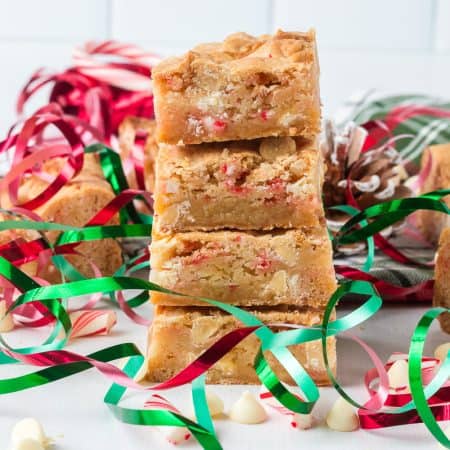 Peppermint Gooey Bars are sweet, soft-baked dessert bars with the refreshing flavor of peppermint! You'll love this easy Christmas dessert recipe, and it will be your new favorite this holiday season. They'll pair perfectly with a cup of hot chocolate.
Equipment
parchment paper

cooking spray

Large Mixing Bowl

Mixer
Ingredients
15.25 ounces white cake mix
½ cup unsalted butter melted, and slightly cooled
1 large egg
½ teaspoon peppermint extract
1 cup white chocolate chips
½ cup chopped candy canes
½ cup sweetened condensed milk
Instructions
Preheat oven to 350° F.

Line an 8" x 8" baking pan with parchment paper. Leave the sides a little higher than the pan so the bars can be lifted out easily after they've cooled. Spray the parchment paper lined pan with non-stick cooking spray and set aside.

In a large bowl, beat together the dry cake mix, butter, egg and peppermint extract until fully combined (about 30 seconds). Do not over mix. 

Stir in the crushed candy canes and white chocolate chips.

Press about 2/3 of the dough mixture into the bottom of the prepared pan. This dough will be thick (cookie dough consistency). If you are having difficulty spreading dough into the pan, lightly spray a spatula with non-stick cooking spray to help spread out the bottom layer.

Spread the sweetened condensed milk evenly over the first dough layer.

Press the remaining 1/3 of dough into super flat pieces and cover as much of the sweetened condensed milk layer with the dough as possible.

Place baking tray in oven and bake for 29 to 31 minutes – the middle will look set and edges will be slightly browned. Do not over bake or these bars will lose the gooey texture.

Let ooey gooey bars cool in pan for at least 60 minutes before removing from pan and slicing into 16 squares. For clean edged squares, wipe the knife with a damp cloth in between cutting each row.

Store gooey bars in a sealed food safe storage container at room temperature for up to 3 days or in fridge up to a week.
Nutrition
Serving: 1bar | Calories: 247kcal | Carbohydrates: 34g | Protein: 3g | Fat: 11g | Saturated Fat: 7g | Polyunsaturated Fat: 1g | Monounsaturated Fat: 3g | Trans Fat: 0.4g | Cholesterol: 31mg | Sodium: 214mg | Potassium: 90mg | Fiber: 0.3g | Sugar: 23g | Vitamin A: 221IU | Vitamin C: 0.3mg | Calcium: 112mg | Iron: 1mg
Did you make this recipe?
Share it with me on Instagram and make sure to follow me on Pinterest for more recipes.
Reader Interactions