These Chocolate Dipped Orange Sugar Cookies are dipped in rich dark chocolate with candied orange peel on top. A delicious citrus addition to your holiday baking plans!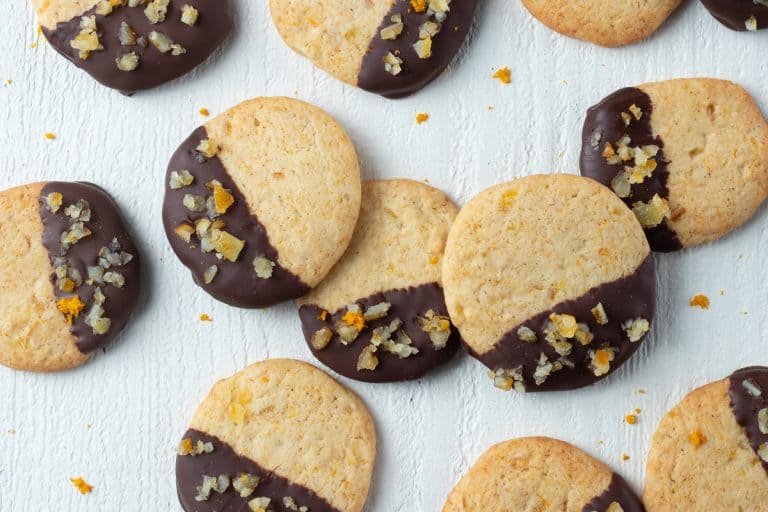 Need a little change from your ordinary frosted sugar cookies this holiday season? Try this recipe for Chocolate Dipped Orange Sugar Cookies!
Orange and chocolate are such an underrated flavor combination. These orange cookies give you the perfect blend of bright, citrusy flavor and smooth, rich cocoa.
This orange cookie recipe is Day 3 of our 12 Days of Cookies! Happy Baking!
Be sure to check out all of the other days for more amazing cookies!
Day 1 – Copycat Crumbl Reese's Peanut Butter Cookies
Day 2 – Linzer Cookies
Day 3 – You're on it!
Day 4 – Turtle Tassies
Day 5 – Fruity Pebbles Cookies
Day 6 – Brownie Mix Cookies
Day 7 – Cornflake Wreaths
Day 8 – Double Chocolate Peppermint Cookies
Day 9 – Pizzelles
Day 10 – Bourbon Toffee Cookies
Day 11 – Peppermint Gooey Bars
Day 12 – Chocolate Cherry Thumbprints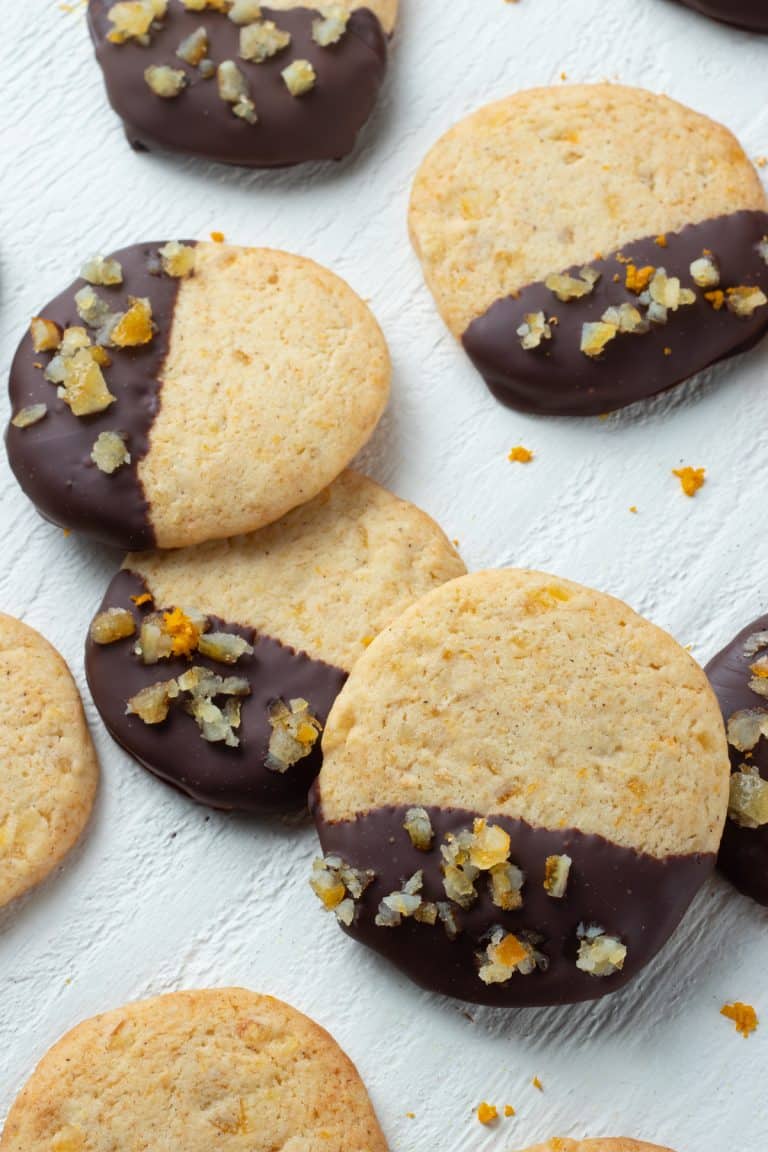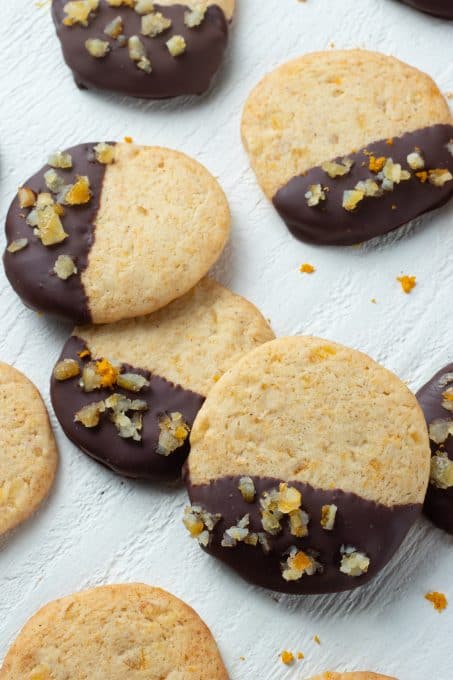 In a sea of peppermint and gingerbread cookie recipes, these orange cookies add some welcome variety. A hint of cloves adds a warming, cozy flavor to the cookies to get you in the Christmas spirit.
Chocolate dipped cookies are so easy to make, too. If you don't feel like rolling out, cutting and frosting sugar cookies this year, swap out your old recipe with these orange sugar cookies instead!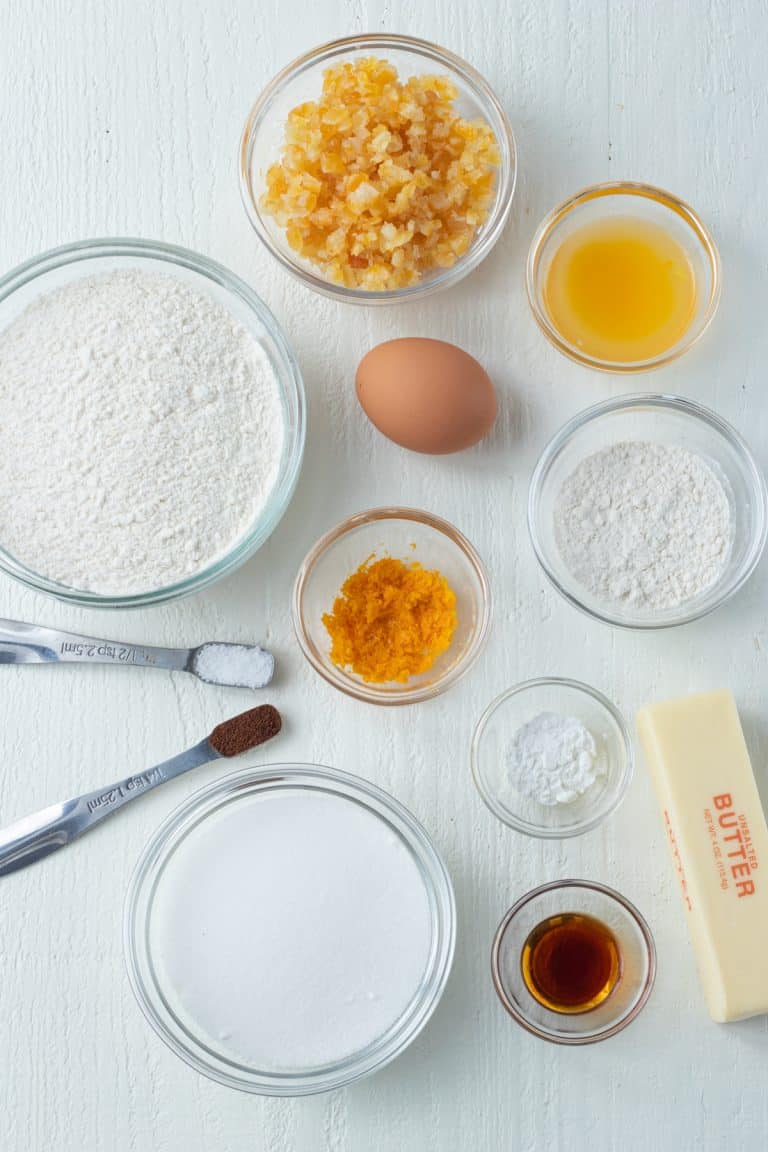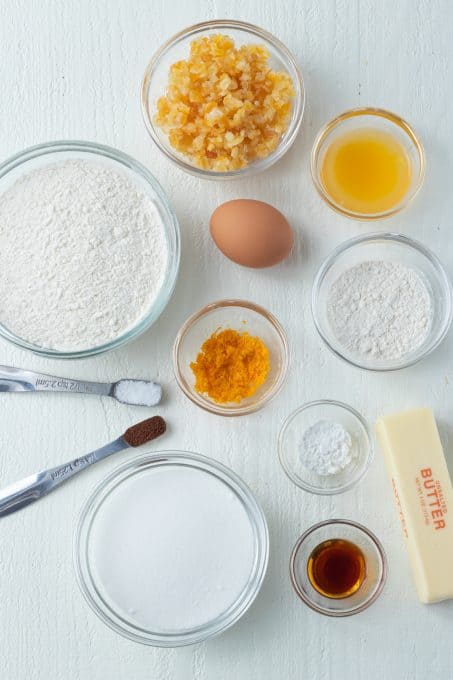 What do I need?
To make homemade orange sugar cookies, you will need:
Flour
Baking powder
Salt
Cloves
Butter
Sugar
Egg
Fresh orange juice
Candied orange peel
Fresh orange zest
You could stop right there and have a batch of perfectly good cookies, but we're going the extra mile today.
To turn sugar cookies into chocolate-dipped cookies, you will also need:
Dark chocolate chips
Candied orange peel – For pressing onto the dipped cookies.
You can find it in the holiday baking section of your local grocery store or through my affiliate link here on Amazon.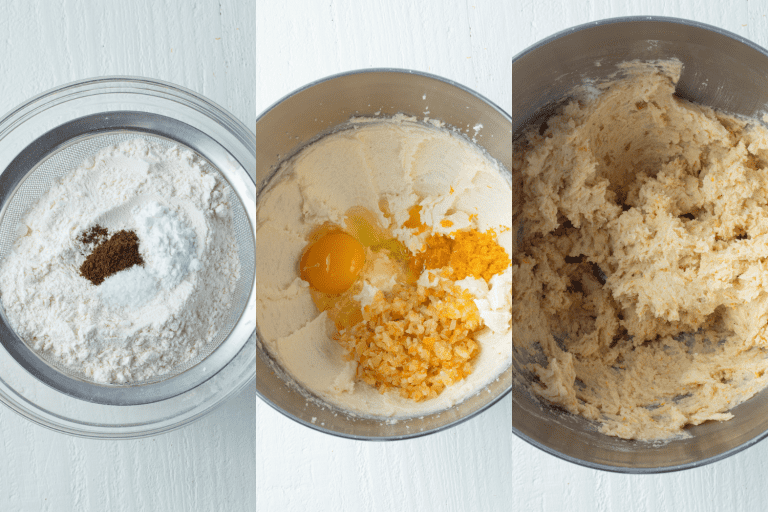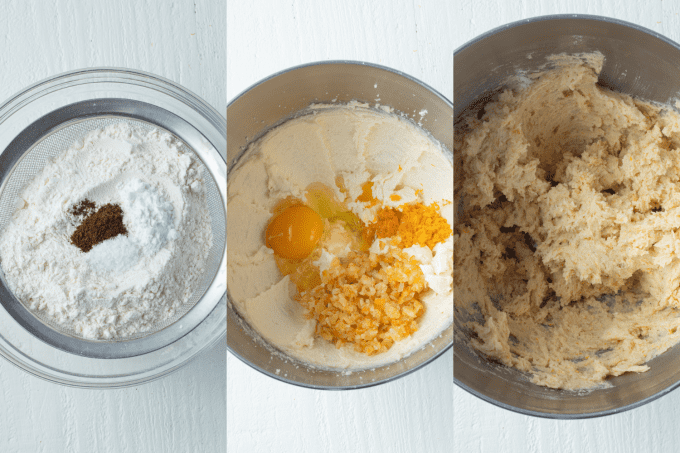 How do I make them?
This recipe starts like most sugar cookie recipes: with creaming together butter and sugar in a large bowl with an electric mixer. Add the egg, and mix well. Mix in the orange juice, zest, and 1/2 cup of the candied orange peel. Mix until thoroughly combined.
Then in a medium bowl, whisk together the all-purpose flour, baking powder, cloves, and salt.
Add the flour mixture to the wet ingredients, mixing on low speed just until combined. Shape into two dough logs, wrap in plastic wrap, and chill for 30 minutes.
I know it's tempting to skip this step when you're in a rush. But hear me out: the chilling makes a difference! It's the best way the cookies from spreading too much as they bake.
With a sharp knife, slice the chilled dough into discs. I like mine about a quarter of an inch thick.
Bake cookies for about 10 minutes. They should be firm, but not brown. Let them cool completely on wire racks.
Grab a couple of clean baking sheets and line them with parchment paper. Meanwhile, melt the chocolate chips for 30 seconds. Stir and then melt for additional 10 second increments until completely melted and smooth.
Now, it's time to dip!
Dip half of each cookie into the melted chocolate. Place cookies on the lined baking sheet to cool. Sprinkle a few more candied orange peels over the chocolate dipped end. You can even sprinkle each of them with a touch of sea salt if you'd like, too!
Let the chocolate set on the cookies for about 10 – 15 minutes. Then eat and enjoy!
Tip: Chocolate Dipped Orange Sugar Cookies taste especially delicious with a cup of coffee or for tea time with a homemade chai.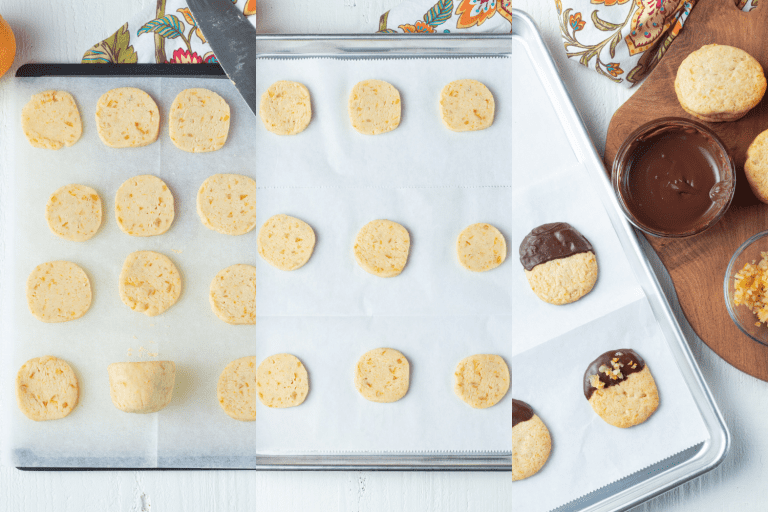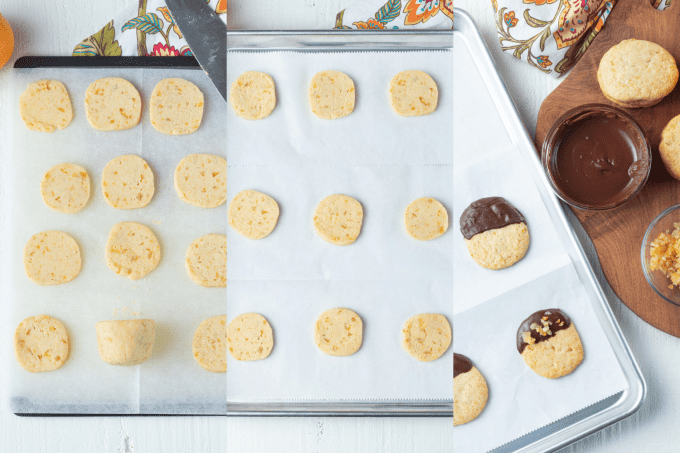 How do I store them?
Chocolate dipped sugar cookies should be stored in an airtight container at room temperature. Place parchment in between the layers so the candies orange pieces on the cookies don't make the cookies stick to each other. Or you can freeze them for longer storage!
What substitutions can I make?
You can substitute store bought orange juice for the freshly squeezed juice, if you prefer.
Chocolate melting wafers would also work in place of the chocolate chips and coconut oil. Melt the wafers according to package directions, then dip the cookies.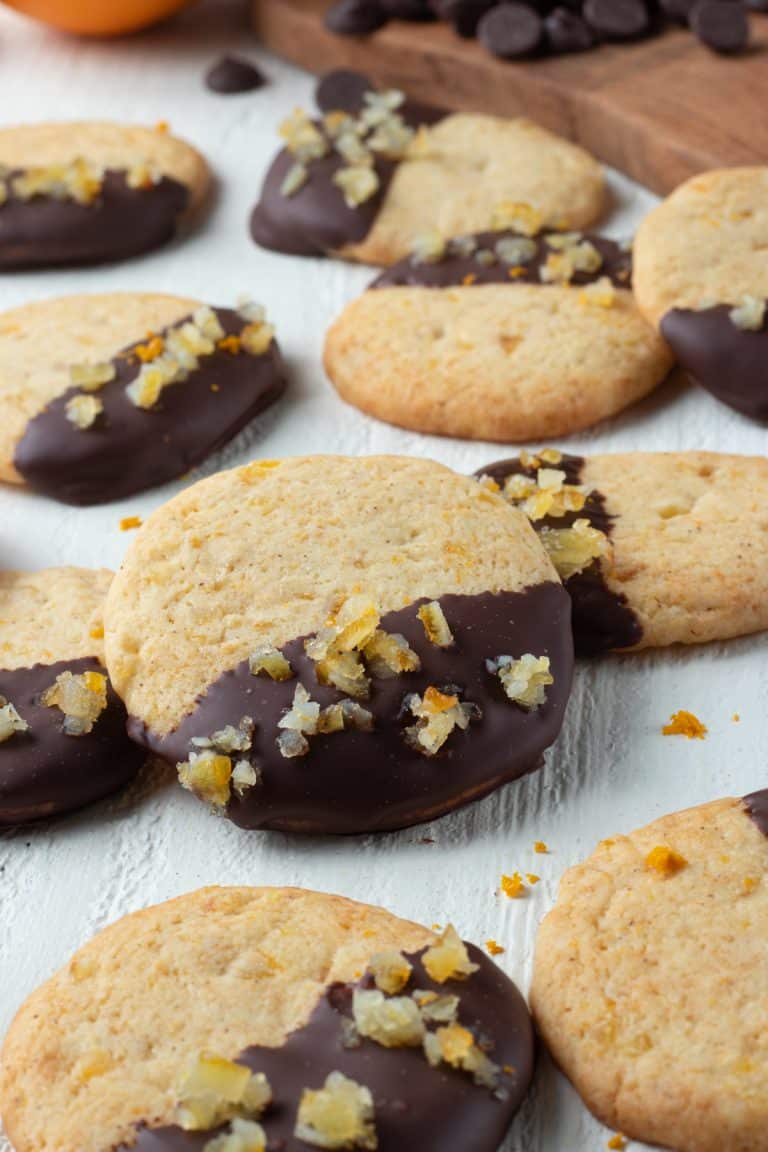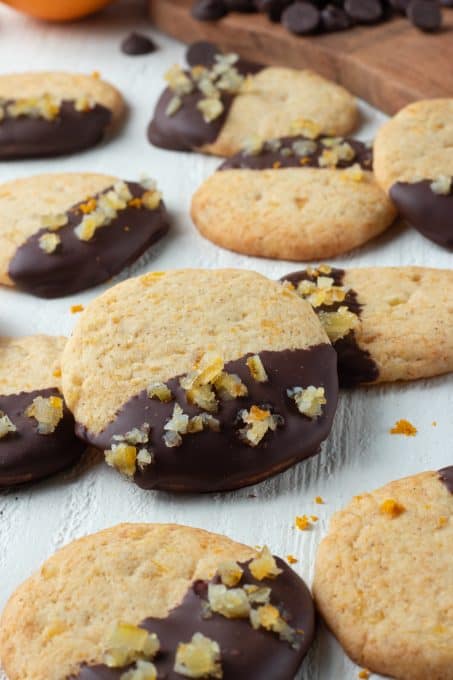 Orange Recipes
The high acidity and strong fragrance in oranges makes them a great addition to so many baked goods.
My favorite orange recipes tend to include cranberries, like this Orange Cranberry Coffee Cake. For a similar recipe that's even easier, I love this Orange Cranberry Bread recipe.
If you like the aroma of oranges and cloves, you will love this Orange Spice Cake. It has a cranberry filling and a beautiful layer of thick vanilla frosting on top.
I pair vanilla and orange together in a few other recipes, too. Try these Orange Creamsicle Dream Bars and this Orange Vanilla Smoothie. They taste just like an orange cream popsicle!
Sometimes, you just want the pure unadulterated goodness of a freshly squeezed orange. In that case, I suggest making a batch of Blood Orange Marmalade Scones for breakfast!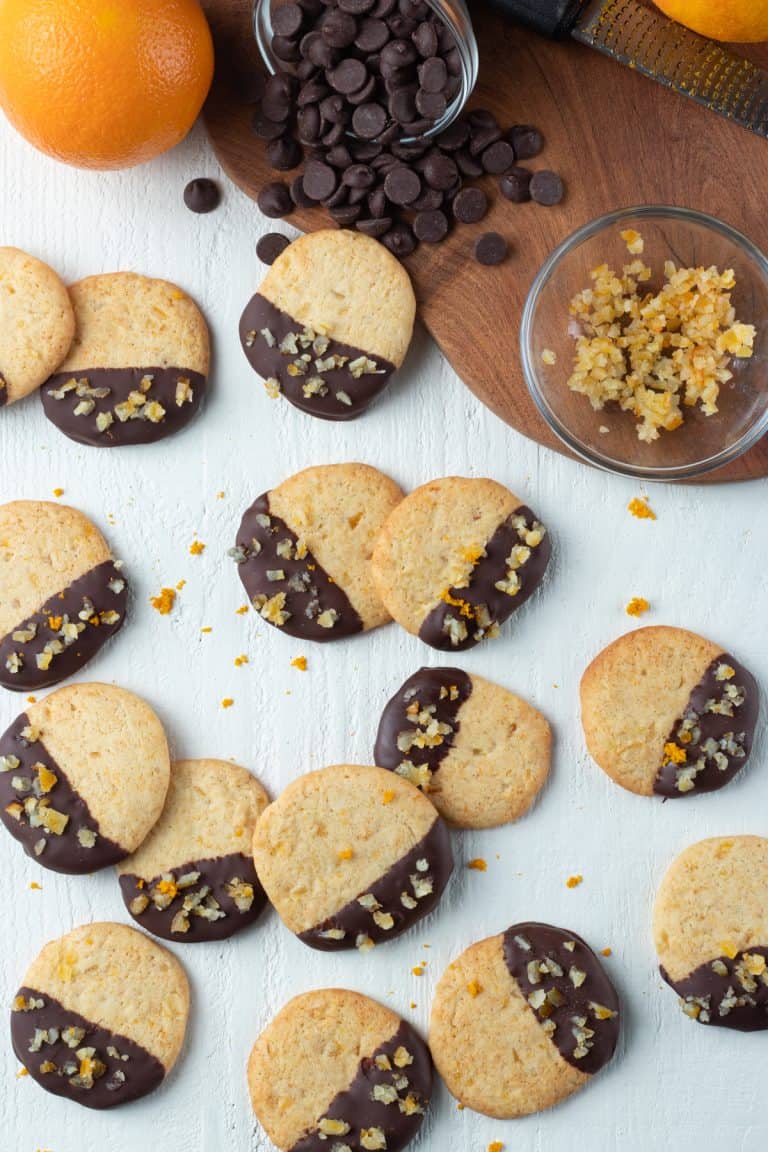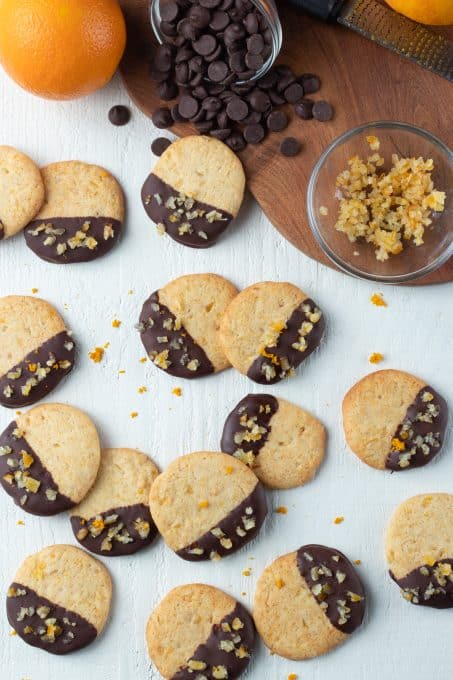 Delicious Cookie Recipes
We're celebrating 12 Days of Cookies leading up to Christmas. But cookie baking season lasts all year long!
While you're here, go ahead and rediscover a few of our most popular recipes from the "12 Days of Cookies" of years' past.
~ FOLLOW ME ~
Keep an eye out for more of my easy recipes each week!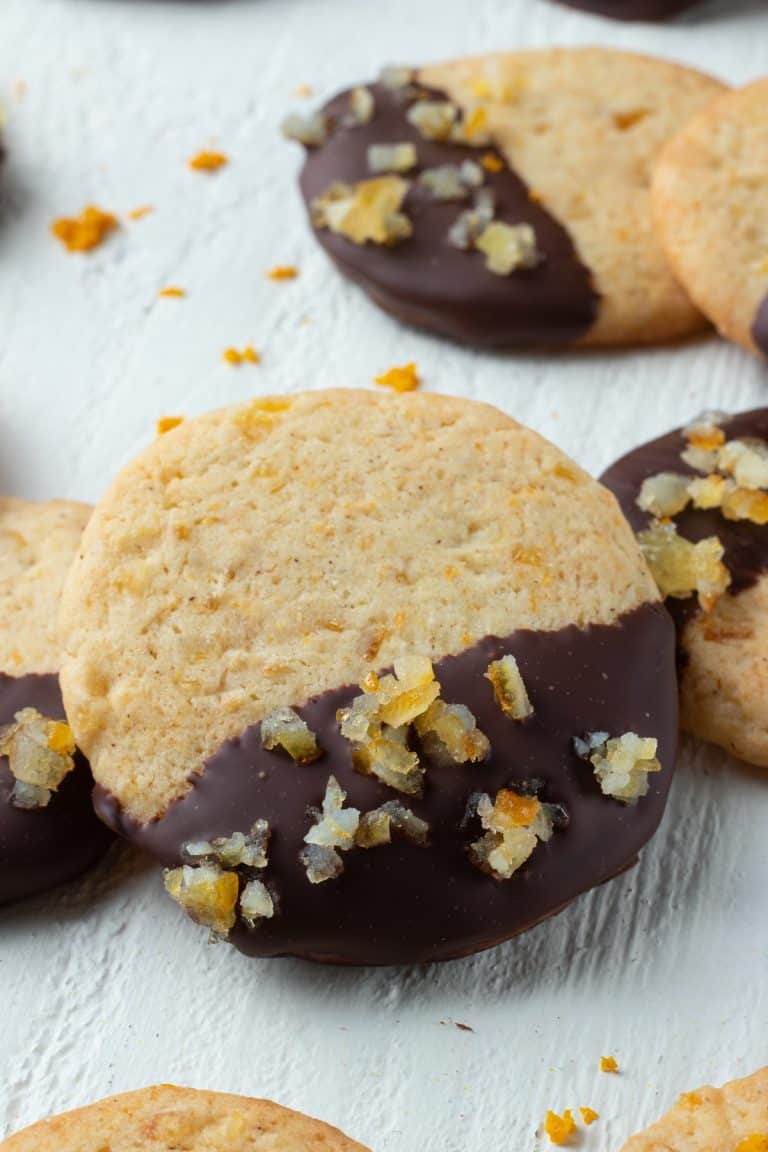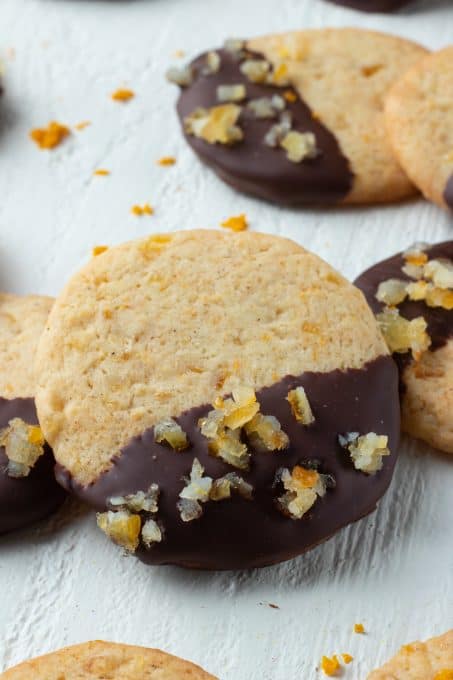 The delicious deep dark chocolate and refreshing orange flavor in these Chocolate Dipped Orange Sugar Cookies will make your taste buds dance with joy any time of year! They'll be a fun citrus addition to this year's Christmas cookie tray.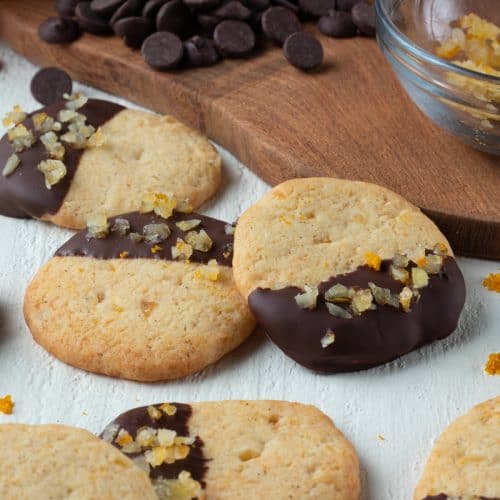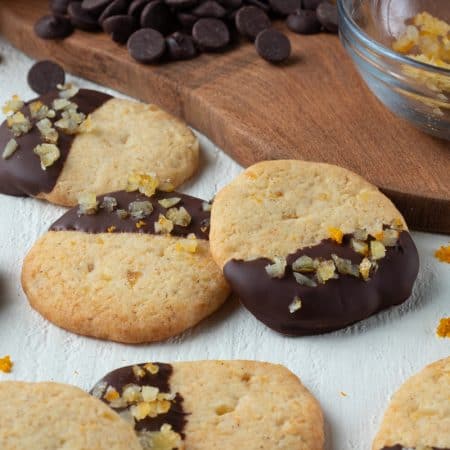 Chocolate Dipped Orange Sugar Cookies
These Chocolate Dipped Orange Sugar Cookies are dipped in rich dark chocolate with candied orange peel on top. A delicious addition to your holiday baking plans!
Ingredients
1 ½ cups all-purpose flour
2 tablespoons all-purpose flour
¾ teaspoon baking powder
½ teaspoon salt
¼ teaspoon cloves
½ cup butter
¾ cup sugar
1 egg
2 teaspoons fresh orange zest
2 tablespoons fresh orange juice from one medium orange
¾ cup finely chopped candied orange peel divided
1 ¼ cups dark chocolate chips
Instructions
In a medium bowl, sift together all of the flour, baking powder, salt, and cloves.

In the bowl of a mixer fitted with the paddle attachment, cream the butter and sugar until light and fluffy, about 3 minutes.

Add the egg, and mix well. Mix in the orange juice, zest, and a ½ cup of the candied orange peel. Mix until thoroughly combined. Gradually add the flour and mix on lowest speed until just blended.

Place a piece of plastic wrap on the counter and place half of the dough onto it, shaping it into a log about 2-inches in diameter. Do the same with the other half of the dough.

Place both rolls into the freezer for 30 minutes until firm.

Preheat oven to 375 degrees F. Cut into slices about 1/4-inch thick and place on a baking sheet lined with parchment. Bake for 10 minutes, until firm, but not browned. Place cookies on a wire rack to cool completely before dipping.

Prepare two cooled baking sheets (or a clean work surface) by lining them with sheets of clean parchment paper. Place the dark chocolate chips in a small microwavable bowl, and heat for 30 seconds. Stir well, and, microwave again for 10 second increments until completely melted and smooth, stirring in between each.

Dip half of each cookie into the chocolate, lightly dragging the edge on the bowl to remove any excess chocolate, and place onto the parchment. Drop some candied orange peel onto the chocolate half of each cookie. Allow cookies to rest for about 10 – 15 minutes to set.
Notes
Store cookies in an airtight container with layers of cookies separated by parchment paper so they don't stick together. 
Nutrition
Serving: 1cookie | Calories: 135kcal | Carbohydrates: 19g | Protein: 2g | Fat: 6g | Saturated Fat: 4g | Polyunsaturated Fat: 0.2g | Monounsaturated Fat: 1g | Trans Fat: 0.1g | Cholesterol: 15mg | Sodium: 83mg | Potassium: 78mg | Fiber: 1g | Sugar: 11g | Vitamin A: 114IU | Vitamin C: 1mg | Calcium: 33mg | Iron: 0.5mg
Did you make this recipe?
Share it with me on Instagram and make sure to follow me on Pinterest for more recipes.
Reader Interactions