Christmas Wreath Cookies are as fun to make as they are to eat! Turn cornflake cereal into festive treats with this easy recipe and just a handful of ingredients. No need to bake Christmas wreath cookies because they're made in a large pot on top of the stove.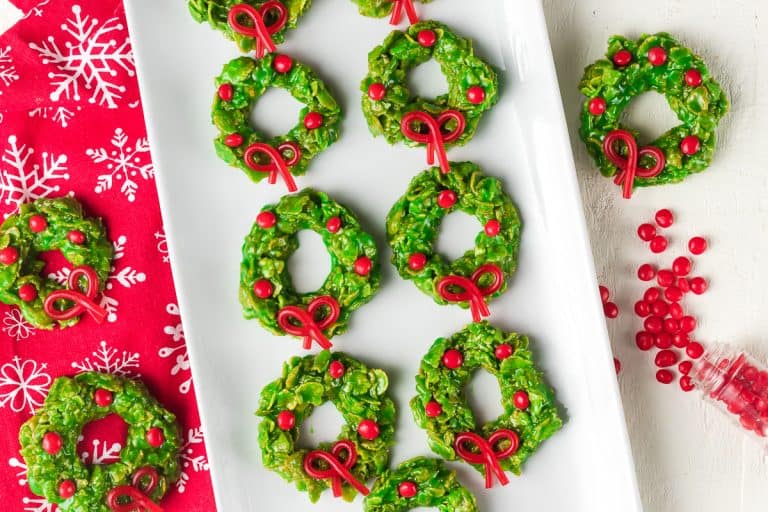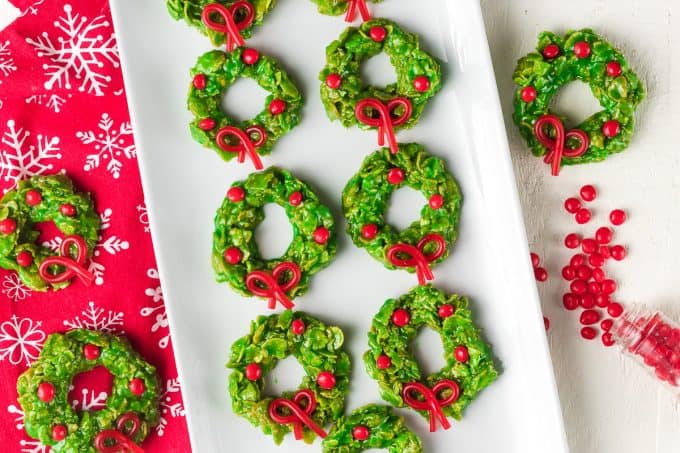 Welcome to Day 6 of our 12 Days of Cookies!
Take a look at the holiday cookies we've been sharing!
Day 1 – Copycat Crumbl Reese's Peanut Butter Cookies
Day 2 – Linzer Cookies
Day 3 – Chocolate Dipped Orange Cookies
Day 4 – Turtle Tassies
Day 5 – Fruity Pebbles Cookies
Day 6 – Brownie Mix Cookies
Day 7 – You're on it!
Day 8 – Double Chocolate Peppermint Cookies
Day 9 – Pizzelles
Day 10 – Bourbon Toffee Cookies
Day 11 – Peppermint Gooey Bars
Day 12 – Chocolate Cherry Thumbprints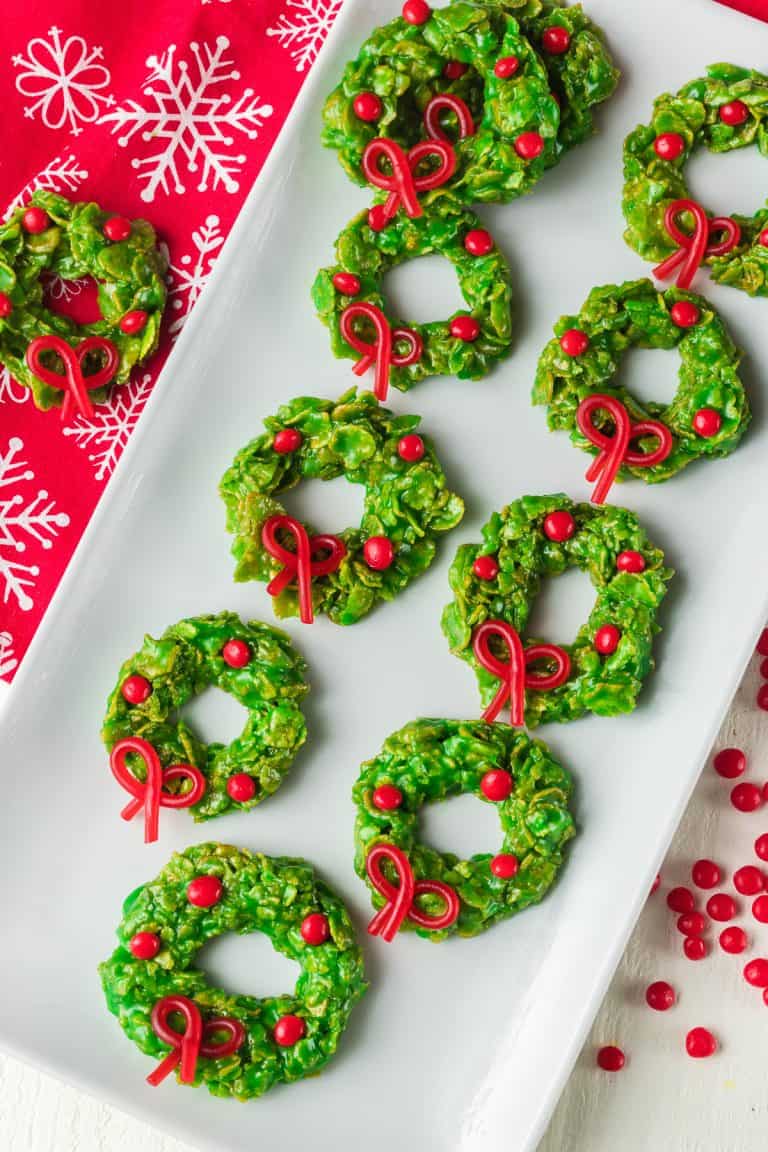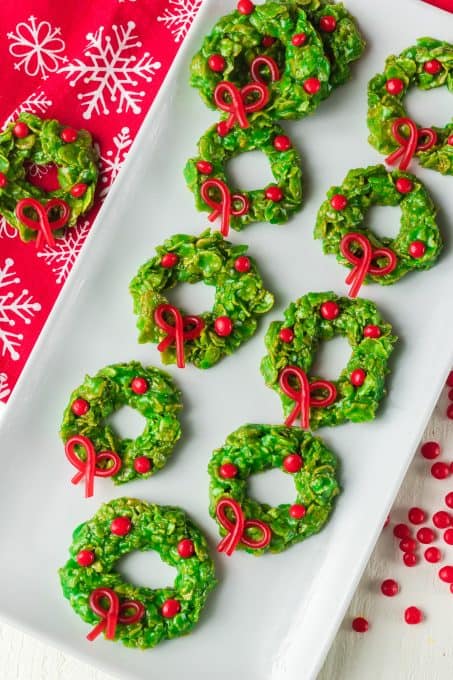 Remember my delicious little cornflake cookies that were similar to Rice Krispie Treats? They gave me the inspiration for these Christmas cookies!
There are a few reasons why I love no bake cookie recipes. Especially during the lead up to Christmas!
First: the oven space. My oven is in high demand this time of year. I like that I can have dinner roasting in the oven while I whip up a batch of cornflake cookies for dessert.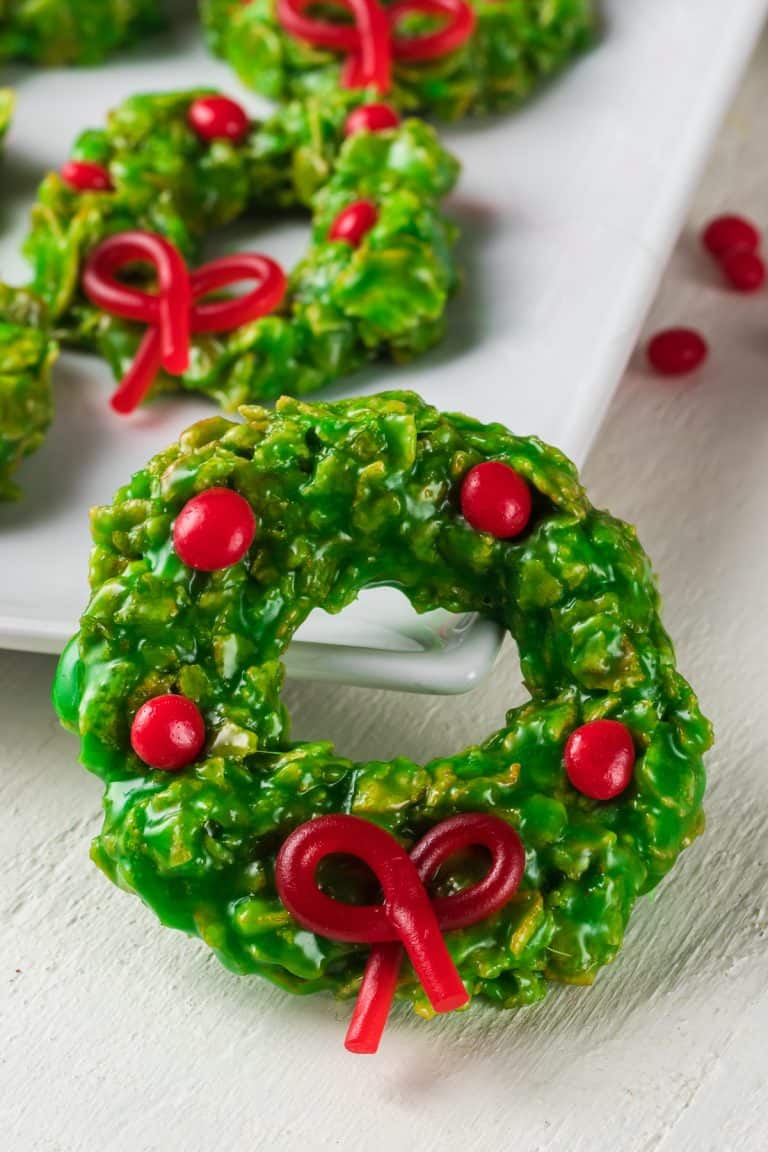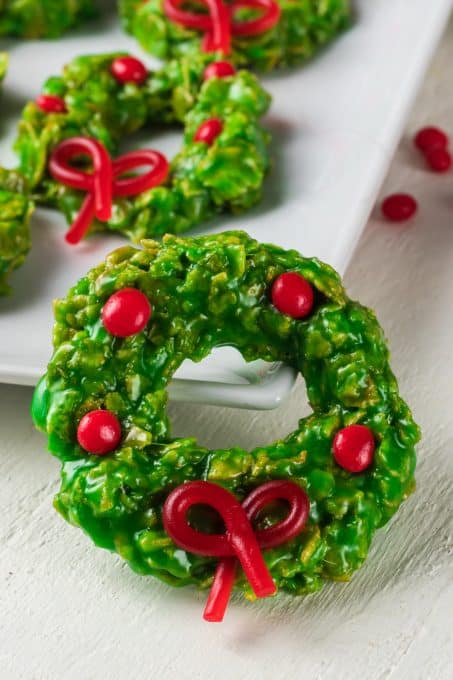 Second, I love how easy they are to make. You can use all different kinds of ingredients to change up the flavors and shape them into just about any size you like. No matter what, you know they'll be delicious.
This year, I transformed my favorite cornflake cookies into Christmas Wreath Cookies!
Unlike my original recipe, this version has NO peanut butter. The flavor is sweet, almost like toffee, and they look cute as a button decorated with red licorice bows. These Christmas Wreaths are bound to get a few "oohs" and "ahhs" when you bring them to your holiday parties.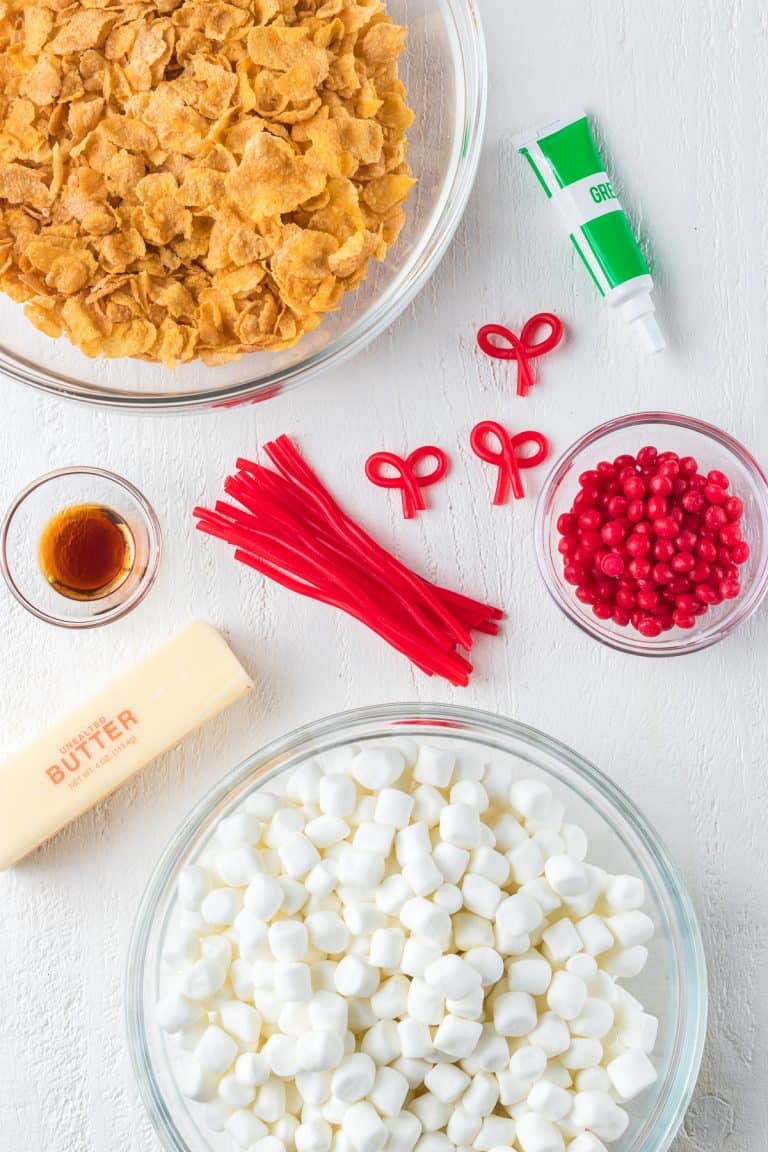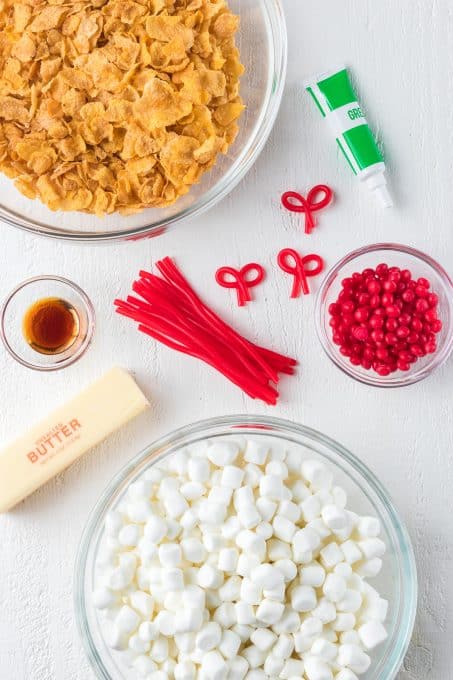 What do I need for this cornflake mixture?
Here are all the ingredients you need to make perfect cornflake wreaths.
Half cup butter
Mini marshmallows
Corn flakes
Vanilla extract or almond extract
Green food coloring –
I used gel food coloring. You can use liquid food coloring, but you may need to adjust the amount.
Cinnamon candies for holly berries – Both red hot candies and cinnamon imperials work well! You can even decorate them with candy sprinkles if you'd like.
Twizzlers Pull N Peel Licorice– Or any 'shoe lace' style strawberry licorice.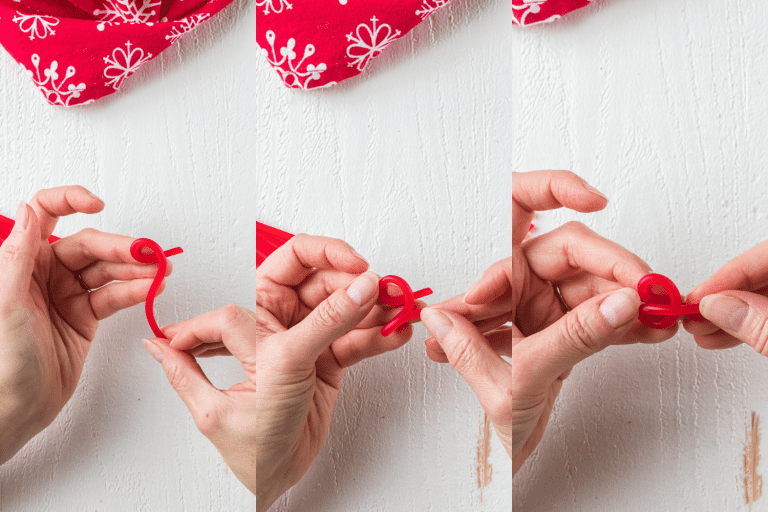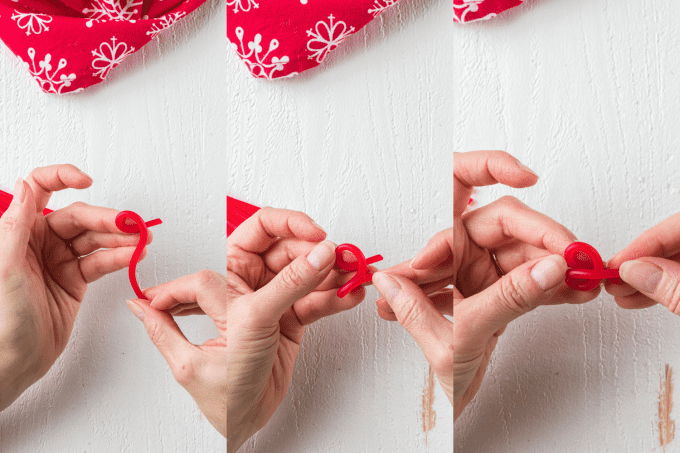 How do I make these Cornflake Christmas Wreaths?
Before you dive into making the cornflake cookie wreaths, prep your licorice bows. Make sure to do this step first! Otherwise, the cookies will harden before you have a chance to press on the bows.
I used Twizzlers Pull 'n' Peel Licorice, and divided them into single strands and then cut those in half.
Using one end, I created a small loop in my left hand, and then with my right hand, pushed the loose end up creating a second loop.
I then squeezed the center of the bow hard, to make sure everything would stick together.
I recommend making these only right before you plan to make the wreaths. I made them the day before and stuck them in a Ziploc bag, then discovered the next morning that some of the loops had broken.
Now that the bows are done, we can move onto the cookies!
Melt the butter in a large nonstick pot over medium heat. Stir in the marshmallows, and stir until completely smooth and melted. Add the green color and vanilla extract to the marshmallow mixture. Remove the pan from heat and stir in the cornflakes.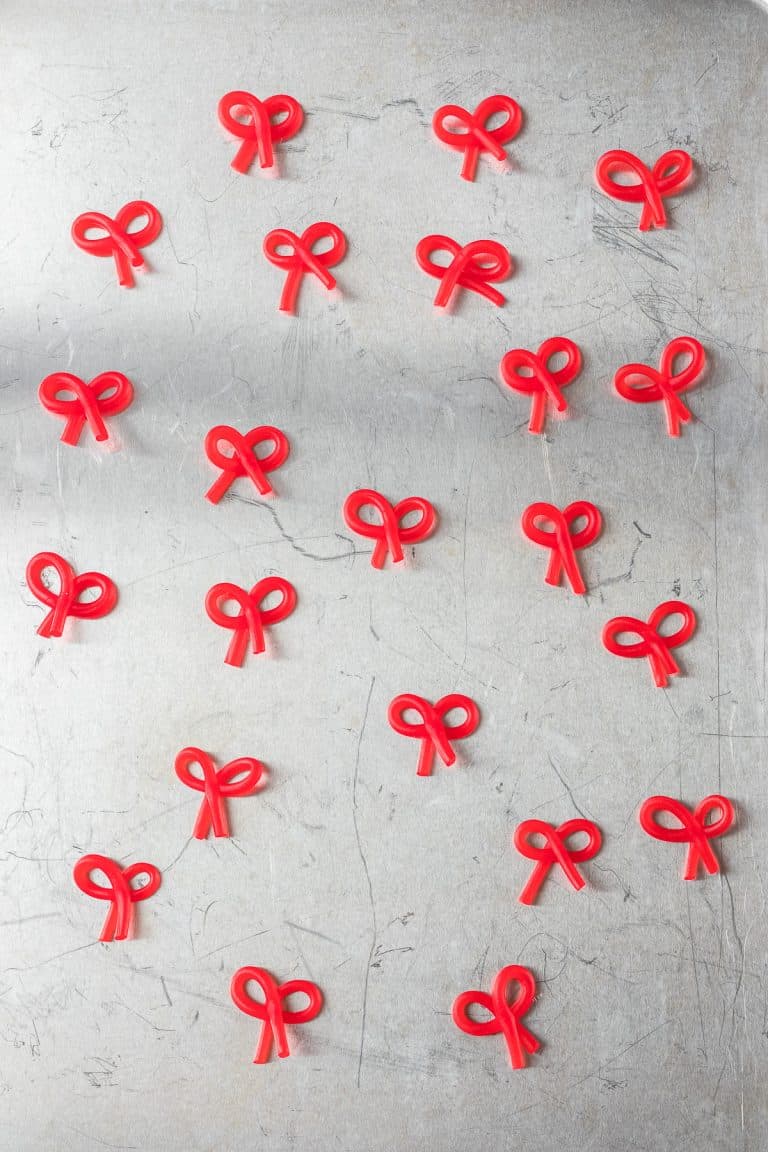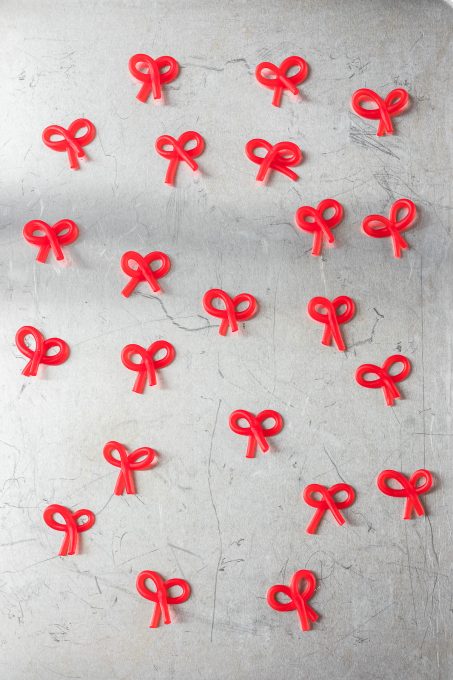 Fill a large pan (or your sink) with an inch of hot water. This helps keep the mixture from hardening while you form the wreaths.
Using a medium cookie scoop or two tablespoonfuls, drop dough onto parchment paper or wax paper. Let the mixture cool slightly and grease your fingers with a little butter. Use your hands or grease the end of a wooden spoon to make a hole in the center and shape the cookie dough into a wreath shape. Decorate the wreath cookie with a few red candies. I stuck them into between the corn flakes slightly to make sure they would stick better.
Don't forget to add the licorice bow!
Repeat until you've completed every holly wreath. Let them set for about 15 minutes before serving.
Aren't they adorable?!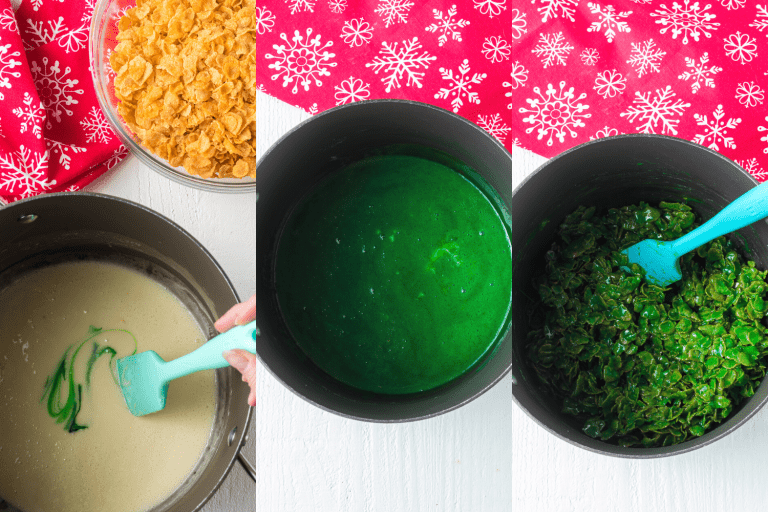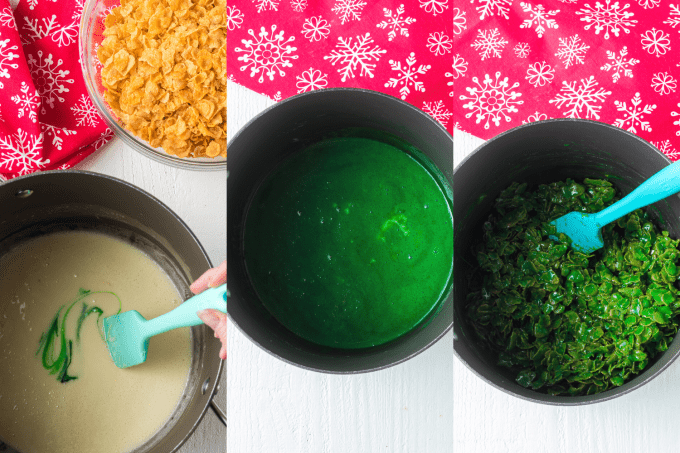 How do I store Cornflake Christmas Wreath Cookies?
These festive wreaths can be stored at room temperature in an airtight container for up to 4 days. I recommend separating the layers of cookies with layers of parchment to prevent them from sticking to each other. If you want to store them for the full 4 days, you may want to omit the licorice bow as I said some of them broke in less than 24 hours.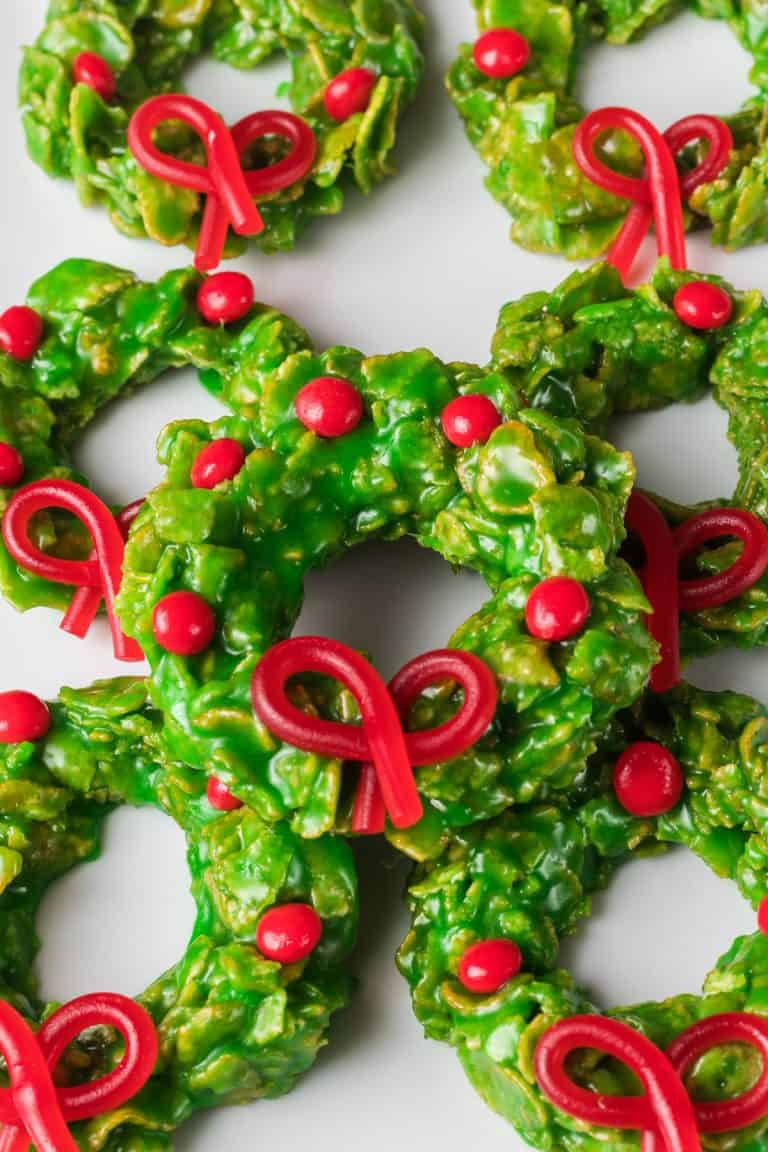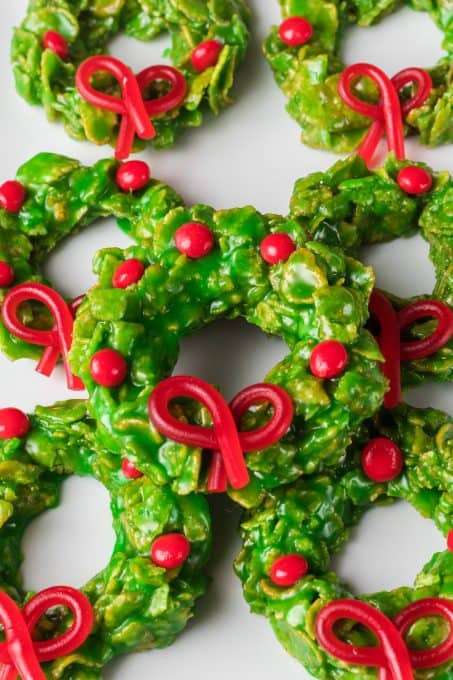 Easy Recipes for Cookies
Christmas Cornflake Wreaths aren't the only variation on cornflake cookies I have on the site. Chocolate and peanut butter lovers rave over these Chocolate Peanut Butter Cornflake Cookies!
When it comes to simple cookie recipes, it doesn't get much easier than these 3 Ingredient Peanut Butter Cookies. You can make them in one bowl in just 15 minutes. I like them so much I created a sugar free version for my friends who have to limit their sugar intake.
Looking for more no bake cookie inspiration? Try these No Bake Peanut Butter S'Mores Cookies next! And while they aren't technically cookies, these Oreo Peppermint Rice Krispies Treats are always a hit at Christmas time.
Christmas Cookie Ideas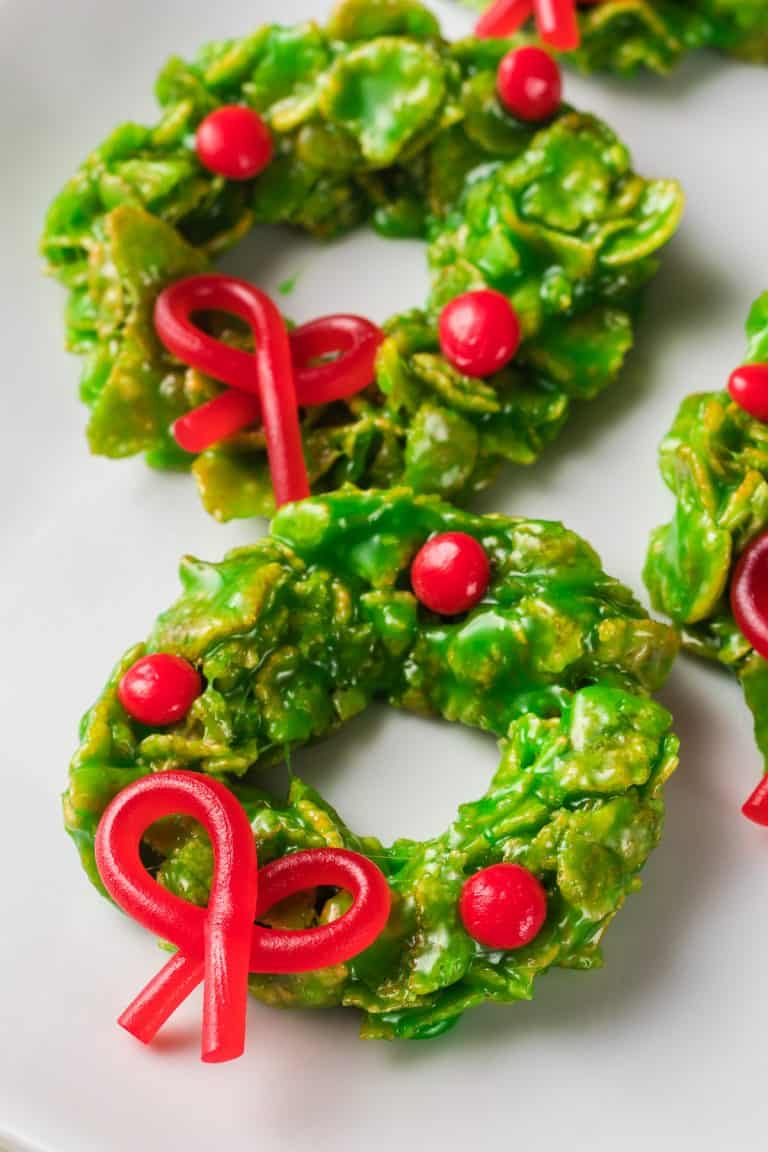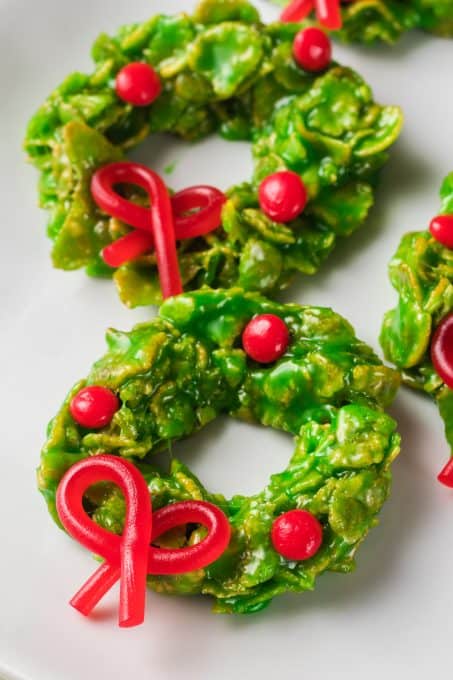 With a few simple ingredients, you can create cute traditional Christmas cookies. Brighten your cookie trays with green wreaths decorated with small cinnamon candies, and show them off on your holiday dessert table.
~ FOLLOW ME ~
Keep an eye out for more of my easy recipes each week!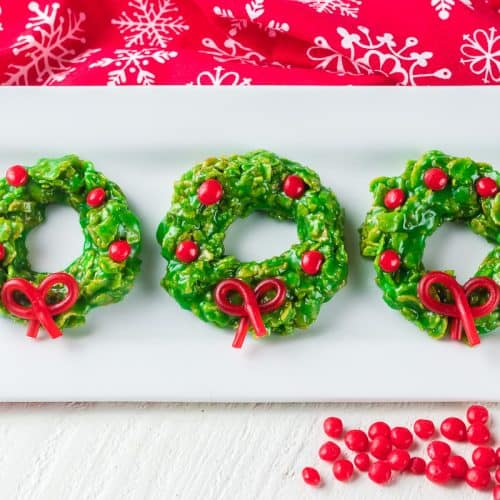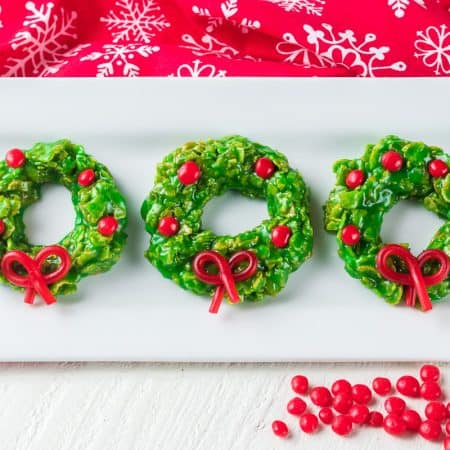 Christmas Wreath Cookies are as fun to make as they are to eat! Turn cornflake cereal into festive treats with this easy recipe and just a handful of ingredients. No need to bake Christmas wreath cookies because they're made in a large pot on top of the stove.
Ingredients
½ cup butter
5 cups miniature marshmallows
1 teaspoon pure vanilla extract
1 ¼ teaspoons green food coloring
4 cups cornflakes
Cinnamon Imperials or Cinnamon Red Hot candies
10 single strands Twizzlers Pull N Peel Licorice cut in half
Instructions
To start, form 20 licorice bows. It is important that you do this step first as once you form the cookies, they may harden before you add the decorations and won't stick.

I used Twizzlers Pull 'n' Peel Licorice, and divided them into single strands and then cut those in half. Create a small loop in one end, and then with your other hand push the loose end up, creating the second loop. Squeezed the center of the bow to make sure everything sticks together. See picture in the post. Place the bows onto a cookie sheet or clean work surface for easy access while you decorate the wreaths.

Prepare a clean work surface by lining it with a sheet of parchment paper or waxed paper. Place a large saucepan or pot over medium heat, and melt the butter.

Pour the marshmallows into the pot and stir until completely melted.

Add the vanilla and green food coloring and mix until thoroughly combined. Remove from heat. Mix in the cornflakes and stir well. Fill the sink or a large skillet with about an inch of hot water, and place pan into the hot water to keep warm while you work.

Using a medium cookie scoop or two tablespoons of cornflake mixture, drop it onto the parchment. Grease your fingers with some butter and allow the mixture to cool slightly before forming it into a ball. Poke a hole into the center with your finger and form it into a wreath. Decorate each wreath with a few cinnamon candies and gently press the licorice bow onto it. Cool for at least 15 minutes before serving.
Nutrition
Serving: 1serving | Calories: 103kcal | Carbohydrates: 15g | Protein: 1g | Fat: 5g | Saturated Fat: 3g | Polyunsaturated Fat: 0.2g | Monounsaturated Fat: 1g | Trans Fat: 0.2g | Cholesterol: 12mg | Sodium: 88mg | Potassium: 12mg | Fiber: 0.2g | Sugar: 8g | Vitamin A: 242IU | Vitamin C: 1mg | Calcium: 2mg | Iron: 2mg
Did you make this recipe?
Share it with me on Instagram and make sure to follow me on Pinterest for more recipes.
Reader Interactions