These Pepperoni Pizza Pinwheels are a quick and easy, family-friendly recipe that can be modified to suit any taste buds! Mix up the toppings or follow along exactly, for a classic pizza appetizer that also serves like a meal!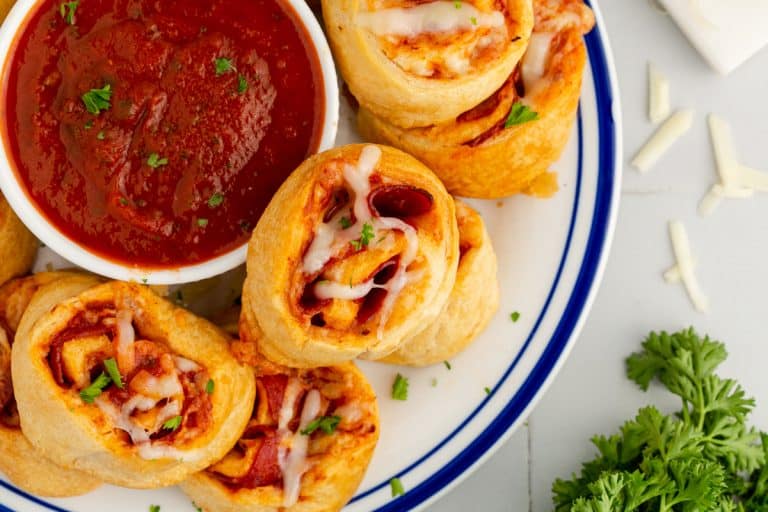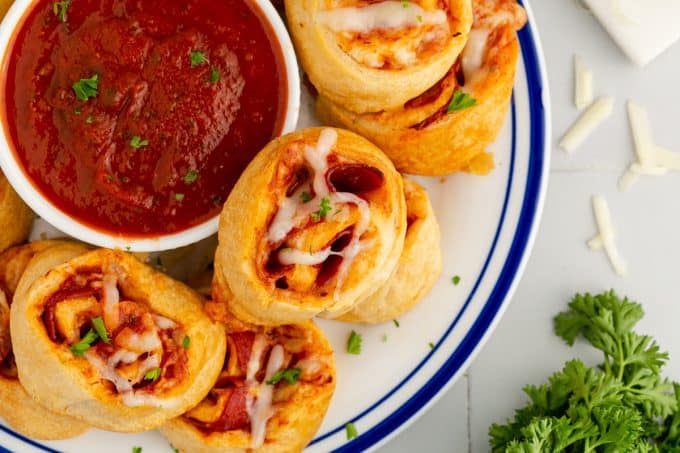 This easy recipe is a fun twist on my Pepperoni Crescent Rolls adapted for pizza lovers. Pizza Pinwheels are so easy to make and ready to eat in 25 minutes!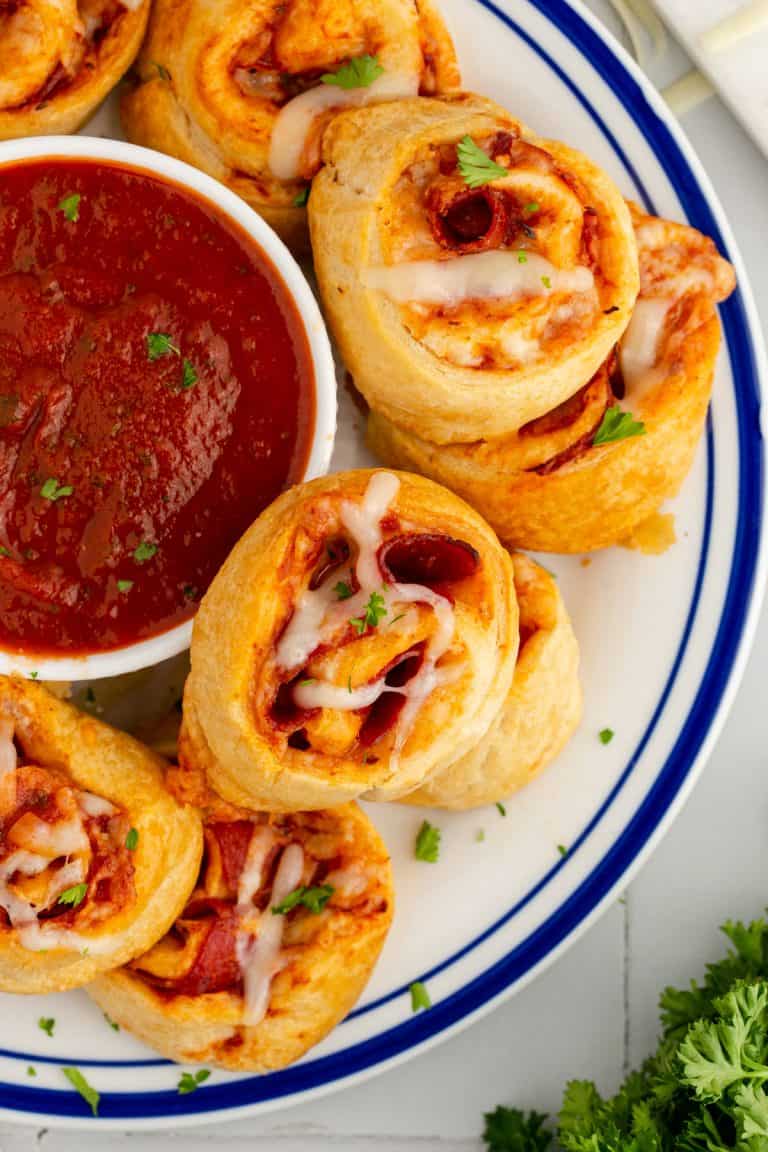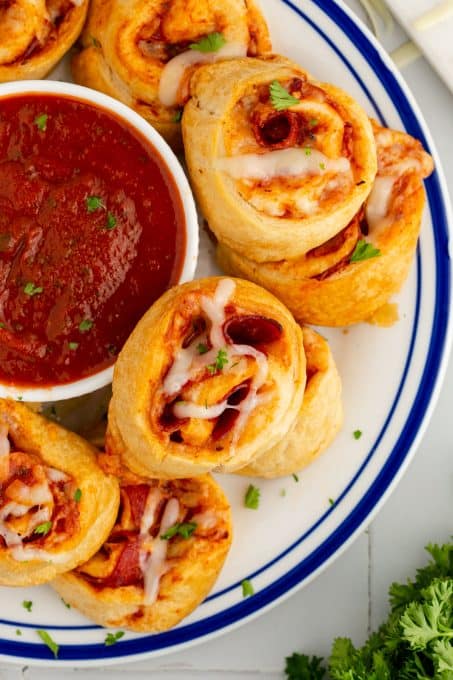 What's the one food just about everyone loves? Pizza! These pizza pinwheels are the perfect easy meal solution when you need a kid friendly dinner that's ready at a moment's notice.
Made with crescent rolls and a few simple ingredients, pizza pinwheels make a delicious appetizer, quick lunch, dinner or game day or after-school snack. Full of gooey cheesy pizza flavor, layered with flaky crescent rolls, these pizza pinwheels are a finger food guaranteed to satisfy any crowd.
Need more reasons to keep this recipe in your toolbox? You can customize your pizza pinwheels to suit dozens of dietary needs and palettes!
Today, I'll walk you through how to make pepperoni pizza pinwheels, plus how to adapt them for any craving or dietary preference.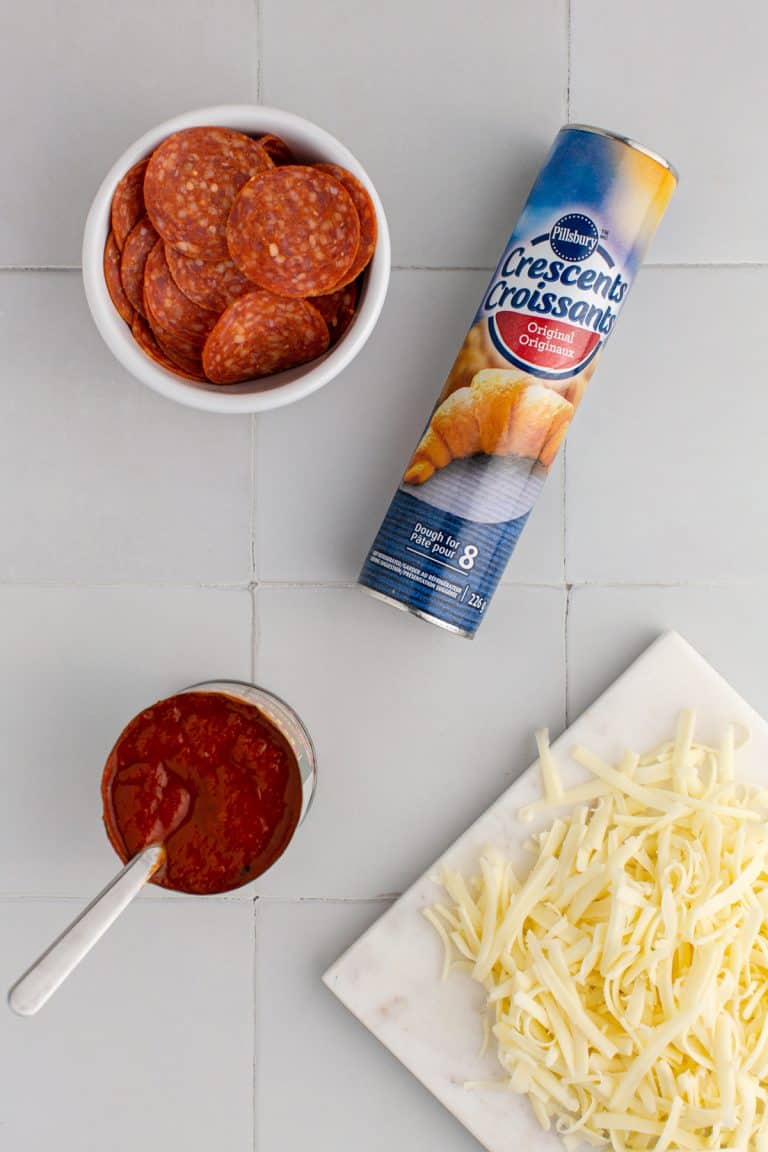 What do I need to make this Pizza Pinwheel Recipe?
To make classic pizza pinwheels, you only need 4 ingredients:
Refrigerated Crescent Roll Dough
Pizza Sauce
Pepperoni
Shredded Mozzarella Cheese
For the pizza sauce, use any canned or jarred sauce you love. This recipe is also a perfect use for my favorite homemade pizza sauce, if you have some extra time (or tend to always keep a jar in the fridge, like I do).
I prefer to use dry cured pepperoni when possible, only because it is thinner and rolls easier. Regular pepperoni will taste good in pizza pinwheels too, if you can't find dry cured or simply prefer it.
Wondering if you need the traditional crescent rolls or the dough sheets? You can use either one! If you use the traditional ones, just make sure to pinch the seams together before adding the toppings.
See the full recipe with all ingredients and complete instructions in the recipe card below.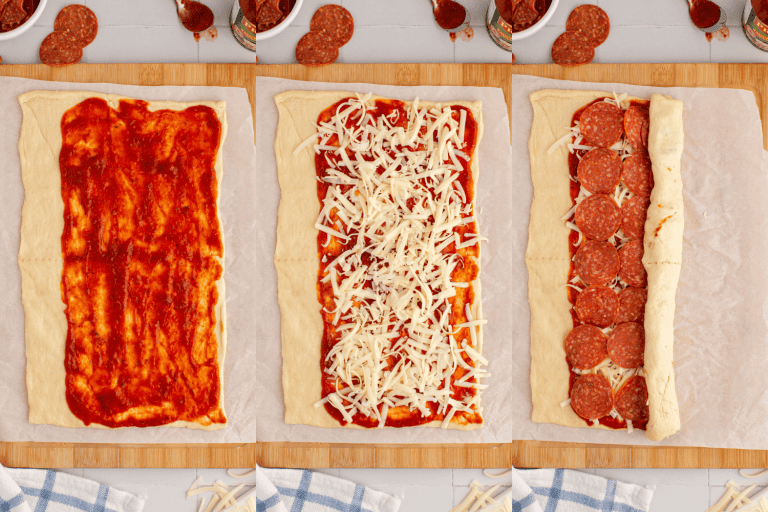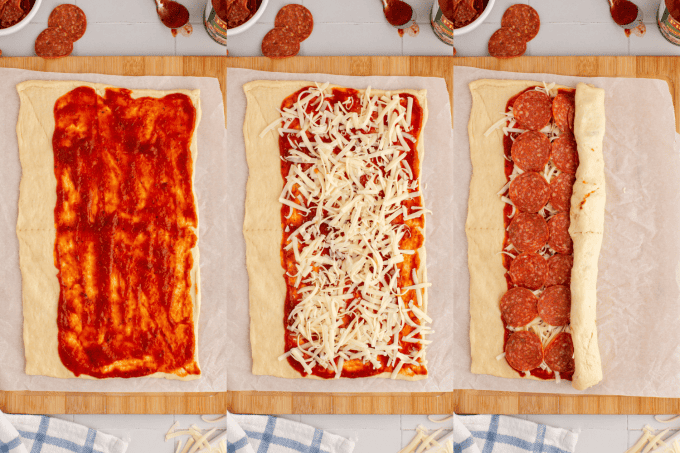 How to Make these Pizza Rolls
To make pizza pinwheels, heat oven to 350 F and line a large baking sheet with parchment paper.
Next, unroll a full tube of crescent rolls. Seal the edges between individual wedges of dough together to create one seamless large rectangle of dough.
Along the long side of the dough, layer pizza sauce, shredded cheese, and slices of pepperoni, leaving a 1-inch gap along the edge. Then, roll the dough and with a sharp knife, cut it into twelve equal rounds.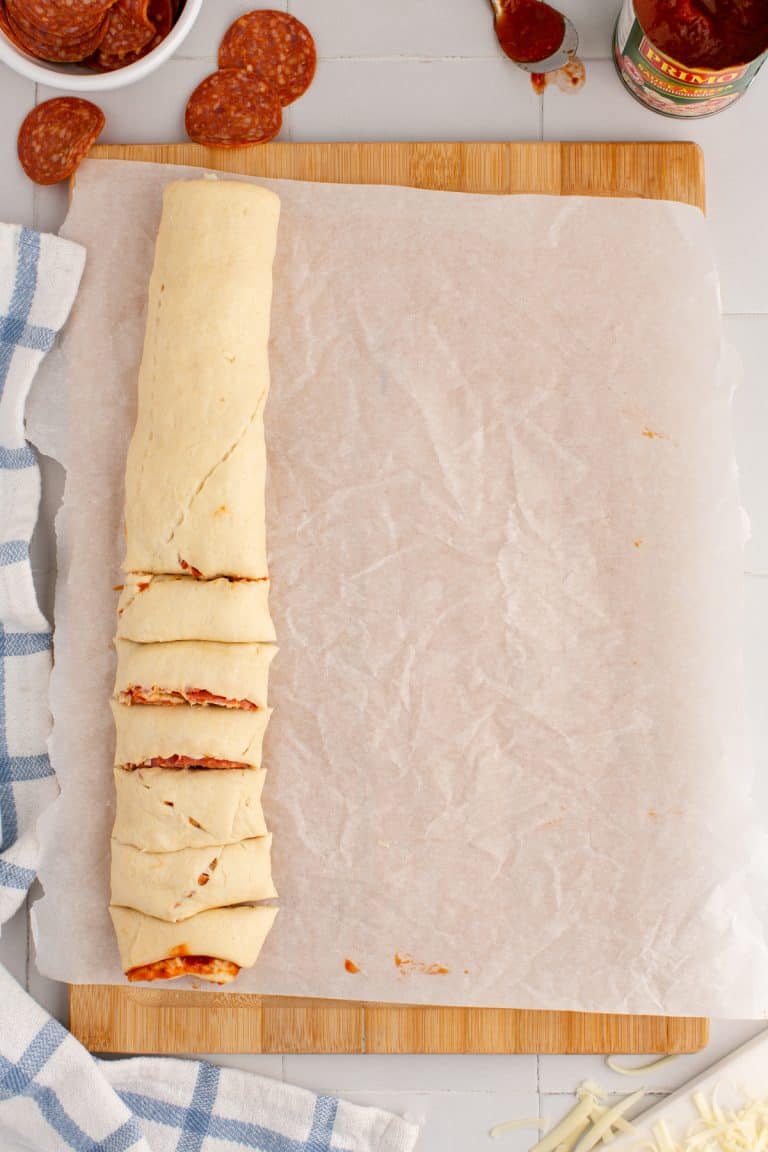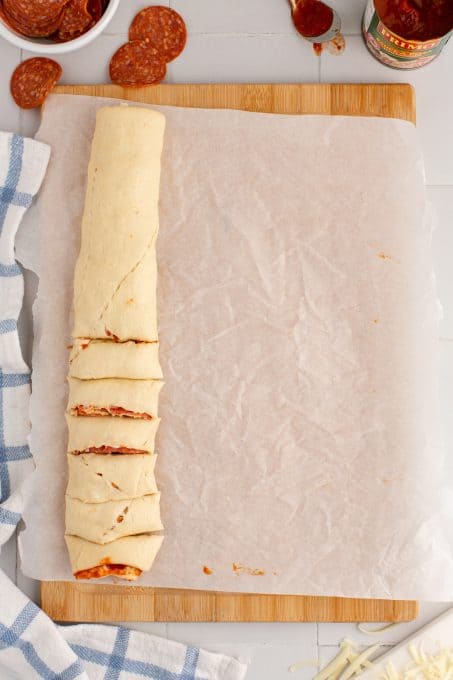 Bake your pepperoni pinwheels for 12-15 minutes, until they are golden brown. Once baked, remove from the oven and allow them to cool slightly.
Serve pizza pinwheels warm with a marinara dip, additional pizza sauce, ranch dressing or on their own.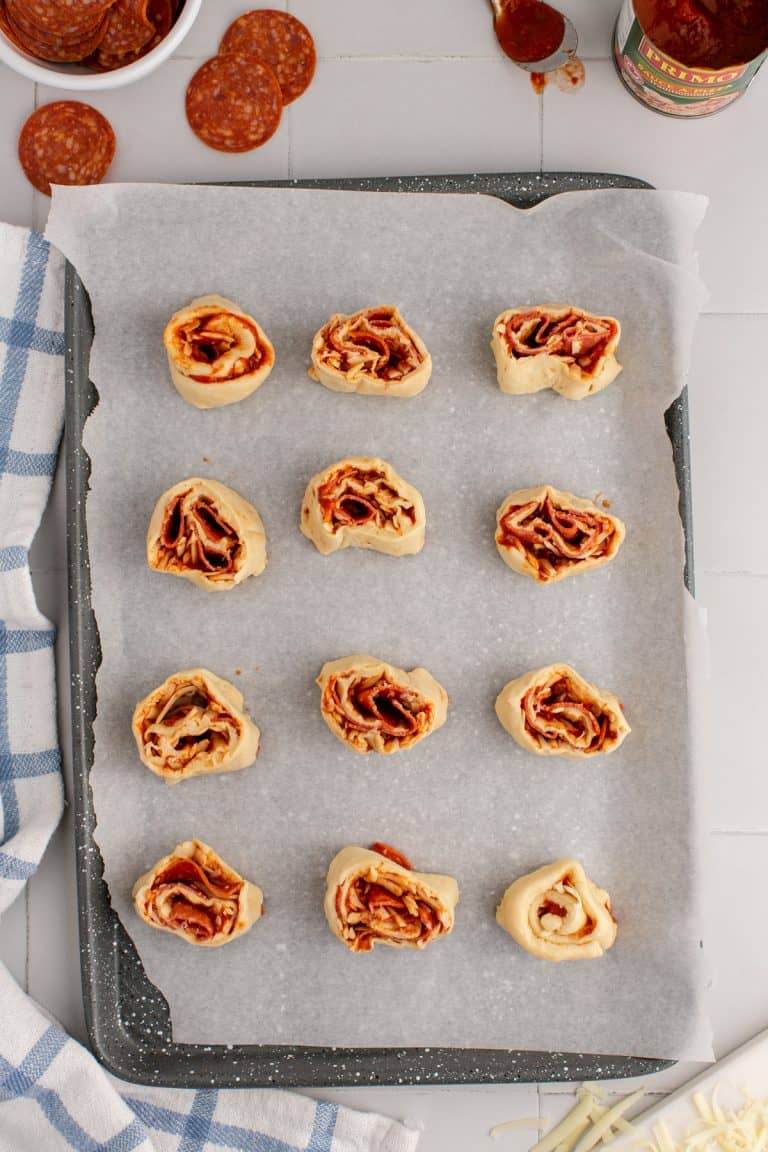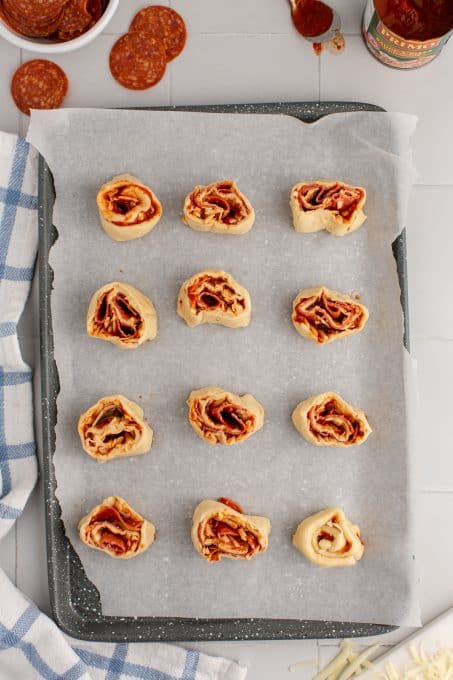 Variations on Crescent Pizza Pinwheels
Just about anything you love on pizza can go into a pizza pinwheel. Try these ideas to get you started, then get creative with your favorite pizza toppings!
Cheese lovers: Use a Combination of mozzarella, parmesan and Asiago or cheddar cheese!
Vegetarian: Substitute pepperoni for mushrooms, olives, broccoli, spinach, peppers or any combination of thin sliced veggies.
Sausage: Cooked crumbled sausage makes a mouthwatering filling.
Ham or Bacon: Canadian bacon, regular cooked bacon or any kind of sliced deli ham tastes amazing here.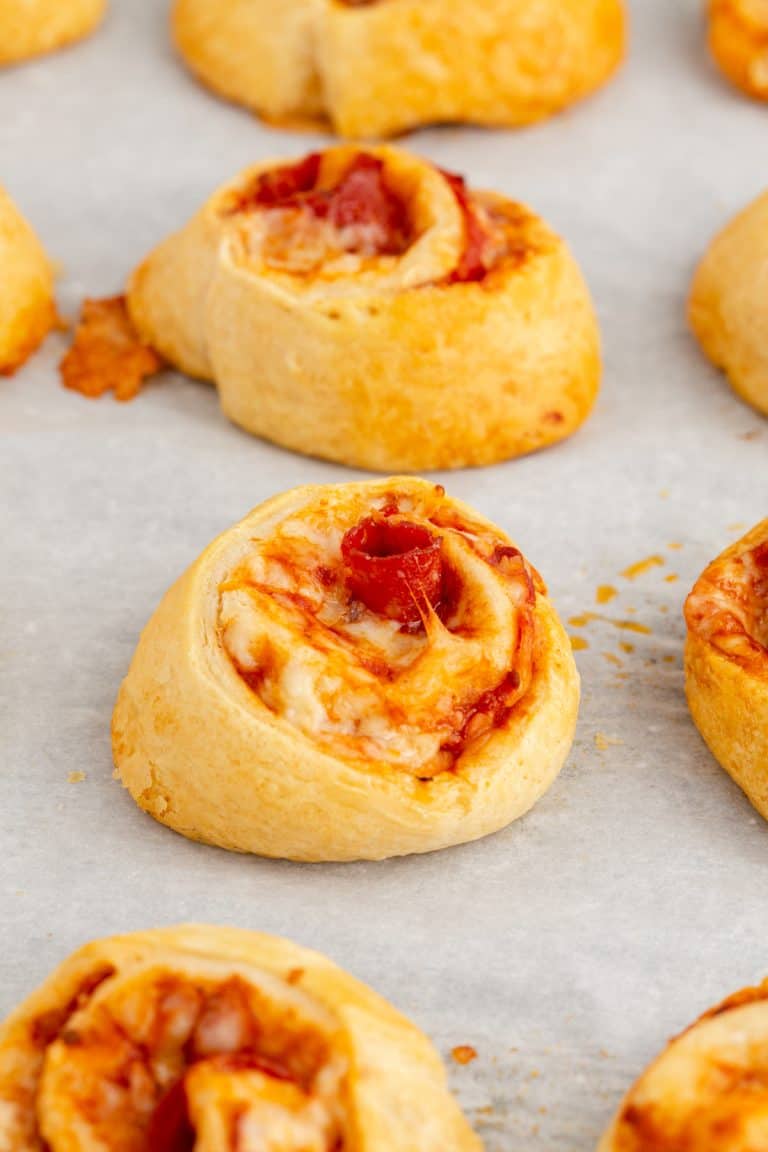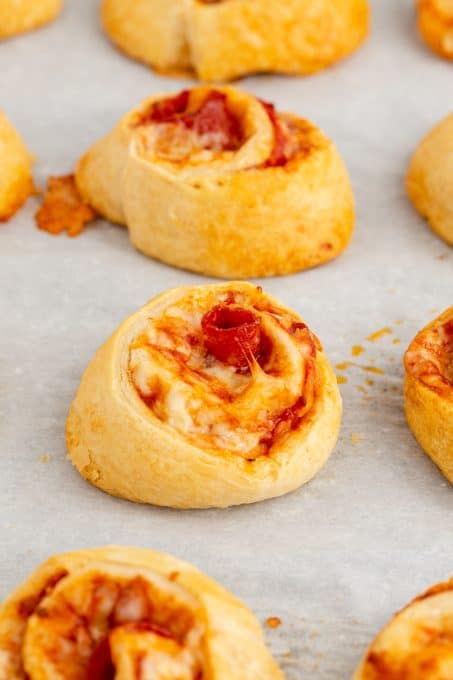 Recipe Tips for Pizza Bites
Make ahead: Pizza pinwheels assembled up to 24 hours ahead of time and baked later. Do NOT make them more than a day ahead of time or the rolls will become soggy.
Storing: Cooked leftover pizza pinwheels can be stored in the refrigerator for up to 4 days after baking. Tightly wrap them or store in a covered container to preserve freshness.
Freezing: Store cooled leftover pizza wheels in an airtight freezer-safe container in the freezer for up to 3 months. Rewarm in the oven when ready to eat.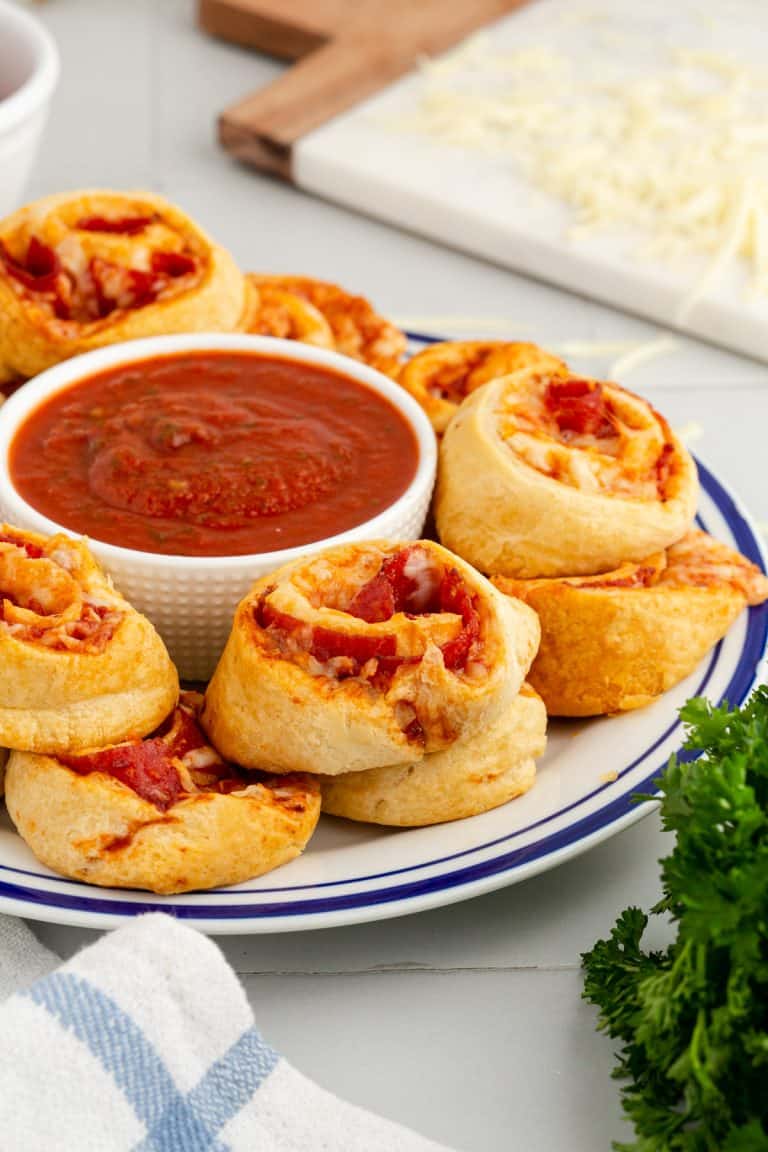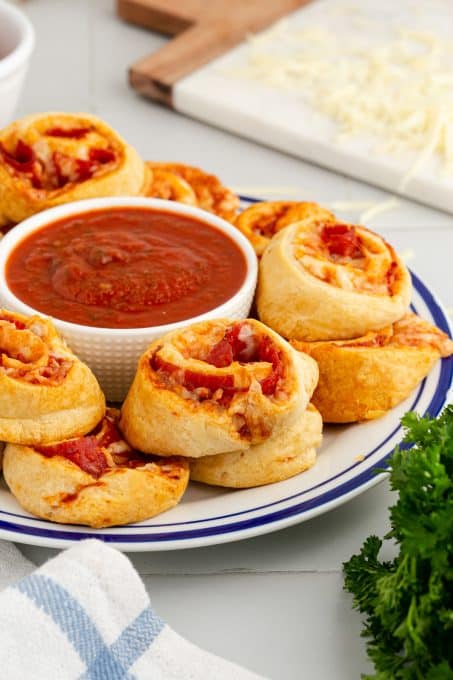 Recipes for Pizza Lovers
There are very few, if any, iterations of pizza that I don't love. With easy recipes like Pepperoni Pizza Dip and this delicious pizza recipe, you'll be able to delete the pizza delivery number from your phone for good.
If you love pizza appetizers and have a little bit of time to spare, give my reader favorite Pepperoni Bread made with homemade or refrigerated pizza dough recipe a try. You can even make a double batch or twist it together for a Double Pepperoni Bread Twist. 
This Instant Pot Pizza Soup is one of the best uses for your pressure cooker. Serve it with a loaf of Homemade Italian Bread for a cozy, nourishing meal. My Pepperoni Pizza Pasta is another recipe that brings together two family favorite meals in one easy weeknight dinner. 
Of course, sometimes only a traditional pizza with all the classic toppings will do. Make it an event by making this your own Pizza Dough. It makes enough for 3 medium pizzas so you can bake one now and freeze the rest for later. Top it with this Pizza Sauce, cheese and all your preferred toppings for the ultimate pizza night!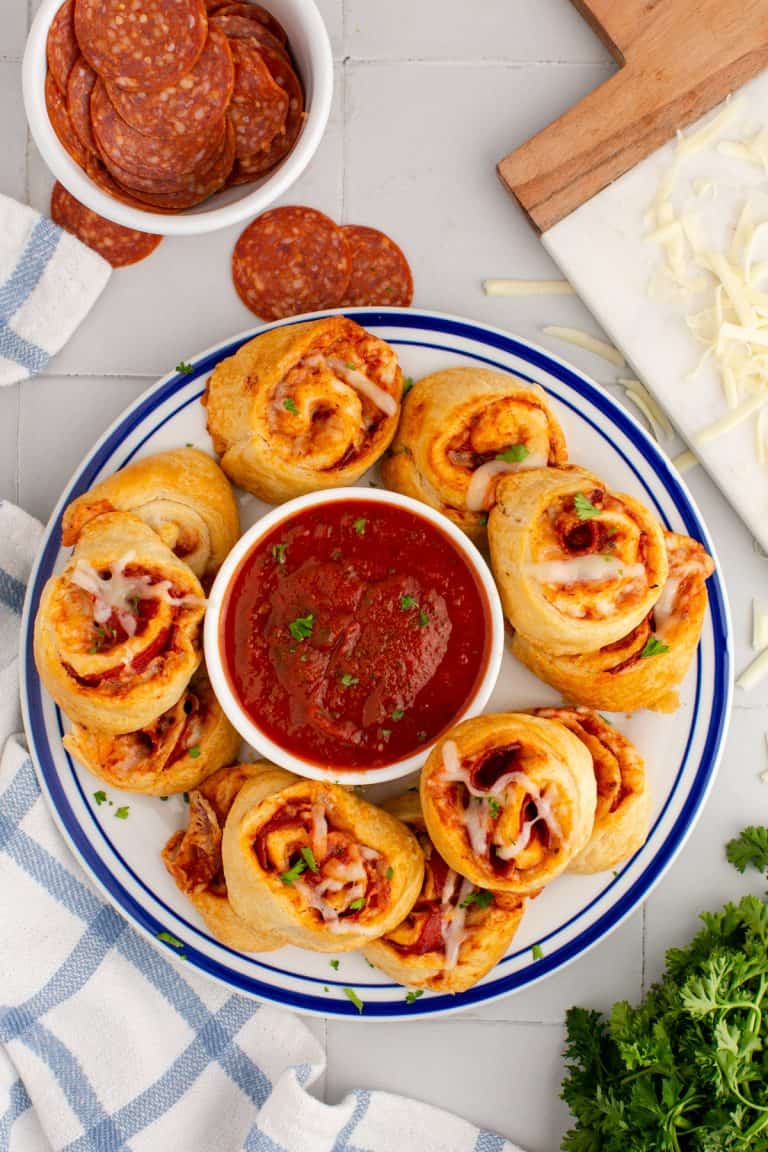 Easy Appetizer Ideas
Need a few more ideas to take your appetizer game to the next level? Scroll through and save all of my top rated easy appetizer and finger food recipes.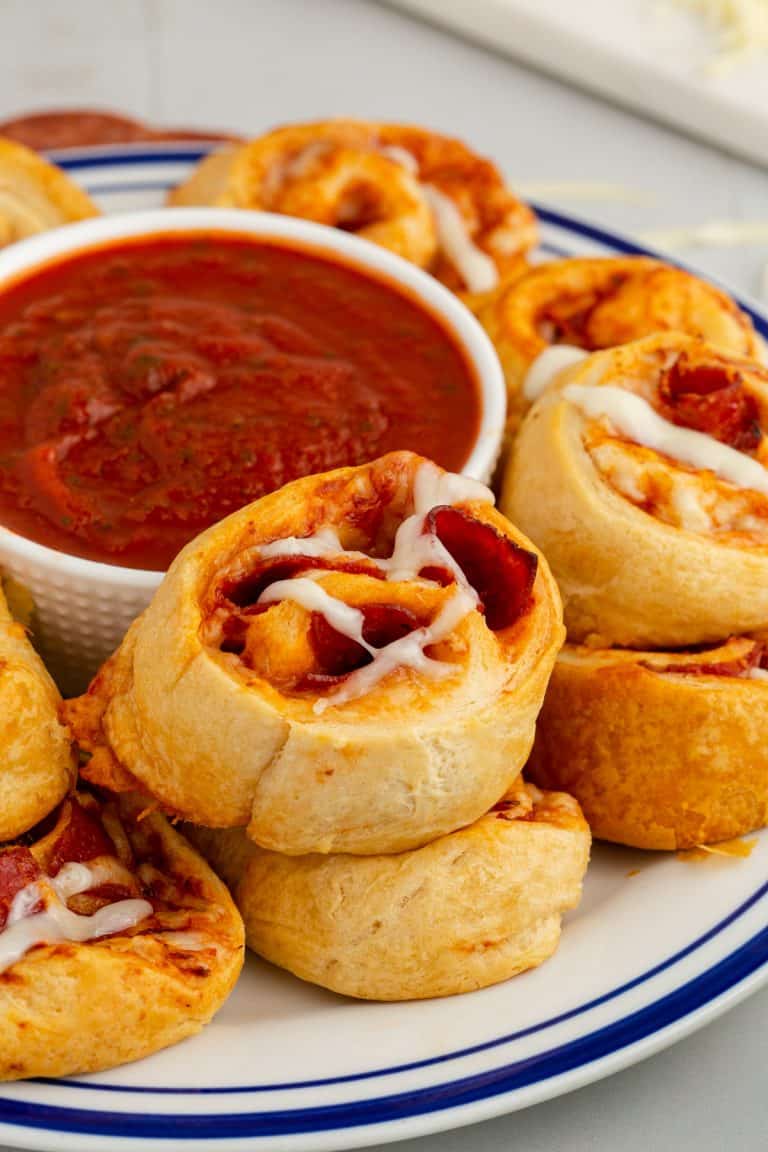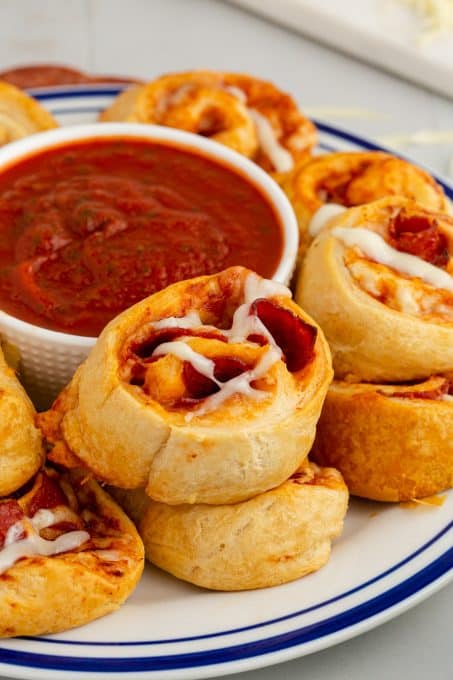 ~ FOLLOW ME ~
Keep an eye out for more of my easy recipes each week!
Fun Pepperoni Pizza Pinwheels look impressive and taste even better. Serve these crescent roll pizza appetizers at your next party or family dinner and watch how fast they disappear!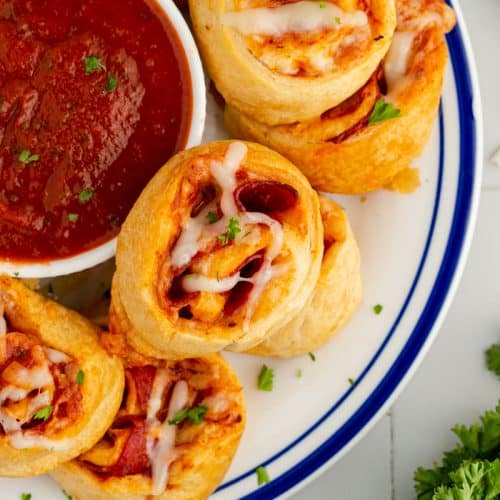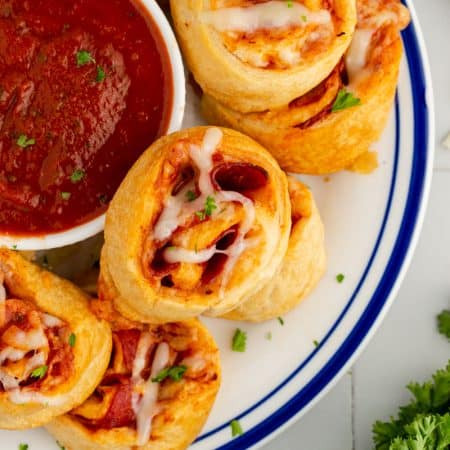 Pepperoni Pizza Pinwheels
Pepperoni Pizza Pinwheels are a family friendly appetizer that serves like a meal! Mix up the toppings or try it our way for a quick and easy dinner.
Ingredients
8 ounces original refrigerated crescent rolls, or dough sheets
⅓ cup pizza sauce
1 ½ cups shredded mozzarella cheese
21 pepperoni dry cured
Instructions
Preheat oven to 350F. Line a baking sheet with parchment paper.

Unroll full tube of crescent rolls. Seal dough together.

Leaving a 1-inch gap along the long side of the dough, layer pizza sauce, shredded cheese, and handful of pepperoni.

Roll dough and cut into 12 equal rounds.

Bake 13-15 minutes, until lightly golden.

Allow them to cool slightly and enjoy with a marinara dip or on their own.
Notes
Dry cured pepperoni is recommended because it is thinner and makes it easier to roll but you can use a thicker style pepperoni if preferred. See blog post for more tips, tricks and topping substitution ideas!
Nutrition
Serving: 1roll | Calories: 127kcal | Carbohydrates: 8g | Protein: 5g | Fat: 9g | Saturated Fat: 4g | Polyunsaturated Fat: 2g | Monounsaturated Fat: 2g | Trans Fat: 0.1g | Cholesterol: 14mg | Sodium: 324mg | Potassium: 40mg | Fiber: 0.1g | Sugar: 2g | Vitamin A: 124IU | Vitamin C: 0.5mg | Calcium: 72mg | Iron: 0.4mg
Did you make this recipe?
Share it with me on Instagram and make sure to follow me on Pinterest for more recipes.
Reader Interactions