Air Fryer Garlic Bread is the perfect side dish for any meal. Make buttery, crispy, perfectly seasoned garlic bread in minutes with this simple recipe!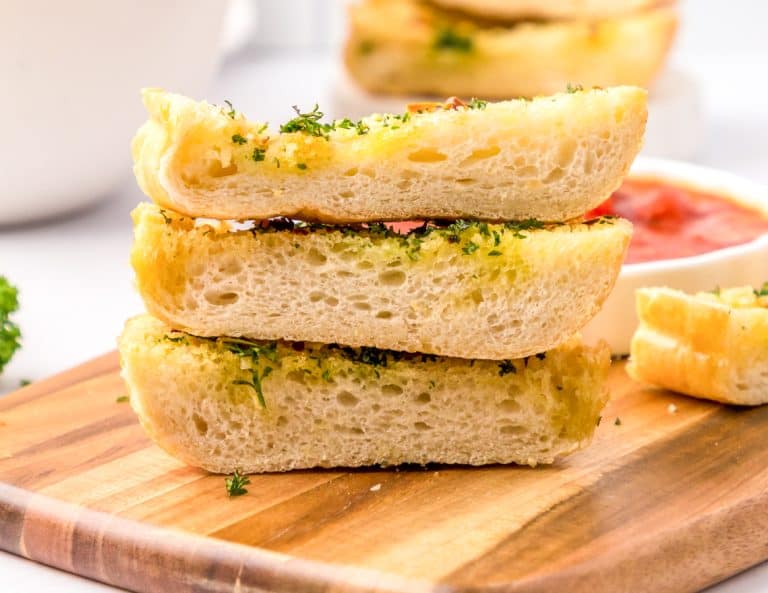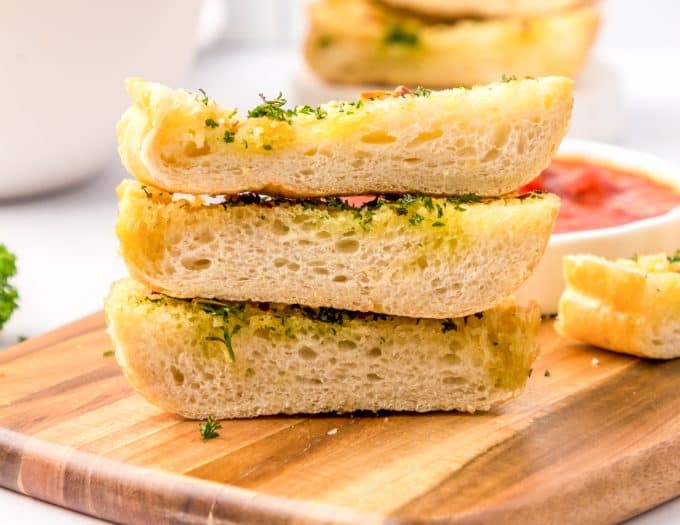 Craving Garlic Breadsticks but don't have time to make them from scratch? Today's air fry garlic bread recipe is made in the air fryer with a loaf of French bread!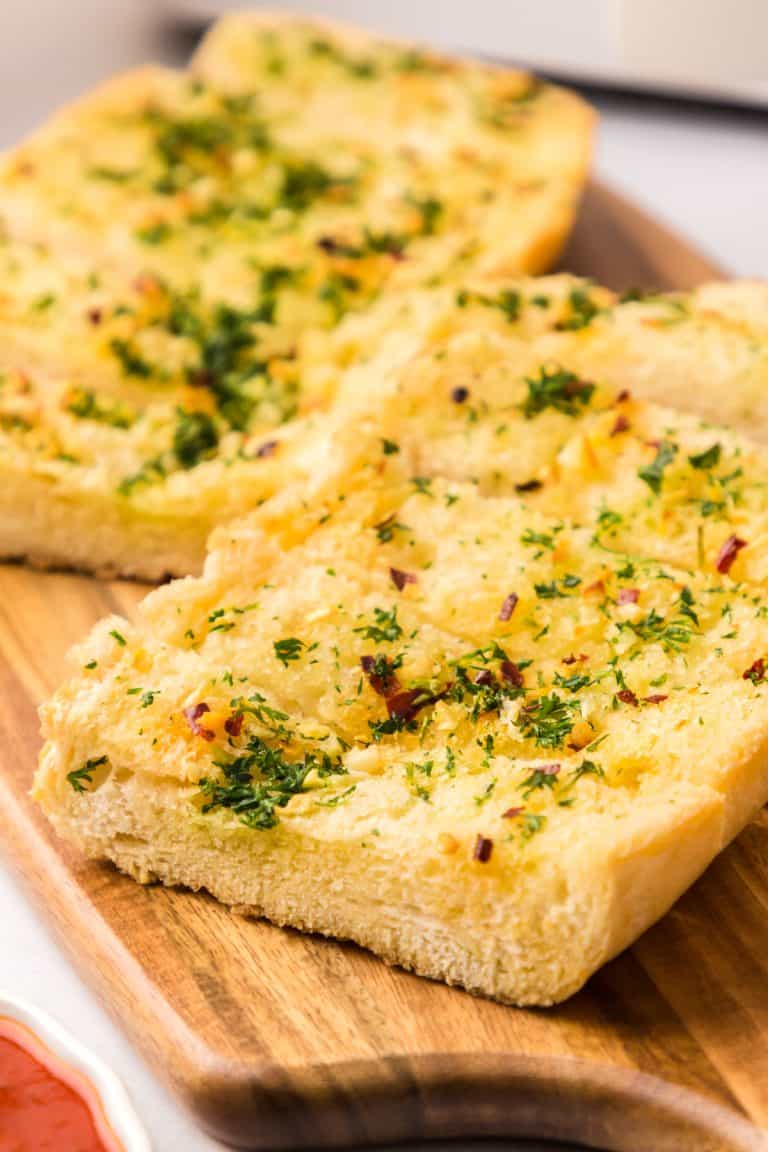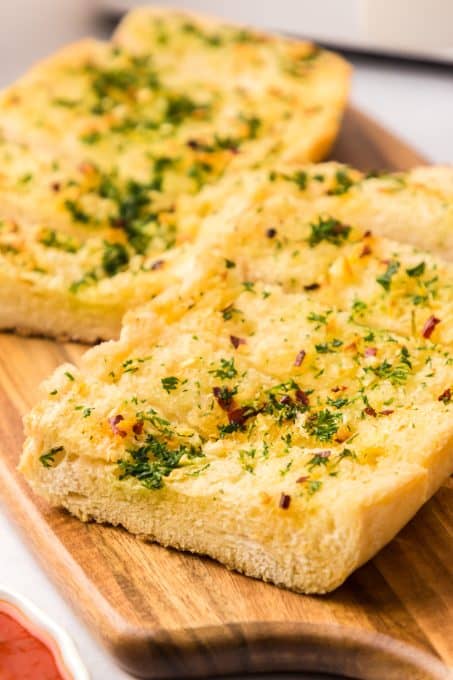 Today's easy side dish recipe is an absolute game-changer. Homemade garlic bread that's better than a restaurant version — ready to eat in 5 minutes.
After trying this method, I'm convinced it's the ONLY way to make garlic bread at home! Not only is it much faster than the oven, it also makes the loaves perfectly golden brown without over toasting. You get those satisfying crispy edges that yield to buttery soft insides, oozing with savory garlic herb flavor.
This delicious garlic bread makes an ideal accompaniment for all kinds of dishes. Serve it with a bowl of Creamy Tomato Basil Soup or a big plate of Spaghetti and Meatballs. Or, just eat it all on its own! 
This recipe is almost dangerously easy to make. You'll find yourself popping a loaf in the air fryer every time you have a garlic bread craving. If you're anything like me, that's practically daily. I can never seem to get enough garlic bread!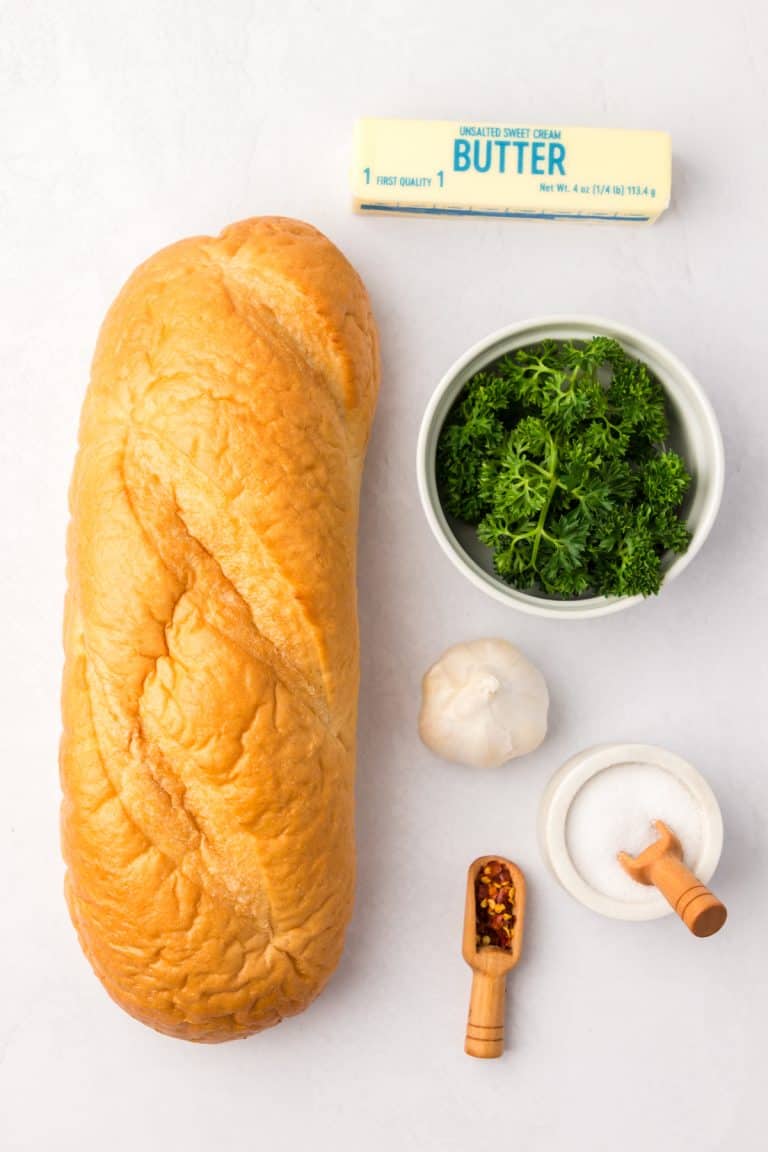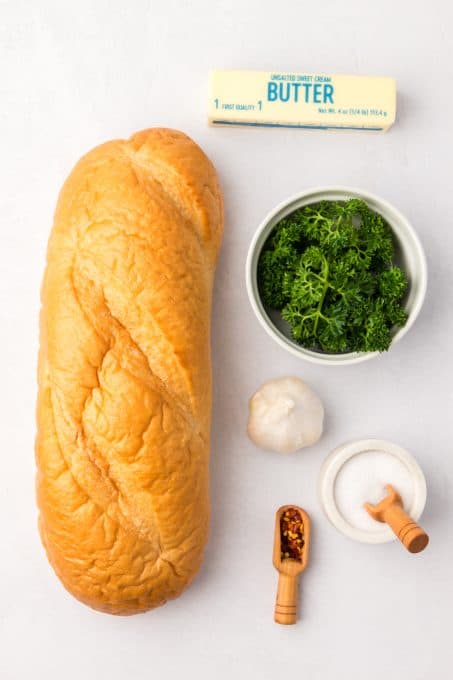 Easy Garlic Bread Ingredients
Gather these simple ingredients to make Air Fryer Garlic Bread:
French bread – I used a store bought loaf.
Softened butter – Unsalted gives you best control over the flavor.
Salt 
Red pepper flakes – Adds a spicy kick!
Minced garlic
Fresh parsley – you can also add any fresh herbs to your liking!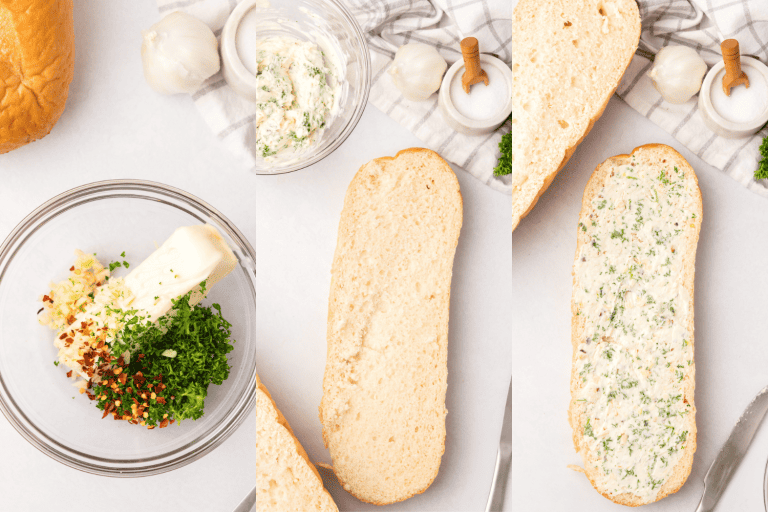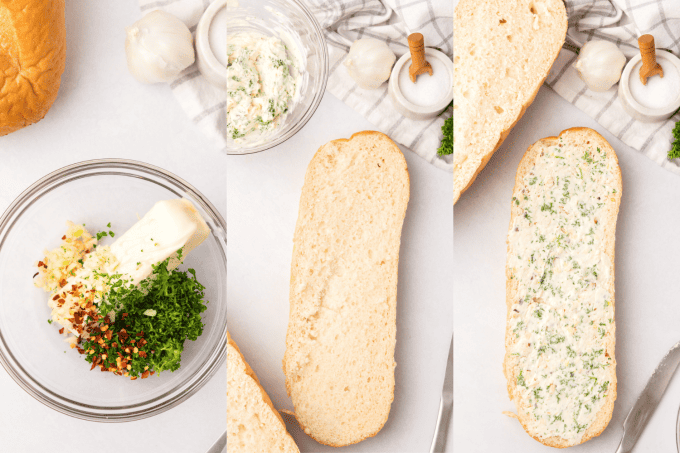 How to Make Air Fryer Garlic Bread
Start by combining the butter, spices and garlic in a small bowl.
Cut the loaf of bread in half lengthwise. Spread the garlic butter mixture over the top of the bread. Cut each half so the pieces will fit into your air fryer basket in a single layer.
Air fry at 330 F for 5-6 minutes or until crispy. Repeat with the remaining half of bread to make the full loaf.
Serve right away. I like this garlic bread best when it's nice and hot, fresh from the air fryer. The smell of all that garlic and butter is just too alluring to resist!
Find the complete ingredient list, full instructions and nutritional information in the recipe card below.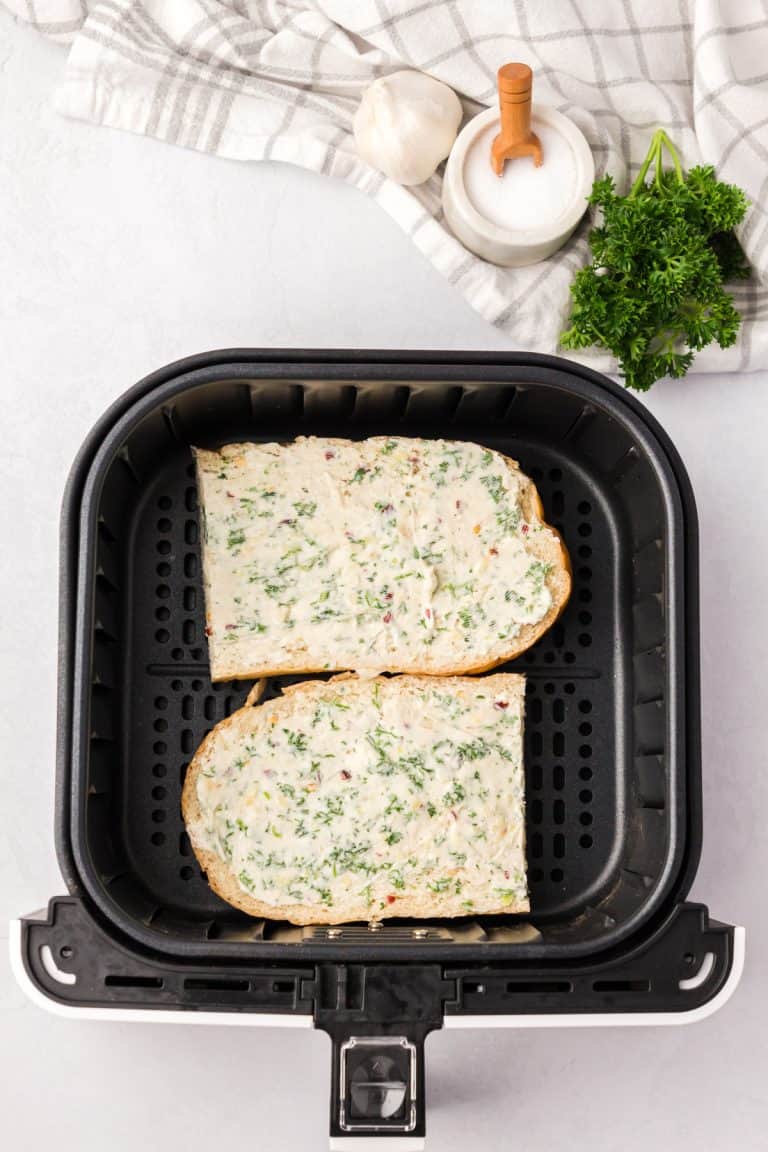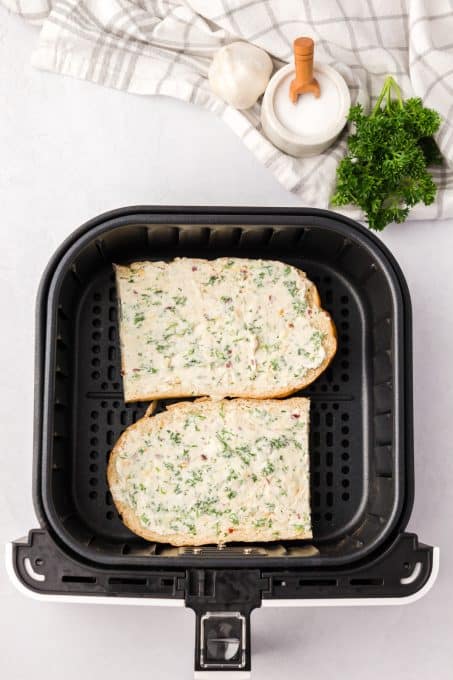 How long does garlic bread take in the air fryer?
It takes between 5-8 minutes to cook garlic bread in the air fryer. The exact cook time depends on the thickness of the bread.
When I sliced my loaf, I ended up with one side thicker than the other. The thinner side was ready at exactly 5 minutes, while the thicker one took closer to 7 minutes to get crispy and golden brown on top.
If your bread isn't quite ready at the 5 minute mark, keep air frying for 1 to 2 minutes at a time. Be careful not to overcook!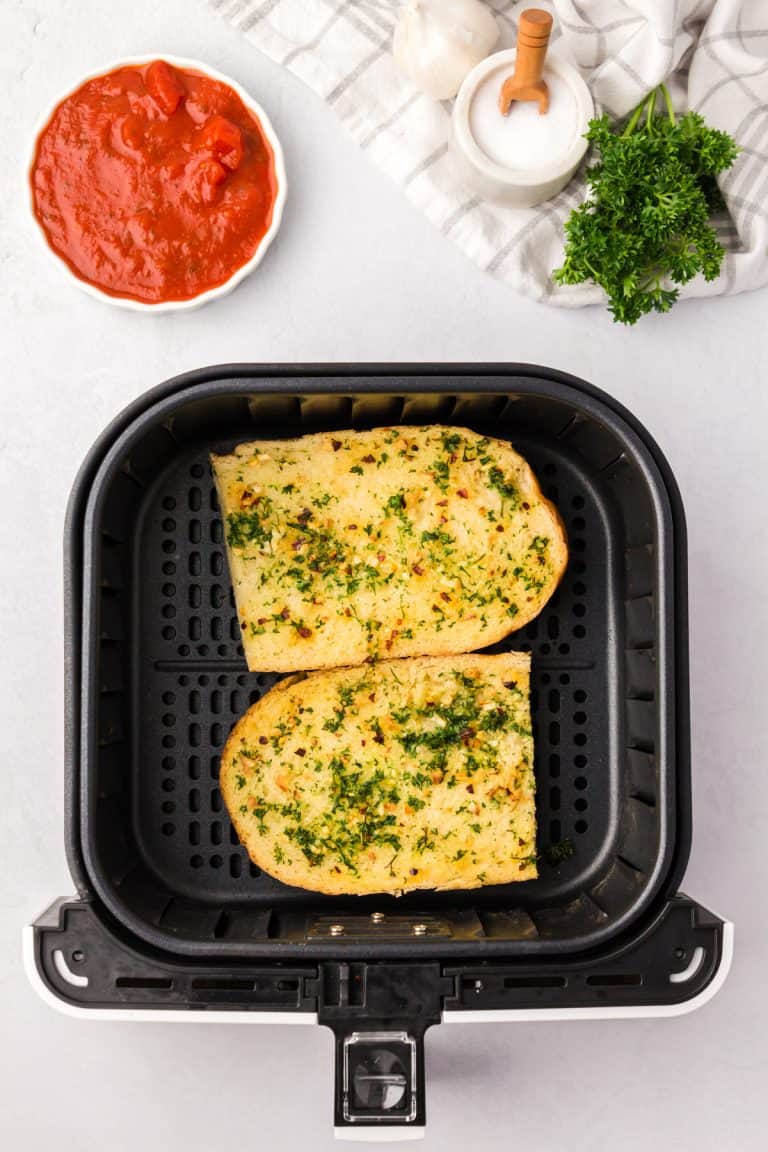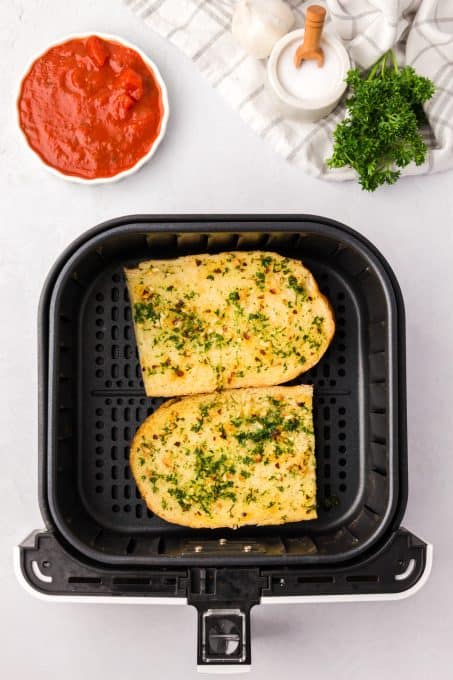 Storing and Reheating Leftover Air Fryer Garlic Bread
Wondering if garlic bread can be reheated? With the right method, you can save leftover garlic bread and reheat it later!
Store leftover slices of garlic bread in an airtight container in the refrigerator for up to 3 days. To reheat garlic bread, place it in the air fryer at 300 F. Heat for 3 minutes or until warm.
I do NOT recommend microwaving leftover garlic bread. The microwave turns this glorious garlicky bread into a soft, soggy mush.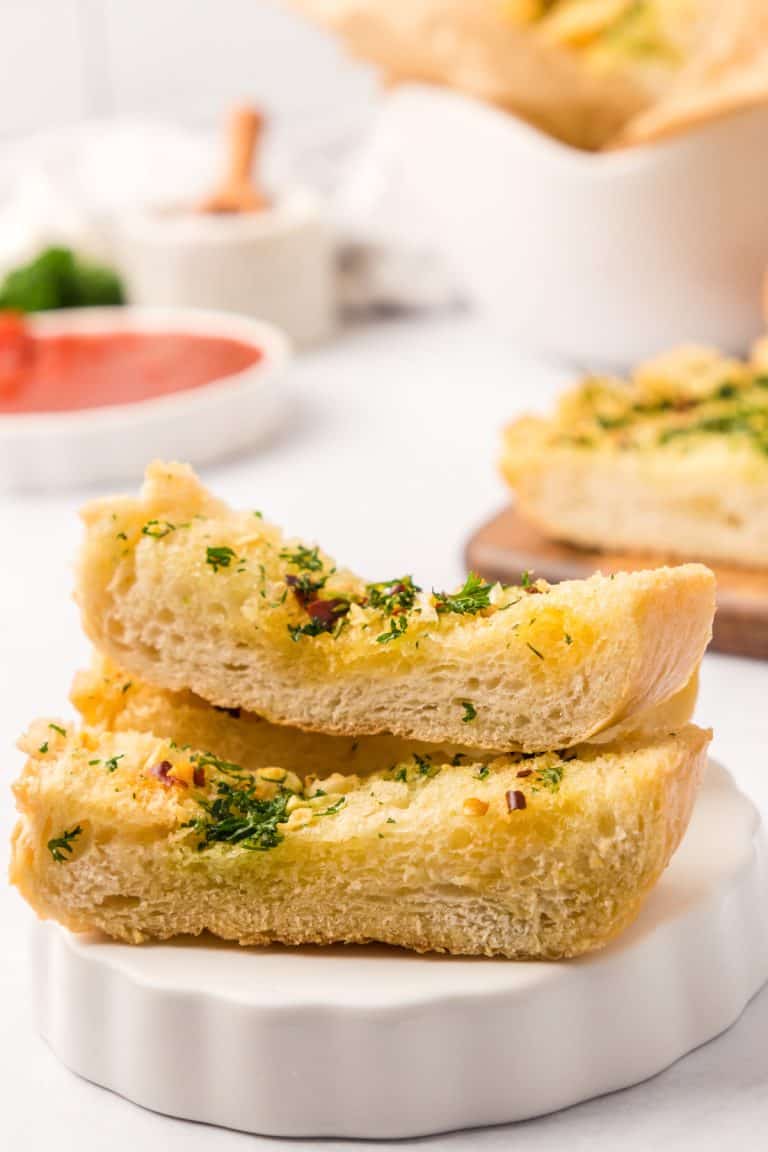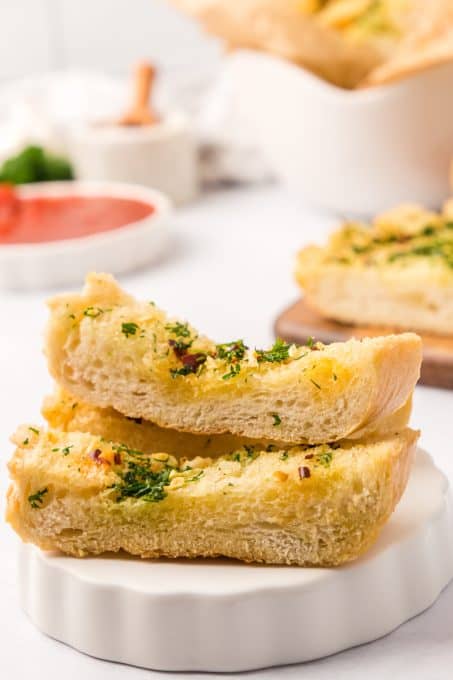 Recipe Variations
Another thing I love about this garlic bread recipe is that its endlessly customizable! Once you know how to make garlic bread, you can make all kinds of creative variations.
Love cheesy garlic bread? Sprinkle a little shredded mozzarella, Parmesan cheese or cheddar over the bread before cooking. Want more spice? Add extra red pepper flakes. Other dried herbs, like oregano and rosemary can add an aromatic flavor variation to simple garlic butter bread.
Before you go wild with the spices and herbs, I highly recommend trying the garlic bread in its original form. It's tough to beat the glorious simplicity of bread, butter and garlic.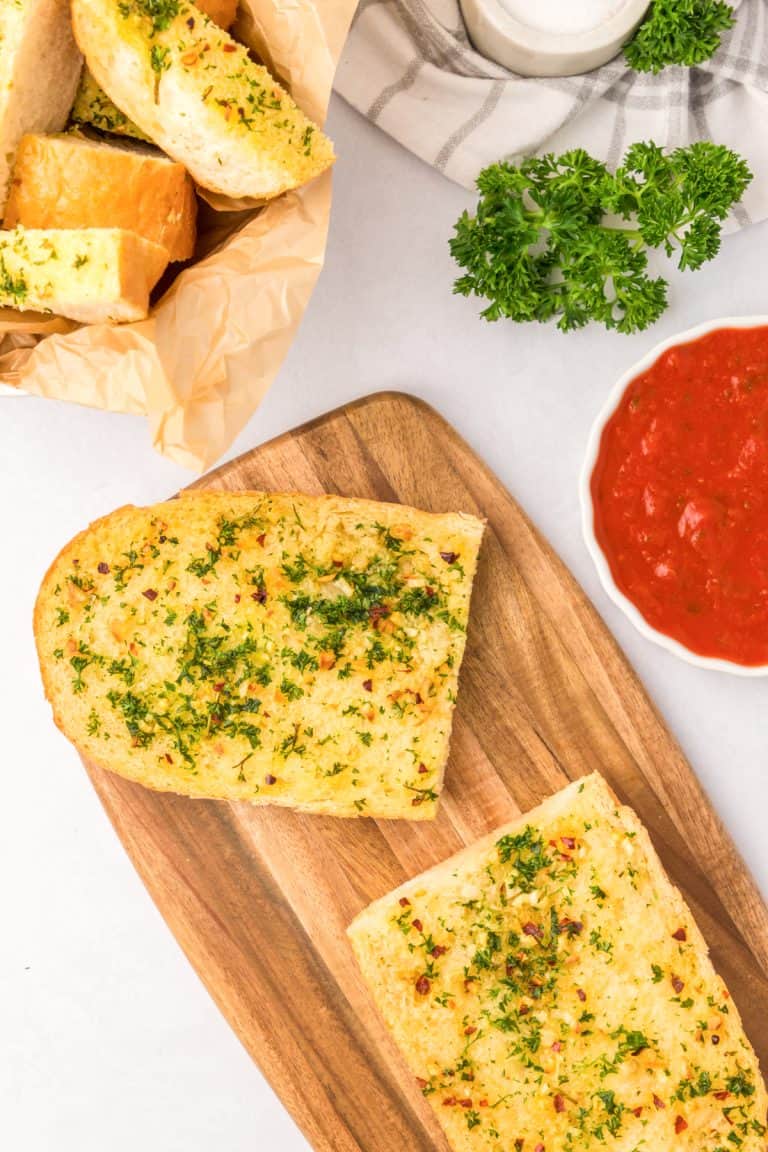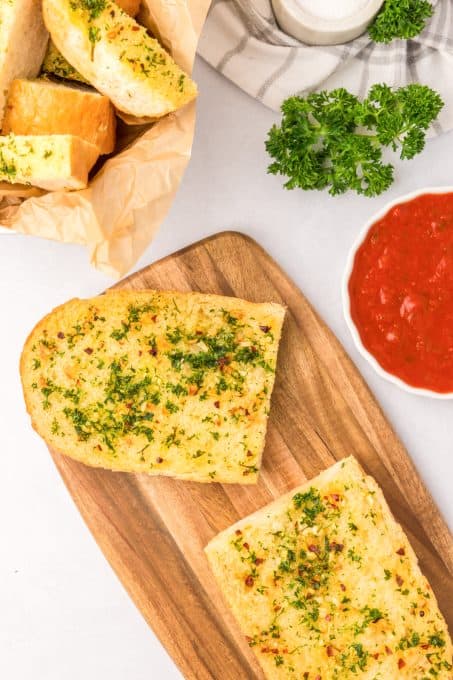 Best Easy Recipes for Side Dishes
One area where air fryers truly shine is making side dishes.
Crispy Air Fryer Baby Potatoes have been on regular rotation in my dinner menus! The hot air circulates over the potatoes to make the skin crispy, without all the grease and oil of traditional frying.
While your potatoes are air frying, use your oven to make this Roasted Parmesan Broccoli. Even picky eaters have no trouble eating their veggies when they're roasted in olive oil and topped with cheese! OR they might like eating broccoli even better when it's topped with some peanut butter. Believe me, it really. works.
My Strawberry Spinach Salad is ideal for those summer nights when you can't fathom turning on the oven or stove. So is this Easy Three Bean Salad, a filling side dish with a simple vinegar based dressing.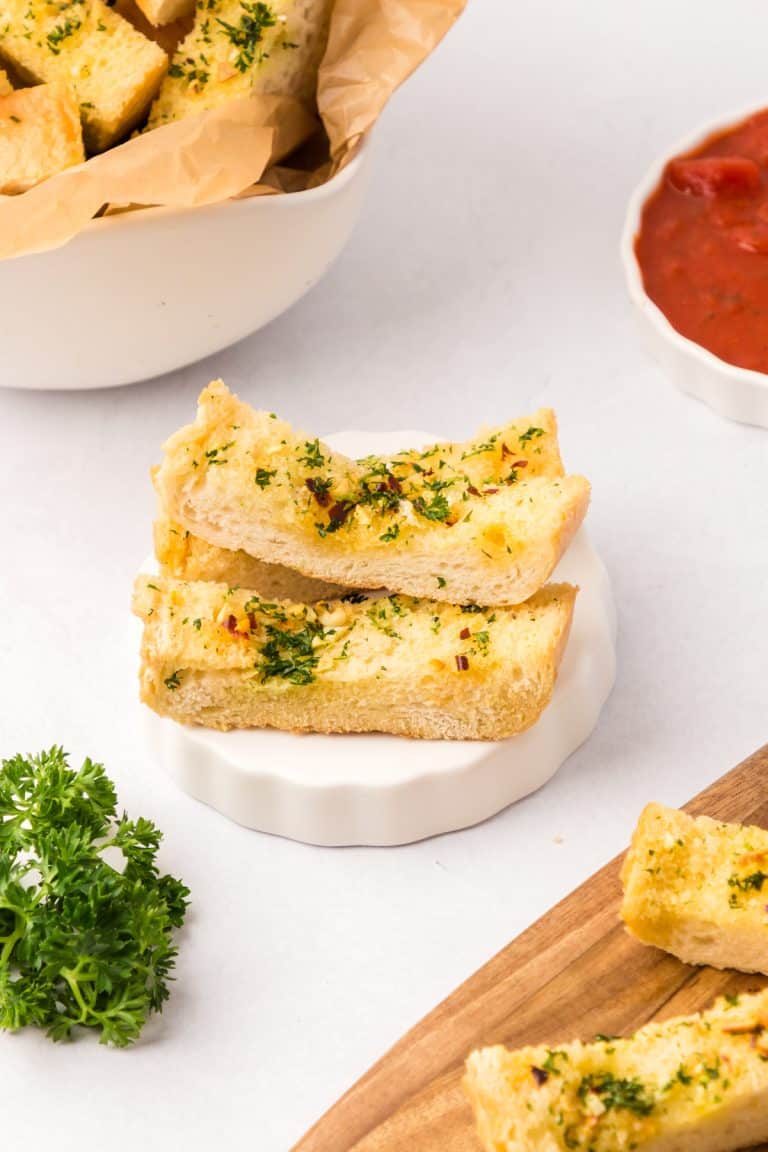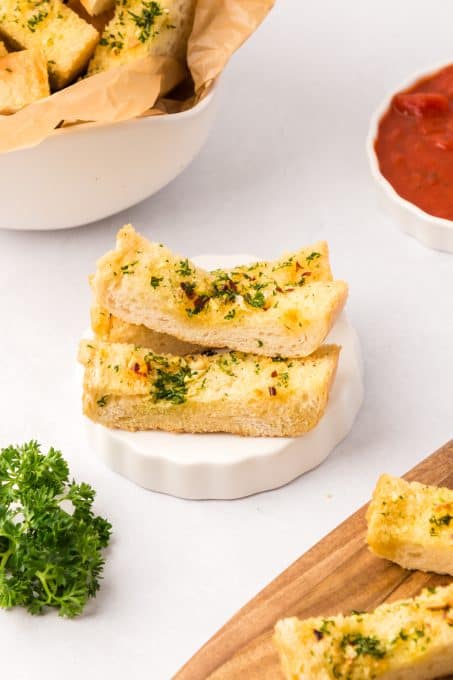 Our Best Bread Recipes
You don't have to be an expert baker to make mouthwatering bread at home.
If you love garlic bread, try this Easy Parmesan Bread Bites Recipe next. It starts with a batch of pizza dough cut into bite sized pieces, basted with garlic butter and covered with cheese! 
Pepperoni Bread is another bread recipe using pizza dough, and refrigerated pizza dough that you can buy at the grocery store. An easy, cheesy appetizer or party snack. Need a little green in your meal? I have a Spinach Pepperoni Bread recipe for that extra dose of nutrients and flavor. 
When you need a classic, simple loaf of white bread, Grandma's Easy Homemade Italian Bread Recipe does the trick! It's made from scratch and super versatile for all kinds of meals.
This English Muffin Bread is another one I make over and over again. Spread it with warm butter to soak into all those nooks and crannies! 

If you're a cheese lover, you'll have to give this Garlic Cheese Bread a try, too.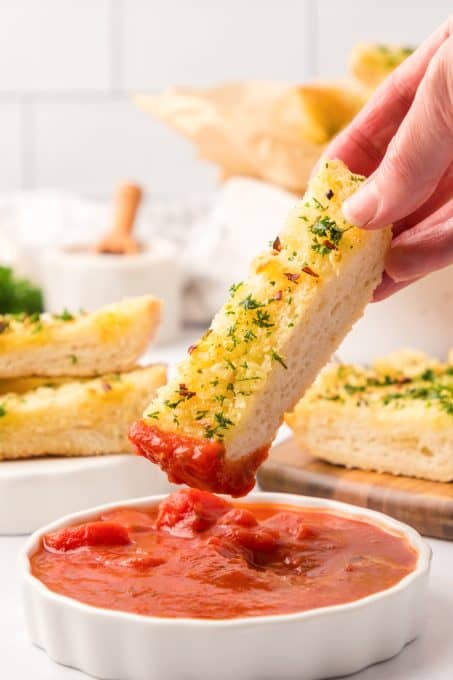 This easy air fryer garlic bread recipe is a keeper! It takes less time than frozen garlic bread and only a handful of ingredients, making it the perfect addition to all your favorite pasta dishes.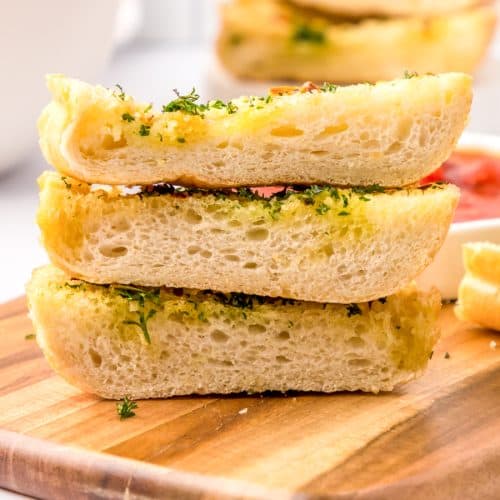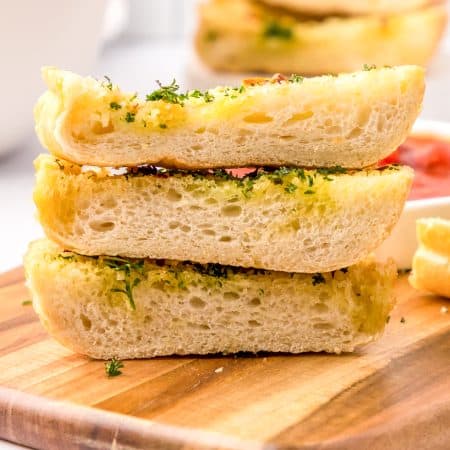 This air fryer garlic bread is so simple and ready to enjoy in under 10 minutes. Made with a simple garlic butter that's spread over a premade loaf of French bread, it's then air fried to perfection in the air fryer. The perfect side to dinner!
Ingredients
1 loaf of French Bread
1 stick Unsalted Butter room temperature
½ tsp Salt
¼ tsp Red Pepper Flakes
2 cloves Garlic minced
2 tbsp Fresh Parsley
Instructions
Preheat your air fryer to 330 degrees F (166 degrees C).

In a small bowl add the unsalted butter, salt, red pepper flakes, minced garlic, and chopped fresh parsley .Using a fork, stir to combine the ingredients.

Slice your loaf of French bread in half (length-wise).

Using a butter knife, spread half of the butter mixture over one-half of the French bread. Repeat this process with the other half of the French bread.

Repeat this process with the other half of the French bread.

Cut one-half of the French bread in half so it will fit in your air fryer.

Place 2 pieces of the prepared French bread in the basket of your air fryer. Cook at 330 degrees F (166 degrees C) for 5 minutes. If your piece of French bread is really thick you may need to cook your bread for up to 8 minutes. Check after 5 minutes and if the top isn't crispy and slightly golden brown cook for 1-2 minutes at a time to prevent the bread from overcooking.

Repeat this process for the other half of the French bread.

Serve immediately.
Notes
If one side is cut thicker than the other side, you'll need to increase the cook time of the thicker side of the bread by 2-3 minutes.
I used unsalted butter, if using salted butter or margarine, decrease the amount of salt by at least half.
This recipe makes about 16 slices, and the nutritional information has been calculated for 6 servings.
Did you make this recipe?
Share it with me on Instagram and make sure to follow me on Pinterest for more recipes.
Reader Interactions