Roasted Pork Tenderloin with an easy Asian marinade is juicy, flavorful and so simple to prepare! Follow our pro tips to make the best roast pork with this easy recipe!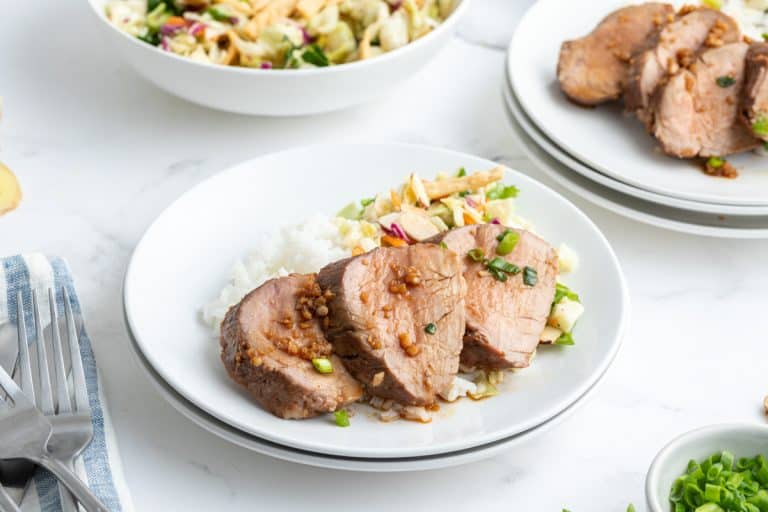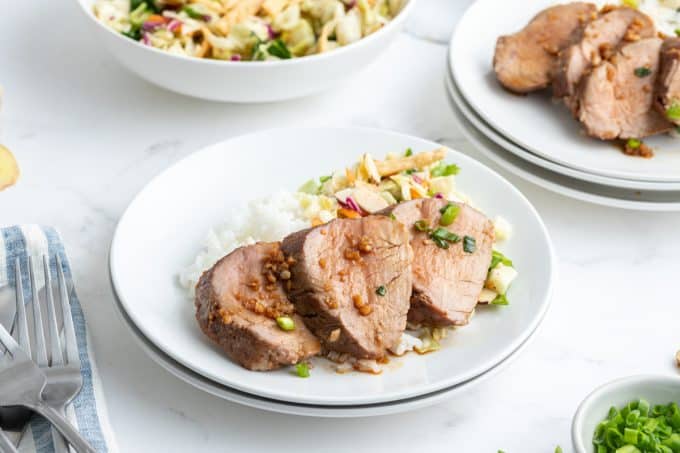 This Asian marinade is my latest obsession. Full of garlic and ginger, it would be delicious on any kind of meat — but it's a perfect match for pork tenderloin!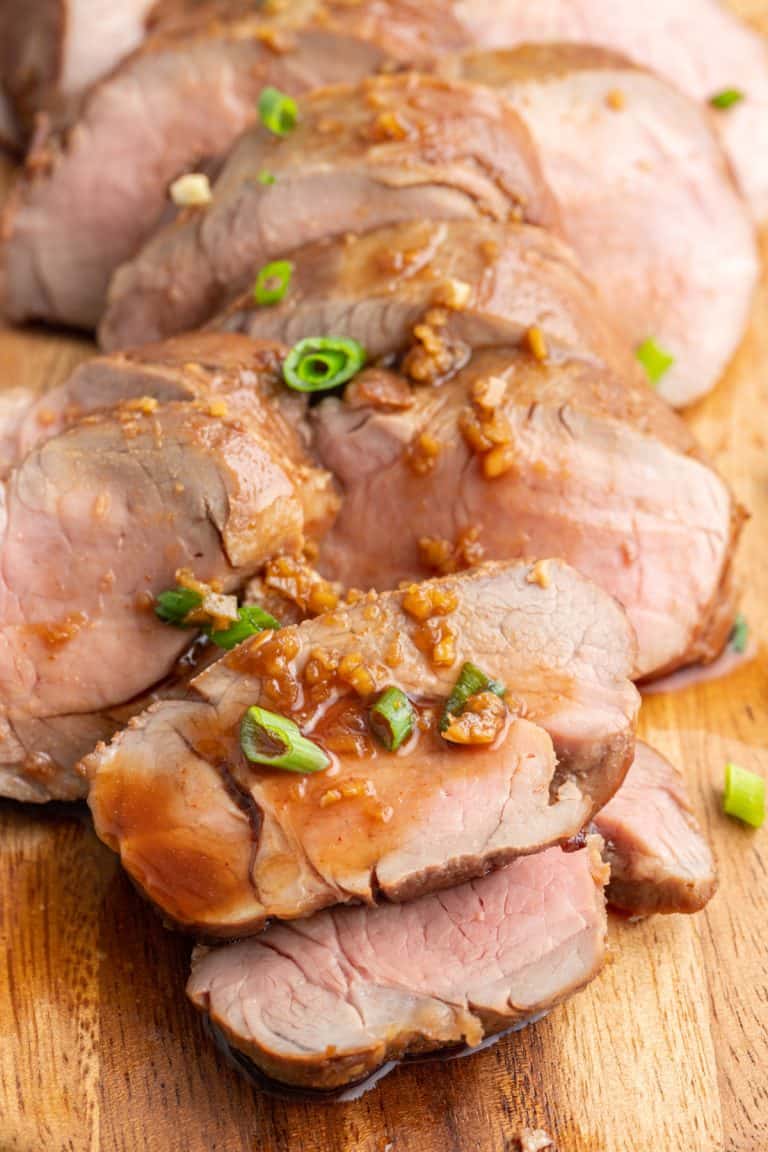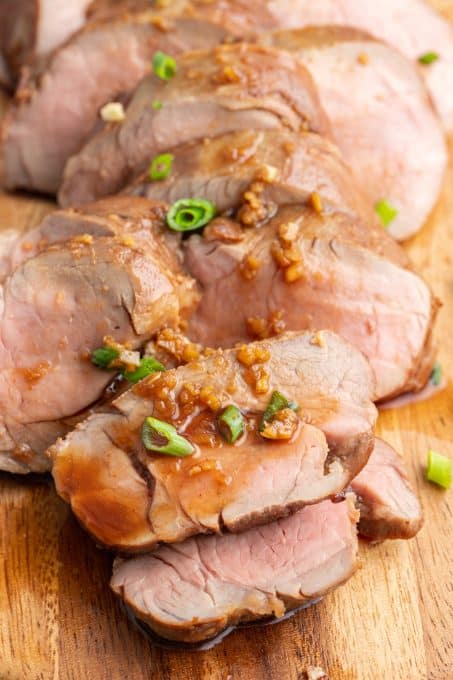 If you're looking for a quick and easy protein to add to your dinner rotation, put this Asian marinated pork at the top of your list.
Marinating the pork for several hours brings out the very best flavor of the meat. This recipe uses a blend of salty, savory, spicy and sweet ingredients to make every one of your taste buds happy! I love the way the pork develops perfectly crisp edges in the oven while the inside stays tender and juicy.
Served on a bed of white rice or all on its own, this crispy and juicy asian pork tenderloin is a family favorite!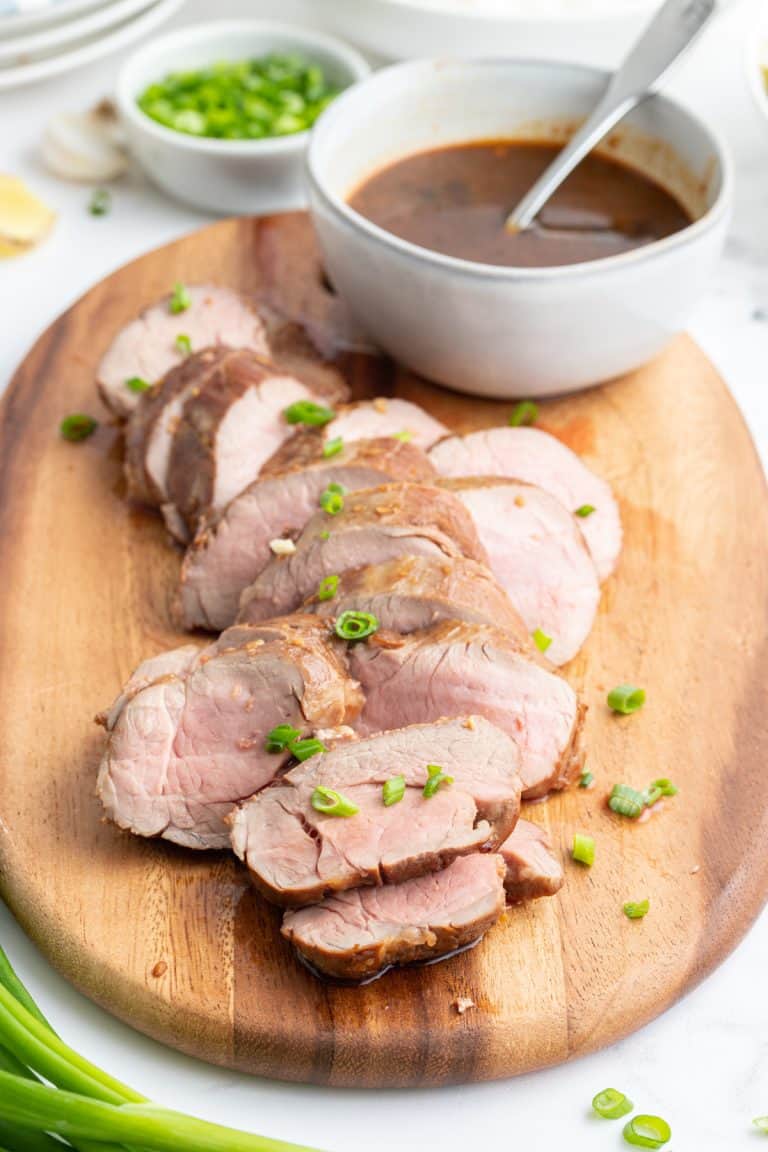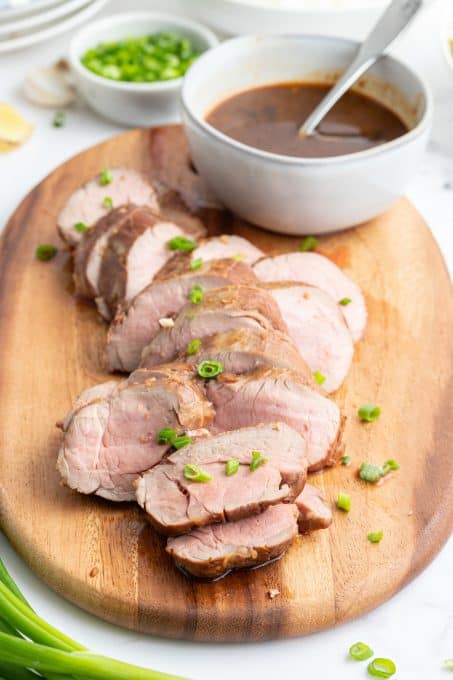 What kind of pork do I need?
This is a pork tenderloin recipe. Do not use pork loin which is a different cut of meat, despite the similar name! Pork tenderloin is a smaller, thinner cut of meat which cooks more quickly than loin. Another reason why I love it for busy weeknight meals!
Make sure to choose a good quality pork tenderloin, too. The quality of your pork tenderloin can make a big difference in the taste of your dish, even if it's covered in this delicious Asian sauce. Look for a tenderloin that is pink in color with a little bit of marbling. Avoid tenderloins that are discolored or have a lot of fat.
Take a look at my Guide to Pork Cuts for more tips and tricks on choosing the best pork tenderloins.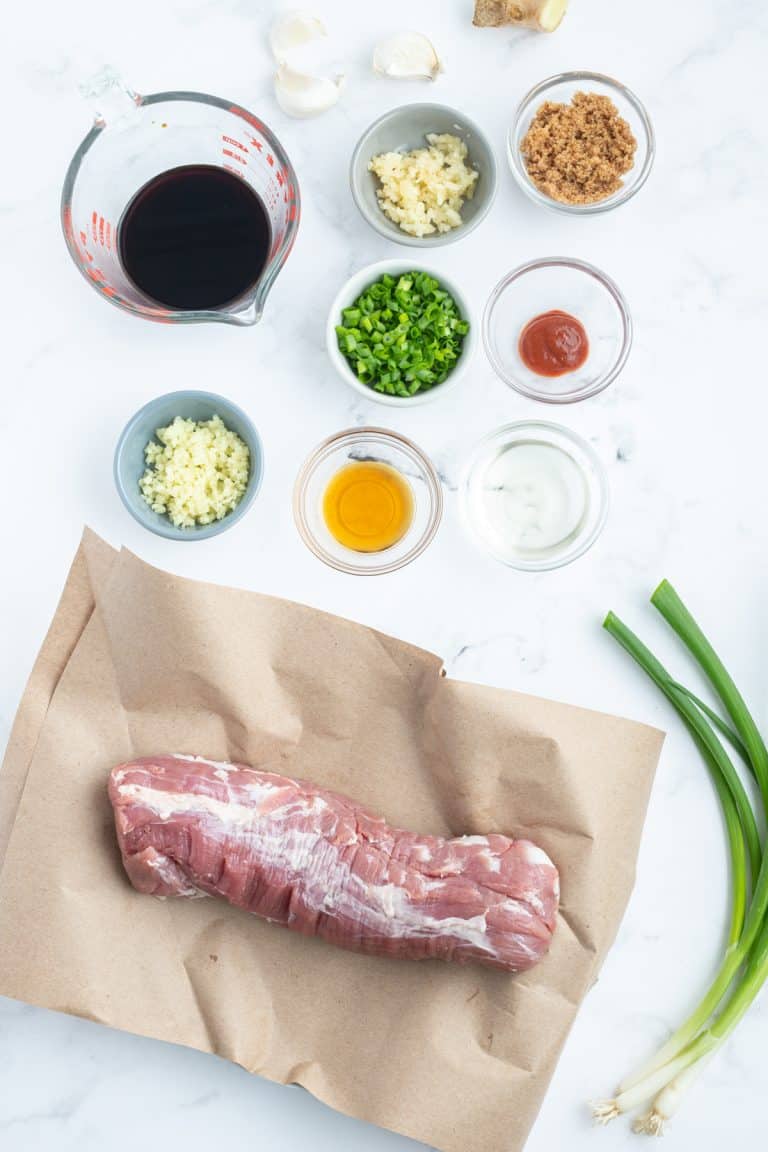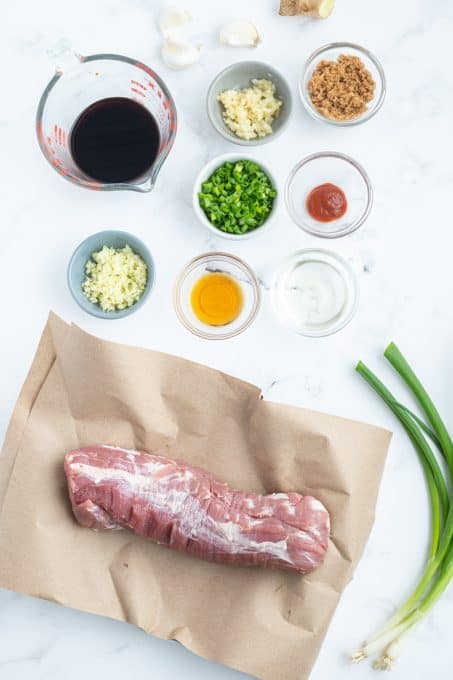 Asian Pork Tenderloin Marinade Ingredients
Now that you've selected a perfect cut of pork tenderloin, it's time to assemble the sauce ingredients for the pork marinade:
Soy sauce – I used a low sodium variety
Rice wine vinegar
Light brown sugar
Garlic cloves – minced
Fresh ginger – peeled or minced
Sesame oil
Hot sauce or chile paste- I used Sriracha for some kick
Green onions – sliced, for garnishing the roasted pork.
Sesame seeds – for garnish, if desired
Mix together all the ingredients in a large bowl, then add the pork tenderloin and let it marinate in the refrigerator!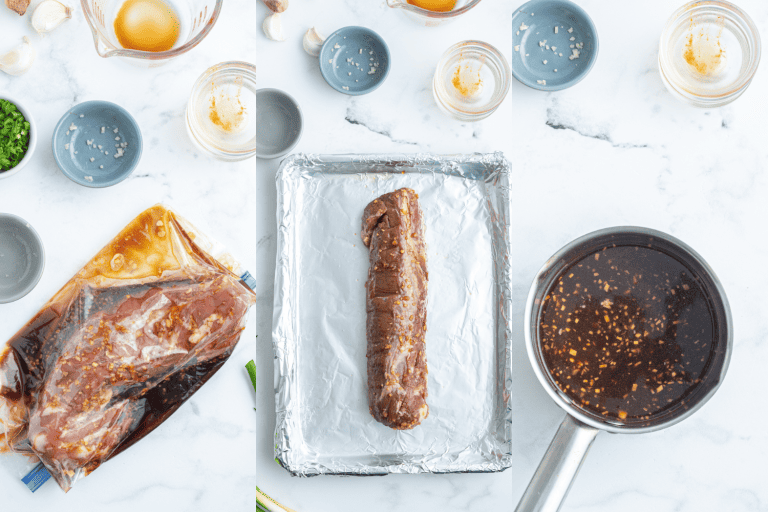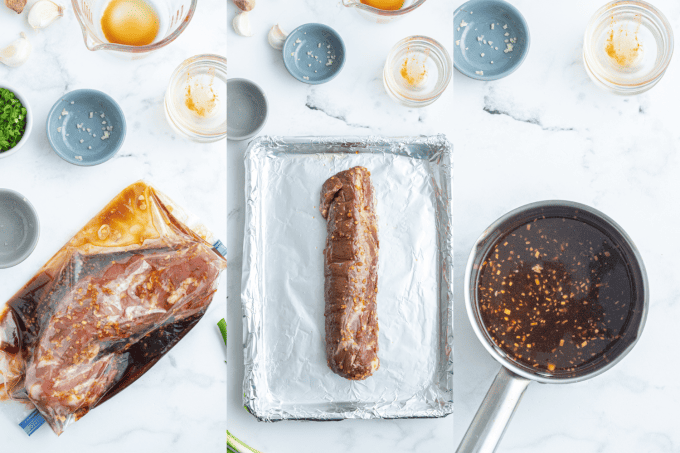 How long do I need to marinate pork?
When it comes to marinating, the longer the better (usually). The best way to get the most flavor and juiciness is to let the pork marinate for a full 4 hours. You can even let this pork marinate overnight if you want! Just keep it well covered and, of course, refrigerated the entire time. I like to use a resealable bag.
If you're too hungry to wait 4 hours for the pork to marinate, don't sweat it! You can cut the marinating time down to as little as 30 minutes. You'll still notice a huge enhancement of the flavor compared to if you skip the marinate time completely.
I don't recommend marinating the pork for less than 30 minutes, so plan to start prepping this roasted pork tenderloin meal at least an hour before dinner time.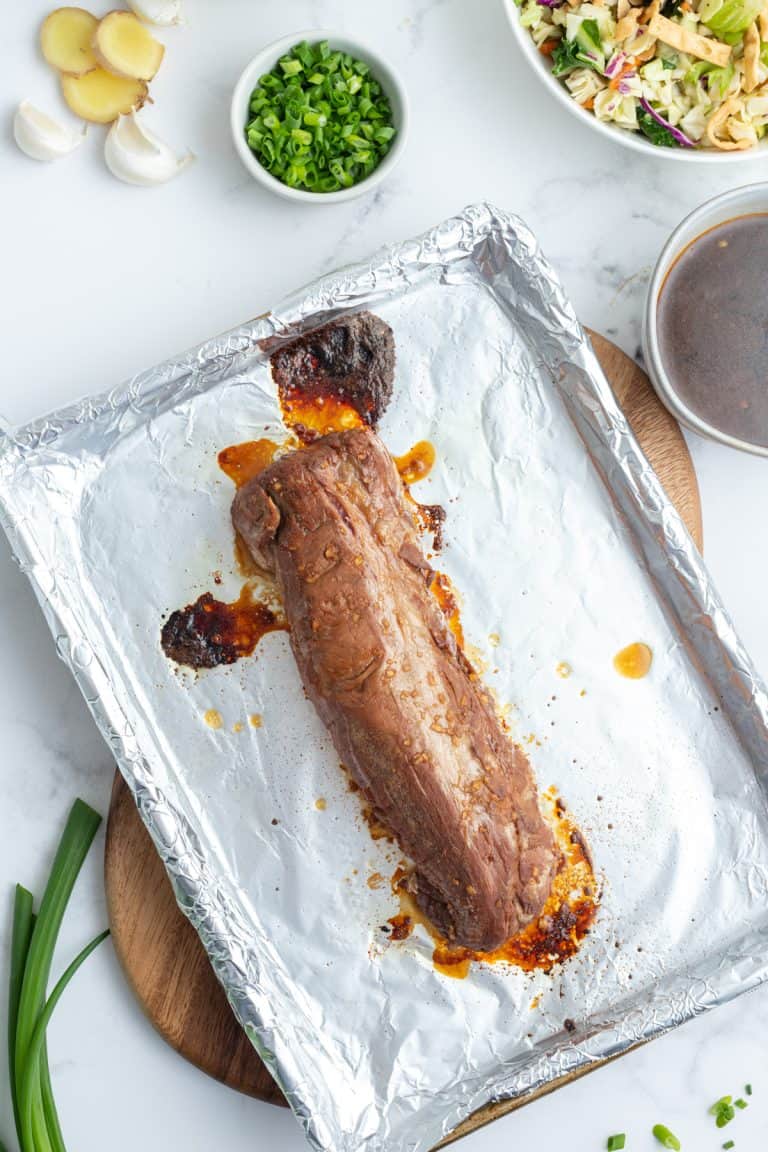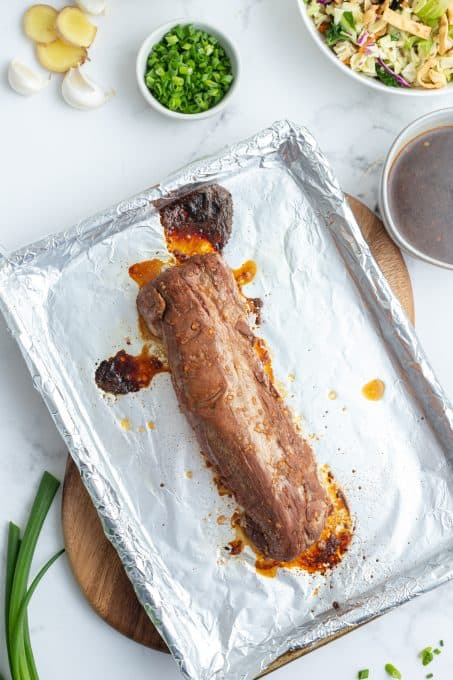 How to oven roast pork tenderloin
Now that you've let that tenderloin soak up as much of the juicy marinade as possible, it's time to roast!
To roast pork tenderloin, place it on an aluminum foil lined baking pan. Do NOT cover the meat! Place it in a preheated oven and let it roast until the internal temperature reaches 145° F on a digital meat thermometer. In my oven, cooking time can take anywhere from 18 to 20 minutes. 
Take your beautiful roasted tenderloin out of the oven. Now let it rest on the baking pan for about 5 minutes before cutting. This pork smells so amazing that it always takes some will power not to cut a big slice off right away. But the rest time is as important as the marinating time to ensure the pork tastes as flavorful and juicy as possible.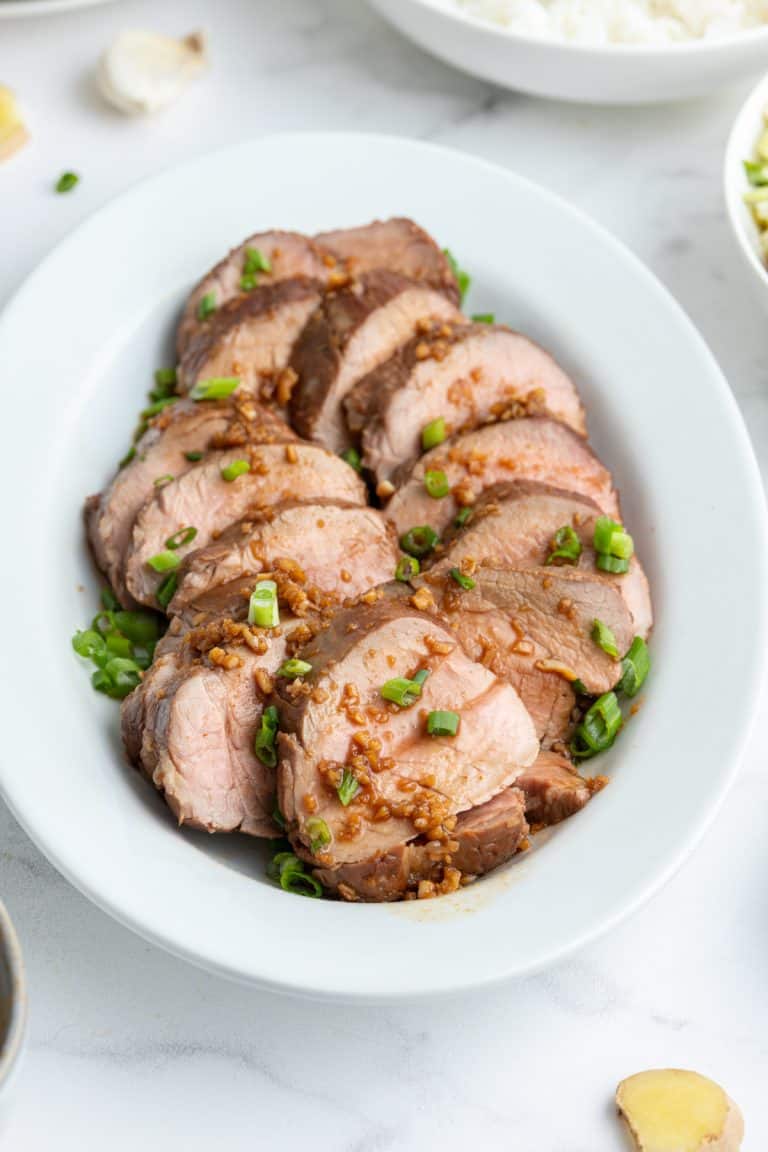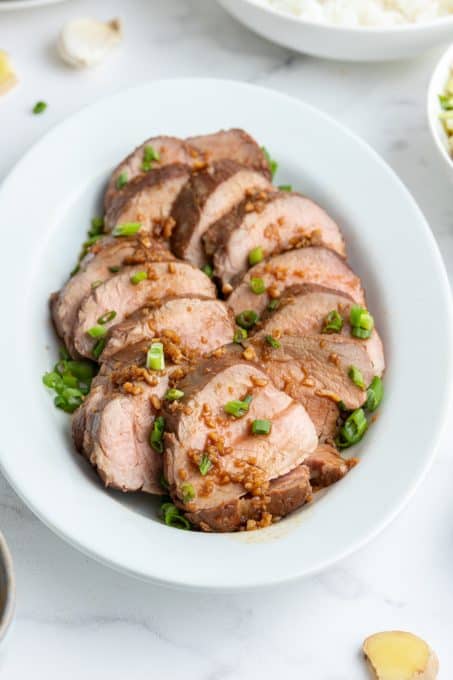 Serving Suggestions
Don't throw away all that good leftover marinade!
Set it aside and use it to make an A-MAZING dipping sauce to serve with roast pork.
While the pork is resting, pour the reserved marinade into a sauce pan. Bring it to a boil over medium-high heat and let the marinade cook for 2 minutes. It will reduce and thicken, perfect for dipping or drizzling over the pork.
Serve slices of roasted pork tenderloin garnished with green onions and a side of sauce. It pairs well with all kinds of starchy and vegetable side dishes. I love Asian marinated roast pork on a simple bed of fluffy jasmine rice. Coconut rice would be a tasty accompaniment too! 
Remember that Peanut Butter Broccoli recipe I shared a few weeks ago? That's another great side dish to serve with pork roast as are these Maple Bacon Brussels Sprouts.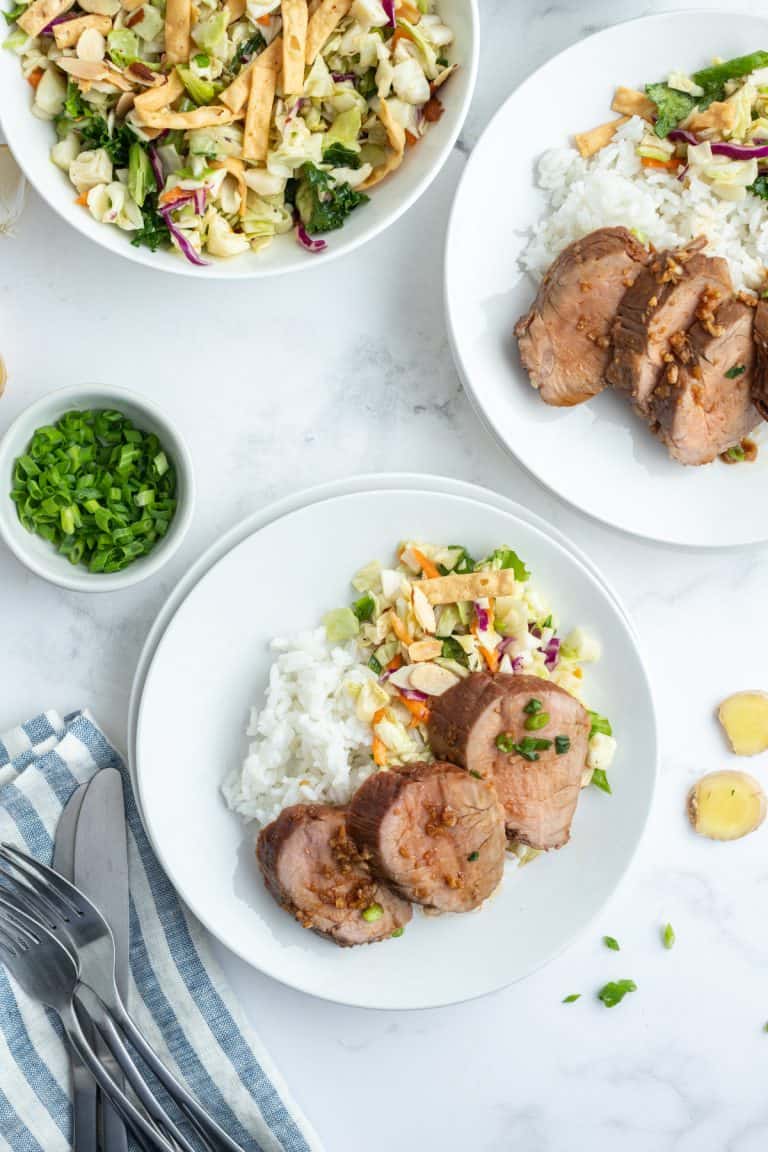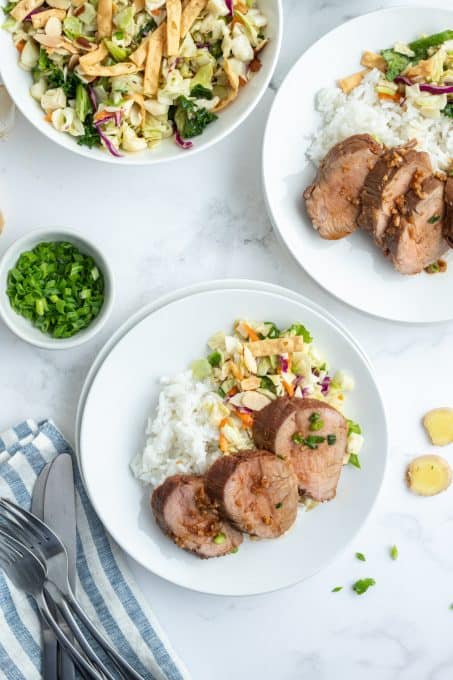 More Pork Recipes
After my various pig farm visits to Iowa and South Dakota, pork is one of my favorite meats to cook. It's generally inexpensive, easy to cook and always full of flavor! 
If you like today's marinated pork tenderloin recipe, check out my Jack Daniel's Pork Tenderloin. It's made with a whiskey infused sauce for a crowd pleasing kick. You'll love this Slow Cooker Spicy Orange Pork Roast too. So much better than takeout!
This Dijon Herb Roasted Pork with Cranberry Pear Chutney would be perfect for a fancy dinner party—and it's easy to make. For a simple family meal at home, you can't do much better than a pan of Parmesan Pork Chops or Easy BBQ Pork Mac & Cheese.
My Sweet and Spicy Coca-Cola Shredded Pork Bites are always a hid at parties and potlucks. So are these Pork Potstickers and these easy Cheesy Spiced Pork Burgers.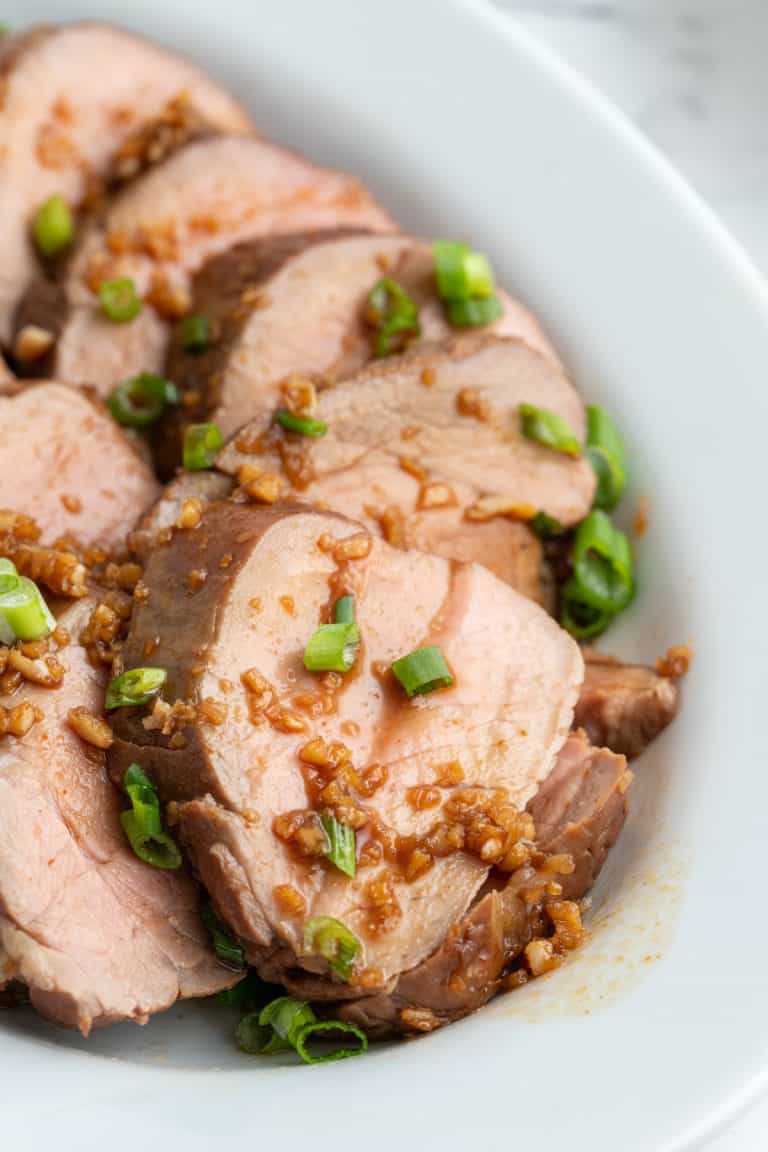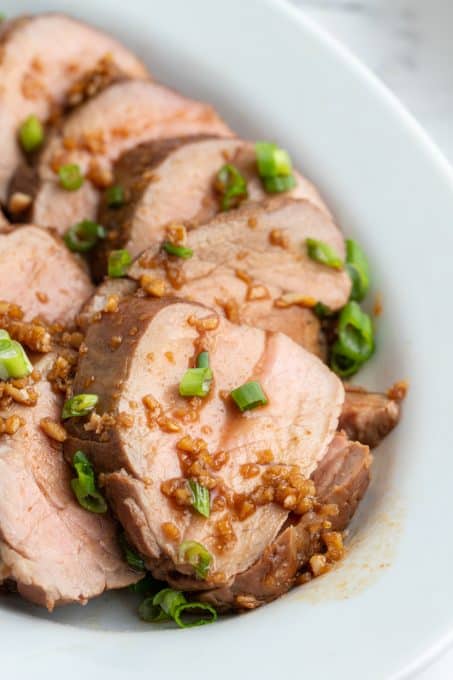 What's your favorite way for cooking pork tenderloin?
~ FOLLOW ME ~
Keep an eye out for more of my easy recipes each week!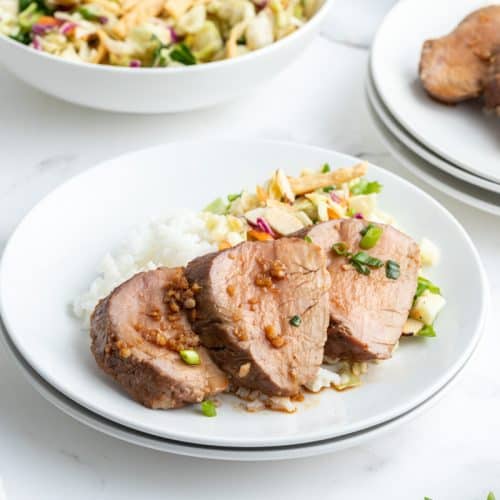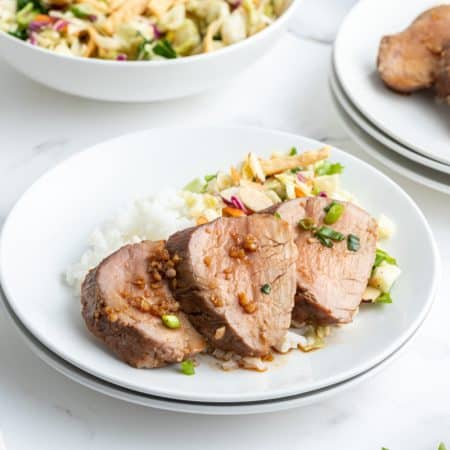 This roasted pork tenderloin is marinated in a spicy, sweet soy sauce for an incredible flavor! An easy-to-make protein for any night of the week.
Ingredients
1 – 1½ lb pork tenderloin
¼ cup low sodium soy sauce
2 tbsp rice vinegar
2 tbsp light brown sugar
2 cloves garlic minced
1 tbsp fresh ginger grated or minced
1 tsp sesame oil
½ tsp sriracha or other hot sauce
2 tbsp green onions sliced, for garnish
Instructions
In a gallon sized plastic bag or large mixing bowl, combine the marinade ingredients. Add pork tenderloin. Refrigerate for at least 30 minutes or up to 4 hours.

Preheat oven to 400 °F. Line a baking sheet with tinfoil and lightly grease with oil or baking spray.

Remove pork from the marinade and place on the baking sheet. Set aside the marinade to use later.

Bake for 18 – 20 minutes, or until the internal temperature of the pork reaches 145° F. Remove cooked pork from the oven and allow it to rest 5 – 10 minutes.

Meanwhile, transfer the reserved marinade to a sauce pan. Bring to a boil on the stove top. Cook for 2 minutes until sauce begins to thicken. Serve pork with sauce and sliced green onions.
Notes
This pork is best served the same day it is made. Store any leftovers in an airtight container in the refrigerator. Reheat in the oven or microwave and enjoy within 3 days.  See blog post for more recipe tips and tricks!
Nutrition
Serving: 1serving | Calories: 251kcal | Carbohydrates: 8g | Protein: 37g | Fat: 7g | Saturated Fat: 2g | Polyunsaturated Fat: 1g | Monounsaturated Fat: 3g | Trans Fat: 0.1g | Cholesterol: 111mg | Sodium: 678mg | Potassium: 755mg | Fiber: 0.3g | Sugar: 6g | Vitamin A: 34IU | Vitamin C: 1mg | Calcium: 26mg | Iron: 2mg
Did you make this recipe?
Share it with me on Instagram and make sure to follow me on Pinterest for more recipes.
Reader Interactions